Lettuce wraps are the new sandwich.  If you're one to crave that glutenny (not to be confused with gluttony), carb-filled bread or tortillas that holds all the delicious fillings, then by all means, go ahead and indulge.  The rest of us, especially in the paleo community, enjoy that tastiness wrapped in leafy greens.  Besides, I tend to focus my attention on all the yummy fixings that go between two slices of bread.  Give me the meat, the cheese, the never-ending colorful veggies and all the other flavors and textures.  I always do a happy dance when I see eateries and even fancy restaurants offer to pretty much "lettuce wrap" any sandwich or burrito on the menu.
25 Delicious Lettuce Wraps and Other Fillings
Whether you're looking for a light lunch or dinner, try one (or a few) of these delicious lettuce wraps to appease your hangry self and nourish your body while you're doing it.  You won't miss the bread or tortillas when you swap the carbs for crispy lettuce leaves.  Besides, take a look at these amazing fillings!  We've got everything from chicken to pork to beef to all out vegetarian, satisfying every Asian, Mexican, and other-insipired cravings.  Check these out and let me know in the comments below what fillings call your name.
Poultry
Taco Salad Lettuce Wraps - Better With Cake
Cider Pulled Chicken, Apple, Jicama Lettuce Wraps - Honey, Ghee & Me
Mexican-Spiced (Slow Cooker) Chickpea Lettuce Wraps - Better With Cake
Healthy Asian Style Lettuce Wraps - Better With Cake
Cashew Chicken Lettuce Wraps - Delicious Obsessions
Healthy Homemade Teriyaki Burgers - Better With Cake (pictured)
Beef
Basil & Beef Lettuce Wraps - A Delightful Home
Beef Lettuce Wraps - The Rising Spoon (pictured)
Sloppy "Rose" Lettuce Wraps - Recipes to Nourish
Steak & Sriracha Lettuce Wraps -  Sweet C's Designs
Cheeseburger Lettuce Wraps - Life in the Lofthouse
Pork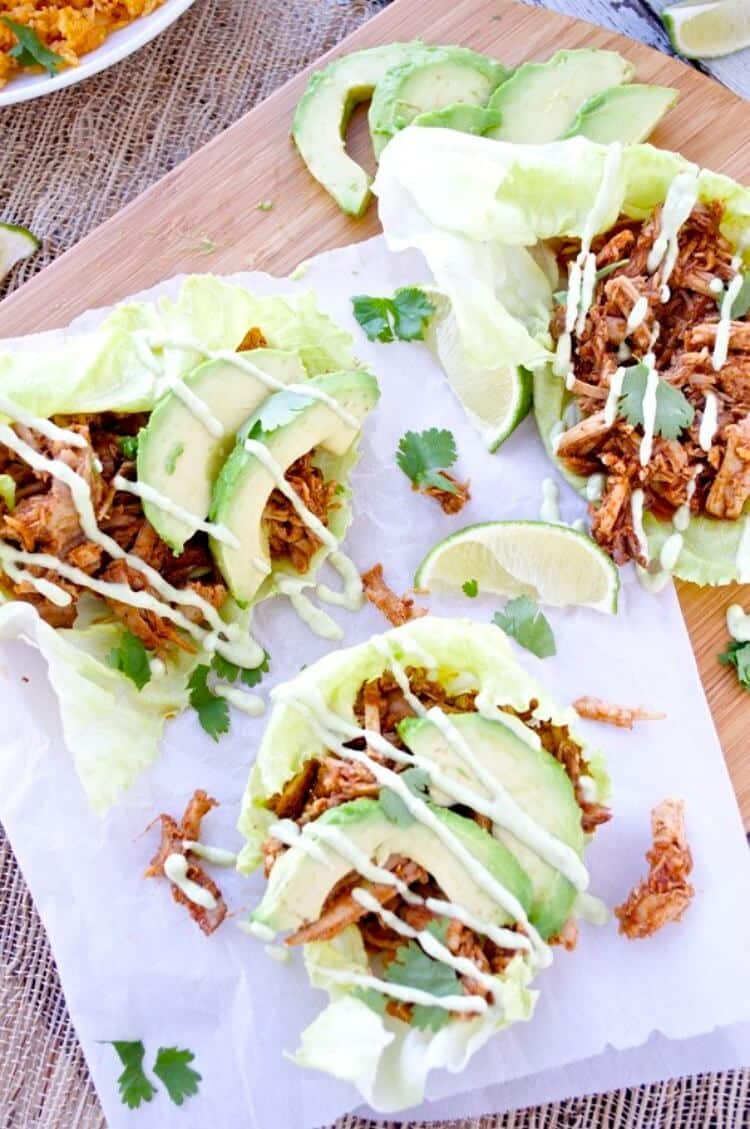 Tuna BLT Lettuce Boats - Prepare & Nourish
Slow Cooker Raspberry Pork Stuffed Radicchio Wraps - Cotter Crunch
Gluten Free Asian Lettuce Wraps - Real Food Whole Health
Chipotle Pulled Pork Lettuce Wraps with Avocado Aioli - Fashionable Foods (pictured)
Paleo Roasted Pork Lettuce Wraps - Paleo Cupboard
Seafood
Asian Crispy Shrimp Lettuce Wraps - The Charming Detroiter
Cod Liver, Rice & Eggs Lettuce Wraps - Prepare & Nourish (pictured)
Salmon Lettuce Wraps with Pistachio Cream - Food Confidence
Spicy Shrimp and Avocado Lettuce Wraps - The Garlic Diaries
Cajun Fish Tacos - Prepare & Nourish
Vegetarian
Spicy Mediterranean Style Lettuce Wraps - Better With Cake
Red Quinoa South Western Lettuce Wraps with Chipotle Sour Cream - Simply Healthy Family
Raw Rainbow Spicy Peanut Lettuce - Better With Cake
Asian Mushroom Lettuce Wraps - Natural Girl Modern World (pictured)
Great Candidates for Lettuce Wraps
Gluten-Free Dosa - It Takes Time
Easiest Crock-Pot Taco Meat - Delicious Obsessions
Olivier Salad, Real Food Style - Prepare & Nourish
Jalapeno Turkey Burgers - The Organic Kitchen
Pan Browned Sweet Potatoes & Quinoa Salad - Prepare & Nourish (pictured)
What are your favorite lettuce wrap fillings?
::: Save this collection of Lettuce Wraps for later :::