What do Cosmic Eclipse, Missouri Pink and Chestnut Chocolate have in common?  Well, they are all tomato heirlooms, of course.  This season, I'm going beyond the standard Early Girl and Beefsteak and taking the plunge to growing only heirlooms and open-pollinated varieties.  And by the looks of online and print seed catalogs, I am supposed to have quite the show.... I hope.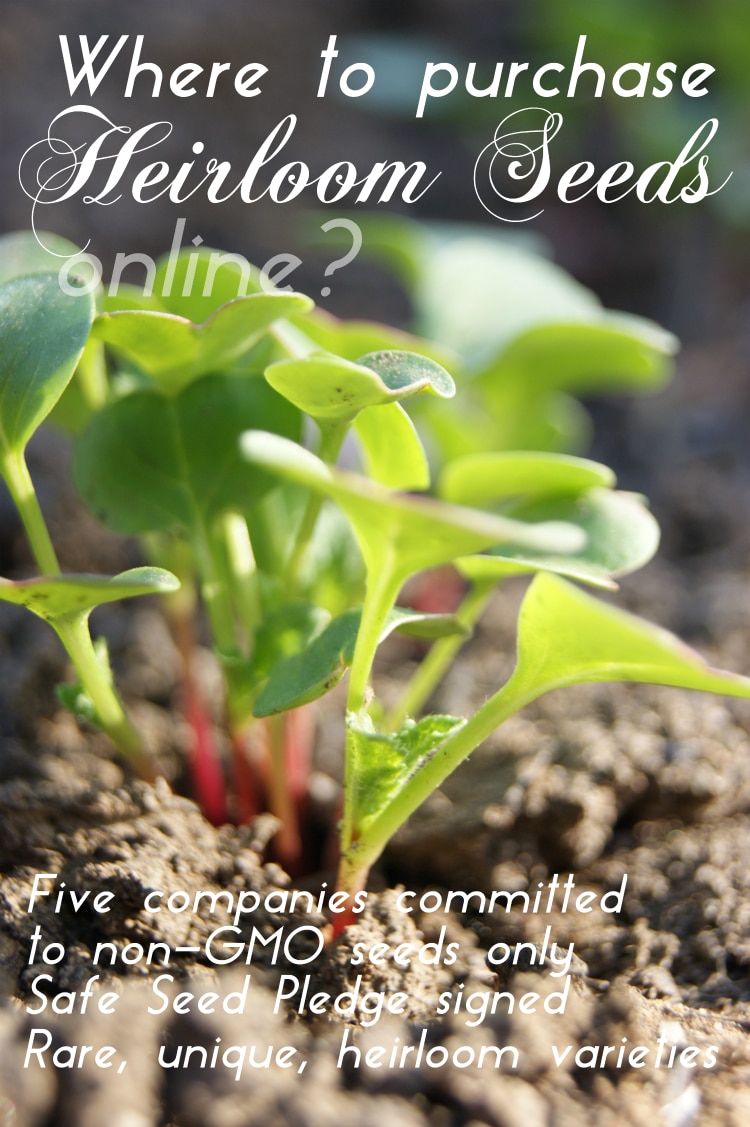 Rain is always a beautiful and welcoming addition to our dry California.  This year has been exceptionally wet and the farmers statewide are rejoicing.  Even though this week has been very beautiful, almost spring-like weather, we're still hoping for a bit of rain to fully replenish our rain barrels and top those snow peaks for the hot and dry summer months ahead.
But every year around this time, rain or no rain, I am always itching to spend more time outside in my garden, digging the the dirt, and planting seeds that will one day provide nourishing foods for our bellies.  Back in the day before I knew better, I would gleefully walk into a Wal-Mart Garden Center and pick out whatever seed packets looked good to me.  I didn't seek out heirloom, heritage, rare or unique seeds - what I wanted was something, cheap, quick and easy to grow.  Resistant to pests, brown thumbs and required little watering.
I've since discovered many wonderful seed banks that take great care to avoid GMOs, fertilizers and pesticides when growing their crops for seed collections.  These companies go above and beyond to provide us with the most pure seeds of the world and I thought it would be helpful to make a list with some details that would help you make a good choice this growing season.  This list is by no means extensive as there are more and more small companies emerging wanting to produce, save and distribute heirloom varieties.  Let's support these companies with our dollars.
All companies listed here have signed the Safe Seed Pledge which states that they "do not knowingly buy, sell or trade genetically engineered seeds" thus assuring their customers of their commitment to provide the best quality seeds. You can find more seed companies that have signed the Safe Seed Pledge here.
Grow Organic is an online shop for Peaceful Valley Farm & Garden Supply store in Northern California.  They are dedicated to provide their customers with the most cost-effective, organic products and the information needed to apply them.  Their website is a great resource for growers at every level, from home gardeners to commercial farmers and is loaded with helpful articles and simple instructional videos that even the brownest of thumbs can enjoy growing their own blueberries.  They not only sell seeds of all kinds, but they also have a great selection of fruit trees and over a dozen types of berry bushes.
Their promise as stated on every page of their website is "to bring you the best selection of organic and/or natural gardening supplies available.  While many of our products are either Certified Organic, or approved for Certified Organic Production, we also offer a variety of products that do not qualify for this classification.  But rest assured, everything we offer must live up to our strict, planet-friendly standards." (source) (emphasis mine)  Grow Organic is incredibly affordable with their brand organic, non-GMO seed packs priced at $1.99.  Also, if you subscribe to their e-newletters, you can get free shipping on your next order.  They also offer free seed packs on orders over $50.  Check their website out.
Shipping: $7.99 flat rate for up to 9 lbs (free with e-mail subscription)   Print Catalog? Yes, find the submission form here.
Annie's is also a great choice to source your seeds.  Their entire collection consists of non-GMO, heirloom seeds so no risk of accidentally putting a hybrid in your cart.  It's family owned and operated and was born out of a desire to preserve particular strains of crop that the ancestor's cultivated.  I can appreciate their philosophy that past influences, though may be unfamiliar to us, still form and shape us in profound ways.  Instead of altering it, we must embrace it and make it a part of us. (source)  You can see their complete line of organic heirloom seeds here.  If you're stumped with what to choose, Annie's has a page dedicated to their favorites that stand out from the rest.
Shipping: $5.99 flat rate   Print catalog? Yes, find the submission form here.
At the tender age of 3, Jere Gettle planted his first garden and at 17 his first Baker Creek Seed Catalog was published.  Currently, the company offers 1,800 different varieties of vegetables, herbs and flowers and is one of the few largest distributor of heirloom seeds in the country.  Though you can purchase their seeds online, they have expanded to the most adorable seed bank in beautiful Sonoma County, California.   If you are ever in that area, I encourage you to pay them a visit - you will fall in love with not only their seeds, but the cute little store and its' staff.  And their catalog provides some serious eye candy.  With bright, colorful heirloom varieties of hundreds of tomatoes, lettuces, herbs and flowers, there collection is limitless boasting unique seeds from all over the world.  Truly, Baker Creek is the darling of all seed banks.  As if that's not enough, Jere and his wife Emilee, also work extensively to supply free seeds to school gardens and educational projects as well as many of the world's poorest countries.  They've made it their mission to "educate everyone about a better, safer food supply and fight gene-altered frankenfood and the companies that support it." (source)  As long as they stay true to their mission, they have my support.
Shipping: $3.50 +   Print catalog?  Yes, find the submission form here.
Mary's seeds are sourced from small family farmers within the country.  They have committed to never source from Monsanto-affiliated companies.  Mary is a small seed grower created out of a desire to help more people become more self-sufficient and sustainable.  Don't let her small size get to you though, she means business when it comes to true heirloom seeds. They currently offer over 280 varieties of "open-pollinated, non-gmo & non-hybrid, non-patented, untreated, organic, heirloom garden seeds."  Further, Mary's is committed to reducing environmental waste.  Their seed pack envelopes, labels, and packaging material all come from post-consumer recyclables.  They hand-pack, print and label their own seed packages, and I think it's safe to assume it's all done with love. 🙂  This is truly a mom-and-pop shop with dedication and passion to provide information and resources for self sustainability and to extend that desire to their customers.  This small California company has a vision to produce seeds free from genetically modified organisms for the future generations.   Bonus: they also offer this complimentary 2016 Seed Planting Guide for the US that any home gardener will find useful as well as this Companion Planting Guide.
Shipping: depends on order       Print Catalog?  No, but website lists all products
With over 1875 varieties of organic and heirloom seeds, this Chico, California company offers one of the largest selection in the country.  Their seed farm is certified organic making them a great source for your next heirloom seed collection.  Their passion lies in discovering "new" heirloom seeds that have been passed down for generations.  They grow their rare, organic and heirloom seeds on their farm to ensure maximum quality and germination rates.  Their site is loaded with information to educate customers about planting, harvesting, and saving heirloom seeds for generations to come.  In fact, their mission is to teach their customers a sustainable lifestyle and promote organic heirloom seed gardening through their blog, articles, and videos.  As a family owned business, Sustainable Seed Company adamantly believes that heirloom seeds is not just our history but also our security. (source)
Shipping: free under 40 lbs.  Print Catalog? No, but website lists all products
If you missed the optimal planting season for starting your own seeds in your region, the best place to purchase starters (baby plants) I've found is at the farmer's markets around spring time.  The quality is outstanding of these plants and the prices are unbeatable.  More than that, by purchasing from your farmer you are supporting local agriculture, which is a whole lot better than supporting Wal-Mart or Home Depot.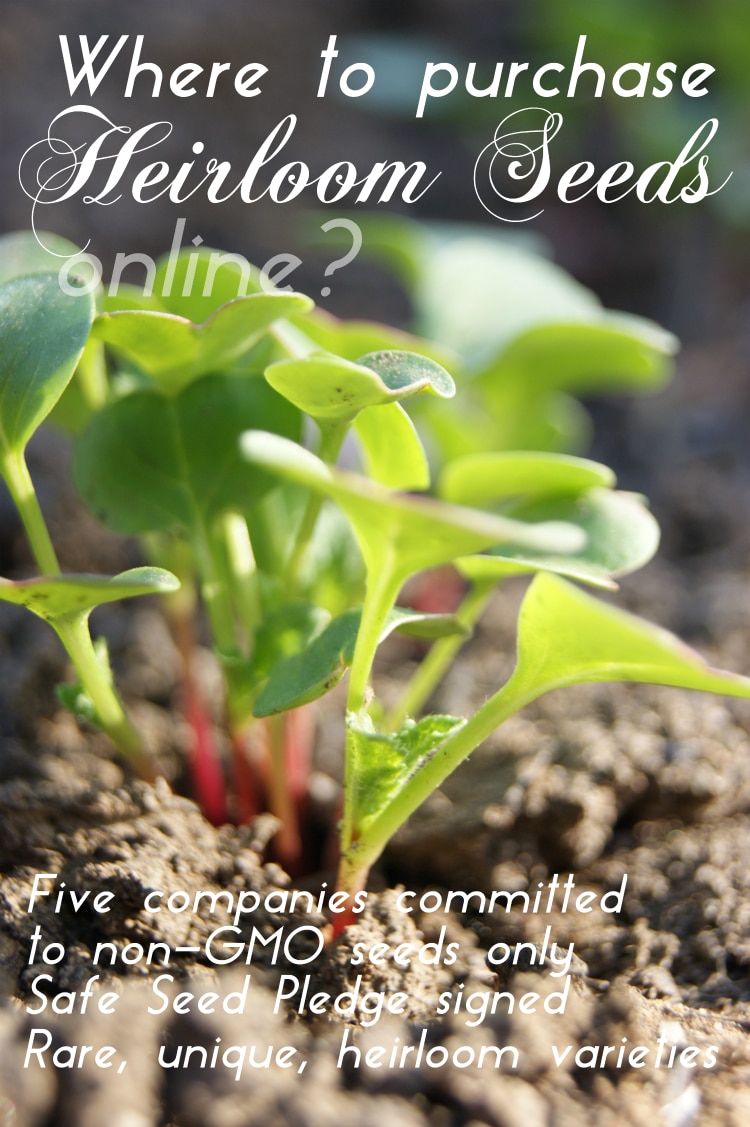 Let's connect! I share more personal, daily snippets of life on Instagram, insightful articles and awesome recipes on Facebook and pin away like it's going out of style on Pinterest.
This post has been shared on: Homestead Blog Hop | Raising Homemakers | Gluten Free Fridays | Funtastic Friday | FoodieFriDIY | Let's Get Real Friday |  Savoring Saturdays | Simply Natural Saturdays | Real Food Fridays | Thank Goodness It's Monday | What'd You Do This Weekend? | The Art of Homemaking | Healthy, Happy, Green & Natural | Homemade Mondays | Anti-Procrastination Tuesday | Homestead Blog Hop | Raising Homemakers | Our Simple Homestead |