A comfort food made wholesome: baked, not fried and dredged in gluten free ancient grains medley of quinoa and amaranth. Perfect for little hands and big tummies.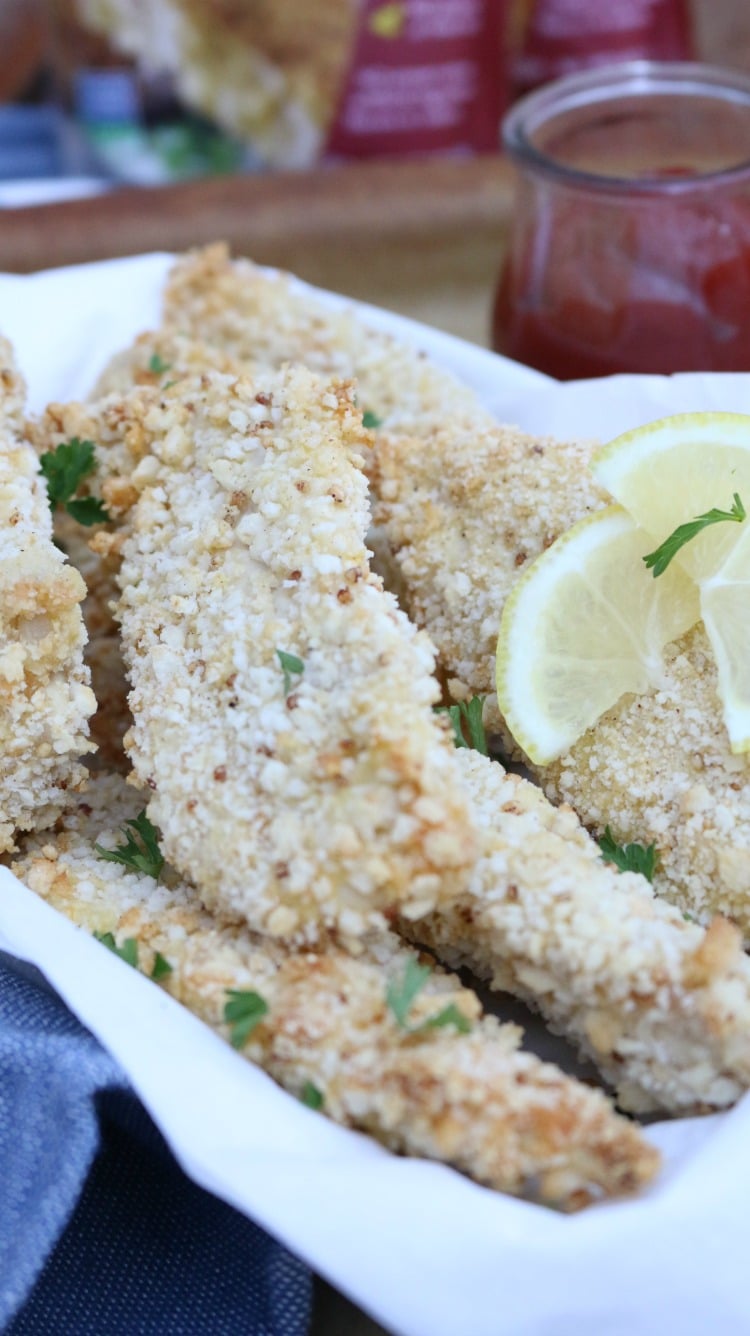 Chicken Tenders is one of those fun meals that brings back oodles of childhood memories. I didn't grow up on fast food, but I do painstakingly recall taking my kids to a fast food establishment (we won't name the place) for a Happy Meal. They were so eager to dig into their Chicken McNuggets full of artificial preservatives and phosphates. And I watched with glee as they pulled out their toy, only to discover that it had a single-use expiration date on it. As naive as I was back then, I'm grateful that those meals were few and far between.
This post has been sponsored by Ian's in partnership with Mambo Sprouts. All opinions, recipes, and photos are my own. This post may contain affiliate links – the cost is the same for you.
Since transitioning to real food, there are a few alot of well-loved recipes that were in dire need of re-creating. Chicken Tenders is one of those comfort foods for a children's soul. There's something so sweet and lovely about pudgy hands grabbing those tenders and dipping them into ketchup. But they don't have to be limited to little ones – adults (including myself) love these baked chicken tenders too.
Ancient Grains Breadcrumbs
When we gave up gluten years ago, consequently we gave up many family favorites. It took years of experimenting and trying to figure out what works and what doesn't but eventually we came to the conclusion that as long as we stick to real foods – we'll be okay and so will our tummies. It's always so encouraging when my favorite brands create products that cater to those with allergies. I have been a fan of Ian's for their strong non-GMO stance and their sensitivity to allergens such as gluten and tree nuts. That's why I partnered with them to re-create this family favorite, made with ancient grains breadcrumbs.
What are ancient grains and why are they healthy?
Ancient grains are simply traditional heritage grains. These crops come from seeds that have been around for centuries and are free of hybridization and genetically modified organisms. Ancient grains have stood the test of time with their robust texture and incredible nutritional profile. Because of this, they contain high amount of trace vitamins and minerals and is generally a much better option than the standard grains like rice and oats. Of the nine ancient grains, six are naturally gluten free: quinoa, amaranth, millet, teff, sorghum and chia. Ian's Gluten Free Ancient Grains Breadcrumbs is a multigrain blend with amaranth and quinoa.
Baked Gluten-Free Chicken Tenders
Baked Gluten-Free Chicken Tenders
Baked chicken tenders dredged in gluten-free medley of quinoa and amaranth.
Print
Ingredients
1 1/2

pounds

organic chicken tenders

1/2

cup

cassava flour

my pick

1

teaspoon

unrefined salt

my pick

1/2

teaspoon

black pepper

my pick

2

pastured eggs

1 5

oz.

packet Ian's Ancient Grains Breadcrumbs
Instructions
Preheat oven to 425F degrees.

Pat dry chicken tenders. Set aside.

Crack eggs into another shallow dish and whisk.

Dredge each chicken tender in the flour mixture first, then dip in whisked egg and finally dredge in Ian's ancient grains. Shake any excess crumbs and place on cookie sheet.

Bake 22 minutes, turning halfway, until fully cooked and golden.
::: Save for Later :::
::: Other Posts You May Like :::
Rice & Green Onions Spring Rolls