So many of my recipes call for bone broth.  It is incredibly nutrient dense and makes it very easy to make a meal in under 40 minutes.  This deep-red Borsch is on regular rotation at our house as is this lamb soup, both calling for bone broth.
bone broth: noun \ˈbōnˈbrȯth\   magical, golden elixir with bold flavors and the power to heal the gut, joints, skin and nails.
But you really don't need a soup recipe in order to enjoy bone broth.  We drink straight out of mugs with nothing but sea salt added to it.  And maybe dill too.  But the dill is optional.
Bone broth is especially nourishing to the gut lining.  After years of poor and malnourished diet, I was in dire need of healing the intestines.  The remarkable benefits far surpassed the gut lining - I noticed my complexion was brighter and clearer.  My hair become stronger.  And my nails were growing at a faster rate than normal.
Making bone broth was a frugal option for our ancestors as they made use of every part of animal.  Nothing went to waste.  The chicken feet, knuckle bones from the family cow, all of it was made to good use.  It is still an incredibly affordable way to make nutrient dense foods.  I've found that knuckle bones, marrow bones, chicken feet and backs all make a great bone broth.  Check your local farmer's market for the best quality of bones or check with the meat counter at Whole Foods - they have a nice selection of bones for your broth.
First, a distinction.  Bone Broth or Bone Stock?
The distinction between the two is very murky.  Some argue that stock is made mostly with bones and cooked for longer periods of time whereas broth is using mostly meaty parts and doesn't have the gelatinous nature from the long-simmering times as with stock.  If that's the case, bone broth should actually be called bone stock.
Stocks and broths often start off the same way: toss scraps of vegetables and bones in a stock pot and slowly simmer to extract as much flavor as possible.  But technically, broth has meat and stock only uses bones.  This thick, gelatinous texture can be achieved only when bones are present.  Roasting the bones makes for a richer, deeply colored stock but I've learned that in a pinch, skipping this step still produces rich and delicious stock.  Given this information, shouldn't we be labeling stock - broth and what is being known as "bone broth" in the crunchy circles be called stock?
Not so fast.  It turns out there is one other minor but significant distinction: seasoning.  Stock is a simple liquid that is left unseasoned.  No rosemary or thyme.  No bay leaves.  Not even salt.  Stock is kept minimal because it is used mostly in other recipes.  Broth is amply seasoned with many herbs, spices and of course can always be drunk on its own. <<=== which is my favorite way to consume broth, anyways.
How many ways can you use bone broth?
I make approximately 2-3 gallons of bone broth a week.  In all my years of making broth, I never had the need to actually freeze it in order to preserve it as we go through it rather quickly.  And I only remember of one instance where I tossed a jar because it smelled funny and that was also the time when we were out of town for the weekend.
Use as base in soups.  This one is obvious.  We have soup every other day in our house.  I appreciate the convenience (40 minute meals!) and the abundance of vitamins and minerals makes me feel like I just scored a Mom Award!  Also, when using bone broth - I can typically get away with making the soup meatless - making this a low-cost meal.  Bonus: soups can be so versatile - you can follow a recipe or make up your own with whatever ingredients you have on hand.  Have I mentioned, this is budget-friendly?
Use in gravies.  This one is probably obvious as well.  I try to sneak in bone broth in as many recipes as I can, even if it calls for water.
Use as water to cook grains.  I don't recall the last time I actually cooked white rice per directions on the bag.  That's because I've been cooking it in bone broth.  As I do quinoa, buckwheat, even some pastas can be cooked in bone broth.  Confession: I've even successfully made oatmeal with bone broth - the kids didn't notice but I only added about a cup to a medium-size pot.
Drink it plain.  This is by far my favorite way to enjoy this nourishing drink.  I start my day with bone broth and I usually have a cup ready to go with the kids' breakfast.  This is especially important on our non-soup days.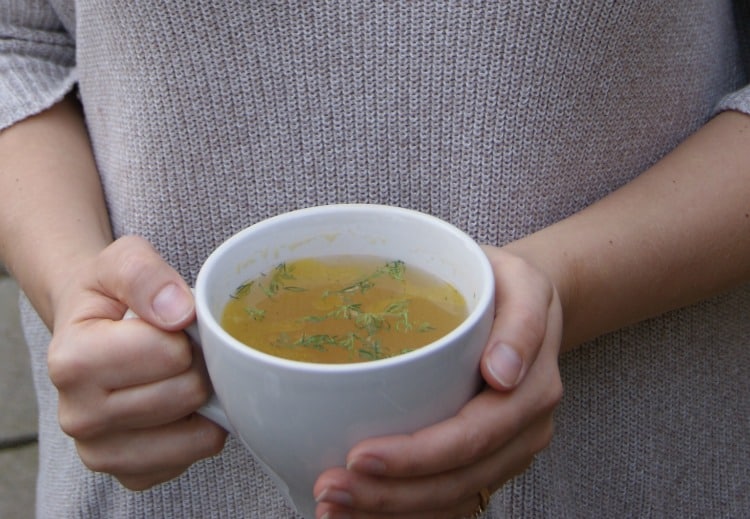 So, there you have it.  Different uses for bone broth and in case you were dying to know whether you were drinking stock or eating broth, or the other way around you can be at peace now.  At the end of the day, it really doesn't matter does it?  Broth or stock?  As long as we include it into our daily regimen for healing and nourishment, I don't care what the technical term for it is.  Just include it.

Let's connect! I share more personal, daily snippets of life on Instagram, insightful articles and awesome recipes on Facebook and pin away like it's going out of style on Pinterest.
This post has been shared on: The Wednesday Showcase | Allergy Free Wednesday | Raising Homemakers | Homestead Blog Hop | Gluten-Free Fridays | Think Tank Thursdays | This is How We Roll | Funtastic Friday | FoodieFriDIY | Let's Get Real Friday | Simply Natural Saturdays | Savoring Saturdays | Real Food Friday |  Thank Goodness It's Monday | Homemade Mondays | What'd You Do This Weekend | Healthy, Happy, Green & Natural | Anti-Procrastination Tuesday |