Quinoa and pan browned sweet potatoes tossed with zesty red onions, fragrant cilantro and lime juice makes for a refreshing salad.
I love having a collection of salads that can also be served as meals, especially during the summertime.  We often take family bike trips along the river and because I don't generally do "sandwiches," I turn to salads such as this one, that can be made in advance and served in single-serving containers.  This is a perfect picnic food, even if that picnic is in your backyard.  This salad can be served on its own as a well-balanced meal or add some grilled chicken drumsticks on the side for more protein.
The sweet potatoes are pan roasted with cumin and smoked paprika to perfection and everything is tossed together with fresh cilantro, zesty lime juice and a drizzle of olive oil.  This salad would make a perfect food for all the potlucks that are looming ahead.  Both the quinoa and sweet potatoes can be prepared days in advance, making it super convenient to pull everything together just as you are heading out the door.  This lands somewhere between pasta salad and potato salad, with wild flavors.
I'm excited to be sharing this tasty recipe over at Simple Pure Beauty today.  I also give tips to maximize nutrition in quinoa (think: soaking and cooking in bone broth!).  Head over HERE to read the rest of the post and find the simple recipe before your next BBQ rolls around.
If you are all about convenience as much as I am, you are sure to appreciate the simplicity of this salad.  Did I mention sweet potatoes and quinoa can be prepped ahead of time and the entire salad can be tossed in a few minutes?  Yep!  Grab the recipe HERE and let me know in the comments what your favorite picnic and BBQ food is!
::: I get it, you're pressed for time.  Save this easy-peasy salad for later :::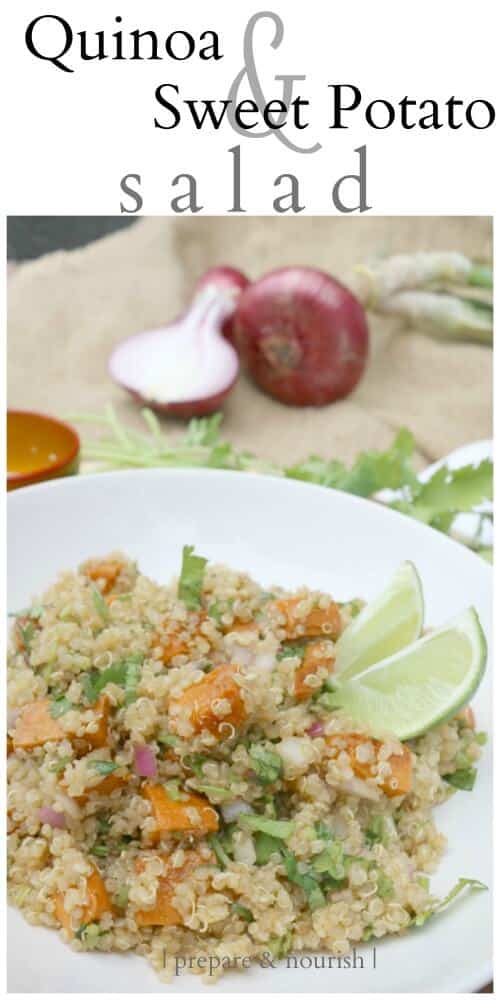 ::: More salads you might enjoy :::
Beet-Up Cabbage Salad
Olivier Salad - Real Food Style
Beef Tongue Summer Salad
Let's connect! I share more personal, daily snippets of life on Instagram, insightful articles and awesome recipes on Facebook and pin away like it's going out of style on Pinterest.