This homemade Healthy Caesar Salad Dressing recipe has all classic ingredients that yield creamy texture, umami flavors. It's amazing as a salad dressing, dip, or spread.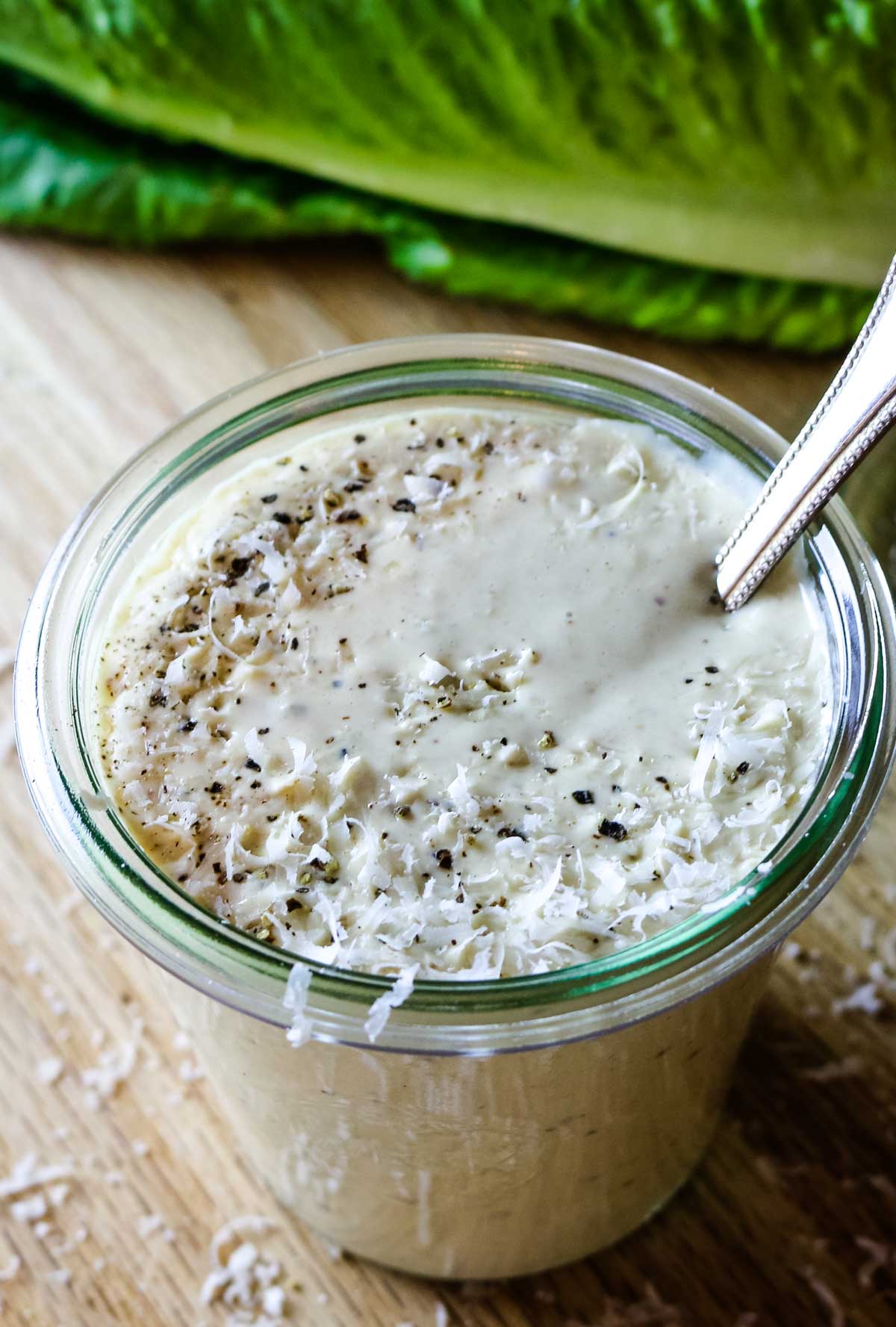 Caesar Salad recipe includes a bed of crispy romaine lettuce and croutons, dressed in a creamy dressing of oil, egg, Worcestershire sauce, lemon juice, anchovies, and Parmesan cheese. This homemade version has simple ingredients and yet gives the best flavor. It's one of our favorite salads and one we make regularly.
Healthy Caesar Salad Dressing
The original Caesar salad recipe was developed by an Italian man named Caesar Cardini, a restaurateur from northern Italy. It's no secret that there are many variations to this classic salad dressing but this recipe truly comes close to the authentic traditional flavor without the fuss.
Even though it's tempting to grab a Caesar Salad Dressing from the grocery store, making it with real food ingredients doesn't have to be time-consuming or difficult.
This salad dressing has the perfect balance of umami flavor and creamy texture yet doesn't take a whole lot of effort thanks to a few shortcuts. It's so amazingly delicious, that you may want to skip the whole salad gig and go straight in with whole romaine leaves.
What are the ingredients in Caesar Salad Dressing?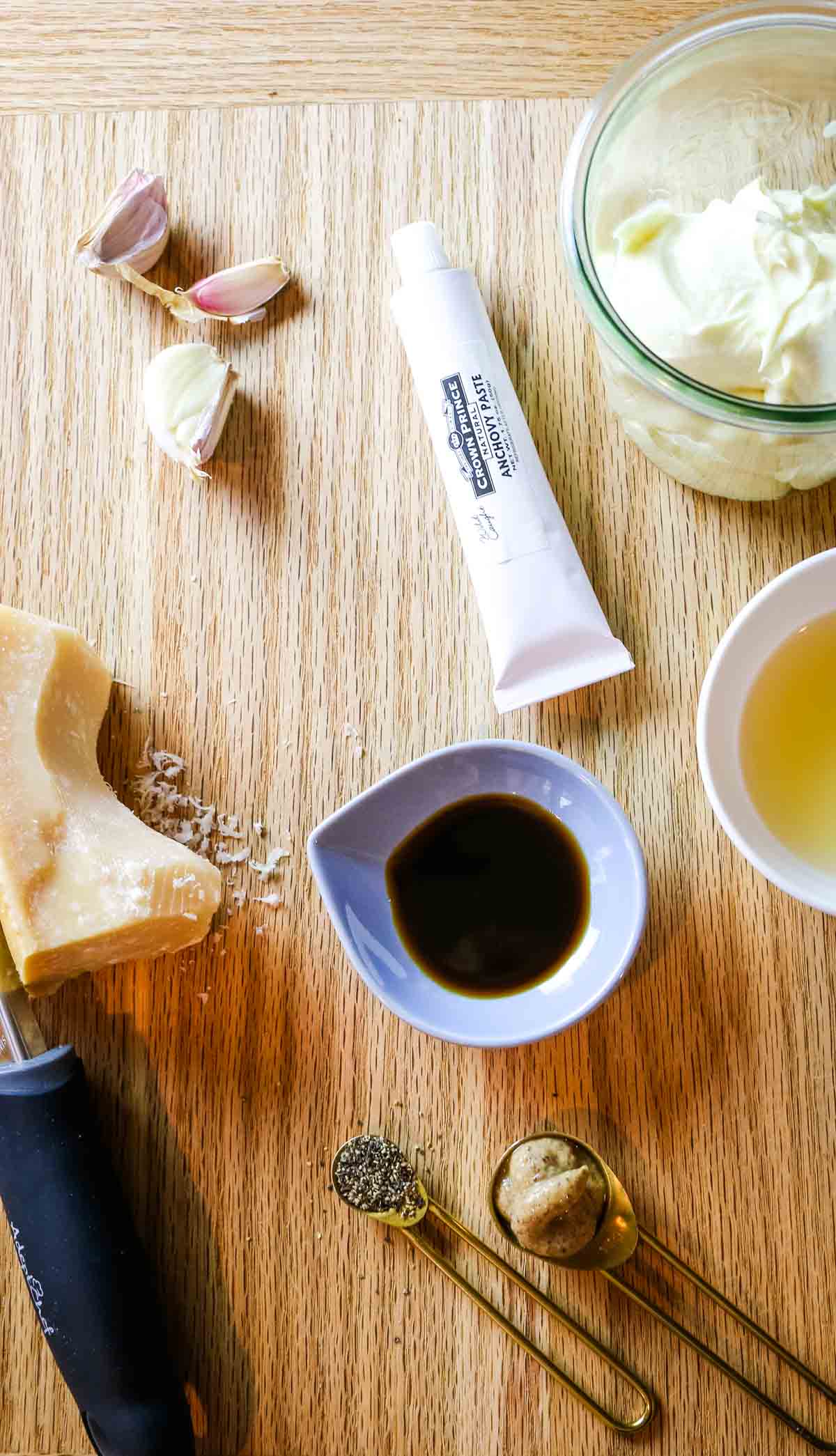 A traditional Caesar salad dressing calls for anchovy fillets and raw eggs. But there is a deceptively simpler way to make Caesar salad dressing without sacrificing that classic Caesar flavor that we all love.
Let's take a look at the classic ingredients and what tweaks we can take to make this salad dressing in under 5 minutes.
Anchovy Paste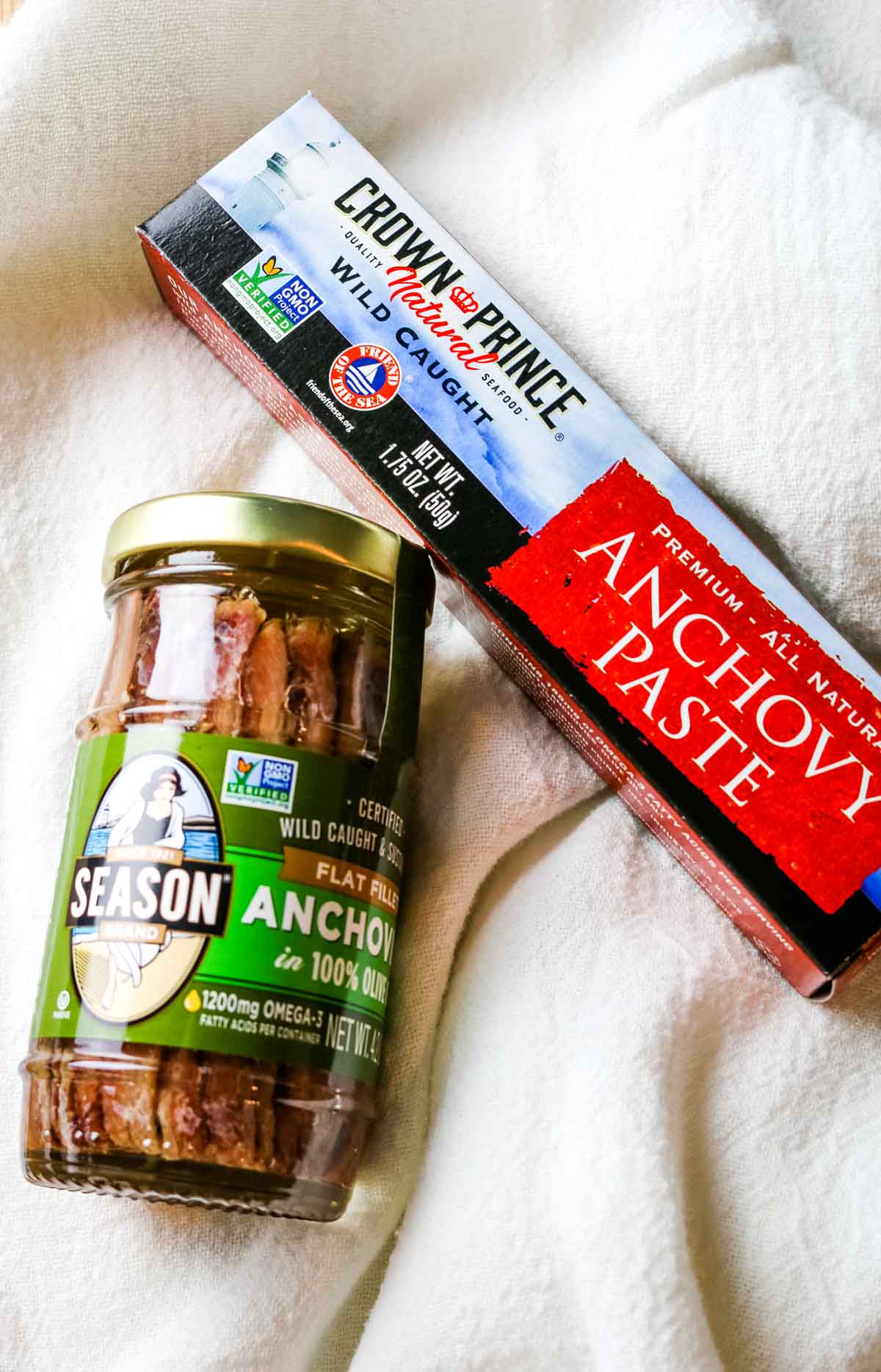 Anchovies are small fish found in marine waters, which means they are almost always wild-caught. They usually come prepared as fillets in a tin can or jars with olive oil and salt. When processed into a paste, they will be found in tubes.
Anchovy fillets are traditionally the star of this dressing and it's fine if you prefer to use them. However, I have found that anchovy paste works better because it's easier to blend.
This is probably the most important ingredient in a traditional Caesar salad dressing and one you do not want to skip. It's what gives the dressing that rich umami flavor.
Alternatively, you could use fish sauce since most on the market are made from anchovies. Just remember, using sauce instead of paste will yield a more thinner salad dressing.
Whether you go with whole anchovies, paste, or sauce, it's important to remember to check those ingredients to make sure it's just anchovy, olive oil, and salt.
Helpful Tip: Consider adding whole anchovies directly to salad for a tangy-salty topping. 
Parmesan Cheese
If you want that traditional Caesar dressing, skip the grated cans of Parmesan and go with the real thing. Parmigiano Reggiano is my favorite because it's aged longer than other cheeses, which amounts to richer flavor and granular texture.
It's also highly regulated where as Parmesan isn't, which means you really don't know if that's truly Parmesan that you're buying. When buying Parmigiano Reggiano, look for blocks and check the rind for authenticity - you should see it's name inscribed all over it.
If the cheese is grated and in a container, look for "Parmigiano Reggiano" and not "Parmesan".
Helpful Tip: Be sure to get real blocks of Parmigiano-Reggiano! You should see Parmigiano-Reggiano embossed on the rind - that's how you know it's authentic.
Eggs or Egg Yolks
Traditionally, an emulsion of anchovies, garlic, oil, and raw egg yolks is made to create that creamy Caesar salad dressing but there is a simpler way. Using good quality mayonnaise already contains emulsified eggs and oil, which makes it incredibly easy to add all the other ingredients.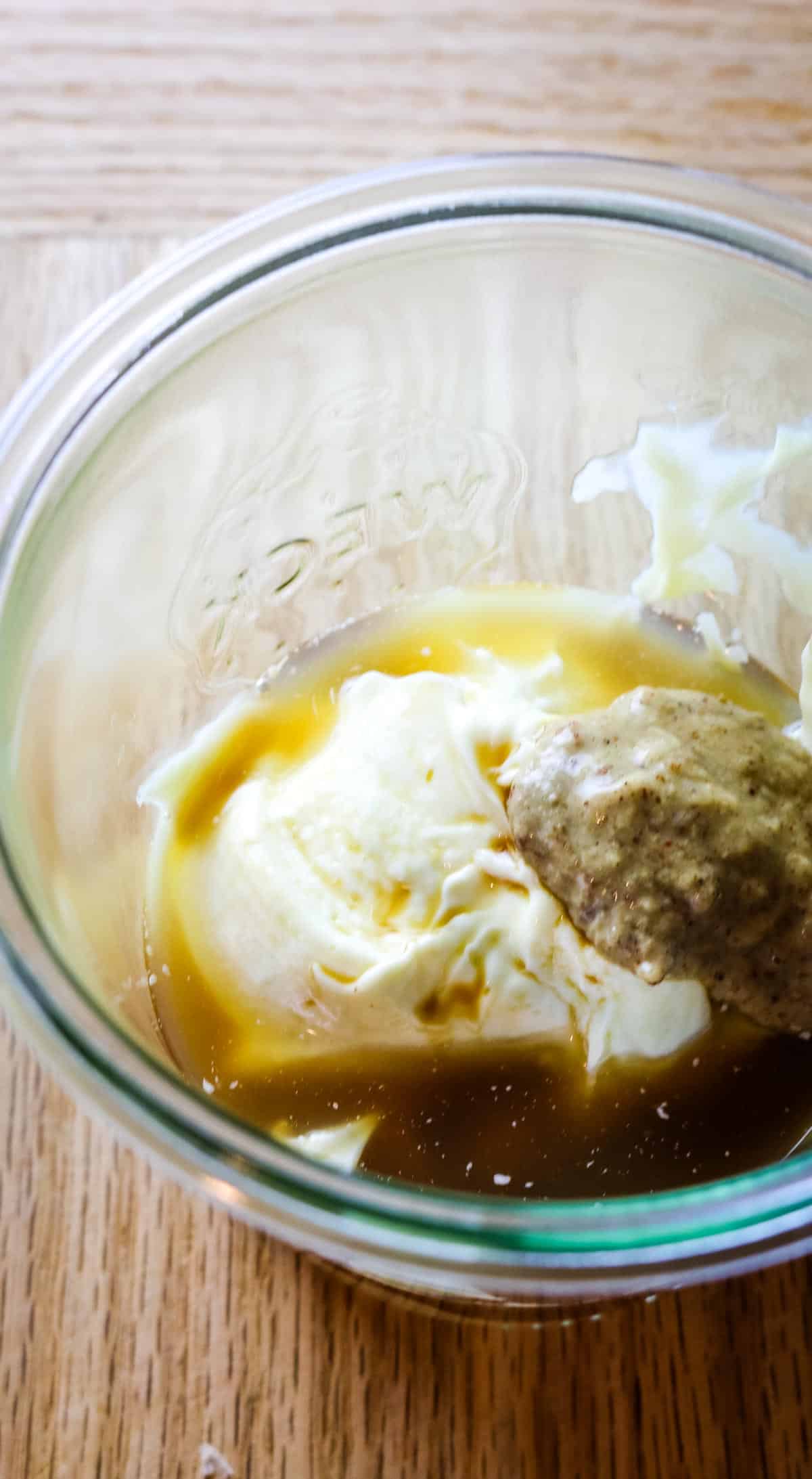 In addition to these 3 important ingredients, Caesar Salad dressing also calls for Dijon mustard, fresh garlic, fresh lemon juice, Worcestershire sauce, and freshly cracked black pepper.
Looking for a healthy mayonnaise? Thankfully, there are plenty of options on the market that don't include rancid seed oils but instead are made with extra-virgin olive oil or avocado oil. Always check the ingredient list to be sure! If you have access to clean farm-fresh eggs, give this Homemade Mayonnaise a try! It's super easy and there's no waste of egg whites.
For best flavor, go with mayonnaise made with avocado oil as the olive oil can be overpowering sometimes.
Make it Nutrient-Dense: Using quality mayonnaise with healthy fat like extra virgin olive oil or avocado oil will make this salad dressing a healthier version.
Looking for healthy Worcestershire Sauce? We have a homemade version of that too! And it's soy-free making this a much better option! Check out this soy-free Worcestershire Sauce recipe.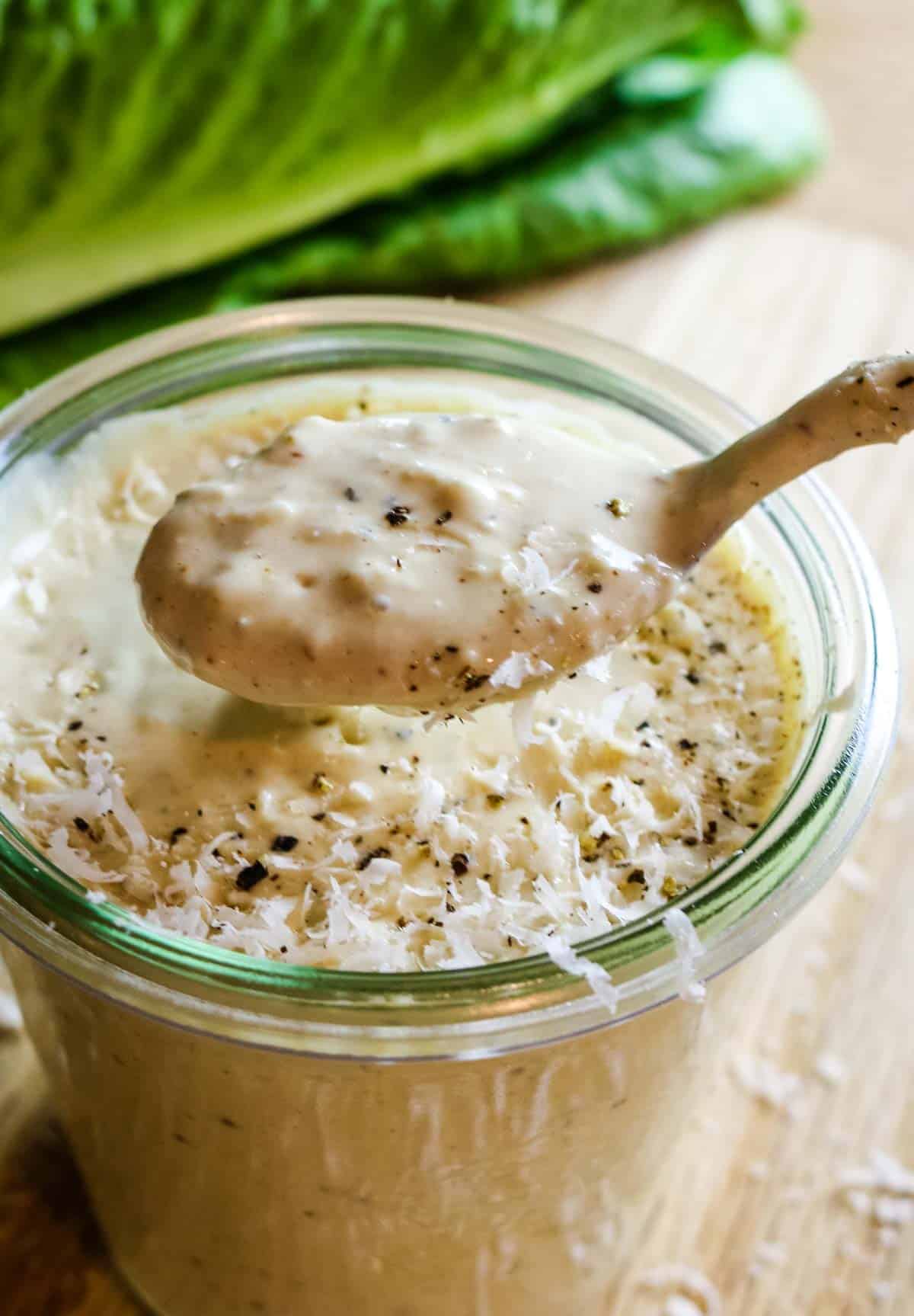 Suggested Substitutions and Variations
This homemade Caesar Salad dressing recipe is pretty forgiving. There's so much flavor happening that it's easy to make substitutions to fit your need.
If you don't have fresh lemons, bottled lemon juice works in a pinch. Just make sure it's lemon juice and nothing else.
Alternatively, you may use a flavorful vinegar such as apple cider vinegar or red wine vinegar in place of lemon juice.
Sub Pecorino Romano for Parmigiano Reggiano if you don't have access to Reggiano. Pecorino is a sheep's milk that has similar texture and works well with Caesar Salad. Though not ideal, regular ol' Parmesan will work.
As mentioned already, you may use anchovies, anchovy paste, or fish sauce for that umami anchovy flavor.
If you don't have any anchovy product, double the Worcestershire sauce. However, keep in mind this will notably change the final flavor of the dressing.
Though Caesar Salad is traditionally enjoyed with romaine lettuce, in recent years kale has been a great simple swap.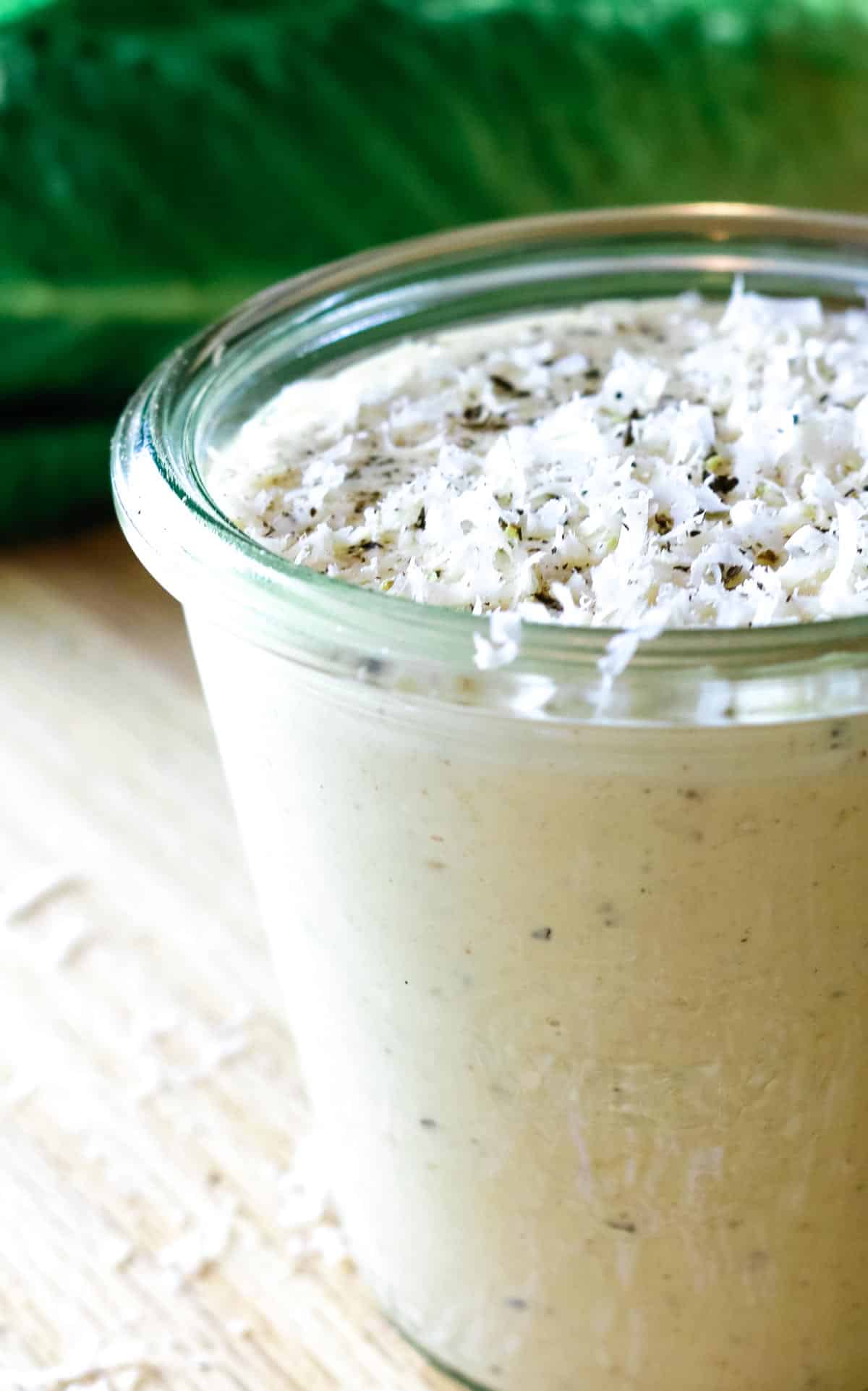 Frequently Asked Questions & Tips
What makes this recipe healthy?
Anything made at home will by default be a healthier option. Most Caesar salad dressings on store shelves contain soybean or another rancid seed oil. Having full control over the ingredients is a great thing. Additionally, using homemade mayonnaise and soy-free Worcestershire sauce as well as wild-caught anchovies all contributes to a healthy salad dressing.
Can I make Caesar Salad dressing dairy-free?
All though Caesar Salad dressing is known for it's nutty Parmigiano Reggiano chunks, you may omit this entirely to make it dairy free.
How can I use this salad dressing as a dip or spread?
You'll notice this recipe produces a very thick (albeit creamy and rich!) consistency. That's why I recommend if using it as a salad dressing to skip the Parmigiano and instead shave it fresh onto the salad.

If using it as a dip or spread for wraps or sandwiches, finely grate ½-3/4 cup Parmigiano into the dressing and stir to combine.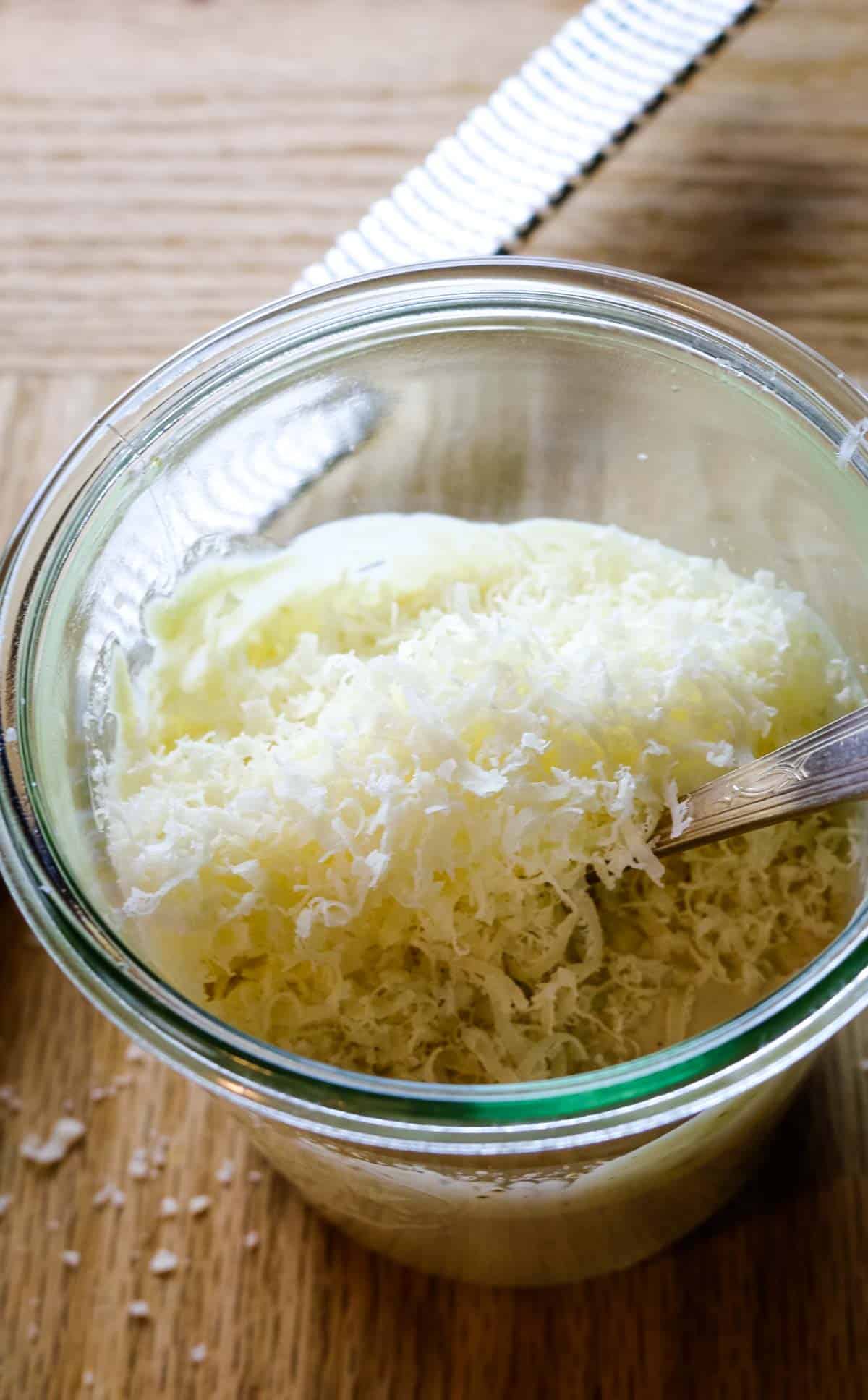 Make-Ahead Tips for Caesar Salad Dressing
Because of the use of fresh garlic, this salad dressing doesn't keep well when made ahead. However, there are things you can do to simplify dinner time rush hour.
You can extend shelf life by skipping garlic until just about ready to toss and serve.
Mix the salad dressing minus the garlic and store in an airtight jar for up to 1 week. Add fresh garlic when ready to serve.
Additionally, you can use bottled lemon juice to save time with that ingredient.
And most importantly, have mayonnaise and Worcestershire sauce ready to go if you are making those components yourself.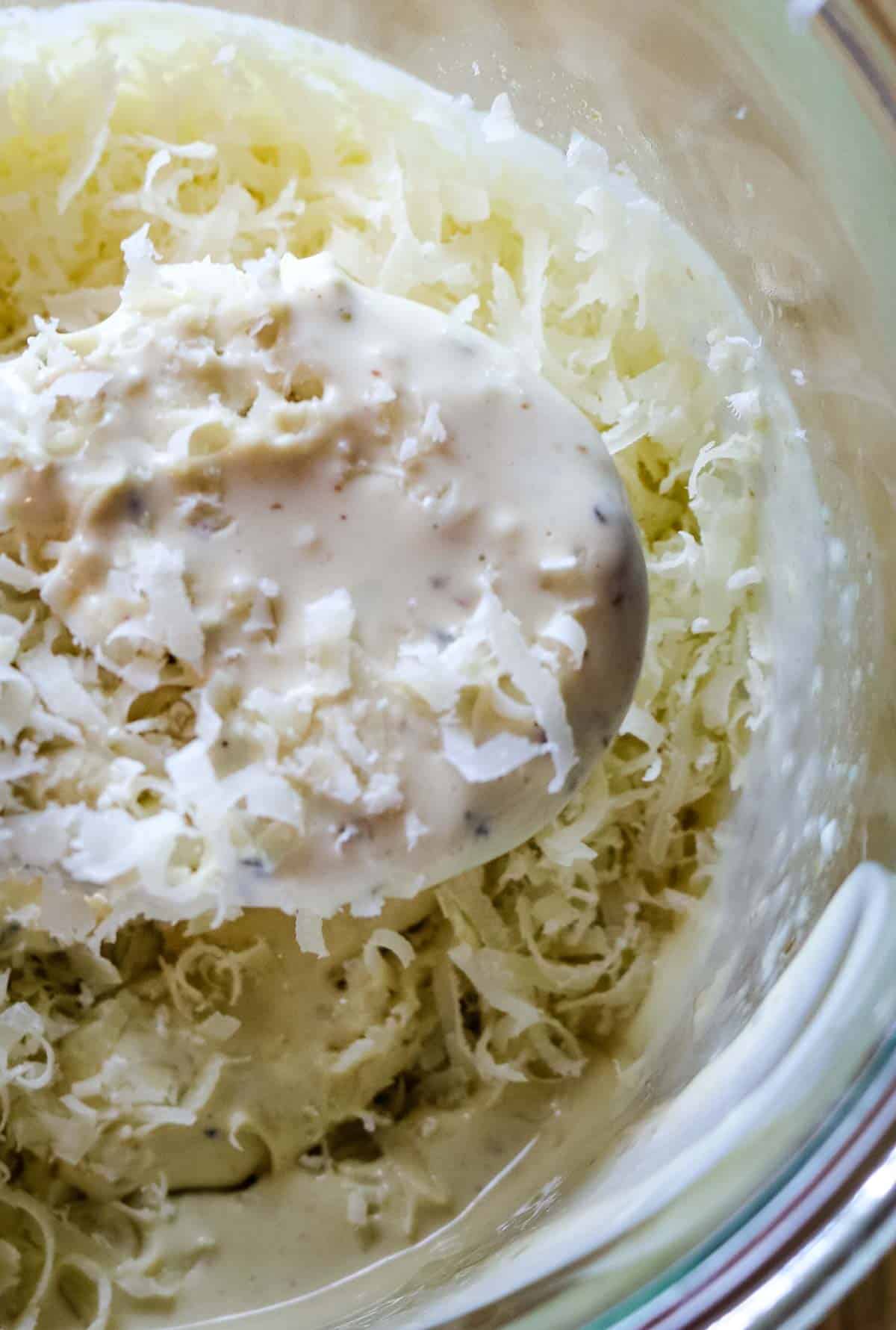 How to make homemade Caesar Salad Dressing
The complete printable recipe is below in the recipe card for your convenience.
This Healthy Caesar Salad Dressing recipe calls for these ingredients that you will need to have ready: mayonnaise, lemon juice, dijon mustard, anchovy paste, Worcestershire sauce, black pepper, and Parmigiano Reggiano (if a thickened salad dressing is desired - great for dips or spreads!).
Step 1. Combine all ingredients in a bowl
Add ingredients in the order that they are listed. Remember to skip the cheese unless you want a really thick Caesar Salad dressing. But it's best to add freshly shaved Parmigiano Reggiano directly to salad when tossed.
Also, it's a good idea to allow the minced garlic to sit for 10 minutes before combining to release an enzyme called alliinase, which may help gut health.
I do this directly in the bowl or jar. Mince the garlic first on top of the mayonnaise, then gather all the other ingredients while garlic rests.
Did you know? Garlic contains an enzyme called allicin. For maximum health benefits, wait 10 minutes between mincing it and combing it for the enzyme to activate.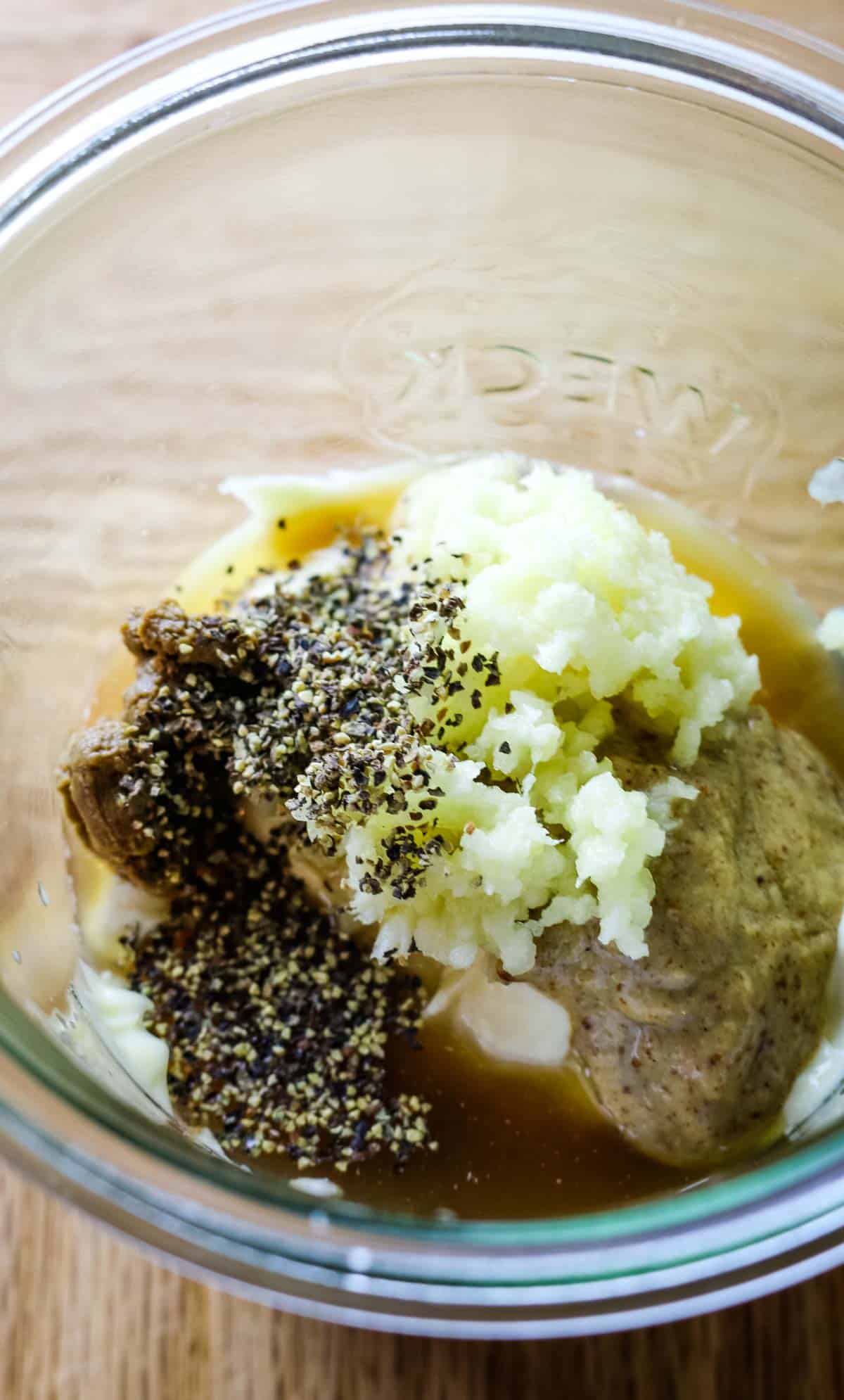 Step 2. Cover and allow to rest
Cover your jar or bowl and transfer to the refrigerator for an hour for all the flavors to incorporate and meld together.
If adding cheese to the dressing, keep in mind that it will be on the thick side. Adding cheese is ideal when used as a dip or spread.
Step 3: Enjoy!
Toss crispy romaine lettuce and homemade croutons with this creamy homemade dressing for and enjoy!
Helpful Tools & Links
Below are some links that may be helpful to you as you make this recipe. You can find some of these items cheaper at a local store but it helps to have a link so you know what you're looking for.
How to eat Caesar Salad Dressing?
There's the obvious way to enjoy this healthy dressing: tossed with crunchy romaine lettuce and homemade croutons. But you can also enjoy this as a dip with pita chips or cucumbers. It can also be used as a spread for wraps or sandwiches in place of mayonnaise.
Make it a meal! Add a healthy protein like grilled chicken or salmon and make the salad a complete meal.
Did you make this? Please leave a ⭐ recipe rating in the recipe card below and leave a review in the comments. Thank you!💚
Printable Recipe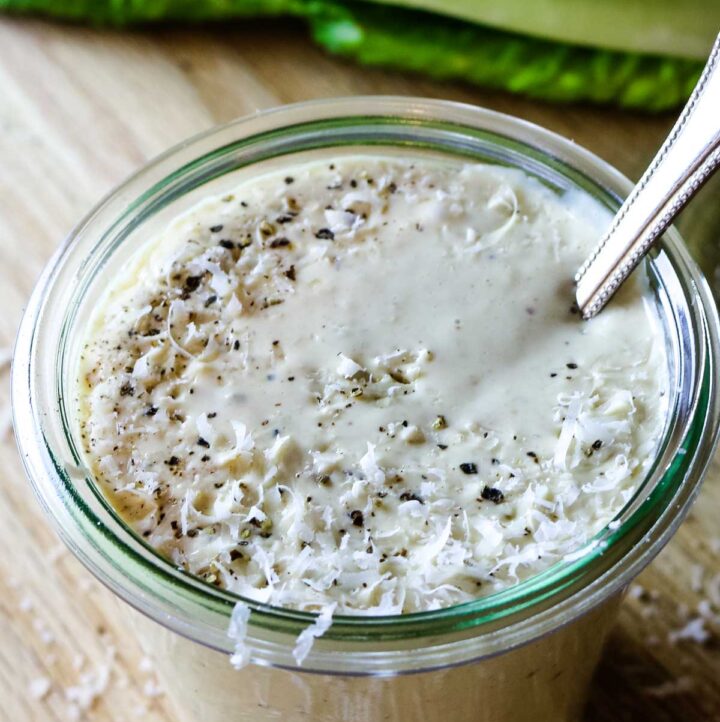 Healthy Caesar Salad Dressing
This homemade Healthy Caesar Salad Dressing recipe has all classic ingredients that boast creamy texture, umami flavors. Amazing as a salad dressing, dip, or spread.
Instructions
If desiring a thicker dressing or using it as a dip or spread, add finely grated Parmigiano Reggiano.
Notes
Make-Ahead tips: wait to add the garlic until just ready to be tossed and served. Without garlic, Caesar Salad dressing can be kept in the refrigerator for up to 1 week.
Resting the Caesar Salad dressing in the refrigerator is optional but will give a more flavorful result.
Don't add cheese to dressing unless wanting a more thicker dressing or as a dip or spread. Instead, add freshly shaved Parmigiano Reggiano directly to salad.
Alternatives & Substitutions:
use apple cider vinegar instead of lemon juice
1 tablespoon anchovy paste = 2 anchovy fillets = 2 tablespoons fish sauce
no anchovy products? use same amount of Worcestershire sauce
Nutrition
Calories:
176
kcal
|
Carbohydrates:
1
g
|
Protein:
3
g
|
Fat:
18
g
|
Saturated Fat:
4
g
|
Polyunsaturated Fat:
9
g
|
Monounsaturated Fat:
4
g
|
Trans Fat:
1
g
|
Cholesterol:
15
mg
|
Sodium:
342
mg
|
Potassium:
46
mg
|
Fiber:
1
g
|
Sugar:
1
g
|
Vitamin A:
66
IU
|
Vitamin C:
1
mg
|
Calcium:
85
mg
|
Iron:
1
mg
Nutrition Information
The information shown is an estimate provided for your convenience by an online calculator. It should not be considered as a substitute for a professional nutritionist's advice. See our complete Nutritional Information Disclaimer.
©Prepare and Nourish • Content and photographs are copyright protected. Sharing of this recipe is encouraged and appreciated but please do NOT screenshot or copy/paste complete recipes to websites or social media.
This post was originally published May 2017 but has since been updated to include helpful information.