Check out these four different variations for the easiest DIY mouthwash made with essential oils. Great to keep oral health in top shape and to ward off bad breath.
No doubt having a nourishing diet is important. But good oral hygiene is just as imperative to our health. Periodontal disease has been linked to heart disease, diabetes and other conditions. (source)
Homemade Mouth Wash for Bad Breath (2 ingredients!)
Can you guess what one product I use after my morning coffee? Garlicky Caesar Salad? How about after feasting on a bowl of Kimchi? It is undeniably my mouthwash. If there was one natural body care product that gets more mileage, it has to be the mouthwash.
This mouthwash is incredibly simple and quick to put together. I'm all about simple and quick these days. 🙂
I brush my teeth only once a day. Brushing too often can wear down the enamel of the teeth, exposing sensitive root area. Furthermore, toothbrush abrasion can lead to sensitive teeth and receding gums. I've found that brushing my teeth just before bed is enough to keep my teeth healthy.
I wash my mouth several times a day. This mouthwash is especially convenient for those desperate times when you have 30 seconds to get the coffee smell to go. Pair this with regular flossing, and you have a clean mouth.
I came up with this recipe out of necessity. For years, I experimented with baking soda, calcium magnesium, xylitol, and even hydrogen peroxide. I would concoct herbal extracts and tinctures to whip up a mouthwash batch that was just right and all was well and dandy until we ran out of it. And...I never got around to making another batch.
I still needed a good mouthwash that does the job but I needed something that was quick and simple to make and didn't require sophisticated preparations.
I skipped a handful of ingredients in my original remineralizing mouthwash and was left with just three. Water, Celtic Sea Salt and essential oils. Around the same time, we started seeing a holistic dentist whose mouthwash recipe was even simpler than mine. Water and essential oils. The addition of Celtic Sea Salt is great for mineral content and you can certainly add it to the mouthwash, though I prefer this quick method sans the salt when short on time.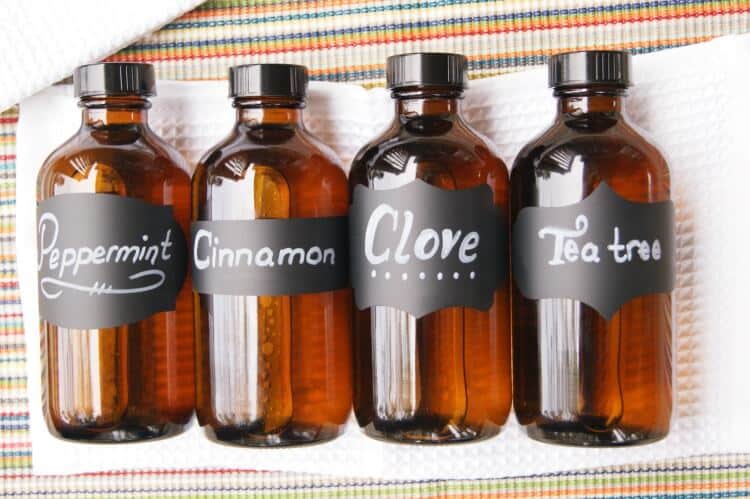 DIY Mouthwash with Essential Oils
I love alternating with different essential oils for greater benefit. Check out these amazing benefits.
Peppermint Essential Oil is a popular oil for oral hygiene as it is extremely effective at killing anaeroboic bacteria, the type that thrive in a low-oxygen environment like the mouth. Note: It's best to avoid peppermint products in nursing women as it can diminish milk supply.
Cinnamon Essential Oil has been used for its medicinal properties for ages. It's antibacterial and antifungal properties makes it a great product to ward off tooth decay and gum disease.
Clove Essential Oil has been shown to disinfect disturbed root canals since it has strong germicidal properties by inhibiting the growth of bacteria in the mouth. Clove EO has an extremely strong and spicy flavor, much more so than other oils I've noticed and should be used sparingly in mouthwash. Note: It's best for pregnant women to avoid clove essential oil as it may induce labor.
Tea Tree Essential Oil is an efficient antiseptic that kills bacteria fast which is incredibly important in an acidic environment such as the mouth. Tea Tree oil fights infectious microorganisms that destroy tissues in the mouth, receding gums and plaque. Tea Tree oil also has anti-deodorant properties as it suppresses odor-causing bacteria. Take care not to ingest tea tree oil though as that may lead to side effects.
How to Store Homemade Mouthwash
I prefer to use a conservative size of 8 ounces because I usually make an individual bottle for each member of the family and they take the swig directly out of the bottle. Keeping the amount small, we go through these rather quickly and can avoid any issues with contamination or bacterial growth of any kind. Simply rinse the bottle when they're empty, refill and reuse.
Because of the use of essential oils in this mouthwash, it's best to avoid plastic bottles and go for glass bottles to avoid harsh chemicals leaching into the mouthwash. Furthermore, it's best to store this in dark colored glass bottles like this 8 oz. amber or 8 oz. cobalt blue glass bottle to filter out the sun's ultra-violet light. Avoid placing this in direct sunlight, regardless of bottle color.
These are the cute waterproof labels used in the photos. We keep our individual bottles in our big bathroom. I know some would recommend that this be stored in the refrigerator but we found that we're more likely to use it regularly when it's readily available to us. As mentioned previously, using a judicious 8 ounces, we use this up fairly quickly without any bacteria growth.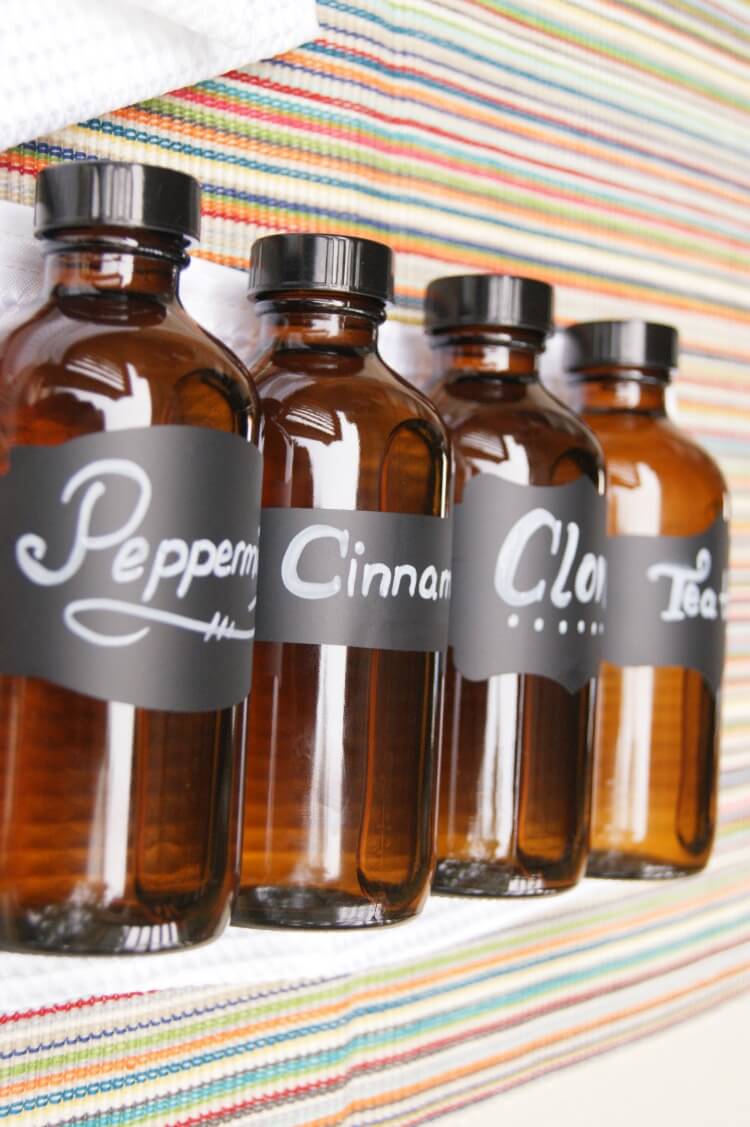 DIY Herbal Mouthwash
Printable Recipe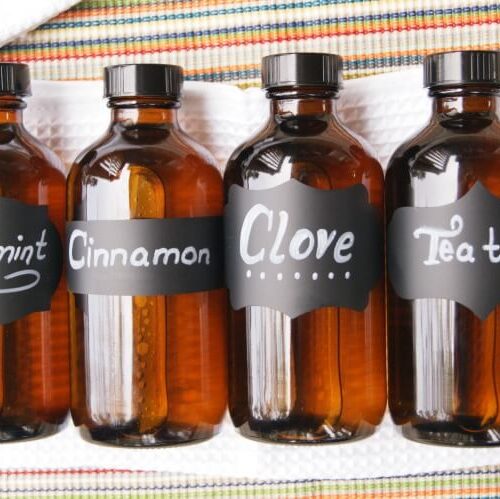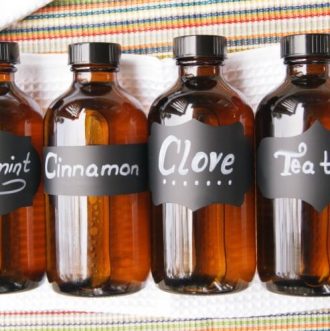 DIY Mouthwash for Bad Breath (2 Ingredients)
Check out these 4 different variations to this 2-ingredient Herbal Mouthwash.
Ingredients
1

cup

filtered water (distilled or reverse osmosis)

6

drops

peppermint essential oil

OR

6

drops

cinnamon essential oil

OR

4

drops

clove essential oil

OR

6

drops

tea tree essential oil
Instructions
Pour water into an 8 oz. dark glass bottle

Add essential oil to the bottle and shake vigorously to break up the oil molecules.

Shake gently before use. Do not swallow.
Notes
Store away from direct sunlight in a cool, dry place for up to two weeks. Rinse the bottle after emptying, refill and reuse.
Nutrition Information
The information shown is an estimate provided for your convenience by an online calculator. It should not be considered as a substitute for a professional nutritionist's advice. See our complete Nutritional Information Disclaimer.
©Prepare and Nourish • Content and photographs are copyright protected. Sharing of this recipe is encouraged and appreciated but please do NOT screenshot or copy/paste complete recipes to websites or social media.
If you liked the recipe above, please consider rating the recipe and leaving a comment below. Also, be sure to follow me on Facebook, Instagram, and Pinterest.
>>> Pin This<<<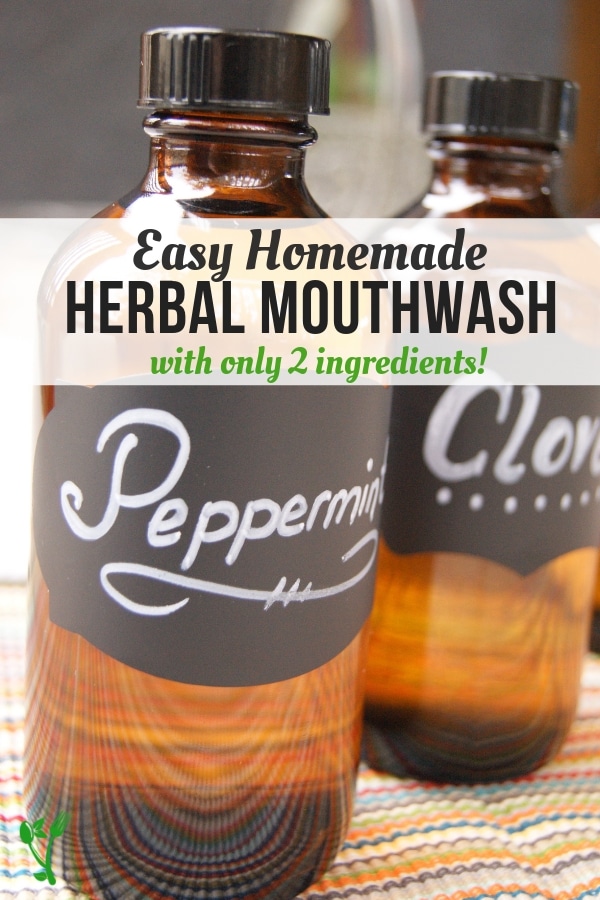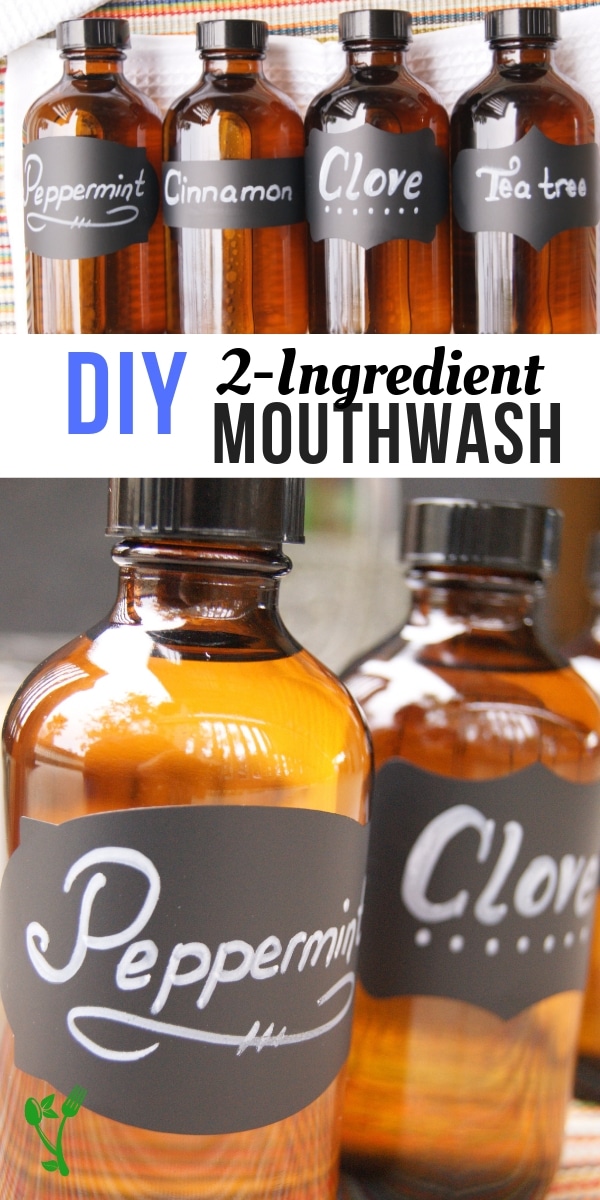 Looking for More Easy DIYs?
Homemade Lip Balm Recipe
DIY Citronella Eggshell Candles
DIY Soaking and Sprouting Mason Jar Lids