DIY Soaking & Sprouting Lids for Mason Jars are an economical way to absorb more nutrients. At just 5 cents each, you can use them for various soaking needs.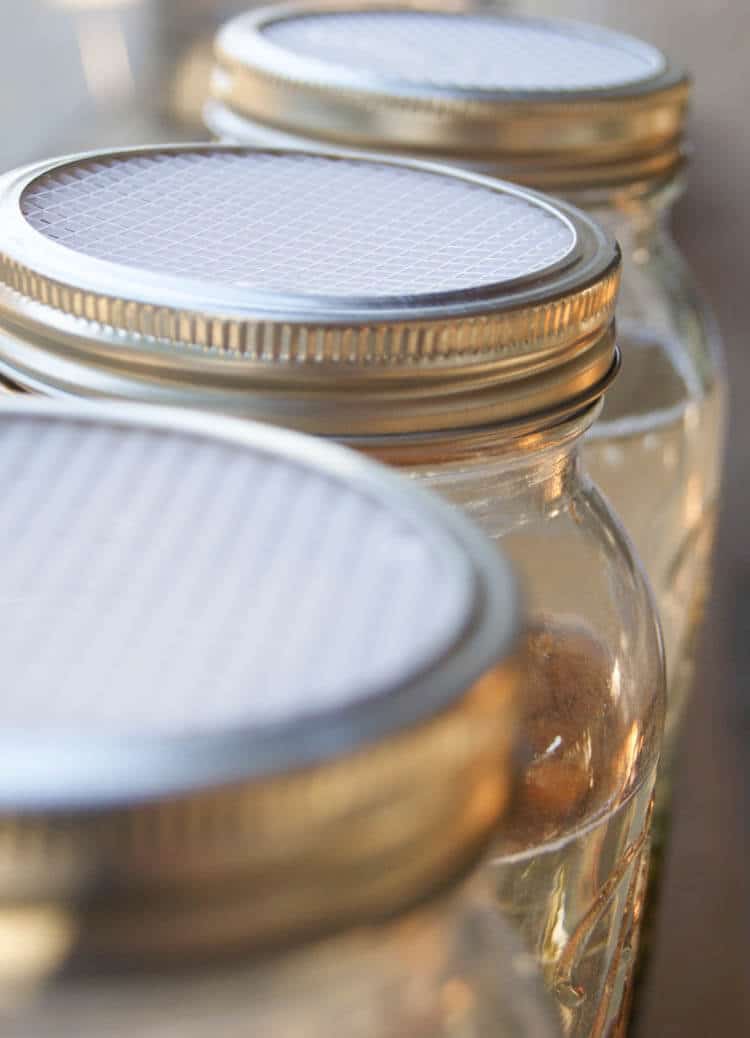 Why is it important to soak and sprout grains?
The process of soaking and sprouting kick starts the digestion of proteins for better digestion and easy absorption of nutrients. You can read more about it in this Weston A. Price article. This Nourishing Gourmet post is complete with all those scientific terms like phytic acid and enzyme inhibitors but suffice it to say that that's one of the reasons why traditionally prepared sourdough is inherently a better option for bread than whole wheat.
The extended fermentation process breaks down the gluten into amino acids that provides a more pleasant digestion, even for those with gluten sensitivity.
Related: Nourishing Foods Defined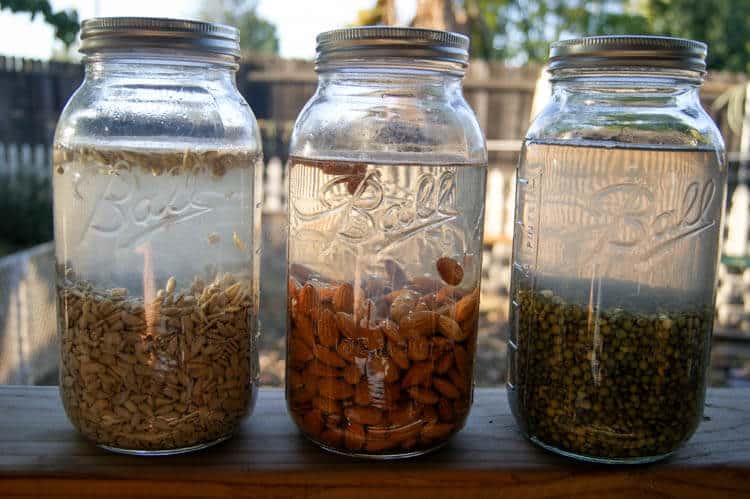 What is the difference between soaking & sprouting?
Soaking and sprouting uses the same technique, but produces a different result.
In soaking (seeds, nuts and some grains) food is submerged in water and acidic medium or salt for a period of 12-24 hours. This is enough time for the phytic acid to be released. You would then strain the seeds, nuts or grains and rinse well and cook as you desire.
Sprouting requires an additional step and usually takes a few days. As the name suggests, you want to see 'sprouts' in your grains or legumes. Every 12 hours or so, you will need to replace the water to your grains to avoid mold. This informative post talks more about sprouting grains.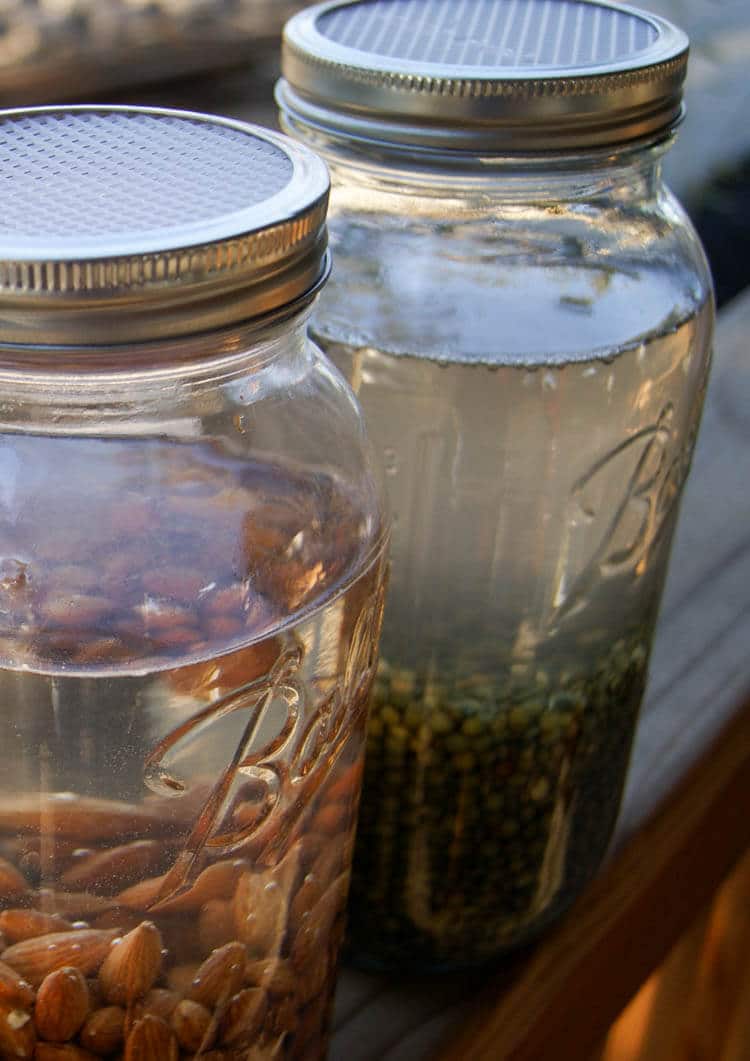 Economical Solution to Soaking Lids
I have used this Sprouting Jar Strainer Lid from Amazon in the past but they run at around $5 a piece. Because, I typically soak or sprout several items at a time, I need more than one or two. Another option is to use several layers of cheesecloth but I wanted a more feasible and hassle-free solution.
I've seen people use a metal fine mesh wire but wasn't sure how it would hold up with water use. Metal mesh wire rusts easily and I didn't want rust particles in my food. Then I came across a plastic needlework canvas from a craft or hobby store and knew I had to try this.
How to Make Soaking & Sprouting Lids for 5 Cents Each
I used this 10.5inX13.5 in #7 canvas but in white. The number 7 refers to 7 square wholes per square inch. They come in smaller sizes for very small seeds like alfalfa, perhaps a 10 or 14 would be better for those?
How fun would it be to have the lids in different colors? If you're really OCD, you can use a brown lid for buckwheat sprouts, white for rice, green for mung beans, etc...
And the best part is it cost me a whole lot less than $5 to make 10 pieces. TEN! Ten screens can fit on one canvas (actually I'm sure you can stretch and make 12 out of them). Including a quart jar, the price is still under $2 for a complete soaking jar with screen.
When making these lids, I would suggest making them for wide-mouth lids only because they are more versatile as far as sizes go. You can use wide-mouth on pint, quart, and half-gallon jars.
Speaking of mason jars, let's get to it. This is a fun little afternoon project and it doesn't even include glitter!
Related: How to Cook Soaked Rice in the Instant Pot
DIY Soaking & Sprouting Lids for Mason Jars
Supplies Needed:
10.5"X13.5" needlework plastic canvas
Marker- sharpie or wet erase both work great
Wide-mouth lid & jar
Scissors
Step 1: Trace the wide-mouth lid (do not use band) with a marker. I was able to fit 10 circles comfortably, but I know I could've made 12 if needed.
Step 2: After tracing the lid, carefully cut on the inside of the tracings. If you don't feel comfortable with working with the inside, you can work with the outer edges but most likely, you will have to trim them more to make them fit to the bands.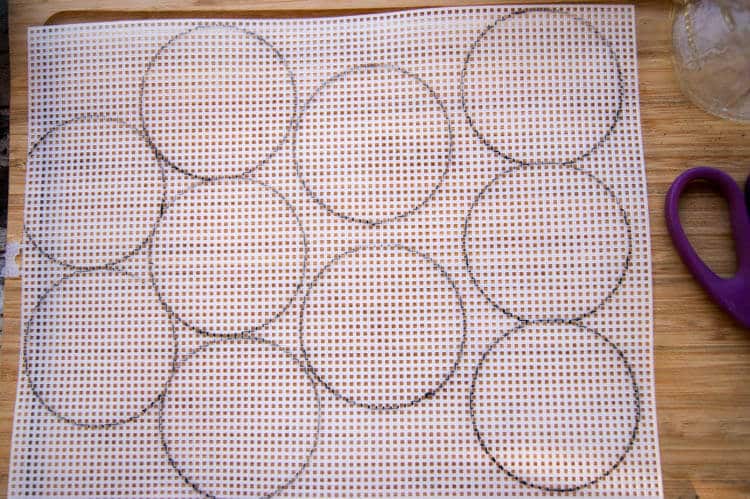 Step 3: Continue cutting the rest of the lids, making 10-12 fine mesh plastic lids.
Step 4: Now, you are ready to use them for all your soaking and sprouting needs. These hold up well in the dishwasher too. I tried and tested it, though I typically do not put anything plastic in my dishwasher.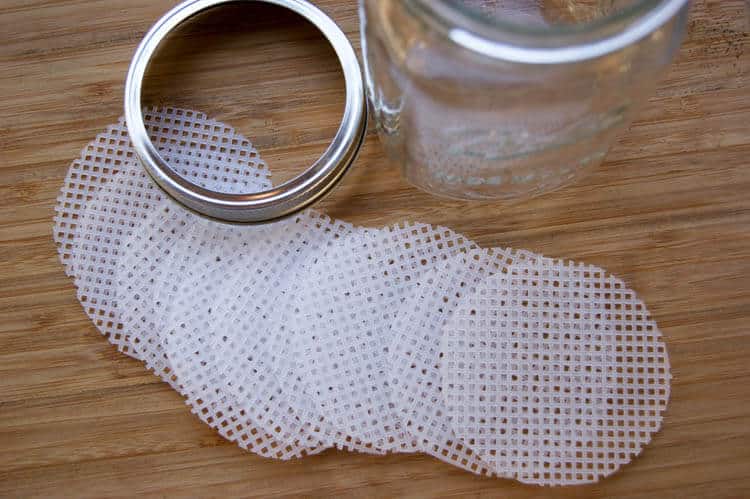 There you have it! With just a few bucks and 20 minutes, you have 10-12 soaking and sprouting lids. What will you soak today?
Note: I can't say with certainty that these lids are BPA free since they are not designed for handling of food. And please know I make best effort to avoid as much plastic as I can but in that same breath I can say with much conviction that purchasing one *plastic* needlework canvas and using other materials already on hand saves me time and money, not to mention it also avoids having those pesky green mesh lids which adds to more plastic in the long run. I feel these are safe to use to sprout and soak ONLY and should never be used to heat, cook, and eat off of. I would also caution against washing these in dishwasher (though I did do a test run and they held up fine).


>>>Pin This<<<
If you liked the post above, please consider leaving a comment below. Also, be sure to follow me on Facebook, Instagram, and Pinterest.