This Creamed Mushrooms recipe is full of satisfying flavors in caramelized onions, garlic, rich butter and cream, finished off with red wine reduction. Great over pasta, chicken or steak!
This simple yet elegant side dish is full of amazing flavor and texture. The caramelized onions, browned mushrooms and flavorful garlic all wrapped up in creamy red wine reduction sauce.
This creamy mushroom sauce is great on toast, with pasta, chicken and even over steak.
Best of all, you can have a pan of these delicious creamed mushrooms in under 40 minutes.
Creamy Garlic Mushrooms
Mushrooms and garlic go so well together. To reduce that garlicky bite and release the pungent flavor, I add the garlic after the mushrooms have browned well.
Simply scoop the mushrooms out to the side of the pan and add the minced garlic to the center. Stir and cook for about a minute before combining it with the rest of the ingredients.
Mushrooms in Red Wine Reduction
These creamy mushrooms in red wine reduction are boldly satisfying. Cooking with wine transforms the dish and these mushrooms are no exception.
As wine cooks, its sugars and acids become concentrated resulting in a bold and savory flavor. Dry red wines are best for making these Creamed Mushrooms in red wine reduction.
One of the most important things to remember when cooking with wine is choosing one that you would actually drink. Skip the "cooking wines" as they often have unnecessary added salt, sugar and preservatives.
Some great reds for these creamy mushrooms are Pinot Noir and Merlot.
As the mushrooms cook in the red wine, the alcohol evaporates, the sauce thickens and the liquid reduces to a creamy consistency. The result is a luxurious red wine mushroom sauce that is perfect for chicken, pasta, and over steak.
What can be used in place of alcohol?
If you don't want to use red wine in these creamed mushrooms, feel free to use beef broth instead. Alternatively, 100% cranberry juice can also be a great substitution for red wine without sacrificing flavor.
Creamy Mushroom Sauce Recipe
The beauty of this easy yet elegant side dish is you can adjust the "creaminess" according to preference. Add more or less cream if you want the mushrooms to be thinner or thicker, respectively.
This will also depend on what you are serving these mushrooms with. To go over regular pasta, you'd probably want the Creamy Mushrooms to be a little on the thinner side - more like a sauce.
However, if you are serving this over zucchini noodles or spaghetti squash pasta with long strands, you would probably want these Creamy Mushrooms to be a little more set and thicker since veggie noodles already have large water content.
How to Wash Mushrooms
Creamed Mushrooms recipe starts with clean mushrooms. But how do you clean mushrooms?
Adequately browning mushrooms brings out that amazingly rustic flavor.
But mushrooms are a porous and delicate fungus and as a result, will soak up water easily if you choose to wash them. No one wants a soggy mushroom. Especially, when the goal is to brown them.
So how can you avoid that rubbery and slimy texture that often results from waterlogged mushrooms? Don't wash them!
That's right! If mushrooms are not visibly dirty, you don't have to wash them. If there is a little dirt, use a dry or slightly damp paper towel to gently rub off any muddy bits. A small paring knife can also be used to cut off any crusty parts.
Because washing mushrooms is nearly impossible without sacrificing flavor and texture, I prefer purchasing organic mushrooms, to limit any residual exposure from pesticides and other chemicals.
How to Make Creamed Mushrooms
Creamed mushrooms begins with caramelizing onions in quality pastured butter.
Followed by adding cleaned mushrooms and cooking them over medium-high heat until tender and browned.
The magic begins when you pour in the wine over mushrooms and onion and deglaze the pan, scraping off all the browned bits from the bottom of the pan. Reduce heat to medium-low and continue cooking to reduce and thicken wine.
Finally, add the cream and cook for 1-2 minutes more. And you are done!
Our favorite way to enjoy these Creamed Mushrooms is over steak with a large side salad like a healthy Harvest Kale Salad or homemade Caesar Salad.
These Creamy Mushrooms can be refrigerated up to one week in sealed container. To reheat, gently bring to a simmer over medium-low heat in a saucepan. You may need to add a tablespoon of liquid (cream, milk, broth, or water) to thin out the sauce.
Creamed Mushrooms without Dairy
If you're not particularly dairy free, I recommend making the recipe as instructed.
However, there are modifications you can make to make these Creamy Mushrooms without dairy.
Instead of butter, use ghee. I would not recommend using coconut oil because of the overpowering coconut flavor in oil. For cream, you can sub either coconut milk or use dairy-free yogurt (typically made from coconut but has less of that coconutty flavor).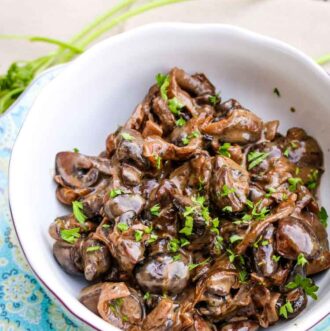 Creamed Mushrooms Recipe
Full of satisfying flavors in caramelized onions, garlic, rich butter and cream, finished off with red wine reduction. Great over pasta, chicken or steak!
Ingredients
2

tablespoons

butter

1

yellow onion

sliced

1 ½

pounds

baby bella mushrooms

cleaned and quartered

2

garlic cloves, minced

½

cup

dry red wine

½

cup

heavy whipping cream

1

teaspoon

real salt

½

teaspoon

black pepper
Instructions
Melt butter in a large skillet over medium high heat.

Add onions and saute for about 10 minutes until translucent.

Add mushrooms, season with salt and pepper and cook for another 15 minutes or until browned and tender.

Add garlic and stir for a minute, until fragrant.

Pour in the wine (or broth) and deglaze the pan, scraping up any browned bits from the bottom of the pan. Bring heat to low and continue to reduce wine slowly over low heat for approximately 2 minutes.

Add cream and gently simmer until sauce is slightly thickened. Season with salt and pepper.

Serve warm. Great over chicken, steak, pasta or mashed potatoes.
Notes
*Beef broth or cranberry juice can be replaced for red wine.
Nutrition
Calories:
229
kcal
|
Carbohydrates:
12
g
|
Protein:
5
g
|
Fat:
17
g
|
Saturated Fat:
10
g
|
Cholesterol:
56
mg
|
Sodium:
654
mg
|
Potassium:
824
mg
|
Fiber:
2
g
|
Sugar:
4
g
|
Vitamin A:
612
IU
|
Vitamin C:
3
mg
|
Calcium:
59
mg
|
Iron:
1
mg
Nutrition Information
The information shown is an estimate provided for your convenience by an online calculator. It should not be considered as a substitute for a professional nutritionist's advice. See our complete Nutritional Information Disclaimer.
©Prepare and Nourish • Content and photographs are copyright protected. Sharing of this recipe is encouraged and appreciated but please do NOT screenshot or copy/paste complete recipes to websites or social media.
If you liked this Creamed Mushrooms recipe, please consider rating the recipe and leaving a comment below ⇓. Also, be sure to follow us on Facebook, Instagram, and Pinterest.
More Healthy Sides:
Easy Roasted Broccolini Recipe
Roasted Carrots with Garlic
Scalloped Sweet Potatoes with Bacon
>>>Pin This<<<
This post was originally published April 2016 but has since been updated to include helpful information.