These Instant Pot Ribs are so delicious, flavorful, tender and best of all easy to make with only 5 ingredients and 30 minutes cook time! Pair with your favorite roasted vegetable for an easy weeknight dinner!
Serving a nice platter of tender, juicy and delicious ribs never gets old. My entire family loves them and devours them in minutes. We never have leftovers and if on a rare occasion we do - they don't last long.
The Instant Pot makes fantastic ribs because it does the low and slow cooking in very little time compared to slow cooker and roasting in the oven.
We have ribs on regular rotation because I know that is one food all will eat with very little hands time on my part. Just season with dry rub and toss in the Instant Pot for some magic.
What I love the most is that I don't even remove the membrane (the connective tissue that runs along the backside of the ribs) and no one has complained. Ever!
The best price and quality for ribs is from ButcherBox. I get their custom small box delivered to our home on a monthly basis and I get to choose which cuts I want and need for the month.
This Instant Pot Ribs recipe is so wickedly simple that I don't even add anything to the liquid. Just water will suffice to build up that pressure. And the bonus is that I can then make delicious gravy from that liquid that is now rich in dry rub seasoning and sparerib flavor.
And trust me, that gravy is the most amazing gravy. Just add a bit of tapioca flour to thicken it and pour over mashed potatoes, rice or other favorite side.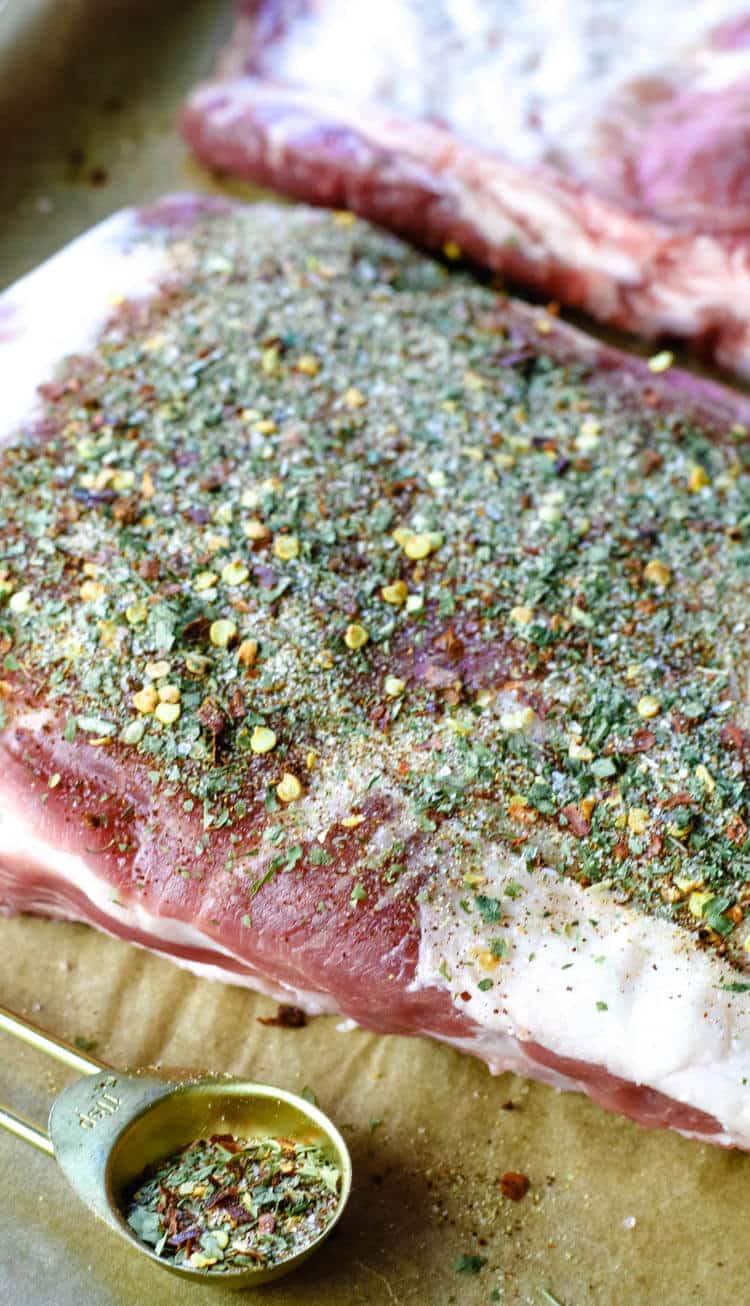 What variety of cut are spareribs?
Spareribs or St. Louis Style ribs are cut from the lower portion of the pig, below the belly and breastbone. Spare ribs typically have more bone on them but they also have a higher fat content which makes them more flavorful if cooked properly.
A big advantage of using spareribs over baby back ribs is that they are much cheaper. Especially if getting meats from ButcherBox where quality and sustainability is a priority.
Be sure to add some spareribs to your delivery at ButcherBox and get $20 OFF and FREE bacon!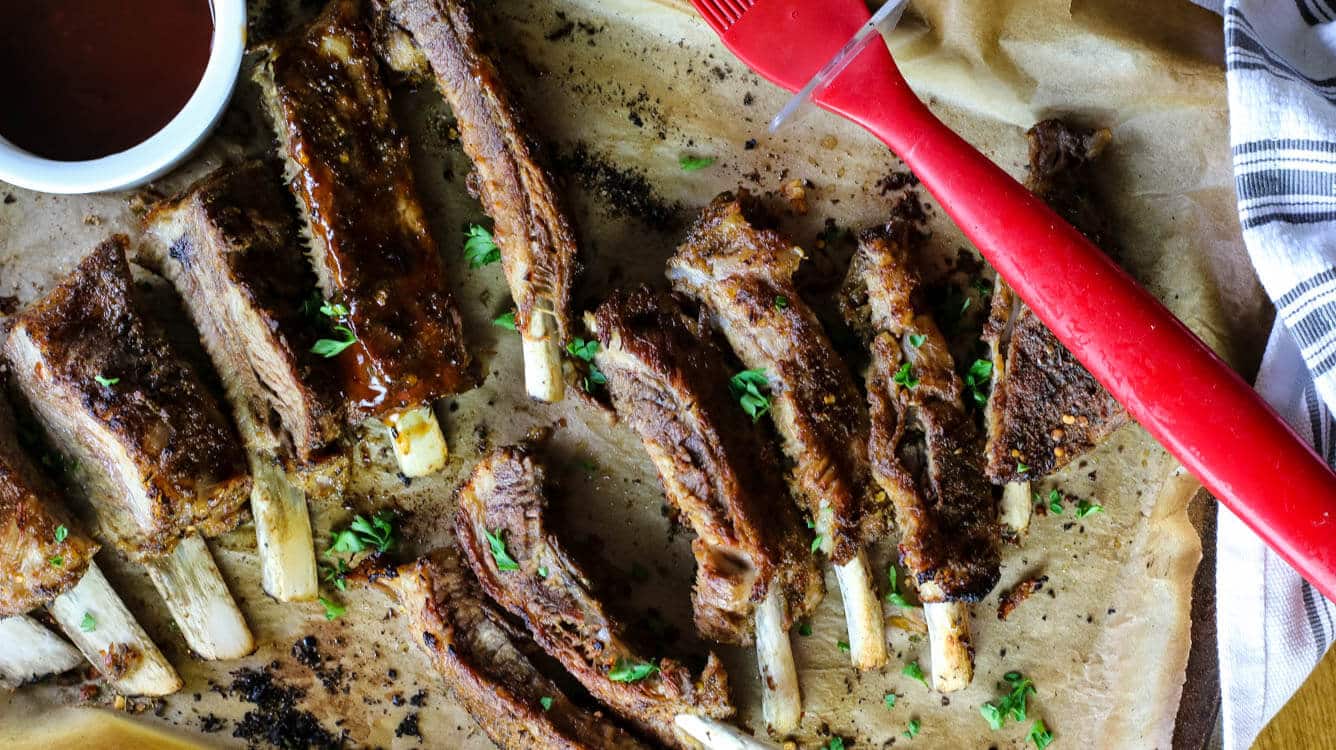 How to Make Ribs in the Instant Pot
Ribs require low and slow cooking time to become nice and tender. That's why the Instant pot is such an ideal cooking method for ribs.
The pressure cooker does what other low and slow methods (i.e. slow cooker, grilling, roasting, etc) does but in a fraction of the time.
The key is to allow the cooker to naturally release pressure for 15 minutes after cooking time so the ribs retain moisture.
You want to finish them off the oven under the broil setting to get that nice crispy skin.
Can you cook two racks of ribs in the Instant Pot?
Short answer is it depends on how big your Instant Pot is (6qt or 8qt) and how big the ribs are. The most important thing to remember is that you want your ribs coiled inside on the trivet inside the inner pot.
Don't overcrowd the pot and be sure the ribs are not above the max line. You want to have plenty of flow for the pressure between the ribs.
Is it necessary to remove the membrane from ribs?
The membrane (the scientific term is peritoneum) is a thin tissue that is attached to the underside of pork ribs. Unlike most tissue between and around the ribs, this membrane does not soften when cooked.
Some cooks and chefs alike claim that leaving the membrane attached to your ribs will produce less-flavorful ribs and tough texture.
I, however, have not found it necessary to remove the membrane. Especially, if cooked in the Instant Pot since it makes it so incredibly tender.
And when using top-quality meats, I always prefer to utilize all the healthy fats.
The membrane attached to the ribs produce the most succulent results as it makes the ribs juicier and tender.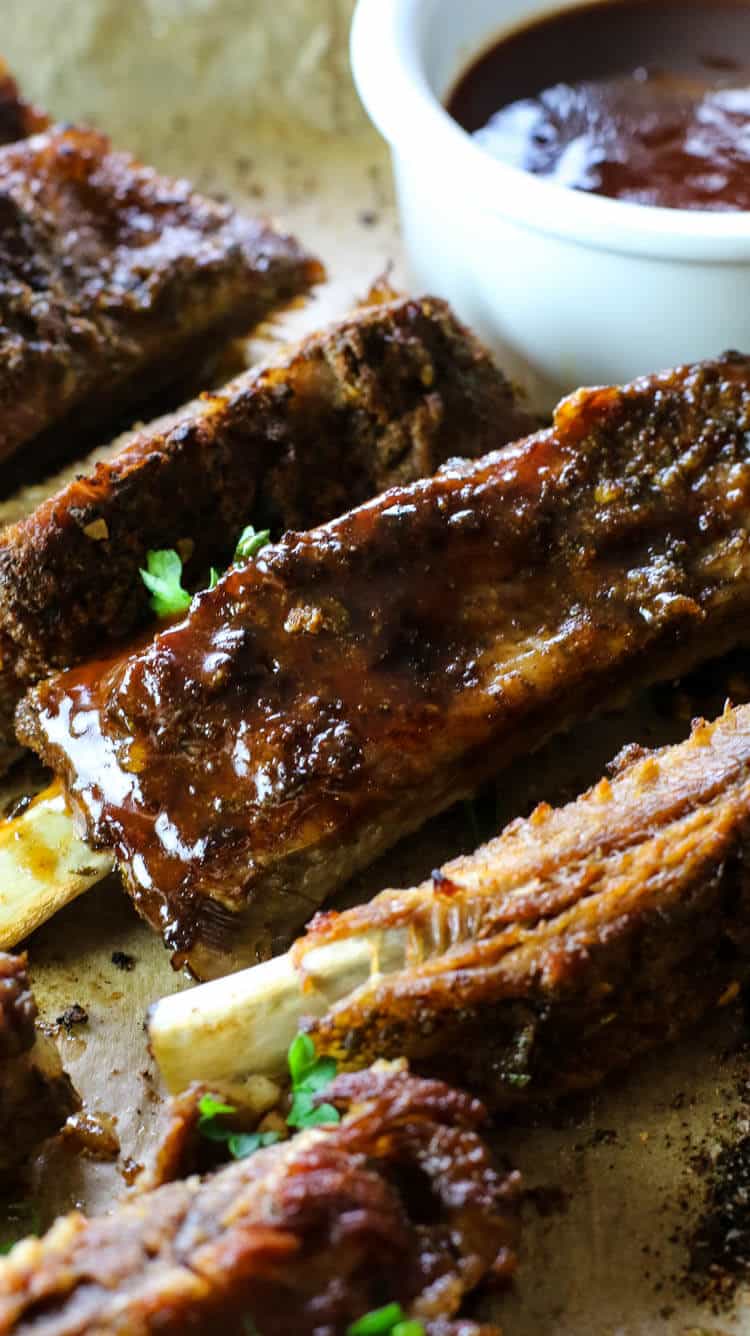 What to serve with ribs?
Your favorite side dishes! Ours are:
Helpful Tips for These Instant Pot Ribs Recipe
It's not necessary to remove the membrane from the rack of ribs. You can if that is your preference but the result will be more flavorful and tender with the membrane attached.
Dry rub can be doubled or tripled for easy ribs in the future. You can use any dry rub recipe or the general one in the recipe card that is naturally paleo, keto and Whole30.
These ribs are so full of flavor that it's not necessary to add anything to the water. No need for liquid smoke, apple cider vinegar or broth! Tons of flavor from the ribs and dry rub!
Don't chuck all that succulent liquid from the Instant Pot! Strain it and transfer it to a mason jar for easy gravies, soups, or even added to stir-frys for extra flavor.
To keep this sugar free and paleo, skip the barbecue sauce or go with one that is compliant. We serve BBQ sauce on the side since not everyone is a fan. Between the dry rub, tenderness from Instant Pot and broiled to perfection - I promise you won't miss the BBQ sauce.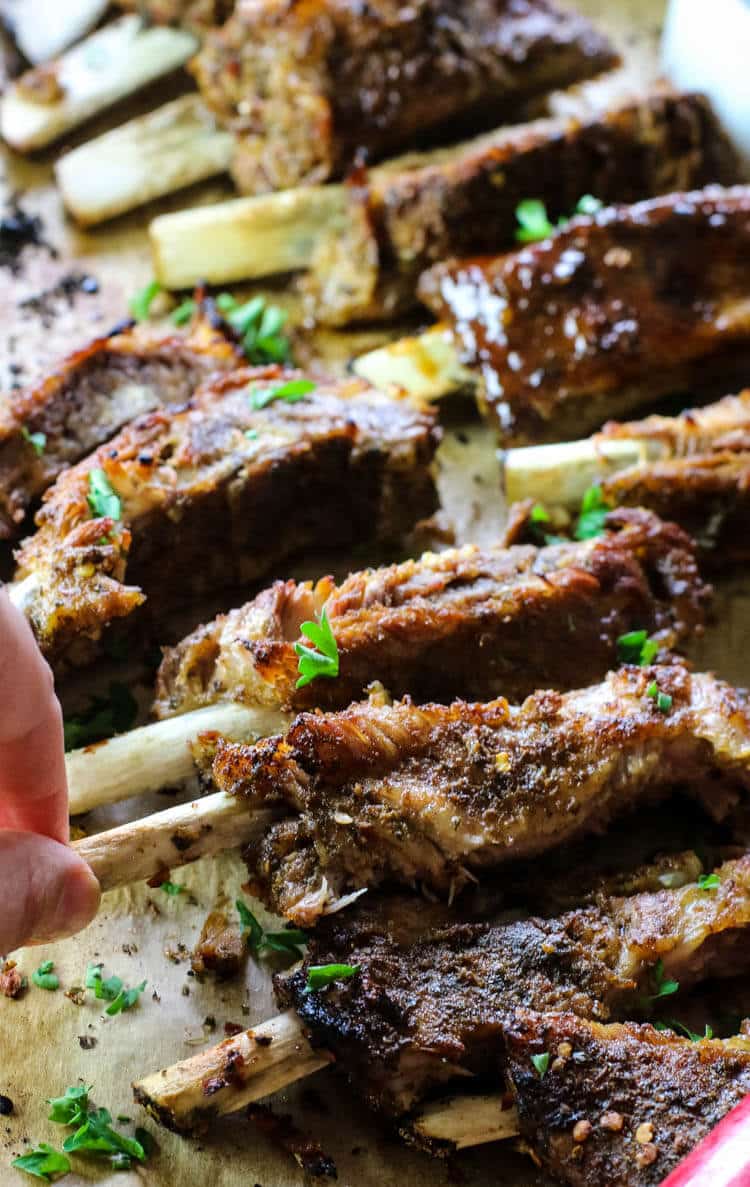 Printable Recipe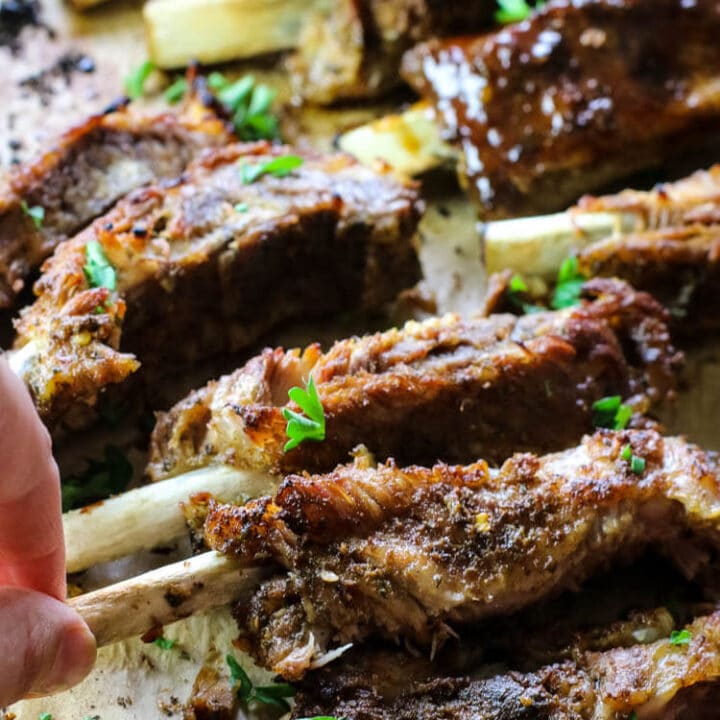 Instant Pot Ribs (Paleo, Keto, Whole30)
These Instant Pot Ribs are so delicious, flavorful, tender and best of all easy to make with only 5 ingredients and 30 minutes cook time! Pair with your favorite roasted vegetable for an easy weeknight dinner!
Equipment
Instant Pot Pressure Cooker
Ingredients
Dry Rub
1

tablespoon

garlic powder

1

tablespoon

dried parsley

1

tablespoon

sea salt

2

teaspoons

paprika

1

teaspoon

red pepper flakes
Instructions
Mix all seasonings for the dry rub.

Pat dry all sides of rib racks. Removing the membrane is not necessary but feel free to do so. Season generously with dry rub.

Place wire trivet in the bottom of the inner pot of the pressure cooker and add water to the pot.

Place the ribs upright in the pot, coiling them inside if needed.

Secure lid and close the vent. Press Manual and press +/- to select 30 minutes of cooking time.

When the cooking cycle has completed, allow to Natural Pressure Release (NPR) for 15 minutes, followed by Quick Pressure Release (QPR) by turning the valve to release pressure.

OPTIONAL: Remove the ribs with a pair of tongs and transfer to a parchment paper-lined baking sheet. Broil on high for 4 minutes for that crispy skin.
Notes
If using BBQ sauce, slather it on the ribs just before popping under the broiler. 
Nutrition Information
The information shown is an estimate provided for your convenience by an online calculator. It should not be considered as a substitute for a professional nutritionist's advice. See our complete Nutritional Information Disclaimer.
©Prepare and Nourish • Content and photographs are copyright protected. Sharing of this recipe is encouraged and appreciated but please do NOT screenshot or copy/paste complete recipes to websites or social media.
If you liked the recipe above, please consider rating the recipe and leaving a comment below. Also, be sure to follow me on Facebook, Instagram, and Pinterest.
Other Instant Pot Meats You Might Like
Instant Pot Crispy Carnitas (Paleo, Whole30, Low Carb, Ket0)
Instant Pot Buffalo Chicken Wings with Blue Cheese Dip (Primal, GAPS, Low Carb)
Instant Pot Citrus-Herb Basque Chicken (Paleo, Whole30, GAPS)
>>> Pin This<<<