This Instant Pot Citrus-Herb Basque Chicken is full of bold flavors from spicy chorizo, fragrant thyme, sweet orange juice and briny olives and sun-dried tomatoes. Enjoy with roasted vegetables or a bowl of rice.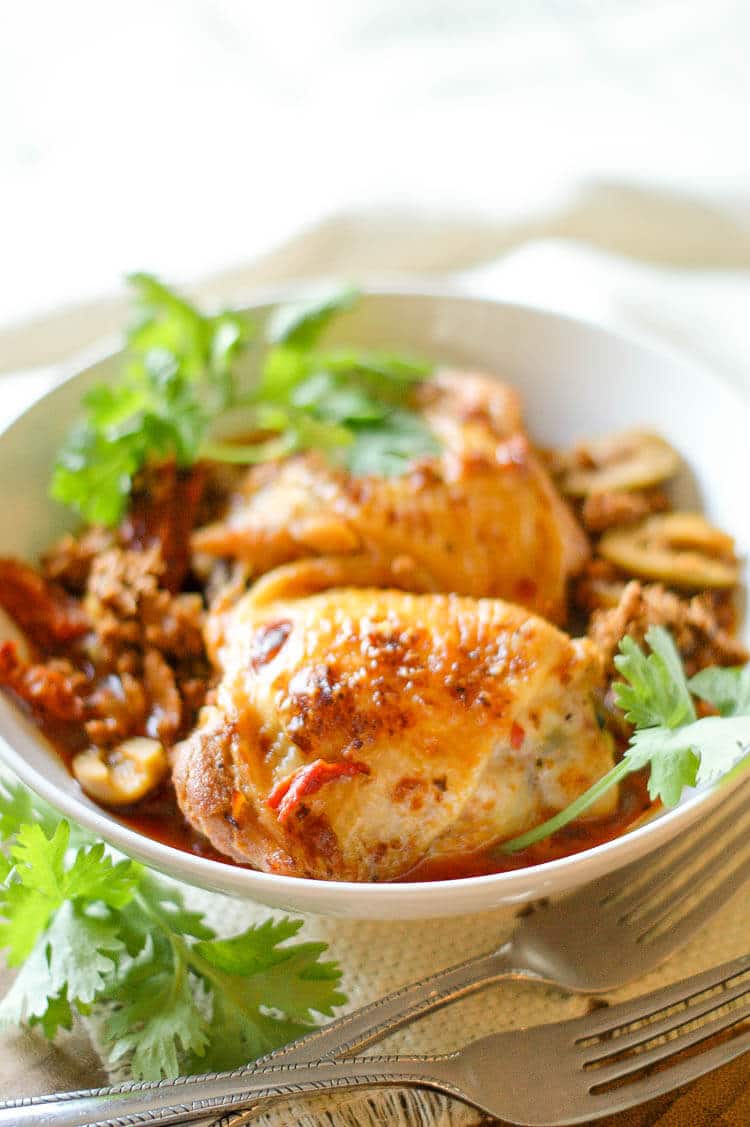 I received a cookbook for my honest review. All opinions are my own and I only recommend products I truly love and support.  See full DISCLOSURE for details.
The Basques are indigenous to and primarily inhabit the Basque Country, tucked just between north of Spain and southwest of France. Being surrounded geographically by Western European countries and Spanish influences, the Basque cuisine is rich in bold flavors and delicious pairings.
Basque flavors make an awesome Basque Chicken
This appetizing dish is full of spicy chorizo, sun-dried tomatoes, sweet orange juice and briny olives. I was pleasantly surprised to see just how well these flavors go good together. It's different than what I usually prepare and I'm so glad I stepped outside my comfort zone to try this Basque dish. It was such a successful hit! And by successful, I mean the husband is happy, the children are fed and the cleaning fairy comes to clean my house. Okay, maybe not that last part but the first two were spot on.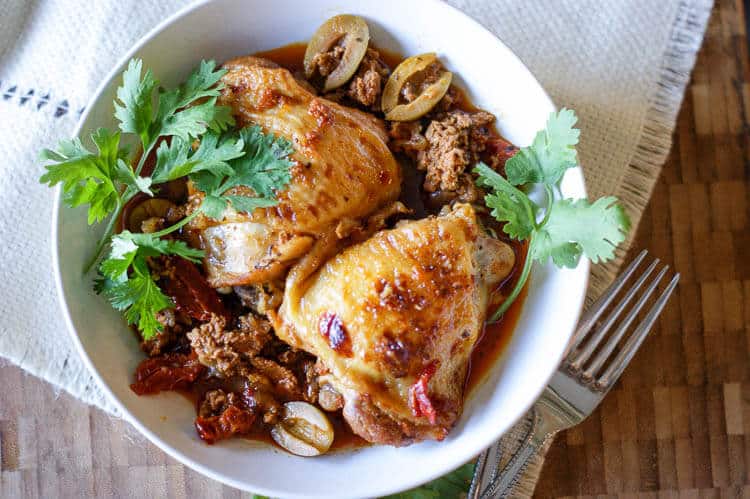 This Citrus-Herb Basque Chicken is all that and a bag of chips. The rich flavors from spicy chorizo and fragrant thyme are met with the homey classic chicken. Enjoy this on a bed of rice (kids) or spaghetti squash (me).
This recipe is one of many gorgeous, gluten-free, healthy recipes in my friend Emily's new book, The Art of Great Cooking with Your Instant Pot: 80 Inspiring, Gluten-Free Recipes Made Easier, Faster and More Nutritious in Your Multi-Function Cooker. If you've been intimidated to cook nourishing meals using an instant pressure cooker, fear no more.  This cookbook features 80 allergy-friendly recipes with most either being Paleo-friendly or having grain-free/dairy-free options.
It's full of nourishing recipes such as hearty meat dishes, tantalizing soups and stews, gourmet pasta dishes and comforting casseroles. There's also a section on appetizing breakfasts and heavenly sweet treats! Something for everyone and every time of the day.
Some of my favorite recipes from The Art of Great Cooking with your Instant Pot are Braised Lemongrass Meatballs, Caramelized Mushroom & Onion Crustless Quiche, Bacon Kale & Mushroom Spaghetti, and Spiced Pumpkin Bundt Cake. And this is just a teeny-tiny sampling of what's in this awesomely amazing cookbook.
Now, onto this tantalizing recipe...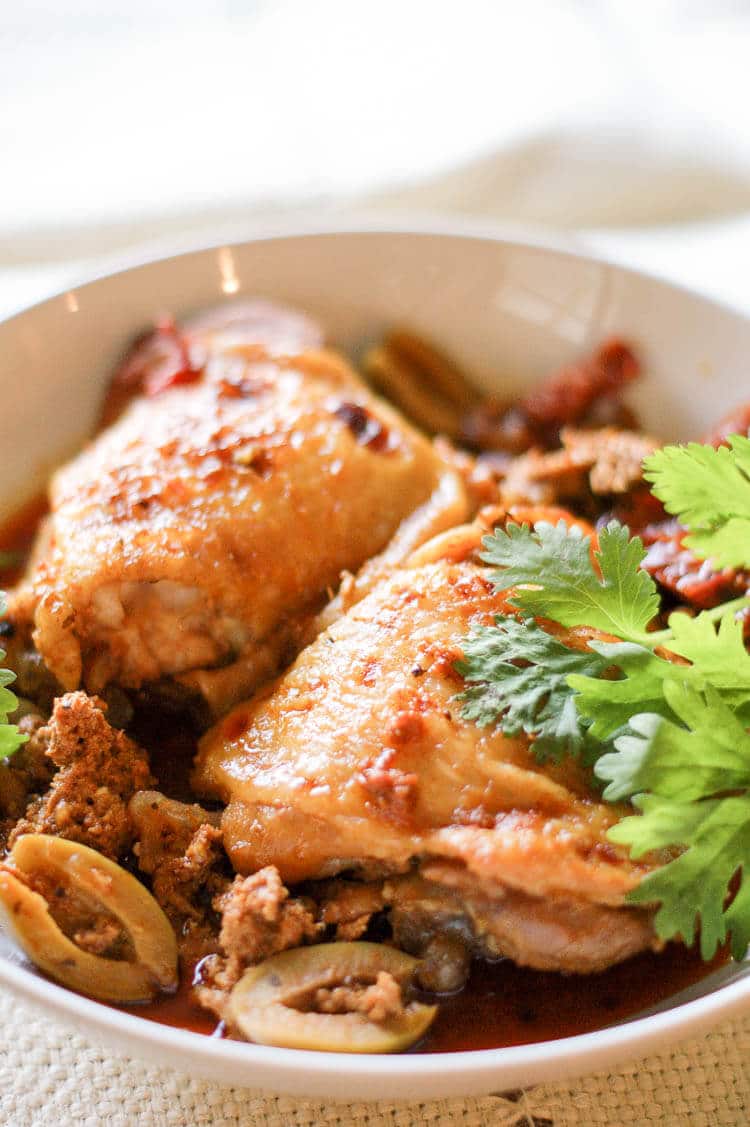 Instant Pot Citrus-Herb Basque Chicken
This recipe, exactly as written, is out-of-this-world delicious but I did make a few modifications. For starters, my fresh thyme was all dried up when I went out to my garden for it. And have you seen fresh herbs at the supermarket lately? Major sticker-shock. My solution: I used 3 teaspoons of dried thyme instead.
Another thing I did differently in this recipe (not by choice but by necessity), I used water in place of bone broth. But that was only because I forgot to set the IP on the day before for some broth. Sigh. But just as tasty.
Related: How to Make Bone Broth - 3 Methods
Finally, and this isn't so much of a modification as simply a note: depending on your chorizo, sun-dried tomatoes and olives, you may need to adjust the salt. Don't throw tomatoes at me, but I never purchased chorizo before. In fact, I had to google it to know exactly what I'm looking for (spoiler alert: it's pork sausage). And of course when I got to the supermarket, there were like a gazillion varieties to choose from.
So what do I go with? The Spicy Pork Chorizo? No. The Sweet Pork Chorizo? No again.
I reach for Turkey Chorizo. TURKEY Chorizo. It's like TURKEY bacon. They contradict each other. It's a fraud. Turkey and chorizo simply should not be in the same sentence just like turkey and bacon should not be in the same sentence.
In my defense, I got too excited to see one of my favorite local brands on the package so I just went with it trusting the quality of the chorizo and completely dismissing what Google told me just hours prior.
As such, chorizos vary and inevitably the salt content. So, always go light on the salt but adjusting as needed.
Oh and one more thing, cilantro should never be optional. It's always mandatory. Unless it tastes like soap. 😉
Printable Recipe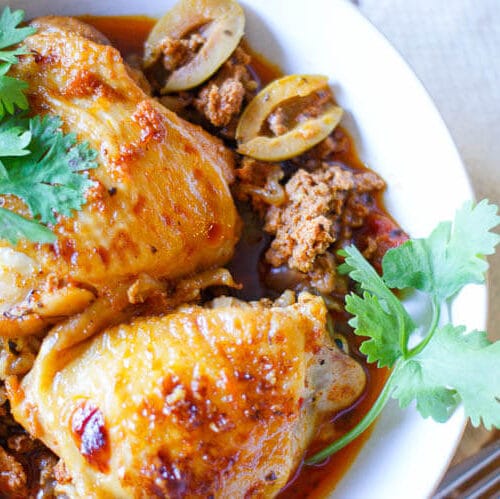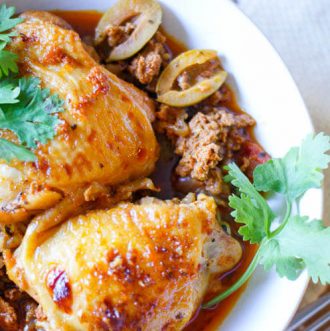 Instant Pot Citrus-Herb Basque Chicken
This delightful Basque dish is full of spicy chorizo, sun-dried tomatoes, sweet and tangy orange juice, floral thyme and salty olives. It is rich in flavor yet simple enough for a quick weeknight meal.
Ingredients
3

tablespoon

grass-fed butter, ghee or avocado oil

divided

4

bone-in chicken thighs

1 ¼

teaspoon

real salt

divided

1

medium yellow onion

thickly sliced

4

fresh garlic cloves, minced

5

fresh thyme sprigs

leaves removed & stems discarded

½

pound

chorizo

casing removed

⅓

cup

sun-dried tomatoes

½

cup

pitted green olives

⅓

cup

freshly squeezed orange juice

¾

cup

bone broth

cilantro for garnish
Instructions
Add 2 tablespoons of healthy fat of choice to the Instant Pot and press "Sauté." Once the fat has melted, add the chicken thighs, sprinkle with ½ teaspoon of sea salt and brown for about 2½ minutes per side.




Remove the browned chicken to a plate and set aside.

Add the remaining 1 tablespoon of healthy fat of choice, onion, garlic, thyme leaves and the remaining ¾ teaspoon of sea salt, sautéing for 5 minutes, stirring occasionally.

Add the chorizo and sauté for 5 minutes, stirring occasionally. Press the "Keep Warm/Cancel" button.

Add the sun-dried tomatoes, olives, orange juice and bone broth. Give it a good stir.

Add the browned chicken, making sure it's submerged and some of the liquid is ladled over it. Place the lid on the Instant Pot, making sure the steam release valve is sealed.

Press the "Poultry" setting, then increase the time using the "+" button until you reach 20 minutes.

When the Instant Pot is done and beeps, press "Keep Warm/Cancel." Using an oven mitt, "quick release"/open the steam release valve. When the steam venting stops and the silver dial drops, carefully open the lid.

Serve immediately, topped with fresh cilantro.
Notes
Note: To achieve the browned crust on the skin, I slipped the thighs under broiler for a few minutes. But watch the chicken closely! This meal is delicious served alongside simple roasted vegetables.  However for extra substance, I plated this over rice for my kids. Delicious!
Nutrition Information
The information shown is an estimate provided for your convenience by an online calculator. It should not be considered as a substitute for a professional nutritionist's advice. See our complete Nutritional Information Disclaimer.
©Prepare and Nourish • Content and photographs are copyright protected. Sharing of this recipe is encouraged and appreciated but please do NOT screenshot or copy/paste complete recipes to websites or social media.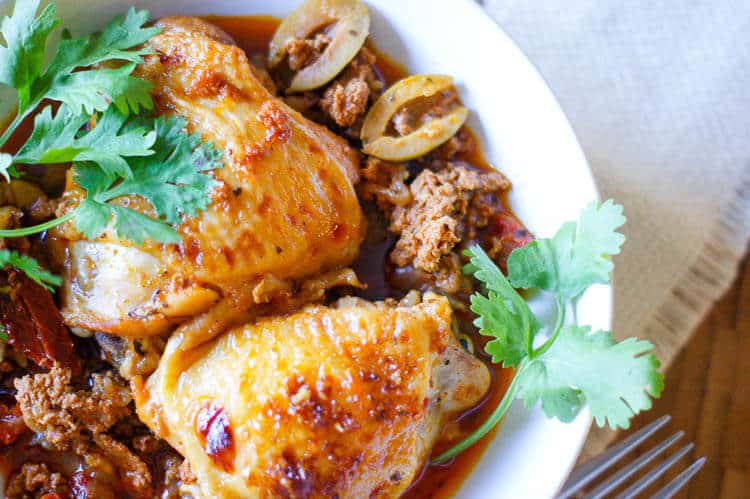 Other Pressure Cooker Recipes you might Like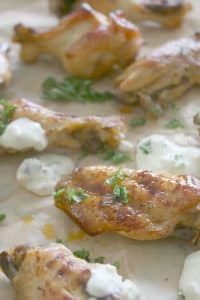 Instant Pot Buffalo Chicken Wings with Blue Cheese Dip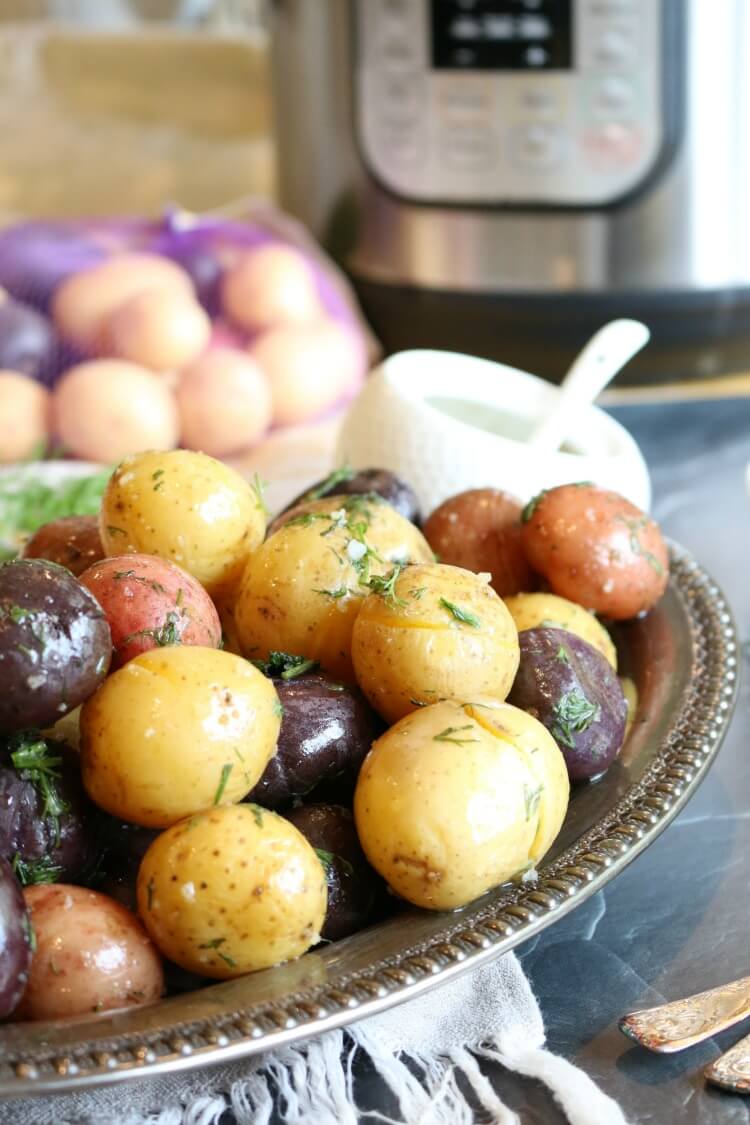 Instant Pot Butter & Dill Potato Medley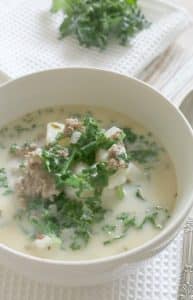 Instant Pot Ground Beef & Kale Soup 
STANDARD FTC DISCLOSURE:
In order for me to support my blogging activities, I may receive monetary compensation or other types of remuneration for my endorsement, recommendation, testimonial and/or link to any products or services from this blog. Please note that I only endorse products that are in alignment with Prepare & Nourish's ideals and that I believe would be of value to my readers. Prepare & Nourish is a participant in the Amazon Services LLC Associates Program, an affiliate advertising program designed to provide a means for sites to earn advertising fees by advertising and linking to Amazon.com. Statements on this website have not been evaluated by the Food and Drug Administration. Products and/or information are not intended to diagnose, cure, treat, or prevent any disease. For additional information, please visit my full Disclosure page.