These Paleo Banana Muffins are made with coconut flour and are free from dairy, nuts, gluten and grains. They make a delicious, perfectly moist Paleo treat or breakfast on the go and can be whipped up in one bowl.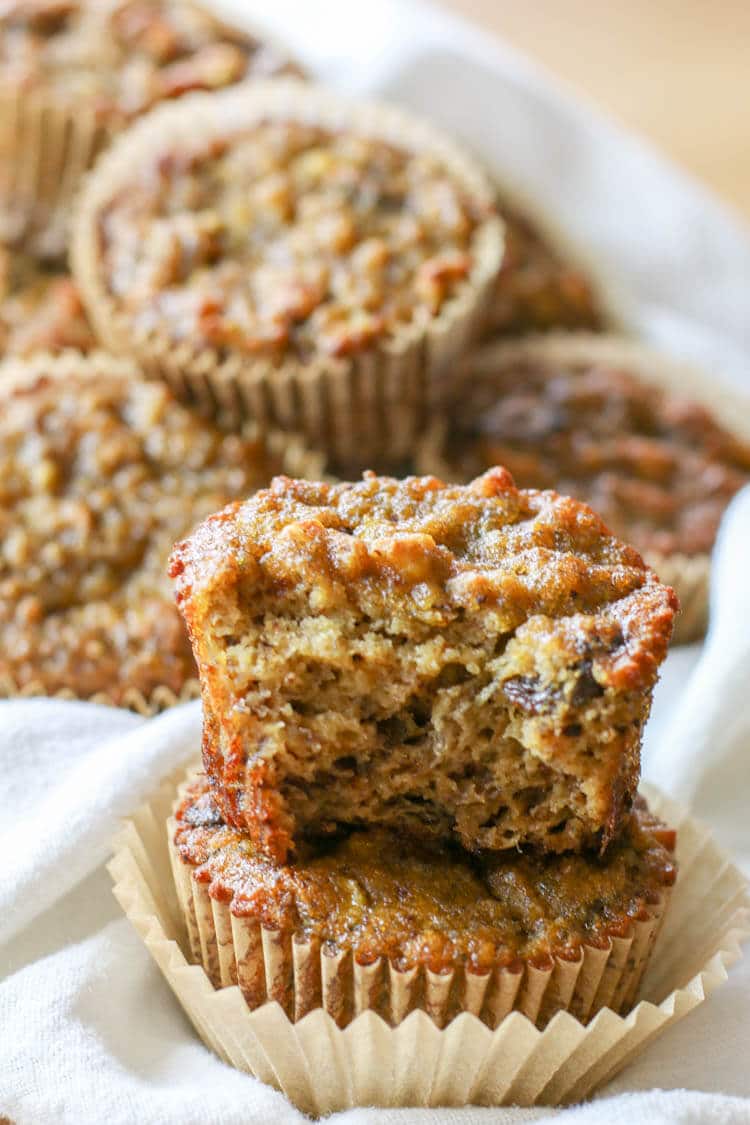 You can find a plethora of banana bread recipes floating on the internet so why another one?
This recipe is free from common allergens such as dairy, nuts and gluten. It's subtly sweetened with maple syrup or honey. Its' perfectly moist (yet not soggy) texture makes a favorite baked treat in the afternoon for our family.
What makes these Paleo Banana Muffins the best.
They are....
Free from common allergens such as gluten, grain, dairy and nuts
One-bowl friendly - whisk everything in the same bowl before popping the muffins in the oven
Quick to whip up - the batter can be ready in 10 minutes
Naturally sweetened with maple syrup or honey (which is suitable for GAPS diet)
A great use for those brown bananas that are attracting fruit flies
Healthy Banana Bread Muffins
These heavenly paleo banana muffins have no almond butter or any other butter that may often be allergenic to some, making them entirely nut and seed free. So if nuts are a no-go for you, you'll want to be sure to make these coconut flour banana muffins soon.
You'll notice that coconut flour is extremely absorbent and that's why we only use half a cup of this gluten-free flour. Anything more and the muffins will become too dense and dry.
What's better is that these banana muffins have no added sugar. Maple syrup and honey are not only paleo but in some regards are considered healthy as they contain important nutrients and minerals. As always in all the baking, start low and add more sweetener if desired. Honey is generally sweeter than maple syrup so go easy.
If you prefer, it's completely fine to omit the maple syrup or honey entirely and use bananas only. To boost up the sweetness factor, you may also add raisins or other dried fruit - but watch those labels to make sure they don't have added sugars.
Coconut Flour Banana Muffins
Admittedly, my family is not a big fan of coconut but these muffins pass the coconut taste test by my kids.
The batter itself is nut free and dairy free but should you desire, feel free to throw in your favorite nuts, dried fruit or even clean chocolate chips. We love these for regular diets and these are great for those following a low-carb diet.
If you don't care for coconut, below are a few tips to help hide that distinct flavor.
Use refined expeller pressed coconut oil. It has a very neutral taste and aroma and can fool all the coconut haters.
Use maple syrup instead of honey. I find that honey brings out more coconut in coconut flour. So if you're wanting to reduce the coconut flavor, use maple syrup as your sweetener.
Use vanilla bean powder instead of vanilla extract. Vanilla bean powder is simply vanilla beans ground up. It is exceptionally more concentrated than vanilla extract and does a splendid job of hiding coconut flavor. You can find vanilla bean powder here.
What can I add to my healthy banana bread?
The batter itself is nut free and dairy free but should you desire, there are various add-ins you can throw in to upgrade your paleo banana bread.
Chopped nuts such as walnuts, pecans, or almonds are all great.
Seeds such as sunflower seeds or pepitas are great as toppings.
Dried fruit such as raisins or dried berries (blueberries, cherries, cranberries) would also make a great addition but be sure to check those labels to avoid unwanted added sugars.
And of course good quality chocolate chips are a wonderful addition. We love these for regular diets and these are great for those following a low-carb diet.
How to Convert Muffins to a Loaf
Are you wanting to make a healthy banana bread instead of muffins? No problem. This recipe easily converts to a Paleo Banana Bread with just a few tweaks.
Make sure your oven rack is in the middle position and decrease the oven temperature to 325 degrees Fahrenheit. Grease a loaf pan with coconut oil and add the batter and any desired toppings. Bake until a toothpick inserted in the center of the loaf comes out clean or with a few moist crumbs attached. Baking the Paleo Banana Bread will take about 50-65 minutes.
Easy One Bowl Paleo Muffins
These healthy Paleo Banana Muffins are one of the most easiest and tastiest treats you'll ever make. With only 7 ingredients and one bowl, these muffins come together in no time. I love one-bowl baking because clean up is so easy. Start with mashing bananas in a large bowl, add eggs, followed by coconut oil and maple syrup (or honey) and whisk until blended well. Add your dry ingredients then fold everything together.
Is it necessary to combine dry ingredients separately before adding them to we ingredients?
I've not found that to be necessary as long as all the ingredients are free from clumps, they will blend in just fine. This is great news which means we can avoid unnecessary dishes.
Helpful Tools for these Coconut Flour Banana Bread Muffins:
Paleo Banana Muffins (Dairy Free, Nut Free)
Made with coconut flour and are dairy free, nut free, gluten and grain free. They make a delicious, perfectly moist Paleo treat or breakfast on the go.
Instructions
Preheat oven to 350 degrees Fahrenheit. Line muffin pan with baking cups. Set aside.

In a large bowl, mash bananas with a whisk until smooth. Add eggs and whisk well until smooth.

Add coconut oil and maple syrup and whisk again to make sure all is combined.

Add coconut flour, baking soda, cinnamon, vanilla powder, and salt. Whisk until evenly combined.

Spoon batter evenly into the prepared muffin liners. Top with chopped nuts or seeds if desired. Bake for 18 minutes for mini muffins or 25 minutes for regular muffins or until toothpick comes out clean.

Keep muffins uncovered for the first day, then store them in a closed container in the refrigerator.
Notes
Use expeller pressed coconut oil to reduce the coconut flavor. 
To convert muffins to loaf: reduce oven temperature to 325 degrees Fahrenheit and bake for 50-65 minutes or until toothpick comes out clean.
Makes 24 mini muffins or 12 regular muffins.
| Nutrition Information Disclaimer |
Nutrition
Calories:
120
kcal
|
Carbohydrates:
14
g
|
Protein:
2
g
|
Fat:
6
g
|
Saturated Fat:
5
g
|
Cholesterol:
40
mg
|
Sodium:
166
mg
|
Potassium:
135
mg
|
Fiber:
2
g
|
Sugar:
8
g
|
Vitamin A:
80
IU
|
Vitamin C:
2.6
mg
|
Calcium:
15
mg
|
Iron:
0.4
mg
Nutrition Information
The information shown is an estimate provided for your convenience by an online calculator. It should not be considered as a substitute for a professional nutritionist's advice. See our complete Nutritional Information Disclaimer.
©Prepare and Nourish • Content and photographs are copyright protected. Sharing of this recipe is encouraged and appreciated but please do NOT screenshot or copy/paste complete recipes to websites or social media.
If you liked the recipe above, please consider rating the recipe and leaving a comment below. Also, be sure to follow me on Facebook, Instagram, and Pinterest.
Need More Paleo Sweet Treats?
Flourless Chocolate Chip Pumpkin Bars (Paleo, Low Carb, Dairy Free)
4-Ingredient Paleo Crepes (Nut Free, Dairy Free, Grain Free)
Paleo Snickerdoodles
Lemon Poppy Seed Bundt Cake (Gluten Free, Paleo)
>>> Pin This <<<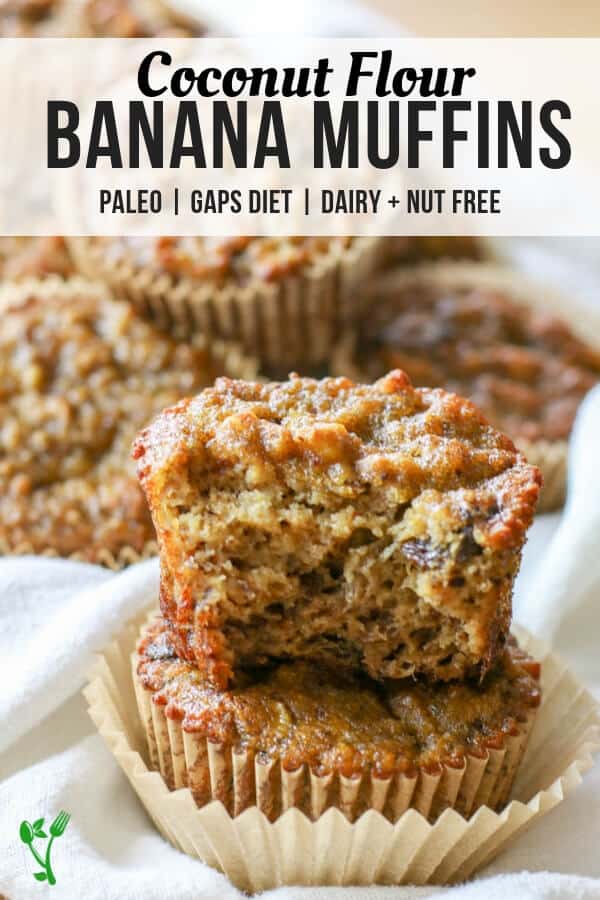 This post was originally published April 2019 but has since been updated to include helpful information.