This Nourishing Hot Cocoa with Honey-Sweetened Marshmallows might as well be called nutrition in a cup. It's packed with nutrient dense ingredients such as mineral-rich coconut sugar, fermented raw cacao powder, and grass-fed collagen for a protein kick. It also makes a great homemade gift with a FREE printable page for gift tags.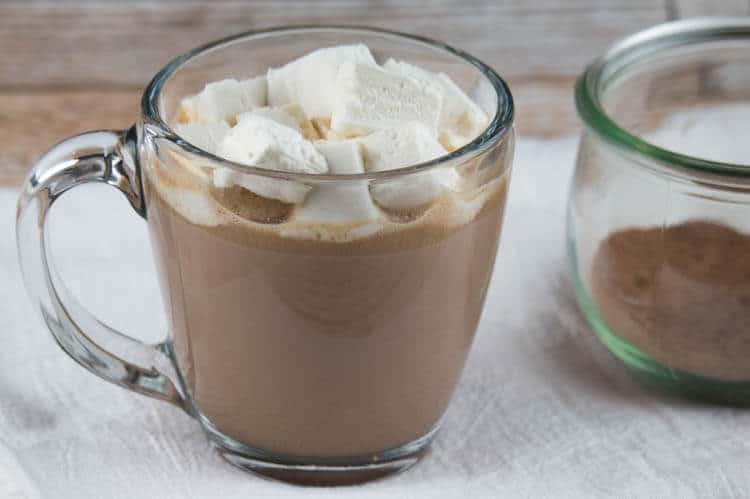 It's the perfect start to the day and an awesome afternoon snack for tired kiddos. A complete food that contains amino acids, vitamins and minerals needed for optimal nutrition.
This Chocolate-in-a-Cup is makes a great gift at holiday time.  No better way to show your love than to gift them with nutrient-dense, high-powered treat in a jar. It's complete with Hot Cocoa Mix and homemade Honey-Sweetened Marshmallows.
Scroll down to print the FREE printable sheet containing 4 different designs of gift tags.
When this is premixed, it's much easier to just combine with water, butter and milk and pour in your favorite mug for consumption. Mine are lead-free clear mugs and these are inexpensive.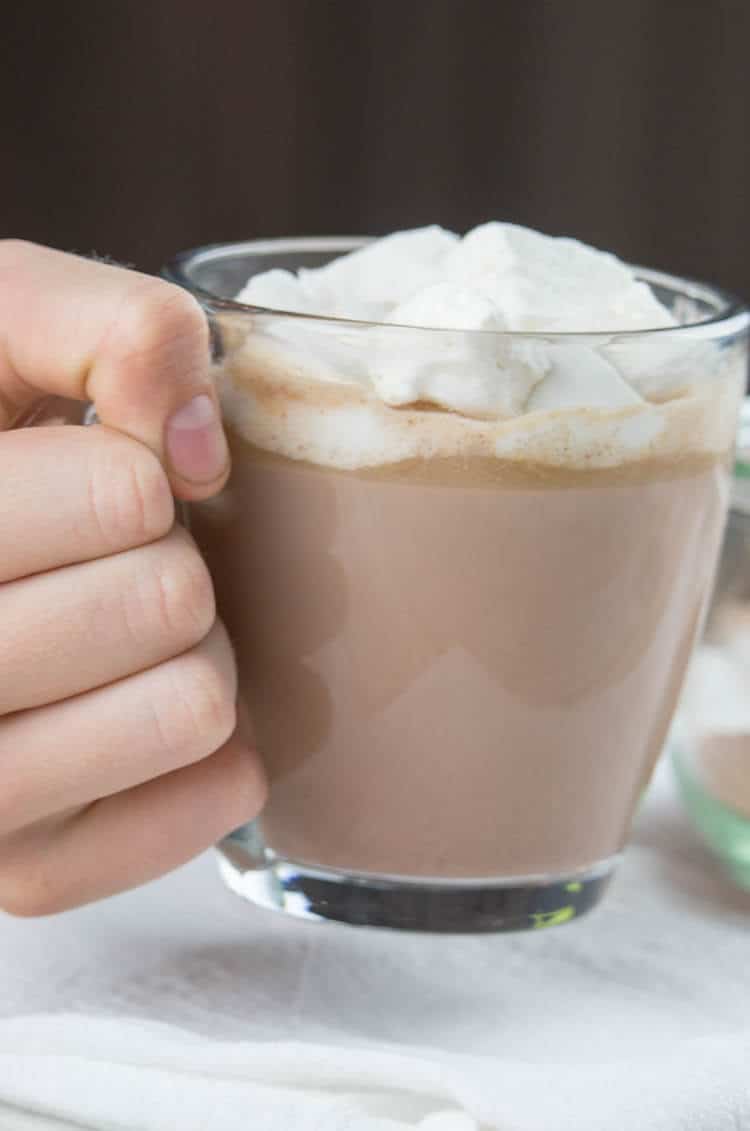 Nourishing Hot Cocoa with Honey-Sweetened Marshmallows (Dairy-free option)
Healthy Sweeteners
If you're on a healing diet such as GAPS or otherwise have the need to avoid coconut sugar, you can replace the sugar with honey or maple syrup. The instructions for that substitution is in the recipe card.
Having said that, I appreciate the ease and convenience of having most of the ingredients all ready to go in a jar. Additionally, if you're going to use this as a gift, you most certainly want the sweetener included already.
Homemade Gifts
This hot cocoa mix with homemade marshmallows is a nice change from a tin can of Christmas cookies. The weck jars are a lovely step up from rustic mason jars, but use what is most convenient for you. With wholesome ingredients, the container won't matter as much.
Nutrient Dense Ingredients
Both the Superfood Hot Cocoa and Honey-Sweetened Marshmallows are packed with nutrition. Let's talk about the hot chocolate first.
Superfood Hot Cocoa
Coconut Sugar is rich in minerals such as magnesium, potassium and zinc. It has been the sweetener of choice for centuries in greater Asia and therefore is considered a "traditional" food. It adds a slightly nutty flavor to the hot chocolate but is largely masked by the sweetness of the sugar.
Related: Alternative Natural Sweeteners
Fermented Raw Cacao Powder contains more antioxidant flavonoids than red wine, green tea, and blueberries. This cacao powerhouse is high in fiber, iron and protein as well as vitamin C. The most important thing to remember is not to let the cacao powder heat to above 120F degrees as the "raw" nature will be destroyed.
Grass-fed Hydrolized Collagen adds a nice protein kick to the hot chocolate making this treat a complete food. In addition, it's also rich in amino acids and nutrients that helps support bone, teeth, hair, and skin health as well as overall immune system.
Related: My Favorite Perfect Supplements
Collagen from grass-fed cows is an excellent replacement for conventional protein powders. We love and use Perfect Supplements for their extra attention to providing the best quality supplements. This collagen (and gelatin) is nourishing, gut-healing and overall a great product. I only recommend what I truly love and use myself, that's why....
Exclusive for Prepare & Nourish readers...
Bonus:: Because I appreciate the quality products Perfect Supplements produces, I would like to share an exclusive Prepare & Nourish coupon code at Perfect Supplements. Be sure to enter PREPARE10 at checkout to receive 10% OFF your order. Go HERE to order Grass-Fed Hydrolized Collagen.
Real Sea Salt not only enhances the cocoa flavor but also adds essential minerals to the mix. It beautifully balances the nutty sweetness of coconut sugar.
Pastured butter makes the rest of the nutrients more bio-available and digestible as many vitamins are fat-soluble.
Raw whole milk is a nourishing live food rich in enzymes and nutrients. Just be sure not to heat the hot cocoa mixture to greater than 120F degrees so as not to destroy these live enzymes.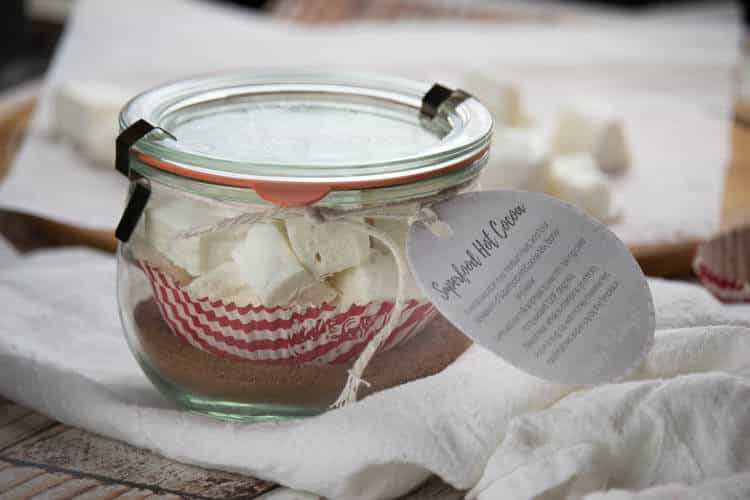 Honey-Sweetened Marshmallows
These homemade marshmallows call for two important ingredients (not counting water and sea salt). Honey and grass-fed gelatin (sister to collagen above but this one gels).
Both of these ingredients are naturally nutrient dense and creates the most beautiful, soft and chewy marshmallows. I prefer to make these marshmallows slightly on the firmer side to sustain the heat in hot chocolate.
Dusting with arrowroot is optional. You may also use tapioca or even organic cornstarch to make handling of marshmallows easier.
Helpful Tools
A thick-bottom saucepan such as this one works well for the hot chocolate but this butter warmer would do the trick for a single serving.  Store the cocoa mix in mason jars or weck jars for pretty presentation.
The stand mixer makes it much easier to whip the marshmallows.  I used this flat baking sheet for the marshmallows as it creates the perfect thickness for mini marshmallows. Line it with non-bleach parchment paper for easier handling. A thin spatula such as this one works best at spreading the marshmallow fluff across the pan.
And to enjoy this treat toxin-free, I love these clear mugs as they are free from lead paint and is what I use in my home.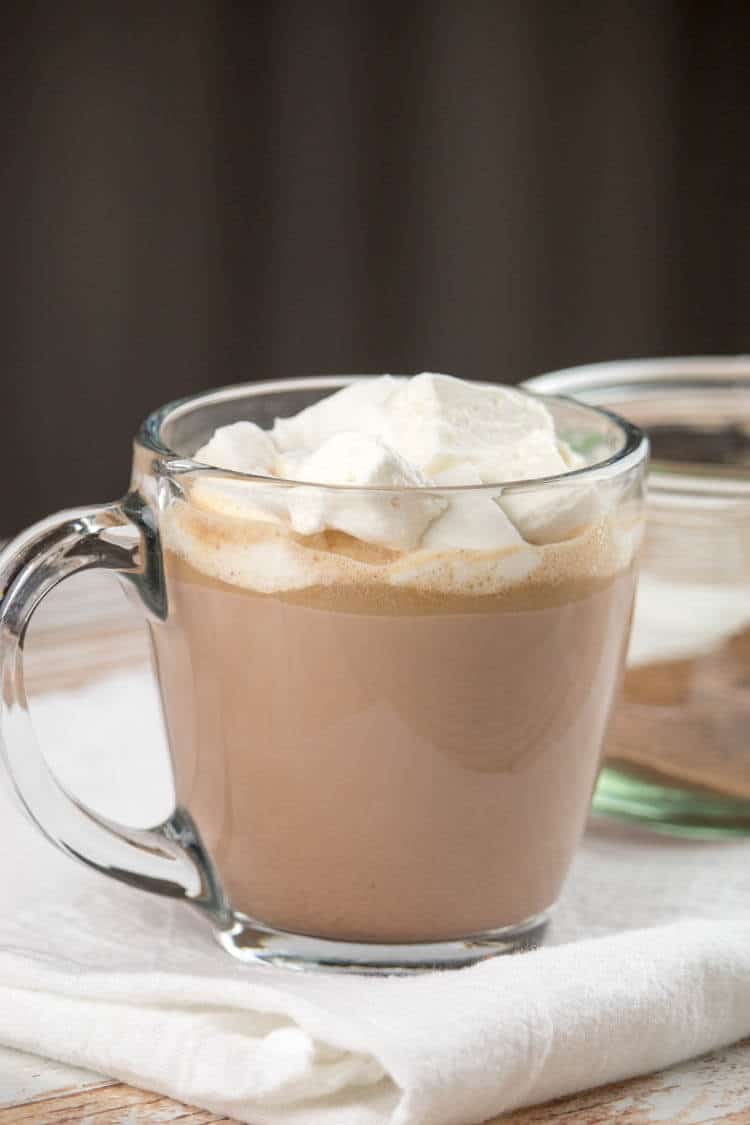 This nourishing treat makes a thoughtful gift. Print FREE sheet of four designs of gift tags and wrap it in a bow! PRINT HERE with one click.

Printable Recipe
Nourishing Hot Cocoa with Honey-Sweetened Marshmallows
Nutrient-dense hot cocoa mix combined with butter and raw milk to create rich chocolate drink. Top with honey-sweetened marshmallows to create a complete treat.
Ingredients
Hot Chocolate Drink
4

tablespoons

Hot Cocoa Mix above

¼

cup

hot water

1

tablespoon

unsalted butter, or coconut oil if dairy free

1 ½

cup

whole milk, preferrably raw, or coconut milk if dairy free
Honey-Sweetened Marshmallows
Instructions
Hot Cocoa Mix
Combine all ingredients for Hot Cocoa Mix. Keep in a sealed jar.
Hot Chocolate Drink
In a small saucepan, add 4 tablespoons of cocoa mix to hot water and butter. Set on medium heat and bring slightly to warmth, stirring often.

Gently add milk and bring it to desired temperature being careful not to scald the milk and exceed 120F degrees.

Pour in mug and top with honey-sweetened marshmallows.
Honey-Sweetened Marshmallows
Prepare sheet pan by lining it with parchment paper both directions. Allow the sides to drape over for easy handling. Set aside.

In the bowl of a stand mixer, add ¼ cup of filtered water and sprinkle gelatin over the water to "bloom." Set aside.

In a thick-bottom saucepan over medium heat, heat remaining water (¼ cup), honey and salt together. Bring to a simmer and reduce heat to medium-low.

Continue to simmer honey mixture over low heat for approximately 12 minutes, stirring constantly so it doesn't overflow. Watch the honey mixture carefully so remains contained.

Assemble stand mixer with whisk attachment and position the bowl with bloomed gelatin. Turn mixer on low setting.

Gently in a continuous thin stream, pour hot honey mixture directly over the bloomed gelatin while mixer is running on low speed.

Gradually turn mixer to high setting and continue whipping until mixture has increased in volume and is thick and glossy. This should take approximately 15 minutes.

Transfer marshmallow fluff to prepared pan and spread evenly across with spatula. Metal spatula works best for marshmallow.

Set aside at room temperature for at least 2 hours but overnight is best.

Dust top of the marshmallow with arrowroot if using. Remove the marshmallow by lifting the parchment paper flaps on the sides and transfer to large cutting board. Carefully, remove paper from marshmallow edges and coat the edges with arrowroot for easier handling. It should release easily.

Flip over the marshmallow and sprinkle the bottom side with arrowroot. Cut to desired size, preferrably ½" cubes for hot chocolate. Gently toss all marshmallow pieces in loose arrowroot powder.
Notes
*Honey or maple syrup may be substituted for sugar. Use 4 tablespoons of honey/syrup as sweetener. And reduce the mix by 1 tablespoon when adding to pot to heat. (Example: In a saucepan, add 4 tablespoons of honey or maple syrup and 3 tablespoons of hot cocoa mix and 1 tablespoon of butter, bring to boil then proceed with the rest of the directions )
**Store Hot Cocoa Mix and Marshmallows at room temperature. Hot Cocoa Mix can be stored in airtight container for up to 6 months. Marshmallows can be kept in sealed container for up to 1 week at room temperature. 
| Nutritional Information Disclaimer | 
Nutrition
Calories:
147
kcal
|
Carbohydrates:
22
g
|
Protein:
3
g
|
Fat:
6
g
|
Saturated Fat:
3
g
|
Cholesterol:
16
mg
|
Sodium:
249
mg
|
Potassium:
158
mg
|
Sugar:
16
g
|
Vitamin A:
235
IU
|
Calcium:
107
mg
|
Iron:
0.3
mg
Nutrition Information
The information shown is an estimate provided for your convenience by an online calculator. It should not be considered as a substitute for a professional nutritionist's advice. See our complete Nutritional Information Disclaimer.
©Prepare and Nourish • Content and photographs are copyright protected. Sharing of this recipe is encouraged and appreciated but please do NOT screenshot or copy/paste complete recipes to websites or social media.
If you liked the recipe above, please consider rating the recipe and leaving a comment below. Also, be sure to follow me on Facebook, Instagram, and Pinterest. 
>>> Pin This <<<