Learn how to make tacos de lengua with perfectly crispy beef tongue and refreshing toppings. This beef tongue taco recipe features tender cow tongue meat wrapped in charred corn tortillas and topped with salsa verde, radishes, diced onion, fresh cilantro, and a refreshing drizzle of lime juice. Upgrade your taco game and make these beef tongue tacos.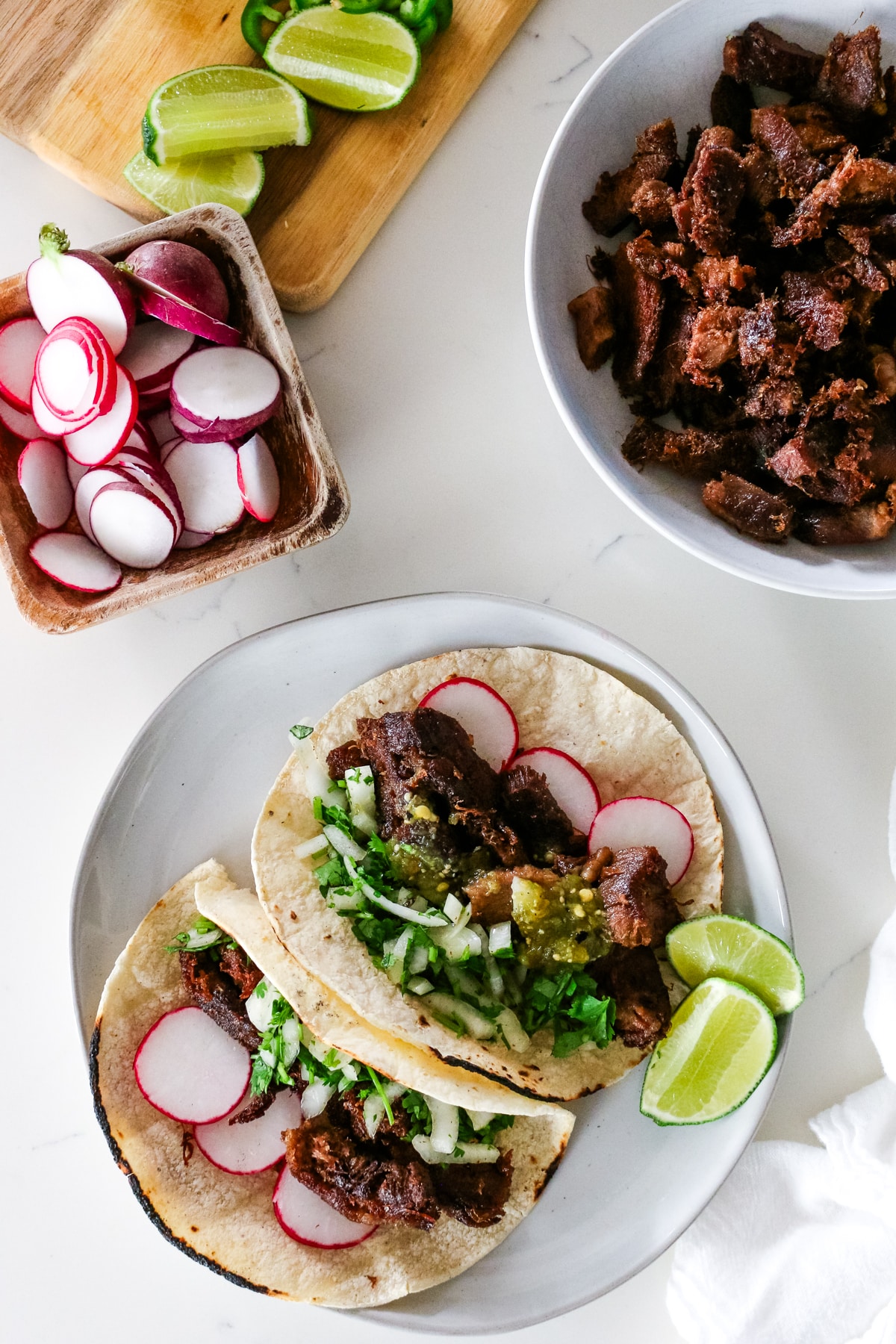 Tacos de Lengua is a popular and traditional dish in Mexican cuisine, appreciated for it's unique flavor and tender texture. With the perfect combination of savory, melt-in-your-mouth goodness - beef tongue tacos stand out every time.
Now, if you're anything like me, you've probably found yourself daydreaming about those irresistible lengua tacos from taco trucks. You know, the ones with that perfect blend of tender meat and flavorful and refreshing toppings? Well, good news - you can recreate those same delicious flavors in your own kitchen (with high-quality ingredients, I might add).
And the best part? They're made in just the same amount of time it would take you to chase down that taco truck. So, let's turn that craving into a delicious reality and recreate those street-style tacos in the comfort of your kitchen.
Looking for more healthy Mexican-inspired recipes? 
Check out best taco meat recipe, crispy pork carnitas, and Cajun fish tacos.  
Jump to:
Recipe Overview
Prep and Cook Time: 15 minutes to prep and about 15 minutes to crisp up the meat
Cooking Method: stove-top
Dietary Info: dairy-free, gluten-free with grain-free options that would make it paleo, Whole30 and GAPS compliant
Tools Needed: sharp knife, cutting board, small bowl, and large frying pan
Skill Level: Easy
Why you'll love Cow Tongue Tacos
Delicious use of organ meat - If you have your sights set on incorporating more organ meats into your diet, this tacos de lengua recipe could be the gateway. It supports the "nose-to-tail" cooking philosophy so perfectly well.
Suitable for dietary needs - This easy recipe can easily fit into your lifestyle. It's naturally dairy-free (and honestly, so flavorful that queso is not missed at all) and can easily be made grain-free as well.
Versatile serving options - Enjoy it tucked into corn tortillas or serve it over a bed of lettuce like a salad.
Unique flavor profile: Beef tongue, when perfectly crispy, offers a unique and savory flavor that is rich and satisfying. It's a welcoming departure from more common taco fillings like ground beef taco meat.
Meal prep friendly - Prep all the ingredients and store them in containers in the fridge until ready to serve.
💭Fun Fact: While beef tongue might be considered unconventional in some Western cuisines, it's a prized delicacy in many parts of the world, including Mexico and many European countries.
Ingredients for Beef Tongue Tacos
Learn how to make tacos de lengua with 7 simple ingredients. This easy recipe takes only 30 minutes to make.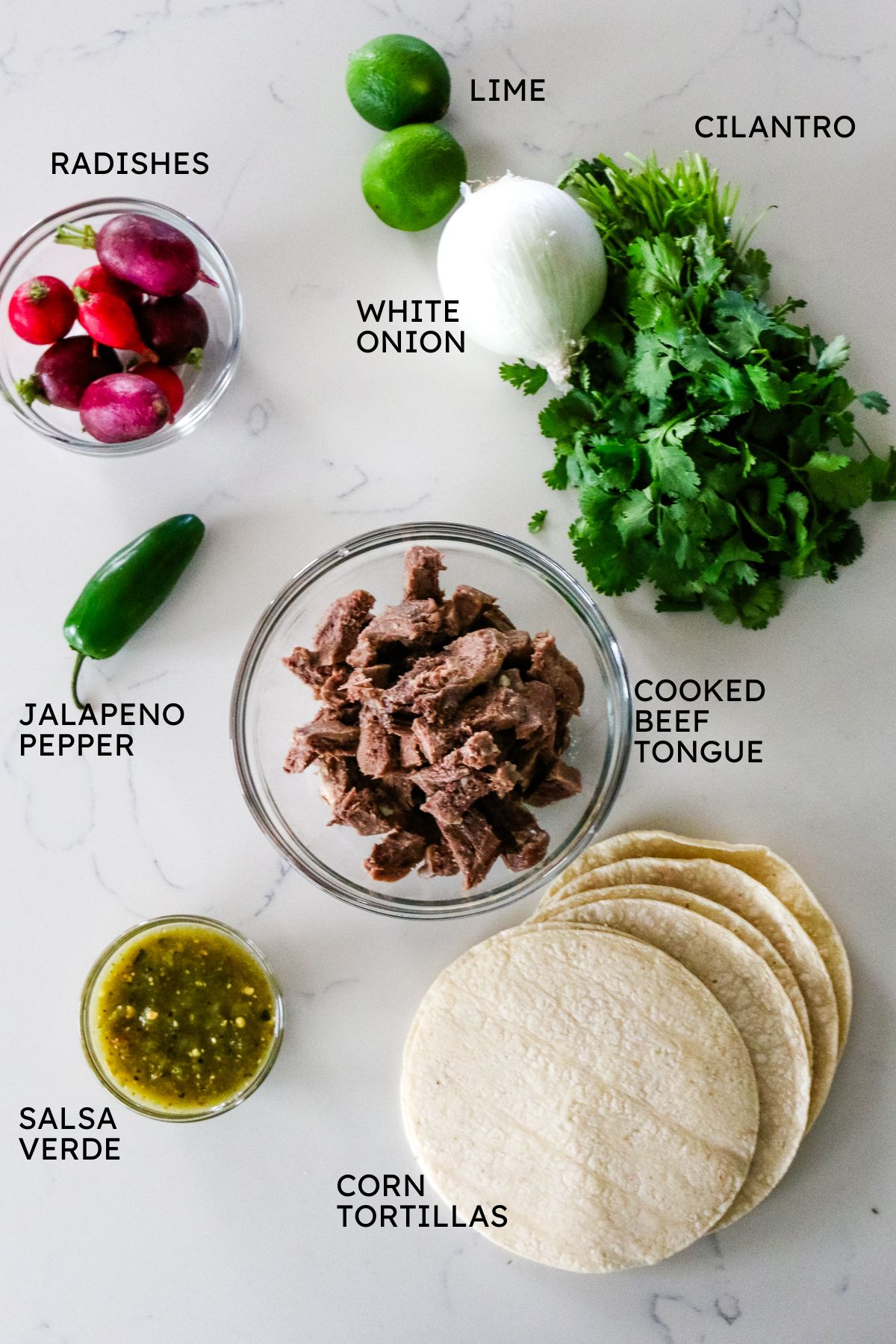 Cooked beef tongue: The star of the dish, ox tongue provides a unique and incredibly flavorful meat base. The best part? We're cooking it in a healthy fat until crispy for that delicious texture.
Toppings: A zesty mixture of white onion and cilantro, fresh radishes, and fiery jalapeno peppers all contribute wonderful texture and flavors to the best cow tongue tacos.
Salsa Verde: A spoonful of salsa verde provides a hint of tanginess and burst of flavor. It also adds a touch of moisture, rounding out the textures. Be sure to read the ingredient label to avoid thickeners and gums.
Corn tortillas: The shell that holds all the deliciousness together. Charring the tortillas enhances their flavor and makes them pliable for easy assembly.
Lime wedges: A drizzle of fresh lime or bottled lime juice as a finishing touch (check the label to be sure it's 100% pure lime juice and no sweeteners or preservatives).
See the recipe card for exact quantities.
💭Pro tip: Is this your first time cooking beef tongue? Be sure to check out my very thorough post on how to cook beef tongue. This type of meat is best cooked in the pressure cooker for the most tender and flavorful end result with fork tender meat.
Substitutions and Variations
Swap out the tortillas - Use grain free tortillas made with cassava flour (Siete brand is excellent) or even a lettuce wrap to keep it low-carb. You can also use sourdough flour tortillas.
Add dairy - Crumbled cotija cheese would make a nice addition or shredded raw cheddar and a dollop of sour cream.
Toppings- An easy way to change up your tacos is to top them with your favorite toppings like pico de Gallo, pickled red onions, or diced roasted jalapeno peppers. You can also add a creamy element with this chunky guacamole.
Season the meat - When cooking tongue, consider seasoning it with taco seasoning or a simple salt and pepper blend. I don't find that's necessary, but it's a great way to flavor this cut of meat, if desired.
Make it Ancestral
Staying true to the heart of Prepare and Nourish, there are ways to ensure you get the maximum nutrition in this recipe by following ancestral and traditional dietary philosophy. Check out these simple tips to make this recipe nutrient-dense.
Use grass-fed beef tongue. Cow tongue is a true delicacy so be sure you source the best beef tongue your budget affords. My favorite source for grass-fed beef are my local farmer's markets. If that's not accessible to you, try Wild Pastures and US Wellness Meats; both carry good quality cow tongue.
Brown in healthy fat. Ditch the rancid seed oils. The best tacos start in a healthy fat like local pastured butter, beef tallow, or lard. You can also use healthy oils with a high smoke point, like avocado or olive oil.
Wrap in sprouted corn tortillas. Not only are they naturally gluten-free, they are sprouted, which may help with nutrient bio-availability and digestion. You can learn more about this concept from Weston A. Price article on grains.
How to Make Tacos de Lengua
The complete printable recipe is below in the recipe card for your convenience. Follow these simple step-by-step instructions for the best results.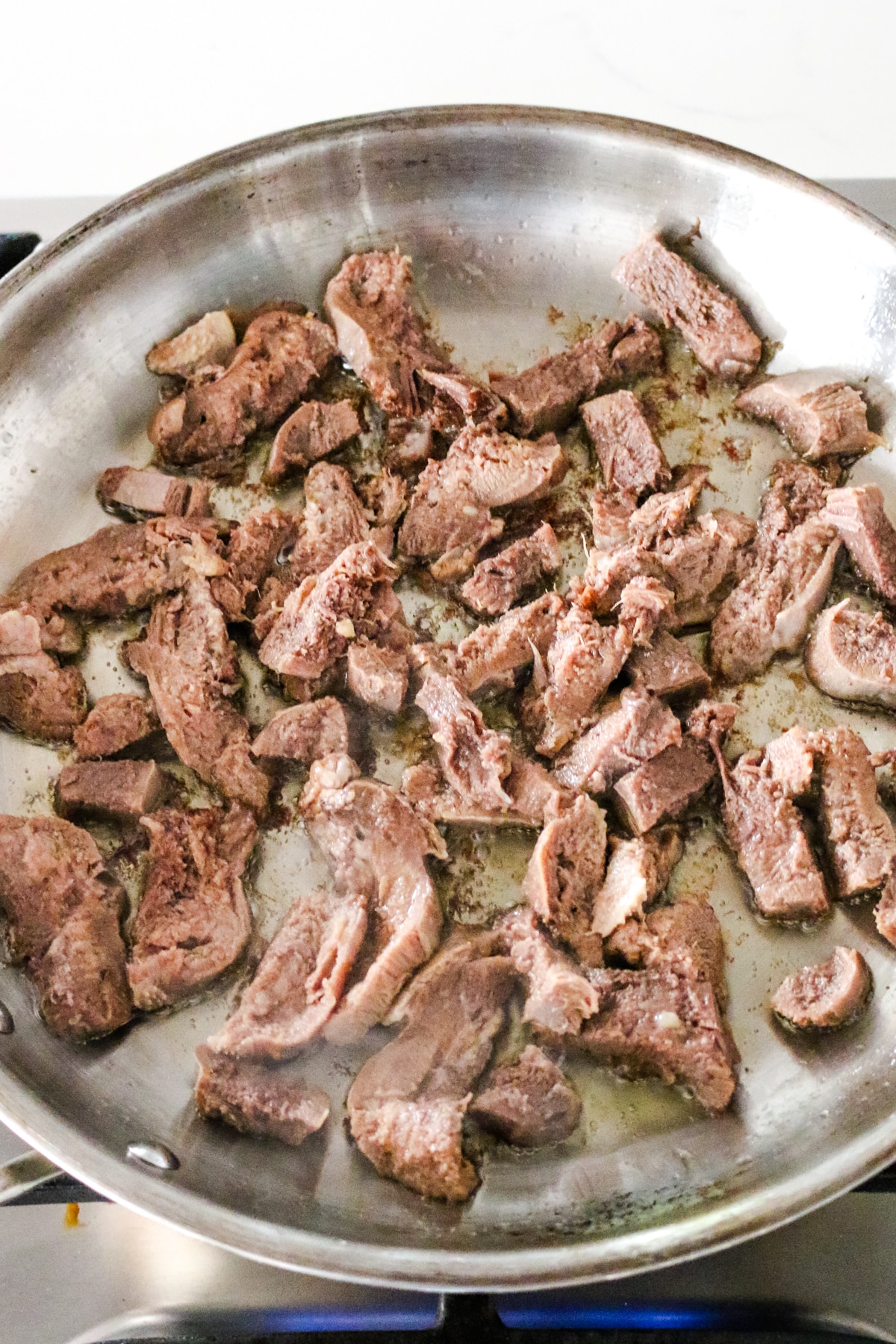 Step 1. Brown meat
Heat oil in a large stainless steel pan until hot. Cut beef tongue into strips and add to the hot oil. Cook undisturbed over medium-high heat for a few minutes until brown on the bottom.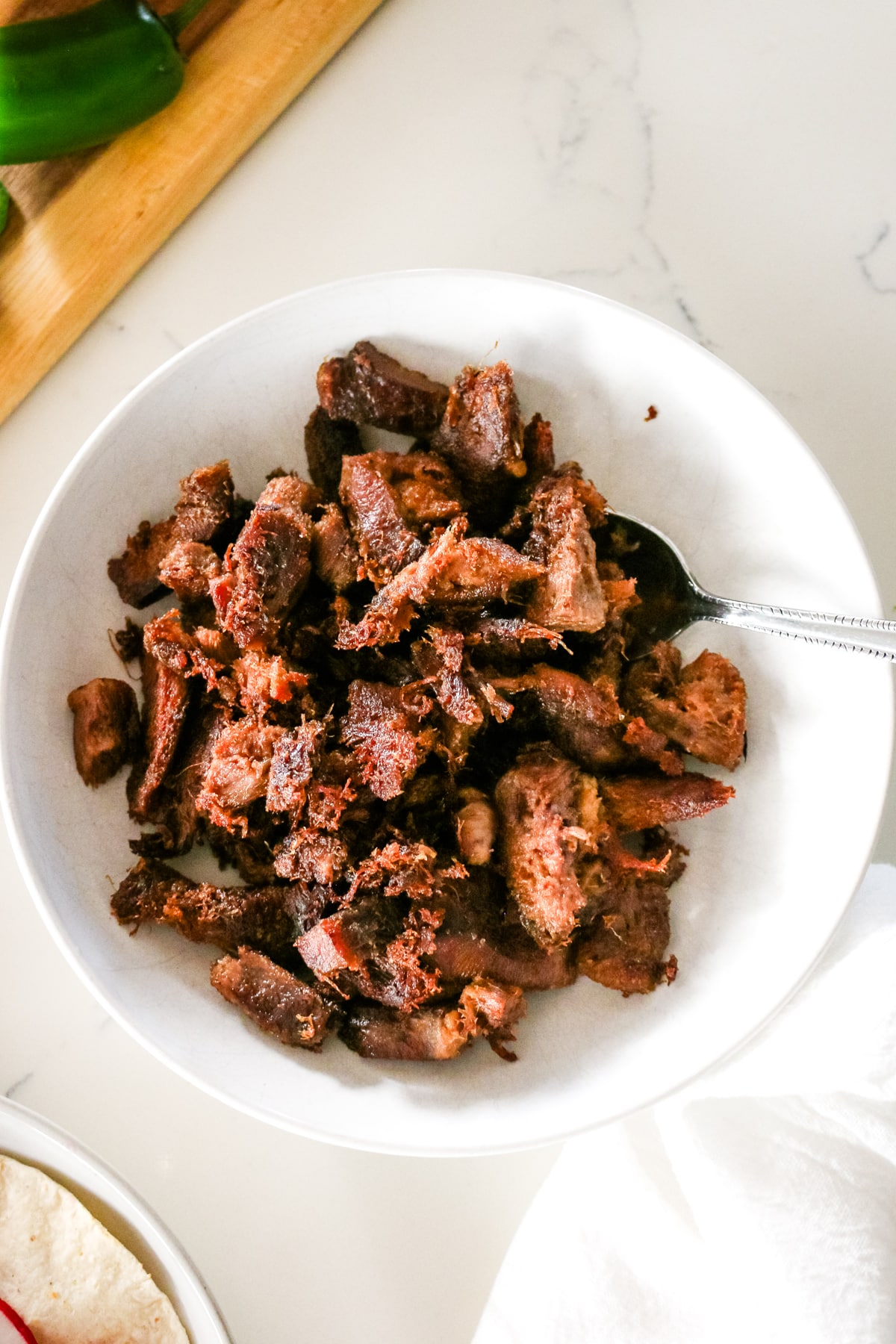 Step 2. Set aside
Flip and cook the other side until all beef tongue strips are browned and crispy. Transfer to a bowl and set aside in a warm place while working on the toppings.
💭Pro tip: To get perfectly crispy and browned strips of cow tongue, don't disturb the meat when frying them. They should release easily from the pan when they are sufficiently browned and crispy.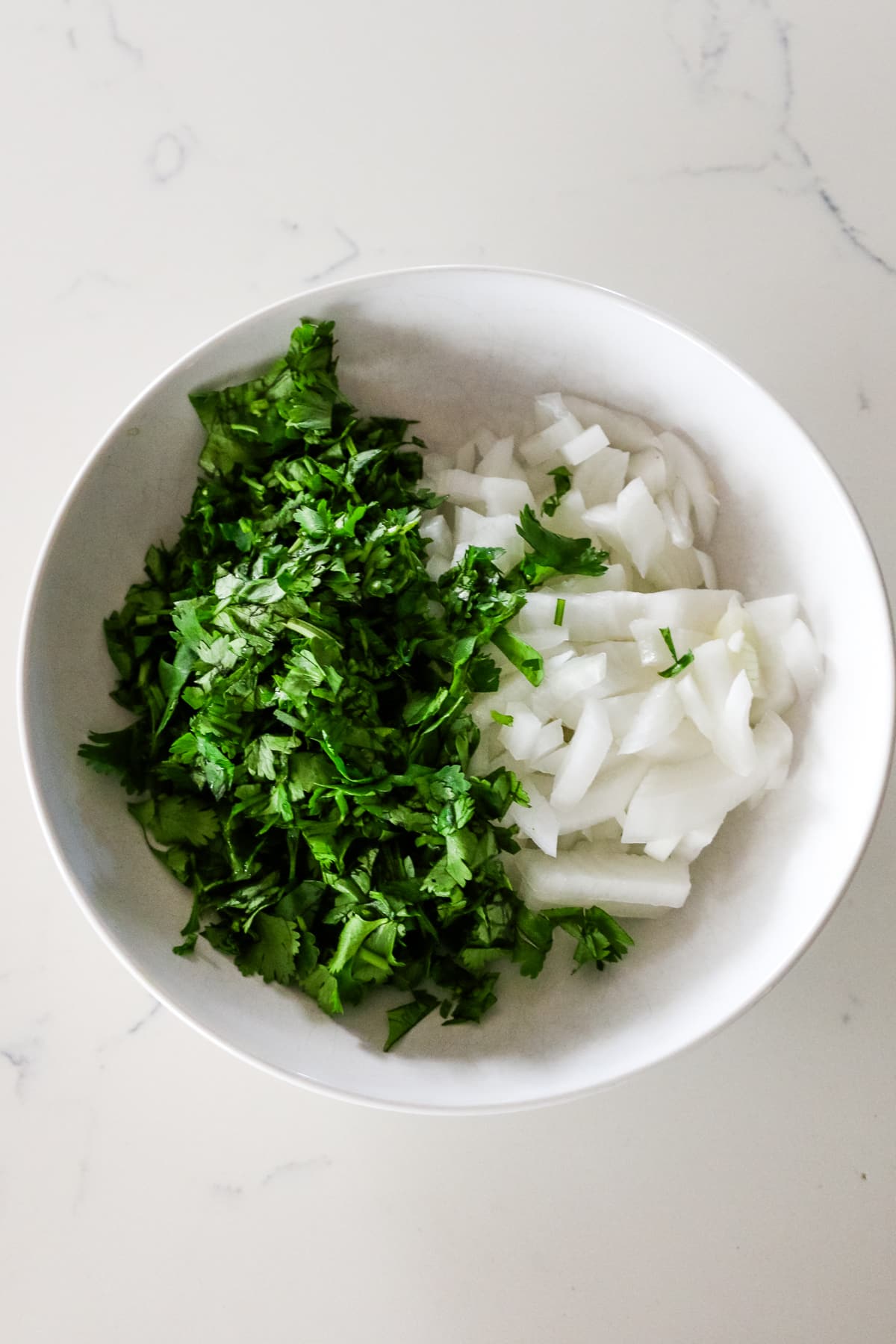 Step 3. Onion topping
Finely dice the onion and transfer it to a small bowl. Finely chop cilantro and combine with the onion.
Step 4. Prepare all toppings
Thinly slice the radishes and jalapeno peppers. Char corn tortillas on both sides over an open flame using a pair of tongs. Slice limes into wedges.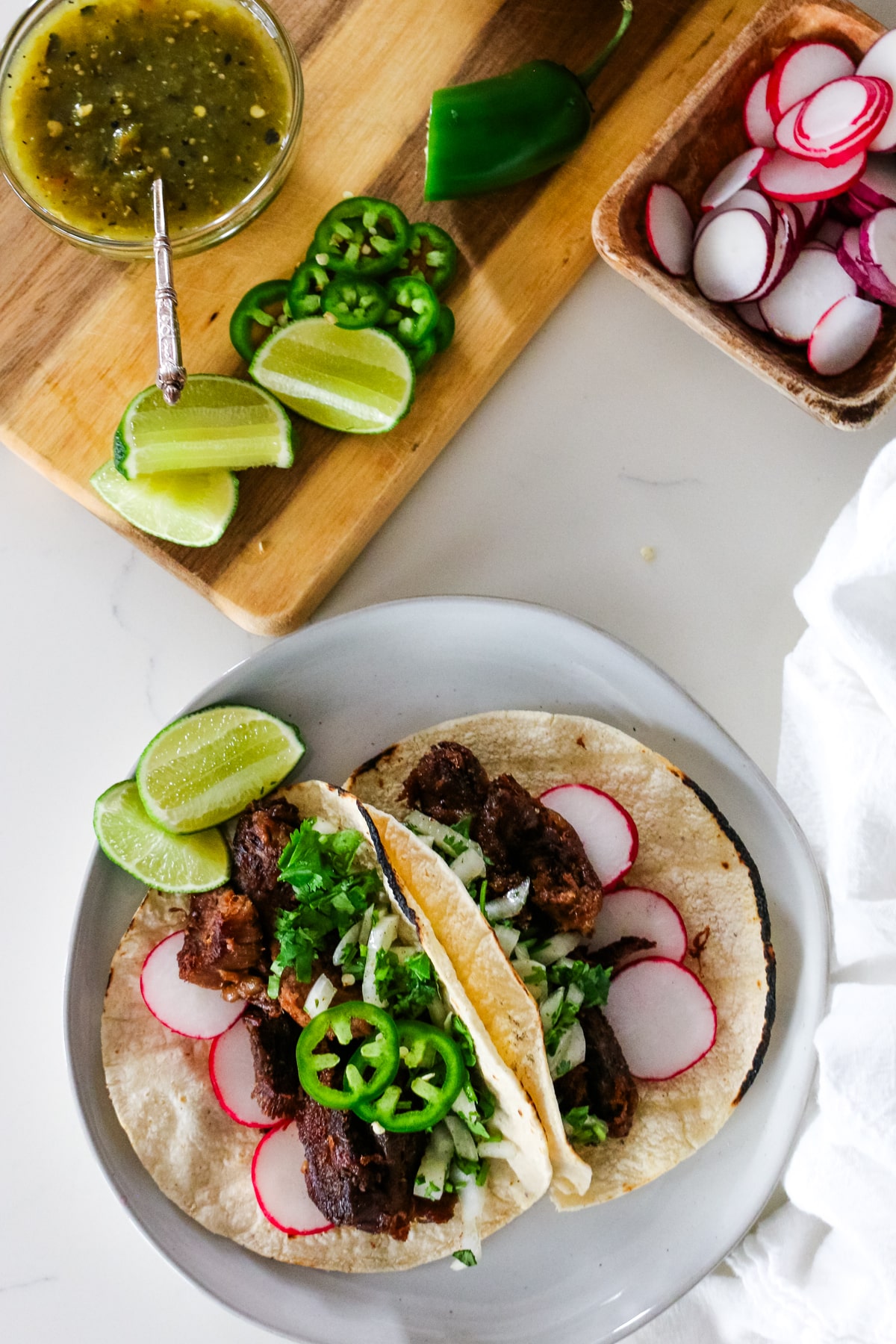 Step 5. Assemble beef tongue tacos
Place a scoop of crispy beef tongue meat into warm tortillas, followed by the onion-cilantro mixture. Tuck in a few slices of radishes and spoon some salsa verde over the top. Drizzle with some fresh lime juice and top with jalapeno peppers. Serve immediately.
Helpful Tips for Lengua Tacos
Use chilled cow's tongue - Cooled beef tongue is easier to cut into uniform small pieces. I recommend cooking beef tongue the day prior and chilling it well in the fridge before making these street tacos.
Start with a hot skillet - When browning the tongue pieces, make sure your skillet is well heated over medium high heat first. A hot pan helps achieve that desirable crispy texture.
Avoid overcrowding - Make sure you use a large skillet and spread out the meat pieces to avoid steaming.
Don't skip the tortillas - Warm corn tortillas or char them over medium heat to make them pliable and slightly toasty.
💭Meal Prep Suggestion: Cook up a whole tongue in the Instant Pot and portion out half of the meat for this crispy and delicious beef tongue recipe (great for breakfast or protein-packed snack) and these beef tongue tacos recipe the other half. The rich beefy flavor tastes better the next day without any extra work.
Recommended Tools & Links
Below are some affiliate links that may be helpful to you as you make this delicious taco recipe. You can find some of these items cheaper at your local store, but having a link helps you know what you're looking for.

Tools: large stainless steel skillet

Ingredients: sprouted corn tortillas, cassava flour tortillas, salsa verde

Serving Suggestions
Our favorite way to serve these tacos de lengua is just as written in the recipe and nothing else. It truly is such a flavorful and satisfying meal option. But it pairs well with cabbage avocado slaw and a side of white rice.
And don't forget to top your own tacos with all your favorite taco fixings. Check out some of my faves:
Lengua tacos topping suggestions
Storage and Reheating Instructions
How long do cow tongue tacos last in the refrigerator?
When properly stored, tacos de lengua will last in the fridge for up to 4 days.
To store: Transfer any leftover lengua meat into an airtight container, away from other ingredients like tortillas and any fresh toppings.
Storage containers: These glass snap containers are perfect for leftovers.
To freeze: Boiled beef tongue can be frozen for up to 3 months. Crispied beef tongue can also be frozen but may loose freshness and crispy texture when thawed. I recommend not freezing browned beef tongue for best flavor.
To reheat: Warm up the crispy beef tongue in a dry skillet over medium high heat until heated through.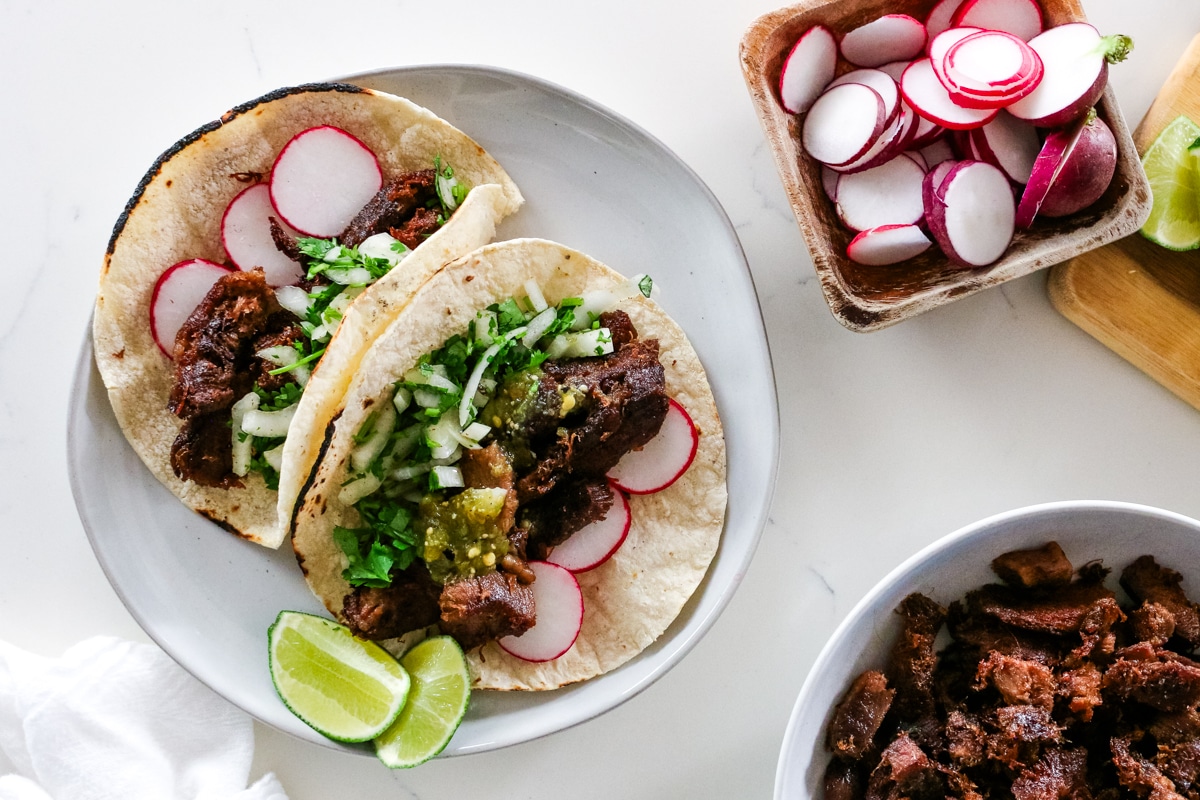 Frequently Asked Questions
What are cow tongue tacos called?
Cow tongue tacos are commonly known as "tacos de lengua" in Spanish. Lengua translates to tongue and, in the context of tacos, refers to tacos made with beef tongue.
Can I use a different cut of meat if beef tongue is unavailable?
While beef tongue tacos are what they are because of the type of meat used, you can substitute it with other cuts like beef cheek, brisket, or even shredded chicken or pork carnitas. However, you'll be missing out on the unique flavor of beef tongue that makes this dish distinctively delicious.
How do I prevent the tortillas from getting soggy?
Be sure to keep them away and separate from the toppings and warm them just before serving so they will retain their chewy texture and toasty flavor.
Looking for more related recipes? Here are some ideas:
Did you make this beef tongue taco recipe? Please leave a ⭐ recipe rating in the recipe card below and leave a review in the comments. Thank you!💚
Printable Recipe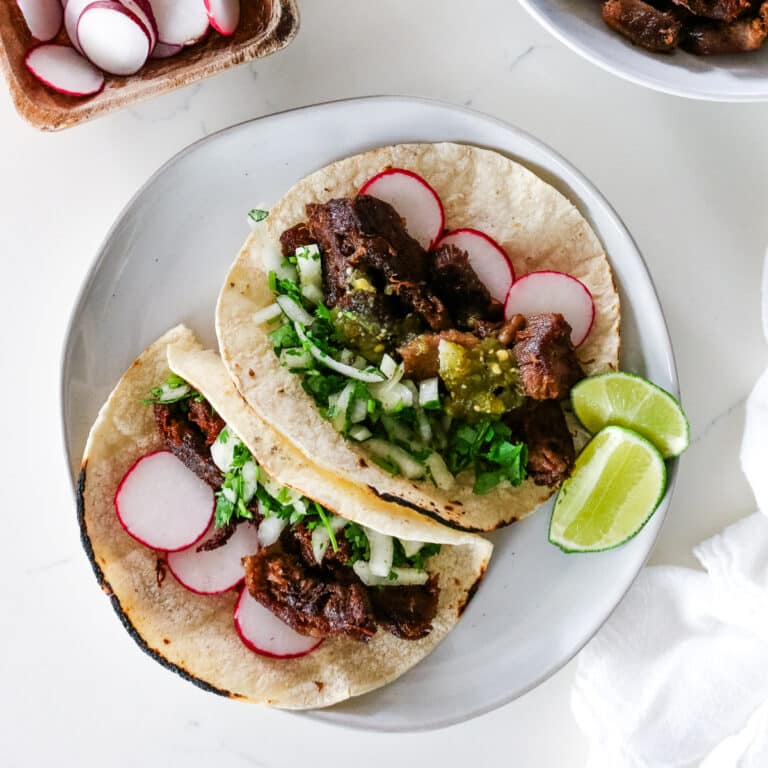 Beef Tongue Tacos (Tacos de Lengua)
These tacos de lengua have crispy and tender beef tongue wrapped in corn tortillas and topped with your favorite toppings.
Ingredients
1

tablespoon

cooking fat like butter, tallow, or avocado oil

4

cups

cooked beef tongue

cut into thin strips

1

white onion

finely diced

1

fresh cilantro

finely chopped

8

radishes

thinly sliced

1

jalapeno peppers

thinly sliced

1

cup

salsa verde

2

fresh limes

8

corn tortillas
Instructions
Brown: In a large stainless steel pan, heat the oil until hot. Cut beef tongue into strips and add to the pan. Cook undisturbed for until brown on the bottom, approximately 4-6 minutes. Flip and cook the other side for about another 4 minutes or until all beef tongue pieces are browned and crispy. Transfer to a serving bowl and keep warm.

Prep: Meanwhile, combine the finely diced onion and chopped cilantro in a small bowl. Slice the radishes and jalapeno peppers thinly. And cut lime into wedges.

Char: Over an open medium flame, char the tortillas, flipping halfway through with a pair of tongs. If you don't have a gas stove, you can gently warm them on a cast iron skillet over medium-high heat.

Assemble: Place a scoop of crispy beef tongue meat into corn tortillas, followed by the onion-cilantro mixture. Tuck in a few radish slices and jalapenos, and spoon some salsa verde on top. Finish with a drizzle of fresh lime juice and serve immediately.
Notes
Storage: Store beef tongue meat and toppings separately to maintain freshness in airtight containers in the refrigerator for up to 4 days. When ready to enjoy again, assemble and serve. 
Helpful tips:
Get crispy and browned taco meat - don't disturb the meat when frying it. The meat pieces should release easily from the pan when sufficiently browned and crispy.
Nutrition
Calories:
409
kcal
|
Carbohydrates:
6
g
|
Protein:
25
g
|
Fat:
31
g
|
Saturated Fat:
14
g
|
Polyunsaturated Fat:
0.1
g
|
Monounsaturated Fat:
1
g
|
Trans Fat:
0.1
g
|
Cholesterol:
158
mg
|
Sodium:
143
mg
|
Potassium:
535
mg
|
Sugar:
0.003
g
|
Vitamin A:
87
IU
|
Vitamin C:
6
mg
|
Calcium:
13
mg
|
Iron:
5
mg
Nutrition Information
The information shown is an estimate provided for your convenience by an online calculator. It should not be considered as a substitute for a professional nutritionist's advice. See our complete Nutritional Information Disclaimer.
©Prepare and Nourish • Content and photographs are copyright protected. Sharing of this recipe is encouraged and appreciated but please do NOT screenshot or copy/paste complete recipes to websites or social media.