Cajun seasoned cod cooked to perfection and paired with red cabbage, avocados, tomatoes and of course cilantro. Drizzle the zesty dressing to make a perfect taco combination.
I don't know what my favorite part about these tacos is: the Alaskan Cod generously seasoned with smoky Cajun spices, or the zesty crunch of the lettuce or the tangy sauce that tops these tacos with a perfect combination of sweet, sour, and spicy. <<Please pardon my drooling.>>
You really can't go wrong with these tacos. Topped with purple cabbage, sliced tomatoes and avocados, and cilantro - it has a perfect combination of the finest of fresh vegetables.
This has become a default dish at our home for those nights when I haven't planned ahead of time. Frozen fish can be thawed in 10 minutes in cold water (if the fish is individually wrapped). The fresh ingredients are easily found in most supermarkets.
We're blessed to have tomatoes at our farmer's markets in December but even if your region doesn't grow tomatoes during this season, these tacos are still scrumptious without them.
Any white, firm fish will do - I used Wild Alaskan Cod and it held up really well. It was still slightly frozen when I began working with it but all the better for ease of cutting it.
Paleo Cajun Fish Tacos with Zesty Dressing
After rinsing and patting the fish fillets dry, cut them into ¼" slices and season with Cajun Seasoning from this Sweet Potato Fries Recipe. For your ease, I've also included the Cajun Seasoning Recipe in the recipe card below. I always have this seasoning on hand and make enough to last me awhile.
If you're wanting to make this in bulk, either double or triple the recipe below or simply go to my Cajun-Seasoned Sweet Potato Fries Recipe and follow the recipe for 'bulk making.'
I have this Lodge Square Grill Pan that works great for faux grilling. Of course you get extra brownie points for real grilling in December!!
The most important thing to remember about fish is to not overcook it. It becomes rubbery and isn't pleasant to taste. I seared them for only about a minute on each side on medium-high heat.
Lettuce vs. Tortillas

I love these fish tacos GAPS and paleo-style - sans tortillas but when I do have tortillas for the kids I go for sprouted tortillas. I prefer these for my family because the sprouting releases phytic acid in the grains making digestion and nutrient assimilation easier on the gut. They can be found in Whole Foods or Sprouts Markets and of course in bulk on Amazon.
If you decide to use tortillas, I have an easy trick to heat them. We tossed our microwave many, many years ago and haven't looked back. And even if we did, I'm not sure using it to reheat tortillas is a good thing. Wouldn't it make them all soggy? I don't know but I do know, tortillas can easily be reheated on a regular cast iron skillet using a simple technique and it's actually pretty simple and quick.
Warming Tortillas using Cast Iron Skillet
Place all tortillas stacked in a dry (no oil) cast iron skillet on medium heat. Every 10-15 seconds, switch the tortillas by placing the bottom 3-4 tortillas of the stack to the middle-top of the entire stack. This way, the very bottom tortilla is now sandwiched between two cold tortillas heating the one right above it and the one below it. Continue with the remaining tortillas until all are heated through. You may have to carefully separate the tortillas with your hand but once it starts to warm up, it becomes easier to work with. Wrap in a kitchen sack towel to keep warm until ready to eat.

Now that the fish is done, tortillas are heated, next comes the dressing.
A lot of this can be prepped ahead of time making pulling dinner together effortless. For example, make the dressing and shred the cabbage up to a week before. And of course, having Ragin' Cajun Seasoning on hand always helps.
The dressing really is as easy as putting four ingredients together: ketchup, mayonnaise (find my easy recipe here), hot sauce and juice of one lime. Simple yet adds a ton of flavor.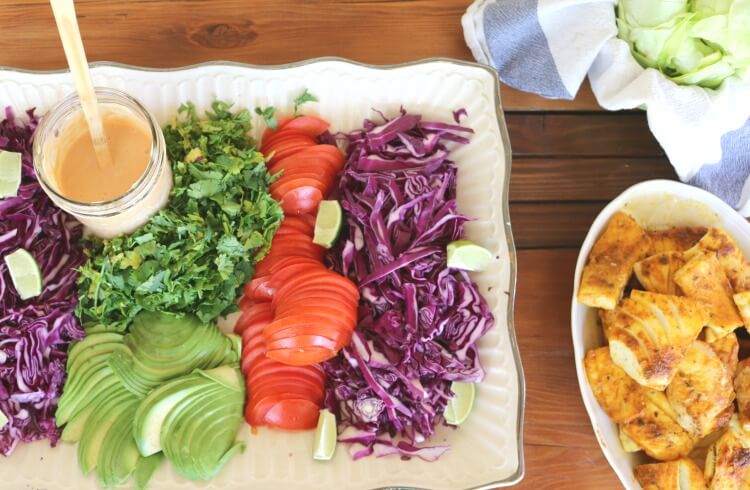 Look at all that goodness right there. The juicy tomatoes, creamy avocados, crispy cabbage, smoky cajuned fish, drenched in zesty dressing all rolled in sprouted (leafy?) deliciousness. Taco night doesn't get better than this.
Related Recipes:
Homemade Mayonnaise
Cajun Seasoned Sweet Potato Fries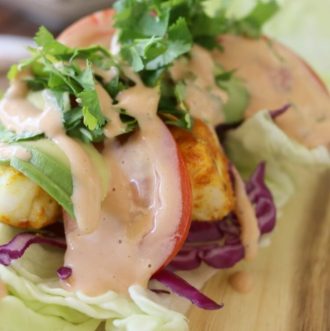 Cajun Fish Tacos
Ingredients
Dressing
½

c

real mayonnaise

⅓

c

paleo friendly ketchup

1

T

hot sauce

juice of 1 lime
Fish Tacos
3 ½

lbs

firm

white fish (pollock and cod are great)

5

cups

shredded cabbage

1

T

coarse sea salt

2

tomatoes

, chopped or diced

1

avocado

, chopped or diced

handful of cilantro sprigs

, chopped
Instructions
Combine all ingredients for the Cajun Seasoning

Combine all ingredients for Dressing

Shred cabbage and season with 1 tablespoon of

salt

. Massage with hands and combine well. Set aside.

Rinse and pat dry fish fillets. Cut into ¼" X 2" pieces. Season generously with Cajun Seasoning.

On medium-high heat , on a hot

cast-iron griddle

or

skillet

, sear fish for 1 minute on each side taking care not to overcook.
Warming tortillas
On medium-low heat, place entire stack of tortillas on a dry (no oil)

cast iron skillet

. Every 10-15 seconds, move the bottom 4 tortillas to the middle/top of the stack. Continue with the remainder of the tortillas.
Assembling tacos
On a large lettuce leaf or warm tortilla: spread ½ cup shredded cabbage, followed by fish, tomatoes, avocado, cilantro and spread with dressing.
Nutrition Information
The information shown is an estimate provided for your convenience by an online calculator. It should not be considered as a substitute for a professional nutritionist's advice. See our complete Nutritional Information Disclaimer.
©Prepare and Nourish • Content and photographs are copyright protected. Sharing of this recipe is encouraged and appreciated but please do NOT screenshot or copy/paste complete recipes to websites or social media.