Lacto-Fermented Tomato Salsa is delicious Pico de Gallo but cultured and rich in probiotics! Made with garden-fresh tomatoes and perfectly flavored with hot peppers, garlic and cilantro – this Salsa Fresca is lacto-fermented for additional nutrition.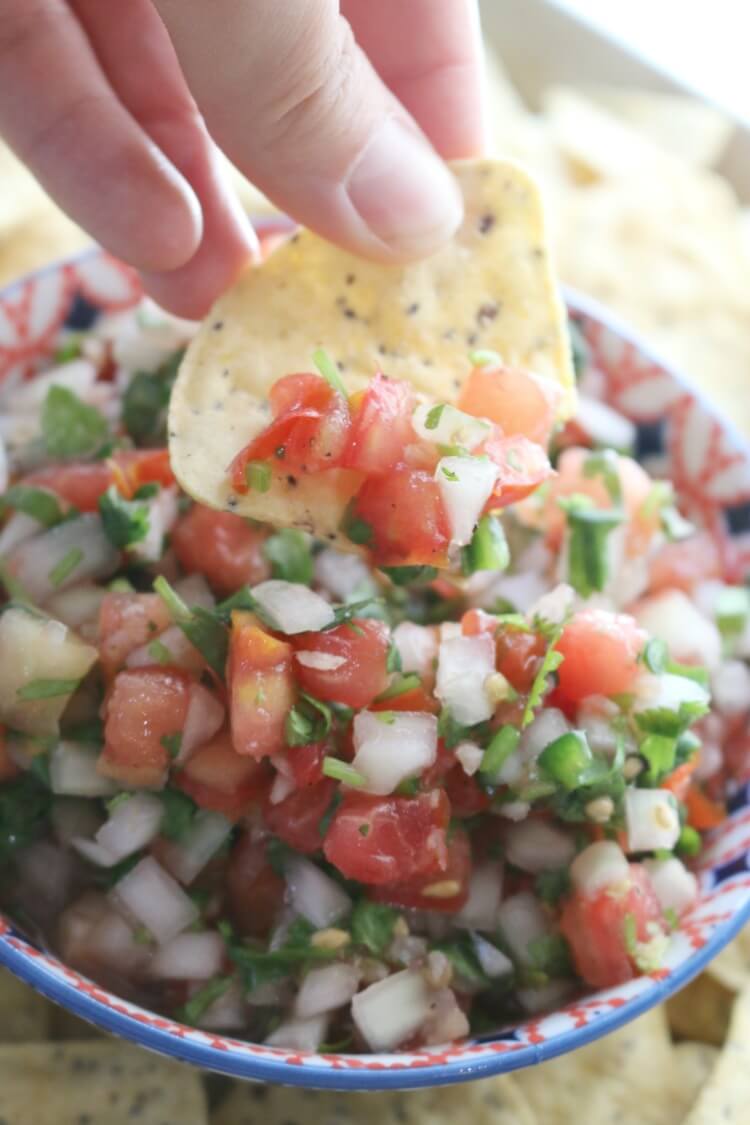 I used to think that salsa was something that can only come out of jars and tubs and containers straight off of store shelf.  It honestly never even crossed my mind that I could make fresh salsa (or pico de gallo) myself.  And I'm sad to say that it wasn't until probably 5 years ago that I started making my own salsa.  Granted that was also the time that I pretty much made everything from scratch and real foodified.
Buuuut….making fresh salsa is so incredibly, amazingly, strangely, and fabulously easy that you really don't even have to be in the "Real Food" camp to make it yourself.
What's in a Name?
Call it Tomato Salsa, Fresh Salsa, Pico de Gallo, or Salsa Fresca – doesn't matter – grab some tomatoes and a handy chopper such as this one and get to it.  You can easily enjoy this salsa fresh for #tacotuesday or give it a few days to culture for an added nutritional boost from probiotics.  That's right!  This salsa will keep in the refrigerator for months when you "culture" it with live enzymes and probiotics.
Preserving the Harvest
If you're following me on Pinterest, then you probably know I have a board dedicated to different ways to "preserve the harvest."  And this is a great way to preserve the bounty of tomatoes from the garden in the months to come.
I always make a large batch (about 4 half-gallon jars) and stick them in our garage refrigerator after letting them ferment.  They usually last us a few months and when we're out, I then switch to my Winter Salsa recipe that can be made in 5 minutes in the blender.
Lacto-Fermented Salsa Fresca
Some ways to enjoy Fresh or Cultured Tomato Salsa:
Fresh or Lacto-Fermented Salsa Fresca
Print
Ingredients
1

onion

6

large tomatoes

1

jalapeno or serrano pepper

**

6

garlic cloves

1

bunch of chopped cilantro

juice of 2 limes

1/2

teaspoon

black pepper

2 1/2

teaspoon

Celtic Sea Salt
Instructions
Finely dice the onion with a sharp knife or

this chopper

. (I use the smaller hole insert for onions and larger for tomatoes). Dice tomatoes. I prefer to have tomatoes diced slightly larger than the onions. Seed and mince jalapeno or serrano pepper. Place in a

bowl

.

Seed and mince jalapeno or serrano pepper. Add to onions and tomatoes.
To Lacto-Ferment Salsa Fresca:
To ferment or culture salsa, add an additional 1 teaspoon of salt. Close the lid to the jar and set at room temperature for 24 hours or until cultured. Check daily to make sure the salsa is fully submerged in the natural juices or brine. Push the salsa down with the back of the spoon as needed.

Fermented salsa can be kept in the refrigerator for up to 6 months.
Recipe Notes
* Tomatoes: I prefer to use whatever tomatoes I have in my garden. Sometimes, they're heirlooms, sometimes beefsteaks or roma tomatoes. If they are particularly juicy, you may drain off some of the extra liquid so the salsa doesn't become too watery. 
** Peppers: You can seed the hot peppers first for low-heat salsa but save them. After a taste test, you can add some of the seeds for additional heat if desired.
*** Storage: Salsa is best after 12 hours of incorporating all the flavors. I usually set the salsa in the refrigerator immediately after making it and keep it there until needed. For quick culturing, keep it out for 24 hours at room temperature, then store in the cold storage.
**** Fermenting: I've found it is not necessary to add a culture or starter such as whey or sauerkraut juice. It will ferment with enough salt and time on its own.