Fermented Tomato Salsa is a tangy and gut-healing version of Pico de Gallo. With only 5 ingredients and naturally Paleo, Whole30, and Low Carb, this will be your favorite condiment all season long.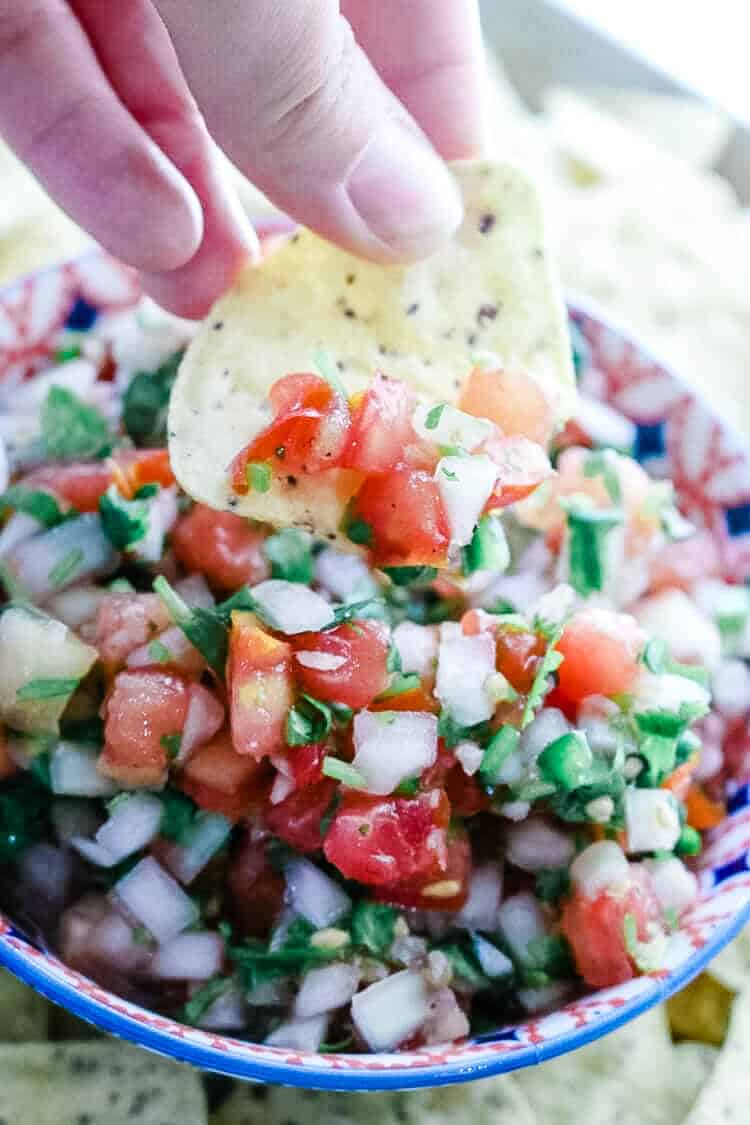 Making fresh salsa is so incredibly, amazingly, strangely, and fabulously easy that you really don't even have to be in the "Real Food" camp to make it yourself. It requires a handful of garden grown veggies to make a batch.
This recipe is very forgiving. You are free to add extra heat if desired or double the cilantro if you love the herb. Taste and adjust is your motto here!
Fermented Tomato Salsa - Pico de Gallo
This version of Pico de Gallo has a twist to it. Enjoy as is or set it aside for all the healthy bacteria to do their fermenting magic. This recipe only has 5 main ingredients and naturally Whole30, Paleo, and Low-Carb.
Call it Tomato Salsa, Fresh Salsa, Pico de Gallo, or Salsa Fresca - doesn't matter - grab some tomatoes and a handy chopper such as this one and get to it. You can easily enjoy this salsa fresh for #tacotuesday or give it a few days to culture for an added nutritional boost from probiotics.
That's right! This salsa will keep in the refrigerator for months when you "culture" it with live enzymes and probiotics.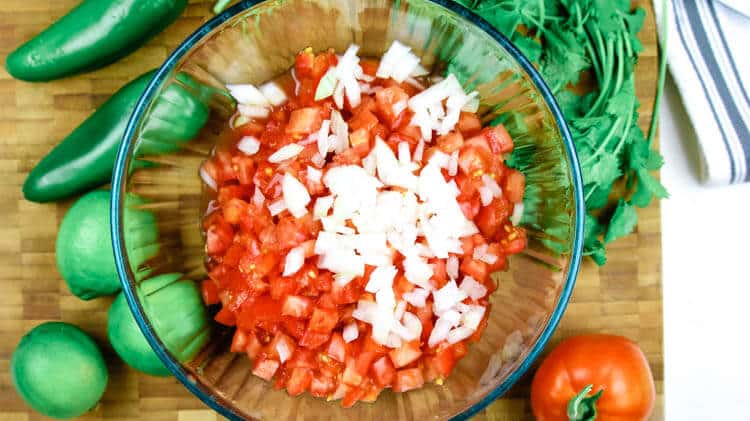 Can you ferment salsa?
Short answer is YES!
In order to ferment this salsa, we will need to provide an environment to culture the good bacteria while keeping out the bad. Salt is stellar at that job!
The bad bacteria will not survive in a salty, briny environment so be sure to be generous with salt if you plan to ferment this pico.
If you're following me on Pinterest, then you probably know I have a board dedicated to different ways to "preserve the harvest." And this is a great way to preserve the bounty of tomatoes from the garden in the months to come.
I always make a large batch (about 2 half-gallon jars) and transfer them to our garage refrigerator immediately and they culture well for long periods of time.
It usually lasts us a few months and when we're out, I then switch to my Winter Salsa recipe that can be made in 5 minutes in the blender.
I should note that when cultured, this salsa does have a tang that may be too strong for some people. I thoroughly enjoy it but I realize it's a personal preference.
For that reason, perhaps enjoying it while it's still considered fresh (which is still few days after making it) would be ideal.
What to eat Fresh or Fermented Salsa with: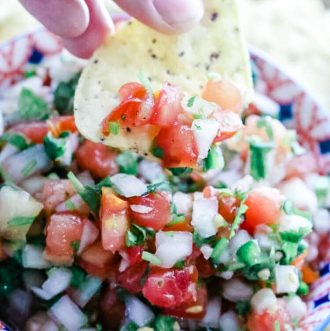 Fermented Tomato Salsa (Pico de Gallo)
Fermented Tomato Salsa is a tangy and gut-healing version of Pico de Gallo. Naturally Paleo, Whole30, and Low Carb, this will be your favorite condiment all season long.
Ingredients
1

yellow onion

6

large tomatoes

1

jalapeno or serrano pepper

**

6

garlic cloves

1

bunch of chopped cilantro

juice of 2 limes

½

teaspoon

black pepper

2 ½

teaspoon

Celtic Sea Salt
Instructions
Finely dice the onion with a sharp knife or

this chopper

. (I use the smaller hole insert for onions and larger for tomatoes). Dice tomatoes and transfer to a medium-size bowl.

Seed and mince jalapeno or serrano pepper. Add to onions and tomatoes.

Enjoy as is on your favorite foods. Store in the refrigerator for up to two weeks for a fresh taste. After that time, it will start to culture and develop a tang.
To Ferment Salsa:
To ferment or culture salsa, add an additional 1 teaspoon of salt. Close the lid to the jar and set at room temperature for 24 hours or until cultured. Check daily to make sure the salsa is fully submerged in the natural juices or brine. Push the salsa down with the back of the spoon as needed. Transfer to refrigerator.

Fermented salsa can be kept in the refrigerator for up to 3 months.
Notes
* Tomatoes: I prefer to use whatever tomatoes I have in my garden. Sometimes, they're heirlooms, sometimes beefsteaks or roma tomatoes. If they are particularly juicy, you may drain off some of the extra liquid so the salsa doesn't become too watery. 
** Peppers: You can seed the hot peppers first for low-heat salsa but save them. After a taste test, you can add some of the seeds for additional heat if desired.
*** Storage: Salsa is best after 12 hours of incorporating all the flavors. I usually set the salsa in the refrigerator immediately after making it and keep it there until needed. For quick culturing, keep it out for 24 hours at room temperature, then store in the cold storage.
**** Fermenting: I've found it is not necessary to add a culture or starter such as whey or sauerkraut juice. It will ferment with enough salt and time on its own.
| Nutritional Information Disclaimer |
Nutrition
Calories:
9
kcal
|
Carbohydrates:
2
g
|
Protein:
1
g
|
Fat:
1
g
|
Saturated Fat:
1
g
|
Sodium:
244
mg
|
Potassium:
83
mg
|
Fiber:
1
g
|
Sugar:
1
g
|
Vitamin A:
270
IU
|
Vitamin C:
5.4
mg
|
Calcium:
5
mg
|
Iron:
0.1
mg
Nutrition Information
The information shown is an estimate provided for your convenience by an online calculator. It should not be considered as a substitute for a professional nutritionist's advice. See our complete Nutritional Information Disclaimer.
©Prepare and Nourish • Content and photographs are copyright protected. Sharing of this recipe is encouraged and appreciated but please do NOT screenshot or copy/paste complete recipes to websites or social media.
If you liked the recipe above, please consider rating the recipe and leaving a comment below. Also, be sure to follow me on Facebook, Instagram, and Pinterest.
Need More Ferment Recipes:
Easy Lacto-Fermented Dill Pickles (Paleo, Whole30, GAPS)
Lacto-Fermented Jalapeno Peppers (Paleo, Whole30, GAPS)
Easy Fermented Vegetable Medley (Paleo, Low Carb, Whole30)
Healthy Kimchi Recipe (Paleo, Low Carb, Whole30)
>>> Pin This <<<
This recipe was originally published April 28, 2017 and has been updated.