This lacto-fermented salsa is an easy way to preserve the harvest and include more probiotics to your diet. It's tangy and zesty and has a perfect spice kick to accompany your favorite Mexican meals or just to dig in with tortilla chips.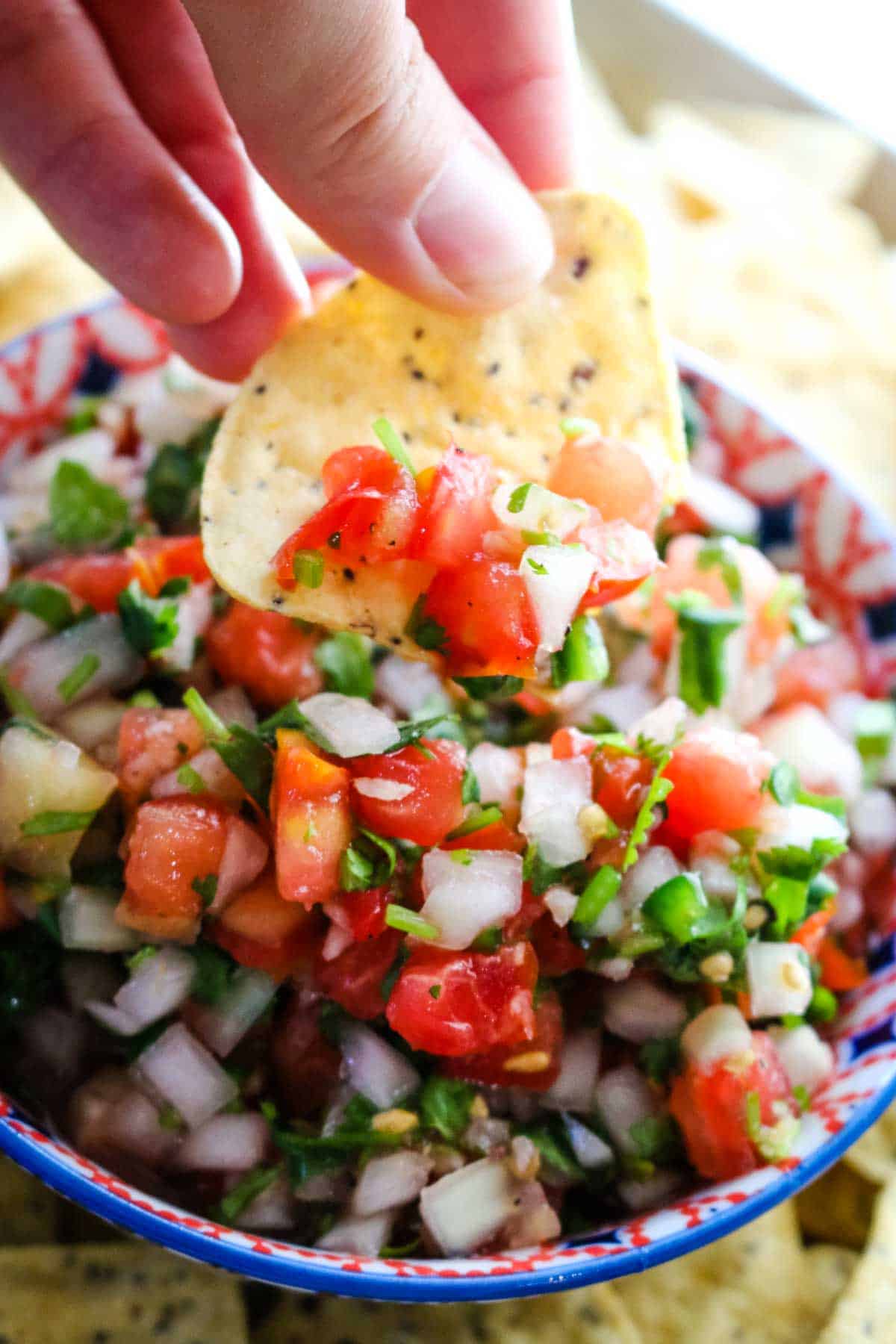 This easy recipe is an easy way to include natural probitiocs that is great for gut health.
When freshly prepared, this simple salsa is a basic pico de gallo but when left at room temperature for a few days, it will create good bacteria during this fermentation process that is great for gut health.
It is a perfect accompaniment to your favorite Mexican dish.
What is Fermented Salsa?
Lacto-fermentation is used to produce traditionally cultured dill pickles, kimchi, sauerkraut, and this salsa. It usually requires nothing more than adequate supply of real salt, vegetables, and water.
The beauty of lacto-fermentation is that no fancy equipment or canning supplies are needed. Just your ingredients and good quality salt.
Lacto-fermentation is a metabolic process by which glucose in the foods is converted into cellular energy and produces lactic acid. This process wipes out the bad bacteria in foods and the good bacteria which is tolerant to salt converts to lactic acid.
This lactic acid is a natural preservative that helps fight the bad bacteria and preserves the flavor and nutrient profile of these foods.
Different strains of this Lactobacillus bacteria have different strain-specific health benefits. That's why, as with all foods, it's important to get a variety of truly lacto-fermented foods in your diet.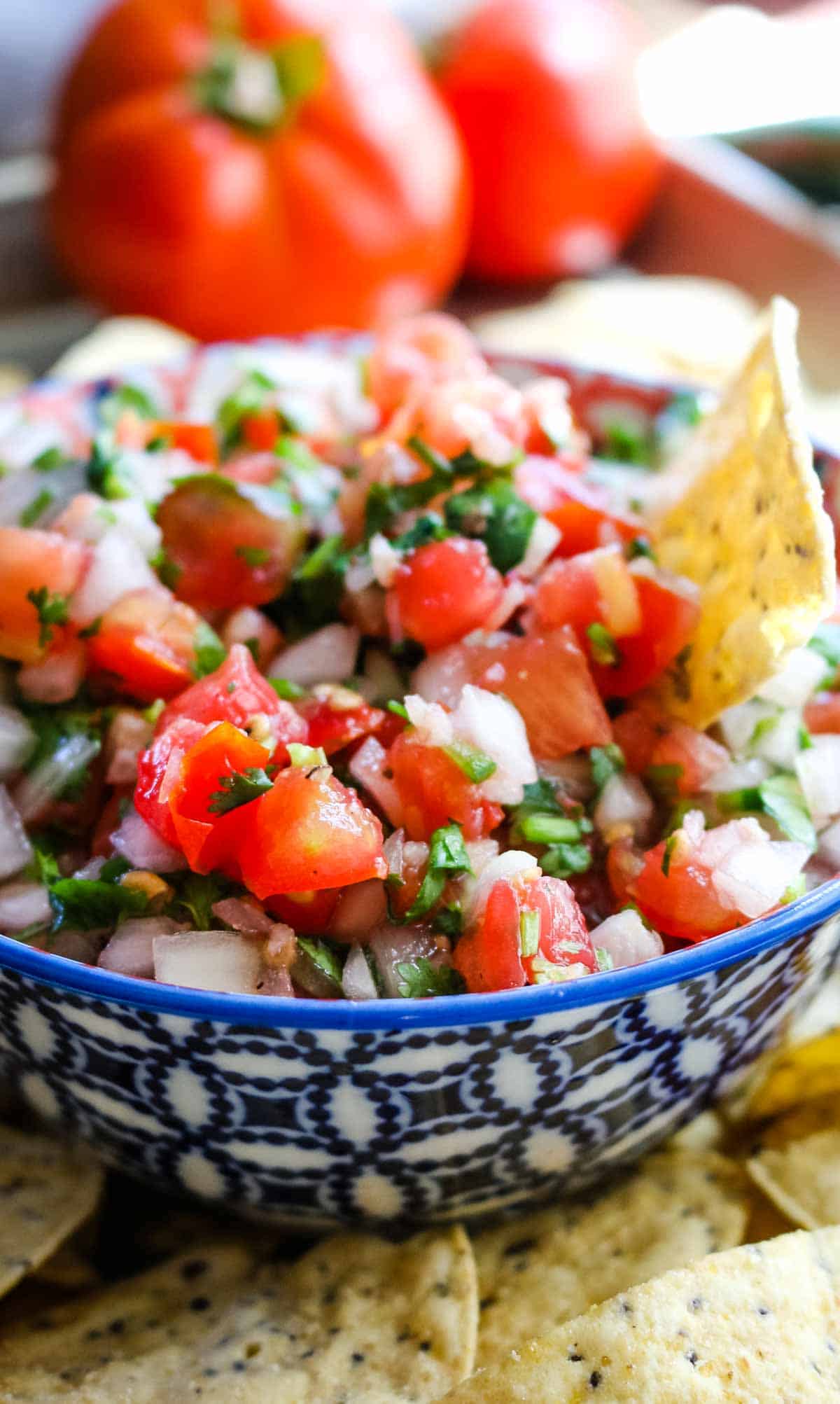 Preserving Fresh Tomatoes
Making this Lacto-Fermented Salsa is also a great way to preserve your tomato harvest.
For centuries, seasonal vegetables were only available fresh during their growing seasons. All the surplus was carefully fermented or cultured to last in cold storage during the leaner months.
This is done to extend shelf life. Properly cultured foods can last up to 6-8 months, well in time for the next bumper of crops.
In our modern world today, we are blessed to have fresh produce available to us year round, whether at the farmers market or the grocery store. And even though we have no need to preserve foods, the health benefits and nutrition of fermented foods still applies to us.
Good to Know: The process of lacto-fermentation produces good bacteria that has gut-healthy probiotics. 
From Pico de Gallo to Fermented Salsa
The difference between tomato salsa pico de gallo and fermented salsa is the time spent at room temperature.
If you want fresh, zesty, tangy pico de gallo or regular salsa, follow the recipe below and transfer the homemade salsa straight to the refrigerator to stop or greatly hinder the fermentation process.
It will keep in the refrigerator for several weeks before it starts producing live cultures and natural bacteria that will eventually turn it into fermented salsa.
However, if you want the health benefits of fermented salsa quicker, you'll need to give it more time to sit at room temperature to allow that bacteria transformation.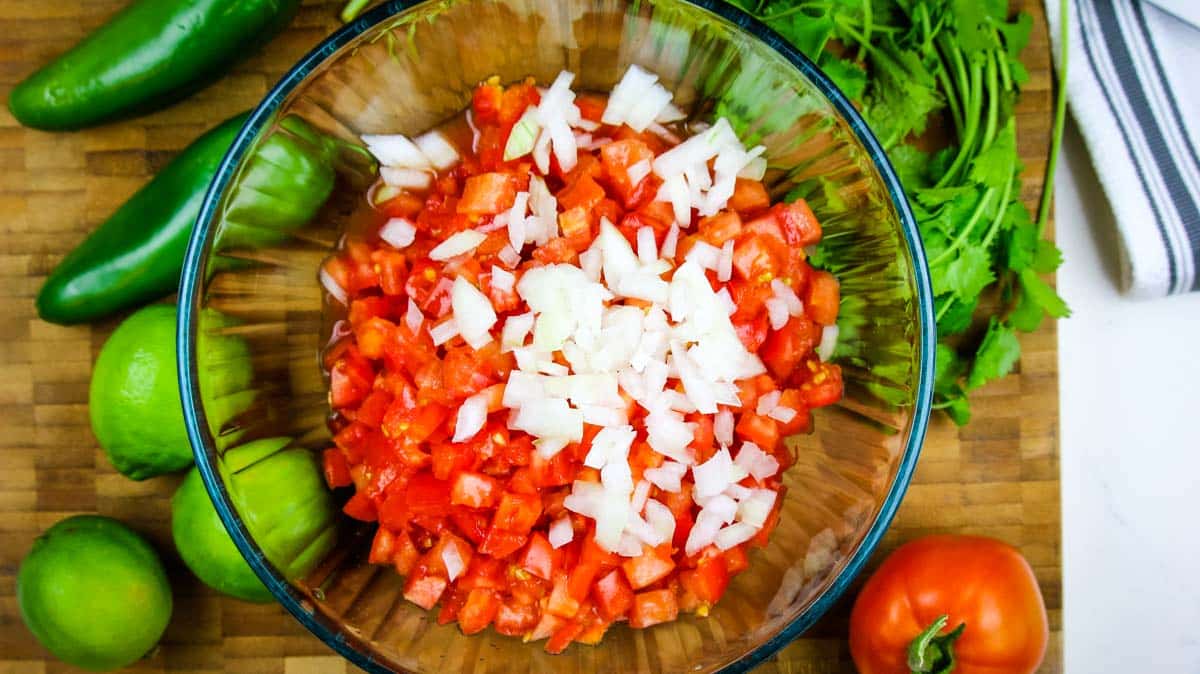 What are the ingredients in Fermented Salsa?
This is Lacto-Fermented Salsa recipe without whey, provided that you have adequate salt to create those good microbes.
Make it Nutrient-Dense: Because tomatoes are on the EWG's Dirty Dozen list, it's best to use organic tomatoes or better yet, grow them yourself to avoid pesticide residue.
Suggested Substitutions and Variations
This simple salsa recipe is pretty forgiving. Any garden fresh tomatoes and onions will work.
The only thing that is non-negotiable is the use of good quality, unrefined salt. I prefer fine (not coarse) Redmond's Real Salt (use code NOURISH for 10% off).
If you would like to read more about the importance of unrefined salt in your diet and which salt is best to use for specific dishes, check out this Unrefined Salt Guide post.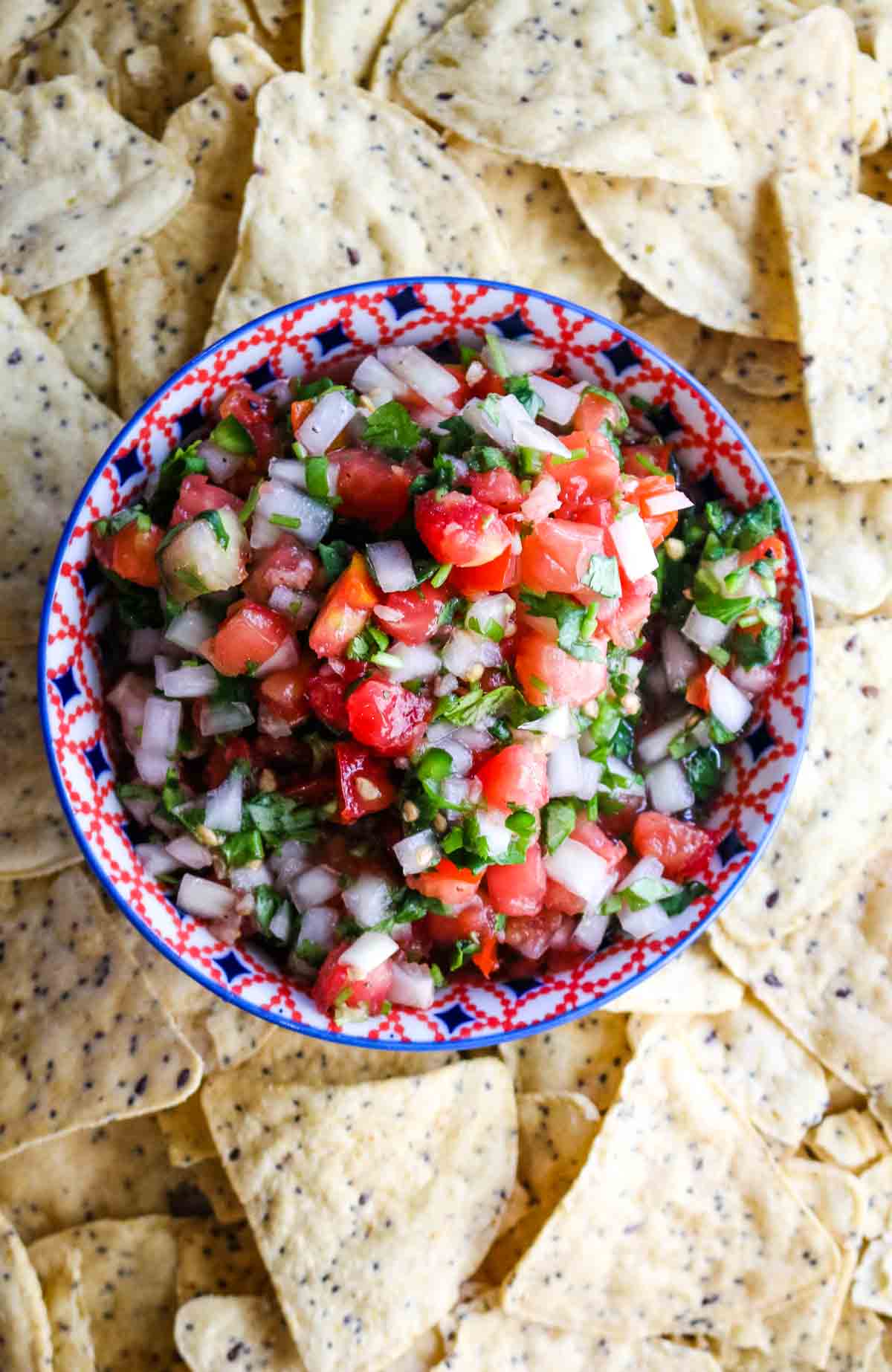 Frequently Asked Questions & Tips
How long does Fermented Salsa last?
When fermented properly, this salsa will last in dark, cold storage such as the refrigerator for up to 4 months. Look for any signs of mold and use your sense of smell to test for any foul odor. Even after 4 months, the salsa should not be mushy if prepared properly.
Is 'burping' the jar necessary to ferment salsa?
As with most things that are using the process of lacto-fermentation, you do want to create an environment where these natural gases can escape. This is done with a loose fitting lid or every 12 hours or so, opening it and releasing those gases. That would also be a good time to make sure that the salsa is fully submerged in what now should be a salty brine.
What is the best salt to use to lacto-ferment foods?
Your lacto-fermented foods are only as good as your salt. That is because truly unrefined real salt contains lots of minerals and enzymes needed for this fermentation process. I prefer using Redmond's real fine salt for best results.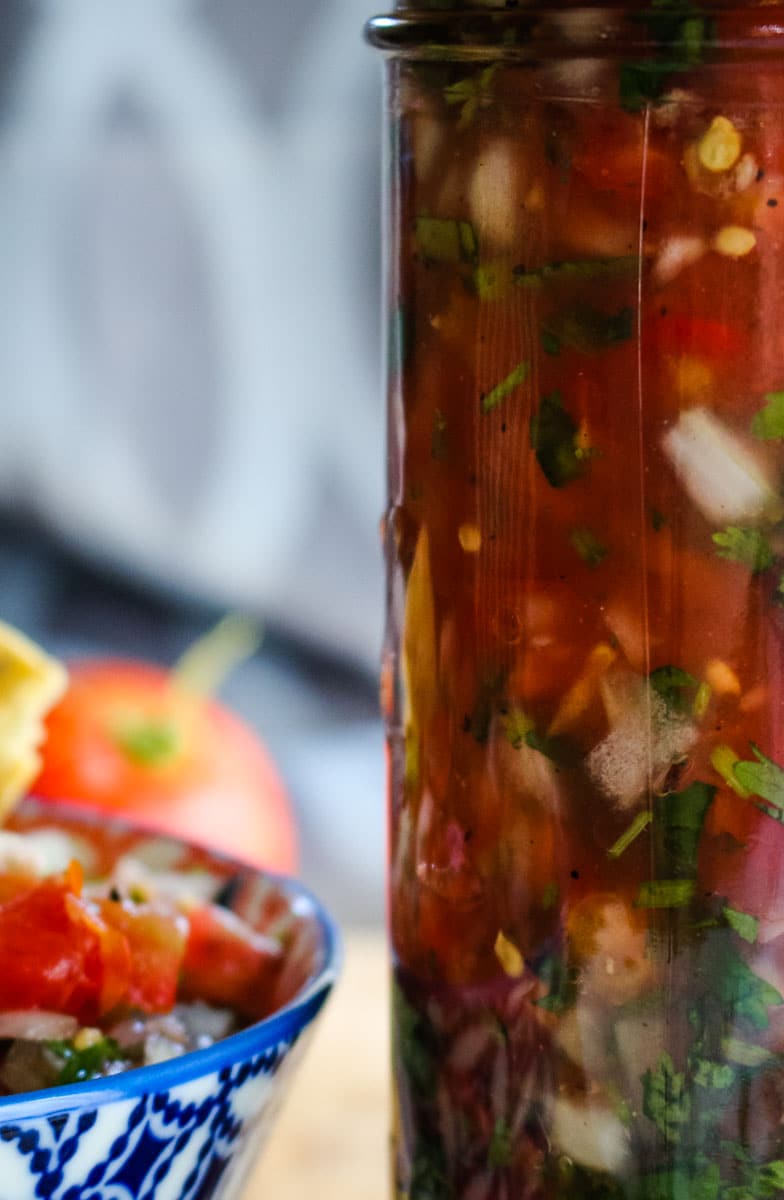 Storage Instructions
To store: After 2 days of allowing the salsa to naturally ferment at room temperature, transfer to back of the refrigerator and store there for up to 4 months.
Storage containers: My favorite vessels for lacto-fermented foods are wide-mouth Mason jars similar to these. They come in various sizes and are easy to access.
How to make Fermented Salsa
The complete printable recipe is below in the recipe card for your convenience.
This Lacto-Fermented Salsa recipe calls for these raw ingredients that you will need: fresh tomatoes, white onion, hot pepper like serrano or jalapeno pepper, raw garlic, fresh cilantro, limes, sea salt, and black pepper.
Step 1. Chop all raw vegetables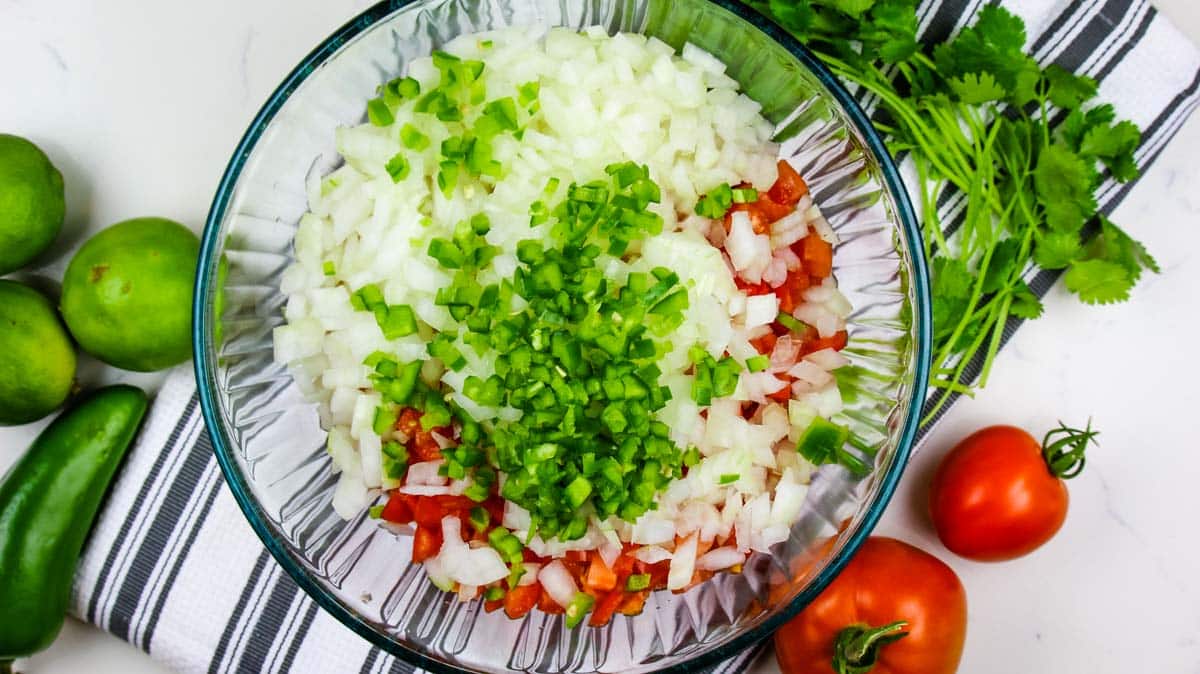 Finely dice the onion with sharp knife or a tool like this chopper (I use the smaller hole insert for onions and larger for tomatoes). Dice tomatoes in the same manner and transfer to a large bowl.
Seed and mince the hot pepper into small pieces according to personal taste. Add to tomatoes and onions.
Add finely chopped cilantro and minced garlic.
Did you know? Garlic contains an enzyme called allicin. For maximum health benefits, wait 10 minutes between mincing it and combing it for the enzyme to activate.
Step 2. Combine everything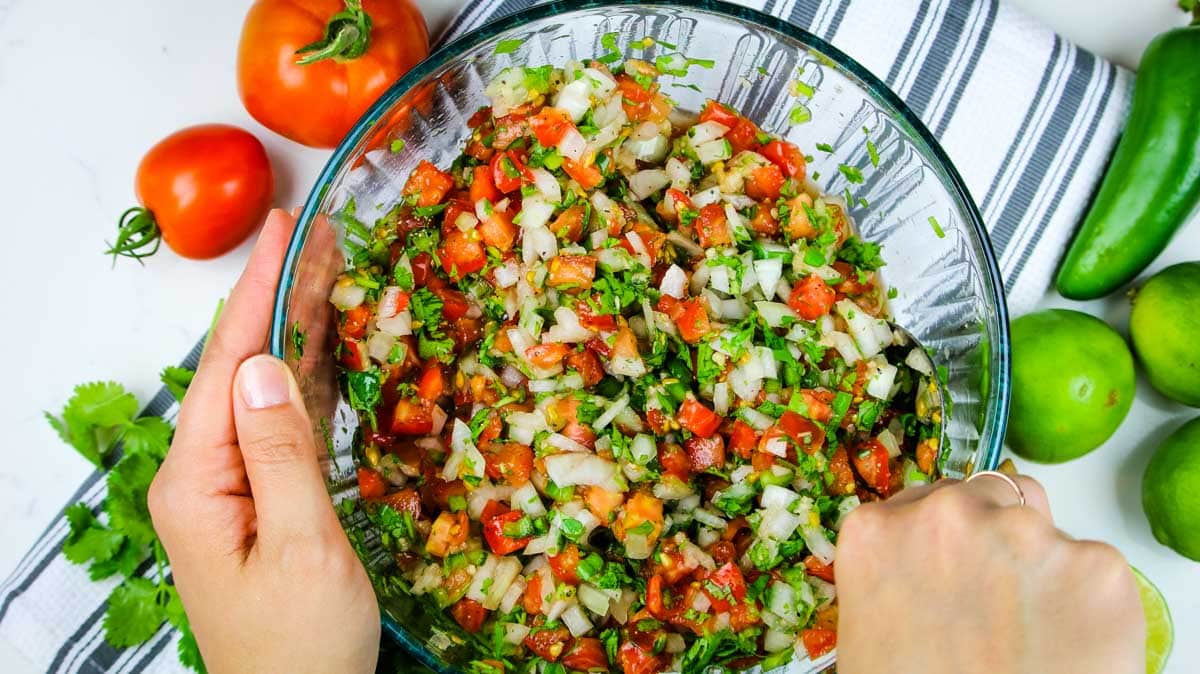 Squeeze the juice of limes (or lemons if no limes) and season with salt and pepper.
Toss to combine everything well.
At this point, this is your normal fresh salsa that is incredibly fresh-tasting and delicious. It has bright flavor and is great for picky eaters who don't particularly appreciate the fermented flavor.
Transfer the salsa into smaller jars and close the lid loosely.
To halt the fermentation process, transfer this salsa to the refrigerator and it will very slowly ferment in there. This can potentially add months to the shelf life.
Step 3: Set to ferment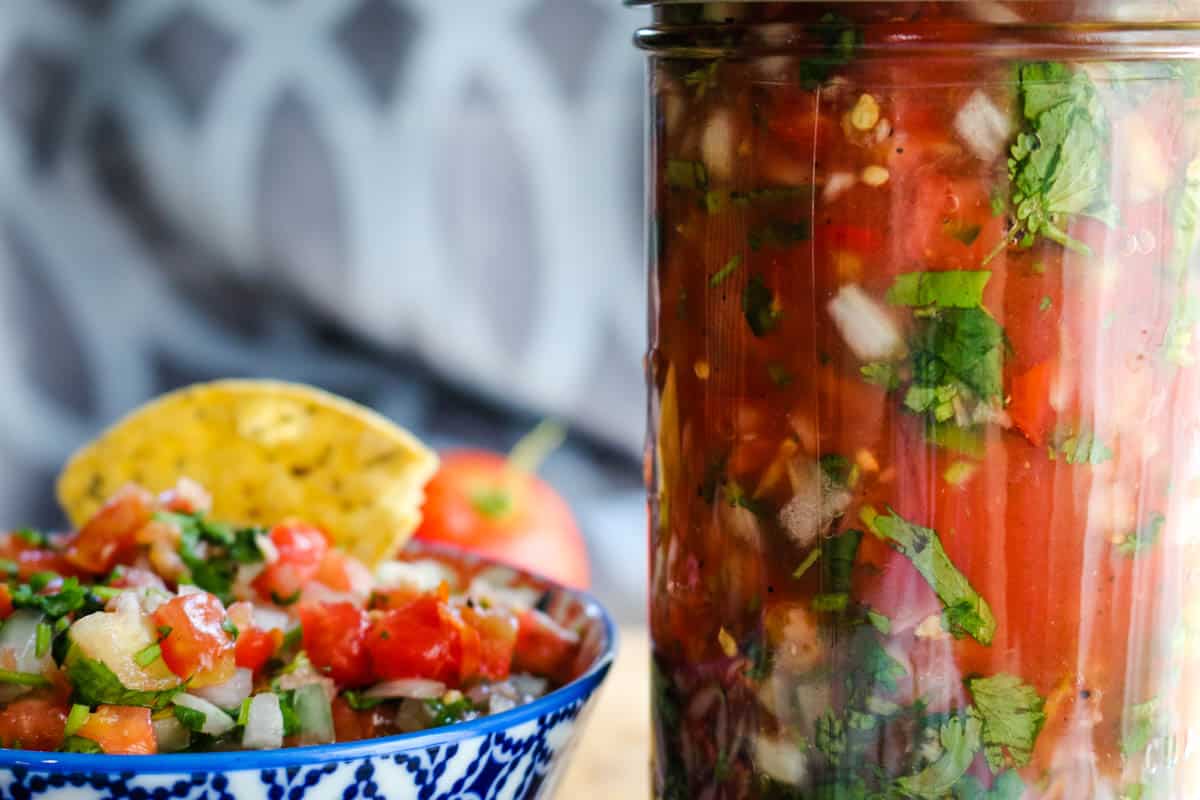 However, if you want the fermentating process to begin immediately, leave it at warmer temperatures but away from direct sunlight for couple of days (depending on your room temperature) until it starts forming that tangy flavor.
Keep the lid on very loosely to make sure natural gases have room to expand and escape. Make sure that the salsa is fully submerged in the salted brine as the tomatoes will start releasing much juice.
A fermentation glass weight like this one is an easy way to make sure all salsa is submerged.
Helpful Tip: Make sure the lid to the salsa jar isn't so tight so the naturally producing gasses can escape and that all the salsa is fully submerged in the brine.
Helpful Tools & Links
Below are some links that may be helpful to you as you make this recipe. You can find some of these items cheaper at your local store but it helps to have a link so you know what you're looking for.
What to eat with Lacto-Fermented Salsa
As with most lacto fermented foods, they are most enjoyed as a condiment in your daily diet for good health because of their good bacteria content.
Enjoy this salsa with these recipes:
Looking for more lacto-fermented recipes? Here are some ideas:
Did you make this? Please leave a ⭐ recipe rating in the recipe card below and leave a review in the comments. Thank you!💚
Printable Recipe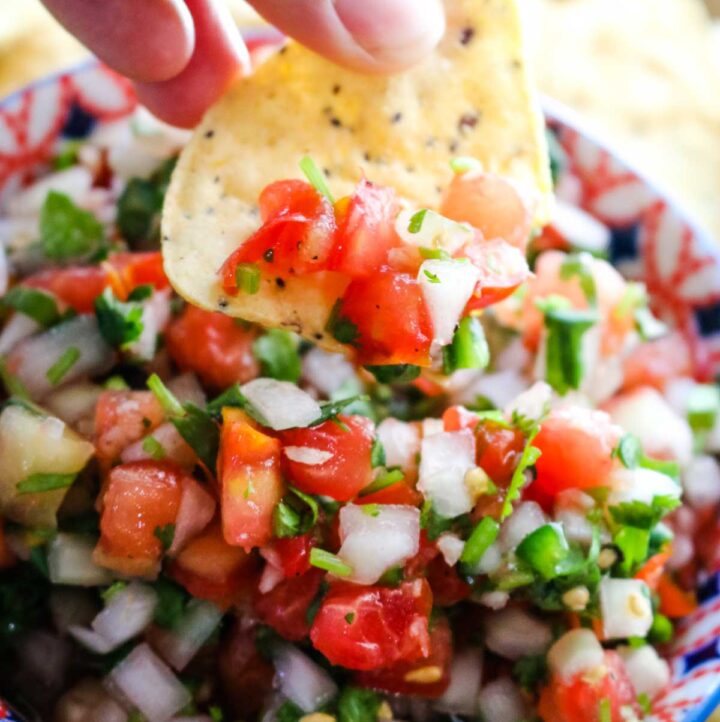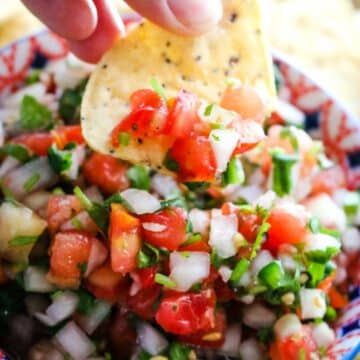 Fermented Tomato Salsa
This lacto-fermented salsa is an easy way to preserve the harvest and include more probiotics to your diet. It's tangy and zesty and has a perfect spice kick to accompany your favorite Mexican meals or just to dig in with tortilla chips.
Ingredients
2

pounds

fresh tomatoes

1

yellow onion

1

jalapeno or serrano pepper

6

garlic cloves

1

bunch of chopped cilantro

juice of 2 limes

2 ½

teaspoon

fine sea salt

½

teaspoon

black pepper
Notes
Peppers: You can seed the hot peppers first for low-heat salsa but save them. After a taste test, you can add some of the seeds for additional heat if desired.
If fresh pico de gallo is desired, transfer the salsa to the refrigerator without allowing to ferment at room temperature. It will taste fresh for up to 2 weeks, then will slowly start to culture and develop a tang.
It is not necessary to add a culture or starter such as whey or sauerkraut juice. It will ferment with enough salt and time on its own. Make sure you use the full amount of salt.

Fermented salsa can be kept in the refrigerator for up to 4 months. 
Nutrition
Calories:
10
kcal
|
Carbohydrates:
2
g
|
Protein:
0.4
g
|
Fat:
0.1
g
|
Saturated Fat:
0.01
g
|
Polyunsaturated Fat:
0.04
g
|
Monounsaturated Fat:
0.01
g
|
Sodium:
245
mg
|
Potassium:
102
mg
|
Fiber:
1
g
|
Sugar:
1
g
|
Vitamin A:
327
IU
|
Vitamin C:
6
mg
|
Calcium:
7
mg
|
Iron:
0.1
mg
Nutrition Information
The information shown is an estimate provided for your convenience by an online calculator. It should not be considered as a substitute for a professional nutritionist's advice. See our complete Nutritional Information Disclaimer.
©Prepare and Nourish • Content and photographs are copyright protected. Sharing of this recipe is encouraged and appreciated but please do NOT screenshot or copy/paste complete recipes to websites or social media.
This post was originally published April 2017 but has since been updated to include helpful information.