These Easy Lacto-Fermented Dill Pickles are a great way to preserve those cucumbers naturally with live enzymes and probiotics. It's originally made with dill and garlic, but you can add your favorite spices to this easy ferment.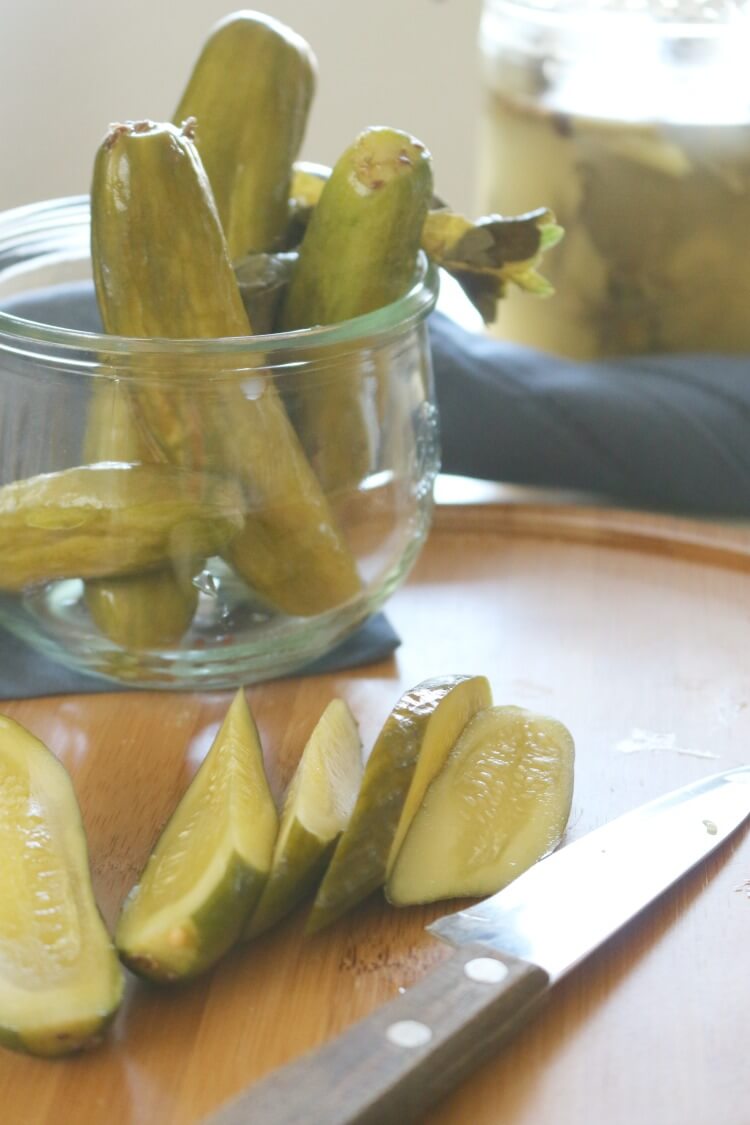 This post may contain affiliate links for your convenience. Thank you for supporting this site with purchases made through these links. See full DISCLOSURE for details.
I've been thoroughly enjoying our cucumber crop this year. Not sure what we're doing right since we're only wanna-be farmers/gardeners/homesteaders but our cucumber plants are uber prolific.
The best way to enjoy cucumbers is inevitably straight off the vine, while they are still warmed from the sun. We have a few plants of the Persian variety and we love them for their thin skin and sweet taste. They are one notch away from being as sweet as apples. So refreshingly delicious and sweet.
Then we have our pickling cucumbers and they are ideal for, well....pickling! Except I don't pickle. Instead, I use the traditional methods of fermentation using a real salt brine to preserve these cucumbers.
I'm also a rebel. I don't use pickling cucumbers for fermenting. I use whatever cucumbers I happen to have on hand. So that means I ferment Persian cucumbers and eat pickling cucumbers in salads or right off the vine. It doesn't really matter - the process is the same.
The only suggestion I have in regards to this is do your best to find cucumbers with same skin thickness. Pickling cucumbers have a thicker skin, thereby requiring longer fermentation time. Whereas Persian cucumbers are typically ready in 2-3 days if jar is left at room temperature.
Kick up the Flavor
I've used this same method for various flavors of the pickles. You can make it even easier by using ready-made pickling spice such as this one. I prefer going the traditional garlic and dill variety. If you don't have heads of dill, which you can either grow yourself or ask your farmer, you can use a combination of dill seed and dried dill weed. The flavor won't be as strong, but that's one way to work around it.
For an extra kick, add some red pepper flakes or slice a serrano pepper in half lengthwise and throw it on the bottom of the jar. For additional flavors, you can add peppercorn, bay leaves, mustard seeds, celery seeds, etc...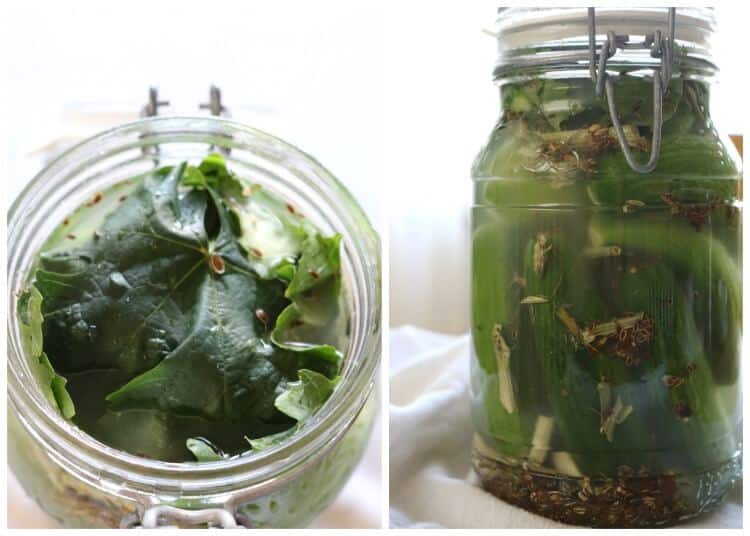 Fermentation Process
You want to be sure to start with a good-quality, real salt brine. I use Celtic Sea Salt for all my fermentation and love that it is naturally rich in minerals. To culture or ferment the pickles, you want to find a warm spot in your kitchen to house them for a few days (or until desired taste is reached).
Related: The Real Food Guide to Salt
Don't forget to add your tannin-containing leaves such as grape leaves, blackcurrant, oak or horseradish leaves to help the cucumbers retain their crunchiness.
Easy Lacto-Fermented Dill Pickles
Add this simple ferment to your meals for an extra dose of natural probiotics. Make a large batch and keep in cold storage for up to 6 months.
Printable Recipe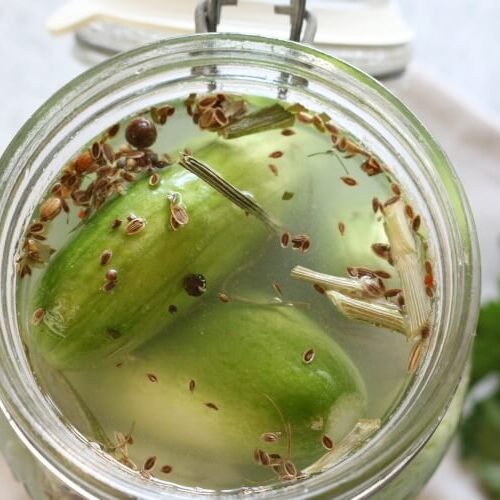 Easy Lacto-Fermented Dill Pickles
It's traditionally made with dill and garlic, but you can add your favorite spices to this easy ferment.
Ingredients
3

tablespoons

real salt

1

quart

filtered water

6

cloves

garlic

½

cup

dill heads and stalks

OR

1

tablespoon

dried dill seed and dill weed each

OR

2

tablespoon

ready-made pickling spice

additional spices to taste such as red pepper flakes, peppercorns, bay leaves, mustard seeds, etc..

optional

6-10

pickling cucumbers, washed and ends removed

2-3

large grape leaves, blackcurrant leaves, oak leaves, or horseradish leaves
Instructions
Make a brine by dissolving salt in water. Set aside.

In a quart size jar, add garlic, dill and/or other spices. Pack the cucumbers tightly on top of the spices.

Cover the cucumbers with tannin-containing leaf such as grape or blackcurrant leave. Pour the brine over cucumbers, leaving about 1 inch headspace.

Cover the jar with a lid or cheesecloth and secure with rubber band. If using airtight seal, be sure to "burp" the pickles every day to release pressure. Otherwise, just set it on the counter in warmest spot in kitchen for fermentation to occur.

Ferment at room temperature until desired taste is achieved.

Move to cold storage for up to 6 months.
Nutrition Information
The information shown is an estimate provided for your convenience by an online calculator. It should not be considered as a substitute for a professional nutritionist's advice. See our complete Nutritional Information Disclaimer.
©Prepare and Nourish • Content and photographs are copyright protected. Sharing of this recipe is encouraged and appreciated but please do NOT screenshot or copy/paste complete recipes to websites or social media.
Pin this!

You May Also Like
Lacto-Fermented Jalapeno Peppers

How to Make Kimchi in 4 Easy Steps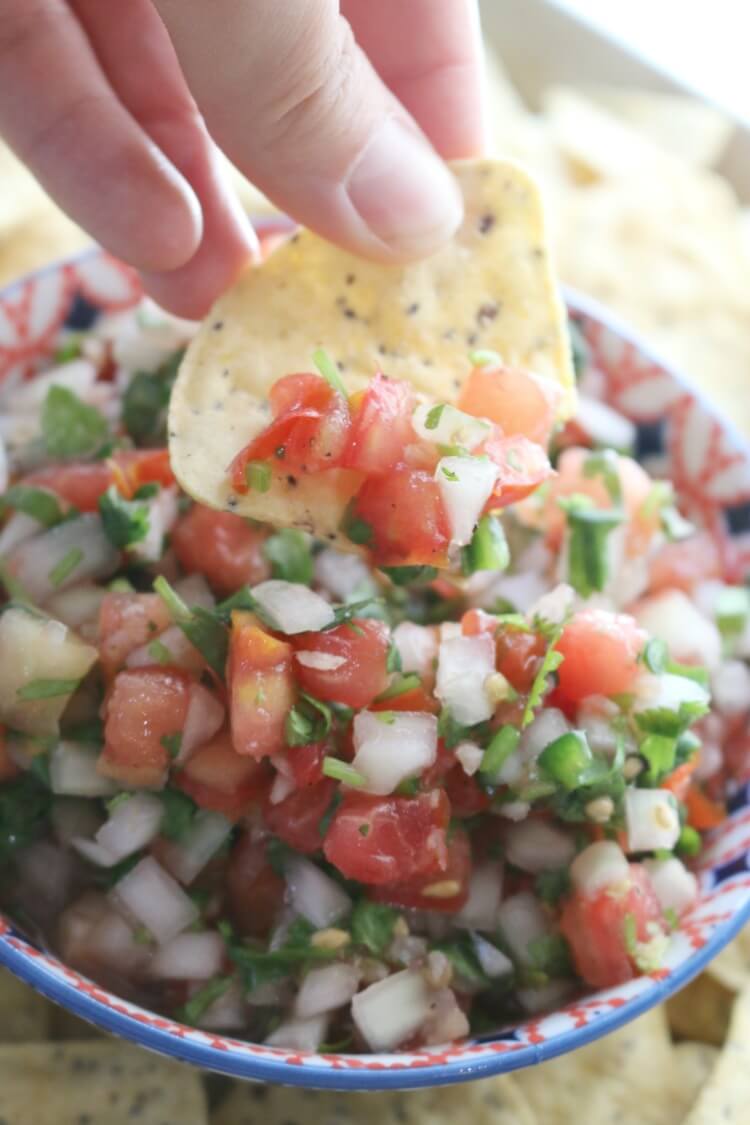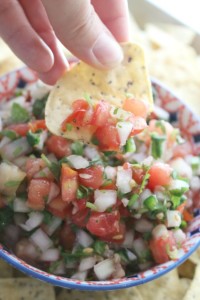 Lacto-Fermented Pico de Gallo