This Red Cabbage Sauerkraut Recipe (or fermented red cabbage) is made with just a few simple ingredients and easy steps yet provides a delicious and tangy kraut that's excellent with every meal. Plus, it's naturally packed with probiotics and beneficial enzymes.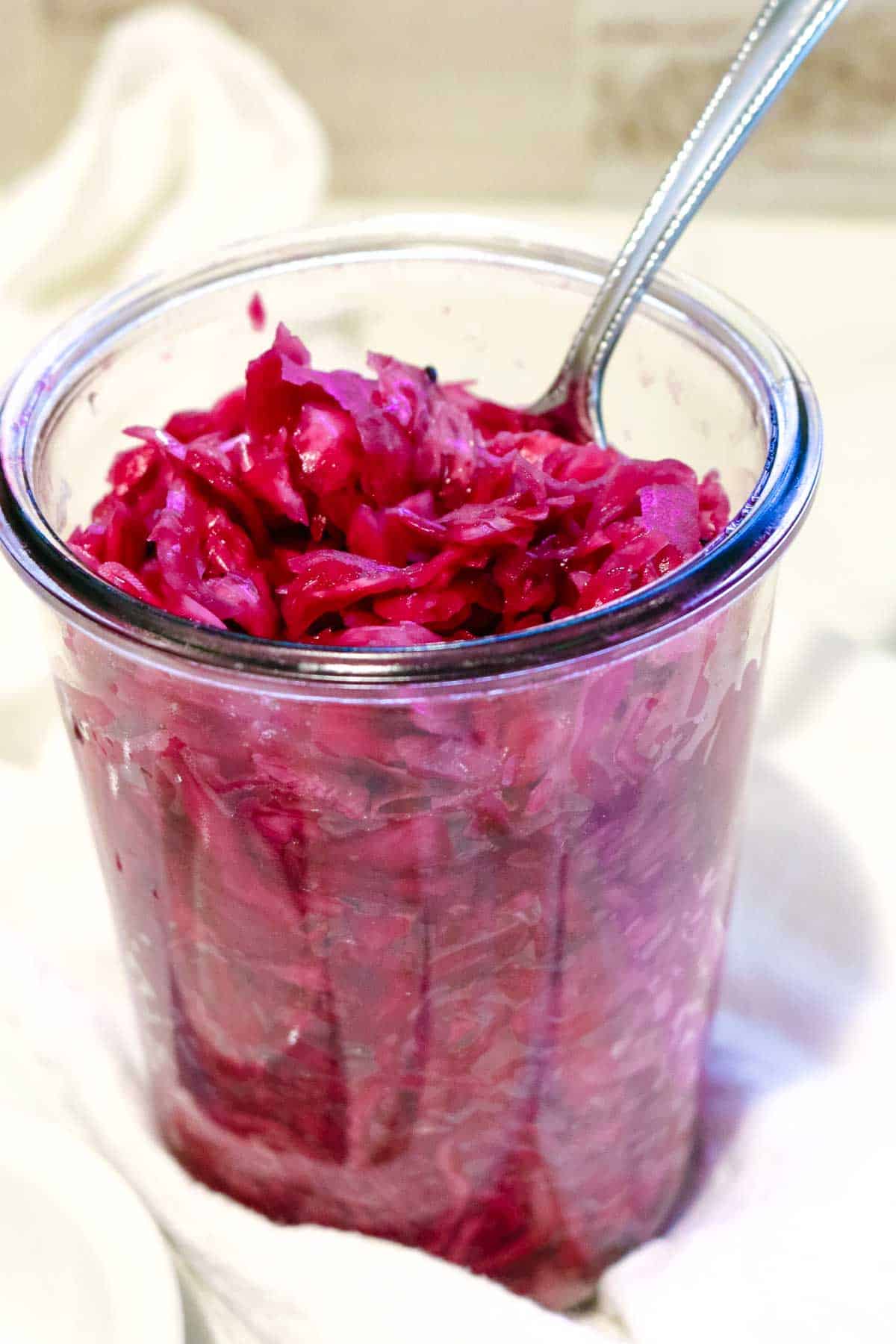 If you want to add more fermented foods to your diet, look no further than this homemade red cabbage sauerkraut recipe! This tangy and delicious option is packed with beneficial probiotics that can support gut health and boost your immune system.
And the best part? It's super easy to make at home! This fermented red cabbage recipe is a twist on the traditional raw sauerkraut I frequently make. And if this is your first time fermenting sauerkraut, I suggest you check out that post for helpful information like the kraut benefits and salt calculator.
Red fermented sauerkraut is just the beginning of fermented foods. Remember to check out classic kimchi, this reader's favorite lacto-fermented jalapenos and cultured pico de gallo.
So grab your fermentation jars, and let's get started!
Jump to:
Why You'll Love This Red Cabbage Sauerkraut Recipe
What makes this recipe different from all the others on the world wide web? While most recipes call for water this homemade sauerkraut recipe uses natural brine to allow the good bacteria to develop.
Adding water to kraut is not necessary and it further dilutes the flavor. Instead, we allow the natural fermentation process to use unrefined salt to draw juices from the cabbage.
Taste: Delicious and slightly sour flavor that adds a unique taste to many dishes.
Texture: A crispy and crunchy texture adds a satisfying crunch to softer ingredients.
Versatility: It can be served in many different ways: as a condiment, a topping, or even on its own.
Health benefits: Loaded with healthy probiotics, which may help proper digestion and overall gut health.
No special equipment is needed. No burping lids. No fermentation crock. Just good old fashioned clean glass jars.
What are the Benefits of Red Cabbage Sauerkraut?
As a fermented food, red cabbage sauerkraut offers several health benefits. It's rich in vitamins C, K, and B6 and fiber, potassium, and calcium.
But more importantly, naturally fermented sauerkraut is high in beneficial bacteria called probiotics, which may help improve gut health. As a result, this may lead to better digestion, improved nutrient absorption, and a more robust immune system.
💭Make it Nutrient-Dense: Add a serving of fermented foods at every meal for optimal gut health.
Ingredients for Red Cabbage Sauerkraut
This Fermented Red Cabbage Sauerkraut has two basic ingredients, but you can add optional spices for a different flavor profile.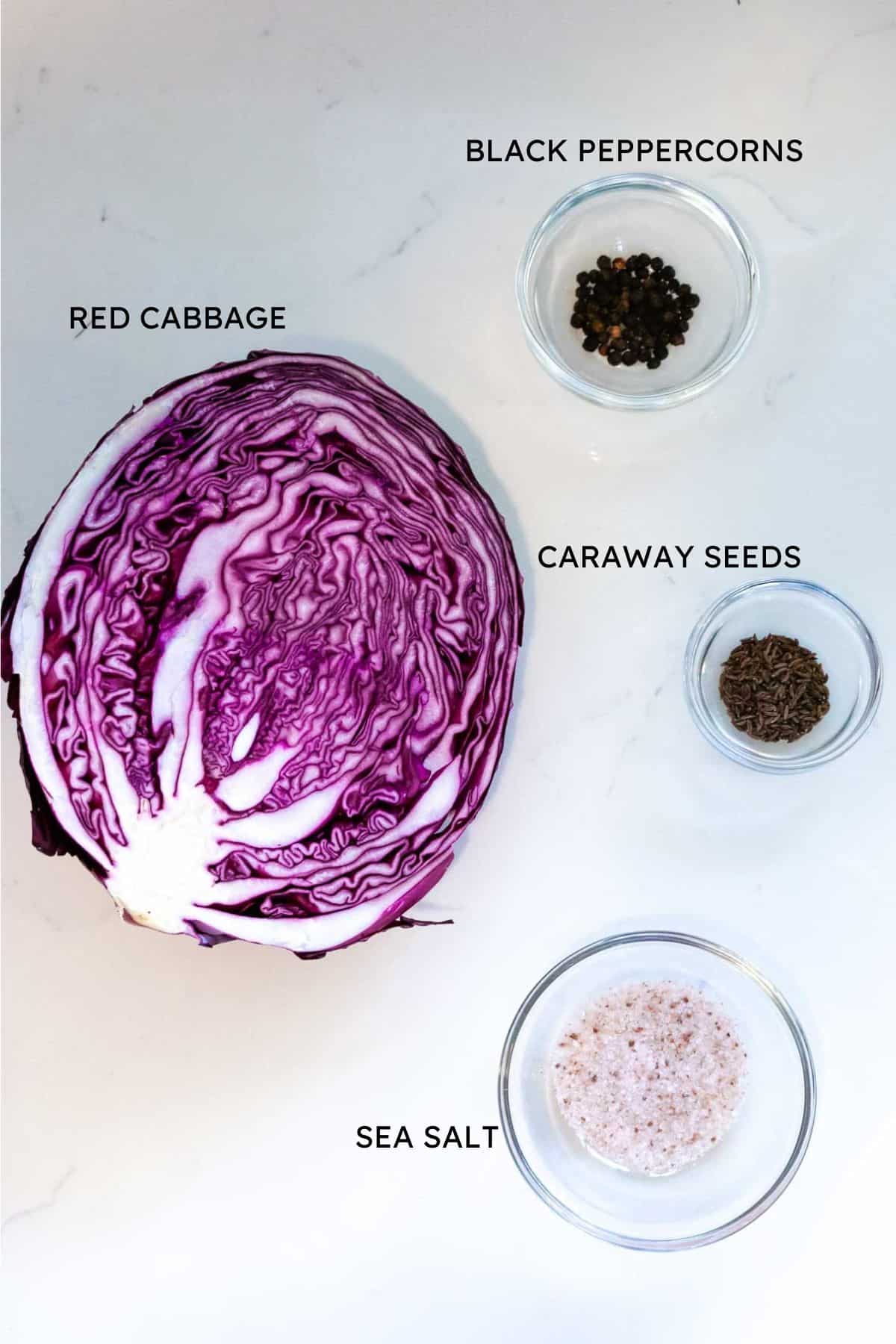 red cabbage: This is the main ingredient of the red cabbage kraut and provides the bulk of flavor and texture.
unrefined sea salt: Salt will draw out natural juices and acts as a natural preservative and helps keep harmful bacteria at bay during the fermentation process.
peppercorns: This is optional, but adds a slightly spicy flavor to the purple cabbage sauerkraut.
caraway seeds: Bring a slightly sweet, nutty flavor that pairs well with the tangy kraut flavor. This spice also has digestive benefits and may help to reduce bloating.
See the recipe card for exact quantities.
Helpful Tips for Selecting Cabbage
Finding a good head of red cabbage is essential for making delicious sauerkraut. Here are some tips on how to choose the best cabbage for sauerkraut:
Choose fresh red cabbage: Look for cabbage heads that are firm and heavy for their size. Avoid cabbage with wilted or yellow leaves, which may indicate the cabbage is past its prime.
Choose dense heads: The cabbage head should be dense and compact. Avoid loose or fluffy heads, which may result in watery sauerkraut.
Choose the right size: Choose cabbage heads that are medium to large in size. Small heads may be difficult to work with, while large ones may be tough and fibrous.
Check the stem: Check the cut stem of the cabbage to ensure it is not too dry or cracked, as this may indicate that the cabbage is old or has been stored improperly.
By following these tips, you can select the best cabbage for sauerkraut and ensure that your sauerkraut turns out delicious and flavorful.
💭Pro tip: Weigh your cabbage and salt using a kitchen digital-scale for fool-proof fermentation.
How to Make Red Cabbage Sauerkraut
The complete printable recipe is below in the recipe card for your convenience. Follow these simple step-by-step instructions for success on the first try!
This fermented red cabbage sauerkraut recipe calls for these ingredients that you will need: red cabbage, salt, and optional seasonings of caraway seeds and whole peppercorns.
Step 1. Shred
Shred the cabbage finely.
Step 2. Season
Add salt and caraway seeds if using.
💭Pro tip: The best way to shred cabbage is to use a food processor or mandoline for uniform cabbage ribbons. Alternatively, you can also cut cabbage into thin strips with a sharp knife.
Step 3. Massage
Using clean hands or a fermentation tamper, massage the shredded cabbage with salt until it releases liquid.
Step 4. Transfer
To the bottom of a large jar like a mason jar or weck jar, add peppercorns if using. Then transfer the cabbage mixture.
💭Pro tip: If you want softer sauerkraut, massage cabbage firmly. For crunchier kraut, massage just enough to dissolve salt and combine everything well.
Step 5. Add weight
Place a fermentation weight on top of the cabbage. You may need to apply pressure to push the cabbage down.
Step 6. Set aside
Cover the jar with a loose lid and set at room temperature, away from direct sunlight, for up to 21 days to ferment.
Fermentation Timeline
The fermentation timeline for red cabbage sauerkraut can vary depending on several factors, such as the temperature, the amount of salt used, and the desired level of sourness based on personal preferences.
Generally, it takes around 1-4 weeks for red cabbage sauerkraut to ferment, with the optimal temperature range being between 65-75°F (18-24°C).
During the initial days of fermentation, the cabbage will start to release its juices, and the salt will begin to break down the cell walls of the cabbage, creating an environment conducive to the growth of lactic acid bacteria.
As fermentation progresses, the bacteria will consume the sugars in the cabbage and produce lactic acid, which gives the sauerkraut its characteristic tangy flavor and helps preserve it.
Additionally, you may notice that you will have enough brine to keep the cabbage fully submerged without the use of fermentation weights.
Tasting the red sauerkraut periodically during the fermentation process is recommended to check for the desired level of sourness.
Once the sauerkraut reaches your preferred taste, transfer it to the refrigerator to slow the fermentation and enjoy it for several months.
Tools & Links to make Red Cabbage Sauerkraut
Below are some affiliate links that may be helpful to you as you make this recipe. You can find some of these items cheaper at your local store, but it helps to have a link so you know what you're looking for.
Serving Suggestions
Fermented red cabbage can be a delicious and versatile addition to many dishes. Here are some serving suggestions:
As a side dish: alongside your favorite meat dishes like pork tenderloin and sheet pan balsamic chicken.
In tacos or burritos: add a scoop of red kraut to your tacos and burritos for a refreshing crunch. It pairs well with crispy carnitas.
Topping salads: add a spoonful of red cabbage kraut to salads like this kale salad or mix it with your greens for a pop of color, flavor, and nutrition.
In sandwiches: tuck a layer of sauerkraut into your sandwiches, burgers, or hot dogs for extra flavor, texture, and health benefits.
With breakfast: start the day right - add a spoonful of red cabbage to your scrambled eggs or omelets for a zesty breakfast. It complements this breakfast skillet wonderfully.
Fermented Red Cabbage Sauerkraut recipe pairing suggestions
Storage Instructions
Transfer the fermented cabbage to an airtight container with a tight-fitting lid. Following the active fermentation, transfer the red sauerkraut to the refrigerator, which will slow down the fermentation and help to preserve it.
Sauerkraut can be kept in the refrigerator for several months. The flavor and texture may change, increasing tanginess as it ferments. But it's safe to consume as long as no moldy growth exists.
FAQs
Can I substitute purple cabbage for green cabbage when making sauerkraut?
Yes, you can substitute purple cabbage for regular cabbage when making sauerkraut. Many prefer purple cabbage because it gives the sauerkraut a beautiful pinkish hue.

However, it's worth noting that purple cabbage may produce a slightly different flavor than regular cabbage, so the taste of the sauerkraut may be somewhat different but still delicious and nutritious.
How do I know when red cabbage sauerkraut is ready?
Taste your sauerkraut regularly to monitor the fermentation process. It should taste tangy after a few days and will continue to become sourer as it ferments. When it reaches the desired level of tanginess, transfer it to the refrigerator to slow down the fermentation process.
How can I avoid mold from forming on my fermented foods?
There are several essential rules when making lacto-fermented foods to avoid mold growth and unwanted bacteria. It's important to use fresh ingredients, clean equipment, and the right amount of salt. It's also essential to submerge the cabbage under brine so it's not exposed to air.
Looking for more fermented recipes? Here are some ideas:
Did you make this? Please leave a ⭐ recipe rating in the recipe card below and leave a review in the comments. Thank you!💚
Printable Recipe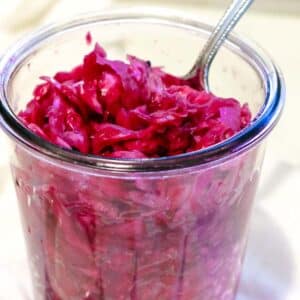 Fermented Red Cabbage Sauerkraut
This Red Cabbage Sauerkraut recipe (or fermented red cabbage) is made with just a few simple ingredients and easy steps yet provides a delicious and tangy kraut that's excellent with every meal.
Ingredients
650

grams

shredded red cabbage

approximately 9 ½ cups

16

grams

sea salt

approximately 2 ½ teaspoons

1

teaspoon

caraway seeds

1

tablespoon

peppercorns
Notes
The recipe makes 1 quart or 16 servings. Serving size is ¼ cup.
Helpful tips:
Avoid mold: It's always best practice to sterilize your fermentation jar and weight before proceeding with the recipe. Make sure it's washed well first. To sterilize: fill the jar with boiling water and allow it to sit for 5 minutes before discarding the water.
Get consistent results: Using weight measurements instead of volume will give you consistent results. Cabbage weight will vary by season, freshness, and storage, so using a kitchen scale will garner the best results.
To accurately weigh: Turn on your kitchen scale and set it to weight in grams. Place your prep bowl on the scale and zero/tare it out (this will subtract the bowl's weight, giving you a 0.0 weight). Add cabbage until you reach 650 grams. Zero/tare out the scale again and add 16 grams of sea salt. Remove the bowl from the kitchen scale and proceed with the rest of the recipe.
Proper storage: Set red kraut on the counter away from direct sunlight for up to 21 days to ferment or until to your liking. Afterward, transfer to the fridge and store in an airtight container.
Nutrition
Calories:
16
kcal
|
Carbohydrates:
4
g
|
Protein:
1
g
|
Fat:
0.1
g
|
Saturated Fat:
0.02
g
|
Polyunsaturated Fat:
0.04
g
|
Monounsaturated Fat:
0.02
g
|
Sodium:
399
mg
|
Potassium:
101
mg
|
Fiber:
1
g
|
Sugar:
2
g
|
Vitamin A:
454
IU
|
Vitamin C:
23
mg
|
Calcium:
22
mg
|
Iron:
0.5
mg
Nutrition Information
The information shown is an estimate provided for your convenience by an online calculator. It should not be considered as a substitute for a professional nutritionist's advice. See our complete Nutritional Information Disclaimer.
©Prepare and Nourish • Content and photographs are copyright protected. Sharing of this recipe is encouraged and appreciated but please do NOT screenshot or copy/paste complete recipes to websites or social media.