Fermented cherry tomatoes are a great way to preserve that summer harvest and include more gut-healthy probiotics to your diet.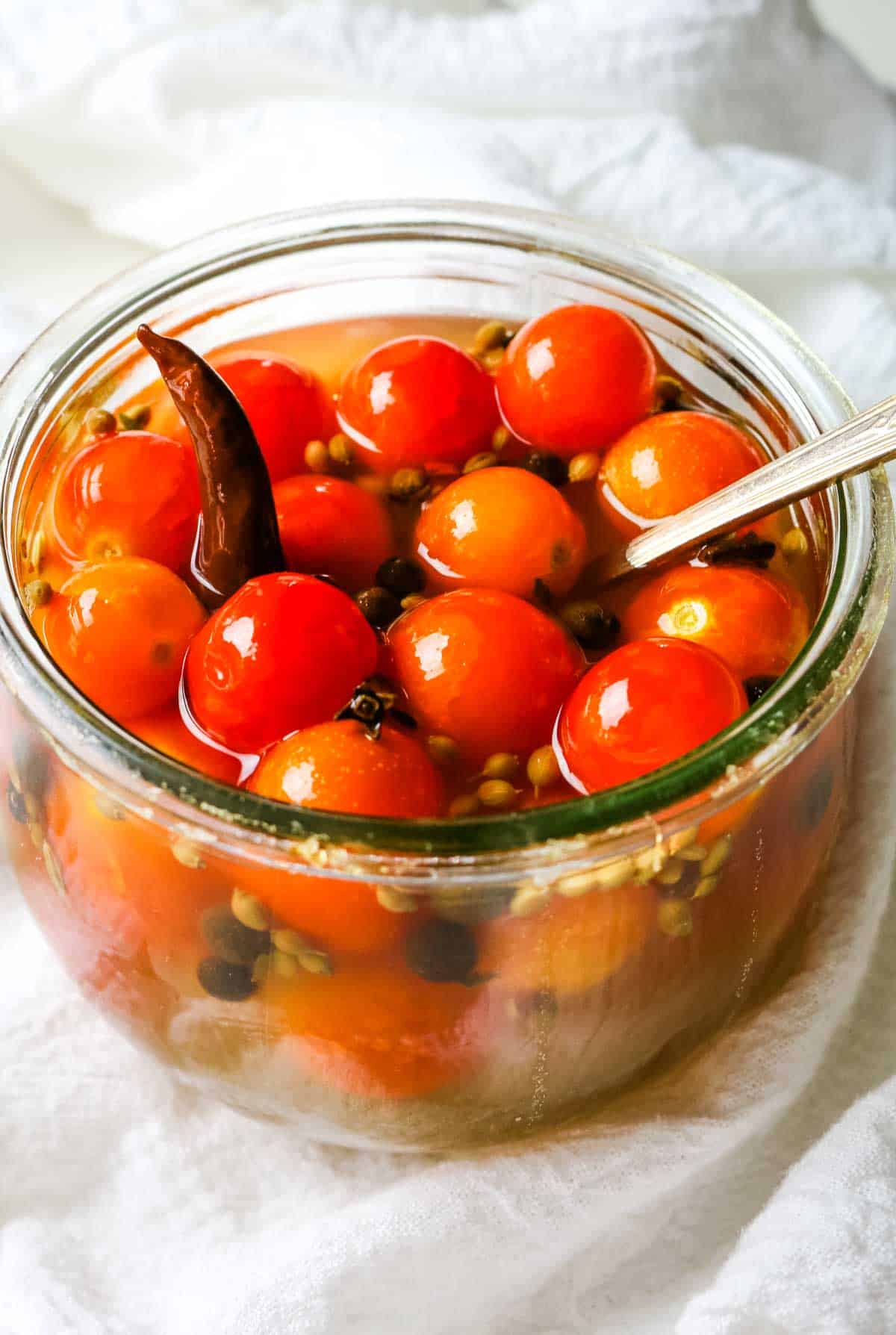 These Fermented Cherry Tomatoes were born out of my desire to preserve our seasonal bounty. But I've learned you don't have to use your garden tomatoes to enjoy this delicious ferment. Tomatoes from your CSA box, farmer's market or even grocery stores all work great!
In fact, this basic recipe worked so well, I can't wait to try this using larger tomatoes.
If you've been here any length of time, you know how important fermented foods are to support overall health.
Truly fermented foods are the backbone to traditionally prepared meals. There's something so rewarding and soothing about enjoying the fruit of your labor that you've worked so hard on weeks prior.
Jump to:
🍅What are Fermented Tomatoes
Fermented tomatoes takes an age-old method of preservation to conserve this seasonal fruit and produce the most tangy, nutrient-rich tomatoes. This traditional Russian recipe is an easy way to get more fermented food into your diet.
Our ancestors have been using this traditional method of food preservation for centuries. It's not until recently, that vinegar-based pickling method was developed.
But lacto-fermentation is far superior because it produces food that is rich in beneficial bacteria, live enzymes, and healthy microbes. Fermented foods is a great way to support gut health and is overall a gentle support for the immune system.
That's what these delicious tomatoes do. They give you that oomph with a side of healthy microbes.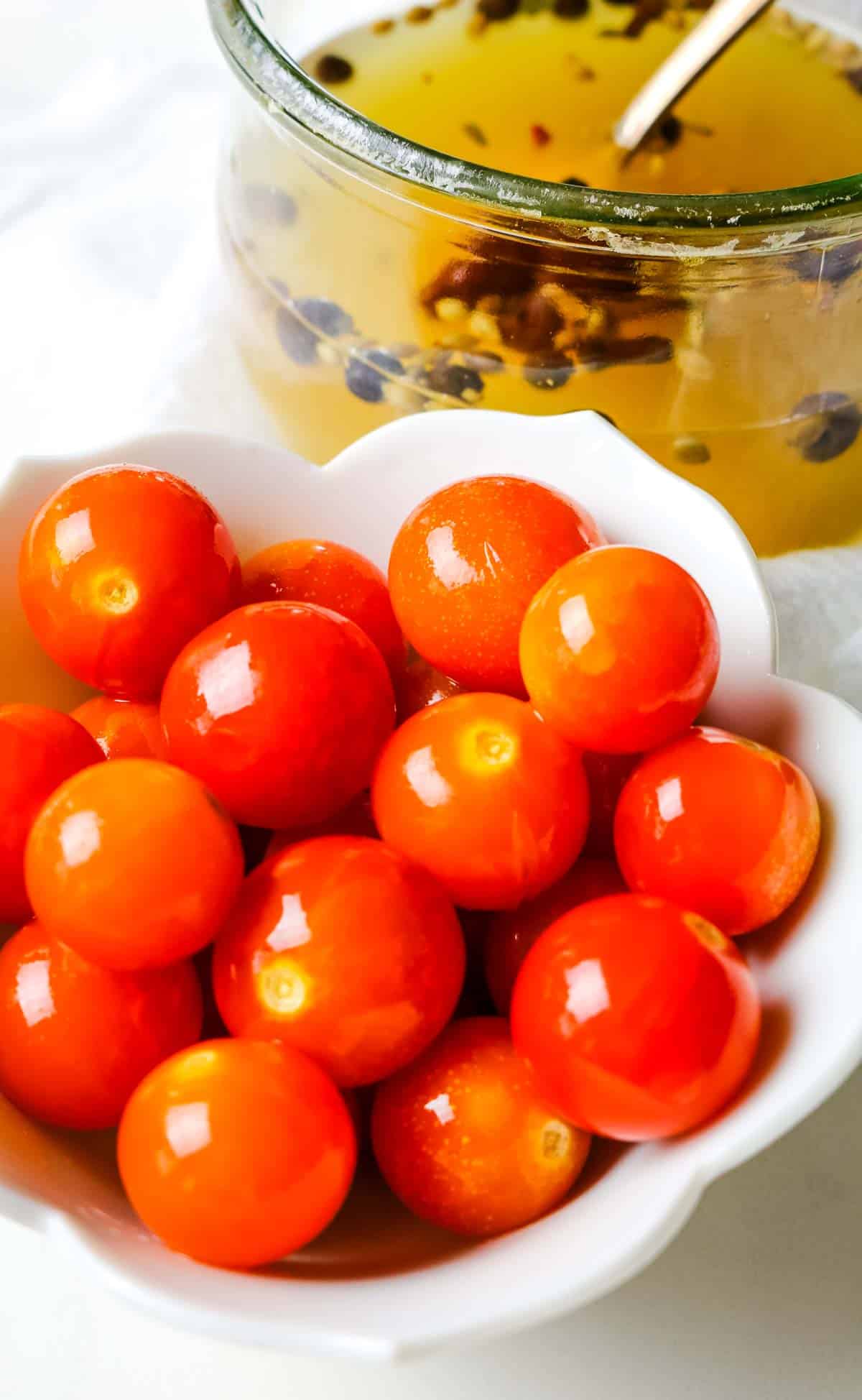 ❤Why you'll love this recipe
Taste: slightly fiery with a pickled tang but not too fermenty
Texture: the skin protects the texture of the tomatoes but once you bite into them, it's effervescent flavorama in your mouth
Level of difficulty: easy! If you are new to fermenting, this is a great beginner's recipe. Throw everything in a jar and set it aside for fermenting magic to take place.
Health benefits: by now, you've heard the benefits of lacto-fermented veggies; it's a great idea to have a little bit of fermented veggies as a condiment with every meal.
Preservation: this recipe is a great way to preserve that crop of tomatoes as the seasons turn
🍲Ingredients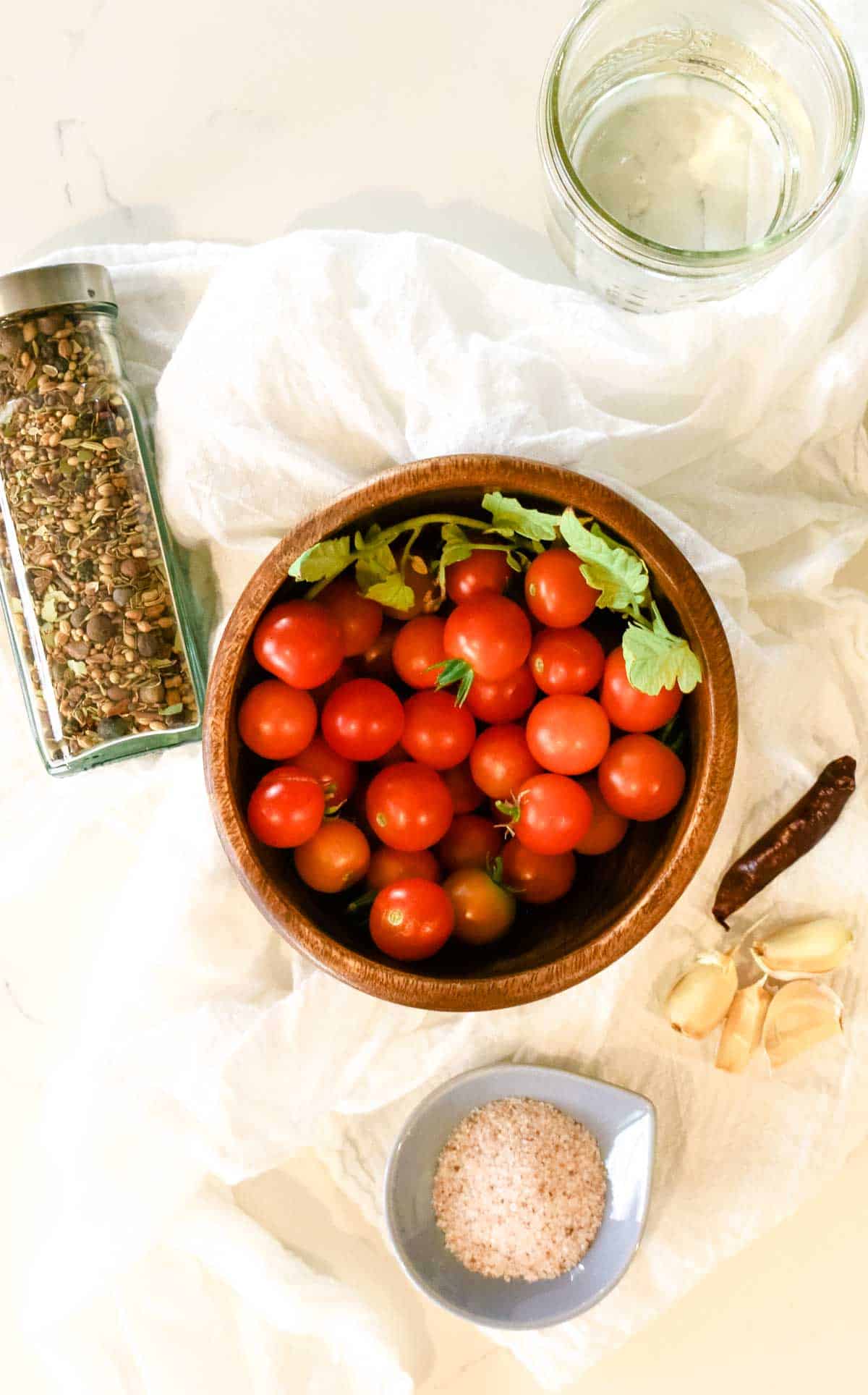 tomatoes: any small-sized whole tomatoes work great; my favorite are cherry tomatoes and grape tomatoes
pickling spice: this will give that striking umami flavor
fresh garlic: adds amazing flavor and also great to enjoy once fermented
hot pepper: any dried pepper will do, red pepper flakes works great too
real unrefined salt: this is key to truly lacto-fermented tomatoes
See recipe card for exact quantities.
💭Make it Nutrient-Dense: Enjoy a few tablespoons of fermented tomatoes over fish or chicken to add some natural probiotics and live enzymes to your meal.
🧂What is Pickling Spice
Pickling spice is a common canning and fermenting spice blend consisting of several spices that give amazing flavor to canned and pickled goods. Although the exact blends vary, the most basic pickling spice starts with black peppercorns, mustard seeds, allspice berries, coriander seed, crushed bay leaves, and dill seed.
This blend of spices adds tang and distinct essence to the salty brine. It holds up incredibly well over long fermenting periods and yet flavorful enough to retain their pungency and infuse their aroma into the fermented veggies.
It's fabulously convenient to have pickling spice on hand for an easy and quick fermenting session.
📖Substitutions and Variations
No pickling spice? Use any combination of these spices to make 2 teaspoons: black peppercorns, mustard seed, allspice (go easy on this - it can be overpowering), coriander seed, crushed bay leaves, and dill seed. Flavor will vary depending on what you use but it will still be delicious!
Tomatoes - this recipe is great with cherry or grape tomatoes but I'm thinking any small type of tomatoes will work like campari or cocktail tomatoes. I would suggest going with organic if budget allows and avoiding triple washed tomatoes (usually bought in containers in stores) as these lack natural microbes found on the surface of vegetables.
Fresh herbs: tone down the pickling spice (or omit all together) and add fresh herbs like basil, dill, parsley, oregano, and thyme for different flavors.
💭Helpful Tips
🕐Time Saving Tip: use warm water to create the salt brine as it will help dissolve salt faster
💲 Money Saving Tip: preserve your abundance of cherry tomatoes to enjoy them in colder seasons when fresh tomatoes are at a premium
🗓Brine Tip: enjoy the extra brine in salad dressings or used as a starter culture for future ferments.
🚫Food Safety: Never eat anything with mold growing on it. Toss the food immediately if you see any kind of mold growth that looks fuzzy, pink, blue, or green. Kahm yeast, appears like a crinkly white film on top of the brine, is a common and harmless growth on many lacto-fermented veggies.
💭Good to Know: Skip the plastic and use glass jars as your fermentation vessel to avoid any BPAs leaching into your ferment.
👩🏽‍🍳Step-by-Step Instructions
The complete printable recipe card is below for your convenience.
This Fermented Tomatoes recipe calls for these ingredients that you will need: cherry tomatoes, pickling spice, sea salt, and warm water.
Step 1. Make salty brine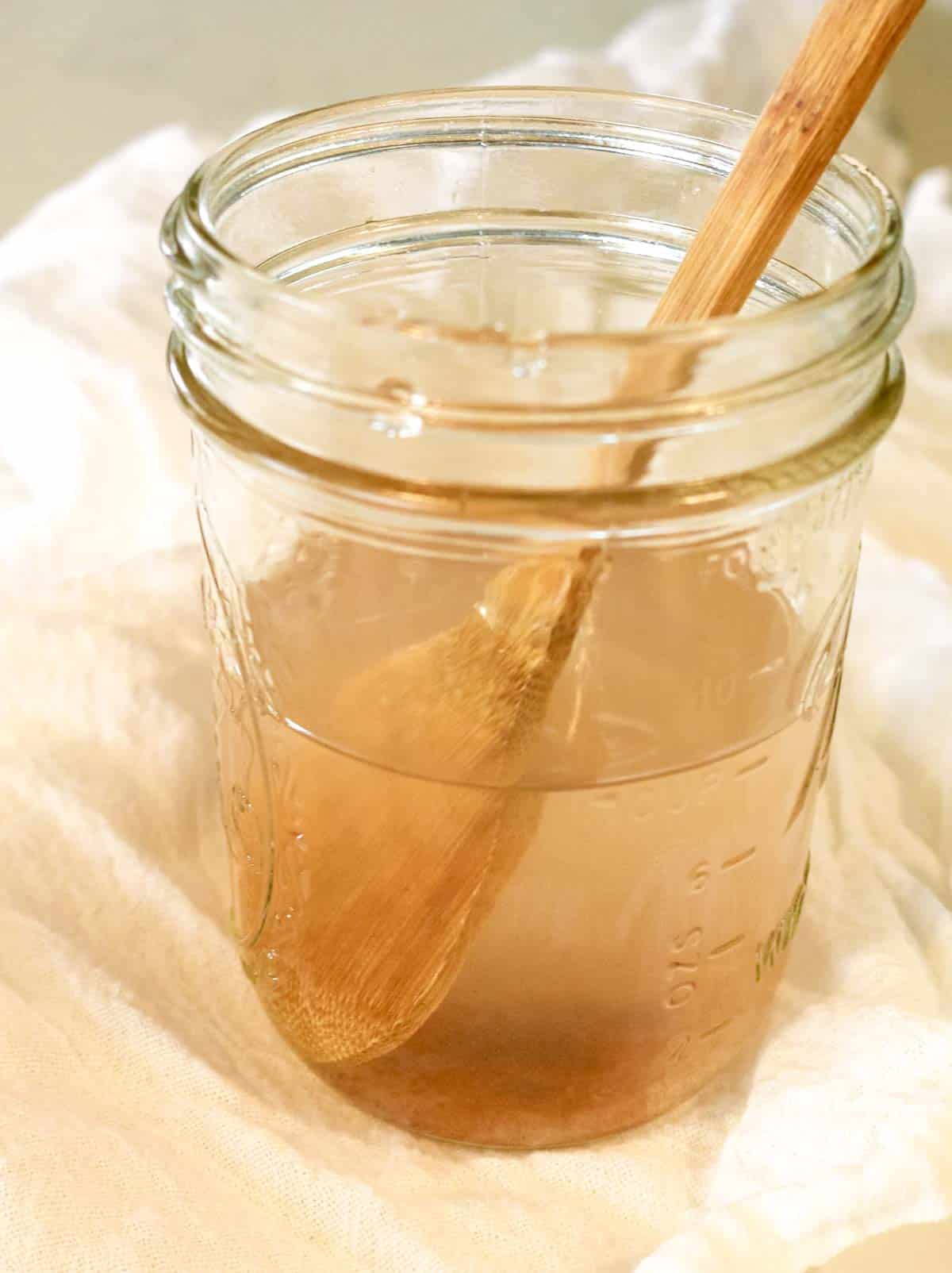 Dissolve salt in a cup of warm water. The best way to do this is in pint size mason jar as it already has cup measurements on the side.
💭Helpful Tip: Used boiled water to make sure it's sterilized. Gently warmed water from tea kettle is great for this purpose!
Step 2. Prepare tomatoes
Add pickling spice and garlic cloves to the bottom of a wide-mouth mason jar or weck jar. A quart-sized jar is ideal to avoid any spillage from the fermentation process.
Add washed and dried tomatoes. Pour salty brine (make sure it's not too warm to touch) over the tomatoes.
Place the fermentation weight over the tomatoes to keep them submerged. Set aside to ferment at room temperature away from direct sunlight. It's helpful to have the tomatoes on a small plate to collect any excess brine that may spill over from the carbon dioxide if the brine comes too close to the top of the jar.
Step 3: Ferment
During the first 5 days of fermentation, gently open the jar lid to release carbon dioxide.
After about 10 days of room temperature fermentation, the brine should become cloudy and bubbles should disappear. At this time, they are fermented and can be transferred to the refrigerator.
💭Did you know? As the tomatoes ferment, the brine will change from clear to cloudy. This is the natural growth of beneficial bacteria. 
🔪Helpful Tools & Links
Below are some links that may be helpful to you as you make this easy recipe. You may have all of these but it helps to have a link so you know what you're looking for.
🥗Serving Suggestions
These little nuggets of flavor are good on just about anything. Enjoy them tossed in a salad, on a slice of crusty buttered sourdough, or over fish or chicken.
These tomatoes would be amazing next to this Chicken Potato Bake or on top of this Fish en Papillote.
❄Storage Instructions
After the initial fermenting period at room temperature, keep your fermented tomatoes in a dark, cool storage like the refrigerator for up to 6 months.
It is not necessary to keep the fermentation weight in there once the tomatoes have been transferred to the refrigerator.
💬FAQs
How long does it take for tomatoes to ferment?
Depending on your room temperature, it should take anywhere between 8-14 days for your tomatoes to be fully fermented. You want to look for a cloudy brine and no more gasses to be released when opening the jar. After this time, transfer the tomatoes to your refrigerator.
Do I need an airlock to ferment tomatoes?
No! All that is needed is a jar with lid and a fermentation glass weight to keep tomatoes fully submerged in the salty brine.
How long do fermented tomatoes keep?
Fermented tomatoes that are properly prepared and stored in a dark, cool storage like the refrigerator can be good for 4-10 months. I don't recommend going past 6 months though as the tomatoes may loose texture and full probiotic health benefits.
Looking for more lacto-fermented recipes? Here are some ideas:
Did you make this? Please leave a ⭐ recipe rating in the recipe card below and leave a review in the comments. Thank you!💚
Printable Recipe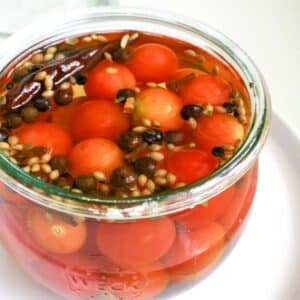 Easy Fermented Cherry Tomatoes
Fermented cherry tomatoes are a great way to preserve that summer harvest and include more gut-healthy probiotics to your meals.
Instructions
Add 2 teaspoons of pickling spice and 4 fresh garlic cloves to the bottom of a wide-mouth jar. Add 2 cups of cherry or grape tomatoes.

Pour salt water (brine) over the tomatoes. Place the fermentation weight over the tomatoes to keep them submerged in the brine.

After 10 days of room temperature fermentation, the brine should become cloudy and bubbles should disappear. At this time, they are fermented and can be transferred to the refrigerator.
Notes
Recipe makes approximately 2 cups. Serving size is ¼ cup.
Keep the fermented tomatoes over a dish to collect any brine that seeps out during fermentation.
Fermented tomatoes will keep in the refrigerator for up to 6 months.
To sub pickling spice: use any blend of black peppercorns, coriander seeds, mustard seeds, allspice berries, dill seed or weed to make 2 teaspoons
Nutrition
Calories:
10
kcal
|
Carbohydrates:
2
g
|
Protein:
0.5
g
|
Fat:
0.1
g
|
Saturated Fat:
0.02
g
|
Polyunsaturated Fat:
0.03
g
|
Monounsaturated Fat:
0.01
g
|
Sodium:
588
mg
|
Potassium:
93
mg
|
Fiber:
0.4
g
|
Sugar:
1
g
|
Vitamin A:
185
IU
|
Vitamin C:
9
mg
|
Calcium:
11
mg
|
Iron:
0.3
mg
Nutrition Information
The information shown is an estimate provided for your convenience by an online calculator. It should not be considered as a substitute for a professional nutritionist's advice. See our complete Nutritional Information Disclaimer.
©Prepare and Nourish • Content and photographs are copyright protected. Sharing of this recipe is encouraged and appreciated but please do NOT screenshot or copy/paste complete recipes to websites or social media.