Loaded with nutritious vegetables, fresh garden herbs, hard boiled eggs, and roast chicken meat, Okroshka is hearty yet refreshing on hot summer days.

Okroshka - Russian Cold Soup
Okroshka is a Russian cold soup traditionally made with kvass, a fermented rye beverage. Later versions use kefir, a yogurt-like beverage, for a that fermented tang. This soup is incredibly refreshing on a hot summer's day and surprisingly keeps you well satiated, thanks to a handful of nourishing ingredients.
This healthy summer soup features seasonal vegetables such as radishes, cucumbers, fresh herbs and green onions. Hard-boiled eggs and potatoes give enough sustenance to this typically light dish. Depending on the regional varieties, the meat used in Okroshka can range from beef tongue to sausages to fish to bologna.
History of Okroshka
The name "Okroshka" derives from the Russian verb kroshit, which literally means to crumble or chop into small pieces.
But where does Okroshka come from?
It is believed that Okroshka originated on the Volga River by barge haulers. These workers were often given dried fish and kvass for lunch. To make the fish more palpable, they would soak it in kvass. Over time, this simple lunch was enriched with other ingredients like potatoes, radishes, and cucumbers.
Kvass, kept well with no refrigeration and was refreshing in the heat, provided much needed nutrients and probiotics to these workers. The live bacteria in the kvass feasted on the sugars and left it unsweetened and fizzy, almost beer-like.
In later versions of this soup, kefir, a milk-based fermented drink replaced kvass.
Health Benefits of Okroshka
Okroshka is a highly nourishing summer soup with many gold star ingredients, not the least of them is kefir.
The heart of Prepare and Nourish is to provide recipes for deeply nutritious foods that can become staples in modern day kitchen. One of which is kefir, a probiotic-rich cultured dairy drink. Good news is that kefir is readily available in most supermarkets. Just look for plain, unsweetened with full fat content for best flavor.
Another health benefit of Okroshka is the resistant starch in potatoes. Cooked and cooled potatoes are rich in resistant starch, which in short means they are a prebiotic for your probiotics. These resistant starches resist digestion making its way to the large intestine where it becomes healthy food for the gut bacteria. Every person needs a healthy balance of prebiotics and probitiocs for proper digestion.
The rest of the ingredients all come with their respective health benefits.
What to serve with Okroshka
Okroshka is always served cold. The ingredients are light and airy but the potatoes and eggs definitely add substance to this soup. The yogurt-like base adds more nutrition and your choice of healthy meat is a great protein source.
You have complete control over the consistency of Okroshka. To thin it out, simply add more chilled water. I personally prefer it a little on the thicker side.
Becuase of its' well balanced profile, it's not necessary to serve anything else with Okroshka. But a slice of crusty bread and a wedge of fresh lime or lemon can be great.
What are the ingredients in Okroshka?
Vegetables: radishes, cucumbers, and cooked and cooled potatoes are the bulk of this recipe.
Eggs: hard-boiled eggs not only add extra protein and healthy fats, they are notoriously satiating and work great in any cold summer soup
Meat: traditionally bologna was the choice of meat in Okroshka. However, there are many other options to keep this soup nourishing. Use leftover meat such as roast chicken. Grass-fed hot dogs, pulled pork, and even canned chicken breast are also great options.
Kefir: look for plain, unsweetened, full fat kefir for best flavor. Other options are buttermilk, thinned yogurt, or even heavily thinned sour cream.
Herbs: fresh herbs such as dill, parsley and green onions add great refreshing flavor.
Water + Ice Cubes: This is necessary regardless of using kefir or yogurt. What will vary is how much water is necessary for that perfect creamy, yet not too thick texture. Ice cubes are optional but are a great finishing touch to keep the soup extra chilled.
How to Make Okroshka
To simplify this recipe, it is best to cook eggs and potatoes beforehand and chill them completely. Check out our Q&A below for the easy Instant Pot method.
Step 1. Chop or finely dice all ingredients.
Okroshka tastes better when all the ingredients are finely diced in uniform shape and size. It's helpful to have a tool like this chopper to get the job done with little time and effort.
Step 2. Mix kefir base.
In a ½ gallon jar or a large pitcher, mix 2 quarts of kefir with 2 quarts of cold water. Add lemon juice and salt to taste, starting with 1 teaspoon and increasing to your preferences. To mix yogurt, add more water using a 1:3 ratio. You can always add more water to achieve the desired consistency.
This step is optional but helpful if you're making Okroshka for the first time. Once you get the hang of it, it's totally acceptable to pour the kefir and water directly into your bowl of chopped ingredients.
Step 3. Combine dry and wet ingredients.
In a large bowl or pot, pour the yogurt-like base into the chopped vegetables. Stir to combine. Taste for salt and adjust as necessary.
Common Questions for Okroshka recipe
Q. Can Okroshka be meal prepped?

A. Okroshka can be kept up to 4 days in the refrigerator as long as it's not combined with the yogurt base. To extend the life of Okroshka, chop everything, adding the cucumbers to the bottom of the bowl or pot and do not mix. Also, you can do this in phases, cooking the potatoes and eggs well in advance and keeping them in the refrigerator until you are ready to make Okroshka.
Q. What are the best potatoes for Okroshka?
A. There's no wrong answer here for all potatoes will work great in Okroshka. My favorite are Yukon gold but russets are traditionally the gold standard in Okroshka. Just avoid fingerling and creamer potatoes.
Q. What's the best way to cook potatoes and eggs?
A. The best way to cook potatoes and eggs is together in the Instant Pot. It's best to cook them well in advance and keep them overnight in the refrigerator for easier dicing. To cook potatoes and eggs in the Instant Pot, follow these steps:
Place the eggs and potatoes (use small Yukon gold potatoes) on the trivet.
Pour one cup of water, close the lid, turn the safety valve to Sealing and set the cook time on Manual for 5 minutes.
After cook time, allow to naturally pressure release (NPR) for 5 minutes, followed by quick pressure release (QPR).
Immediately transfer eggs into ice bath and remove potatoes from the pot.
When cool, transfer potatoes and eggs to refrigerator until ready to dice.
Q. Can this be made Whole30, Paleo, Low Carb?
A. Yes, with necessary swaps. To make it Whole30 and Paleo, find a dairy-free alternative to yogurt-like base. Plain coconut yogurt will work. To make it low carb, swap cauliflower for potatoes or omit the taters completely.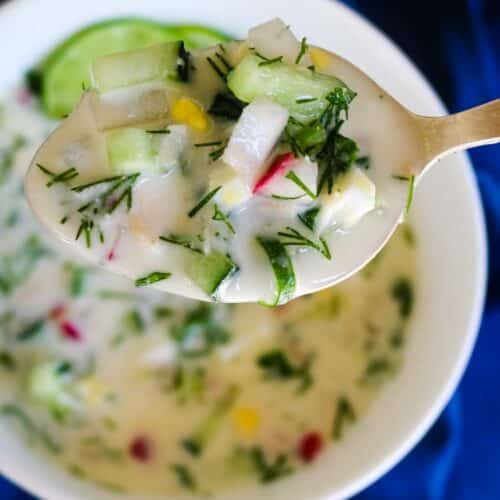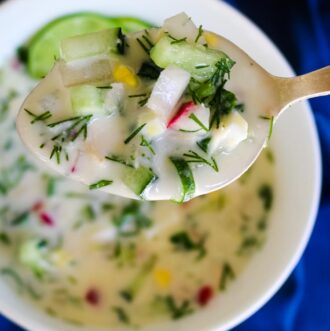 Okroshka
Refreshing meal, full of seasonal veggies and packed with healthy protein!
Ingredients
2

Yukon gold potatoes

cooked and cooled

4

eggs

hard boiled

6

radishes

2

Persian cucumbers

2

cups

leftover roast chicken meat

see notes for substitutions

1

fresh dill bunch

6

green onion bunch

2

quarts

kefir

see notes for substitutions

2

quarts

cold water

1

lemon or lime

1

teaspoon

sea salt
Instructions
Finely dice potatoes, eggs, radishes, and cucumbers. Cut leftover roast chicken, fresh dill, and green onions. Combine all the dry ingredients in a large bowl.

Combine water and kefir (or your choice of ferment) until desired consistency is reached, keeping in mind that this is a soup.
Notes
It's best to cook potatoes and eggs in advance and allow to chill overnight in the refrigerator for easier dicing.
Leftover roast chicken meat is best but grass-fed hot dogs and pulled pork also work.
Buttermilk, yogurt, and sour cream can all be swapped for kefir but the water amount will vary.
To extend life of Okroshka, don't mix in the kefir-water mixture with the dry ingredients until ready to serve.
Dry ingredients can be kept in the refrigerator for up to 4 days in an airtight container.
Nutrition
Calories:
287
kcal
|
Carbohydrates:
23
g
|
Protein:
21
g
|
Fat:
12
g
|
Saturated Fat:
6
g
|
Polyunsaturated Fat:
1
g
|
Monounsaturated Fat:
2
g
|
Trans Fat:
1
g
|
Cholesterol:
138
mg
|
Sodium:
490
mg
|
Potassium:
443
mg
|
Fiber:
2
g
|
Sugar:
14
g
|
Vitamin A:
776
IU
|
Vitamin C:
20
mg
|
Calcium:
346
mg
|
Iron:
2
mg
Nutrition Information
The information shown is an estimate provided for your convenience by an online calculator. It should not be considered as a substitute for a professional nutritionist's advice. See our complete Nutritional Information Disclaimer.
©Prepare and Nourish • Content and photographs are copyright protected. Sharing of this recipe is encouraged and appreciated but please do NOT screenshot or copy/paste complete recipes to websites or social media.
If you liked this Okroshka, please consider rating the recipe and leaving a comment below. ⇓