This Honey Lemonade recipe is a much healthier version of this summertime favorite with only 2 real food ingredients and a few minutes of hands on time.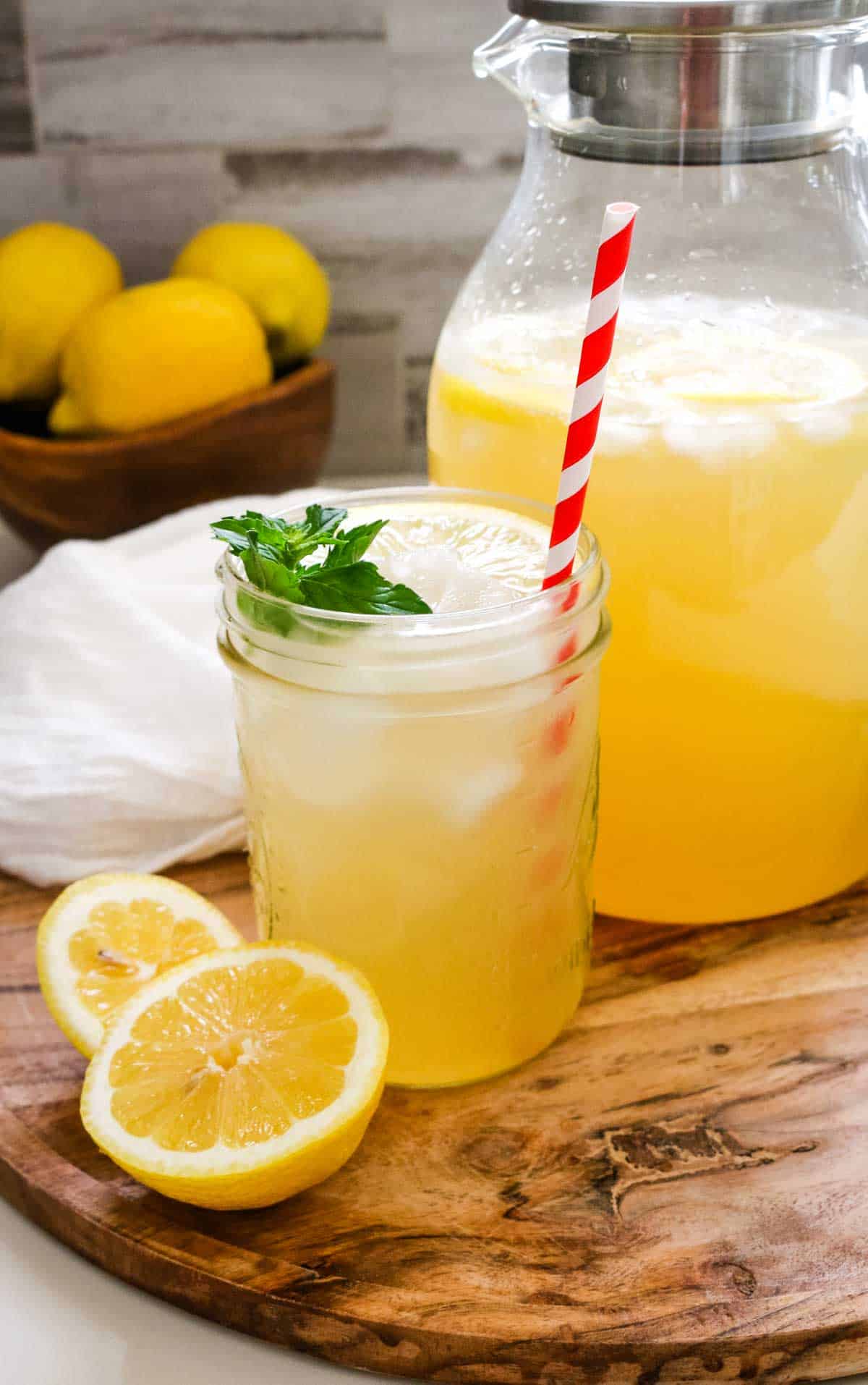 Is there anything more refreshing than fresh lemonade on hot summer days?
This is a recipe that not only the whole family will love but one the neighborhood kids will flock to your house for.
It's refreshing. Slightly tart and subtly sweetened with honey. But if the flavor profile isn't enough for your tastebuds, feel free to adjust as desired.
This Honey Lemonade is easy to customize to fit your taste buds.
Jump to:
❤Why you'll love this Honey Lemonade
Only 2 ingredients. This easy honey lemonade recipe calls for only 2 ingredients plus water. And you can use jarred lemon juice if you don't have fresh lemons or the extra time to juice them.
Made with nourishing ingredients. Lemonade often calls for simple syrup made out of refined sugar. Not this version. This is full of healthy enzymes from the raw honey and loaded with vitamin C from lemons.
Customizable. Make it as sweet or as tart as you want.
Super easy to make. It's a great recipe that little ones can make. In fact, it was one of the first things that my youngest son started making in the kitchen. Great for little kitchen helpers and they'll feel so proud!
💭Good to Know: This fresh drink is a great recipe to get your kids involved in. They love juicing the lemons and stirring the honey syrup. And they will know a great sense of accomplishment and pride when they serve this refreshing drink to their friends.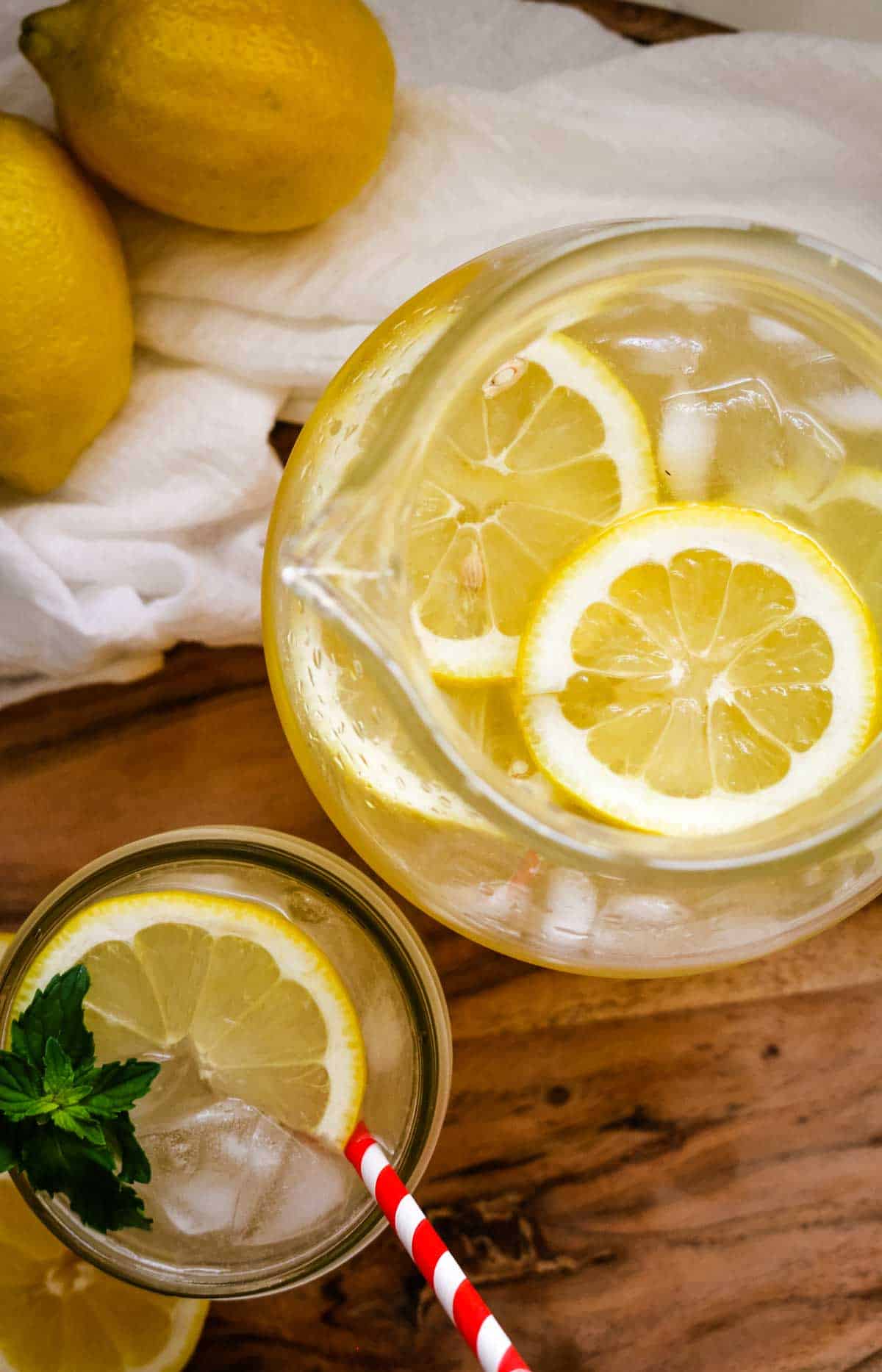 🍲Ingredients
Lemons: approximately 6-8 fresh lemons is needed to make 1 ¼ cups of lemon juice. You may also use store bought pure lemon juice. (see FAQs on what type of lemons are best).
Raw honey: a mild honey like wildflower honey is a good choice as is clover honey. Orange blossom honey works great too. Local honey is ideal as it may help with seasonal allergies and supports your local farmers.
Water: you'll need approximately 2 quarts of filtered water - with 2 cups being slightly warm to dissolve honey.
See recipe card for exact quantities.
The amount of lemon juice and honey is totally dependent on taste preferences. The amounts listed in the recipe will yield moderate tart-sweet lemonade. Adjust as desired.
📖Substitutions and Variations
Natural sweeteners - this honey-sweetened lemonade is sweetened with nothing else but honey. However, you may use maple syrup or make a simple syrup using turbinado. I would steer clear from agave syrup or straight up white sugar. To make keto version, add monk fruit to taste.
Make an adult beverage - add a shot of your favorite hard liquor like tequila for a healthy summer cocktail.
Green Tea Lemonade - consider adding chilled green tea in lieu of water to make a refreshing green tea lemonade.
💭Helpful Tips
🕐Time Saving Tip: use jarred pure lemon juice to skip the juicing part (but always make sure that the ingredients are only lemons and no artificial flavors)
💲 Money Saving Tip: use a bit (a pinch or two only) of stevia in combination with honey to stretch the honey
🗓Make-Ahead Tip: you can squeeze the lemon juice well in advance and keep it in the refrigerator for up to 2 weeks or freeze in an ice cube tray. Consider making a double batch to save for later.
Honey dissolves effortlessly in warm water. Gently heat 2 cups of water (I prefer doing this in the tea kettle) and dissolving the honey first, then adding the rest of the lemonade ingredients.
💭Make it Nutrient-Dense: Be sure not to use hot water to dissolve raw honey so it retains it's live enzymes and health benefits.
👩🏽‍🍳Step-by-Step Instructions
The complete printable recipe is below in the recipe card for your convenience.
This honey-sweetened lemonade calls for these ingredients that you will need: raw honey, lemons, and water.
Step 1. Squeeze lemons
Using a citrus juicer (I'm eyeing this inexpensive one that is rust-proof as it's stainless steel and works great for both lemons and limes. Juice all lemons and run it through a mesh strainer to catch large pulp and seeds.
You will need approximately 1-¼ cups of pure lemon juice. Depending on the size and variety of your lemons, that is about 6-8 fresh lemons.
Alternatively, you may also use storebought fresh lemon juice. But make sure it has nothing but lemons. We love the Santa Cruz brand as their lemon juice is made with 100% organic lemons and nothing else.
💭Helpful Tip: To extract more juice from lemons, roll the citrus first between the palm of your hand and the counter. You may also run it under running warm water. 
Step 2. Make honey syrup
Gently warm water for the honey syrup either in a small pot on low heat (just until feels warm to touch) or in a tea kettle for a few seconds. If water it too hot, dilute it with room temperature water.
Add about 2 cups of warm water directly to serving pitcher. Pour ½ cup of raw honey and stir vigorously to break up the sugar crystals in the honey.
💭Helpful Tip: Honey (or any other sweetener for that matter) is easier dissolved in warm water. 
Step 3. Combine lemons and honey
Add the squeezed lemon juice to the honey syrup and mix well.
Step 4. Add remaining water
Pour remaining water and stir to combine well. Add ice and chill until ready to serve.
Pour into serving glass with a fresh mint and lemon wedge as garnish.
This delicious lemonade can be kept in the refrigerator for up to 2 weeks. It is natural for the lemon pulp to settle on the bottom, just give a quick stir or swirl and enjoy!
🔪Helpful Tools & Links
Below are some affiliate links that may be helpful to you as you make this lemonade recipe. You can find some of these items cheaper at your local store but it helps to have a link so you know what you're looking for.
💬FAQs
What is the difference between honey and raw honey?
The honey vs. raw honey debate has been hot in the wellness community. In short, unless your honey bottle says "raw honey" on the jar, it most likely has been pasteurized destroying all the beneficial enzymes. So be sure to go with raw honey that has not been cut with any other sweetener (no thanks HFCS).
What type of lemons are best for Lemonade?
My personal favorite is always Meyer lemons as they are thin-skinned with a very sweet flavor (almost like mandarins). Using Meyer lemons also means you will need less honey to sweeten your lemonade. But Meyer lemons aren't always readily available. Eureka lemons are the more commonly available lemons and will work in this recipe.
Looking for more healthy recipes? Here are some ideas:
Did you make this? Please leave a ⭐ rating in the recipe card below and leave a review in the comments. Thank you!💚
Printable Recipe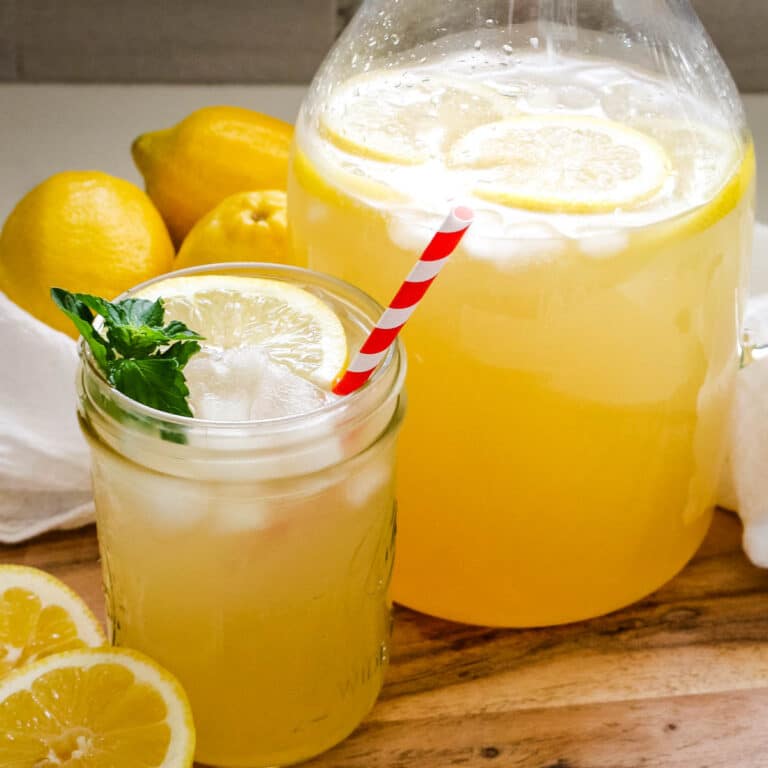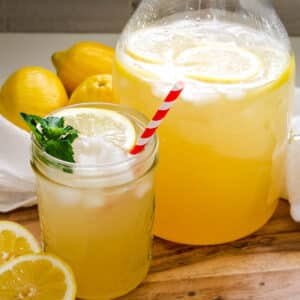 Honey Lemonade Recipe
This Honey Lemonade recipe is a much healthier version of this summertime favorite with only 2 real food ingredients and a few minutes of hands on time.
Ingredients
2

quarts

water

divided

½

cup

raw honey

1 ¼

cup

fresh lemon juice

approximately 6-8 fresh lemons
Notes
Honey is best dissolved in slightly warmed water. But be careful not to use hot water as that may destroy live enzymes in raw honey.
Lemon juice: freshly squeezed lemon juice is always best but store-bought lemon juice works too. Look for those stored in glass bottles and with no other ingredients other than lemons.
Approximately 6-8 lemons (depending on the size and variety) squeezed will yield 1-¼ cups of lemon juice.
Adjust honey as needed. Some lemons are more tart and more sweetener is needed.
Leftovers can be kept in the refrigerator for up to 2 weeks. Pulp may settle on the bottom, that is normal. Just give a quick stir or swirl and enjoy.
Recipe makes 2-½ quarts or 5 servings. Serving size is 2 cups.
Nutrition
Serving:
2
cups
|
Calories:
116
kcal
|
Carbohydrates:
32
g
|
Protein:
0.3
g
|
Fat:
0.1
g
|
Saturated Fat:
0.02
g
|
Polyunsaturated Fat:
0.01
g
|
Monounsaturated Fat:
0.004
g
|
Sodium:
21
mg
|
Potassium:
80
mg
|
Fiber:
0.3
g
|
Sugar:
29
g
|
Vitamin A:
4
IU
|
Vitamin C:
24
mg
|
Calcium:
17
mg
|
Iron:
0.2
mg
Nutrition Information
The information shown is an estimate provided for your convenience by an online calculator. It should not be considered as a substitute for a professional nutritionist's advice. See our complete Nutritional Information Disclaimer.
©Prepare and Nourish • Content and photographs are copyright protected. Sharing of this recipe is encouraged and appreciated but please do NOT screenshot or copy/paste complete recipes to websites or social media.