This classic appetizer comes with only 4 ingredients but big flavors. Easy Deviled Eggs are great for all kinds of gatherings or even a simple snack.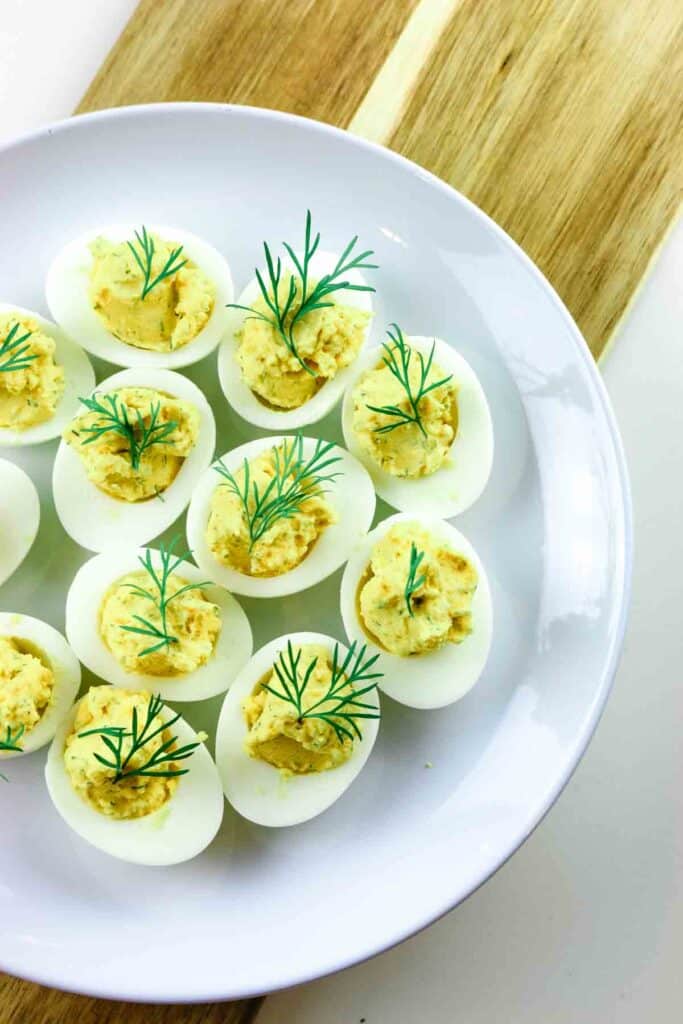 Easy Deviled Eggs
Deviled Eggs are a prominent appetizer at holidays and is the ultimate party food. They're packed with healthy fats and protein, making them great bite-size snacks.
They are incredibly versatile and can be dressed up or down depending on the occasion or the meal. Deviled eggs are also fabulously quick and easy to make (especially if you follow the Instant Pot instructions below).
What are Deviled Eggs?
Deviled Eggs are hard-boiled eggs that have been peeled, cut in half (usually lengthwise), then stuffed with a creamy, luscious, perfectly seasoned yolk filling.
Traditionally, that filling is made with egg yolks, mayonnaise, relish, mustard, vinegar and salt and pepper. Deviled Eggs are often sprinkled with spices like paprika and cayenne for that finishing touch.
Why are they called Deviled Eggs?
There's nothing devilish about these perfectly delightful appetizers.
They're called Deviled Eggs because they are traditionally made with spicy and zesty ingredients like paprika, cayenne, or Tabasco (or any combination of those).
In culinary, the term "devil" means to describe a highly seasoned dish, particularly with various hot or spicy seasonings.
The term likely comes from the connection between the spice factor and the supposedly hot temperatures in hell.
As is appropriate, this recipe for Easy Deviled Eggs calls for garlic to give it that kick. The garlic adds great flavor, nutrition, and texture.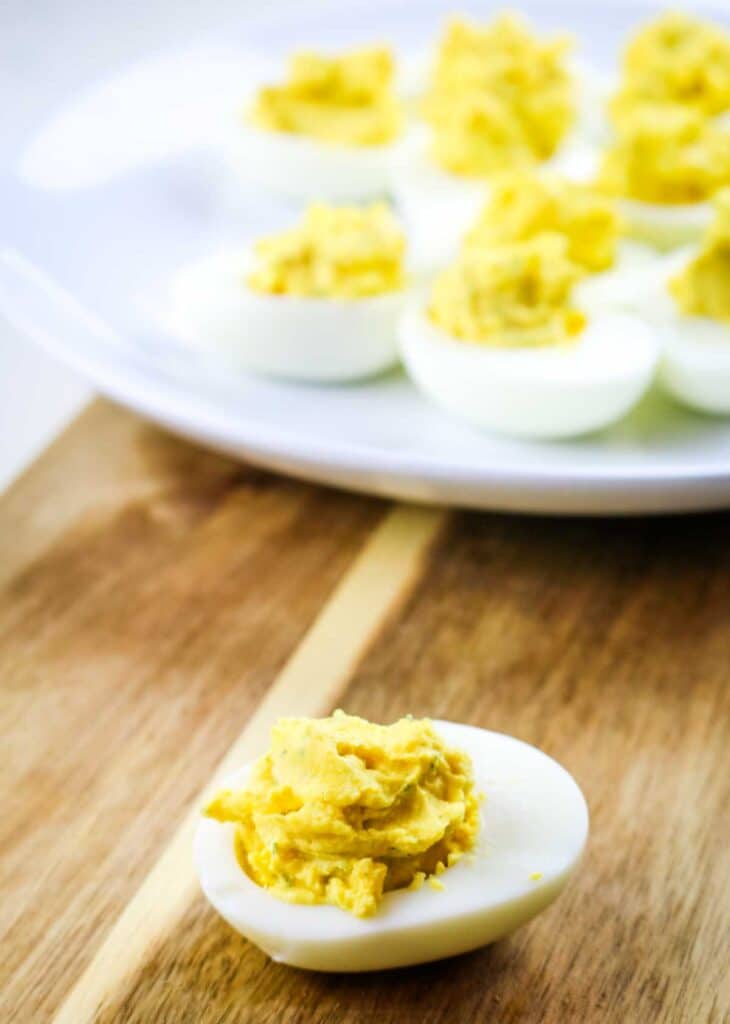 Are Deviled Eggs healthy?
Eggs are a great source of protein. I always try to get the best quality eggs that fits our budget. The best eggs are those from free-range chickens who are free to roam the pasture.
The quality of the eggs is highly dependent on the nutrition of the chickens. Hens that have a diet rich in antioxidants and nutrients are feeding on lots of naturally pigmented foods, fatty acids, and meat (bugs and worms). As a result, a hen feasting on such diet will produce very deep orange yolks.
Conversely, caged chickens don't have access to fresh and brightly colored foods and are therefore producing eggs with very pale or light colored yolks. As a result, these eggs naturally lack in nutrition.
A quality mayonnaise is equally important to making healthy deviled eggs. Thankfully, there are many good options on the market right now for cleaner version of this common kitchen staple. But if you're so interested, you may try a hand at making your own with this recipe.
Finally, the addition of zesty garlic makes these Easy Deviled Eggs a healthy snack, appetizer, or any other addition to the table.
Deviled Eggs Without Vinegar
Many recipes for deviled eggs call for vinegar or mustard. This has neither and for a good reason.
One of the best things I love about this appetizer is the ease and simplicity of them. Being that mayonnaise already contains vinegar and mustard, there really is no need to add more.
It simplifies the recipe yet still achieves that smooth consistency with just a touch of tang.
Can you make Deviled Eggs in advance?
This is another perk of this classic appetizer. You can make them ahead of time, however, they are best if enjoyed within a day.
If you would like to create more margin of time during the holidays, you can boil your eggs in advance and store in the refrigerator unpeeled for up to 7 days.
Then when you're ready, you can proceed with the recipe.
If stored properly in the refrigerator, Deviled Eggs can be eaten for 3-4 days after preparing them, but I wouldn't keep them much longer after that.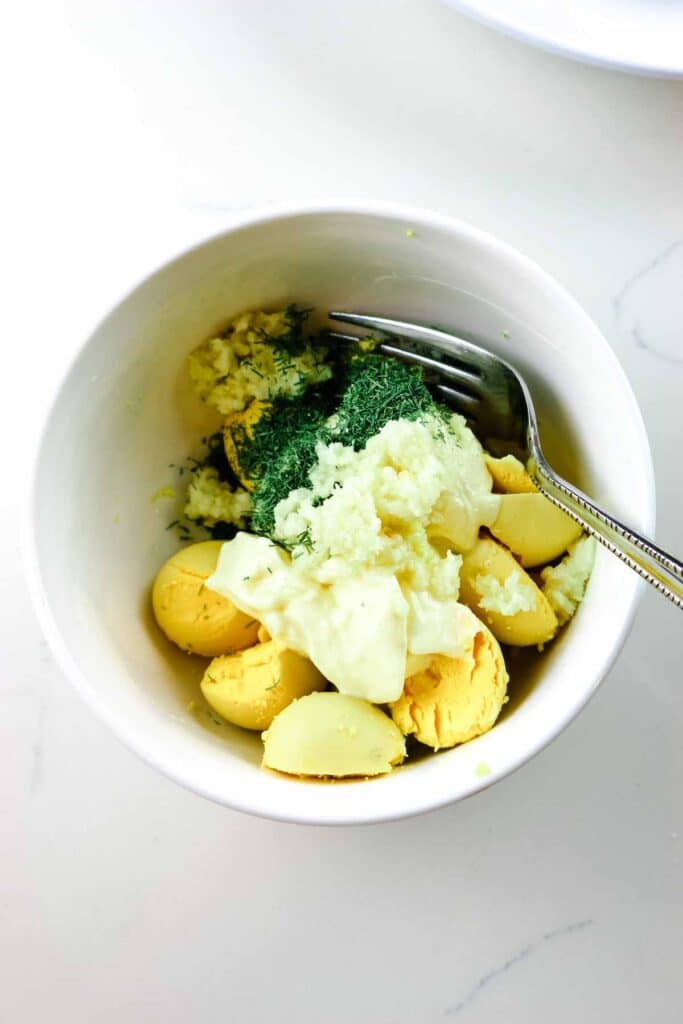 Spicy Deviled Eggs
As mentioned above, the name Deviled Eggs comes from the spice factor of this lovely appetizer. I believe garlic adds plenty spice to these delicious appetizers but if you're looking for an extra kick, feel free to add cayenne, paprika, or Tabasco to taste.
Recommended Kitchen Tools
Before getting started with this easy hors d'ouvres recipe, here are my favorite kitchen tool recommendations to make your cooking seamless.
Instant Pot: This is my favorite tool to make hard-boiled eggs (read below to see why). And I love using this steamer basket to transfer the cooked eggs right into ice water.
Sharp Knife: This is my kitchen's greatest and most often used tool. Invest in a good knife - it's worth it!
Immersion Blender: For a very smooth consistency, I would often use this to blend the filling together. Though not necessary, it's good to use when you want a smooth texture.
Piping/Pastry Bag: Again, not very necessary but if you want a design or a certain look for your deviled eggs, a piping bag from the baking department can help. Most times, I just use a spoon to fill the eggs.
Platter/Trays: I go into detail how to serve this appetizer below but this beauty is on my wishlist. There's a variety of trays specifically marketed for Deviled Eggs and that can also be easily transported, making this a great idea for all your holiday parties.
How to Make Easy-to-Peel Eggs
You want your Deviled Eggs to have a very smooth and neat surface. After all, they are often the star appetizer at holidays and other gatherings so you want them to be in stellar shape!
Certainly, no one wants sloppily-peeled eggs but sometimes those shells can be really stubborn. This is especially true of farm fresh eggs.
I found the best way to make easy-to-peel hard-boiled eggs are to steam them rather than boil them. This can easily be done in your Instant Pot using the 5-5-5 method or even in a regular saucepan, the same one you would use to boil (just add a few more minutes to the cooking time if using a pan).
Steaming the eggs creates just enough separation between the shells and the eggs that the shells literally glide off the cooked eggs. In addition, try to remove the shells when the eggs are still slightly warm.
This is the only way I make hard-boiled eggs these days. Try it! You won't go back to anything else!
To cook eggs in the Instant Pot:
Add cold eggs to a trivet in the Instant Pot liner with one cup of water.
Lock the lid into place and set the valve to sealed. Cook on "Manual" for 5 minutes.
Naturally Pressure Release for 5 minutes, followed by Quick Pressure Release the rest of the pressure.
Carefully, open the lid, and transfer the eggs into ice water for 5 minutes.
Remove eggs from ice water and allow to completely cool.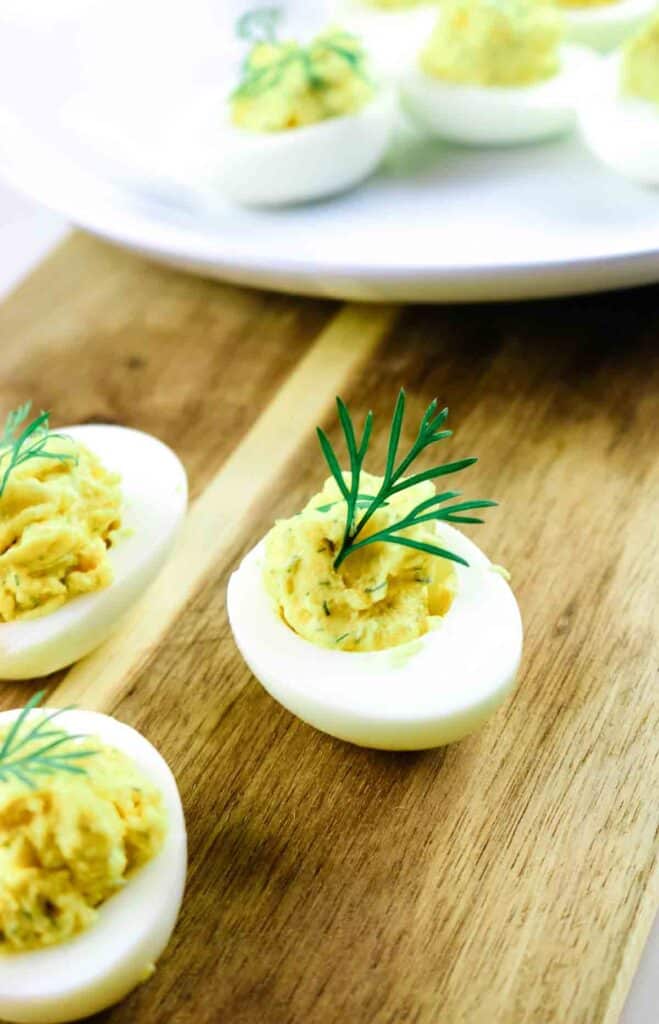 How to Serve Deviled Eggs
There are so many beautiful platters marketed specifically for this appetizer. I have one just like this. But I am totally eyeing this reversible Wood Deviled Egg Tray/Charcuterie Board. I love a good multi-purpose kitchen tool.
If you do have a plate with a large center space like one above, you can fill that area with a variety foods. You can add additional stuffed eggs but other options are olives, dill pickles, or even prosciutto-wrapped cheese for an elegant touch.
But remember this: you don't need a special plate in order to serve Deviled Eggs. In fact, any large dinner plate will work. To add stability to a plate so the eggs don't slide around, I recommend lining the plate with some lettuce leaves, then arranging the eggs. You can also serve Deviled Eggs directly on a cutting board.
How to Make Deviled Eggs
To make Deviled Eggs, we start with a fairly short ingredient list and rather simple instructions.
Deviled Eggs Ingredients:
Eggs
Mayonnaise
Fresh Garlic
Dill
Salt & Pepper
Deviled Eggs Instructions:
Hard-boil eggs: use your favorite method to cook the eggs. My favorite fail-proof way is steaming them in the Instant Pot. Cool eggs completely, best to chill in the refrigerator for 2 hours or overnight for best results.
Cut the eggs lengthwise and remove the yolk. Place the yolks into a small-size bowl. Set the whites on a platter.
To the yolks, add mayonnaise, freshly minced garlic, dried dill, and salt and pepper to taste. Mix well with a hand blender using one beater or an immersion blender. Alternatively, use a fork to mix well. We love to have this yolk stuffing creamy and smooth texture but if you prefer chunky deviled eggs, you don't have to mix to smooth consistency.
Fill each egg white with the yolk mixture. I just use a small spoon but if you really want to impress your guests, you can use a pastry bag to fill the egg whites. Garnish with curly parsley and enjoy!
Loved Easy Deviled Eggs? Check out these other appetizers:
Printable Recipe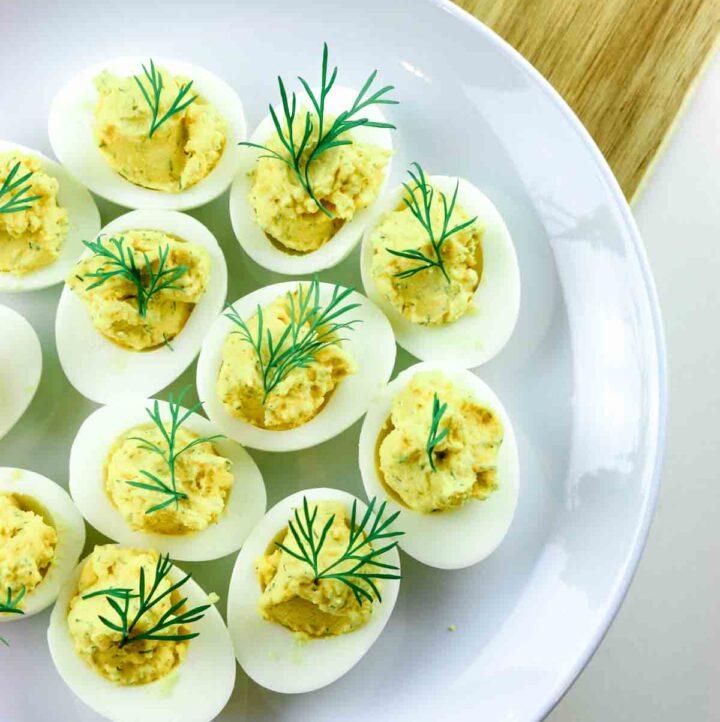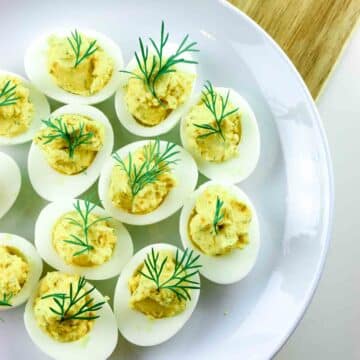 Easy Deviled Eggs
This classic appetizer comes with only 4 ingredients but big flavors. It's great for all kinds of gatherings or even a simple snack.
Ingredients
6

eggs

4

tablespoons

mayonnaise

4

garlic cloves

1

teaspoon

dill weed

fresh dill or parsley
Instructions
Instant Pot:

Pour 1 cup of water into the Instant Pot's inner pot and add metal trivet. Add cold eggs to the trivet. Lock the lid into place and set valve to "sealed". Set Instant Pot to Manual and cook for 5 minutes.

Once the cook time has completed, allow Instant Pot to naturally release pressure for 5 minutes, then switch the valve to "venting" to release remaining pressure.

Add mayonnaise, minced garlic, and dill weed to the yolks and mix well until smooth and creamy. You may also use an immersion blender (stick blender) for smoother texture.

Using a small spoon, scoop the filling into the sliced egg whites, making subtle mounds in the center. Alternatively, you may also use a piping bag for fancier look.

Add a sprig of fresh dill or parsley for garnish and chill until ready to enjoy.
Nutrition
Calories:
65
kcal
|
Carbohydrates:
1
g
|
Protein:
3
g
|
Fat:
6
g
|
Saturated Fat:
1
g
|
Polyunsaturated Fat:
3
g
|
Monounsaturated Fat:
2
g
|
Trans Fat:
1
g
|
Cholesterol:
84
mg
|
Sodium:
61
mg
|
Potassium:
35
mg
|
Fiber:
1
g
|
Sugar:
1
g
|
Vitamin A:
123
IU
|
Vitamin C:
1
mg
|
Calcium:
15
mg
|
Iron:
1
mg
Nutrition Information
The information shown is an estimate provided for your convenience by an online calculator. It should not be considered as a substitute for a professional nutritionist's advice. See our complete Nutritional Information Disclaimer.
©Prepare and Nourish • Content and photographs are copyright protected. Sharing of this recipe is encouraged and appreciated but please do NOT screenshot or copy/paste complete recipes to websites or social media.
Pin to Save These Easy Deviled Eggs