This 5-minute Homemade Avocado Oil Mayonnaise comes together with only 4 simple ingredients and made directly in a jar to conveniently store in the refrigerator.
Mayonnaise is an emulsion of oil, eggs, an acid like lemon juice or vinegar, and additional flavorings.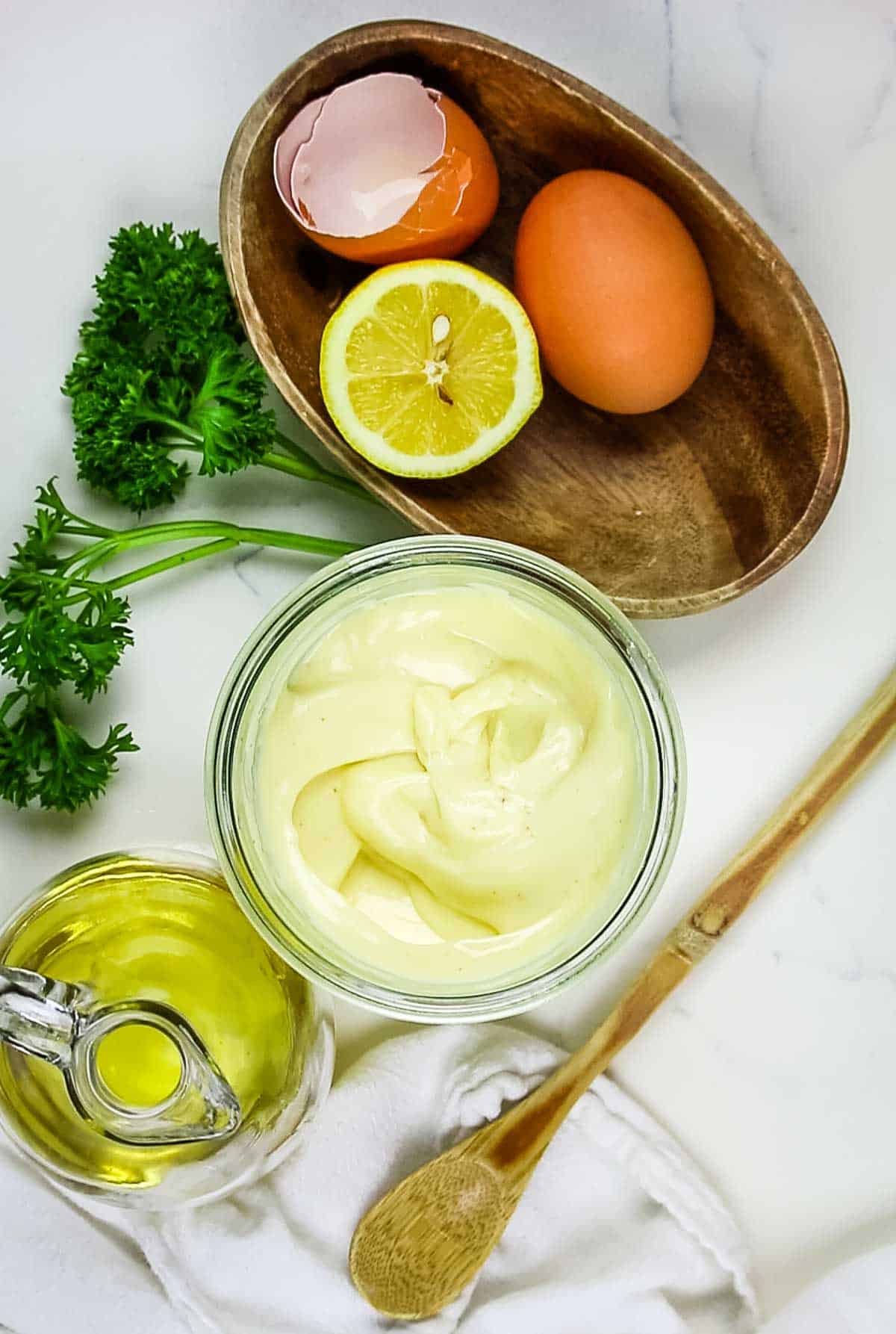 Love it or hate it - we all need good mayo in our lives.
It serves as a creamy spread on sandwiches and wraps. It's a great dip when dressed with herbs, spices, and other incredible flavors like this 5-minute Sriracha Mayo. It's often used as a base for salad dressings like Caesar salad dressing and Ranch dressing.
It conveniently adds amazing seasoning to dishes like Chicken Potato Bake. And of course binds ingredients together like in this Healthy Potato Salad and Easy Deviled Eggs.
The options are limitless but commercially sold mayonnaise with its rancid seed oils takes the fun out of enjoying a potato salad.
Thankfully, you don't have to compromise. This homemade avocado mayonnaise is as easy as 4 simple ingredients, a mason jar, and an immersion blender.
Jump to:
❤Why you'll love this mayo
This avocado mayonnaise recipe is one of the easiest condiments you'll make. It also makes a fun project to do with kids as they can see the transformation as the oil and eggs are emulsified.
Taste & texture: perfectly tangy and salty with a luscious and creamy texture
Healthy alternative: much better option as you have full control over ingredients used
Level of difficulty: easy - follow the tips to avoid oil splitting
Convenience: everything is done in a pint-size, wide-mouth mason jar with little clean up and very little hands on time AND we're using an entire egg (egg yolk + whites) so you don't have stray egg whites sitting in your fridge
💭Mayo Trivia: Some argue that the origin of mayonnaise is Spain while others claim that mayo is the invention of a French chef of the Duke de Richelieu. Most theories do, however, agree that it came onto the culinary scene late 1750's.
🥑What is the best oil for homemade mayo?
Before avocado oil became a market staple, homemade mayonnaise was best with extra virgin olive oil. But things have changed. And for the better.
While olive oil is still a great choice for it's health benefits, if you're looking for a milder taste - avocado oil is your best bet.
Avocado oil boasts a very neutral taste and scent that attracts home cooks far and wide. It also has a high smoke point, making it the most heat stable cooking oil for high-temperature foods.
There are two forms of avocado oil: refined and extra virgin avocado oil.
Refined avocado oil has more neutral taste which makes it an easy swap for rancid seed oils like corn, soybean, and canola oil (which is what is mostly used in conventional mayonnaise).
This form also has the highest smoke point, as high as 520 degrees Fahrenheit.
On the other hand, think of extra virgin avocado oil like your premium extra virgin olive oil. It's grassy avocado flavor seeps through so it's best reserved as a finishing oil for drizzling rather than mayonnaise or sauteing.
Extra virgin avocado oil has a lower smoke point registering at 480 degrees Fahrenheit, which is still higher than majority of processed vegetable oils.
To sum up, refined avocado oil is the best option for making the most delicious, creamy, thick, and healthy mayonnaise.
💭Make it Nutrient-Dense: Use refined avocado oil in homemade mayonnaise as a healthy alternative to processed seed and vegetable oils like soybean oil.
🍲Ingredients
avocado oil: refined avocado oil is best for it's more neutral flavor and high smoke point but extra-virgin avocado oil is good too
egg: best from pastured and free-range hens from your local farmer's market; because the eggs will remain raw in this mayonnaise, I would recommend splurging on good quality fresh eggs
mustard: Dijon mustard or ground mustard works
lemon juice: or apple cider vinegar works
salt: unrefined real sea salt is best
See recipe card for exact ingredient amounts for this homemade mayo recipe.
💭Helpful Tips
Use room temperature egg. To bring it to room temperature from the refrigerator, run it under warm (but not hot) water for a few minutes.
To avoid oil seizing, gently lift up the immersion blender, ½ inch at a time, moving it up and down to slowly to allow the oil to seep into the air bubbles. Alternatively, you can slowly pour in the oil into the jar of the ingredients but this is more time consuming and dirties more dishes.
If the mayo splits, you can try again using this failed mayo mixture as the oil, add another egg, and blend with an immersion blender slowly lifting up the blender. Don't go too fast!
Use immersion blender, also known as stick blender and they are life changing in a kitchen. Sure, you can make this mayonnaise in a regular blender or kitchen processor but with all the extra dishes to wash.
Use wide-mouth mason jar for easy transfer from counter to fridge. All you need is to close the jar with a lid. Regular mouth jars won't work with immersion blenders.
💭Pro Tip: Don't raise the immersion blender too fast! In order for the oil and egg to emulsify, you need to allow the air bubbles to slowly capture the oil. Going too fast is a surefire way to having your mayo split or seize.
👩🏽‍🍳Step-by-Step Instructions
The complete printable recipe card is below in the recipe card for your convenience.
This healthy avocado mayo recipe calls for these ingredients: avocado oil, Dijon mustard, lemon juice or apple cider vinegar, and sea salt.
Step 1. Measure out avocado oil
Pour oil into a pint-size, wide-mouth mason jar up to the 1-cup mark.
Step 2. Add remaining ingredients
Add room-temperature whole egg, Dijon mustard, apple cider vinegar or lemon juice, and sea salt.
Step 3. Blend slowly
Place your immersion blender into the jar and press firmly against the bottom of the jar. Turn it on keeping it pressed against the bottom of the jar. Blend for 10 seconds - you should start seeing the mayonnaise thicken and emulsify.
Step 4. Blend fully
Once you see that the oil on the bottom of the jar has emulsified, slowly raise the immersion blender up and down to completely blend the rest of the ingredients.
When fully blended, remove the immersion blender and carefully scoop off any mayo between the blades the cup of the blender.
Cover this homemade avocado mayo with a lid and store in the refrigerator for up to 2 weeks.
💭Pro Tip: If using apple cider vinegar, use good quality like Bragg's with the "mother" as that has live enzymes and microbes making your mayonnaise healthier.
🔪Helpful Tools & Links
Below are some affiliate links that may be helpful to you as you make this small batch recipe. You can find some of these items cheaper at your local store but it helps to have a link so you know what you're looking for.
🥗Serving Suggestions
This popular condiment has no shortage of uses. Adding mayo to any savory dish is an easy way to add flavor and heart-healthy fats. Here are some ideas to get your creative culinary juices going.
💬FAQs
Is this avocado oil mayonnaise keto?
Yes! With these keto-friendly ingredients like avocado oil, eggs, lemon juice or apple cider vinegar, and salt, this mayonnaise is compliant with low-carb and keto diet. In addition, it's paleo and Whole30 and is a cost effective and healthy alternative to store-bought mayo.
How long does avocado oil mayonnaise last?
Generally, mayonnaise has a fairly long shelf life. It's safe to store mayonnaise in the refrigerator for up to 2 weeks. You can extend shelf life by using apple cider vinegar instead of lemon juice.
What is the best avocado oil to use for mayonnaise?
We love and use Chosen Foods avocado oil regularly in making our mayonnaise. Their avocado oil has not been cut with cheaper oils (as is common with oils) and it is of superb quality. Use refined avocado oil to achieve that creamy mayo.
Is this mayonnaise dairy free?
Mayonnaise is completely dairy free. This avocado oil mayonnaise has only 4 ingredients that are all dairy free.
Looking for more healthy basics? Here are some ideas:
Did you make this? Please leave a ⭐ recipe rating in the recipe card below and leave a review in the comments. Thank you!💚
Printable Recipe
Homemade Avocado Oil Mayonnaise
This 5-minute Homemade Avocado Oil Mayonnaise comes together with only 4 simple ingredients and made directly in a jar to conveniently store in the refrigerator.
Notes
Recipe makes approximately 1 ½ cups of homemade mayonnaise or 24 servings. One serving size is 1 tablespoon.
To avoid mayonnaise splitting or seizing, don't blend too fast - slowly raise the blender as you emulsify all the ingredients.
Nutritional information is based on the use of refined avocado oil and apple cider vinegar.
Nutrition
Calories:
83
kcal
|
Carbohydrates:
0.04
g
|
Protein:
0.2
g
|
Fat:
9
g
|
Saturated Fat:
1
g
|
Polyunsaturated Fat:
1
g
|
Monounsaturated Fat:
6
g
|
Trans Fat:
0.001
g
|
Cholesterol:
7
mg
|
Sodium:
153
mg
|
Potassium:
4
mg
|
Fiber:
0.02
g
|
Sugar:
0.01
g
|
Vitamin A:
10
IU
|
Vitamin C:
0.002
mg
|
Calcium:
1
mg
|
Iron:
0.04
mg
Nutrition Information
The information shown is an estimate provided for your convenience by an online calculator. It should not be considered as a substitute for a professional nutritionist's advice. See our complete Nutritional Information Disclaimer.
©Prepare and Nourish • Content and photographs are copyright protected. Sharing of this recipe is encouraged and appreciated but please do NOT screenshot or copy/paste complete recipes to websites or social media.