Easily make homemade tomato juice out of tomato paste in under 5 minutes with no cooking involved. All you need is some tomato paste, sea salt, and healthy fats for better nutrient absorption.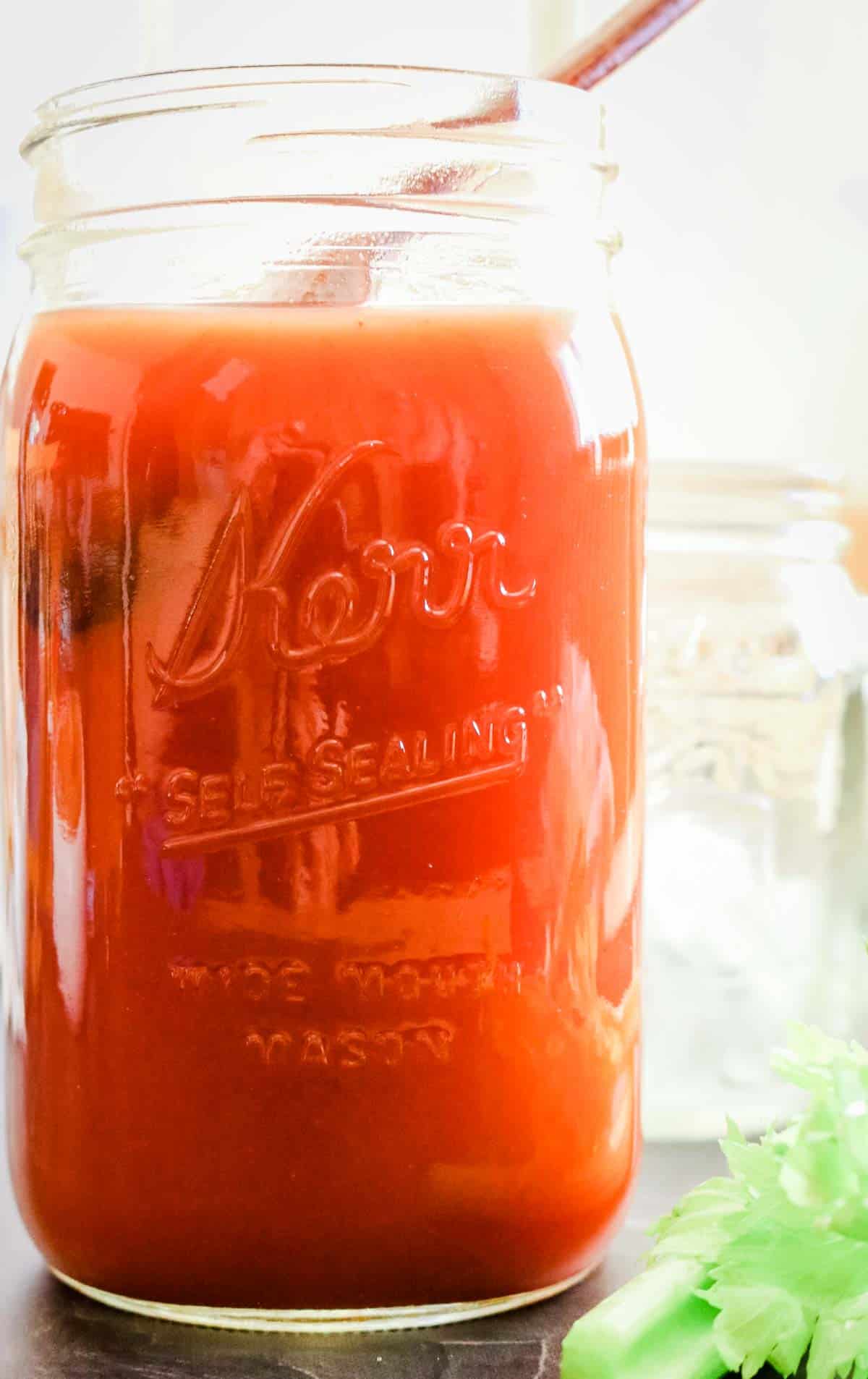 There are so many different methods to making homemade tomato juice but this is probably the most quickest, easiest, and convenient!
Sure, if you have a bounty of fresh tomatoes, it's best to use another recipe for homemade tomato juice but for any other time of the year when fresh tomatoes are scarce, this recipe is it!
Homemade Tomato Juice Recipe
This drink is made from tomato paste but can easily be made with other canned or jarred tomato products.
Tomato paste in conjunction with a friendly fat and unrefined sea salt creates a delicious and nourishing salty drink. I always add a pinch of cayenne for a kick. But what I love the most about this simple drink are the health benefits.
Is Tomato Juice Healthy?
The many health benefits of tomatoes can be attributed to their wealth of vitamins and nutrients.
They boast an impressive amount of vitamins A, C, E, K as well as folate, potassium, manganese, and magnesium.
But in particular, tomatoes contain a robust amount of lycopene, a naturally occurring pigment linked to the prevention of cancer and other chronic diseases. (source). This pigment belongs to a family of antioxidants called carotenoids and their properties are associated with protecting cells and regulating cell growth.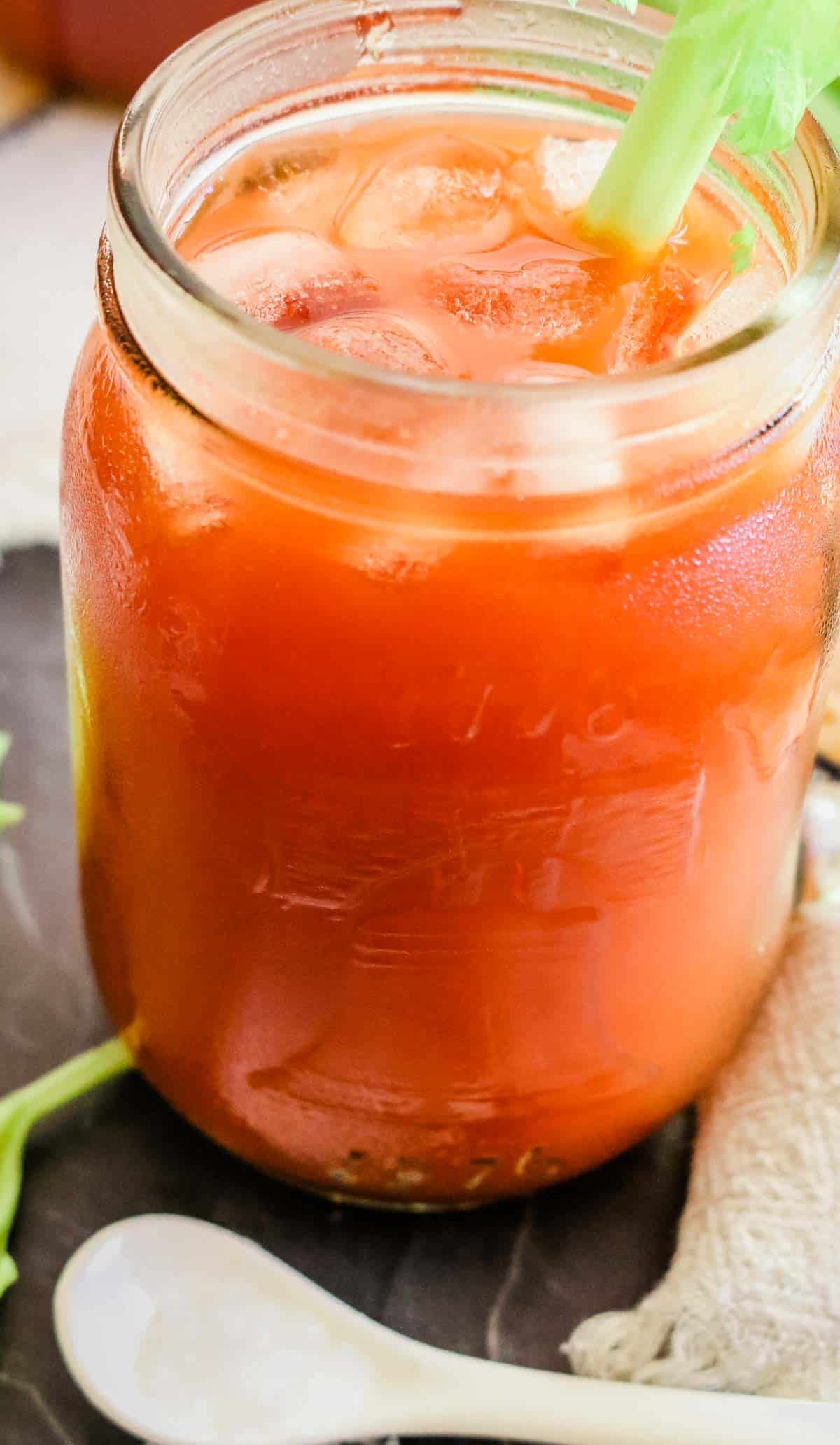 Are cooked tomatoes healthier than raw?
It's possible that there's no other fruit/vegetable that is consumed more than the humble tomato in this house. We love to enjoy tomatoes in so many forms all throughout the year.
But the best way to consume tomatoes for their health benefits are actually in cooked form.
Research has found that the absorption of lycopene can be significantly increased by heating the molecule.
Lycopene in it's raw form, tends to crystallize which lowers its absorption potential. On the contrary, when lycopene is heated, the bent forms are able to easily find their way during digestion increasing the antioxidant absorption potential. (source)
This is important to know because tomato paste is essentially cooked down tomatoes. So even though, we are not cooking any tomatoes per se, the idea is that the paste has already been cooked and therefore rich in lycopene action!
Cooked tomatoes are also generally easier on the gut than in raw form.
Helpful Tip: Cooked tomatoes, as those in tomato paste, are easier to digest and have more bio-available antioxidants than raw tomatoes.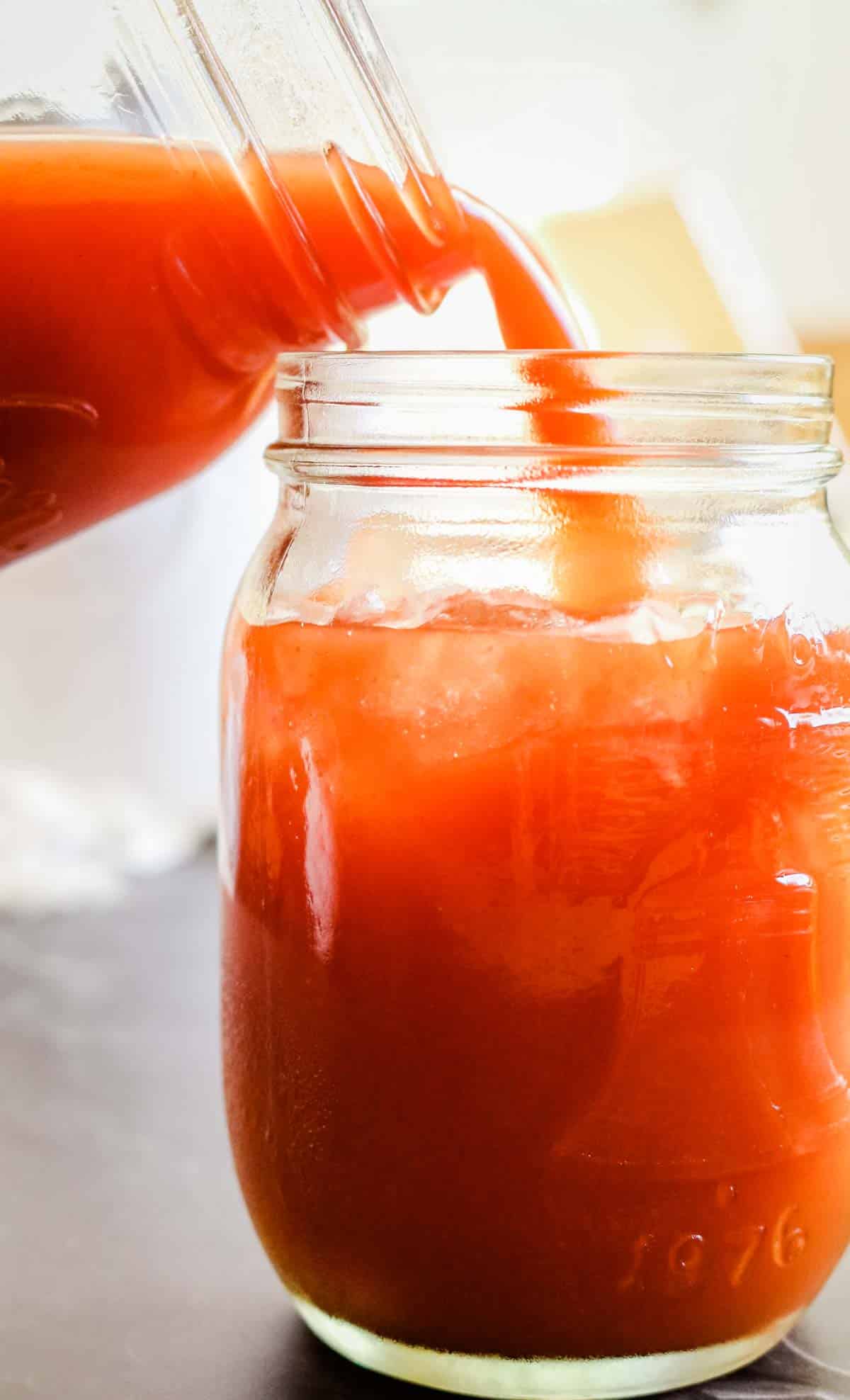 Homemade Tomato Juice
One of the greatest benefits to making Homemade Tomato Juice is that you can optimize nutrient absorption.
Studies show that consuming fat and carotenoids together improve absorption of lycopene and other compounds even further.
I've not been one to shy from healthy fats such as pastured butter, lard and extra virgin olive oil as those are all important for excellent nourishment.
So when tomatoes are eaten with those healthier fats, the body's absorption of the carotenoid can more than double.
I always do my best to consume foods high in carotenoids with some fat. Adding avocado oil or extra virgin olive oil to your tomato juice will ensure the best absorption of these phytochemicals.
Additionally, the fat will stabilize the blood sugar from the tomato juice.
Helpful Tip: Adding fat to tomato juice will further improve absorption of nutrients and keep the blood sugar stable.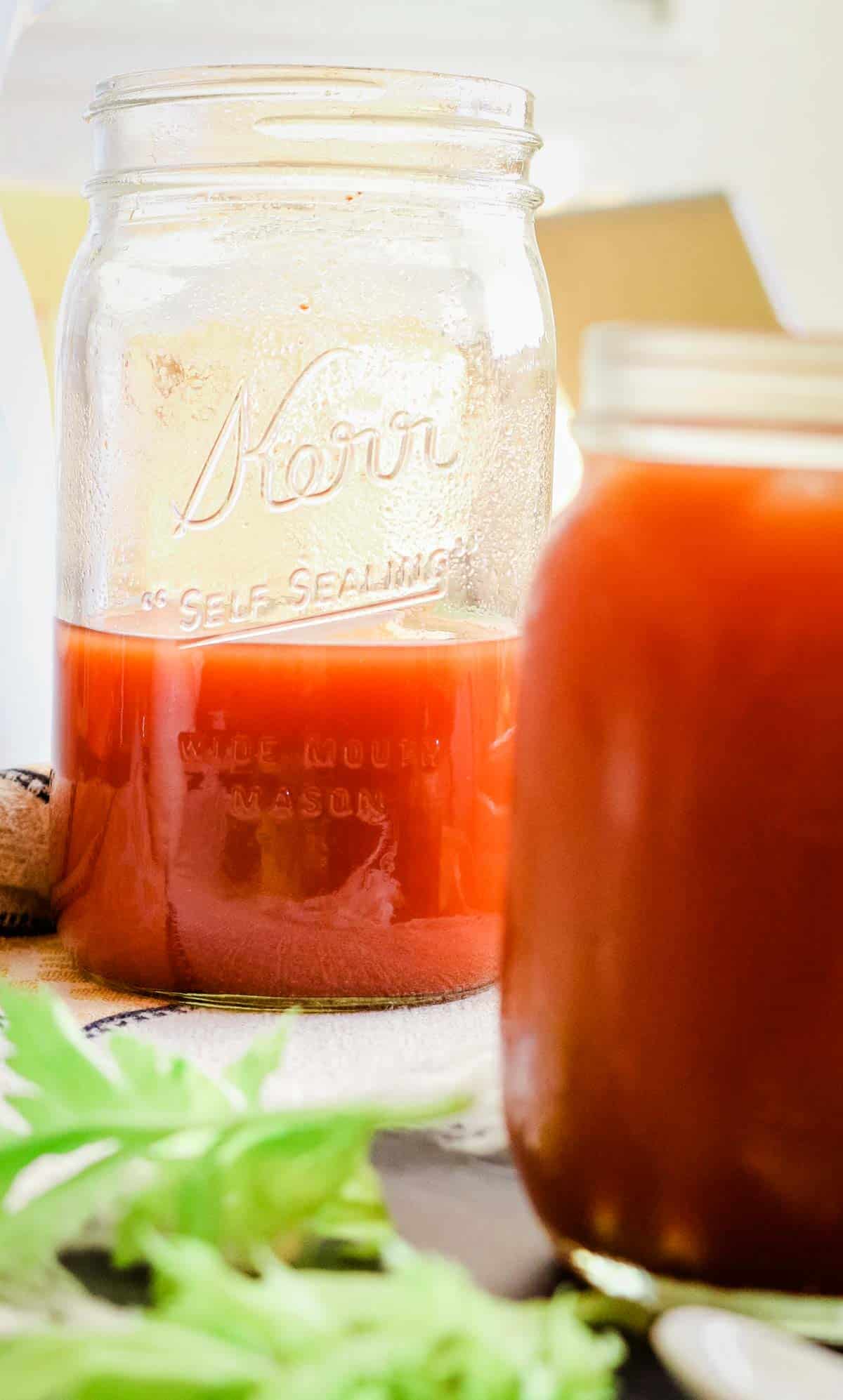 Making Tomato Juice from Tomato Paste
As mentioned before, this Tomato Juice recipe is very simple with 3 simple ingredients: tomato paste, sea salt, and good quality fat.
But let's talk about the tomato paste first because there are so many options on the market.
One of the most important things you must remember when purchasing tomato paste is to buy jarred tomato products. I would caution against buying paste in cans because of the potential for BPA to leach into those foods, especially if those foods are acidic (as tomatoes are).
Even though many companies have started to remove BPA from their products, they are often replaced with equally harmful substance. Instead if budget allows, go for tomato products and other acidic foods in glass jars.
Bionaturae is a great company and you can purchase a few jars on Amazon or at your local natural food store. Amazon also has a 12-pack that is more cost-efficient if you use tomato paste often. Jovial is another awesome brand that makes jarred tomato products.
But the best option is to source tomato paste from European markets. I love Tukas, a Turkish brand of tomato paste that only contains tomatoes and no added salt. I can find a jar of this for under $4 at my local European market. Freeze what you don't use in a small chunks.
And as always, read the ingredients to avoid preservatives and added salt.
How to Dissolve Tomato Paste
The level of ease for this comforting drink is unreal. It truly takes a few minutes but sometimes dissolving something as thick as tomato paste can be frustrating.
To quickly dissolve tomato paste, add ¼ cup of warm water and stir vigorously. The warm water will begin to immediately break up the paste and create a uniform and smooth consistency.
Alternatively, you can also screw the lid on the jar and shake vigorously. Add remaining water and proceed with the recipe.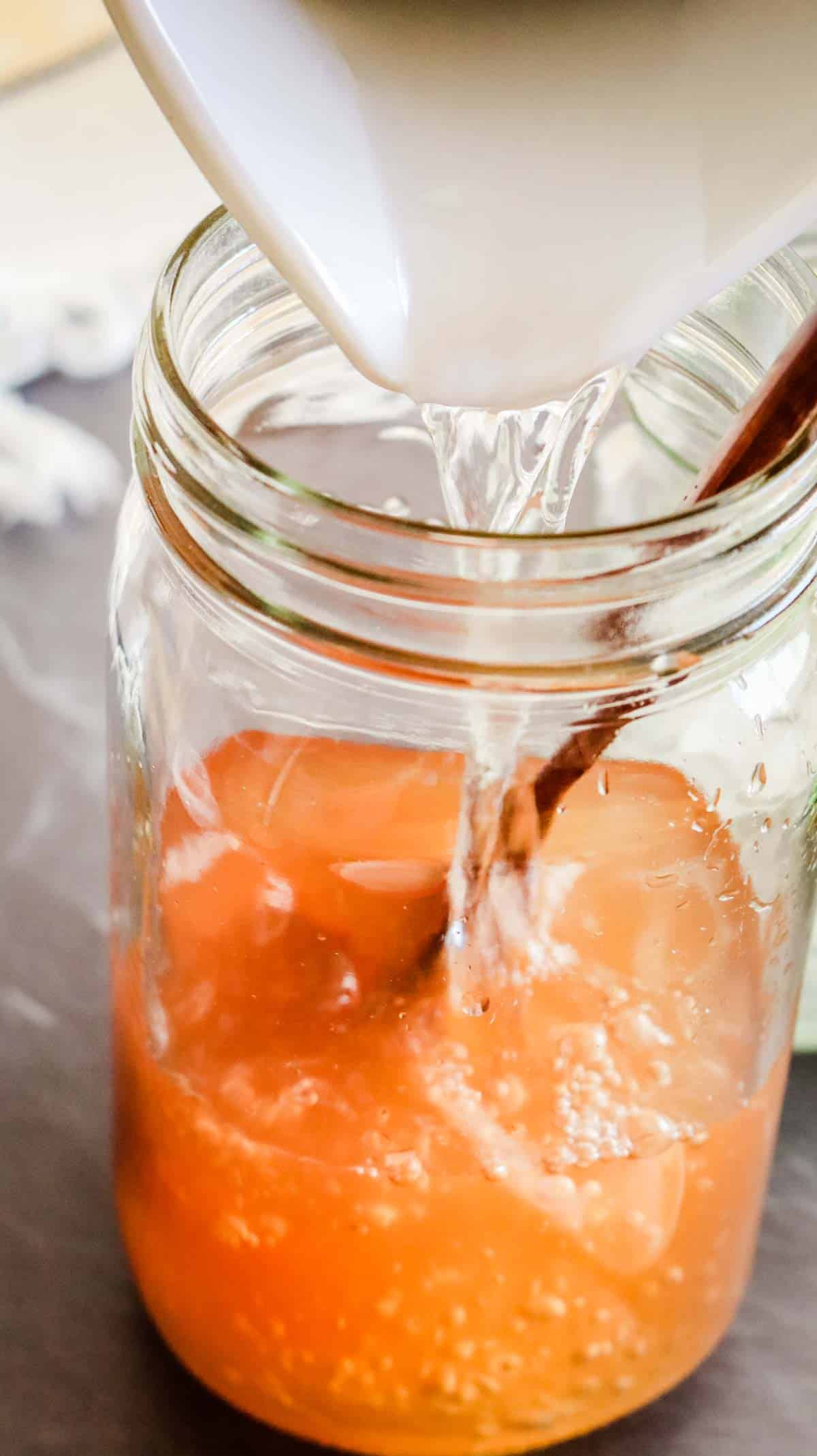 Frequently Asked Questions & Tips
Is tomato juice good for you?
Homemade tomato juice can absolutely be good for you with proper mineral-rich sea salt and healthy fats for optimal nutrient absorption. Skip the BPA-lined canned tomato juice and make a truly nourishing homemade tomato juice that your body will thank you for.
How to make tomato juice from tomato sauce?
You would use a similar method as with tomato paste. Just use considerably more tomato sauce than paste and season to taste and add oil. Shake or stir vigorously.
How to make tomato juice for Bloody Mary?
This tomato juice is easy to jazz up to customize for Bloody Mary. Add a pinch of cayenne or onion powder or any other seasonings that you desire. Make sure to stir well and stir often so the spices do not settle on bottom.
Make-Ahead Tips for Tomato Juice
This is a fairly easy recipe on it's own but there are a few things you can do maximize your time in the kitchen.
First, if you haven't already, make sure you check out my post on Unrefined Salt and the importance of mineral-rich salts in your diet. This will give you a headstart to the right sea salt to use in this recipe.
You can make this easy Homemade Tomato Juice for up to 1 week and store in the refrigerator in a large mason jar.
When ready to enjoy, just shake well to combine everything together.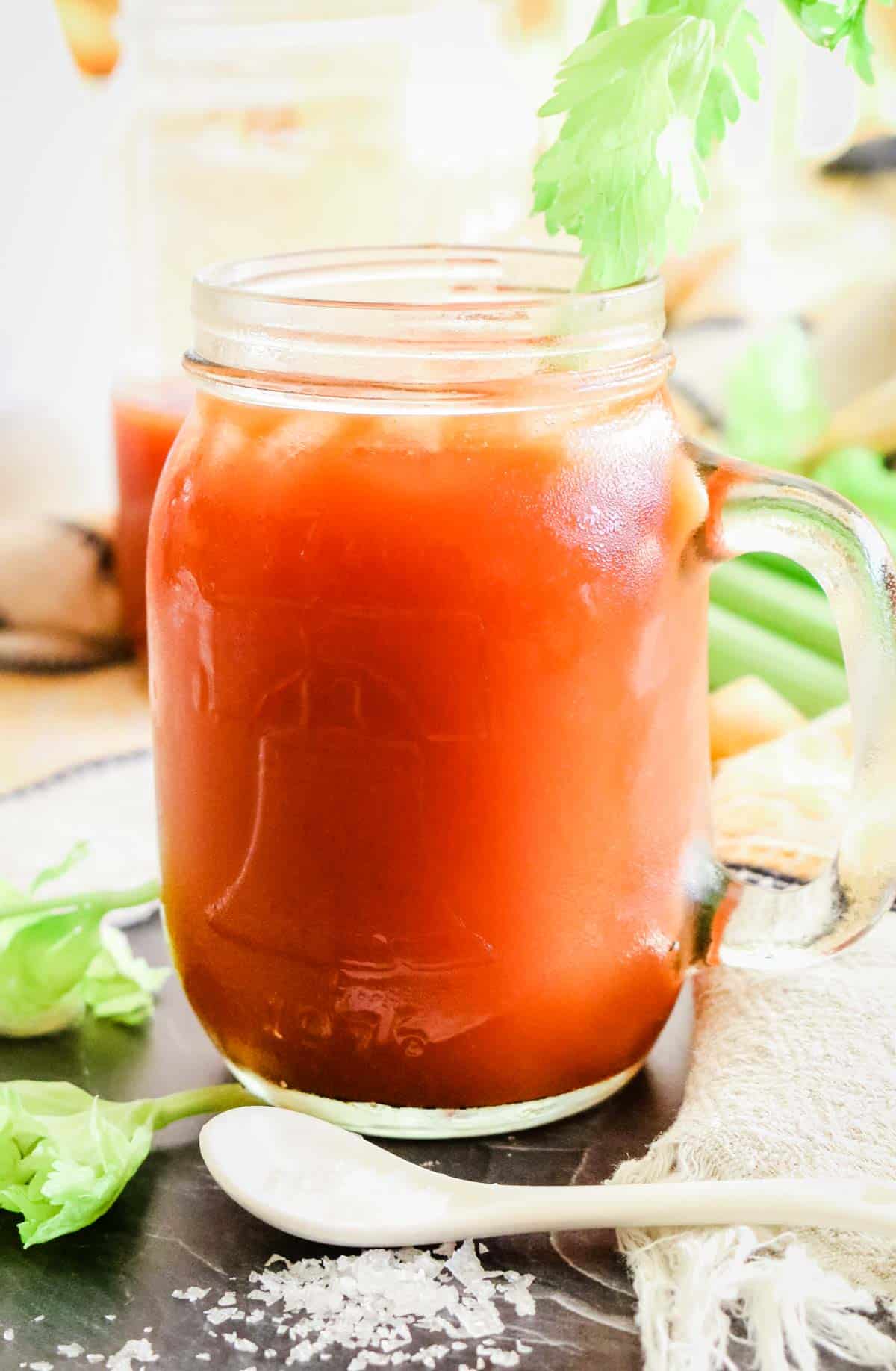 How to make Tomato Juice
The complete printable recipe is below in the recipe card for your convenience.
This tomato juice recipe has only 3 ingredients: tomato paste, sea salt, and healthy oil.
Step 1. Dissolve tomato paste in a small amount of water until it's smooth and well combined.
Step 2. Add salt and oil and whisk, stir, or shake vigorously to break up the fats in the oil.
Step 3: Enjoy over ice or store in the refrigerator for up to a week until ready to drink.
Helpful Tools to make Homemade Tomato Juice
Below are some affiliate links that may be helpful to you as you make this recipe. Some ingredients can be bought cheaper at your local grocery store but sometimes it helps to have a link so you know what you're looking for. These aren't necessary but very helpful to have on hand.
Ways to enjoy this Homemade Tomato Juice:
Of course this drink is good on it's own as an afternoon treat with some raw cheese or enjoy it with any of these recipes:
Did you make this? Please leave a ⭐ recipe rating in the recipe card below and leave a review in the comments. Thank you!💚
Printable Recipe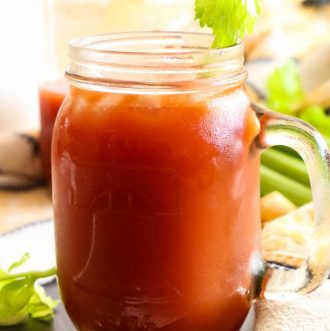 How To Make Tomato Juice
Easily make homemade tomato juice out of tomato paste in under 5 minutes with no cooking involved. All you need is some tomato paste, sea salt, and healthy fats for better nutrient absorption.
Ingredients
2

tablespoons

tomato paste

1

quart

filtered water

1

teaspoons

sea salt

1

teaspoon

extra virgin olive oil, avocado oil, MCT oil
Instructions
Combine all ingredients together and stir or whisk vigorously to break up the fats in the oil and dissolve the salt and paste. Adjust salt if necessary.
Notes
Use jarred tomato paste to avoid BPAs in canned tomato products
Use unrefined sea salt for mineral rich tomato juice
Use extra virgin olive oil, MCT oil, or avocado oil to increase nutrient absorption and bioavailability
Nutrition
Calories:
31
kcal
|
Carbohydrates:
3
g
|
Protein:
1
g
|
Fat:
2
g
|
Saturated Fat:
1
g
|
Polyunsaturated Fat:
1
g
|
Monounsaturated Fat:
1
g
|
Sodium:
1894
mg
|
Potassium:
163
mg
|
Fiber:
1
g
|
Sugar:
2
g
|
Vitamin A:
244
IU
|
Vitamin C:
4
mg
|
Calcium:
21
mg
|
Iron:
1
mg
Nutrition Information
The information shown is an estimate provided for your convenience by an online calculator. It should not be considered as a substitute for a professional nutritionist's advice. See our complete Nutritional Information Disclaimer.
©Prepare and Nourish • Content and photographs are copyright protected. Sharing of this recipe is encouraged and appreciated but please do NOT screenshot or copy/paste complete recipes to websites or social media.
This post was originally published July 2019 but has since been updated to include helpful information.