This easy Instant Pot Lamb Curry recipe features tender lamb meat, butternut squash (or another hardy veggie), warm curry spices, and a creamy tikka masala blend of tomato sauce and coconut milk. This easy-to-make recipe is a delicious and healthy meal for busy weeknights. Pair it with rice and garnish with cilantro, and you have a perfect meal!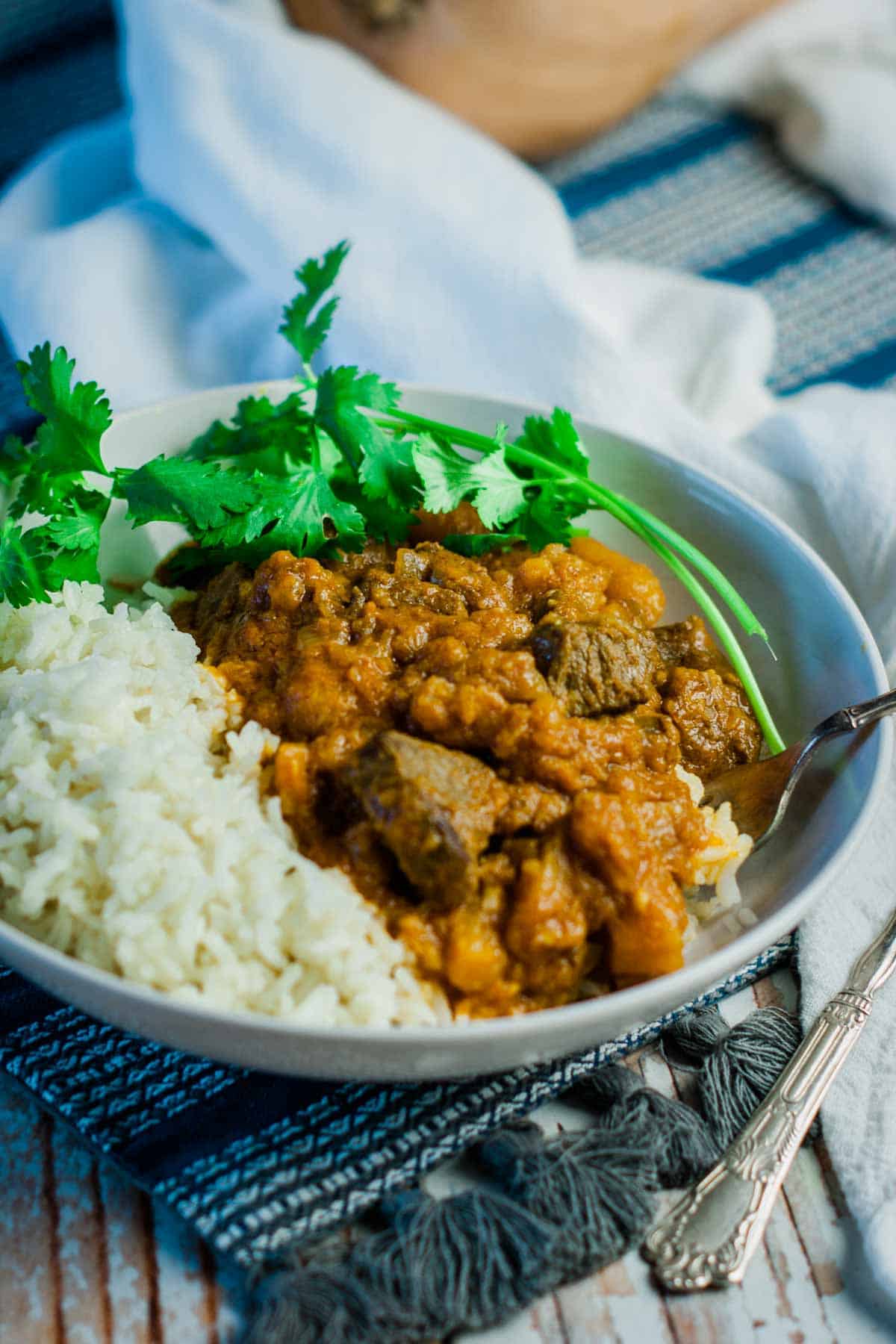 This pressure cooker lamb curry is a delicious, flavorful, and easy meal for any occasion.
You will love this mouthwatering dish. It combines succulent lamb with butternut squash's sweet, nutty flavor, all in a rich aromatic curry sauce that will satisfy your cravings. Double the recipe for easy meal prep that you can enjoy later.
The best part, it's all made in your pressure cooker. This versatile kitchen appliance is excellent at creating other tasty and convenient meals like Creamy Chicken Wild Rice soup and Sprouted Brown Rice with Beef.
The Instant Pot also makes perfectly fluffy and tender grains like buckwheat and millet to accompany this curry recipe.
Jump to:
Why you'll love this lamb curry recipe
Flavorful: The combination of tender meat, creamy coconut, and rich warm spices creates a complex and satisfying flavor profile.
Nutritious: Lamb tikka masala contains anti-inflammatory spices like turmeric, ginger, and paprika. This curry recipe also has butternut squash, rich in fiber and vitamins. Plus, lamb is an excellent source of protein and iron.
Easy to make: Using an Instant Pot makes this recipe a breeze to prepare, perfect for busy days. And this also makes fantastic leftovers.
Versatile: Customize this lamb coconut curry to your liking by adding more or less spice, adjusting vegetables, or swapping out the lamb for another protein. Check out specific suggestions below.
Ingredients
Lamb: The star of the show, adding a rich, meaty flavor and texture to the curry, as well as a good source of protein and iron. I used boneless lamb shoulder cut into small pieces.
Onion: Common ingredient in many curries, adding a savory and slightly sweet flavor. It also provides texture and helps to balance the spices.
Butternut squash: This vegetable adds a sweet flavor and smooth texture to the curry. It also helps to thicken the sauce and provides a nice contrast to the tender lamb.
Coconut milk: This adds a creamy and mildly sweet note to the curry and helps to balance the spices while providing a cooling contrast to the heat.
Tomato paste: Adds a tangy and slightly sweet flavor to the lamb coconut curry. It also helps to thicken the sauce and provides a savory base for the spices.
Aromatics and seasonings: Zesty garlic and aromatic spices like ground coriander, cumin, ginger, turmeric, paprika, and cayenne pepper add excellent flavor.
See the recipe card for exact quantities.
💭Make it Nutrient Dense: When possible, buy New Zealand lamb as they are entirely 100% fed and finished on grass. 
Variations
Swap out the butternut squash for another hardy veggie like pumpkin, acorn squash, or sweet potatoes. You can even use russet potatoes.
Use your favorite seasonings or whatever you happen to have on hand. Use a similar spice blend like tikka masala, curry powder, garam masala, or another spice mix. You can also add whole spices like bay leaves, cardamom pods, and cinnamon sticks, then retrieve them before serving.
Try a different cut of meat, like chicken. Cut the cooking time by half since the chicken will cook faster. I have a stovetop butter chicken recipe that you may love with similar flavors. This recipe will also be terrific with the beef roast, but you may need to adjust the cook time.
Helpful Tips
Sear lamb first for best flavor. This makes a very tender lamb curry and creates a beautiful crust on the meat. Doing this on saute function in the Instant Pot liner will keep the splatters contained.
Dice butternut squash into uniform pieces. Cutting them into ½" cubes will ensure a smooth but distinct texture.
Serve lamb curry over rice cooked in bone broth for extra nutrition. Cook the rice in the morning and set it aside to cool down so it produces resistant starch. Curious to learn more about resistant starch? Read this article from Chris Kresser on that topic.
💭Pro tip: If the list of the spices and seasonings is overwhelming to you, use a storebought blend mix like garam masala. In lieu of the spices listed in recipe card, use three tablespoons of the garam masala mix. 
Step-by-Step Instructions
The complete printable recipe is below in the recipe card for your convenience.
This easy lamb curry recipe comes together quickly in one pot. The hardest part is waiting for the pressure to release fully.
Step 1. Brown lamb
Saute lamb pieces directly in the instant pot liner and brown on all sides. Stir occasionally after it has browned.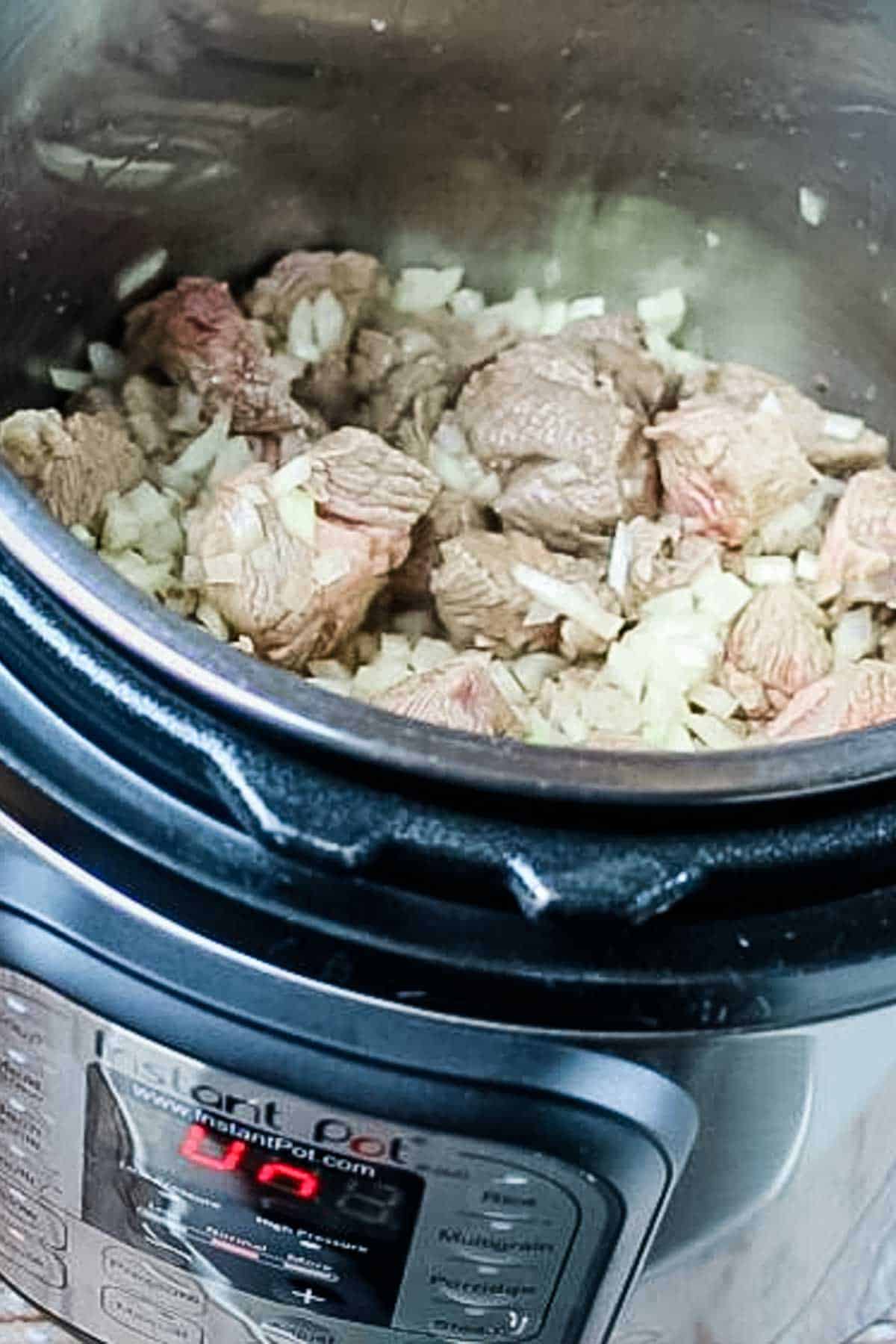 Step 2. Add onions
Cook diced onions to the lamb until softened and translucent. Add garlic and stir.
💭Pro tip: If browning lamb has produced stuck pieces to the bottom of the inner pot, the juices released from onions should loosen all of that. Ensure that nothing is stuck to the bottom to avoid a burn notice.
Step 3. Season
Add all seasonings to the meat and onions and stir to combine. Add tomato paste, coconut milk, and diced butternut squash. Stir to mix well.
Step 4. Pressure cook
Program the Instant Pot to cook manually for 10 minutes. Followed by natural release of pressure. Stir to ensure all ingredients are combined well.
💭Pro tip: Ensure the safety valve is down indicating the pressure has fully released before opening the lid. 
Helpful Tools & Links
Below are some affiliate links that may be helpful to you as you make this recipe. You can find some of these items cheaper at your local store, but having a link helps you know what you're looking for.
Serving Suggestions
We love serving this lamb tikka masala with jasmine or basmati rice. Here's a foolproof method of getting perfect rice in Instant Pot every time. Better yet, cook it in bone broth for an excellent nutrient boost.
You can serve this lamb and butternut squash curry over cauliflower rice to make it grain-free. And dip with sourdough naan bread for that ultimate experience.
Lamb Coconut Curry pairing suggestions
Storage and Reheating Instructions
To store: Leftover pressure cooker lamb curry can be kept in an airtight container in the fridge for up to 5 days. It tastes great the next day when flavors melded together.
Storage containers: These glass snap containers are perfect for leftovers
To reheat: To reheat, gently warm lamb tikka masala in a small saucepan over low heat on the stovetop, stirring often.
FAQs
Can I freeze lamb coconut curry?
Yes, this curry recipe can be frozen for up to three months in an airtight container. Thaw overnight in the refrigerator and reheat on the stovetop over medium heat when ready to eat.
What cut of lamb is best for curry?
Use a boneless lamb cut such as the leg of lamb, lamb shoulder, or lamb roast when making lamb curry. These cuts are tough and benefit from the pressure cooking. You can also use lamb stew meat, which is a combination of different cuts and is already conveniently cut into bite-sized pieces.
What is the difference between tikka masala and curry?
Tikka masala is a specific type of curry made of a blend of spices and creamy, tomato-based sauce. Curry is a more general term that often refers to a wide variety of dishes that include vegetables. This Indian lamb curry recipe has tikka masala flavors.
Looking for more related recipes? Here are some ideas:
Did you make this? Please leave a ⭐ recipe rating in the recipe card below and leave a review in the comments. Thank you!💚
Printable Recipe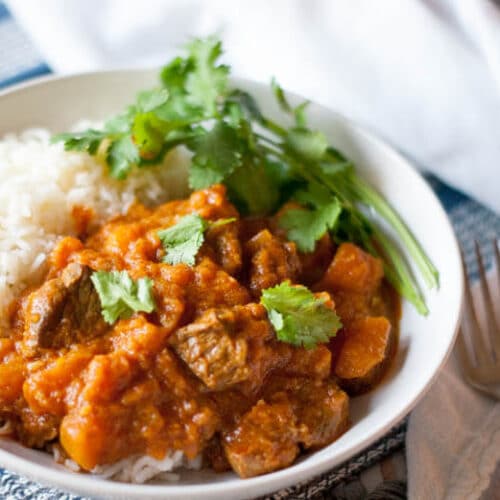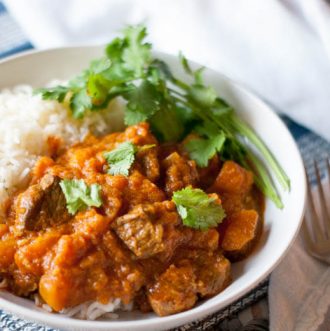 Easy Instant Pot Lamb Curry Recipe (Lamb Tikka Masala)
Easy Instant Pot Lamb Curry recipe featuring tender lamb, butternut squash, curry spices, creamy tomato, and coconut sauce. A tasty and healthy weeknight meal, served with rice and cilantro garnish.
Notes
Storage: Leftovers can be stored in an airtight container for up to 5 days in the fridge. Reheat on the stove top in a small saucepan on low heat. Helpful Tips: Dice lamb and squash into small uniform pieces so it cooks evenly and produces tender lamb. You may use about three tablespoons of premixed spice blend (garam masala, tikka masala, curry blend) instead of the individual spices called for in the recipe. Variations: Swap out the squash for pumpkin, sweet potatoes, or russet potatoes. Try a different protein, like chicken or beef. You may need to adjust cooking time though.
Nutrition
Calories:
167
kcal
|
Carbohydrates:
15
g
|
Protein:
13
g
|
Fat:
7
g
|
Saturated Fat:
3
g
|
Polyunsaturated Fat:
1
g
|
Monounsaturated Fat:
2
g
|
Cholesterol:
44
mg
|
Sodium:
835
mg
|
Potassium:
584
mg
|
Fiber:
3
g
|
Sugar:
4
g
|
Vitamin A:
7725
IU
|
Vitamin C:
20
mg
|
Calcium:
67
mg
|
Iron:
3
mg
Nutrition Information
The information shown is an estimate provided for your convenience by an online calculator. It should not be considered as a substitute for a professional nutritionist's advice. See our complete Nutritional Information Disclaimer.
©Prepare and Nourish • Content and photographs are copyright protected. Sharing of this recipe is encouraged and appreciated but please do NOT screenshot or copy/paste complete recipes to websites or social media.