This homemade Chicken Bone Broth recipe is made in the Instant Pot in a fraction of the time. This simple recipe makes the most gelatinous and nutritious chicken broth and is wonderful as a base for soups, gravies, and other uses.
There's not much to homemade chicken broth. Some poultry bones, chicken feet, parsley sprigs, a carrot or two and perhaps other seasonings to bring the flavors out.
And yet, broths have been prominently featured in traditional cultures around the world for millenia.
Whether you're following GAPS, paleo, Whole30 or just a healthy gut diet, you should be making and consuming bone broth regularly.
The traditional way to making bone broth has always been "low and slow".
A long simmered broth always includes high quality animal bones and several hours to several days of cooking.
But when time is short, the pressure cooker is a good alternative to condense 24 hour into 120 minutes. Making nutrient-dense chicken broth has become regular endeavor with little effort thanks to the Instant Pot.
Why you'll love this recipe
Nutrient dense: we know the benefits of bone broth are many but adding the chicken feet adds so much collagen to your broth
Mild flavor: using chicken (even with the feet), the broth comes out rich in nutrition but mild in flavor, making it suitable for most recipes
Quick broth: You can achieve the same end result using the Instant Pot in less time than if you were using a slow cooker or stove top
Easy recipe: Using the Instant Pot for homemade chicken broth is the best way to use this popular appliance.
Zero food waste: As is common in broth, use what you have: carcass from leftover roast chicken, cooked bones or raw bones, whatever vegetable scraps you have on hand.
💭Good to Know: Working broth into your weekly homemaking rhythm is a wonderful way to let nothing go to waste while also including so much nutrition to your meals.
Ingredients
This is an easy way to make nutritious bone broth. It's a simple recipe that does not involve roasting the bones.
Though the ingredient list is flexible, this is a good base to start with especially if this is your first time making bone broth.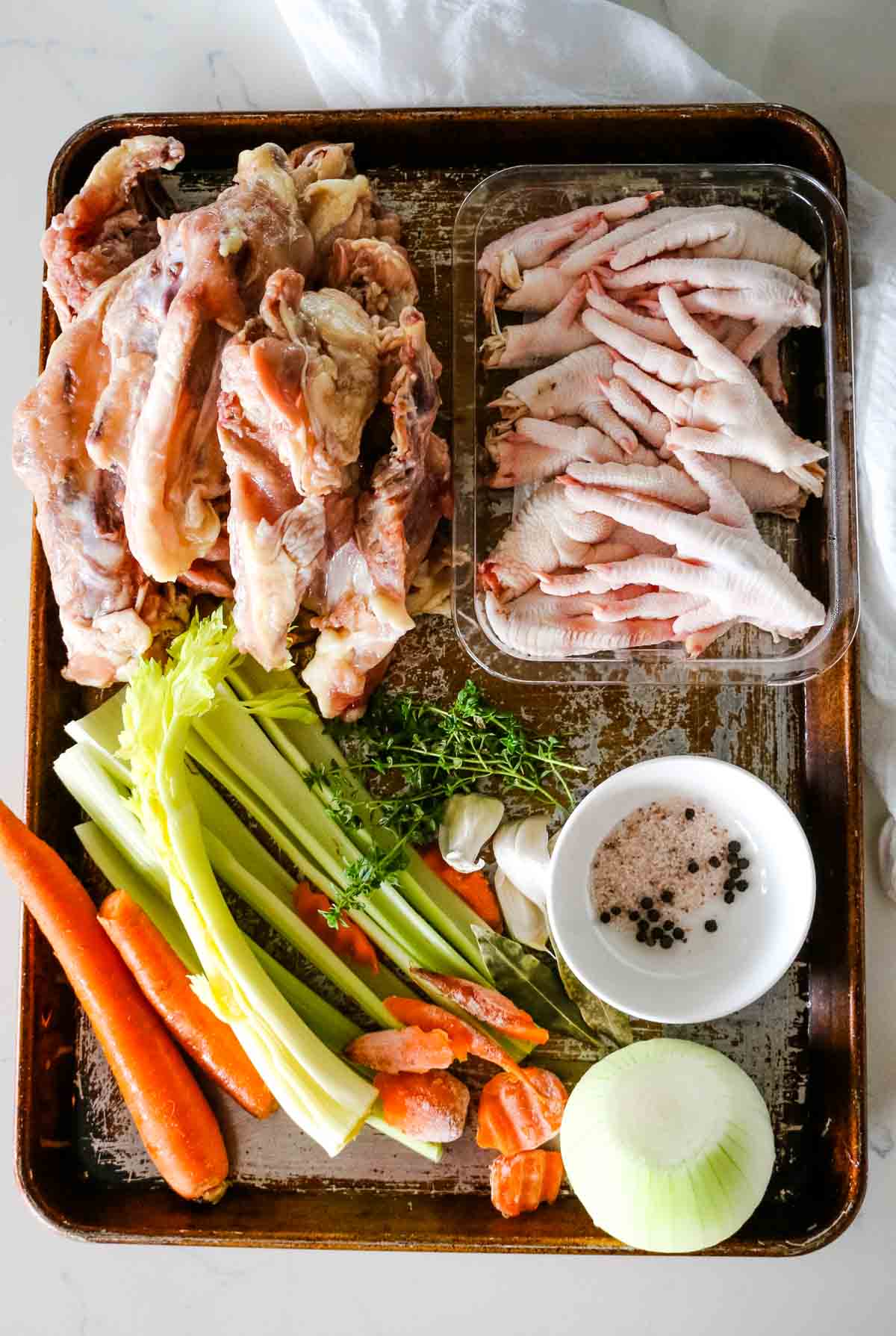 chicken carcass: This is good from a roast chicken or any leftover bones. Raw chicken backs (as pictured here) also work great. Check your local butcher for chicken backs as they are generally super cheap cuts and considered waste or discard.
chicken feet: These are a must, if you want a truly thick gelatinous, collagen-rich broth. They usually already come cleaned and ready to be used in soups. For maximum nutrition, find chicken feet from pastured and organic chickens.
kitchen scraps: These can be veggie scraps like carrot ends and random celery pieces or even onion skin (again use organic if possible). If you don't have vegetable scraps, use one whole onion (peel if not organic), a few carrots and a handful of celery ribs.
aromatics: These can be any fresh herbs like thyme, oregano, rosemary, parsley, and bay leaves. Go easy on the very potent herbs like rosemary and oregano as they may overpower the broth.
salt & pepper: This is important to a good recipe but like with herbs, go easy and adjust as needed.
Another ingredient that didn't make the list but is important nonetheless is apple cider vinegar. Though optional, this common staple is used to draw the minerals from the bones.
Keep reading for an FAQs on this topic below.
💭Make it Nutrient-Dense: Jewish tradition considered the use of chicken feet for bone broth to be the secret to truly nutritious broth.
Substitutions
Making a batch of bone broth shouldn't be difficult, time consuming, or budget restrictive.
Traditionally, homemade chicken broth uses very simple ingredients that are readily available. The ingredients in the recipe card should be used as a general guideline rather than a hard rule.
bones - carcass from roasted chicken, any leftover chicken bones, other poultry bones like from legs or drumsticks, chicken necks, and cartlidge
veggie scraps - any vegetable trimmings such as onion skins, celery leaves, mushroom stems, carrot and parsnip peels, or the actual vegetables themselves
aromatics - ginger, garlic (with the skin), parsley stems, any fresh or dried herbs such as rosemary, thyme, and oregano, bay leaves
How to make gelatinous bone broth
The collagen in the bones is what gives broth that quintessential gelatinous feature when cooled. If your broth isn't gelling - don't worry. It's still high in nutrition and good to consume.
It just means that the ratio of collagen to water isn't proportionate. Make sure you are enough water to just cover the surface of the bones and veggie scraps. It's always better to add more bones.
A foolproof way of getting gelatinous broth is by using chicken feet as it's incredibly rich in collagen.
Chicken Feet Bone Broth
If using chicken feet in your bone broth makes you queasy - I don't blame you. And yet this is the very thing that will yield a flavorful broth dense with gelatin.
Chicken feet can be found at most ethnic grocery stores as well as health food stores like Whole Foods. The best place to start is to ask your meat source at the farmer's markets and farm stands.
You may need to reserve them ahead of time. Since chicken feet aren't a popular cut of meat, most farmers won't bring it to town when cooler space is limited.
When making broth, it's important that you source the best quality, free-range chickens for maximum nutrition. But consuming broth from conventionally grown chickens still has many benefits.
If using conventionally grown chicken, I would skip the chicken feet and focus more on using chicken carcass and backs.
💭Pro Tip: Look for cleaned chicken feet. These will not have a papery yellow membrane adhered to them. If they do, they need to be properly prepared first.
Helpful Tips
🗓Make-Ahead Tip: It's a good idea to have a supply of homemade chicken bone broth on hand for all the different uses. It freezes beautifully for longer storage.
🚫Food Safety: Fat will rise to the top of bone broth. That is normal and it creates a seal allowing the broth to be stored for longer. But if broth won't be consumed within a week, freeze it in wide-mouth mason jars with 2 inches of headspace.
💲 Money Saving Tip: The fat that rises to the surface may be used in stir-frys and soups when sauteing vegetables.
Step-by-Step Instructions
The complete printable recipe is below in the recipe card for your convenience.
This Instant Pot chicken bone broth recipe calls for these ingredients: chicken backs or carcass, chicken feet, carrots, celery, onion, fresh thyme, bay leves, garlic, salt and pepper.
Step 1. To your inner pot of Instant Pot, add chicken bones and chicken feet, vegetable scraps, garlic, bay leaves, thyme, and salt and pepper.
Step 3. Transfer the inner pot to the Instant Pot. Close the lid, turn the safety valve to "sealing" and set to "soup". Manually increase the time to anywhere from 90 to 120 minutes.
💭Helpful Tip: Cooking time in the Instant Pot is flexible but keep in mind that in order to achieve a rich bone broth, you need to aim closer to 90 to 120 minutes. But if short on time, you can go as low as 60 minutes.
Step 5. Once the pressure has been fully released and it is safe to do so, scoop all the solid contents out from the pot. Transfer to a colander set over a glass bowl to collect all broth.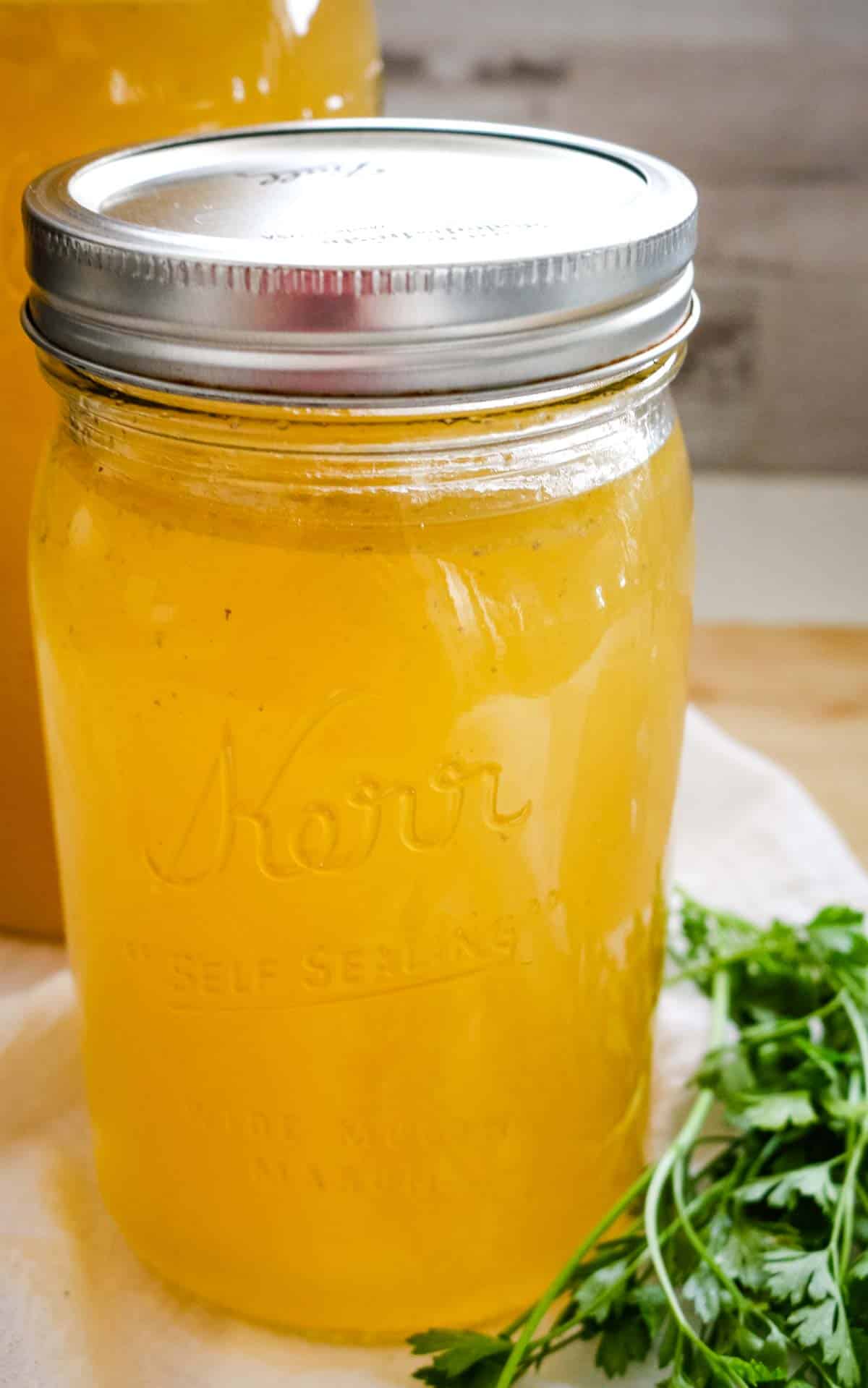 Step 6. Strain your chicken bone broth through a fine mesh sieve. You can do this directly into mason jars using a funnel and sieve. Or strain into a glass container with a spout for easy pour.
Helpful Tools & Links
Below are some affiliate links that may be helpful to you as you make this easy bone broth. You can find some of these items cheaper at your local store but it helps to have a link so you know what you're looking for.
Tools: chef knife, cutting board, Instant Pot pressure cooker, Instant Pot tempered glass lid, mesh strainer, large glass container with spout, funnel
Ingredients: real salt, black peppercorns, apple cider vinegar
Storage Supplies: wide-mouth mason jars, Weck juice jars with lids, portioned Souper Cubes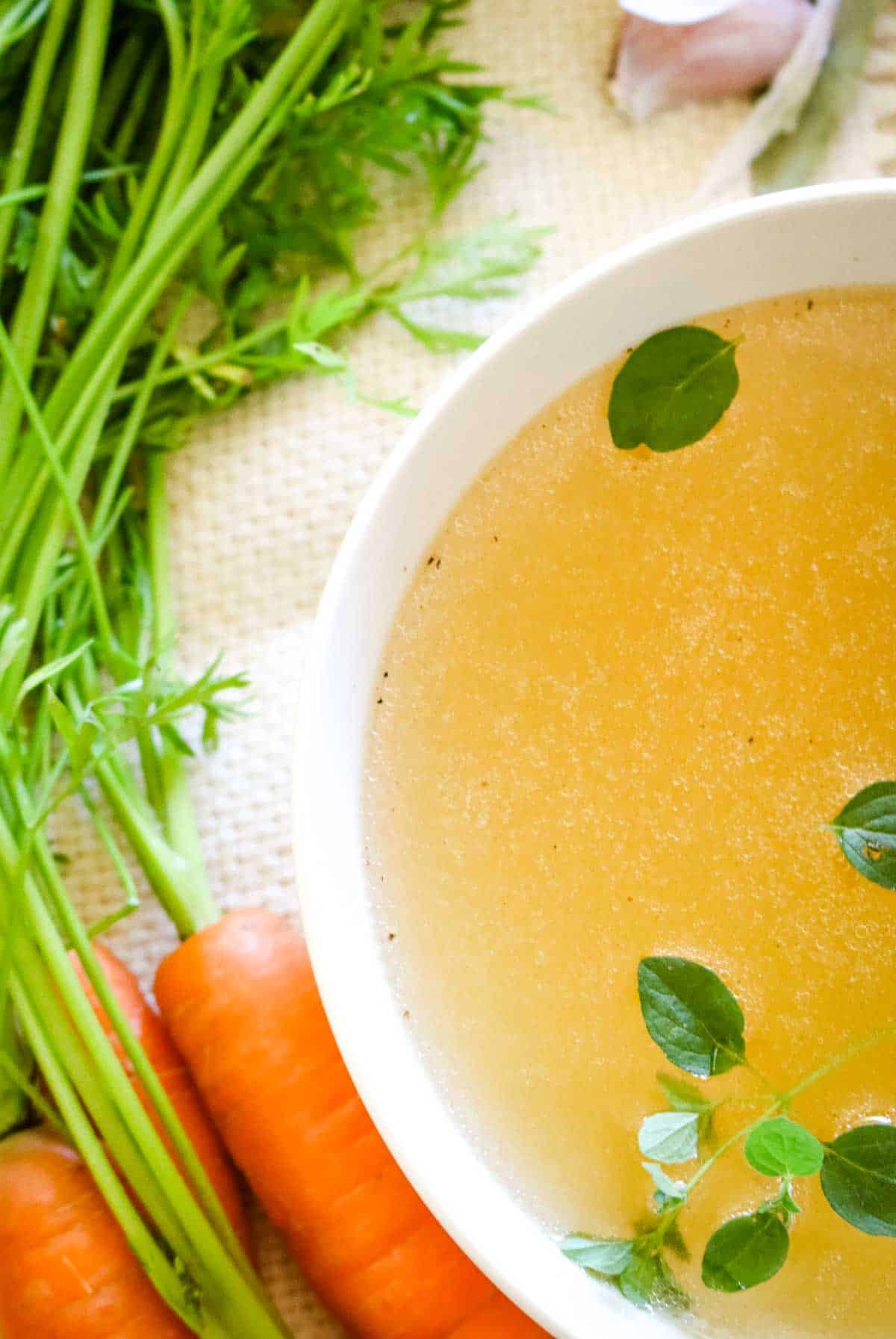 Serving Suggestions
There are so many ways to incorporate homemade bone broth into your diet.
Don't limit the use of bone broth to just soups. You can use it in most recipes that call for liquid, like to thin out gravies or reheat thick leftovers. You can also cook grains in bone broth to increase the nutrient profile.
Check out this post on How to Cook Perfect Rice in Instant Pot using broth. Or swap out water for bone broth in this Instant Pot Millet recipe.
Some great soup candidates using chicken broth recipe are this 5-minute Egg Drop Soup (perfect for breakfast), Meatball Soup, White Chicken Chili, and Hamburger Vegetable Soup.
And lastly, there is nothing wrong with drinking it straight out of a mug.
Storage and Freezing Instructions
To store: The best way to store broth is in a wide-mouth mason jar but any airtight container will work. Store broth in the refrigerator for up to 1 week.
To freeze: If you won't consume broth within one week, you can freeze it. But make sure you leave at least an inch of headspace in the jars so they don't shatter in the freezer. You can also freeze them in measured out freezing trays like this 1-cup Souper Cubes and then transfer to freezer bags. This makes it super convenient when you only need small amounts like for gravies.
FAQs
Is it necessary to roast bones for chicken bone broth?
Chicken broth is generally milder than beef broth. As a result, it is not necessary to roast the chicken bones before making broth.
Why is apple cider vinegar added to bone broth?
The addition of something acidic like vinegar helps to draw minerals, particularly magnesium, calcium, and potassium, into the broth. It's an important ingredient in making nutrient-dense bone broth.
What can I use instead of apple cider vinegar?
Though we are using a very small amount in the bone broth, apple cider vinegar may build flavor that people aren't fond of. An alternative to apple cider vinegar is white wine vinegar. If skipping vinegar altogether, try dry white wine. If using wine, double the amount called for vinegar to get the same acidity.
Where is the best place to purchase high-quality chicken feet?
The best source to purchase chicken feet is by asking your meat farmer at the farmer's market. You may need to reserve these in advance. Asking the meat butcher at stores like Sprouts and Whole foods is also a good idea. As is buying them in bulk at Azure Standard, a natural food wholesaler.
Looking for more healthy recipes? Here are some ideas:
Did you make this? Please leave a ⭐ recipe rating in the recipe card below and leave a review in the comments. Thank you!💚
Printable Recipe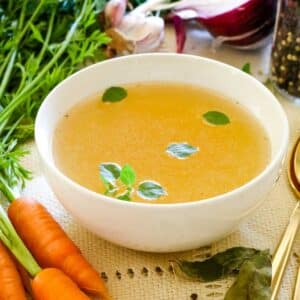 Instant Pot Chicken Bone Broth
This homemade Chicken Bone Broth recipe is made in the Instant Pot in a fraction of the time. This simple recipe makes the most gelatinous and nutritious chicken broth and is wonderful as a base for soups, gravies, and other uses.
Ingredients
3

pounds

chicken bones

carcass, necks, backs, breastbones, wings

1

pound

chicken feet

1

yellow onion

2

carrots

3

celery ribs

6

garlic cloves

6

sprigs

fresh thyme

1

tablespoon

sea salt

1

tablespoon

black peppercorns

2

tablespoons

apple cider vinegar

4

quarts

filtered water
Instructions
To your inner pot of Instant Pot, add chicken bones, chicken feet, all vegetables, garlic, bay leaves, thyme, and salt and pepper. Add apple cider vinegar.

Add enough water to cover all contents just below the max line. Transfer the inner pot to Instant Pot. Close the lid and set safety valve to "sealing". Set to "soup" and manually increase time to 120 minutes.

After cooking cycle has completed, allow the Instant Pot to naturally release pressure (NPR). Once it is safe to do so, open the lid and remove all solid contents into a colander over a glass bowl to catch broth.

Strain the chicken broth through a find mesh sieve. This may be done directly into jars or a large measuring cup.
Notes
This recipe makes approximately 3 quarts of chicken bone broth. A serving size is 1-½ cups of broth.
Apple cider vinegar may be swapped with white wine vinegar or ¼ cup of dry white wine.
Any combination of chicken bones and veggie scraps will work but in order for broth to gel, you want to make sure you use more bones than water.
Chicken broth can be stored in the refrigerator for up to 1 week.
To freeze, leave at least an inch of headspace in the wide-mouth jars and transfer to the freezer once cooled to room temperature. You can also conveniently freeze in portioned freezer ice trays like Souper Cubes and then transfer to freezer bags.
Nutrition
Calories:
142
kcal
|
Carbohydrates:
5
g
|
Protein:
12
g
|
Fat:
8
g
|
Saturated Fat:
2
g
|
Polyunsaturated Fat:
2
g
|
Monounsaturated Fat:
3
g
|
Cholesterol:
48
mg
|
Sodium:
947
mg
|
Potassium:
124
mg
|
Fiber:
1
g
|
Sugar:
1
g
|
Vitamin A:
2656
IU
|
Vitamin C:
4
mg
|
Calcium:
87
mg
|
Iron:
1
mg
Nutrition Information
The information shown is an estimate provided for your convenience by an online calculator. It should not be considered as a substitute for a professional nutritionist's advice. See our complete Nutritional Information Disclaimer.
©Prepare and Nourish • Content and photographs are copyright protected. Sharing of this recipe is encouraged and appreciated but please do NOT screenshot or copy/paste complete recipes to websites or social media.