Learn how to cut a cucumber like a pro! You'll master all the techniques to dice, slice, julienne, cut for sushi, and more with this easy tutorial. Whether you're making cucumber slices for refreshing salads, delightful appetizers, or satisfying poke bowls, this easy guide has you covered. You'll be a maestro in no time - making every dish a work of art!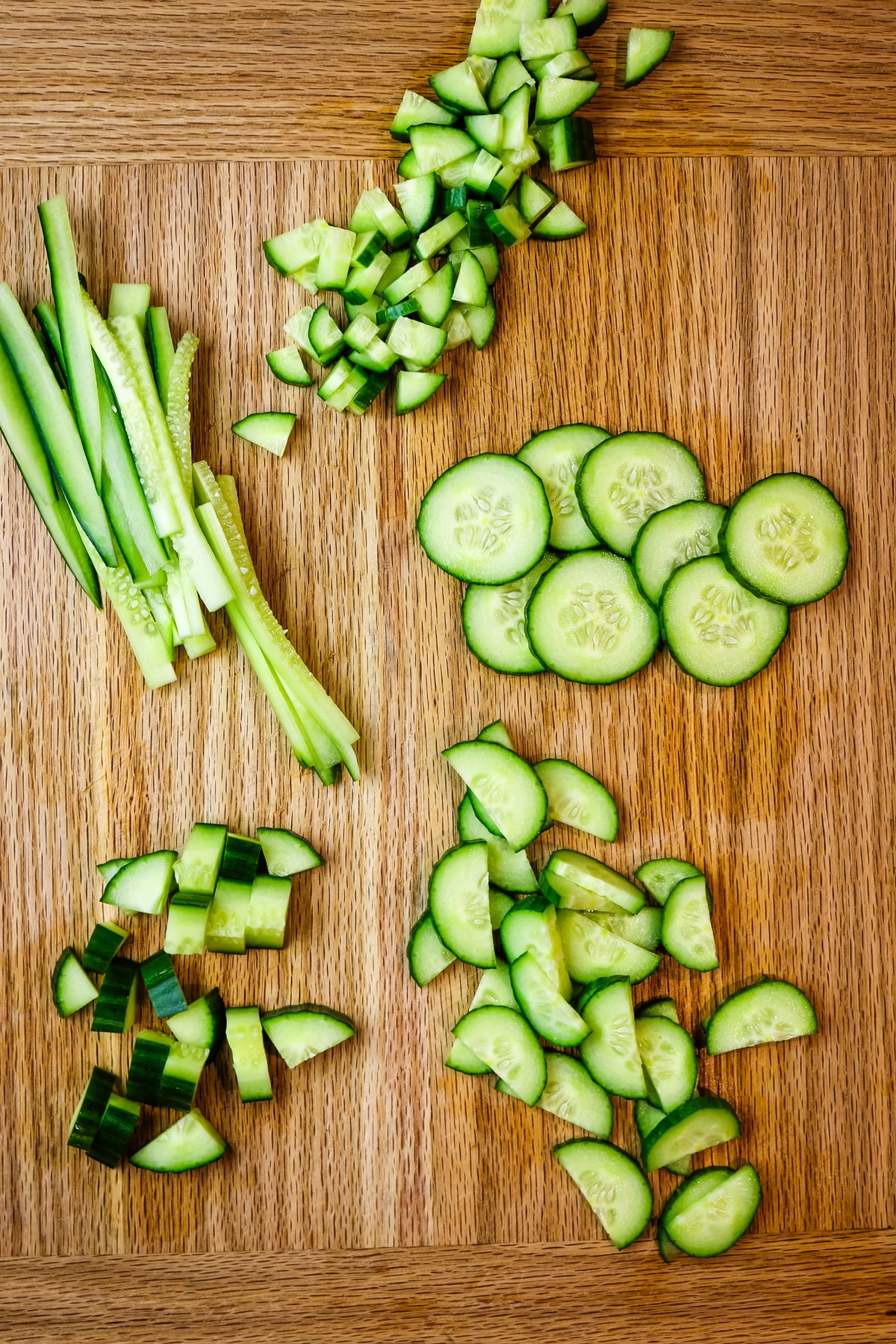 If you've ever come across a recipe that called for cucumbers in a particular cut, you might have found yourself a bit puzzled about how to proceed.
Don't worry; cutting cucumbers for various recipe applications can be tricky, but fear not – I got you covered! In this easy-to-follow guide, I'll show you how to master cutting cucumbers like a pro for all your favorite dishes, whether it's crisp cucumber slices for salads, thin ribbons for sushi night, or even fancy decorative cuts to impress your guests.
Get ready to slice, dice, and julienne your way to cucumber-cutting success!
Jump to:
Why Learn How to Cut a Cucumber
Cucumbers are refreshing and incredibly versatile, making them a great addition to different dishes and snacks.
By learning different techniques, you'll be able to create stunning presentations and enhance the flavors of your dishes, whether it's salads, snacks, or bowls.
Plus, it's a fun and easy skill to master!
Different Types of Cucumbers
How to cut a cucumber will largely depend on the type of cucumber you have. There are so many different varieties of cucumber but here are the most common types and their most prominent features:
English Cucumbers: Also known as seedless or hothouse cucumbers, English cucumbers have thin, tender skin and are nearly seedless. They are long and straight, with a mild, refreshing taste. The skin is edible, making them perfect for salads and or appetizers like cucumber salmon bites.
Persian Cucumbers: Similar to English cucumbers, a Persian cucumber has a thin skin and is crunchy and seedless. They have a slightly sweeter flavor and their smaller size makes them great for snacking, pickling, or adding to salads like cabbage cucumber salad.
Kirby Cucumbers: Often used for pickling, Kirby cucumbers are short and stout with bumpy skin. They have a more intense flavor and firm texture with a thicker skin, making them ideal for lacto fermented pickles.
Lemon Cucumbers: As the name suggests, lemon cucumbers resemble small, round lemons. They have a mild, slightly sweet taste, and their tender skin makes them perfect for eating whole or in salads.
Japanese Cucumbers: These cucumbers are slender and have a thin, dark green cucumber skin. They are crisp and have a refreshing taste, commonly used in Japanese cuisine, such as Asian Cucumber Salad recipe.
Slicing Cucumbers: This category encompasses various cucumbers typically found in grocery stores. They have tough skin, more seeds, and a classic cucumber flavor. Slicing cucumbers are versatile and suitable for salads, sandwiches, and other dishes.
Armenian Cucumbers: Also known as snake cucumbers, Armenian cucumbers are long and curved, with ridged skin. They have a mild, sweet taste and are delicious sliced or added to salads.
Gherkin Cucumbers: Gherkins are tiny cucumbers, usually used for pickling. They have a unique tart and crunchy flavor, perfect for making sweet or dill pickles. You can pickle them as whole cucumbers as the smaller pieces make it easy to snack.
Now, for the purpose of keeping things simple, we'll be using English cucumber for all the different ways of cutting. It's easy to work with, thanks to its large size, and the thin skin makes it effortless to cut through to make uniform pieces.
Let's get started!
💭Pro tip: No matter how you are cutting the cucumber, it's important to wash the cucumber under cold water and pat it dry. If your cucumber is not organic, wash it in vinegar solution using a 1:1 ratio to remove any pesticide residue.
How to Cut a Cucumber for Salad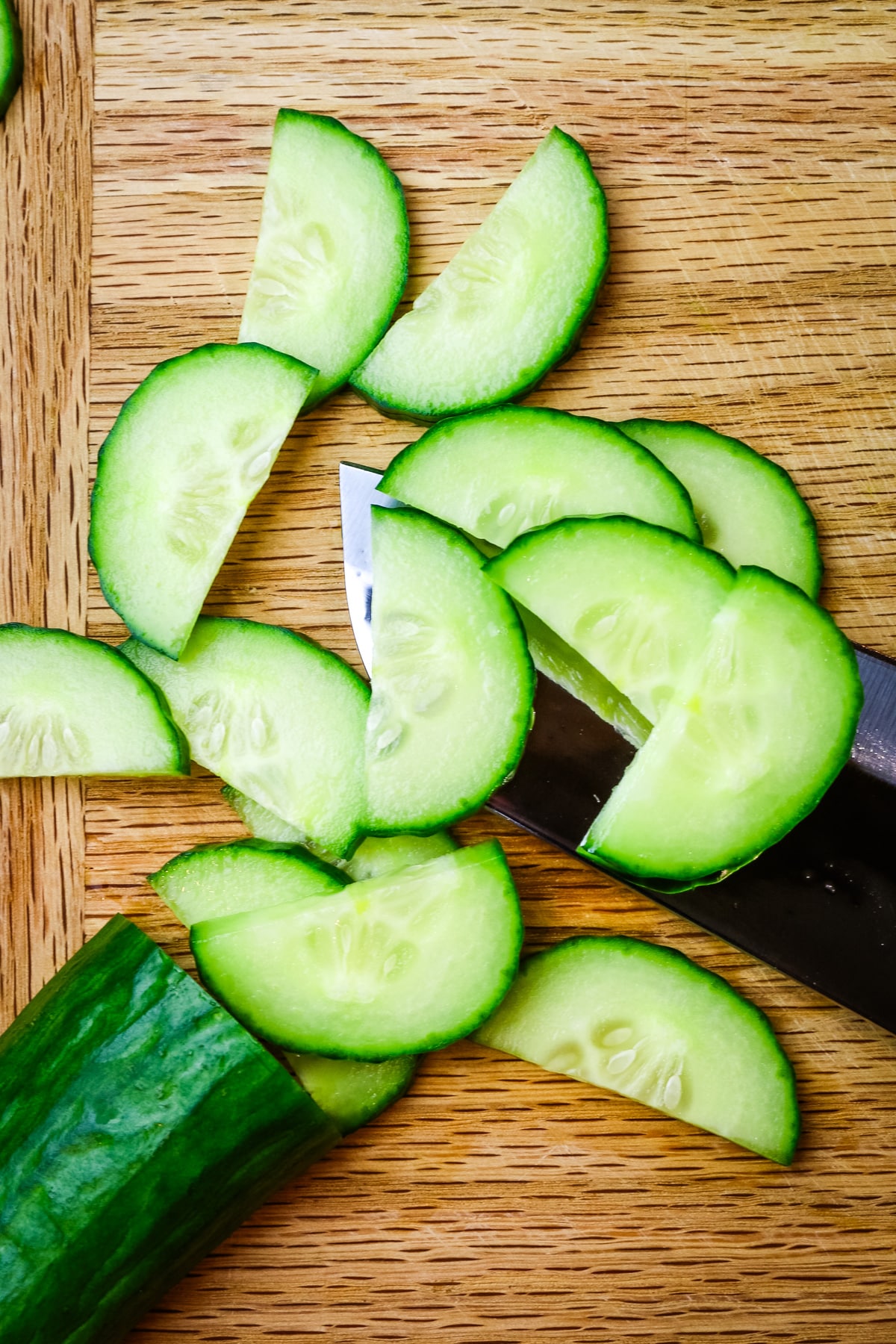 Trim the ends of the cucumber.
Cut the cucumber in half lengthwise.
Place the cucumber cut side down on the cutting board and cut crosswise to create half-moon pieces.
Try this cut of cucumber in these salads: 
Diced: How to Dice a Cucumber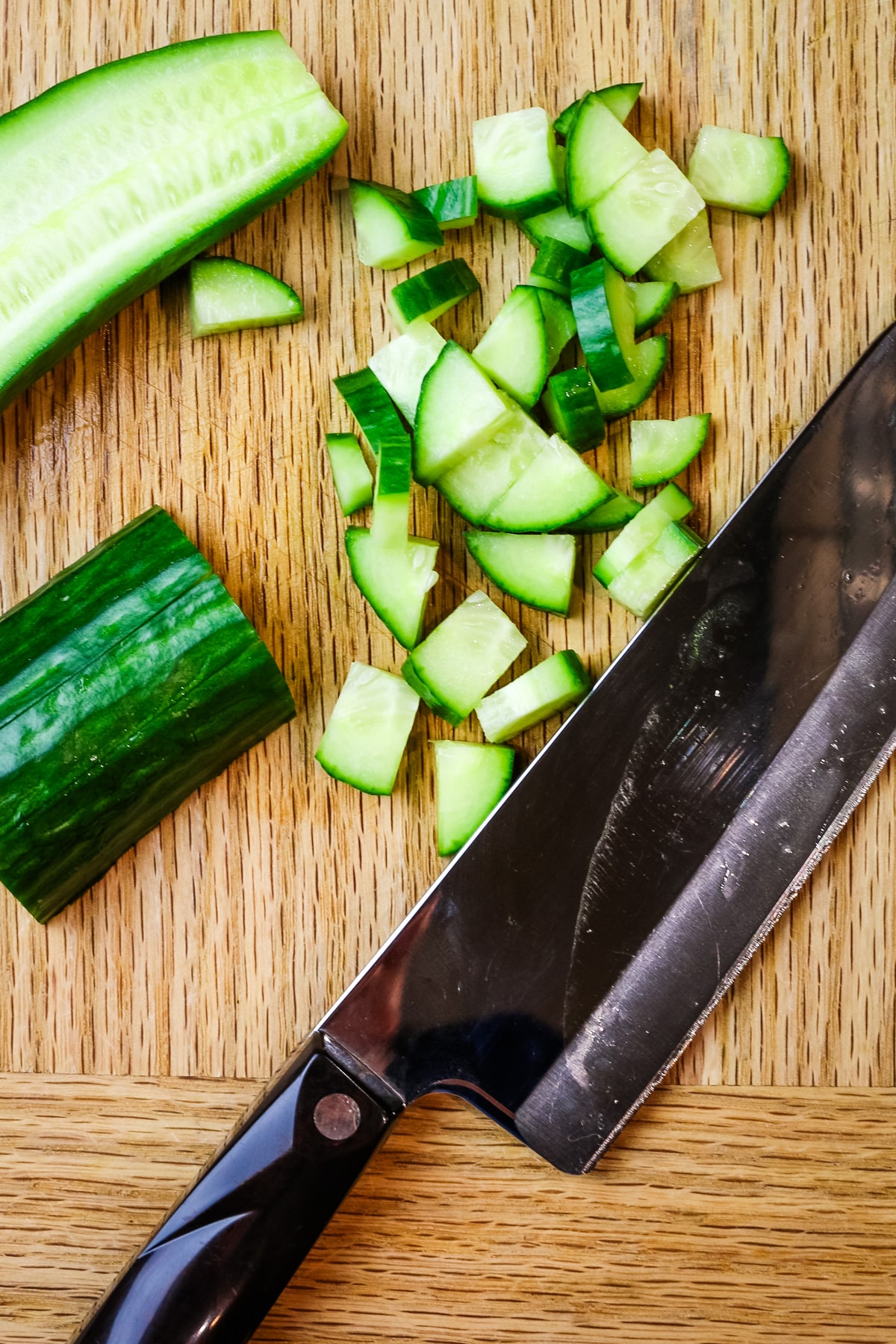 Trim both ends of the cucumber using a sharp knife.
Cut the cucumber lengthwise in half to create two long half-moon strips.
Place the cucumber flat side down on a cutting board and cut lengthwise into ¼-inch sections.
Cut crosswise to create small, uniform cubes.
Try diced cucumber in these recipes:  
Sliced: How to Cut Cucumber Rounds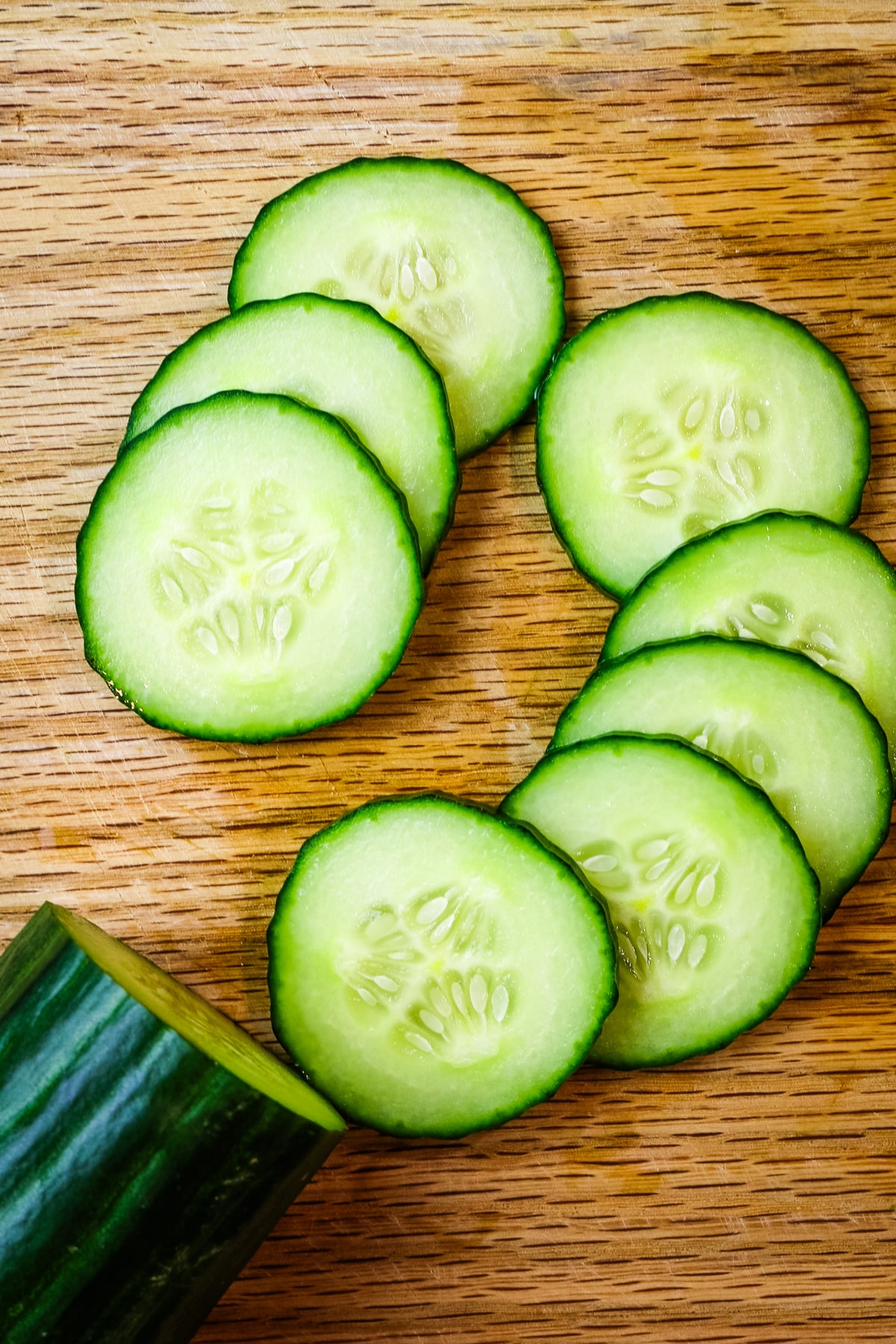 Trim the ends of the cucumber.
Firmly hold the cucumber with your non-dominant hand and cut crosswise into thin slices.
Tip: For a more decorative visual, slice cucumbers diagonally to create a bigger surface area. These cucumber medallions are great as dippers or appetizers.
Try cucumber slices in these recipes: 
Julienned: How to Julienne a Cucumber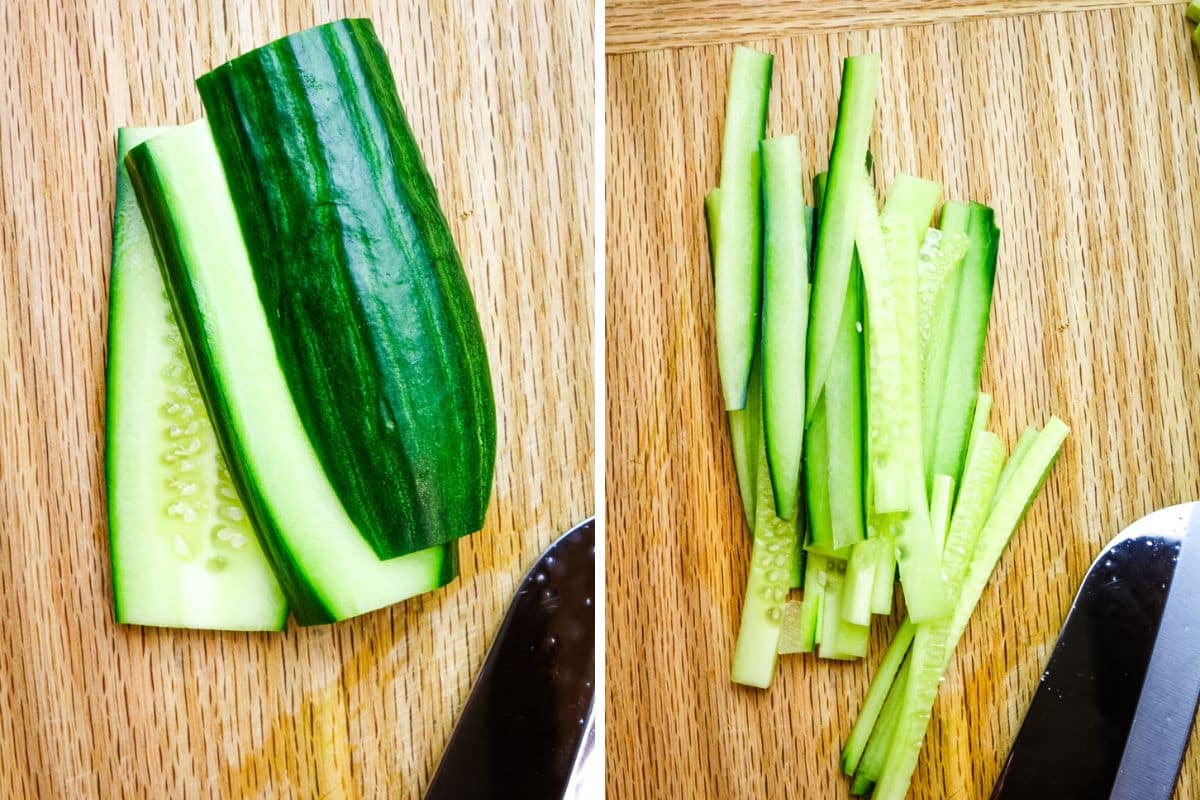 Trim both ends of the cucumber using a sharp knife.
If using a long cucumber such as an English cucumber, cut it in half crosswise to make it easier to handle and cut precisely.
Place it cut side down on the flat base like a cutting board, firmly holding it with your non-dominant hand. Cut the cucumber lengthwise into thin, even planks.
Line up the planks and cut them into thin, long strips, creating julienne sticks.
Try julienned cucumber in these recipes:  
How to Cut a Cucumber for Sushi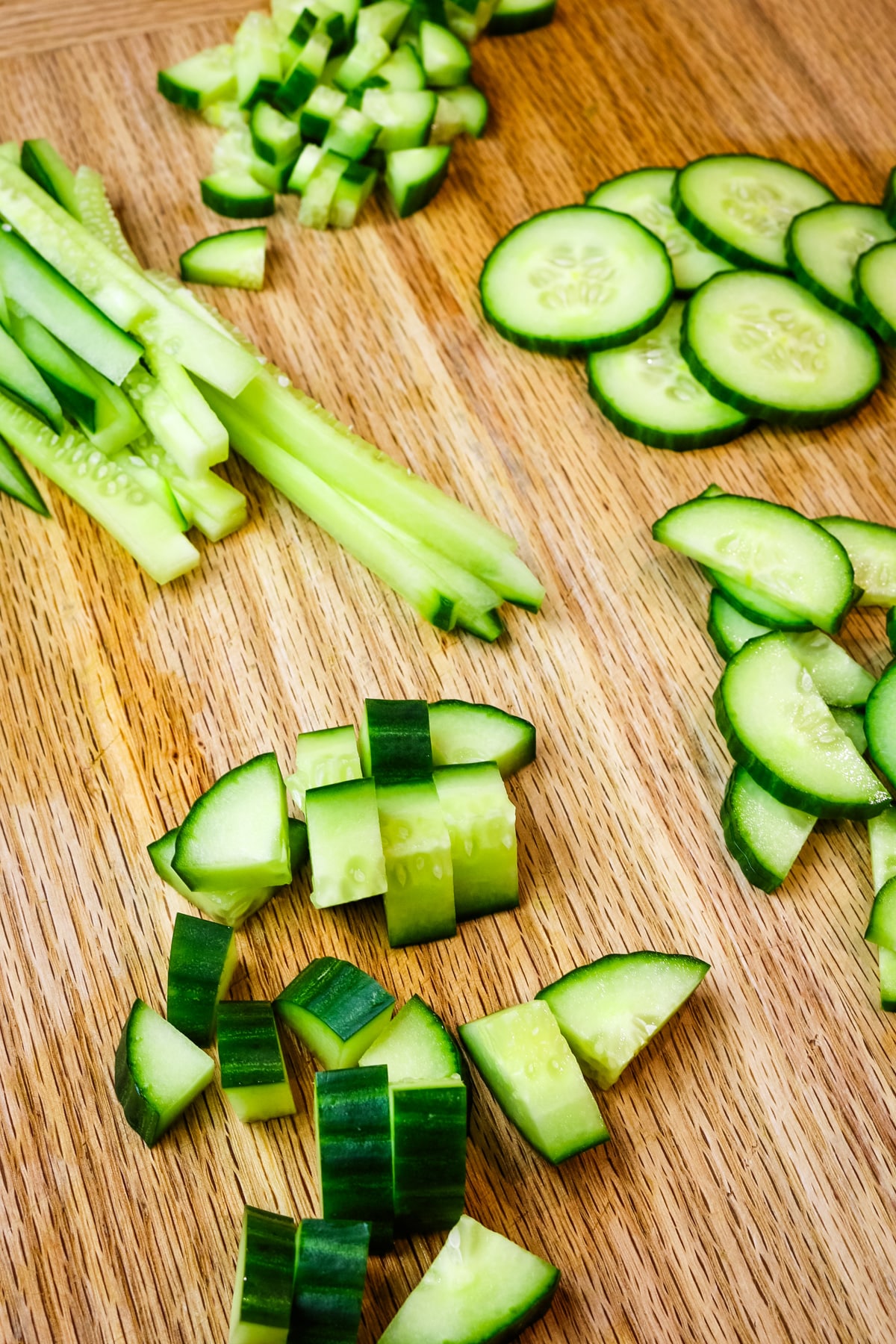 Trim the ends and peel the cucumber with a paring knife or a vegetable peeler, if desired to create a smoother texture.
Cut the cucumber into thin strips using the julienne method above for sushi rolls or regular cut cucumbers like a half moon or rounds for sushi or poke bowls.
Try these cucumber pieces in these recipes:  
How to Store Cut Cucumber
To keep cut cucumber fresh, store it in an airtight container like glass snapware in the refrigerator. You can also keep cucumber sticks vertically stacked in a wide-mouth pint-size mason jar.
If properly stored, cut cucumber can last for up to 6 days in the fridge.
Helpful Tips
Use proper tools: Use a sharp knife to cut cucumbers for clean, precise cuts and a sturdy large wooden cutting board.
Uniform cuts: A mandoline slicer can be handy for uniform and thin cucumber slices. It allows you to adjust the thickness and ensure consistent cuts.
Make it fancy: Use a vegetable peeler to create ribbons or decorative shapes on the skin of the cucumber. Or use a spiralizer to create cucumber noodles or spiral cuts.
Remove bitterness: Cut the ends and peel the skin if the cucumber is bitter.
Consider the cucumber: If you have cucumbers with thick skin, consider peeling it to make them more tender. English and Persian cucumbers have delicate skin, so peeling them is unnecessary.
Deseed large cucumbers: Scoop out seeds if they are large and unappealing. Otherwise, I would keep them in as they are a source of nutrition.
Reduce moisture: Cucumbers have high water content. To reduce moisture in recipes from cucumber, you can remove the seeds. Or gently toss the cucumbers with salt and let them sit for 15 minutes to draw out moisture. Pat dry with a paper towel.
💭Make it Nutrient-Dense: If your cucumbers are not organic, consider peeling them to help prevent pesticide exposure.
Tools & Links
Below are some affiliate links that may be helpful to you as you cut cucumbers for various purposes. You can find some of these items cheaper at your local store, but having a link helps you know what you're looking for.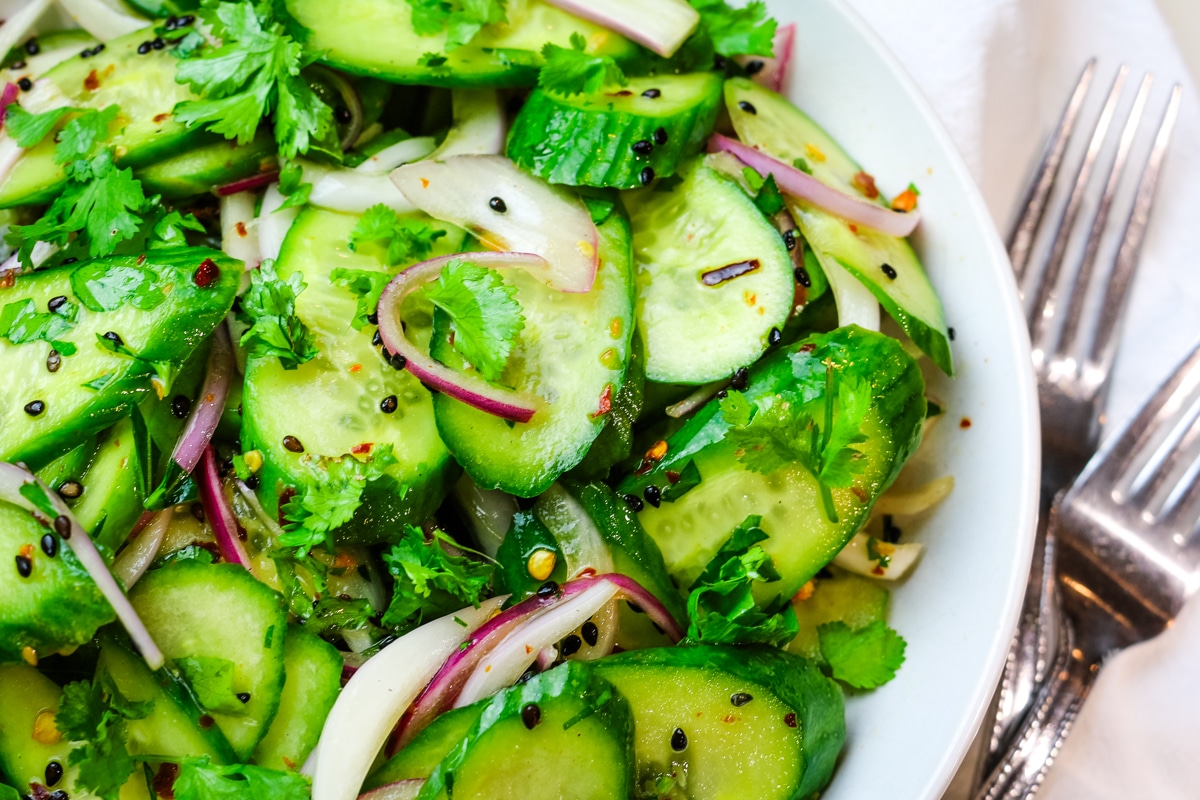 FAQs
Should I peel the cucumbers?
You can leave the skin on when cutting cucumbers. The peel is incredibly nutritious, rich in fiber, vitamins, and minerals. It also enhances the texture and appearance of salads, wraps, and bowls, providing a visually appealing and refreshing element to your meals. Just make sure to wash the cucumber thoroughly before cutting.
How do you keep cucumbers crisp after slicing?
To keep sliced cucumbers crisp, pat them dry after slicing, store them in an airtight container with a paper towel to absorb moisture, and refrigerate immediately. Minimize opening the container too often to avoid moisture buildup. Enjoy the fresh and crunchy cucumbers within a few days for the best texture.
Does rubbing the ends of a cucumber make it less bitter?
Yes, rubbing the ends of a cucumber can help make it less bitter. The bitter taste in cucumbers often comes from compounds found in the stem ends. By cutting off a small portion of the stem end and gently rubbing the cut end against the cucumber's flesh in a circular motion, you can reduce the bitterness and enhance the overall taste of the cucumber.
Looking for more related how-tos? Here are some ideas: