This Cabbage and Cucumber Salad is a refreshing, healthy, and delicious addition to your meal. Made with just a handful of ingredients, it's naturally paleo, low carb, and Whole 30.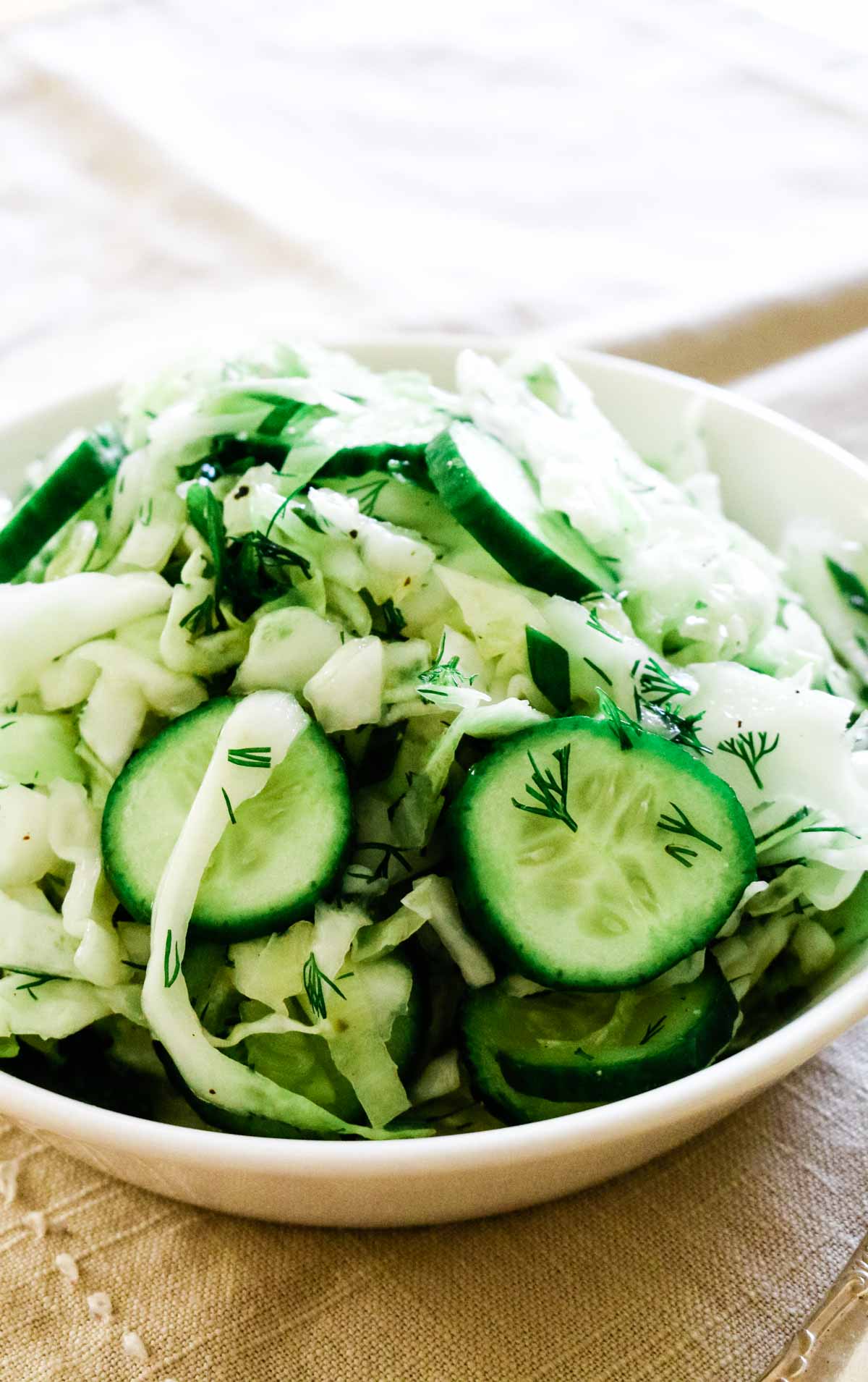 With only 5 ingredients, this Cabbage Cucumber Salad graces our kitchen table regularly. It goes well with most meals, but our favorites are the Instant Pot Ribs and Sheet Pan Sausage and Peppers.
Cabbage and Cucumber Salad
Cabbage is a prominent part of many European cuisines and can be prepared in a variety of ways. It can be pickled, fermented, steamed, stewed, braised, and even eaten raw, as in this salad.
This salad is naturally paleo, low-carb, and Whole 30. It's light with a refreshing crunch.
It makes a great salad for parties as it does not wilt easily and is a sure crowd-pleaser!
Cucumber and Cabbage Salad - great for parties!
This salad is a great choice for big parties as it holds up really well when prepared in large amounts.
Because it does not contain any cream-based ingredients like sour cream or mayonnaise, it's also great during summer months. Therefore, it's a great option for BBQs, graduation celebrations, and pool parties.
You can even prepare all the ingredients together, except for the seasonings and wet ingredients and store it in the refrigerator for 2 days leading up to the party. Then add salt and pepper, lemon juice and oil just before serving.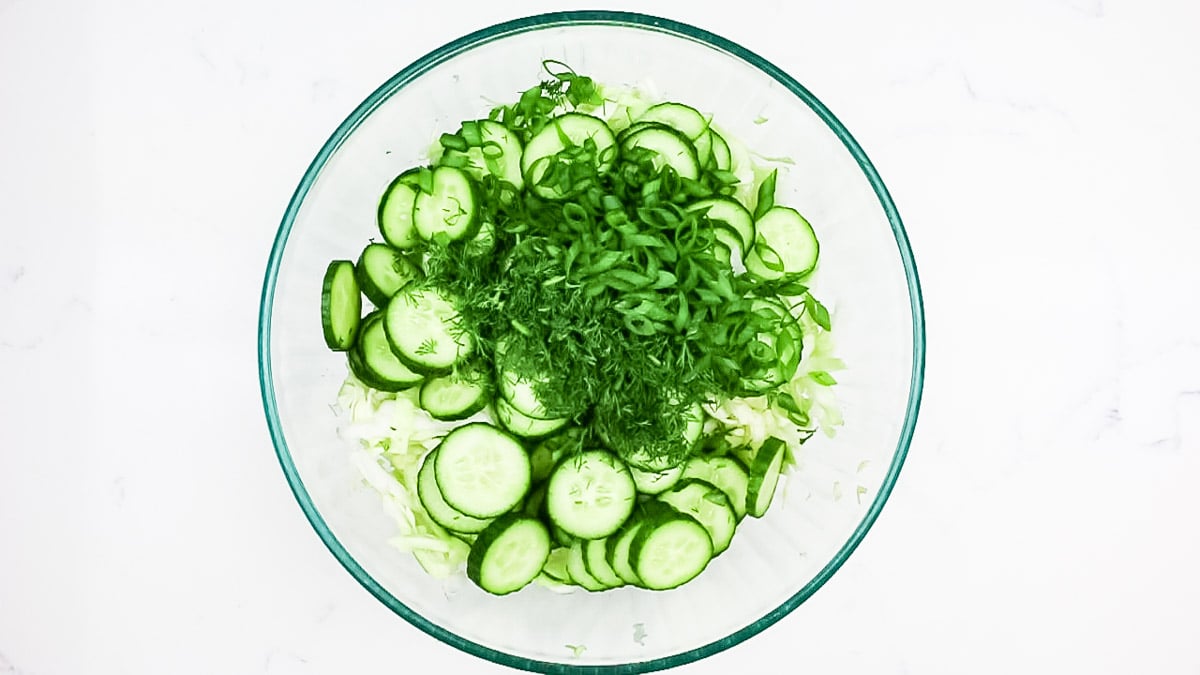 Salad Made of Cabbage
Salad made of cabbage is called coleslaw. Slaw (without the cole) can feature any crunchy vegetable in lieu of cabbage, including broccoli, carrots, and jicama.
Using those distinctions, it's appropriate to say that this is Cabbage and Cucumber Slaw (not coleslaw) because we are primarily using two main vegetables. So call it slaw or salad, it's essentially the same thing in this particular case.
It's a shredded cabbage recipe that all will enjoy!
Cabbage and Cucumber Salad benefits
If you don't regularly prepare cabbage, this may win you over. Cabbage has so many benefits that it would be wrong to not use it on a regular basis. Check out all the positives that this humble brassica vegetable offers:
Versatility of cabbage. It is the main ingredient in lacto-fermented sauerkraut and the finishing touch to Russian beet borsch. It can be stuffed with meat and rice to make Healthy Classic Stuffed Cabbage Leaves and also baked in a one-pan dish in this Keto Chicken Cabbage Casserole.
Cabbage is cheap. It's a very cost efficient vegetable and happens to be on the Clean 15 list so no need to stress over affordable organic cabbage. A head of cabbage will cost you a few dollars and can be stretched for several recipes.
What's even better is that cabbage has an extended shelf life and can last weeks in the refrigerator without spoiling. Unlike romaine or other lettuces which generally has to be consumed within days of purchase, cabbages last much longer. Just peel back any outer leaves that have wilted or browned and use the rest of the cabbage as desired.
Cabbage is delicious. This is subjective but depending on how it's prepared and seasoned, cabbage is quite delicious. When cooked, cabbage has a very mild flavor and can be used as a "filler" vegetable. We can add more veggies to a dish without drastically changing the flavor when we add cabbage.
Cabbage has health benefits as well but that deserves it's own recognition below.
Given all of those claims, it's safe to say cabbage is a unicorn of vegetables.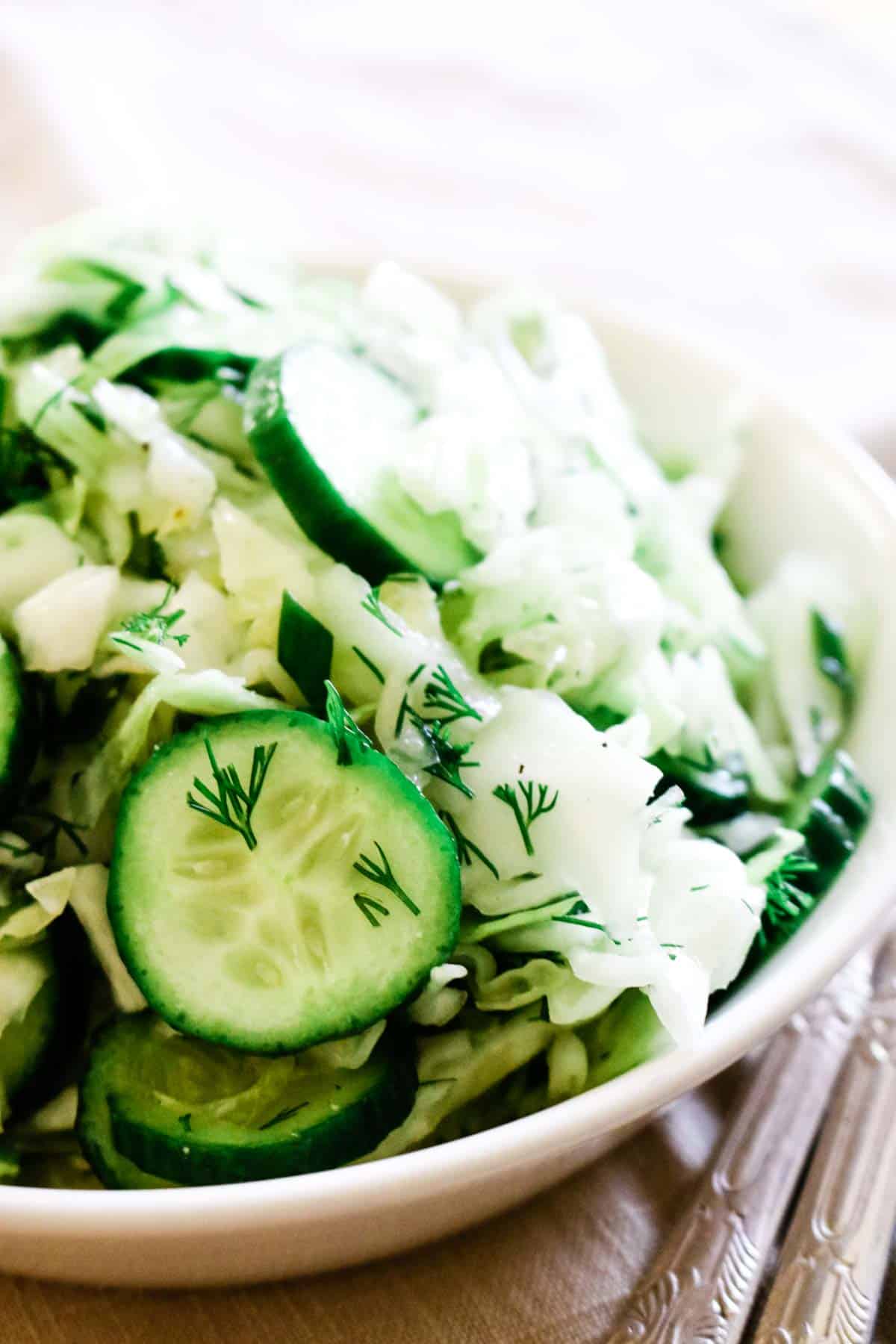 Is raw cabbage healthy?
Cabbage has the fewest calories and fat than any other vegetable. It is a great source of vitamins C, K, dietary fiber and other nutrients. The carbs in cabbage is quite low making it naturally low-carb with only 4 grams of carbohydrates in one cup of shredded cabbage.
No wonder this brassica vegetable has become a regular staple in low carb and keto diets recently.
However it's also worth mentioning that because cabbage is a cruciferous vegetable, when in raw form, it contains goitrogens.
Goitrogens are substances in certain foods that suppress the thyroid gland by interfering with the thyroid hormone production, thus resulting in enlargement of the thyroid known as goiter.
In the ancestral and pro-metabolical wellness circles, it's generally advised to cook or ferment cruciferous vegetables like in sauerkraut to support the health of the gut and thyroid gland.
Unless you're consuming all your cabbage in raw form, I find no problem having this salad as part of a meal with a good source of protein and healthy fats. As with everything else, moderation and good balance is key and I personally don't lean on extremes on either end of the spectrum.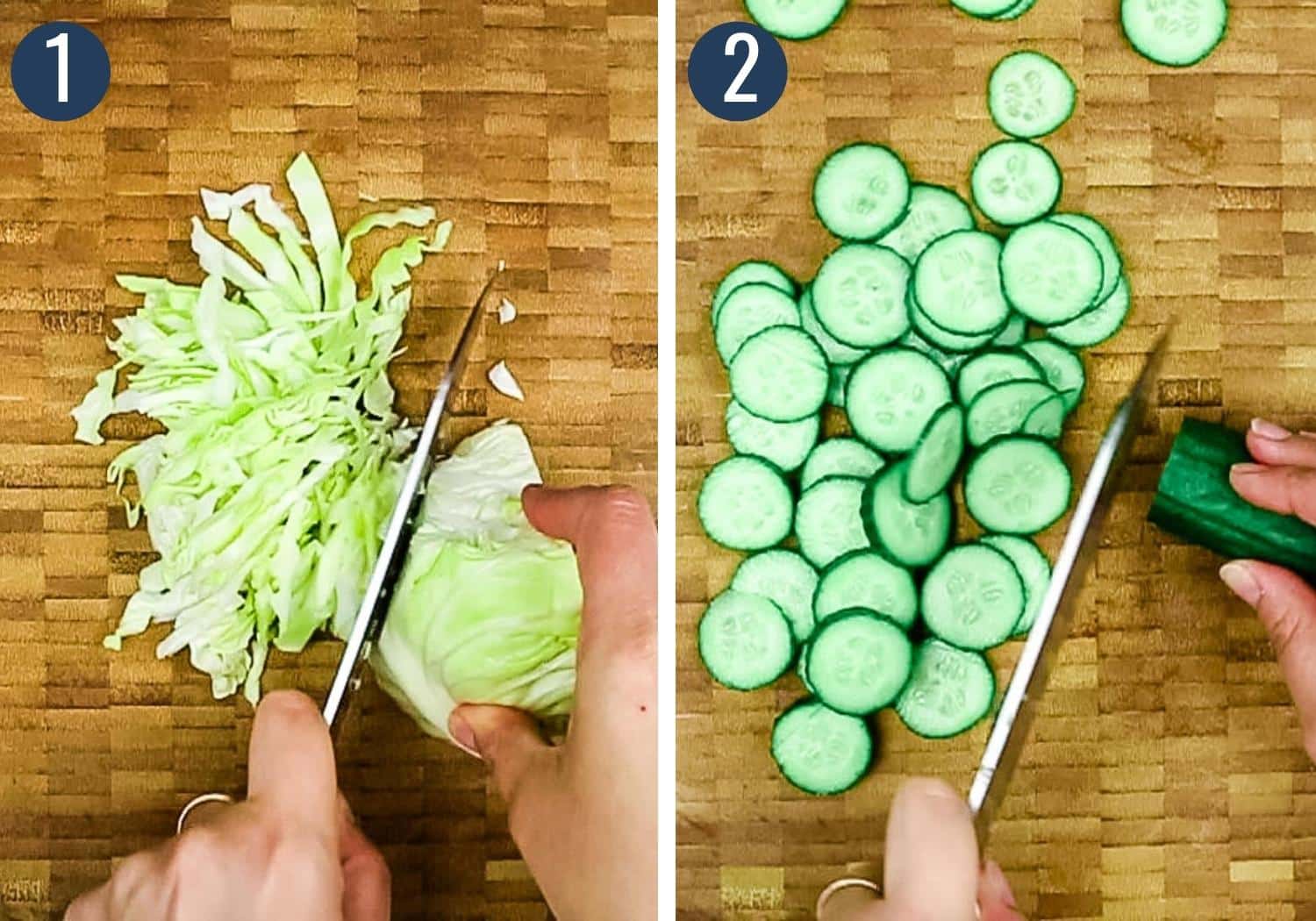 How to Make Cabbage Cucumber Salad
The complete printable recipe is below in the recipe card for your convenience.
This salad (or slaw) consists of 5 simple ingredients and 4 super easy steps.
Cabbage: half of cabbage head, shredded or thinly sliced
Cucumbers: either 2 Persian cucumbers sliced in discs or one English cucumber, sliced in half moons
Fresh dill: fresh is always best for it's pungent and refreshing scent
Green onions: this is best fresh too!
Seasonings and dressing: salt and pepper and your choice of oil and a squeeze of lemon (or apple cider vinegar will do) is all that is needed to complete this salad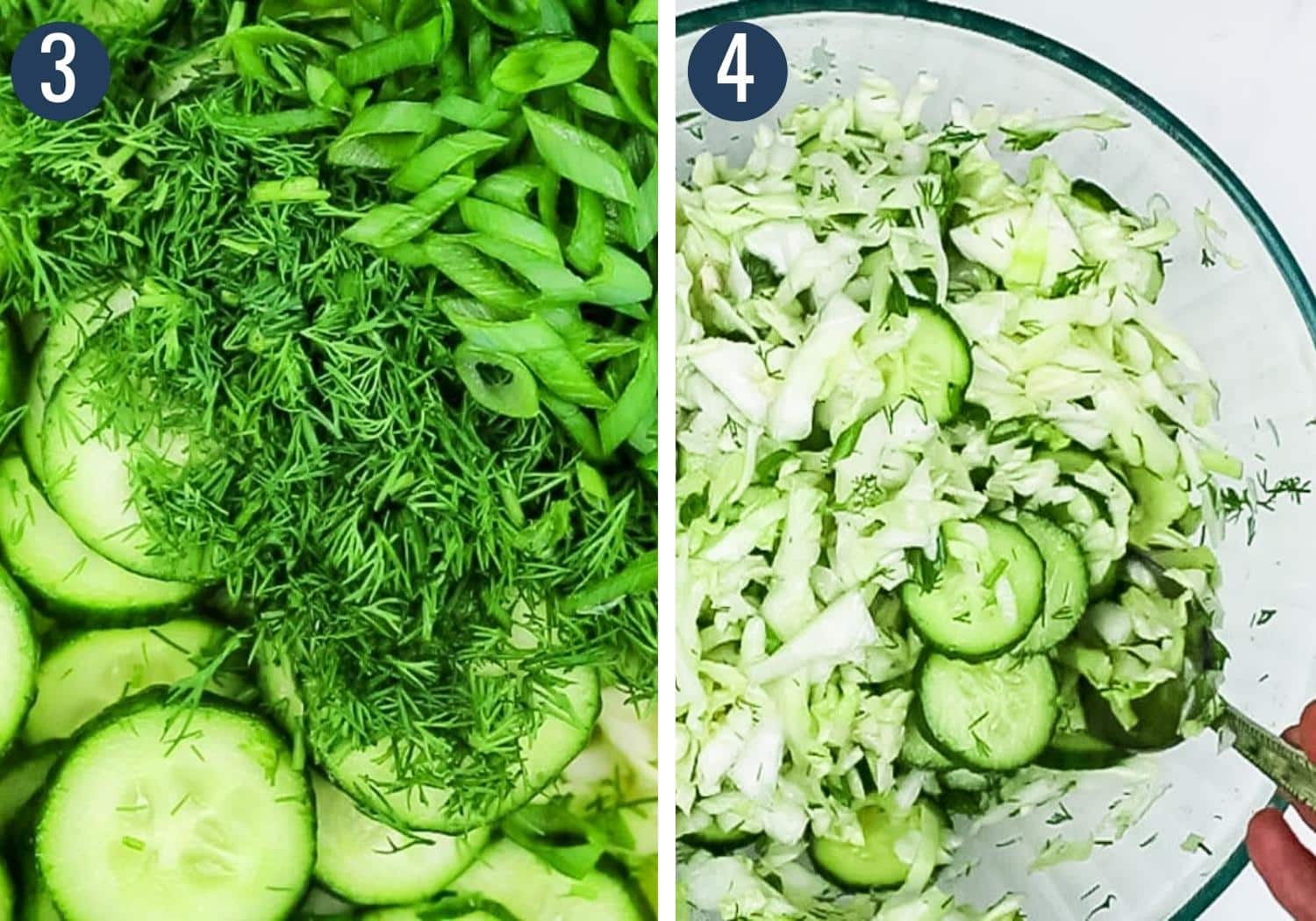 Combine these simple ingredients together for a refreshing and healthy salad. This salad is so simple that I find it's unnecessary combine the dressing separately. You can add the lemon juice, oil, and salt and pepper directly into the salad and combine to mix well.
See my web story on how to make this Cabbage Cucumber Salad.
Frequently Asked Questions and Tips
What is the best way to shred cabbage?
This shredded cabbage salad is so simple. It's best to thinly slice cabbage to create lots of surface area of the cabbage strips.

You can easily "shred" cabbage with a mandolin slicer or food processor and the fine ribbons of cabbage give a more delicate texture to this salad. Or skip the kitchen helps and just chop as finely as you can.
Can you use prepackaged coleslaw mix?
In short, yes. It will not, however, produce the best results. It's not ideal because the flavor and texture wont the same, but it does work in a pinch.

For best results, use a fresh head of cabbage and shred/slice yourself. You won't regret the extra effort! If prepacked coleslaw is all you got the energy or time for - use that with no regrets!
Can I make this for a large party?
Yes, this salad is great for a large gathering. Feel free to double or triple the recipe.

You can prep all the fresh ingredients up to 2 days in advance of the big day and store in a sealed container. Toss with seasonings and dressing just before the party.
How to best store Cabbage Salad leftovers?
Simply transfer whatever leftovers you have to an airtight container and store in the refrigerator for up to 3 days.

Unlike many lettuce salads (like Caesar Salad), this cabbage salad has a long shelf life when properly stored in the refrigerator.  In fact, some prefer making this ahead of time to allow the flavors to meld together and cabbage to soften a bit.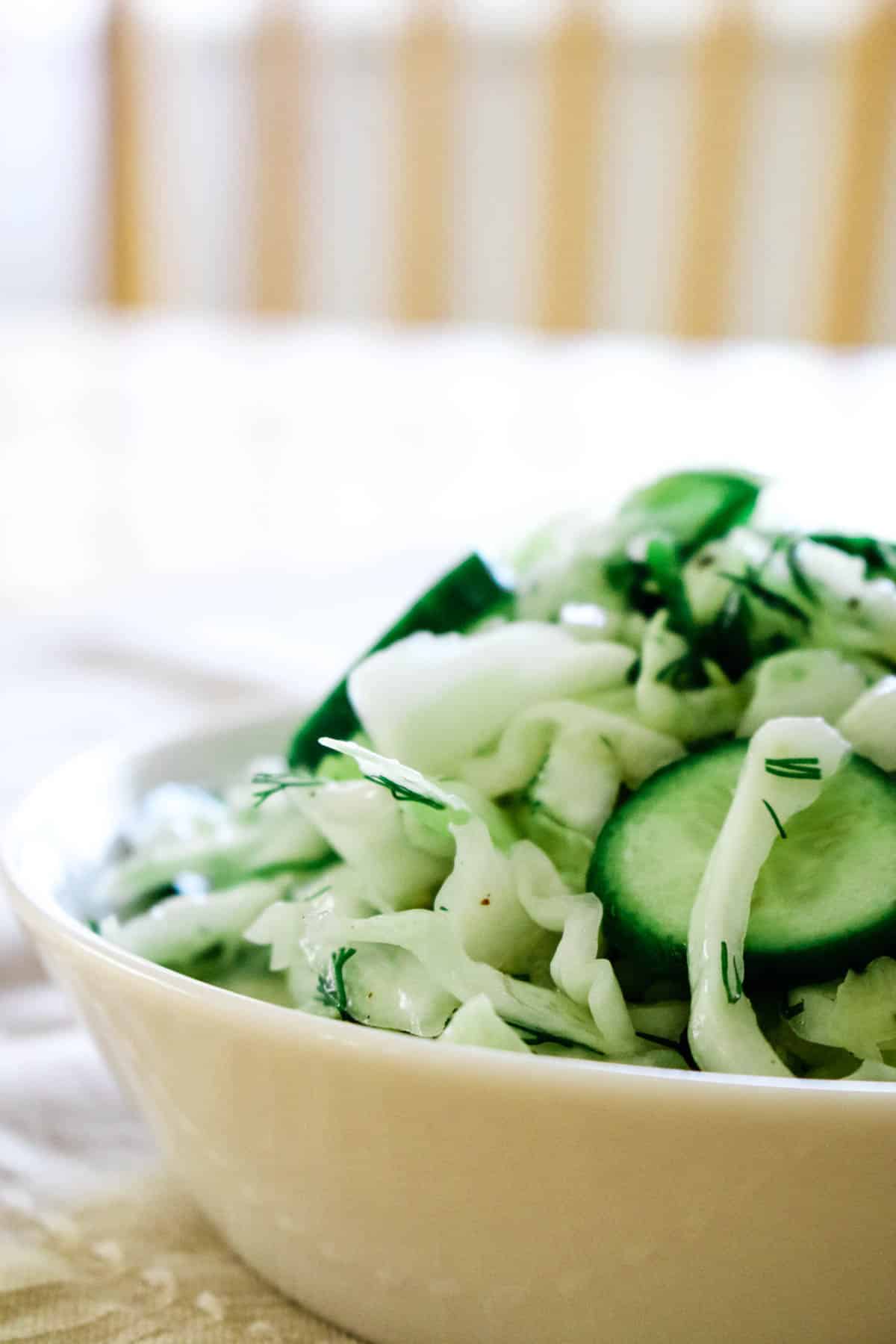 Entrees and Salad Recipes with Cabbage
Looking for more recipes with cabbage? Check these out:
Did you make this? Please leave a ⭐ recipe rating in the recipe card below and leave a review in the comments. Thank you!💚
Printable Recipe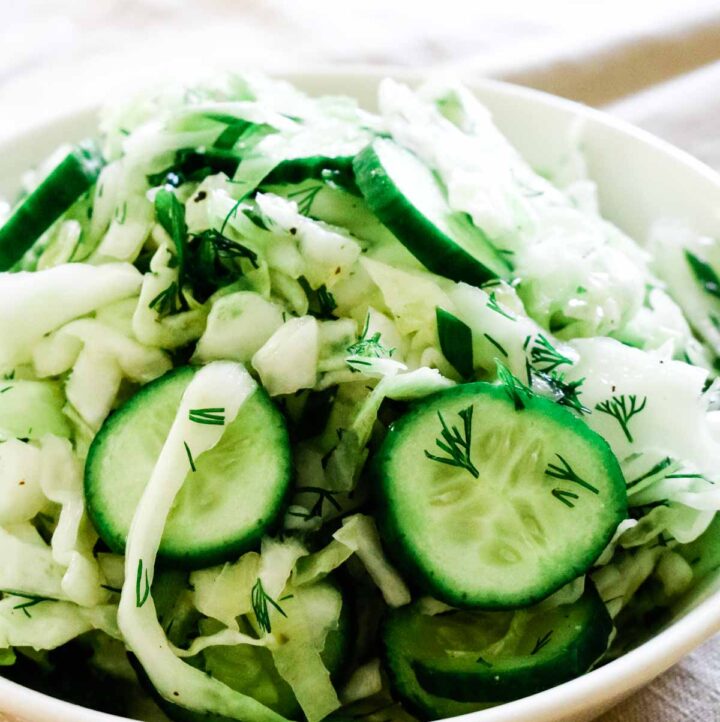 Cabbage Cucumber Salad (Low Carb)
This Cabbage and Cucumber Salad is a refreshing, healthy, and delicious addition to your meal. Made with just a handful of ingredients, it's naturally paleo, low carb, and Whole 30.
Ingredients
4

cups

raw green cabbage

shredded or sliced

2

cups

cucumbers (2 Persian cucumbers or 1 English cucumber)

sliced into discs

2

tablespoons

fresh dill

chopped

2

tablespoons

green onions

chopped

1 ½

teaspoons

sea salt

2

tablespoons

lemon juice

3

tablespoons

extra virgin olive oil or avocado oil
Notes
To shred cabbage: If using whole head of cabbage, d

iscard soft outer leaves of the cabbage. Cut through the cabbage in half and cut again in half, making quarters. On the diagonal, cut the cabbage core and discard. Proceed with recipe.
To make in advance: prepare all ingredients except for seasonings and dressing. Store in an airtight container in the refrigerator for up to 3 days. Toss with salt, pepper, lemon juice, and oil just before serving.
To store leftovers: transfer leftovers in an airtight container and store in the refrigerator for up to 2 days.
Nutrition
Calories:
71
kcal
|
Carbohydrates:
5
g
|
Protein:
1
g
|
Fat:
5
g
|
Saturated Fat:
1
g
|
Sodium:
593
mg
|
Potassium:
207
mg
|
Fiber:
2
g
|
Sugar:
3
g
|
Vitamin A:
133
IU
|
Vitamin C:
25
mg
|
Calcium:
35
mg
|
Iron:
1
mg
Nutrition Information
The information shown is an estimate provided for your convenience by an online calculator. It should not be considered as a substitute for a professional nutritionist's advice. See our complete Nutritional Information Disclaimer.
©Prepare and Nourish • Content and photographs are copyright protected. Sharing of this recipe is encouraged and appreciated but please do NOT screenshot or copy/paste complete recipes to websites or social media.
This post was originally published in May 2017 but has since been updated to include helpful information.