These Lazy Cabbage Rolls are packed with all the traditional flavors of cabbage rolls but without the rolling part. It's protein-rich, grain-free, and packed with veggies like carrots, tomatoes, cabbage, and cauliflower.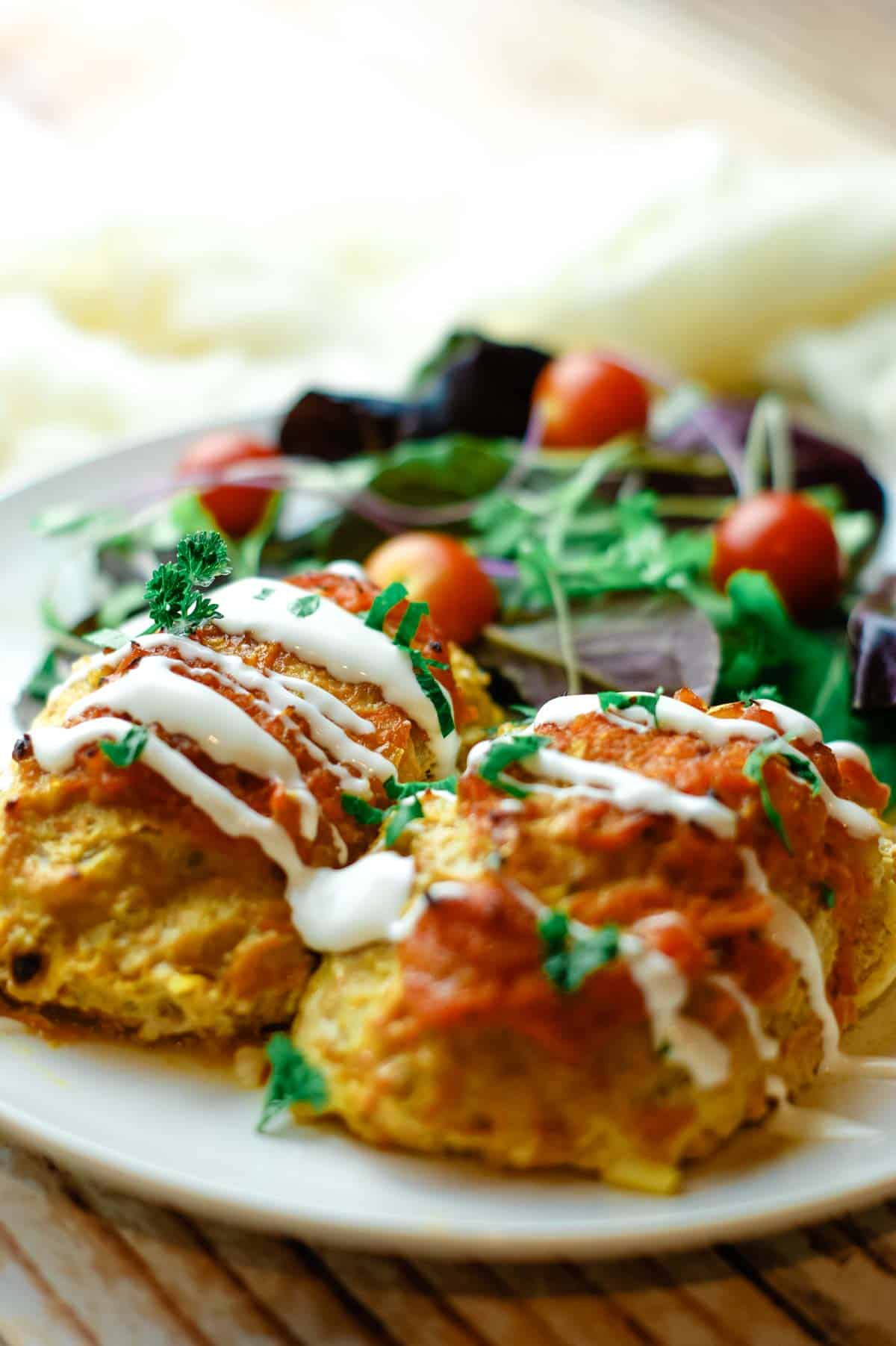 If you love traditional Stuffed Cabbage Rolls but hate the rolling part, you're in the right place.
These Lazy Cabbage Rolls boast all the classic flavors of this comfort food but without the prep and effort that is needed for the stuffed version.
If you want the traditional stuffed rolls - you can find that here with lots of time-saving tips and tricks. But if you are looking for an an easier and deconstructed version of Stuffed Cabbage Rolls, keep reading.
What are Lazy Cabbage Rolls?
Lazy Cabbage Rolls are also known as deconstructed and unstuffed cabbage rolls. There are various recipes online for this comfort food. Everything from Lazy Cabbage Rolls Casserole to slow cooker version.
I prefer to form these unstuffed cabbage rolls into similar shape that a traditional Stuffed Cabbage Roll would take. I also take any opportunity to add more vegetables to my meals and subbing cauliflower rice for regular rice seems like a sensible option.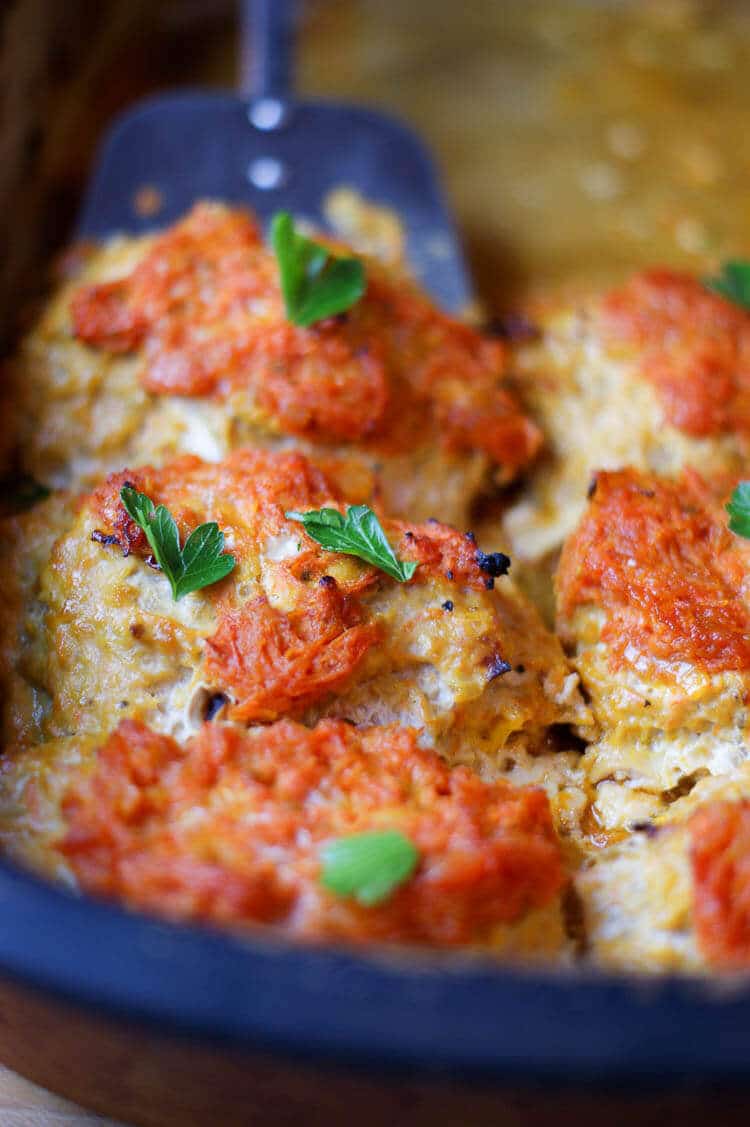 Low Carb & Paleo Cabbage Rolls
Traditionally, cabbage rolls are made with rice and that can be a healthy option too, especially if rice is soaked and cooked in bone broth. You can find read more about how to cook perfect rice in Instant Pot here.
However, if you wanted to skip the rice and make this low carb or paleo, this is an easy dish to do that! Swap out the rice for riced cauliflower to add more veggies and lower the carb count.
Helpful Tip: Sub riced cauliflower for white rice to make these Lazy Cabbage Rolls low carb and paleo. 
What are the ingredients in Lazy Cabbage Rolls?
The ingredients in Lazy Cabbage Rolls are very similar to those of traditionally prepared Stuffed Cabbage Rolls.
healthy cooking fat like butter, ghee, avocado oil, tallow
yellow onion
carrots
tomato sauce
green cabbage
riced cauliflower (or cooked rice)
ground meat
eggs
seasonings like unrefined salt, garlic powder, and black pepper
Make it Nutrient-Dense: Consider adding a few tablespoons of ground beef or chicken liver to your meat mixture for extra nutrition. 
Suggested Substitutions and Variations
This Lazy Cabbage Rolls recipe can easily be adjusted to fit your dietary needs.
Out of tomato sauce? You may sub tomato soup or dissolve a few tablespoons of tomato paste with warm water, using a 1:2 ratio.
As mentioned above, feel free to use white rice for riced cauliflower for a more traditional flare.
Ground meat can be any mixture of ground turkey, chicken, beef, or pork. For additional nutrition, replace a few tablespoons of ground meat with ground liver or other organ meat.
Traditionally prepared cabbage rolls call for fresh green cabbage, but you can easily use sauerkraut instead. This will produce very delicious, flavorful, and tangy cabbage rolls.
To garnish these Lazy Cabbage Rolls, crème fraîche, sour cream, or yogurt are all great choices.
Did you know? Crème fraîche is a fresh heavy cream that sours and thickens at room temperature. It's rich and tangy and perfect drizzled over Lazy Cabbage Rolls.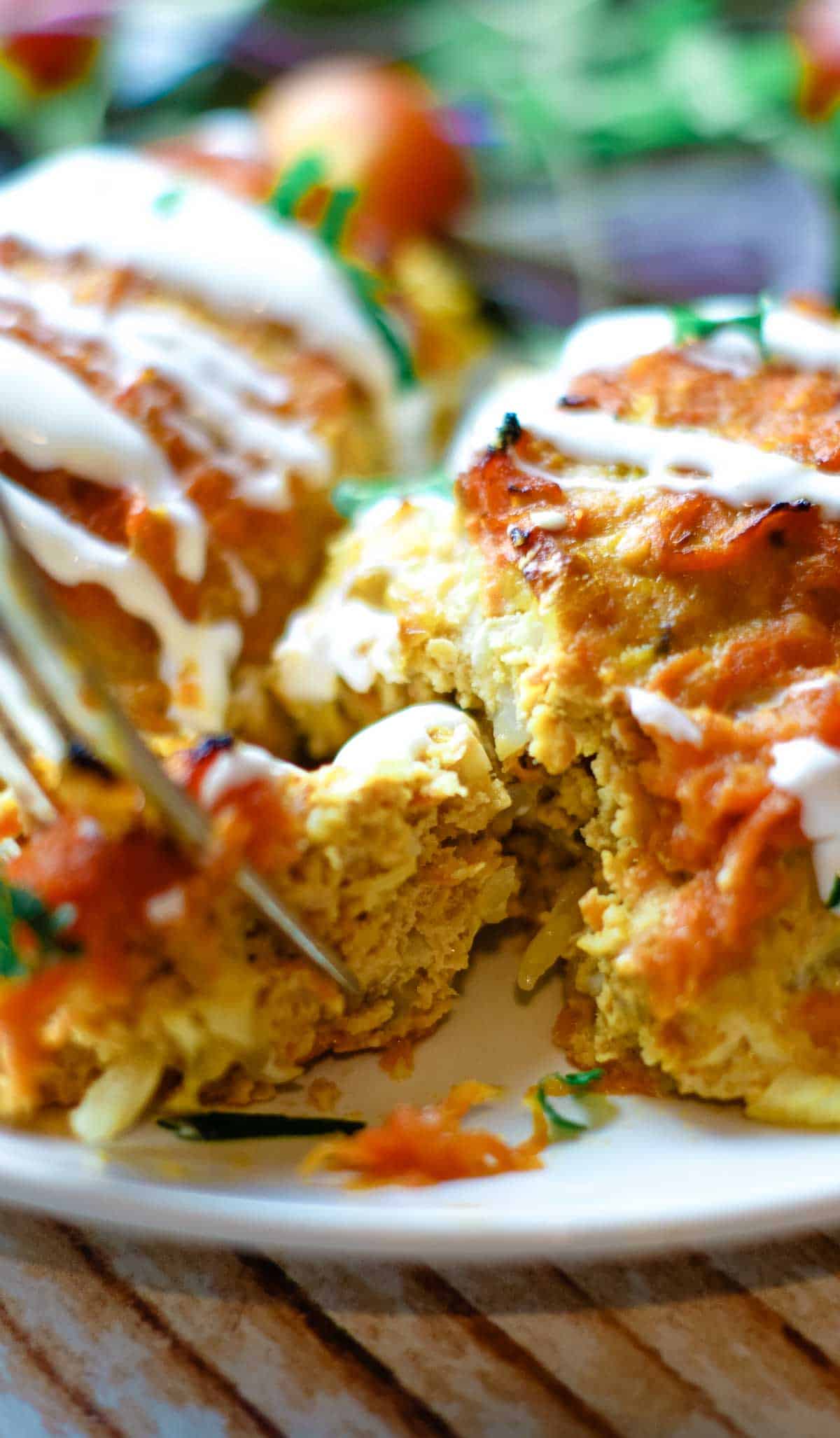 Frequently Asked Questions & Tips
Can you freeze Lazy Cabbage Rolls?
This is a great meal to double and feed the freezer for a future mea. The best way to freeze it is in a deep casserole dish. Raw or cooked freezes either way, but cooked will produce better texture once thawed and reheated. Lazy Cabbage Rolls can be frozen for up to 2 months.
What to serve with Lazy Cabbage Rolls?
Because Cabbage Rolls are usually loaded with lots of flavor and vegetables, we prefer to just have a simple side salad and some crusty bread. Traditionally, cabbage rolls are always enjoyed with a drizzle of some good quality sour cream.
Which cabbage is best for Lazy Cabbage Rolls?
The star ingredients of the Lazy Cabbage Rolls is undoubtedly the cabbage, but which kind? The basic and humble green cabbage is the preferred choice for Lazy Cabbage Rolls. It's readily available and inexpensive making it a great option.

Some recipes call for sauerkraut which adds great flavor. If you're adding sauerkraut for the health benefits, you may be disappointed to learn that the heat in baking will likely destroy the raw enzymes and digestive benefits.
Make-Ahead Tips
This recipe flows a lot quicker than the traditional Stuffed Cabbage Rolls. Hands on prep time takes about 30 minutes then the oven does the rest.
Additionally, you can make this recipe ahead of time and keep it in the refrigerator in a baking dish until ready to bake. Just remember to pull it out the refrigerator and have it come to room temperature on counter for 30 minutes.
However, you can still break this recipe down to make it in stages and have those components ready to assemble.
If using white rice and you don't have leftover rice, you can make it up to 4 days in advance.
Make the vegetable sauce earlier in the week and store in the refrigerator.
Shred the cabbage or use bagged shredded cabbage to save time.
How to make Lazy Cabbage Rolls
The complete printable recipe is below in the recipe card for your convenience.
This Lazy Cabbage Rolls recipe calls for these ingredients that you will need: cooking fat, yellow onion, carrots, tomato sauce, green cabbage, riced cauliflower, blend of ground meat, eggs, garlic powder, and salt & pepper.
Step 1. Make the vegetable sauce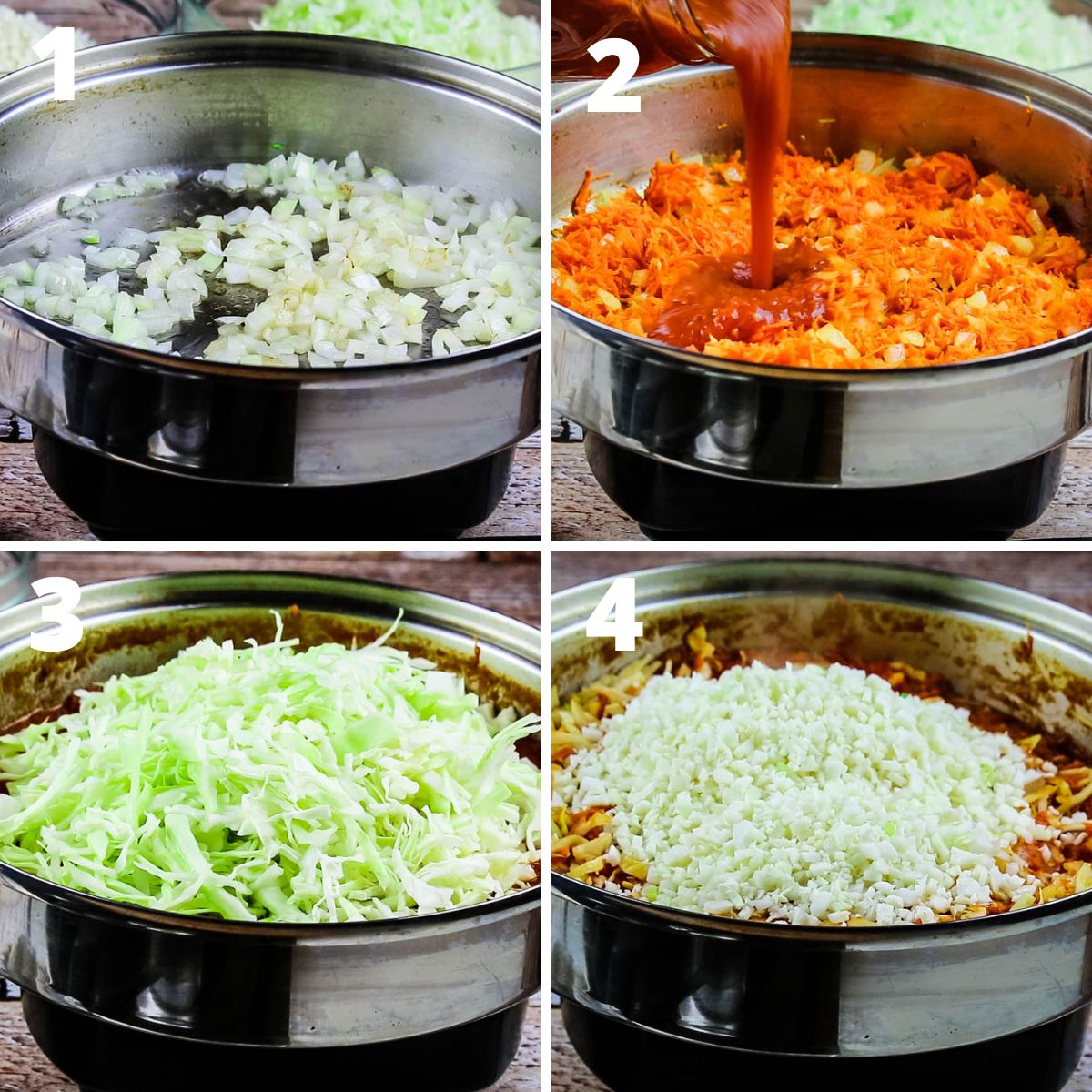 In a large skillet, heat your healthy cooking fat of choice (butter, ghee, lard, or tallow are all great options). Saute diced yellow onions until soft and translucent. This will take approximately 5 minutes.
Add shredded carrots and tomato sauce and continue to cook for 10 more minutes on medium-low heat or until softened and cooked through and sauce has thickened.
Reserve half of this vegetable mixture for use later.
To the remaining sauce in the pan, add shredded cabbage and cook for 4 minutes on medium-low heat, just enough to soften and release juices. Add riced cauliflower and cook for 2 more minutes. Take off heat and allow to cool.
Step 2. Assembling the rolls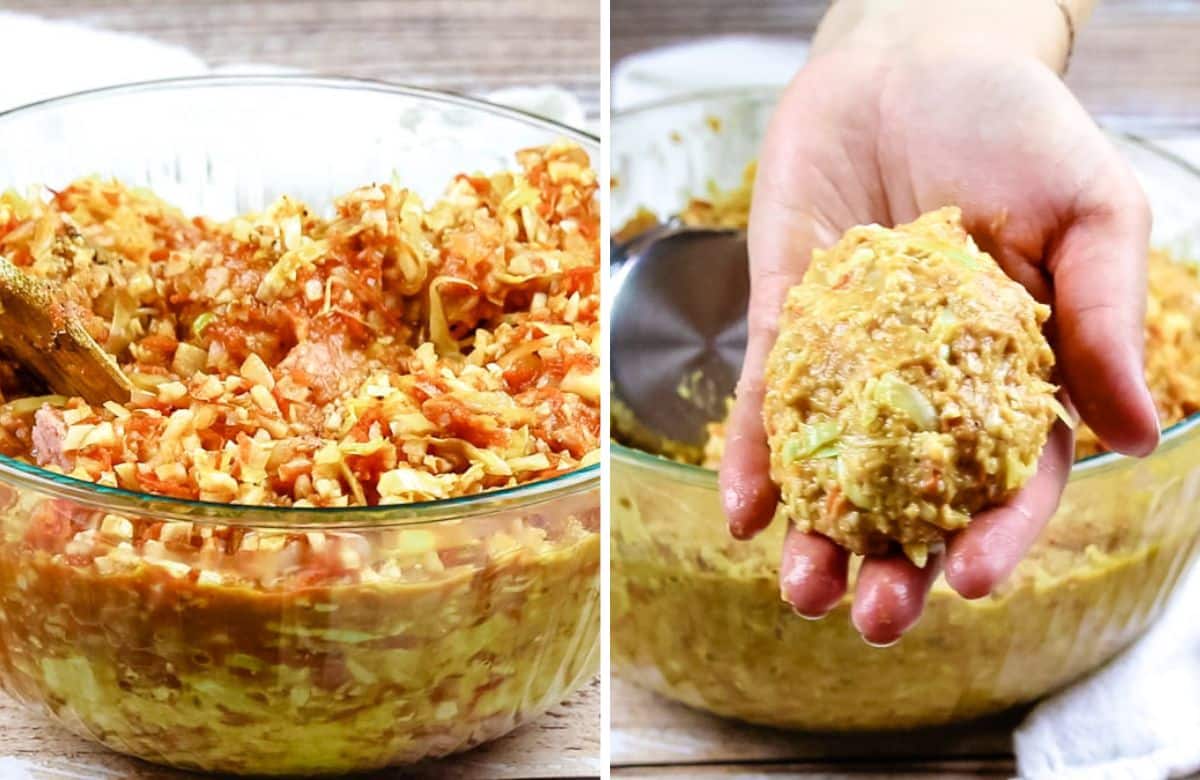 In a large mixing bowl, combine your ground meats, sauteed vegetable sauce, eggs, garlic powder, salt and pepper. Be careful not to overmix as the meat tends to get dry.
Scoop approximately ½ - ¾ cup of the meat and vegetable mixture and form into oblong meatballs.
In a casserole or baking dish, spread half of the remaining vegetable sauce on the bottom and place these formed Lazy Cabbage Rolls directly on the sauce.
Spread the remaining vegetable sauce evenly over the cabbage rolls.
Step 3: Bake!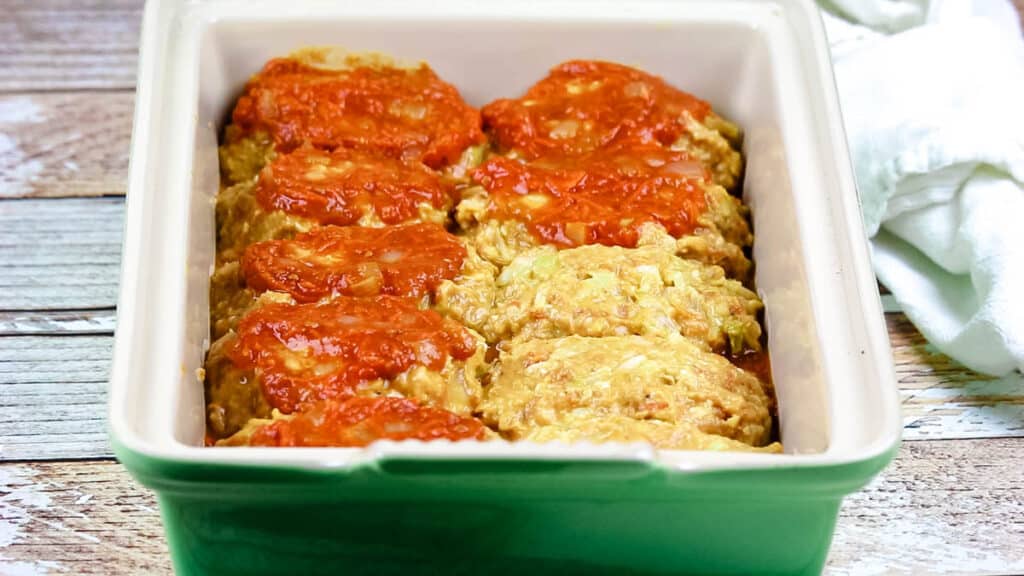 Cover the cabbage rolls tightly. Bake for 45 minutes in a preheated 425 degrees Fahrenheit oven. Remove the cover and broil for 5-10 minutes to reduce excess liquid and brown the tops.
When done baking, remove cabbage rolls from oven and allow to rest for 10 minutes for all the juices to settle in the baking dish.
Helpful Tip: If using foil to cover the Lazy Cabbage Rolls, use a parchment paper to create a barrier between the food and aluminum foil.
Helpful Tools & Links
Below are some links that may be helpful to you as you make this recipe. You can find some of these items cheaper at a local store but it helps to have a link so you know what you're looking for.
How to eat Lazy Cabbage Rolls?
Enjoy this easy meal with a dollop of sour cream and fresh parsley.
Make it a meal! The beauty of these cabbage rolls is that they are loaded with nutrition - hearty ground meats and seasonal vegetables, these rolls are everything rolled into one.
But if you wanted to add a simple salad, consider these options:
Or an easy pan fried side dish like these Buttery Green Beans with Garlic and Lemon.
Also, check out this post - What to Serve with Cabbage Rolls - Incredible Side Dishes to Try!
Did you make this? Please leave a ⭐ recipe rating in the recipe card below and leave a review in the comments. Thank you!💚
Printable Recipe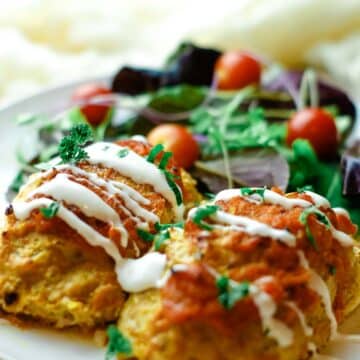 Lazy Cabbage Rolls
These Lazy Cabbage Rolls are packed with all the traditional flavors of cabbage rolls but without the rolling part.
Ingredients
2

tablespoons

butter

1

cup

yellow onion, diced

approximately 1 medium onion

1

cup

carrots, finely shredded

approximately 2 medium carrots

3

cups

tomato sauce

4

cups

green cabbage, shredded

approximately ½ head of medium cabbage

2

cups

cauliflower rice

1 ½

pounds

ground meat

any blend of turkey, chicken, pork, beef

2

eggs, medium

1

teaspoon

unrefined salt

1

teaspoon

garlic powder

½

teaspoon

black pepper
Notes
This recipe makes approximately 12 rolls. Serving size is 2 cabbage rolls.
Nutrition
Calories:
418
kcal
|
Carbohydrates:
17
g
|
Protein:
25
g
|
Fat:
29
g
|
Saturated Fat:
12
g
|
Polyunsaturated Fat:
1
g
|
Monounsaturated Fat:
12
g
|
Trans Fat:
2
g
|
Cholesterol:
145
mg
|
Sodium:
1136
mg
|
Potassium:
1046
mg
|
Fiber:
5
g
|
Sugar:
9
g
|
Vitamin A:
4337
IU
|
Vitamin C:
55
mg
|
Calcium:
92
mg
|
Iron:
4
mg
Nutrition Information
The information shown is an estimate provided for your convenience by an online calculator. It should not be considered as a substitute for a professional nutritionist's advice. See our complete Nutritional Information Disclaimer.
©Prepare and Nourish • Content and photographs are copyright protected. Sharing of this recipe is encouraged and appreciated but please do NOT screenshot or copy/paste complete recipes to websites or social media.
This post was originally published October 2017 but has since been updated to include helpful information.