Stuffed Cabbage Rolls is the ultimate comfort food the whole family will love. Ground meat and rice filling wrapped in cabbage leaves, topped with flavorful tomato sauce and baked to perfection.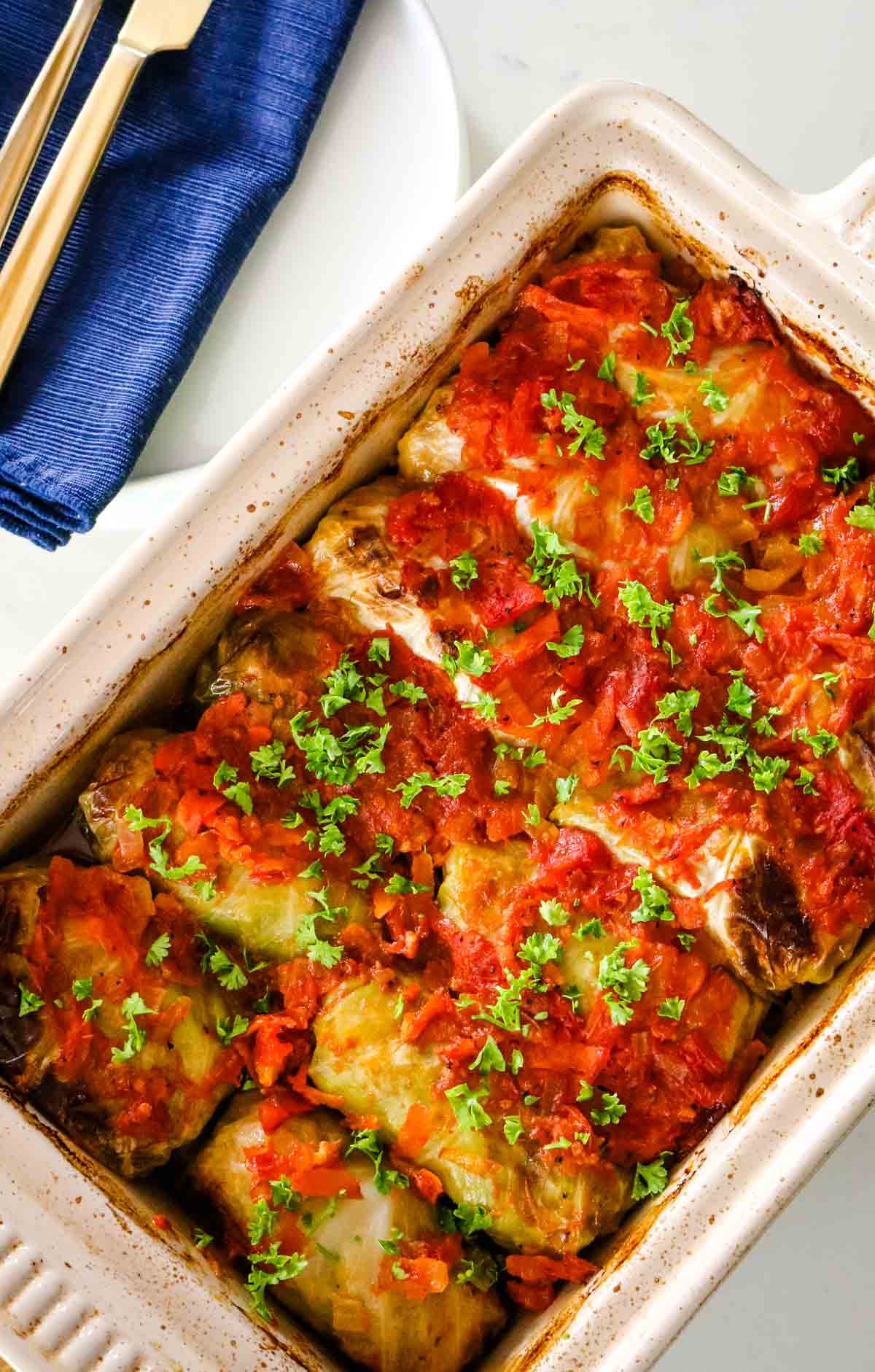 This Stuffed Cabbage Rolls recipe is truly our favorite comfort food. It's a dish that both my husband and I grew up on and now our entire family is very fond of it too. It's fancy enough to be included in your special occasions and yet simple to make that you can whip this up for a weekday meal as well.
What's even better is that this is one of those meals that can be double-batched for a freezer meal later. Feed yourself, feed your freezer! Your future self will thank you.
What are Stuffed Cabbage Rolls?
Stuffed Cabbage Rolls are also called Golabki, Galumpki, or Golubsti depending on what part of the world the recipe originated.
It's mainly an Eastern European dish consisting of cooked cabbage leaves wrapped around a variety of fillings. The fillings are as varied as it's origination but traditionally they contain some sort of minced meat, rice or another grain, and tomato-based sauce.
Russian, Ukrainian, Polish, and Romanian cabbage rolls all share similarities whereas cabbage rolls from Mediterranean countries like Greece and Turkey will have different flavors.
Stuffed Cabbage Rolls are not the same as dolmas. The technique is the same but ingredients are noticeably different. Dolmas use grape leaves in place of cabbage and the filling is vastly different too.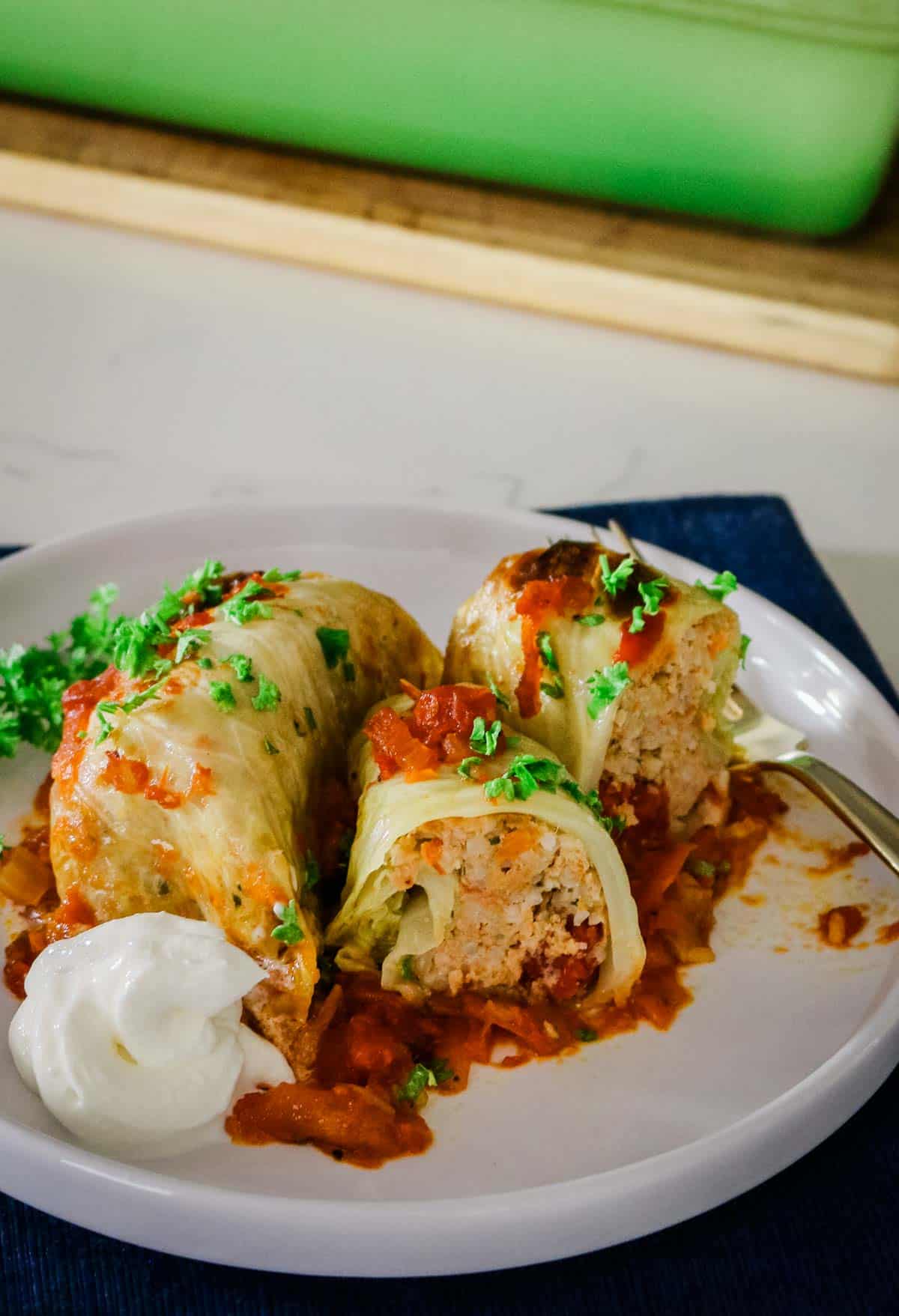 What is in Stuffed Cabbage Rolls?
In the spirit of simplicity, this particular recipe is for Russian or Ukrainian Cabbage Rolls. This is the recipe I grew up on with a few minor tweaks for added flavor.
The filling is a combination of ground meat, cooked rice, tomato-based sauce, egg, and seasonings. That meat mixture is then tucked inside parboiled cabbage leaves, topped with more tomato sauce, and baked to tender perfection.
This is truly good food that the entire family will love!
Nutrient-Dense Stuffed Cabbage Rolls
As is the heartbeat at Prepare and Nourish, I always look for opportunities to amp up the nutrient content for any dish I make. It's all about intentional nourishment and these classic Stuffed Cabbage Rolls are no exception.
A recipe with ground meat is a great candidate for adding ground organ meats like beef liver or heart. In a slew of other flavors, the smell and taste of organ meats will get diluted and no one will even notice.
Additionally, cooking rice in bone broth is another way to add nutrition. Bone broth is gut-healing and rich in nutrients. I'll take up any opportunity to squeeze more of it in meals. You can take it further and soak your rice first to release those anti-nutrients that will aid digestion.
Make it Nutrient-Dense: Add ground organ meats like beef liver or heart to your meat mixture and rice cooked in bone broth for added nutrients.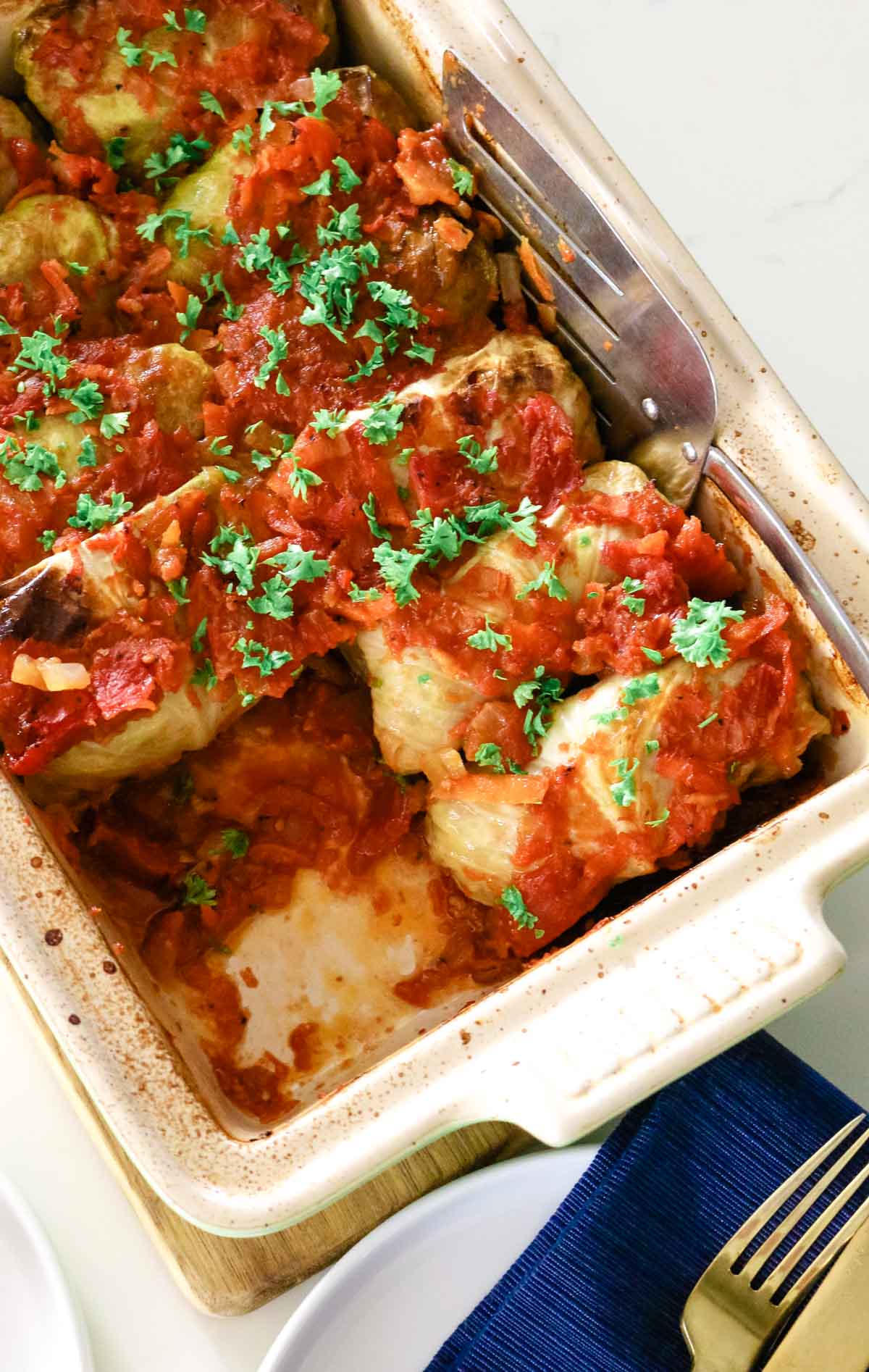 What are the ingredients in Cabbage Rolls?
Think of Stuffed Cabbage Rolls as having three main components: cabbage, rice and meat mixture, and tomato-based sauce.
Cabbage
Green cabbage is the star of this dish because it's what keeps everything together.
When buying cabbage, make sure you find one that is firm and dense to the touch. I realize preparing cabbage leaves for rolls can be a bit intimidating, but I promise it doesn't have to be.
There is a simple method to getting those perfectly parboiled cabbage leaves, without burning yourself. You can read about that in depth here. Or continue reading for a Cliffs-notes version.
Rice
White rice is the best choice here. I would skip brown rice because it contains the bran and even though is higher in fiber, it tends to cause more digestive issues.
My favorite brand of rice is Lundberg Organic for their low arsenic levels. To save time in the kitchen, I usually prepare a big pot of rice at the beginning of the week and just keep it in the refrigerator until ready to be used.
You can maximize the nutrition by soaking your rice in an acidic medium to release phytic acid and decrease enzyme inhibitors for better digestibility. Additionally, you can also cook your rice in bone broth for added minerals and gut-healing properties.
Wanting to cook soaked rice in Instant Pot? Check out this post on how to Cook Perfect Rice in Pressure Cooker.
Lastly, if you're tempted to skip rice all together, consider this: cooked and cooled rice is a good source of resistant starch which may lower glycemic response. (source) Resistant starch is like food for your probiotics which in turn means healthier gut.
Tomato Vegetable Sauce
This isn't your regular canned tomato sauce. This is a deliciously tangy tomato sauce that adds great flavor, texture, and moisture and is an important piece to this recipe.
This sauce is beyond plain tomato sauce. It has several layers of flavor and is totally worth the few extra minutes. But it's best to make this sauce first thing so it has time to cool off because we'll be adding half of it to filling mixture.
Tomato-based sauce ingredients:
onion: finely diced onion will be sauteed for extra flavor
carrot: shredded carrot also adds great texture
tomato sauce: to add moisture and flavor to the rolls
crushed tomatoes: this will add additional flavor and texture but tomato sauce can be subbed
red wine vinegar: to neutralize the acidity in the tomato sauce
seasonings: garlic powder, salt and pepper
Meat Mixture
You can't have classic Stuffed Cabbage Rolls without a generous amount of meat. Any mixture of ground meats will do. I have made these rolls with ground poultry like turkey and chicken as well as ground beef. I've even made these rolls with ground pork and it's all been delicious.
Thankfully, the tomato vegetable sauce adds lots of moisture that even the lean ground meats turn out great. But my favorite? A blend of ground beef and ground pork and a few ounces of organ meats for that extra nutrition.
Complete list of filling ingredients:
ground meat: any mixture of ground meats will do: turkey, chicken, pork, or beef
rice: cooked and cooled white rice is the better option here
egg: to bind everything together
seasonings: garlic powder, paprika, and dried parsley is all that's needed for the meat mixture
tomato-based sauce: we will use only half of this mixture and reserve the other half for later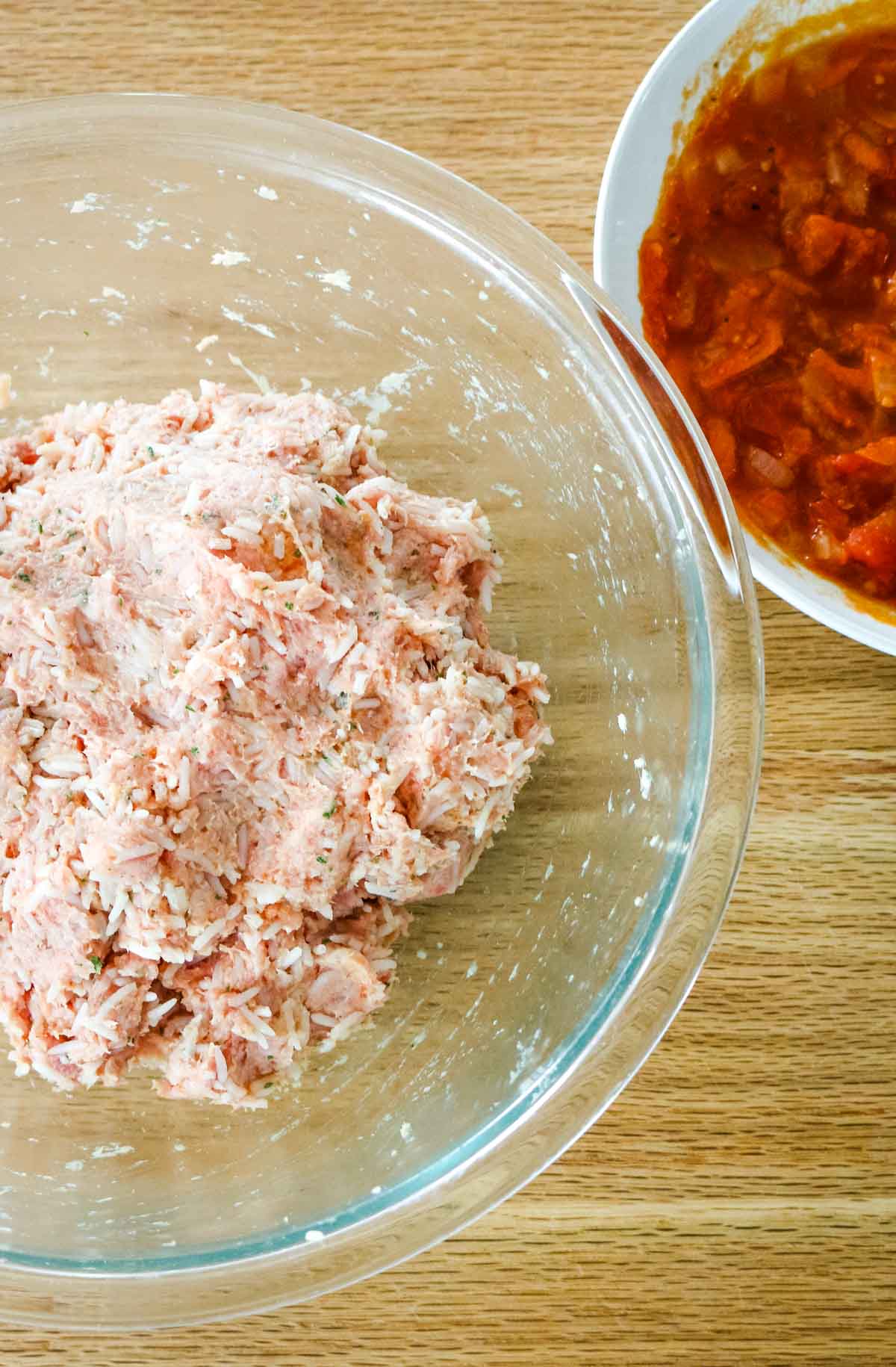 Suggested Substitutions and Variations
Now that we have all the ingredients figured out, let's talk about substitutions. This recipe is pretty flexible on it's own but let's break it down.
The meat mixture can be any blend of unseasoned ground meats.
Seasonings are pretty standard but if you leave something out, it won't drastically affect the flavor.
White rice, though not recommended, can be subbed with brown rice or another grain like quinoa (just make sure it's cooked first)
The red wine vinegar can be subbed with apple cider vinegar or balsamic vinegar.
The tomato-based vegetable sauce above can be swapped with regular tomato sauce, marinara sauce, or tomato soup. The flavor won't be the same but it's easy to make the switch when in a pinch.
Helpful Tip: Plain tomato sauce, marinara sauce, or tomato soup can all be used in place of the tomato-based vegetable sauce.
Want Paleo or Whole30 Stuffed Cabbage Rolls?
Use cauliflower rice instead of white rice and make sure you check the ingredients on those tomato sauces.
Want a deconstructed Cabbage Roll?
We have that too. If you're not ready for the commitment yet to these classic cabbage rolls, check out this Lazy Cabbage Rolls recipe that is naturally low-carb, Whole30, and Paleo.
Frequently Asked Questions & Tips
Are Stuffed Cabbage Rolls healthy?
When prepared with properly sourced ingredients, these cabbage rolls can be nutritious. That's why it's important to seek out local farmer's market to buy the best quality cabbage, meats, and vegetables. Additionally, this classic recipe calls for healthy fats like lard, tallow, or butter and jarred (not canned) tomato products, if budget allows.
Can Stuffed Cabbage Rolls be frozen?
Yes, in fact, it's best to double batch the recipe and freeze it for an easy meal later. Just follow the same process and use a freezer-safe container with a lid. Stuffed Cabbage Rolls can be frozen for up to 4 months.
How can I cook frozen Stuffed Cabbage Rolls?
If time allows, thaw the cabbage rolls first. Then bake in the oven per time instructions below. If cooking from frozen, do not preheat the oven first! Bake covered in an un-preheated oven for 90 minutes. Remove cover and continue to cook for additional 30 minutes or until fully cooked.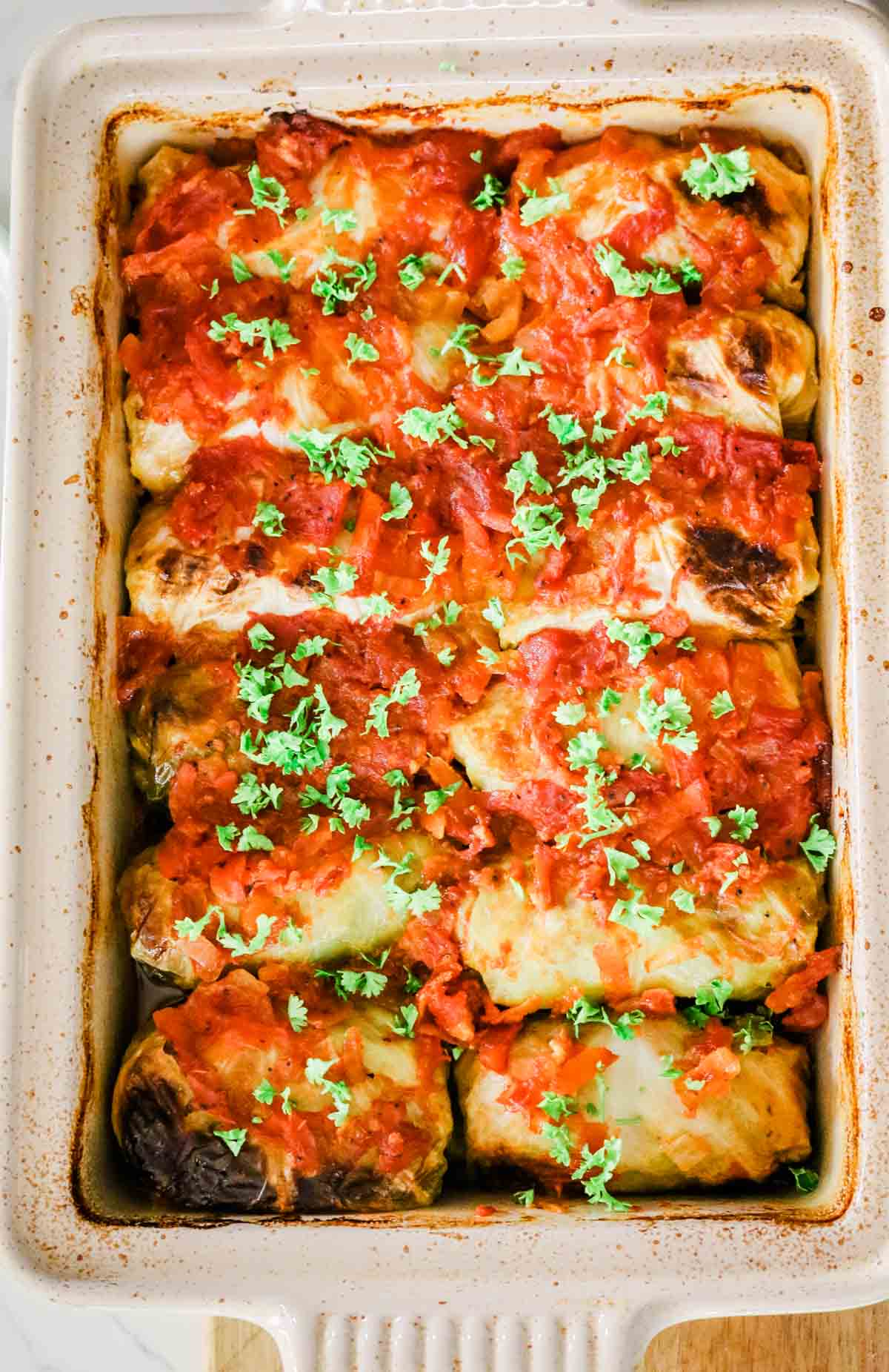 Make-Ahead Tips for Stuffed Cabbage Rolls
I have two suggestions for making the most of your time when making this recipe:
Tip #1: Make this recipe in stages
This recipe is a great to do in stages. In fact, that's the preferred way to do it because you will need rice and tomato-vegetable sauce to be cooled or at the very least at room temperature.
And if you want to take advantage of the resistant starch in the cooked and cooled rice, all the more reason why you should make a pot of rice earlier in the week. In fact, I usually use leftover rice for this recipe and it's always works great.
Even the cabbage leaves can be prepped and cooked days before.
Tip #2: Double batch this recipe for a freezer meal later
Since this recipe is a labor of love and a bit time consuming, why don't you make it well worth it by doubling the recipe and freezing half or share with a friend? The only significant additional time you'll need is the rolling/wrapping part.
If you do choose to double batch, make sure you find the largest head of cabbage you can get. Essentially, you will have approximately 16 large rolls and 10 smaller rolls if you go with a large cabbage.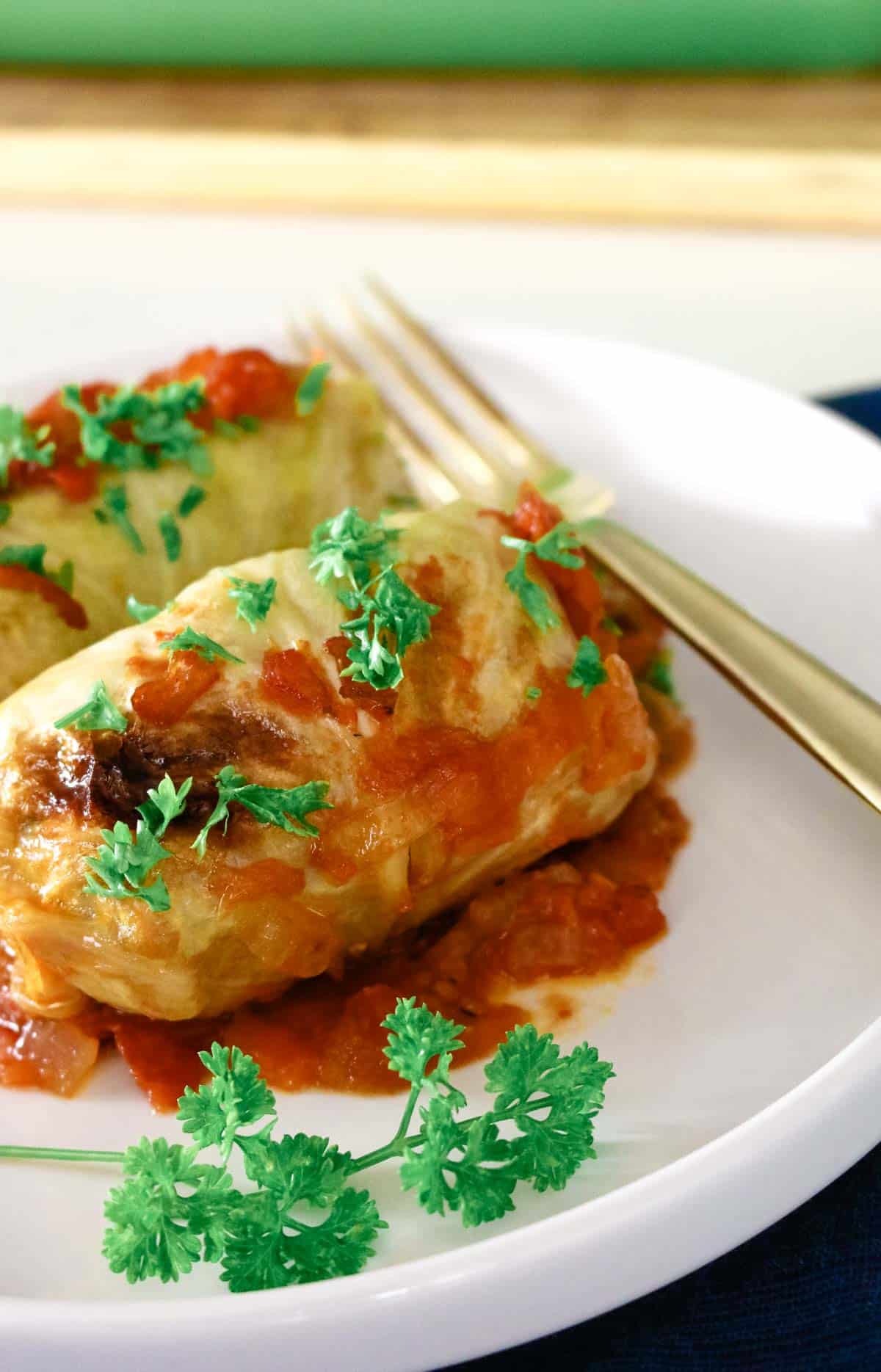 How to Cook Cabbage Leaves
This is arguably the most tedious part of the recipe but it doesn't have to be. If this is your first time making cabbage rolls, perhaps it would be a good idea to head on over to this post on How to Prepare Cabbage Leaves for Stuffed Cabbage Rolls.
It has all the information you need and everything you think you don't need (i.e. what to do with the remaining cabbage?)
The easiest and quickest way to get parboiled cabbage leaves for the rolls is to cook the whole cabbage head in a large pot of water.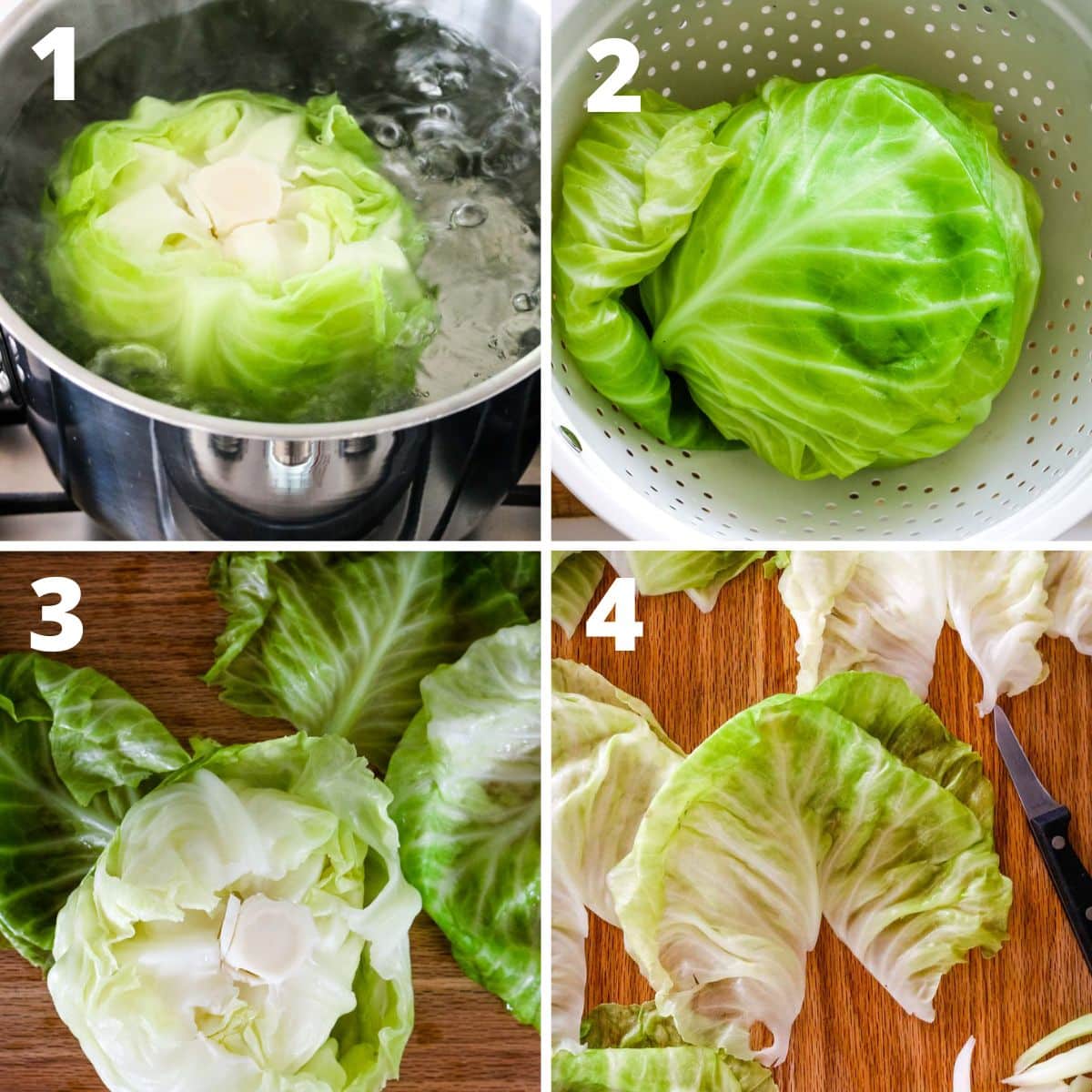 Step 1. Bring the water to a rolling boil. Remove outer wilted leaves off the cabbage. Cut approximately 1" off the bottom of the cabbage (at the root). Place the cabbage head into the water and cook 8-10 minutes, flipping the cabbage halfway.
Step 2. Remove cabbage from water and transfer to colander root-side down so all the water drains.
Step 3. Carefully remove the leaves, one at a time. You may need a paring knife to separate the thick vein from the core.
Step 4. Cut a V-shape at the base of the each leaf to remove that thick rib part.
How to make Stuffed Cabbage Rolls
The complete printable recipe is below in the recipe card for your convenience.
This Stuffed Cabbage recipe has these ingredients that we'll be working with: green cabbage, white rice, ground meat, egg, yellow onion, carrot, tomato sauce, crushed tomatoes, red wine vinegar, and seasonings like salt, pepper, garlic powder, paprika, and dried parsley.
Step 1. Prepare cabbage leaves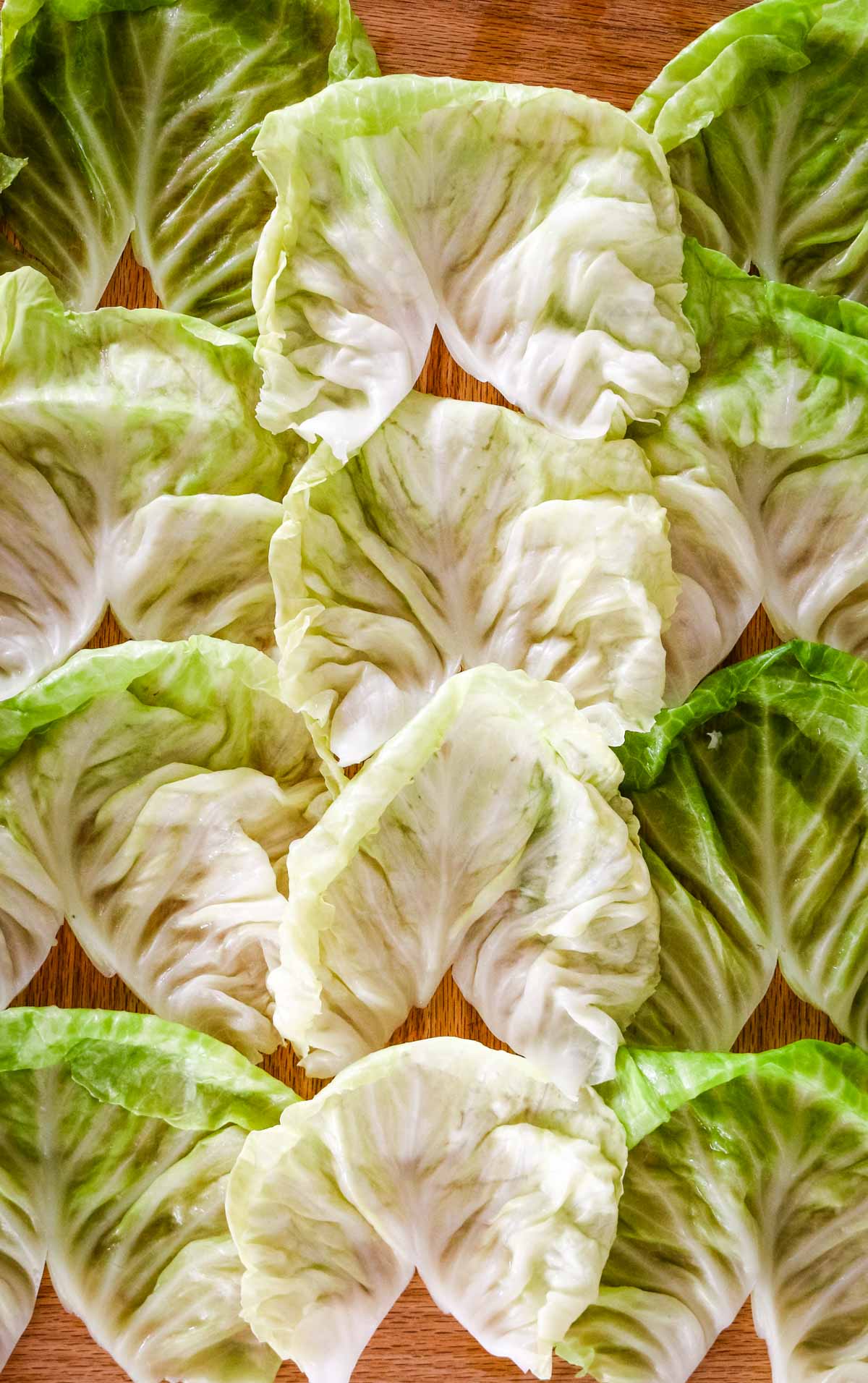 Use the method outlined above or check it out more in depth here. You'll need 12 large leaves for one batch. Double that if you want to make an extra batch for freezer.
Step 2. Prepare tomato-vegetable sauce
In a large frying pan, saute diced yellow onion in a healthy cooking fat until translucent. I love using lard, tallow, or even butter but avocado oil or extra virgin olive oil works too.
Add shredded carrot, tomato sauce, diced tomatoes, red wine vinegar, salt and pepper and continue to cook for 10 minutes until all flavors have incorporated.
It's important to point out that depending on the brand, the size of cans or jars for tomato products may vary. If using canned, it's most likely approximately 15 ounces. If jarred, it will be closer to 18 ounces. You can use them in it's entirety so you don't have any random leftover sauce.
Remove from heat and set aside to cool. It helps to transfer half of the mixture to a shallow wide bowl so it cools quicker as we'll be adding this portion to the meat mixture. Or better yet, do this step well in advance of making the rolls so it's well cooled.
Spread half of the remaining tomato-vegetable sauce across a 9X13 baking dish. Reserve the remaining sauce to top the cabbage rolls.
Did you know? It's best to get tomato products in jars not cans. BPA leaches into food especially in a highly acidic environment like tomato sauce and diced tomatoes. 
Step 3: Meat mixture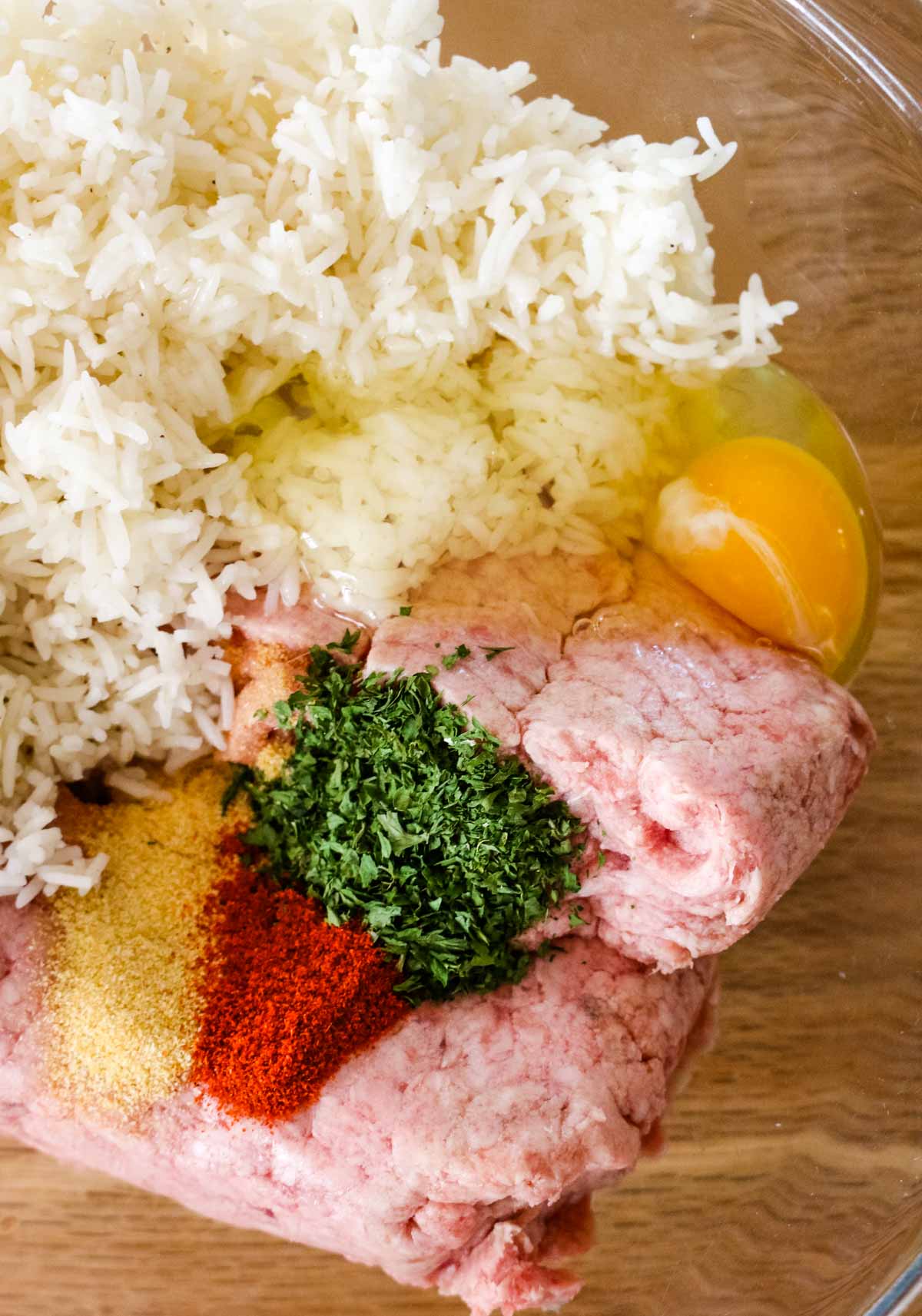 In a large bowl, combine ground meat, cooked rice, egg, garlic powder, paprika, and dried parsley together. If you don't have leftover cooked rice from an earlier recipe, make sure you work that in at the beginning so it cools down.
Add half of the cooled tomato-vegetable sauce and fold it in gently. Do NOT add it to the meat while it's still hot as it may begin the process of cooking the egg and meat.
It helps to flatten the surface directly in a bowl with the back of a spoon once all the meat mixture is combined. Divide it into 12 equal "pie" slices. This will make it easy to have equal size rolls.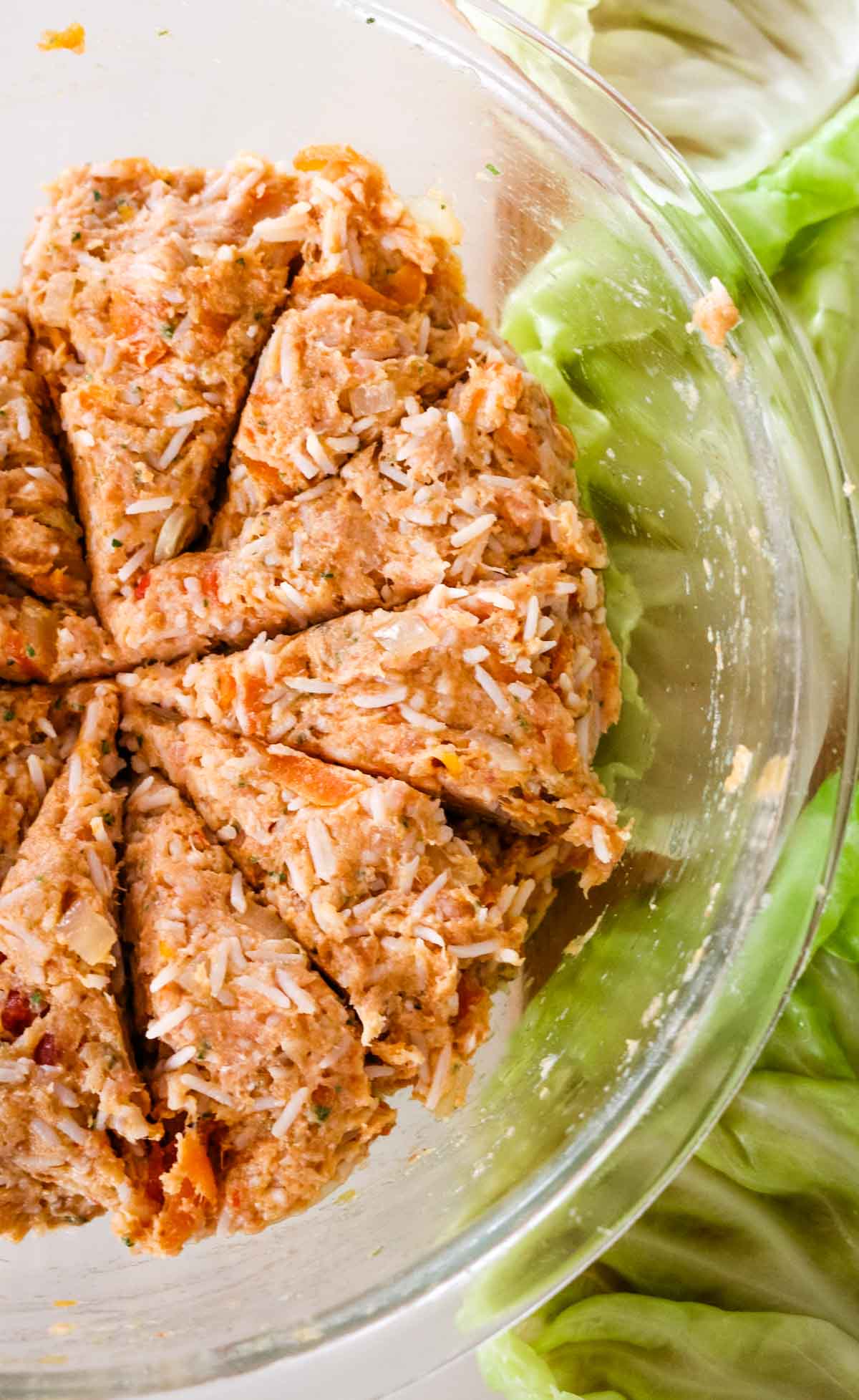 Step 4. Wrap cabbage leaves
On a flat surface like a large cutting board, scoop 1/12th (approximately ⅓ cup) of the meat mixture onto a base of each cabbage leaf, just above the upside down V-shape cut. Mold into a small log with your hands to make the wrapping easier.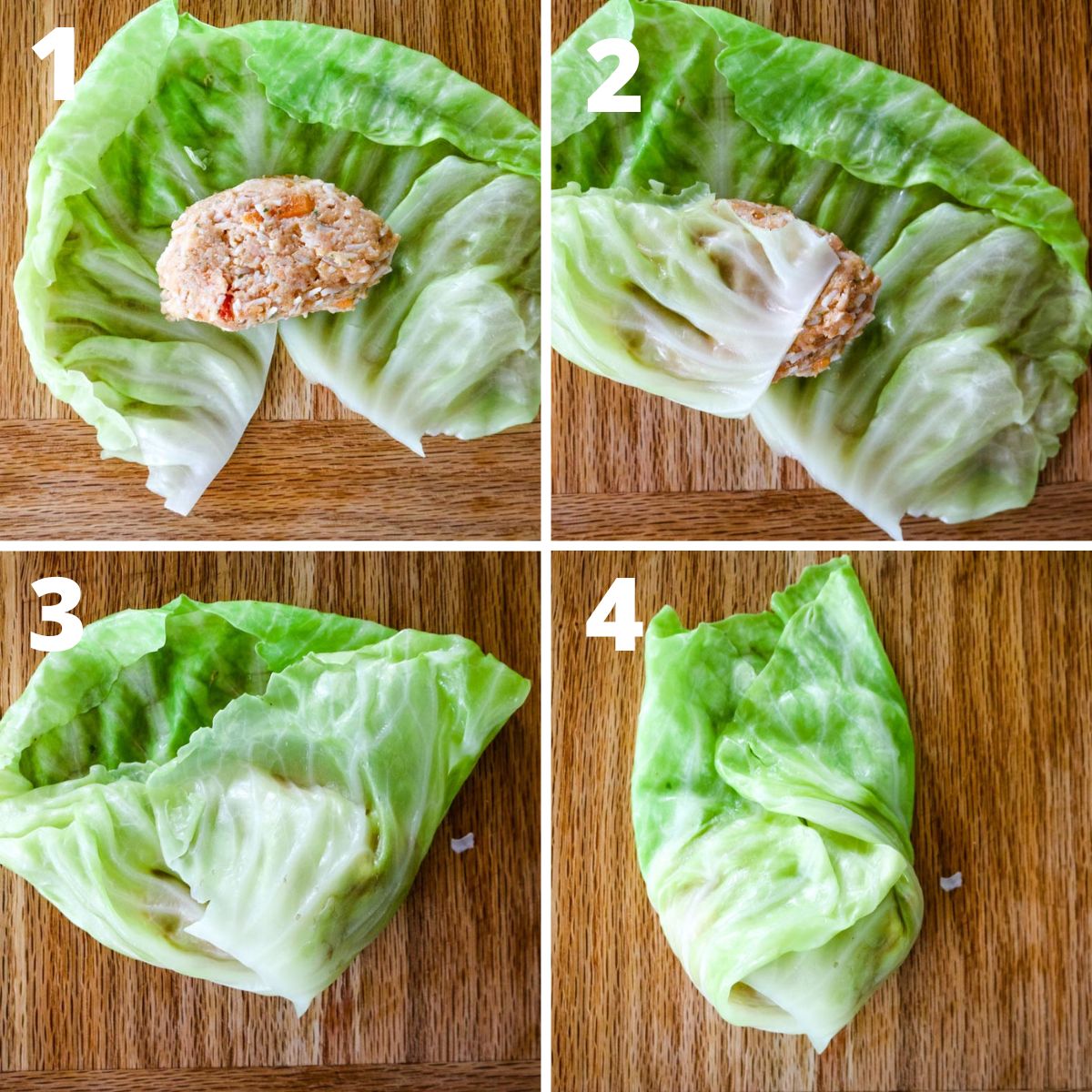 Fold one side of the leaf inward, followed by the other. Tuck both sides in, as you tightly roll the cabbage leaf up. Place in the prepared casserole dish seam side down. Repeat with remaining leaves.
Step 5. Bake the cabbage rolls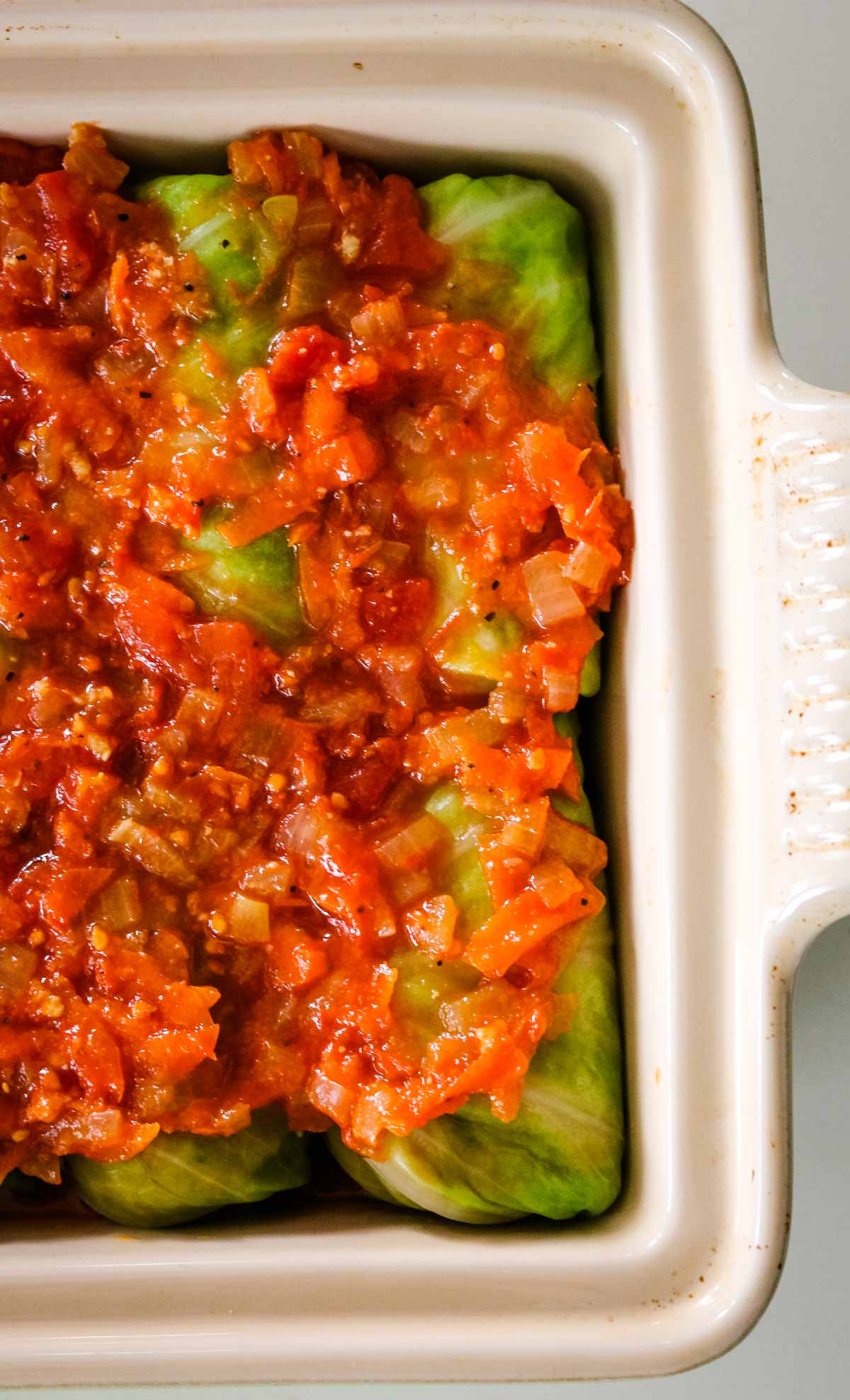 Spoon the remainder of the tomato-vegetable sauce evenly over the top of the cabbage rolls. Cover with a lid or foil and bake in a preheated oven for 40 minutes. Remove cover, bake an additional 30 minutes, followed by a 5-minute broil.
Helpful Tip: If using foil to cover cabbage rolls, separate that with a piece of parchment paper so aluminum does not touch your food.
When done baking, remove cabbage rolls from oven and allow to sit for 10 minutes for all the juices to settle.
Helpful Tools & Links
Below are some links that may be helpful to you as you make this recipe. You can find some of these items cheaper at a local store but it helps to have a link so you know what you're looking for.
What to serve with Stuffed Cabbage Rolls?
Some enjoy cabbage rolls over mashed potatoes but we prefer this comfort food with a dollop of sour cream, fresh herbs like parsley and a simple salad. Try these options:
Also, check out this post - What to Serve with Cabbage Rolls - Incredible Side Dishes to Try!
Did you make this? Please leave a ⭐ recipe rating in the recipe card below and leave a review in the comments. Thank you!💚
Printable Recipe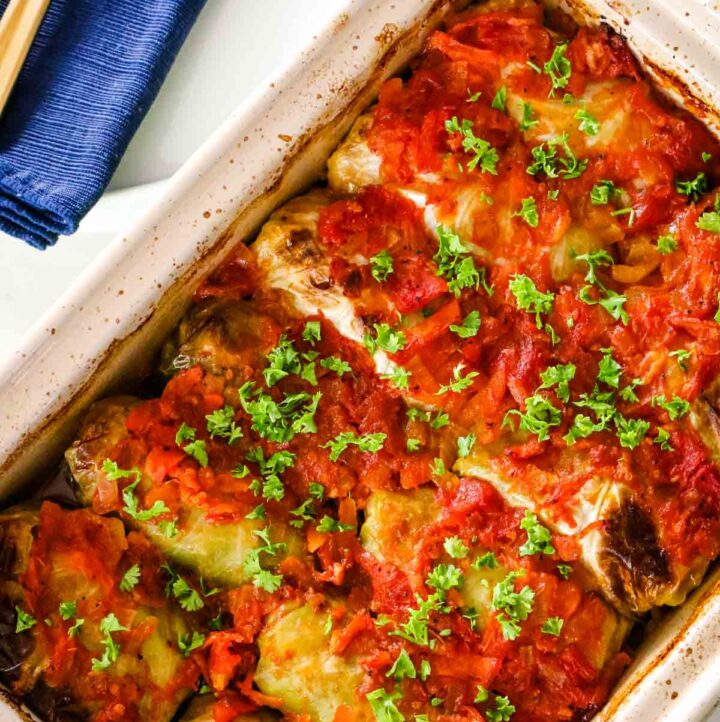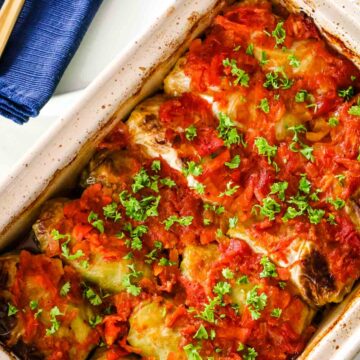 Stuffed Cabbage Rolls
Ground meat and rice filling wrapped in cabbage leaves, topped with flavorful tomato sauce and baked to perfection.
Ingredients
Tomato Vegetable Sauce
2

tablespoons

cooking fat like butter, lard, or tallow

extra virgin olive oil or avocado oil works too

1

cup

yellow onion (½ onion)

diced

1

cup

carrot (1 large carrot)

grated

15

ounces

tomato sauce

15

ounces

diced tomatoes

1

tablespoon

red wine vinegar

1

tablespoon

garlic powder

1

teaspoon

sea salt

½

teaspoon

black pepper
Cabbage Rolls
1

green cabbage, medium size
Instructions
Notes
If you don't have leftover rice, cook 1 cup of rice per package instructions at the beginning of the recipe to have 2 cups available.

Nutritional information is based on the use of butter and ground turkey. It will vary.
Nutrition
Calories:
293
kcal
|
Carbohydrates:
37
g
|
Protein:
25
g
|
Fat:
7
g
|
Saturated Fat:
3
g
|
Polyunsaturated Fat:
1
g
|
Monounsaturated Fat:
2
g
|
Trans Fat:
1
g
|
Cholesterol:
79
mg
|
Sodium:
856
mg
|
Potassium:
1005
mg
|
Fiber:
7
g
|
Sugar:
11
g
|
Vitamin A:
4367
IU
|
Vitamin C:
71
mg
|
Calcium:
126
mg
|
Iron:
3
mg
Nutrition Information
The information shown is an estimate provided for your convenience by an online calculator. It should not be considered as a substitute for a professional nutritionist's advice. See our complete Nutritional Information Disclaimer.
©Prepare and Nourish • Content and photographs are copyright protected. Sharing of this recipe is encouraged and appreciated but please do NOT screenshot or copy/paste complete recipes to websites or social media.
This post was originally published March 2016 but has since been updated to include helpful information.