With only four ingredients, this primal, keto, low-carb and GAPS side dish is always a winner. It's also budget friendly and simple to throw together for a last minute addition.
Cabbage season is upon us and that brings an abundance of cabbage recipes to the world wide web and your dinner table.
Growing up, cabbage was a staple in our kitchen. Russian cuisine abounds with cabbage recipes: Stuffed Cabbage Rolls and Borsch that calls for shredded cabbage and various cabbage salads like this Cabbage & Cucumber Salad.
And let us not forget the ever-popular, crunchy Simple Sauerkraut.
And finally, these Parmesan & Garlic Cabbage Steaks are an absolute delicious addition to our cabbage rotation.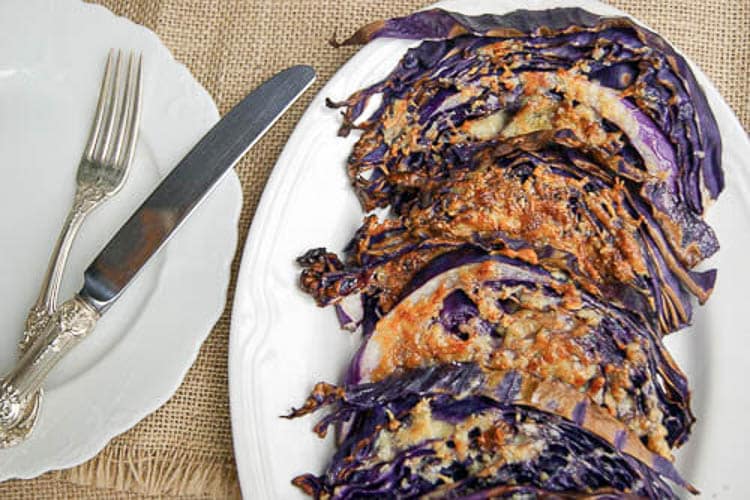 Why you should include cabbage to your menu!
ONE. It's a cost-efficient vegetable. It's on the Clean 15 list, which means the pesticide exposure is relatively low compared to other veggies like cucumbers, bell peppers, kale and collard greens. What this means for you is that you can buy a conventionally grown cabbage over the organic variety when you have a tight budget.
Better yet, support your local farmer's and purchase cabbage from them. That way, you know you are getting the best for your money. In season, cabbage is around $2-3 per head and if you're using only a quarter of the head for this recipe, you're looking at spending about $0.50-$0.75 of cabbage for this side dish.
You can use the remaining cabbage for other recipes. Also, I use green and purple cabbage interchangeably. I do like the gorgeous, deep hue of the purple variety and it's hearty robust flavor but green is more common in stores and at farmer's markets and is usually cheaper.
TWO. It's nutritious. Cabbage has the highest amount of antioxidants out of all cruciferous vegetables, including broccoli. It also contains nearly 80% of your daily Vitamin K, which is responsible for bone health.
Cabbage is also an excellent source of fiber, folate, iron, magnesium, calcium for strong bones and potassium for regulating blood pressure as well as the B Vitamins (B1, B2, B3, B5 and B6) and Vitamin C. (source) This nutrient profile makes cabbage a perfect healthy SUPERFOOD.
THREE. It's versatile. I can probably come up with a dozen different cabbage recipes at the top of my head. And without my recipe book. And without google. Not boasting here, but simply wanted to bring up a point that cabbage is just as versatile as potatoes. You can braise it, steam it, bake it, boil it, roll it, culture it. The possibilities are endless when it comes to cabbage.
Oven Roasted Garlic Parmesan Cabbage Steaks (Keto, GAPS, Low-Carb)
These easy Garlic and Parmesan Cabbage Steaks is a delicious way to enjoy this cruciferous vegetable. It's easy to prepare and even easier to make with only 4 ingredients and little hands on action.
This recipe is so easy - all you need is a small bowl and a sheet pan to cook these steaks.
Oven Roasted Garlic Parmesan Cabbage Steaks (Keto, GAPS, Low-Carb)
With only four ingredients, this primal and paleo-ish side dish is always a winner. It's also budget friendly and simple to throw together for a last minute addition.
Ingredients
¼

purple cabbage head

3

tablespoon

melted grass-fed butter

5

garlic cloves, minced

, minced

¼

cup

finely shredded parmesan cheese

maldon salt flakes to taste

(optional)
Instructions
Preheat oven to 400 degrees F.

Slice the quarter cabbage into ½" - ¾" wedges.

Brush a rimmed baking sheet with avocado oil or another choice of high-heat fat.

In a small bowl, combine melted butter, garlic and parmesan.

Spoon about a tablespoon of garlic and cheese mixture unto each cabbage wedge and spread it evenly across the top. Sprinkle crunchy Maldon Salt.

Bake for 15-20 minutes, depending on preference. Set on high broil for the last 3-5 minutes. No need to flip the wedges as the butter and cheese will melt through. Best enjoyed immediately but can be refrigerated up to one week.
Notes
Nutrition
Calories:
82
kcal
|
Carbohydrates:
3
g
|
Protein:
2
g
|
Fat:
6
g
|
Saturated Fat:
4
g
|
Cholesterol:
18
mg
|
Sodium:
123
mg
|
Potassium:
94
mg
|
Sugar:
1
g
|
Vitamin A:
600
IU
|
Vitamin C:
20.7
mg
|
Calcium:
68
mg
|
Iron:
0.4
mg
Nutrition Information
The information shown is an estimate provided for your convenience by an online calculator. It should not be considered as a substitute for a professional nutritionist's advice. See our complete Nutritional Information Disclaimer.
©Prepare and Nourish • Content and photographs are copyright protected. Sharing of this recipe is encouraged and appreciated but please do NOT screenshot or copy/paste complete recipes to websites or social media.
If you liked the recipe above, please consider rating the recipe and leaving a comment below. Also, be sure to follow me on Facebook, Instagram, and Pinterest.
>>> Pin This <<<
More Cabbage Recipes You Might Like