This Easy Tuna Noodle Casserole Recipe is made from scratch and has no canned soup! It's a delicious comfort food featuring flaky tuna, gluten-free egg noodles, creamy onions and mushrooms, and peas. The best part is this old-fashioned classic meal can be on your table in 40 minutes.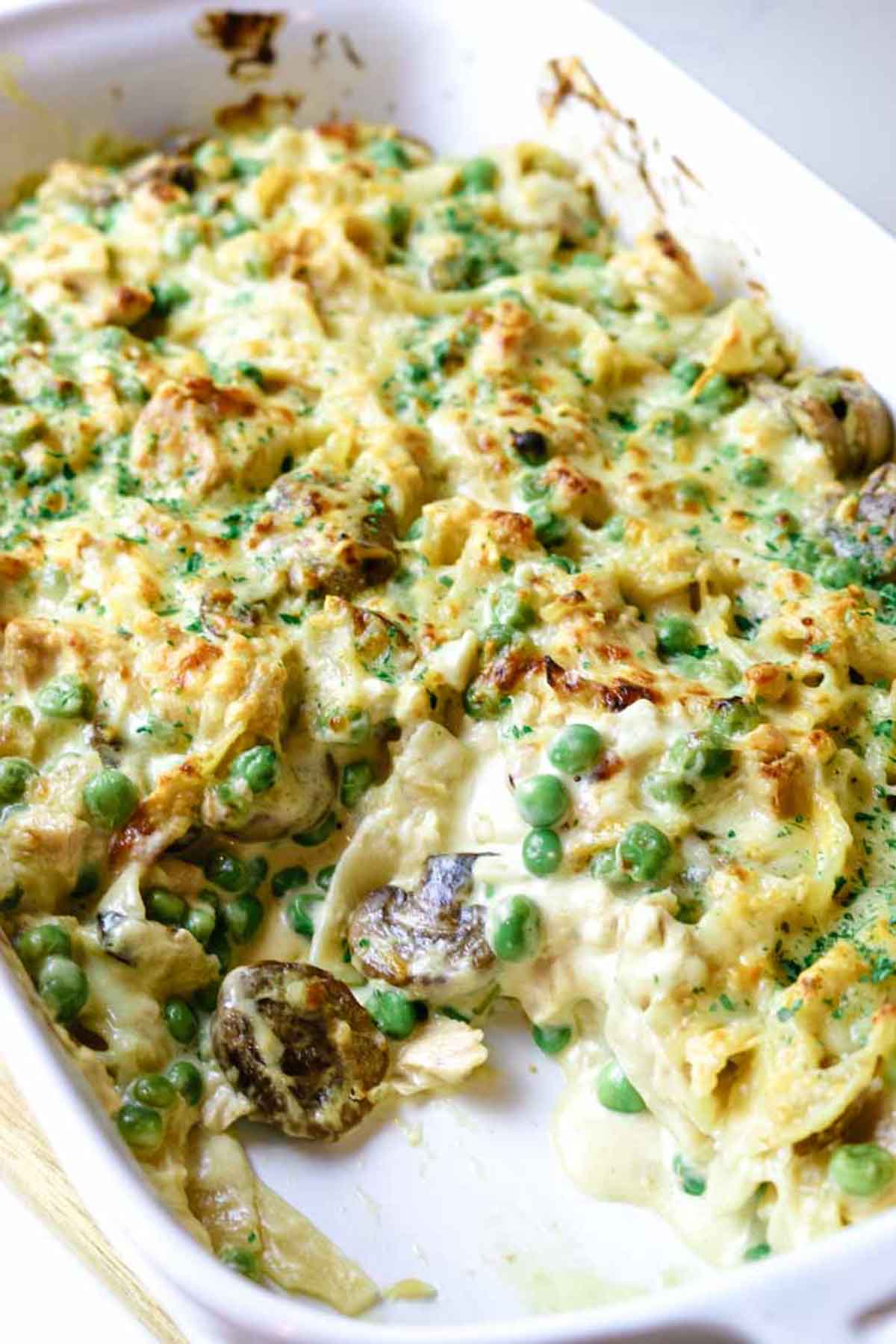 Quick and delicious casserole recipes are essential for busy weeknights or when feeding a crowd. They provide a hearty and satisfying meal with minimal effort.
Try chicken and potato bake or this chicken cabbage casserole for a tasty and stress-free dinner.
And now you can add this easy tuna noodle casserole to your meal prep as a healthy and delicious meal that will satisfy you.
This homemade version skips the canned condensed soup for a creamy and savory sauce packed with flavor. With protein-rich tuna and wholesome veggies, this classic comfort food will nourish you well.
Continue reading for the easy-to-follow recipe and tips to make it even more nutritious! You can also jump through the table of contents below to find the information you need quicker.
Jump to:
Why you'll love this recipe
Easy comfort food - If you have fond memories of enjoying classic tuna casserole at family gatherings, making this comfort food will bring back happy memories. Plus, this easy dinner recipe can be on your table in 40 minutes.
No canned soup here - But not without flavor! The rich and savory made-from-scratch sauce using a combination of broth, milk, and cream cheese is enough to make you drool over this easy recipe.
It's hearty and filling - This easy tuna noodle casserole is a one-pan meal (technically two if you're counting the skillet) that combines protein-rich tuna, comforting noodles, and rich creamy sauce, making it a filling and satisfying meal.
Make it work for you - A dish that's easily customized? Yes, please! Use your favorite noodles and veggies. Don't like peas? Skip them? Double up on the mushrooms if that's your thing. This cheesy tuna casserole is a versatile meal the whole family will love.
💭Fun Fact: Tuna casserole was one of the most popular dishes served in American households during the 1950s and 60s, thanks to its affordability, ease of preparation, and ability to feed a large family. (source)
Ingredients
The classic tuna noodle casserole recipe has simple ingredients you likely already have in your pantry and fridge. The ingredient list may look long, but I promise, this meal comes together quickly once you get going.
Egg noodles: The noodles serve as the base, providing a comforting and filling element. This key ingredient adds texture and substance and absorbs the creamy sauce. The good news is that you can still enjoy this hearty meal with gluten-free noodles, and it won't taste any different!
Canned tuna: I prefer solid white albacore tuna packed in water. Wild Planet and Safe Catch are great wild-caught tuna brands using sustainable fishing practices called pole and line fishing.
Vegetables: Yellow onion, garlic, mushrooms, and frozen peas add flavor, texture, and nutrition to the pasta bake.
Cream cheese: This will help create a creamy base for the sauce. It adds richness to the dish, helping thicken the sauce and create a smooth texture.
Milk: Added to the cream cheese to thin it out and help create that sauce. You can also use half and half or sub this with broth.
Broth: This liquid gold is added to the creamy cheese sauce to add moisture and depth of flavor. It also helps to balance the creaminess and richness of the sauce. You can use vegetable or chicken broth.
Cheeses: Cheddar cheese added to the bake adds savory and salty flavor and complements the tuna and creamy sauce, while Parmesan cheese adds a nutty and satisfying finish.
You will also need a few tablespoons of butter to saute the veggies, salt and black pepper, and fresh or dried parsley for garnish.
See the recipe card for exact quantities.
Make it Nutrient Dense
Staying true to the heart of Prepare and Nourish, there are intentional steps you can take to maximize nutrition in this old-fashioned tuna casserole. We're already starting with the best tuna noodle casserole recipe without a can of soup but there's more! Check out these simple tips:
Start with healthy fat. The recipe calls for sauteing veggies in a healthy fat like butter. I love my local grass-fed butter, but Kerrygold from Ireland is also a great option. Alternatively, you can use beef tallow or lard. If you prefer using an oil, I recommend avocado or extra virgin olive oil.
Use quality dairy ingredients. If budget allows, go with good quality dairy products like grass-fed cheese and organic whole milk. Even better if you can source raw dairy. Check the cream cheese ingredients to ensure they do not have gums or thickeners - Nancy's Yogurt is a great brand!
Add bone broth. The broth is a nutrient-rich food that comes with many health benefits. I like to include broth in as many of our meals as possible. Adding this to thin out the creamy sauce adds richness, flavor, and nutrition. For a milder casserole, use chicken broth, but beef broth is an excellent choice if you want a little more depth.
Serve with fermented food. A spoonful of fermented condiments like raw sauerkraut or red cabbage kraut is always an excellent idea to help support gut health.
Tips to Make Gluten-Free Tuna Casserole
I love this tuna casserole from scratch because you can easily customize it with your favorite noodles.
To achieve a traditional, classic tuna casserole recipe, I used gluten-free egg noodles from Jovial. This whole-grain brown rice egg tagliatelle pasta tastes like regular pasta but without gluten.
You can also make this easy dinner recipe keto and low-carb by using zucchini noodles or long strands of spaghetti squash instead of egg noodles.
The good news is that because the cream sauce does not contain flour, you won't have to modify any other part of the recipe to convert it to low carb should you use a veggie-based noodle.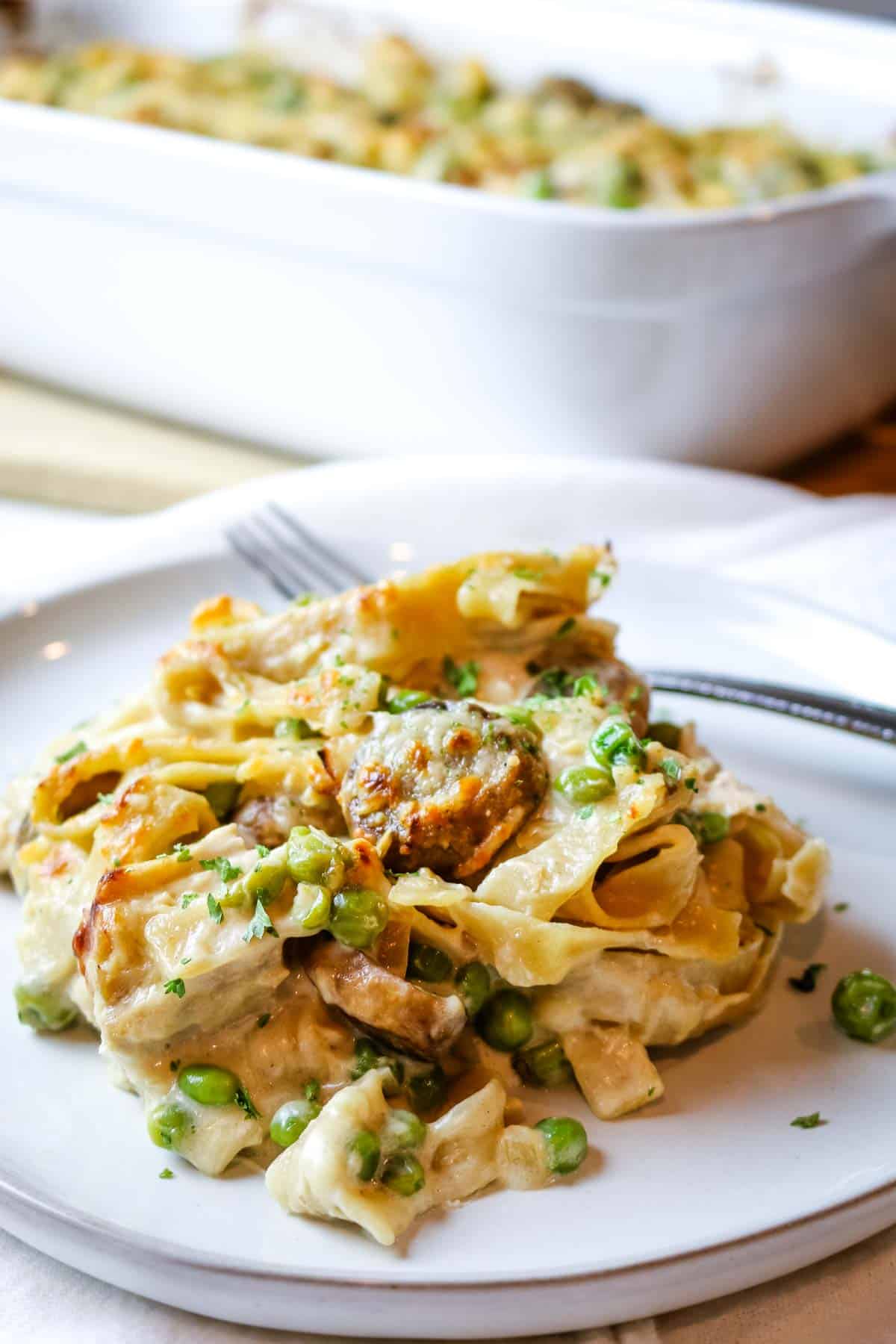 Helpful Tips
Cook noodles in salted water. Use the package directions for cooking noodles, but ensure the water is heavily salted for the best flavor.
Season with salt. I didn't include the salt amount in the recipe card because that will depend heavily on your ingredients, such as broth and cheese. Do a taste test of the creamy sauce after adding all the ingredients and adjust as needed.
Total liquid amount. You can vary the amount of milk, heavy cream, half and half, or broth you use, but you need one cup to thin out the cream cheese and create a decadent sauce.
Step-by-Step Instructions
The complete printable recipe with specific details is below in the recipe card for your convenience.
This easy tuna casserole recipe has a few different elements going on but comes together quickly. Cook the pasta, make the homemade creamy sauce, toss to combine, and bake in the oven until golden brown. It helps to have all the ingredients ready to go.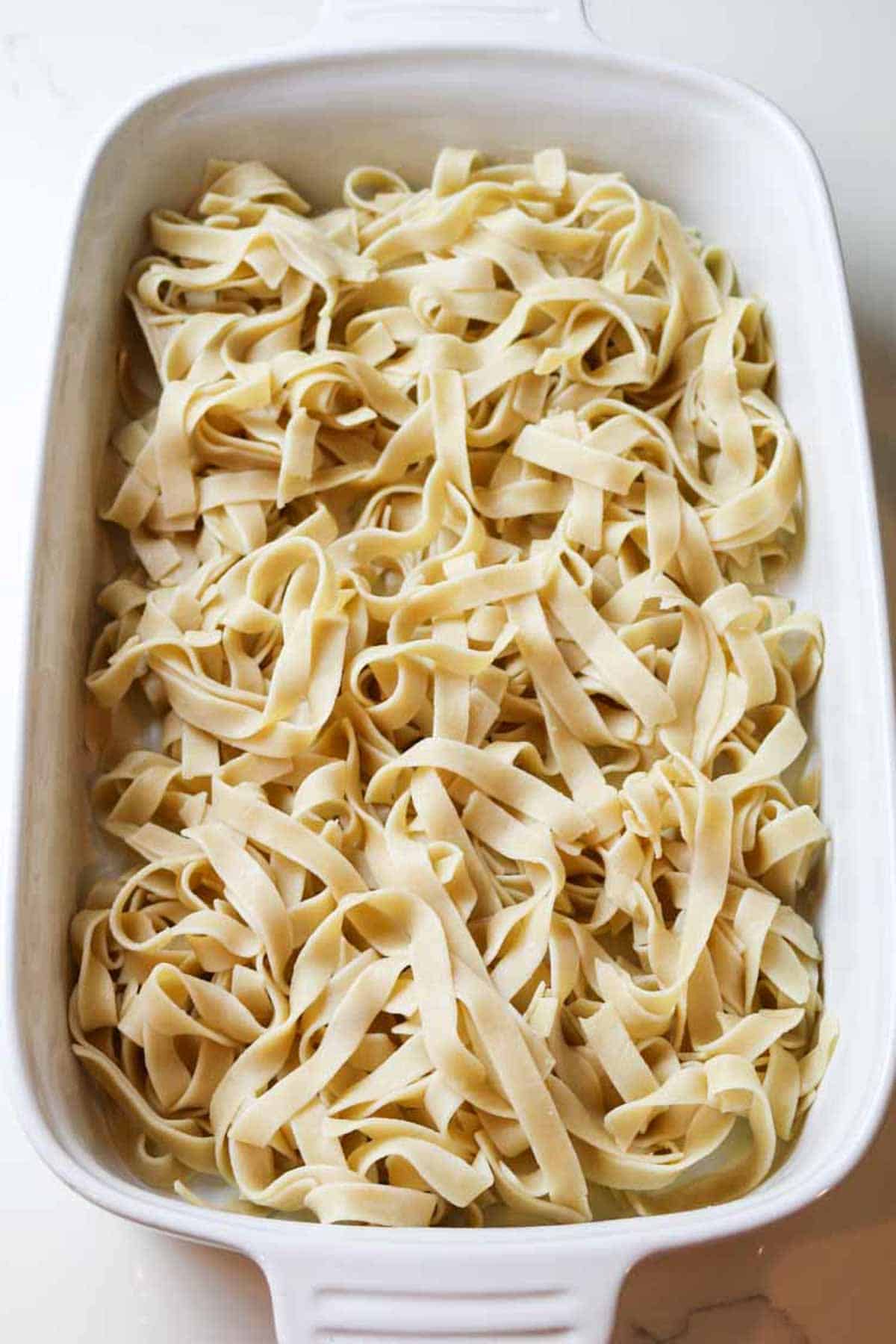 Step 1. Cook noodles
Cook the egg noodles until they are al dente and transfer to a baking dish.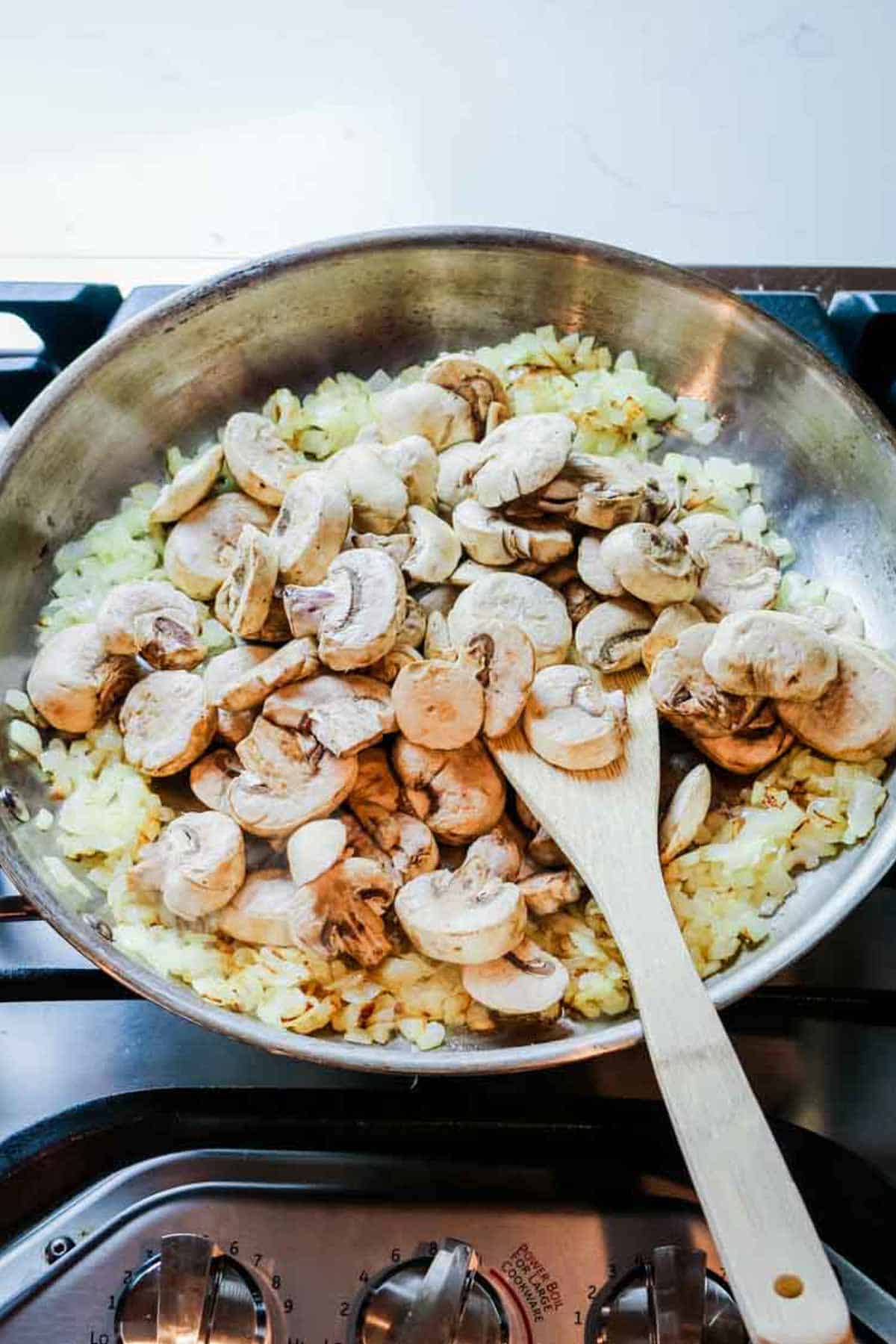 Step 2. Saute veggies
Meanwhile, saute onions and mushrooms in butter over medium heat until softened.
💭Pro tip: "Al dente" is an Italian term commonly used to describe pasta that is cooked to a firm, but tender texture. In English, it translates "to the tooth."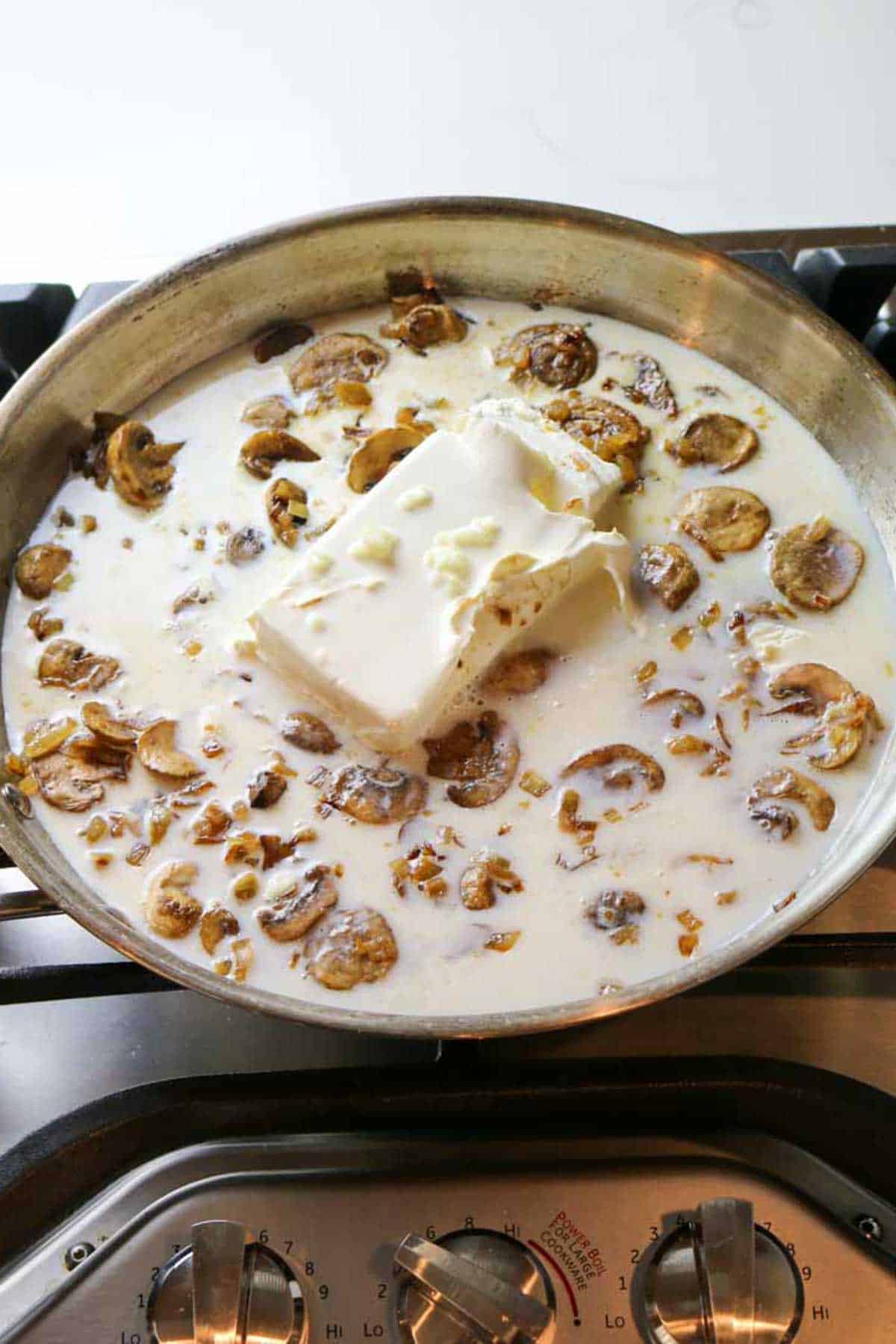 Step 3. Add liquids
Add broth, milk, and cream cheese and gently simmer until thickened and combined well.
Step 4. Stir in rest
Next, add the frozen peas, grated cheese, and flaky tuna. Stir to combine everything.
💭Pro tip: Use low heat when making sauce with dairy products to prevent the milk from boiling over and stir often to help distribute heat, breaking up the block of cream cheese.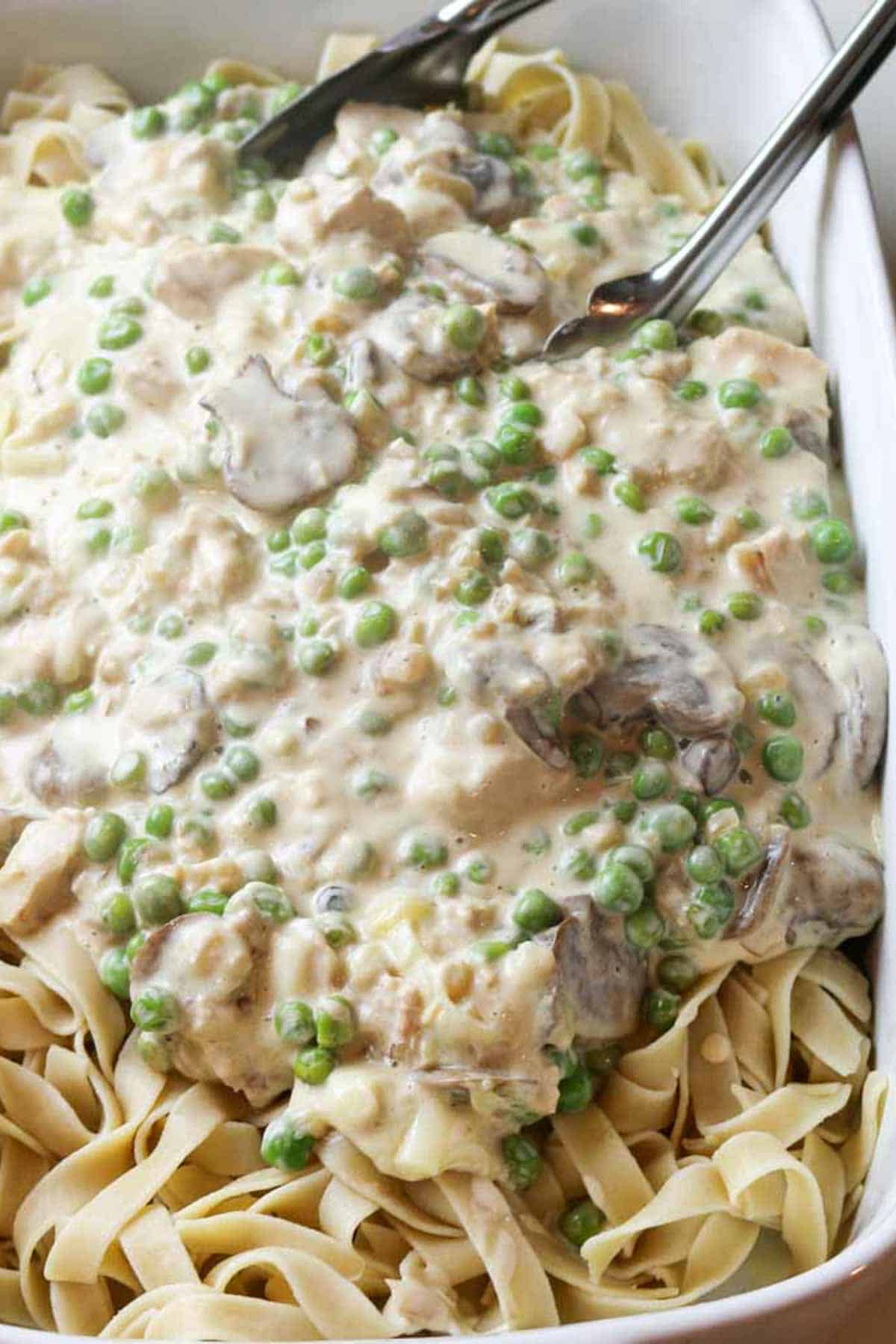 Step 5. Combine everything
Pour the creamy mixture over the noodles in the casserole dish and stir to combine.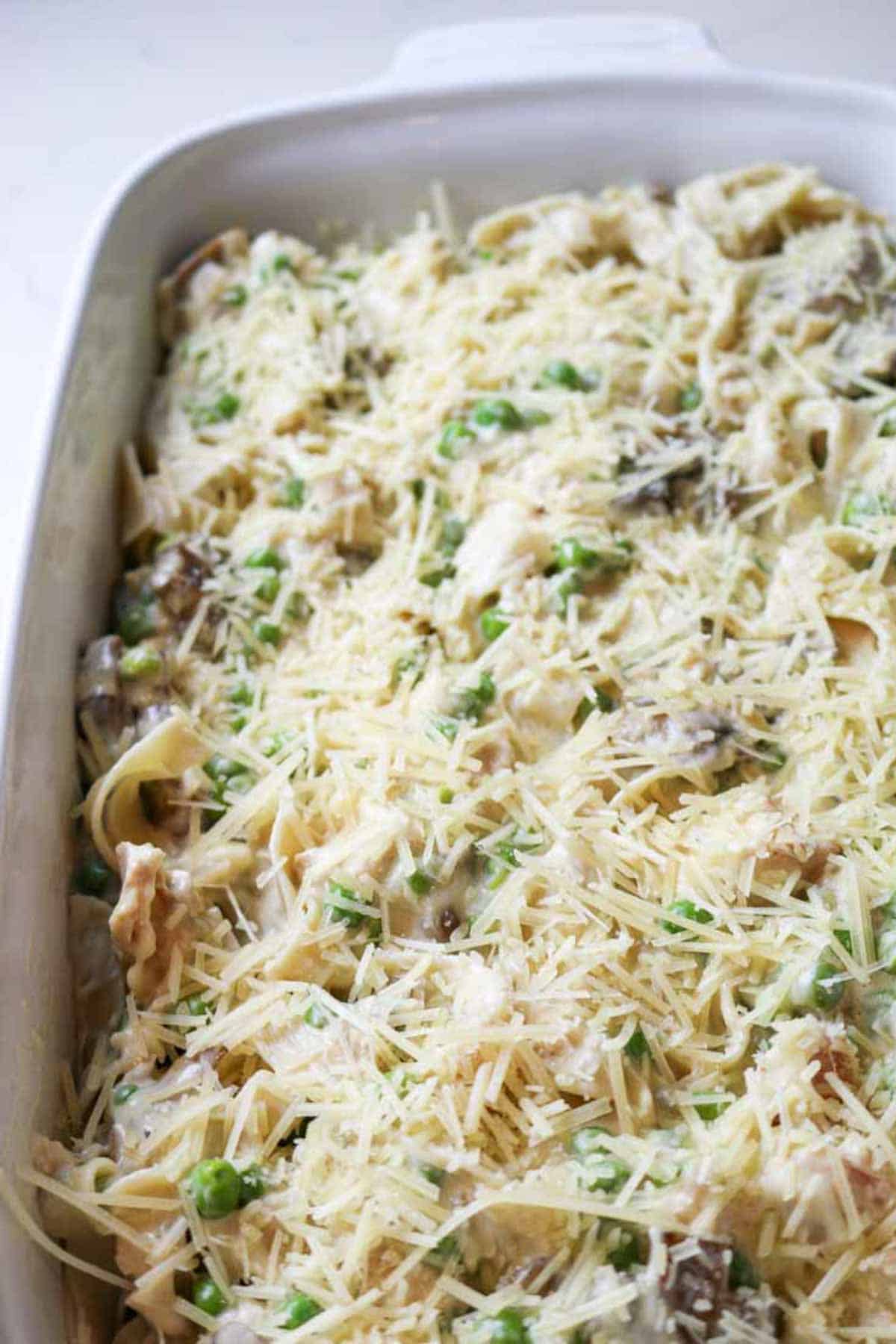 Step 6. Bake casserole
Sprinkle with Parmesan cheese if desired, and bake until bubbly. Broil for the last 5 minutes to brown the tops.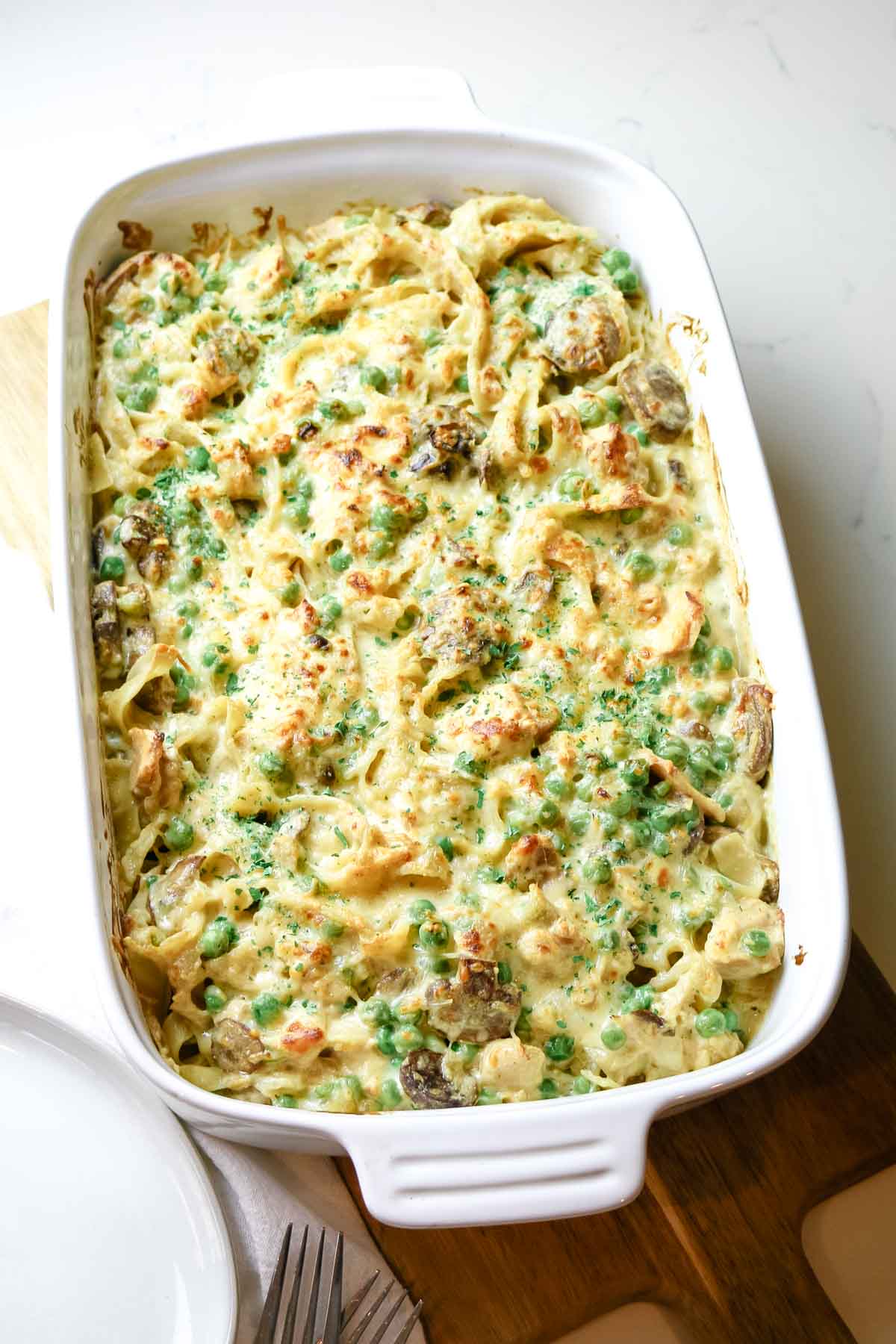 Helpful Tools & Links
Below are some affiliate links that may be helpful to you as you make this recipe. You can find some of these items cheaper at your local store, but having a link helps you know what you're looking for.
Serving Suggestions
Garnish this casserole meal with fresh herbs such as chopped parsley or dill for a pop of color and flavor.
We love serving this healthy tuna casserole with a side salad of mixed greens, cherry tomatoes, and a simple house dressing.
You can also pair your favorite vegetable such as roasted broccoli or buttery garlic green beans.
Easy Tuna Casserole pairing suggestions
Storage and Reheating Instructions
To store: Leftovers can be stored in an airtight container in the fridge for up to 3-4 days. You can learn more about properly storing this classic casserole in a designated post on how long does tuna casserole last in the fridge.
Storage containers: Glass containers are a terrific option as they can go from fridge to oven. These glass snap containers are perfect for that purpose.
To reheat: Leftover tuna casserole can be safely reheated on the stovetop, traditional oven, Instant Pot, or air fryer. Using one of these four methods gives you best results without drying out the casserole. Learn how to reheat tuna casserole properly.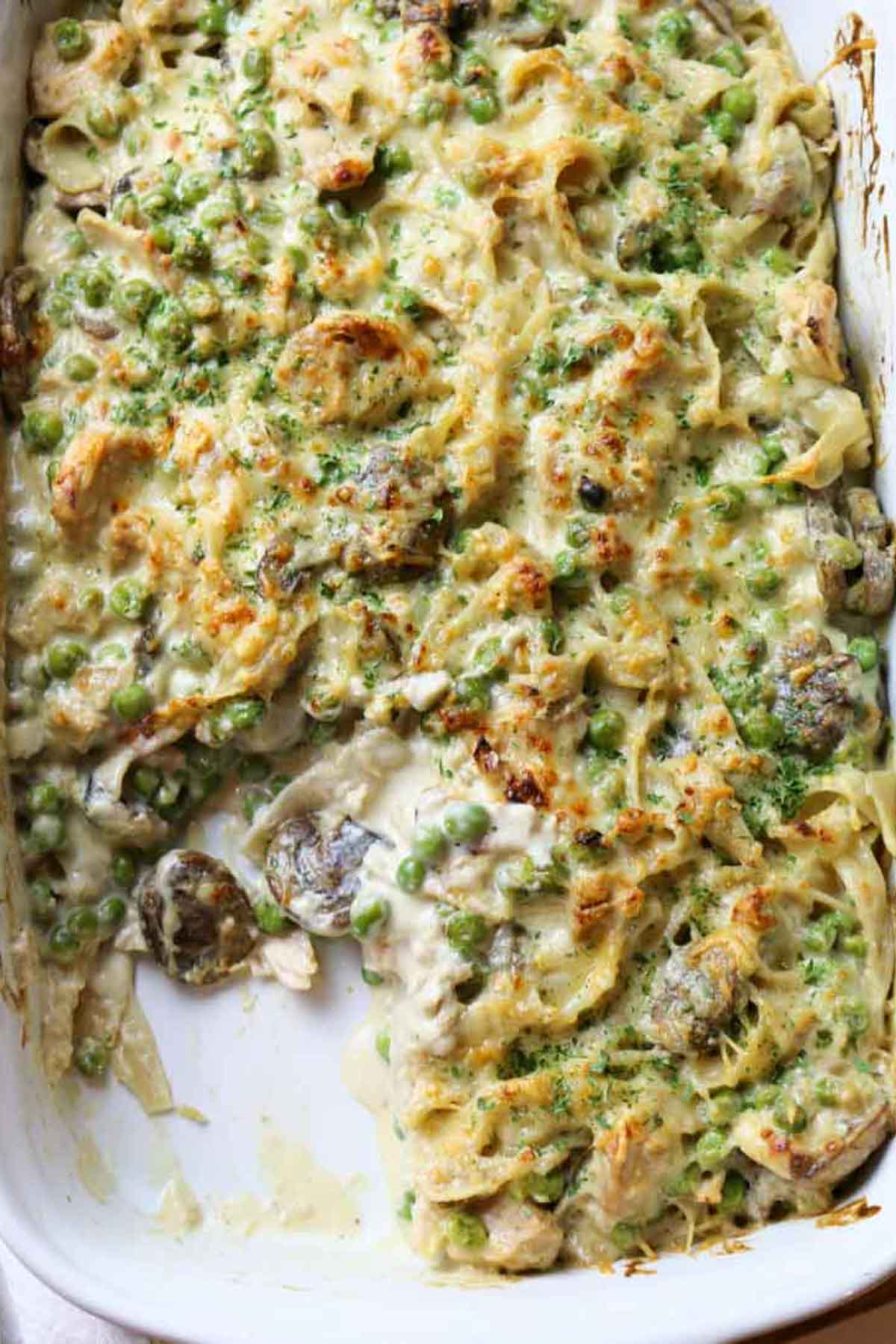 FAQs
Can I make this recipe ahead of time?
You can assemble this recipe ahead of time and refrigerate until ready to bake. Cover the casserole tightly with plastic wrap or a lid to prevent it from drying out. Let it come to room temperature before popping it in the oven to bake.
What other veggies would be good in tuna casserole?
Onions, mushrooms, and peas are a classic addition to tuna casserole, but you can add steamed broccoli, cauliflower, or green beans. Remember that it has to be parcooked before adding it to the casserole mixture, so gently steam it or blanch it first.
Can you freeze tuna casserole?
You can freeze tuna casserole for 2-3 months if properly stored. Just wrap it tightly in plastic wrap before freezing. To reheat, thaw the casserole overnight in the refrigerator and bake as directed. Check out the post on reheating previously cooked casserole to achieve the best flavor. The texture may slightly change, but it will still be delicious.
How can I make healthy tuna casserole without canned soup?
This recipe is fantastic for skipping canned soup and making tuna casserole from scratch. The good news is that you can still achieve that same creaminess and rich flavor by swapping out a can of soup for a mixture of cream cheese, milk, broth, and seasonings.
Looking for more related recipes? Here are some ideas:
Did you make this? Please leave a ⭐ recipe rating in the recipe card below and leave a review in the comments. Thank you!💚
Printable Recipe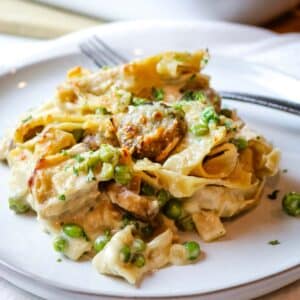 Easy Tuna Noodle Casserole Recipe (no canned soup!)
This Easy Tuna Noodle Casserole Recipe is made from scratch and has no canned soup! It's a delicious comfort food featuring flaky tuna, gluten-free egg noodles, creamy onions and mushrooms, and peas. The best part is this old-fashioned classic meal can be on your table in 40 minutes.
Ingredients
8-12

ounces

egg noodles

3

tablespoons

butter

1

yellow onion

diced

8

ounces

mushrooms

sliced

8

ounces

cream cheese

3

garlic cloves

minced

½

cup

broth

chicken or vegetable

½

cup

milk

or half and half, or additional broth

2

cups

frozen peas

2

5 ounce cans

albacore tuna

drained and flaked

2

cups

cheddar cheese

½

cup

Parmesan cheese

1

tablespoon

dried parsley

salt and pepper to taste
Notes
Storage: Leftover tuna casserole can be stored in an airtight container for up to 3 days. To reheat, warm in an unpreheated oven until heated through.
Helpful Tips:
Cook noodles to al dente or "to the tooth" so it still has a bite to them to avoid mushy casserole.
Use one cup of liquid: that can be any combination of water, broth, or milk, depending on the preference of richness.
Season with salt as you go; that will depend on the individual ingredients (i.e. cheese and broth are both salty).
If using cooked squash or another low-carb noodle option, omit milk and broth entirely and reduce oven bake time to 10 minutes.
Nutrition
Calories:
439
kcal
|
Carbohydrates:
31
g
|
Protein:
18
g
|
Fat:
27
g
|
Saturated Fat:
16
g
|
Polyunsaturated Fat:
1
g
|
Monounsaturated Fat:
7
g
|
Trans Fat:
0.2
g
|
Cholesterol:
98
mg
|
Sodium:
484
mg
|
Potassium:
369
mg
|
Fiber:
4
g
|
Sugar:
6
g
|
Vitamin A:
1200
IU
|
Vitamin C:
17
mg
|
Calcium:
349
mg
|
Iron:
1
mg
Nutrition Information
The information shown is an estimate provided for your convenience by an online calculator. It should not be considered as a substitute for a professional nutritionist's advice. See our complete Nutritional Information Disclaimer.
©Prepare and Nourish • Content and photographs are copyright protected. Sharing of this recipe is encouraged and appreciated but please do NOT screenshot or copy/paste complete recipes to websites or social media.