Enjoy the flavors of pizza but without the heavy carbs. This low-carb Crustless Pizza Skillet is made in one pan, packed with protein, healthy fats, and zesty vegetables.
There's a time and a place for true crust-full regular pizza but if you're trying to cut down on carbs or bump up your protein - this easy Crustless Pizza recipe needs to be in your back pocket.
It's an easy dinner option for those busy weeknights.
What is Crustless Pizza?
Crustless Pizza takes the best part of pizza and turns it into a low-carb healthier version.
It's an exquisite combination of pizza sauce, seasonal veggies, stretchy cheese and of course the protein-loaded meat crust. It satisfies that pizza craving without the heavy carbs.
This Crustless Pizza is perfect for your pizza night.
Good to Know: This no crust pizza is made in a cast iron skillet but can easily be made in a casserole dish for Crustless Pizza Casserole.
Why you'll love this Crustless Pizza Recipe
Taste: Aside from the bread crust, this Crustless Pizza has all the traditional pizza flavors - velvety pizza sauce, crunchy red onions, briny black olives, plenty of cheese, etc. Basically, all your favorite toppings in one deep dish pizza.
Texture: The meat crust holds together quite well and the blend of pizza sauce, vegetables, and cheese gives way to a delicious savory sauce.
Level of difficulty: This recipe is EASY. Made in one pan. All in the oven. Dinner done in under 45 minutes. Use a skillet or casserole dish - whatever is easiest for you.
Picky eaters: Yep! We have you covered too. Just include only your favorite pizza toppings and leave out what doesn't bring joy.
What are the ingredients in Crustless Pizza?
Ground Turkey: and lots of it. Two pounds, to be exact because it will give us plenty to work with in making the crust
Seasonings for crust: basic seasonings of sea salt, dried oregano, dried basil and black pepper is all that's needed here but you can add garlic powder or use straight up Italian seasoning for convenience
Pizza sauce: always check ingredient labels to make sure they don't have added sugar or fillers; low carb marinara sauce also works great
Cheese: mozzarella cheese is my first choice followed by cheddar cheese but really any semi-hard shredded cheese will work
Vegetables: Our favorite are bell peppers, red onions, white button mushrooms, and olives for a traditional combination pizza feel
Proteins: Because this recipe already has lots of protein I don't usually include these but feel free to add turkey pepperoni (nitrate/nitrite-free), Italian sausage, or even basic cooked ground beef on top
Did you know? It's best to get tomato products in jars not cans. BPA leaches into food especially in a highly acidic environment like tomato-based sauces.
Suggested Substitutions and Variations
This recipe can easily be adapted to fit your personal preference. Because this recipe uses very little processed food (just the pizza sauce), it's a great option with GAPS or any other healing gut protocol. This is of course provided that the ingredients in that sauce are compliant.
However, this recipe probably wouldn't work for Whole30 or strict Paleo since it calls for a lot of cheese. The cheese is necessary to get that distinctive melty texture.
I also don't recommend switching out the ground turkey for another ground meat. Using lean meat like turkey will help avoid having to drain the fat from the meat patty as it cooks in the cast iron. This is a good thing considering the skillet will be hot.
However, if using a fattier meat such as beef or pork, make sure you carefully pour the liquid fat from the skillet before adding sauce and toppings. We don't typically shy away from fat but in this case, this would create way too much fat and liquid combined with the sauce and melting cheese.
Crustless Pizza Tips
🕐Time Saving Tip: Prep all the veggies and pizza toppings during your weekly prep meal time. Frozen meats can easily and quickly be thawed in a sealed ziplock bag in a large bowl of water.
💲 Money Saving Tip: Ground meats are generally cheaper than other cuts and are incredibly versatile. Marinara sauce, pizza sauce, and even spaghetti sauce are interchangeable in this recipe. Same with cheese. Buy what makes more financial sense to you.
🗓Make-Ahead Tip: Make and bake the meat crust up to 6 days and store in the refrigerator. You can also double batch the entire pizza and feed the freezer for an easy weeknight meal in the future.
🚫Dietary Restrictions: This recipe is low carb, grain free, gluten free, but does have dairy. I do not recommend skipping the cheese.
Make it Nutrient-Dense: Consider adding ground organ meats like beef liver or heart to your meat for added nutrients.
How to make Crustless Pizza
The complete printable recipe is below in the recipe card for your convenience.
This Crustless Pizza recipe calls for these ingredients that you will need: ground turkey, sea salt, dried oregano, dried basil, black pepper, sugar free pizza sauce, semi-hard cheese, bell pepper, red onion, white mushrooms, black olives.
Step 1. Create meat crust
In a medium-size bowl, combine the meat, dried oregano, dried basil, salt and pepper. Mix gently just enough to combine everything together but do not over-mix.
Spread this meat mixture evenly on a 12" cast iron skillet, pushing the meat towards the walls of the skillet to cover the entire surface.
Bake the meat patty in a preheated oven.
Step 2. Prep all the pizza toppings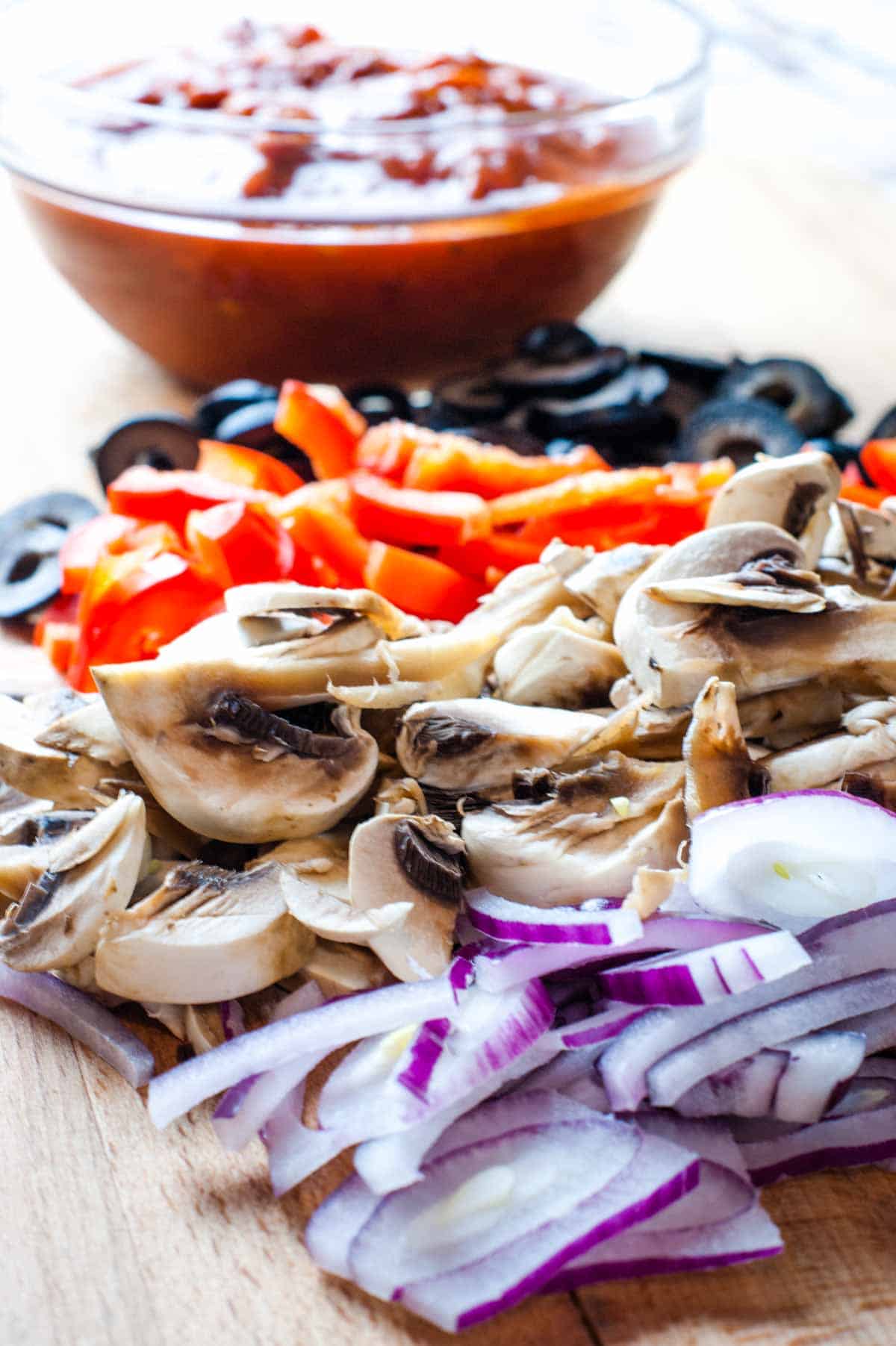 While the meat crust is baking, prepare all the pizza toppings. Slice bell peppers, red onions, black olives. Grate cheese. Set aside.
Helpful Tip: If possible, grate your own cheese to avoid anti-caking agents typically found in bagged shredded cheese.
Step 3: Assemble and bake pizza
When meat crust has cooked, remove from oven. The meat patty will slightly shrink in size - this is normal.
Spread your choice of tomato sauce directly on top of the meat, making sure to get the outside of the crust.
Cover the pizza sauce with 2 cups of shredded cheese, followed by vegetables and topped with another 1 cup of cheese.
Return to oven for another 10-15 minutes or until vegetables are tender and cheese melts.
Remove from oven and let sit for 10 minutes to allow the juices to settle. Cut into slices and top with Parmesan cheese and red pepper flakes.
Helpful Tools & Links
Below are some links that may be helpful to you as you make this recipe. You can find some of these items cheaper at your local store but it helps to have a link so you know what you're looking for.
Tools: chef knife, cutting board, mixing bowl, 12-inch cast iron skillet, pizza wheel cutter, stainless steel spatula
Ingredients: dried oregano, dried basil, real salt, black pepper, sugar-free pizza sauce
Storage Supplies: freezer safe container for extra batch, airtight container for leftovers
What to serve with Pizza Skillet
This easy keto dinner recipe is great on it's own because it has it all: protein, fats, healthy low carbs, and fiber from vegetables but a little side of extra veggies wouldn't hurt.
Enjoy this no crust pizza with these recipes:
Looking for more easy dinner recipes? Here are some ideas:
Easy Tuna Casserole Recipe
Keto Chicken Cabbage Casserole
Chicken Potato Bake
Lazy Cabbage Rolls
Easy Skillet Shepherd's Pie
Storage & Reheating Instructions
❄To store: If there are any leftovers, store them in an airtight container for up to 4 days in the refrigerator. Can be frozen for up to 4 months.
◻Storage containers: freezer safe container for extra batch, airtight container for leftovers
♨To reheat: In a covered skillet or small saucepan, reheat over medium-low heat for 10 minutes or until meat is heated through. You can also reheat in an unpreheated air fryer toaster oven for 10-15 minutes at 400 degrees Fahrenheit.
FAQs
Can I freeze Crustless Pizza?
Fully baked crustless pizza can be frozen for up to 4 months in an airtight freezer container. For best results, add cheese after baking but before freezing so the cheese doesn't bake twice.

To bake frozen crustless pizza: bake it in an unpreheated oven at 400 degrees Fahrenheit for 20 minutes or until fully warmed through. While the oven is preheating, it will gently thaw the pizza.
Can I make this in a baking dish?
Yes, because we are not doing any stove top cooking, the entire recipe can be made in a casserole or baking dish for a deep dish pizza.
Did you make this? Please leave a ⭐ recipe rating in the recipe card below and leave a review in the comments. Thank you!💚
Printable Recipe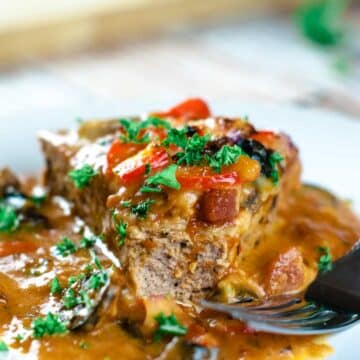 Easy Low Carb Crustless Skillet Pizza
Enjoy the flavors of pizza but without the heavy carbs. This low-carb Crustless Pizza Skillet is made in one pan, packed with protein, healthy fats, and zesty vegetables.
Equipment
12 inch cast iron skillet
Ingredients
2

pounds

lean ground meat (turkey and chicken is best)

1

teaspoon

sea salt

1

teaspoon

dried oregano

1

teaspoon

dried basil

1

teaspoon

black pepper

2

cups

sugar-free pizza sauce

3

cups

semi-hard cheese of choice (mozzarella, cheddar)

divided

1

cup

bell pepper

chopped

½

cup

red onion

sliced

6

large white mushrooms

sliced

1

cup

black olives

sliced
Instructions
Meat Crust
Prep Pizza Toppings
Notes
Leftovers can be stored in an airtight container for up to 4 days in the refrigerator. Reheat in non preheated air fryer/convection oven for 15 minutes at 400 degrees Fahrenheit.
Use your favorite pizza toppings but it's best to use a lean meat like turkey to limit the fat that is released during the crust baking.
Nutrition
Calories:
407
kcal
|
Carbohydrates:
11
g
|
Protein:
51
g
|
Fat:
18
g
|
Saturated Fat:
8
g
|
Polyunsaturated Fat:
2
g
|
Monounsaturated Fat:
6
g
|
Trans Fat:
0.02
g
|
Cholesterol:
120
mg
|
Sodium:
1600
mg
|
Potassium:
903
mg
|
Fiber:
3
g
|
Sugar:
6
g
|
Vitamin A:
923
IU
|
Vitamin C:
27
mg
|
Calcium:
436
mg
|
Iron:
3
mg
Nutrition Information
The information shown is an estimate provided for your convenience by an online calculator. It should not be considered as a substitute for a professional nutritionist's advice. See our complete Nutritional Information Disclaimer.
©Prepare and Nourish • Content and photographs are copyright protected. Sharing of this recipe is encouraged and appreciated but please do NOT screenshot or copy/paste complete recipes to websites or social media.
This post was originally published January 2018 but has since been updated to include helpful information.