This Chicken Potato Bake recipe is simple yet so flavorful. With only 5 main ingredients, this meat and potatoes comfort food is a great meal for when you're short on time.
Chicken Potato Bake
The classic meat and potatoes get a makeover by adding your favorite herbs, some seasonal veggies, and baked to delicious perfection.
The chicken is fabulously tender and full of flavor. The comfort food that is potatoes are necessary to make this dish spectacular.
Sandwiched between the meat and potatoes are slices of tomatoes and onions - which add incredible moisture, texture, and flavor to this healthy and easy meal.
And the best part? It's all done in one pan saving you precious time and extra dishes.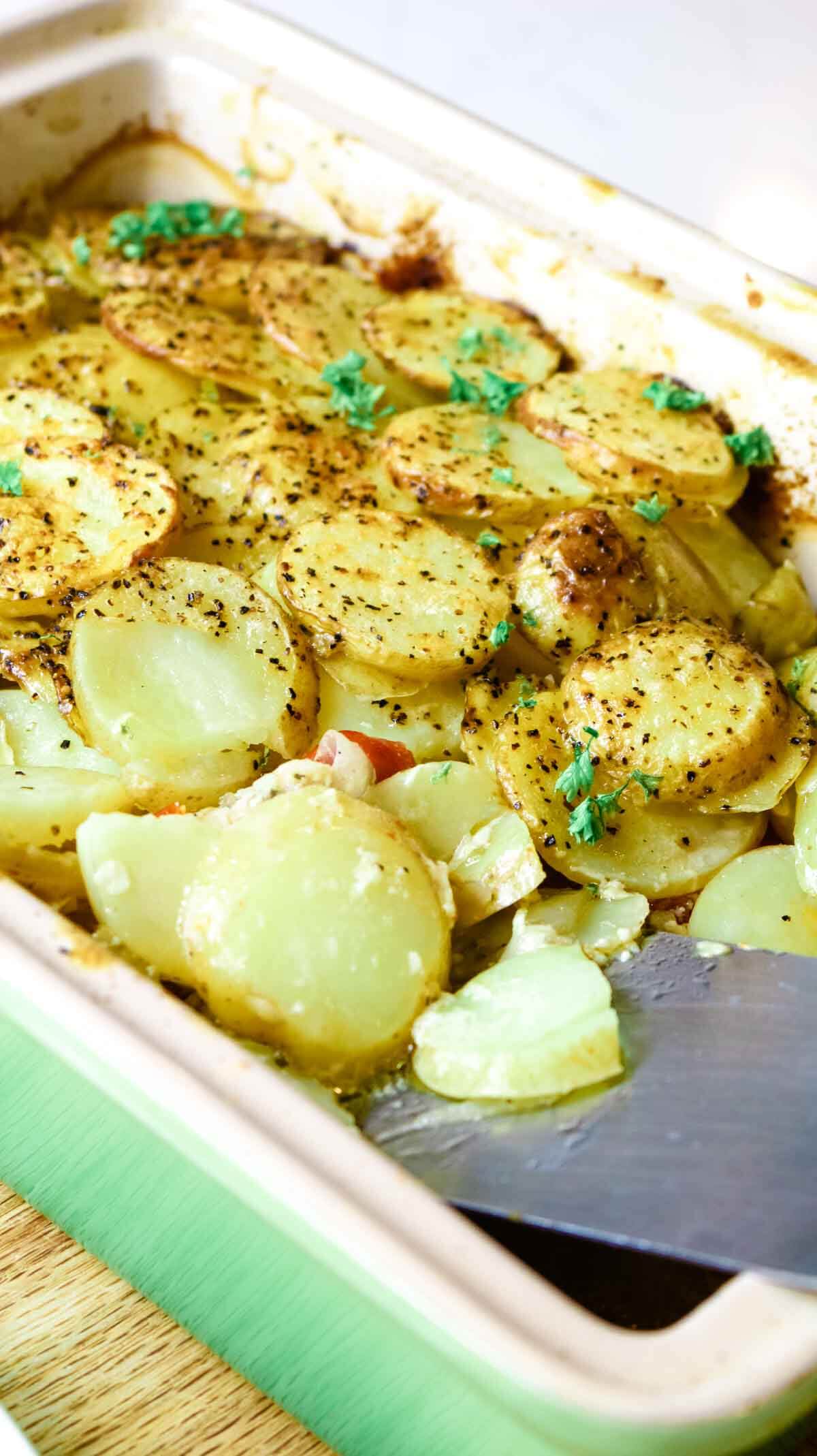 Why you need this recipe in your meal rotation
This potato bake recipe has been in our family for decades. And for good reason.
Check out all these benefits that this humble casserole boasts:
With meat and potatoes, it's almost a complete meal. Toss a simple side salad together and you're good to go.
This easy recipe is versatile and can be made with any cut of chicken or any type of potatoes.
From start to finish, the entire recipe takes only 50 minutes with 15 minutes of hands on prep time - making it a great weeknight dinner for the whole family!
It is full of great flavor! Don't let the simplicity of the recipe deceive you into thinking it lacks flavor.
This recipe is dairy free but a little Parmesan on top of the potatoes does wonders.
It makes a great meal to deliver to a new mama or hurting friend.
That's just a small sampling of the benefits that this potato casserole offers. But it's obvious this needs to be included into your family favorites recipe collection.
Helpful Tip: Double the recipe - one for dinner and one to deliver to a friend in need. This comfort food is comfort for a reason.
What are the ingredients in Chicken Potato Bake?
The ingredients in this Chicken Potato Bake are pretty basic and readily available at the grocery store so you should have no trouble finding what you need.
In fact, it's possible you may have everything at home already.
chicken breasts or thighs: we prefer thighs for flavor but breasts is leaner and cooks quicker
potatoes: your favorite potatoes will do - white potatoes, russet potatoes, red potatoes, but our favorite is Yukon gold potatoes
yellow onion: for amazing flavor and juiciness
tomatoes: again adds great flavor and different texture - any variety of tomatoes will work here
mayonnaise: this will create a semi creamy sauce as the juices from the chicken and veggies meld into the mayo. Use the best your budget allows and check those ingredients.
herbs: this casserole is subtly seasoned with dried basil and garlic powder to keep it simple and delicious
Make it Nutrient-Dense: Consider making your own mayonnaise so you can fully control all the ingredients that go into your meal. Find the recipe to Avocado Mayonnaise here.
Suggested Substitutions and Variations
This Chicken Potato Bake is naturally Whole 30 and paleo because it's dairy free. As mentioned above, be sure your mayonnaise doesn't contain any rancid seed oils or unneeded additives.
I do like adding a little bit of freshly-grated Parmesan to the top but omitting that will not alter the overall flavor of the dish.
Additionally, this recipe is easy to tweak to fit your family's taste preferences. Consider making these changes:
Don't like tomatoes? Use zucchini instead, just slice one zucchini into rounds.
Another good option for veggies is mushrooms and/or bell peppers. Adds great flavor and texture.
Prefer the onions cut differently? Finely dicing them will make them essentially melt into the rest of the ingredients and will go unnoticed by onion-haters.
Use chicken breasts for a leaner dish while chicken thighs will give you more flavor and less chance of drying it out.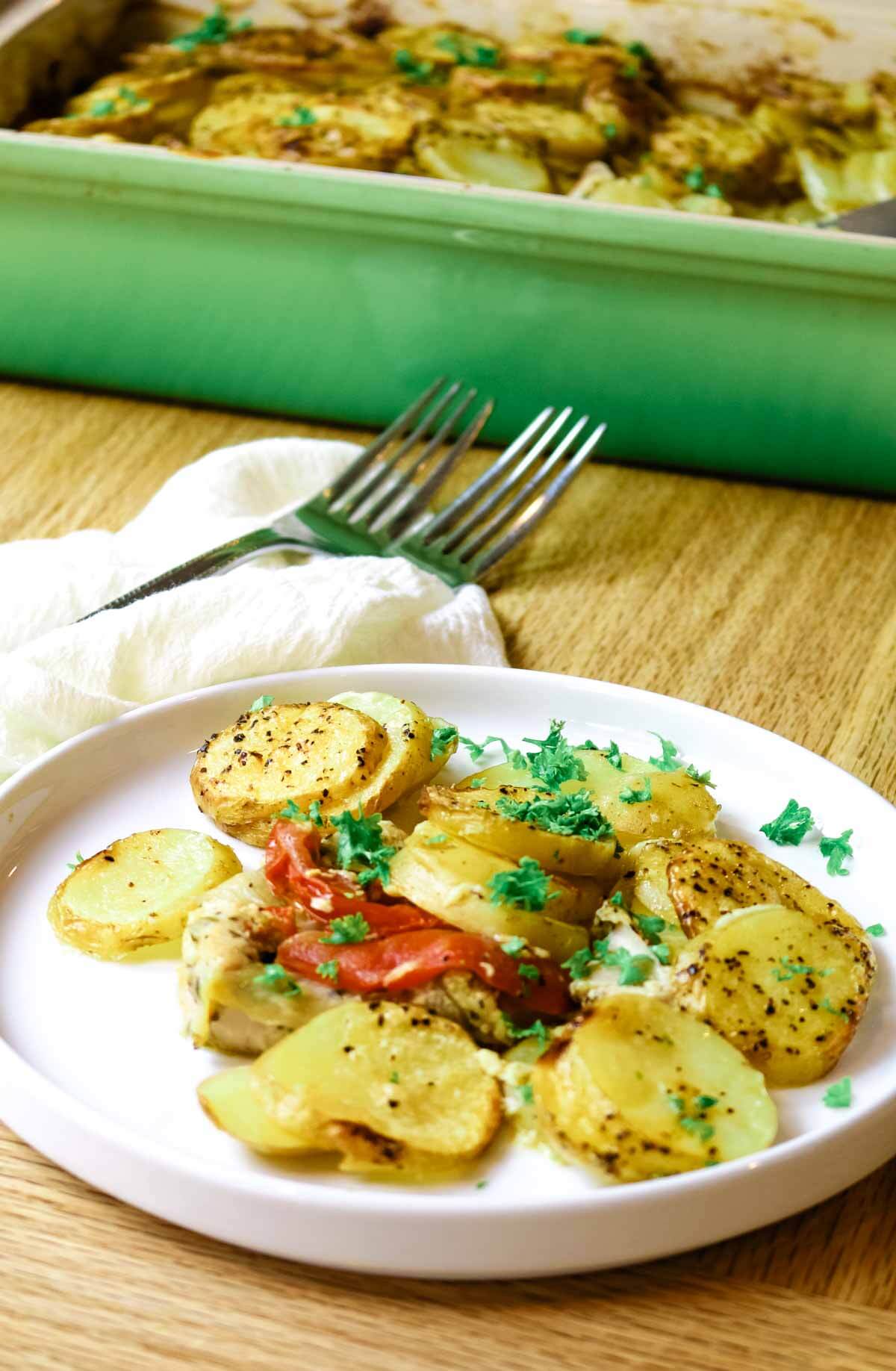 Frequently Asked Questions & Tips
Can you use leftover chicken instead of raw?
Cooked chicken like from rotisserie chicken is great for some recipes like this Chicken Cabbage Casserole but for best result, using raw chicken is best here. Because the potatoes are also raw, we need the cooking time for it to cook thoroughly. If using chicken leftovers, you run the risk of leaving the chicken dry after baking time.
What can be added on top of the potatoes?
This meal is appealing partly because of it's simplicity. But to dress this Chicken Potato Bake up (say, if you're hosting for a crowd or just have a few extra minutes), consider grating some fresh Parmesan on top, adding some bacon bits (find the easy fool-proof oven recipe here) and fresh curly parsley for a pop of color.
Is Chicken Potato Bake healthy?
It absolutely can be healthy when made with the right ingredients. We already talked about the importance of using quality mayonnaise made with pastured eggs and good oil like extra virgin olive oil. Find a recipe to homemade mayonnaise here.

This recipe has no cream and thus is naturally dairy free if dairy is problematic for you. Furthermore, even chicken has a spectrum of "good, better, best" and best would be pastured, free-range chicken that you can buy from your local farmer.

Additionally, use organic potatoes and keep the skin on for added nutrition. If organic potatoes are not feasible, I would suggest peeling them to remove any pesticide exposure.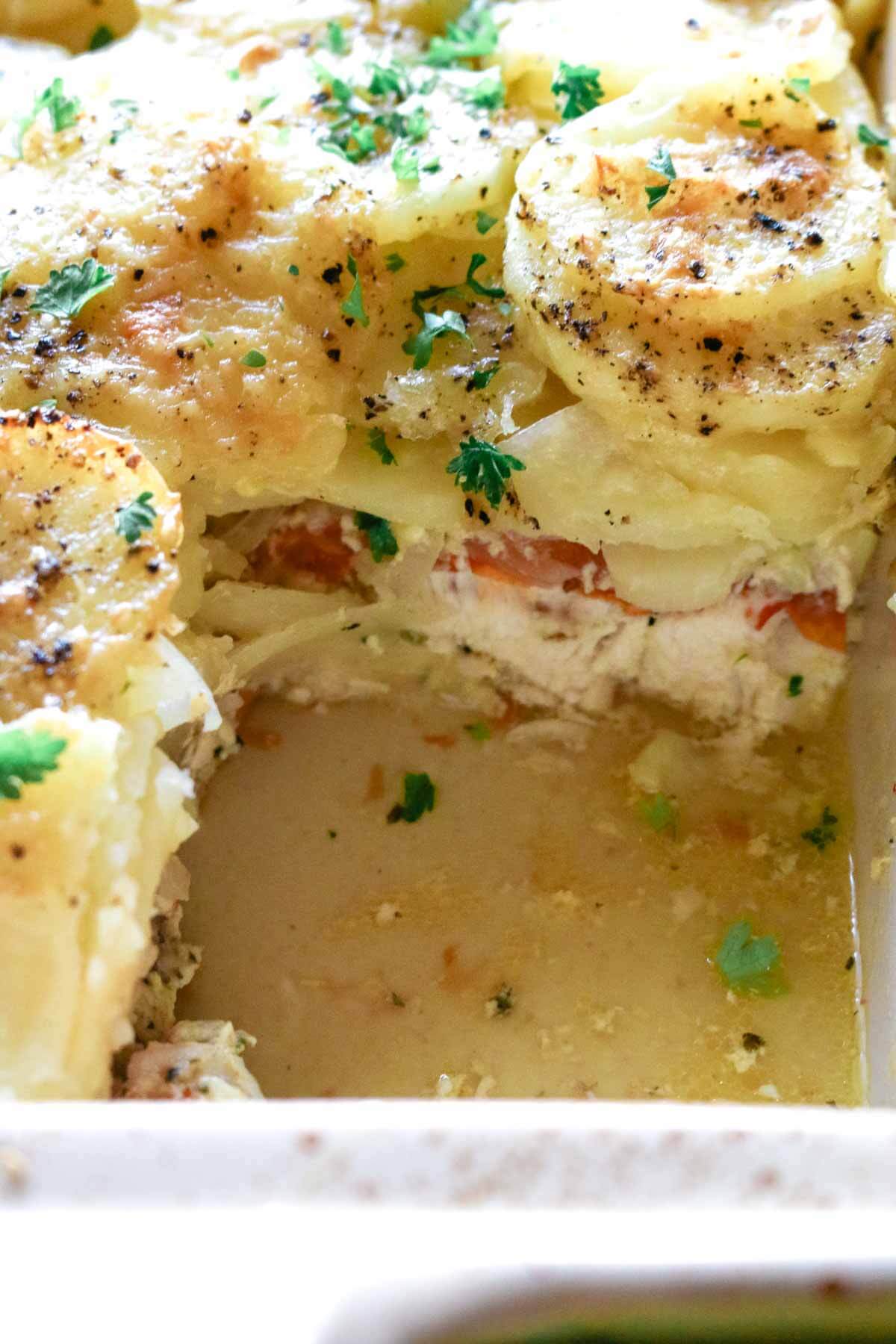 Make-Ahead Tips
This hearty casserole has 15 minutes of hands on prep time. The oven will take care of the rest.
But sometimes those 15 minutes in the late afternoon can make or break your evening so my make-ahead tip for this Chicken Potato Bake recipe would be to make it in the morning, cover it, and store it in the refrigerator until ready.
Just remember to pull it out of the refrigerator and allow it to come to room temperature before popping it in the oven.
This recipe is not good at freezing raw (raw potatoes don't freeze well) but can be frozen after completely chilled after cooking.
You can also break this recipe down to make it in stages and have components ready to assemble at dinner time.
Slice up the onions, tomatoes, potatoes (keep taters in a bowl of water) - keep this in containers in refrigerator.
Cut up the chicken and toss with mayonnaise and herbs - keep in the refrigerator until ready to assemble.
If using homemade, make sure you have a batch of mayonnaise ready.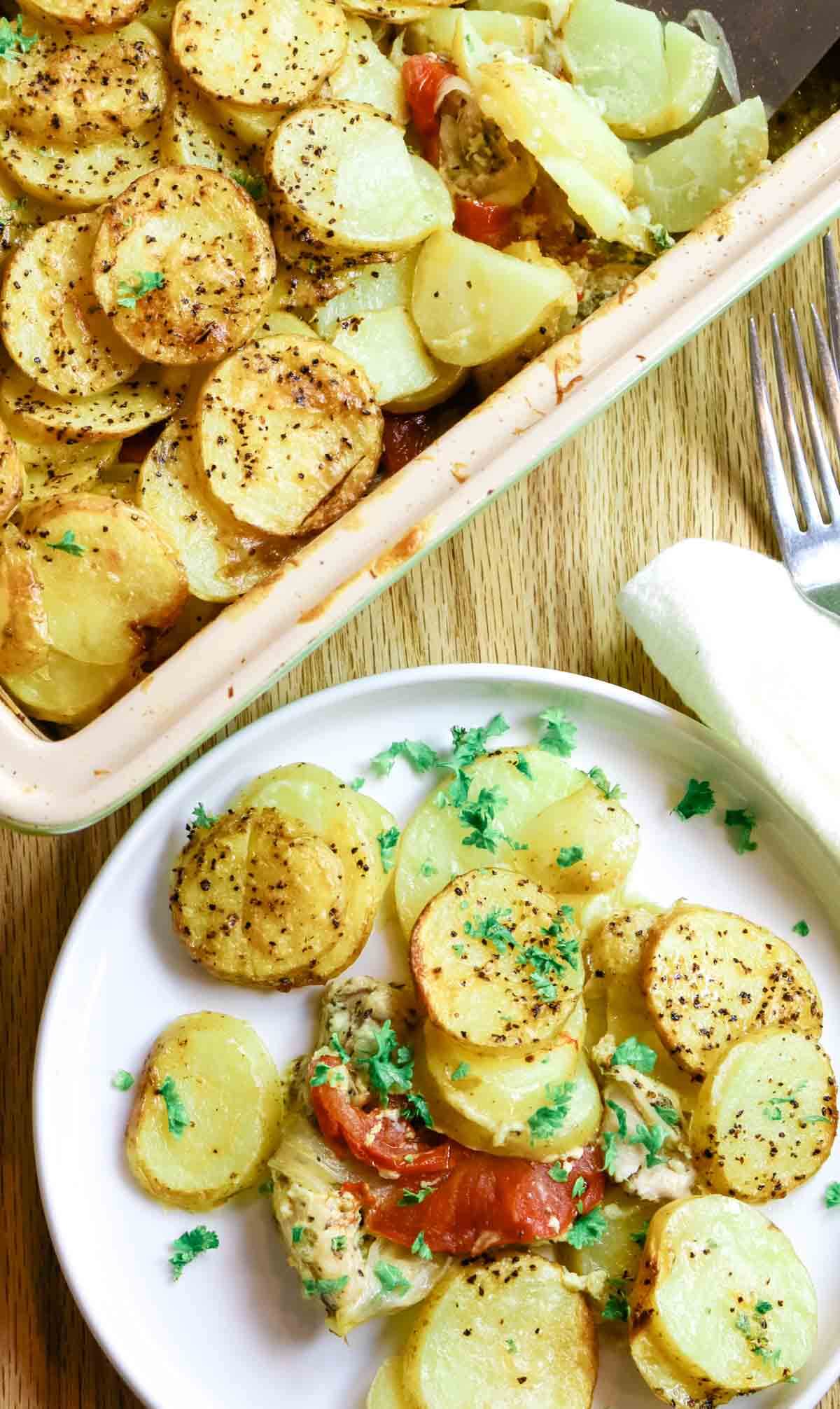 Storage and Re-heating Instructions
To store: If you have any leftovers, transfer them to an airtight container and keep in the refrigerator for up to 5 days. I prefer using glass containers similar to these than can go from refrigerator to oven for easy reheating.
To reheat: My preferred way to reheat this and any other casserole-type meals is to reheat them in an air fryer or convection oven. I simply put the glass container with leftovers into the air fryer/convection oven and heat it for 10-15 minutes at 400 degrees Fahrenheit.
Alternatively, you can also reheat leftovers in a cast iron skillet with a lid on medium-low heat. You may need to add a tablespoon or two of water to create steam.
Helpful Tip: If using convection oven-type air fryer, don't bother with preheating it first before reheating your leftovers. It actually warms through better with gradual temperature rise and also avoids the risk of cold glass container shattering.
How to make Chicken Potato Bake
The complete printable recipe is below in the recipe card for your convenience.
This Chicken Potato Bake recipe calls for these ingredients that you will need: chicken meat, mayonnaise, dried basil, dried oregano, garlic powder, sea salt, tomatoes, onion, potatoes, Parmesan cheese (if using), and salt & pepper.
Step 1. Prepare the chicken
Cut the chicken into bite-size pieces (about ½ inch to 1 inch size). Toss with basil, oregano, garlic powder, salt and half of the mayonnaise.
I prefer to do this step directly in the baking dish to avoid dirtying more dishes.
Spread evenly on the bottom of a 9x12 casserole dish (4 quart size dish).
Helpful Tip: You can quickly and efficiently thaw frozen chicken in a bowl full of water. Make sure the chicken is sealed properly first, then submerge the chicken in water for 10-15 minutes or until thawed. Replace water if needed. 
Step 2. Prepare the veggies
Cut tomatoes in half, then slice them into ¼" thick half-moons.
Do the same for onions. Peel them first, then slice into into half rings.
Thinly slice potatoes into ⅛"-¼" thickness either with a sharp knife or mandolin slicer like this one. The thickness of your potatoes is strictly preferential. You do get a more aesthetically looking casserole the thinner the potatoes.
Toss the potatoes with the remaining mayonnaise making sure to coat both sides of the potato slices.
Step 3: Assemble & Bake
To your spread chicken, add a layer of tomatoes, followed by a layer of onions.
Finish by spreading the sliced potatoes evenly over the chicken and vegetables, making sure to cover any and all holes.
Season with salt and pepper and sprinkle some Parmesan cheese if using.
Cover and bake in a preheated 425 degree Fahrenheit oven for 40 minutes. Remove cover and continue to bake for additional 20 minutes or until golden brown on top.
When done baking, remove Chicken Potato Bake from oven and allow to rest for 10 minutes for all the juices to settle in the baking dish.
Garnish with fresh curly parsley before digging in.
Helpful Tip: If using foil to cover the Chicken Potato Bake, use a parchment paper to create a barrier between the food and aluminum foil.
Helpful Tools & Links
Below are some links that may be helpful to you as you make this recipe. You can find some of these items cheaper at your local store but it helps to have a link so you know what you're looking for.
What to serve with Chicken Potato Bake?
Make it a meal! Consider these options to add to this bake to make it a complete meal.
Looking for other chicken dinner recipes? Here are some ideas:
Did you make this? Please leave a ⭐ rating in the recipe card below and leave a review in the comments. Thank you!💚
Chicken Potato Bake
This Chicken Potato Bake recipe is simple yet so flavorful. With only 5 main ingredients, this meat and potatoes comfort food is a great meal for when you're short on time.
Ingredients
1 ½

pounds

chicken breasts or thighs

boneless and skinless

⅔

cup

mayonnaise

divided

1

tablespoon

dried basil

1

teaspoon

garlic powder

1

teaspoon

sea salt

½

teaspoon

dried oregano

2

tomatoes, medium

approximately ¾ pounds

1

yellow onion

approximately ½ pound

2

pounds

potatoes, Yukon gold, russet, red potatoes

washed and dried

¼

cup

Parmesan cheese

(optional)

salt and pepper
Notes
Whole 30 & Paleo options: Use compliant mayonnaise (or homemade) and skip the Parmesan on top.
Nutrition
Calories:
309
kcal
|
Carbohydrates:
18
g
|
Protein:
18
g
|
Fat:
18
g
|
Saturated Fat:
4
g
|
Polyunsaturated Fat:
8
g
|
Monounsaturated Fat:
5
g
|
Trans Fat:
0.1
g
|
Cholesterol:
52
mg
|
Sodium:
418
mg
|
Potassium:
627
mg
|
Fiber:
3
g
|
Sugar:
2
g
|
Vitamin A:
297
IU
|
Vitamin C:
22
mg
|
Calcium:
65
mg
|
Iron:
2
mg
Nutrition Information
The information shown is an estimate provided for your convenience by an online calculator. It should not be considered as a substitute for a professional nutritionist's advice. See our complete Nutritional Information Disclaimer.
©Prepare and Nourish • Content and photographs are copyright protected. Sharing of this recipe is encouraged and appreciated but please do NOT screenshot or copy/paste complete recipes to websites or social media.
This post was originally published June 2017 but has since been updated to include helpful information.