This Greek Tomato and Cucumber Salad has all the robust Mediterranean flavors but without the leafy greens. Just a handful of simple ingredients, yet delicious and boasts a simple Greek salad dressing.
When garden fresh tomatoes and cucumbers are plenty, fresh salads become a regular on the dinner table. There are so many different ways to enjoy fresh tomatoes and cucumbers. Even just slicing them and arranging them on a platter goes a long way. Growing up, we would eat tomatoes like apples, straight off the vine, still warm from the heat of the sun. Now, I enjoy my heirloom tomatoes in delicious salads with other amazing flavors.
Greek Tomato and Cucumber Salad
The Tomatoes
I love using heirloom tomatoes directly from my garden. Red zebra and Cherokee purple are bursting with sweet flavor and delicious texture. They are undoubtedly the stars of this salad.
The Cucumbers
I love spiralizing my cucumbers for that wow effect but they can just as easily be diced, chopped, sliced, or cut however you wish. If the cucumbers are large and too seedy, I recommend removing the seeds for better flavor. English cucumbers or Persian cucumbers are best for this salad as their seeds are tiny.
The Dressing
My favorite part about this salad is that the salad dressing can be made in large quantities and has a long shelf life (if garlic is omitted, see note below). I usually reuse the store bought kombucha glass jars for my salad dressings but THIS one will work just as well. You can also use mason jars. I suggest jars for salad dressings since it is much easier to mix the dressing well. You could whisk everything in a small bowl but having the dressing in a jar makes it so much more convenient and efficient.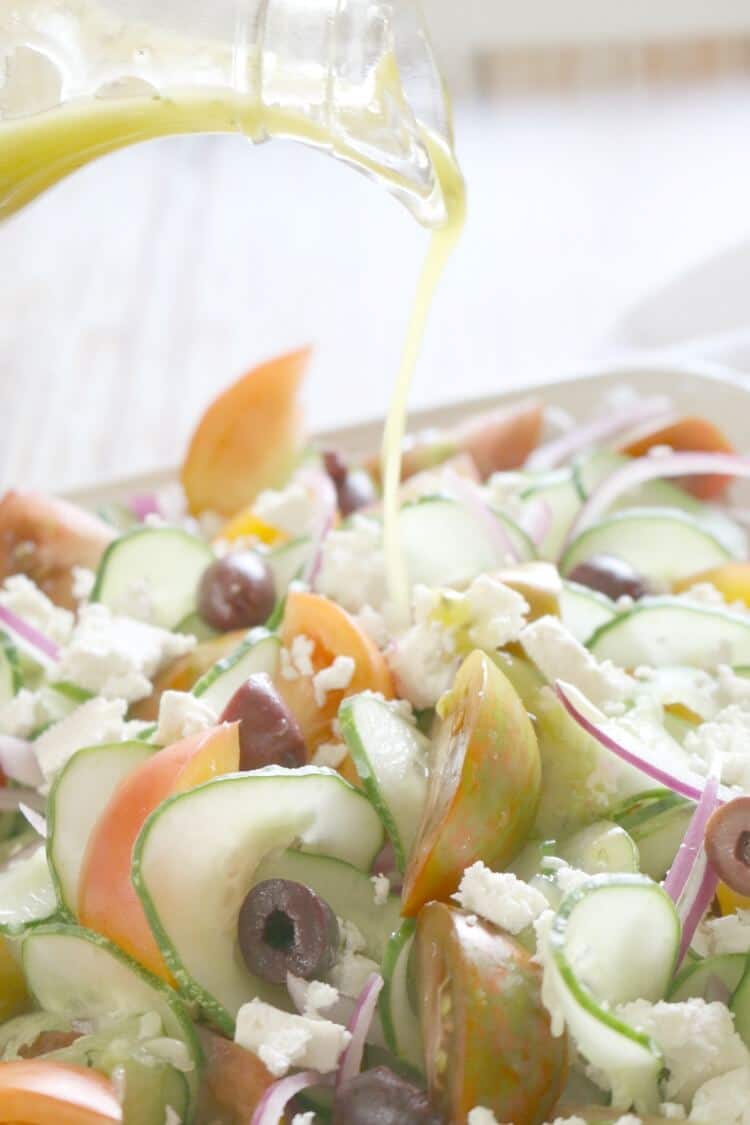 Note: I always add garlic directly to salad and not to salad dressing as it has an off-taste if it sits too long. Because I usually make salad dressings in bulk, I leave garlic out until ready to use in a salad. 
Greek Tomato & Cucumber Salad
Garden fresh tomatoes, cucumbers, red onions, olives & feta all enveloped in a simple Greek salad dressing.
Print
Ingredients
1

English cucumber

OR

4

Persian cucumbers

5-6

medium tomatoes

1

small red onion

1/2

cup

fresh feta

1/4

cup

Kalamata olives

2

garlic cloves, minced
Instructions
Cut, chop, dice, or spiralize cucumbers. Remove seeds from cucumbers if they are too seedy. Cut tomatoes into small wedges (depending on the size of the tomatoes, these maybe cut into 1/8 or even 1/16). It's easiest to cut the tomatoes in quarters first, then again in eights. Peel and thinly slice red onions.

In a medium bowl, combine chopped or spiralized cucumbers, tomato wedges, thinly sliced red onions, crumbled fresh feta (more or less per preference), and halved pitted Kalamata olives.

In a small dressing or mason jar, combine all ingredients for the salad dressing. Add more salt if needed.

Pour dressing over tomatoes and cucumbers, add minced garlic and toss well.

Best enjoyed immediately. Salad can be stored in an airtight container in refrigerator for up to 3 days but cucumbers and onions will loose it's crispy texture.
Recipe Notes
For longer storage: use grape or cherry tomatoes and seedless cucumbers. Combine ingredients but leave salad dressing aside until ready to eat. 
You May Also Like
Almond Crusted Trout and Cucumber Olive Salad
Classic Stuffed Cabbage Leaves