Tangy, creamy, full of flavor, this Simple House Salad Dressing is a staple in our real food kitchen. Easily whip this up in 2 minutes with only 4 healthy ingredients. Naturally Whole30, Low Carb and Paleo.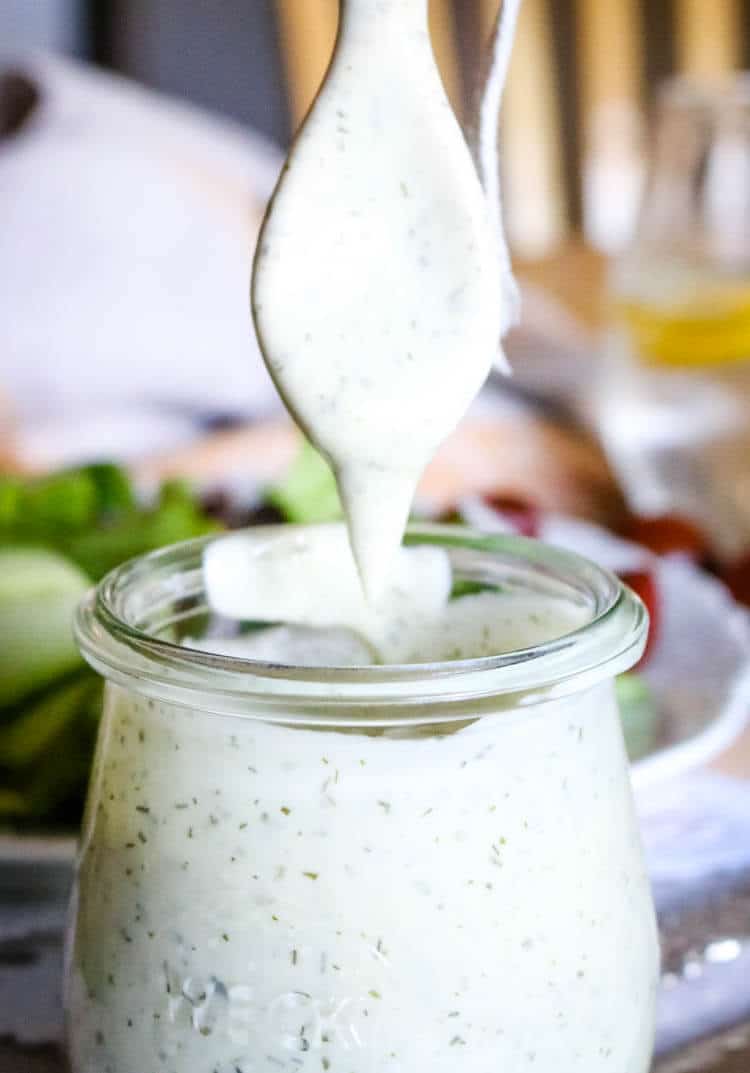 Simple House Salad Dressing
When I was working outside the home, I would often bring salads to work for lunch. This was before I delved into real food and "healthy" was considered a bowl of greens drenched with store-bought dressing. The dressing was obviously full of canola oil, MSG and other nasties in all it's noxious glory. But I enjoyed my Cobb Salad, Caesar Salad, Ranch Salad and all the other salads of the world.
My refrigerator door looked like an aisle from the grocery store, with plastic bottles carefully lining the shelves boasting what only resembles a salad dressing. In reality, those bottles were filled with ingredients that I would never consider putting on my plate now.
Fast forward many years, I now make all of my salad dressings from scratch. It's insanely easy, fabulously cost-efficient, and rich in flavor. And the best part is I have full control over every single ingredient that goes into the bottle.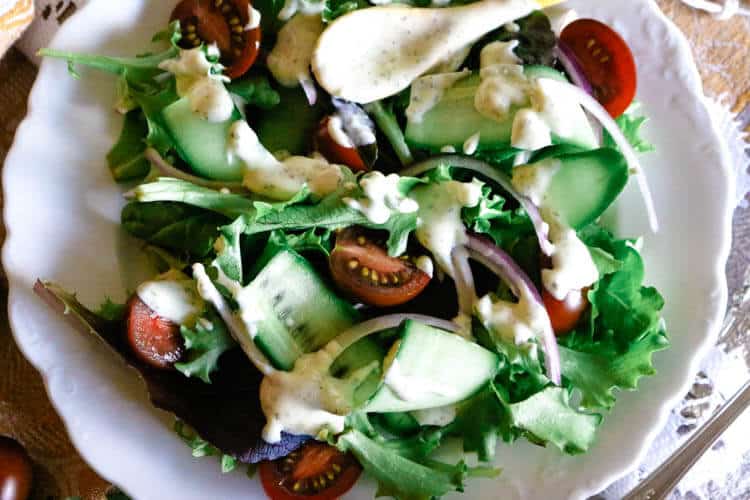 What is House Dressing?
House dressing is a regular salad dressing typically found in many restaurants across America. Every establishment has their own secret recipe but most of them are of the creamy vinaigrette variety.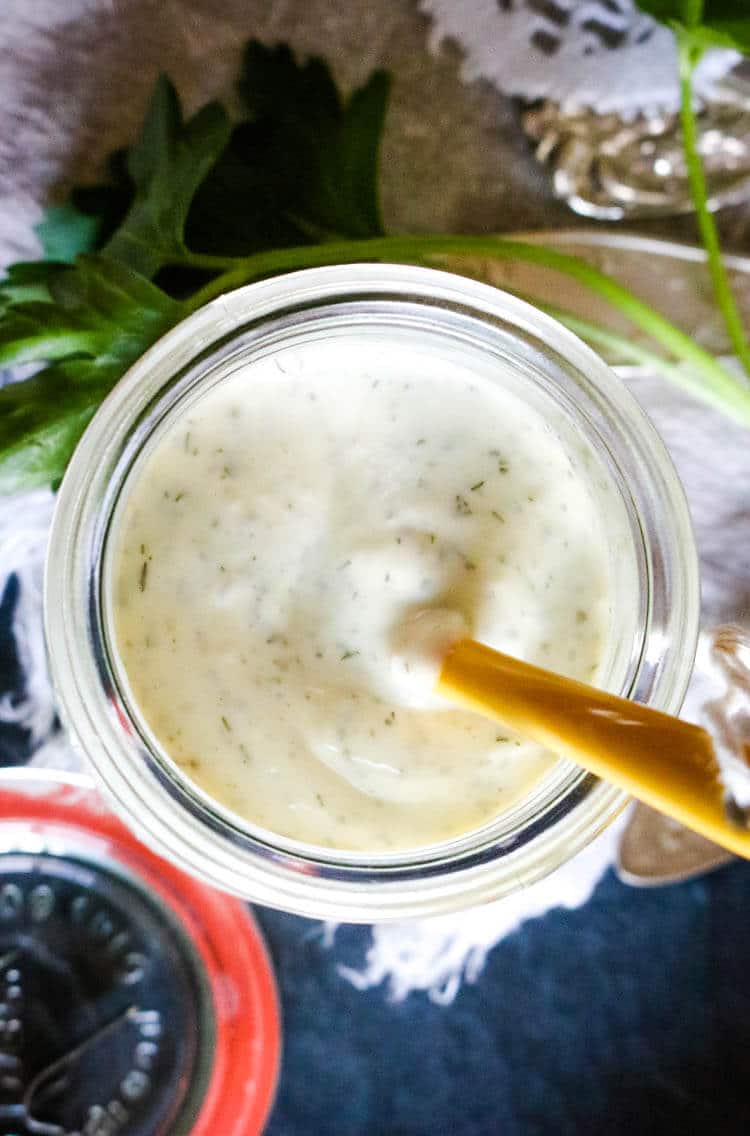 House Salad Dressing Ingredients
This salad dressing is simple with just 4 healthy ingredients. You can jazz it up if you wish by adding fresh garlic or herbs such as dill and basil. But the main ingredients are as follows:
Ingredient 1: Apple Cider Vinegar- This is the base of the dressing and I love adding it for it's tangy flavor as well as it's health benefits. Apple Cider Vinegar is rich in enzymes, promotes digestion and supports a healthy immune system.
Be sure to choose raw, unfiltered, unheated, and organic vinegar that contains the 'Mother.' We love and use Bragg's Apple Cider Vinegar and it's readily available in most grocery stores.
Ingredient 2: Mayonnaise- Only a tablespoon or two of this creamy deliciousness in this dressing! You can choose to skip this ingredient but I wouldn't advise -- it adds thickness and rich texture. I love adding mayonnaise to this House Dressing as it gives a richer consistency and adds another depth of flavor.
If you're strict paleo or Whole30, be sure to find mayonnaise that is compliant. I always prefer to make my own to cut cost. To streamline prep work, I make a batch of this dressing right after making my mayonnaise. Without rinsing out my immersion blender, I just shake off the excess mayonnaise and move the blender to another jar meant for this dressing.
Never made mayonnaise? It's very easy with this simple recipe!
Ingredient 3: Seasonings - For starters, always start with good salt. I love to use Celtic Sea Salt. Sustainably harvested with no additives, Celtic Sea Salt is rich in natural minerals and trace elements. I regularly purchase 5-pound bags from Amazon and stock up when they go on sale. Even though the grind is coarse and the salt has a "damp" feel, this is still my go-to salt for most every dish.
The parsley, dill weed, garlic powder, and onion powder can be easily swapped if you have some dried ranch seasoning on hand (see recipe to that here). Just a tablespoon of the pre-made seasoning will do and it gives just enough flavor without overpowering the rest of the ingredients.
If you don't have the pre-made seasoning, use ¼ teaspoon of each: dried parsley, dried dill, garlic powder, and onion powder.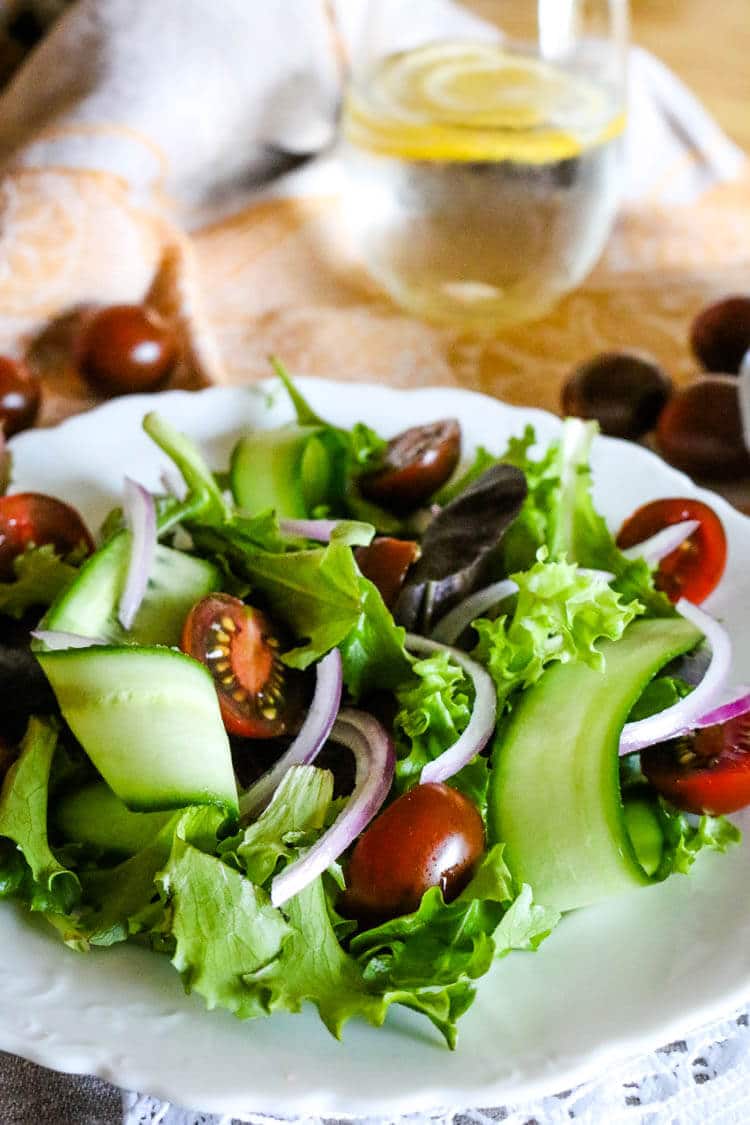 Ingredient 4: Healthy Oil - In the recipe card, I include avocado oil however, I've been making this dressing with La Tourangelle's Roasted Walnut Oil and it has an amazing flavor. If you can get your hands on this oil, you won't regret it.
The depth of flavor is unbelievable - it's a nutty taste but the delicacy of walnut leaves out the bitterness.
No Roasted Walnut Oil? No worries, plain avocado oil will do. Avoid canola or other "vegetable oils" (corn, sunflower, safflower, grapeseed oil).
Because of their high Omega-6 fat content, they are by nature less stable than other types of fats. As a result, they break down easily under stress such as heat, light or oxygen.
And even though we're not heating this salad dressing, the reality is most industrial oils on the store shelves have already been processed at high heat therefore, are already denatured. And oxidized fats are highly inflammatory to the body.
Therefore, I prefer avocado oil in most of my dishes. Avocado oil is also great because it doesn't have a strong flavor, making it suitable for any dressing.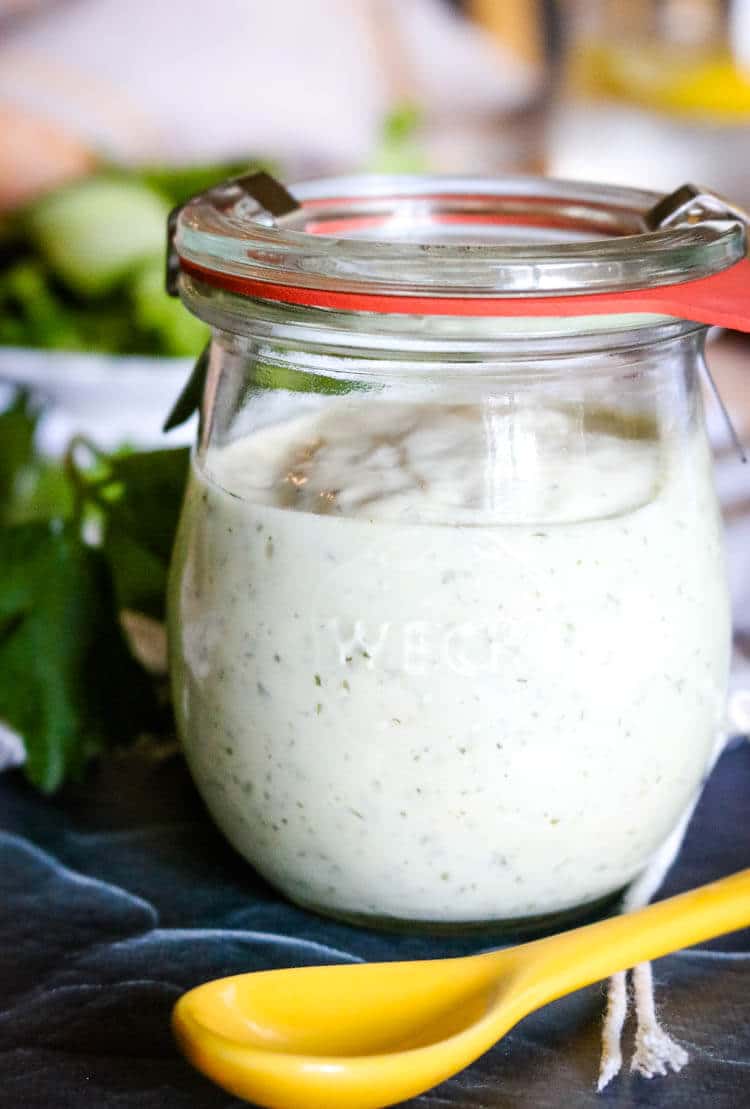 Homemade House Dressing Recipe
Printable Recipe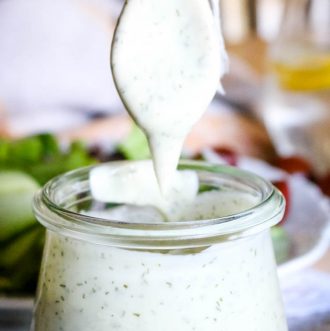 Simple House Salad Dressing - Paleo, Low Carb, Whole30
Tangy, creamy, full of flavor, this house dressing is a staple in our real food kitchen. Easily whip this up in 2 minutes with only 4 healthy ingredients.
Ingredients
House Dressing:
¼

cup

Apple Cider Vinegar

1-2

tablespoon

mayonnaise

1

tablespoon

dried ranch seasoning

or see notes for individual seasonings

1

teaspoon

Celtic Sea Salt

1

cup

avocado oil or roasted walnut oil
Instructions
Combine all ingredients for salad dressing in a pint size jar. Blend well with a whisk or

immersion blender

.*

Store in the refrigerator until use. Can be stored for up to two months in the refrigerator.

If the dressing solidifies, add a few tablespoons of additional oil and mix with a fork until smooth.

Pour House Dressing over salad and enjoy!
Nutrition
Calories:
29
kcal
|
Carbohydrates:
1
g
|
Protein:
1
g
|
Fat:
3
g
|
Saturated Fat:
1
g
|
Cholesterol:
1
mg
|
Sodium:
295
mg
|
Potassium:
4
mg
|
Sugar:
1
g
Nutrition Information
The information shown is an estimate provided for your convenience by an online calculator. It should not be considered as a substitute for a professional nutritionist's advice. See our complete Nutritional Information Disclaimer.
©Prepare and Nourish • Content and photographs are copyright protected. Sharing of this recipe is encouraged and appreciated but please do NOT screenshot or copy/paste complete recipes to websites or social media.
If you liked the recipe above, please consider rating the recipe and leaving a comment below. Also, be sure to follow me on Facebook, Instagram, and Pinterest.
Other Condiments You Might Enjoy:
Ranch Dressing Recipe - Fresh & Dried Herbs (Low Carb, GAPS, Primal)
Homemade French Onion Mix & Dip (Low Carb, GAPS, Primal)
Real Food Caesar Salad Dressing (Low Carb, GAPS, Primal)
>>> Pin This <<<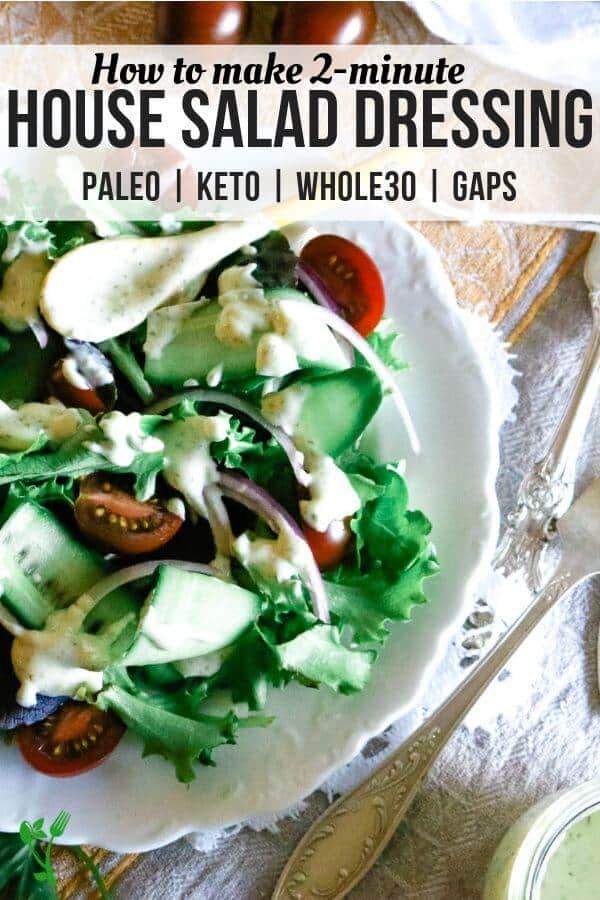 This recipe was originally published February 2, 1017 and has been updated.