Learn how to make Lacto-Fermented Jalapeno Peppers with only 2 ingredients. It's a simple and delicious way to add a spicy kick to any meal. These fiery peppers are packed with gut-friendly probiotics and live enzymes. Preserving jalapenos with this easy recipe is a great way to enjoy the spicy flavor throughout the year.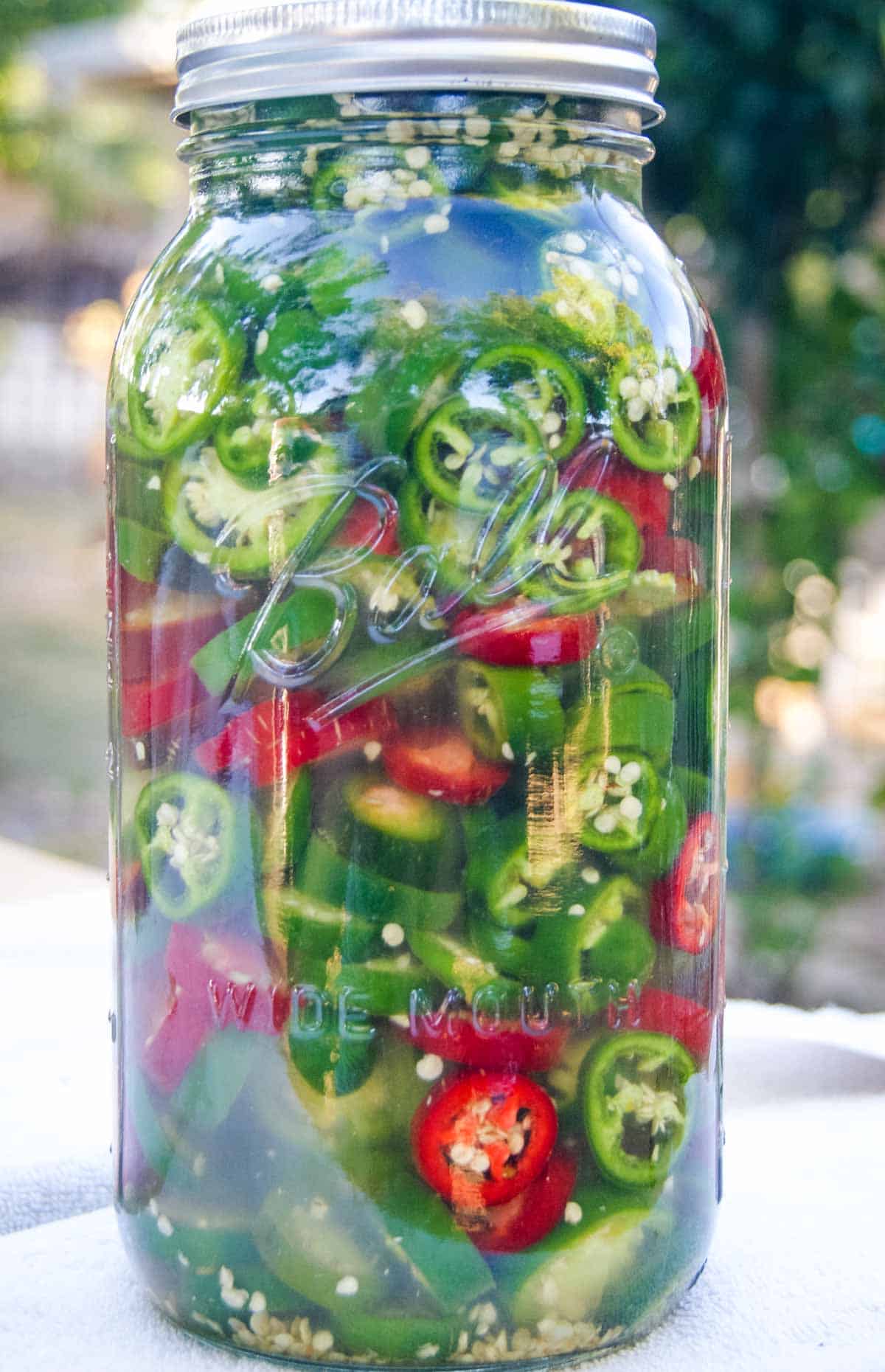 Our fridge is always stocked with these fermented jalapeños. They're great as a lovely condiment to tacos, nachos, salads, breakfast eggs, or any other favorite dish. It's a delicious way to incorporate more ferments into your diet effortlessly.
Fermentation is also a great way to preserve the summer harvest. So if you have a bumper of jalapeños growing in your garden, this recipe is the perfect way to preserve those peppers to last you most of the upcoming year.
If your bumper is exceptionally full, you will love roasted jalapenos and poppers as a way to use up these zesty peppers.
But if you're looking for something long-term, this recipe is it! The easy fermenting brine keeps the peppers firm yet tangy and spicy the entire time.
Jump to:
What are lacto-fermented jalapenos?
Lacto-fermentation is a metabolic process in which glucose from a food source like vegetables or grains is converted into cellular energy-producing good bacteria.
The process of lacto-fermentation destroys the bad bacteria in the first phase and produces good bacteria, Lactobacillus, in the second phase.
Salt is essential for the formation of lactic acid bacteria. Since the harmful bacteria does not tolerate much salt, lactic acid is formed as a natural preservative for the flavor and integrity of the fermented product.
Fermenting jalapeños is one of the easiest ferments you'll make. The key is using enough salt to destroy harmful bacteria during fermenting.
The saltwater brine will become cloudy as the friendly bacteria consumes the carbohydrates found in the vegetables and converts them to lactic acid.
Lacto-fermentation is far superior to any other food preservation method because of its high count of beneficial bacteria and health benefits. Fermented foods are a powerful antioxidant, a great way to support gut health, and are overall gentle support for the immune system.
Why you'll love this recipe
Great taste - Lacto-fermentation adds a tangy, sour, and slightly salty flavor to jalapenos, enhancing their taste and making them even more enjoyable.
Health benefits: The process of lacto-fermentation creates probiotics, which are beneficial bacteria that may support overall health.
Versatility: Lacto-fermented jalapenos can be used in various dishes, from tacos to soups. Plus, the brine is equally delicious and versatile.
Easy to make: Lacto-fermenting jalapenos is a simple process that requires only a few ingredients and minimal effort. All you need is fresh jalapenos, salt, water, and a jar, and you can have delicious, probiotic-rich jalapenos in just a few days.
💭Pro tip: Lacto-fermentation of vegetables doesn't need a starter culture or special fermenting equipment. Just some good salt and a willingness to experiment.
What do fermented jalapeños taste like?
Fermented jalapeños are deliciously spicy and perfectly tangy. You will love these fiery peppers! They have a rich depth and are packed with tons of flavor. They are savory and vibrant yet perfectly balanced with a sharp, pickled tang and subtle saltiness.
The texture is similar to pickled jalapeños but, overtime (after 6+ months), will slowly soften. They should retain their texture if properly fermented, as salt is a powerful preservation.
Ingredients
Learn how to ferment jalapenos with this easy 2-ingredient recipe, excluding water. The hardest part is waiting for them to ferment.
jalapeños: Look for smooth skin with no blemishes or dents.
unrefined sea salt: good quality, unrefined sea salt is important for any fermented vegetable.
warm water: Bring water to a boil first to make sure it's sterilized, then cool to a tepid temperature, warm enough to dissolve salt
See the recipe card for exact quantities.
Variations
Try any hot peppers - Jalapenos are a classic but try serrano or chili peppers to change things up.
Add garlic - Toss in a few garlic cloves to the jar for easy picked garlic to be enjoyed whole.
Sliced carrots - Add sliced raw carrots to the peppers for an excellent jalapeno and carrot accompaniment to all your Mexican-inspired dishes.
Make it Nutrient Dense
Staying true to the core of what Prepare and Nourish is all about, there are ways to ensure you get the maximum nutrition in all your meals.
Use fresh jalapeños. Buy jalapeño peppers from your local farmer's market for the best flavor. Or better yet, grow them in your garden! The closer to the source, the more nutritious the food. Organic is the next best option if you buy peppers at the grocery store. And if neither of those works for you, get regular peppers and check out the next tip.
Soak in a vinegar solution. It would be best to soak conventionally grown jalapeno peppers in vinegar water. Add one cup of distilled white vinegar to four cups of water and soak for 5 minutes. Drain and rinse. Ensure the peppers are fully dry before proceeding with the recipe.
Good quality salt. Salt will act as a natural preservative, keeping the bad bacteria at bay during fermentation. Use good quality salt like Redmond's unrefined sea salt.
Serve ferment at every meal. Add lacto-fermented food as a garnish or condiment to make any meal more nutrient dense. Because different strains of Lactobacillus have different strain-specific health benefits, it's important to vary lacto-fermented foods. You can see all my fermented recipes here.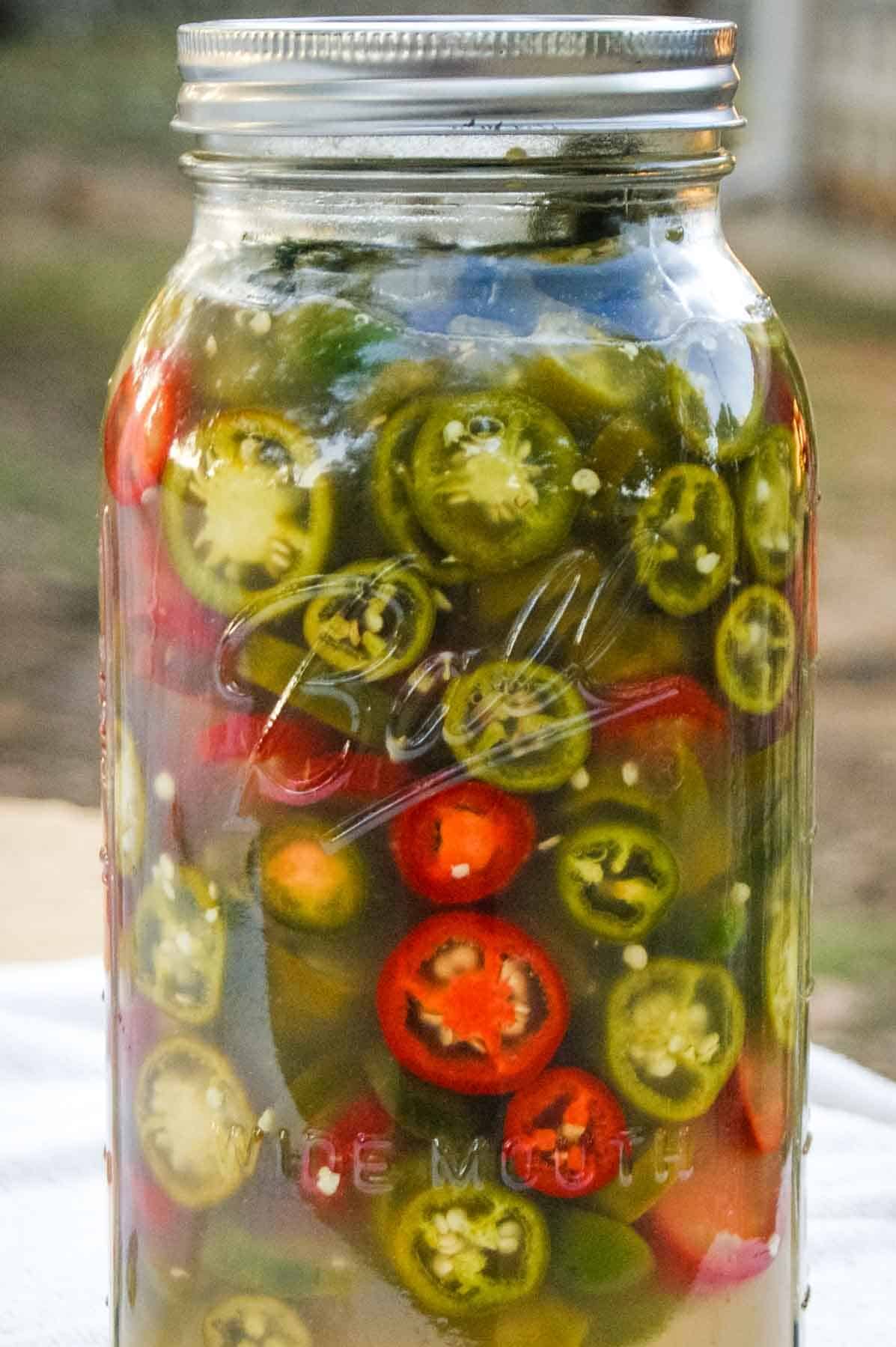 Helpful Tips
Maintain ideal ambient temperature. During fermentation, keep your jalepeños at a comfortable 65-75°F (18-24°C) and out of direct sunlight.
Keep it all submerged. Ensure all jalapeño slices are fully submerged in the salty brine. Using fermentation weights like these helps with that. You may also use a few cabbage leaves to push down the sliced jalapeños.
Burp jar daily. After approximately 48 hours of fermenting, you should start seeing lots of bubbles produced, and you will need to burp the jar to release some of those gasses. Burp the jar daily for the next week until the brine becomes muted and cloudy. Use this opportunity to make sure that everything is in the brine.
Ferment to taste. You can ferment jalapeños at room temperature for 3-6 weeks, depending on your preference for tartness. I usually transfer mine to the refrigerator after three weeks.
Step-by-Step Instructions
The complete printable recipe is below in the recipe card for your convenience.
This jalapeños recipe is very basic. You'll only need two ingredients plus warm water to get these peppers going.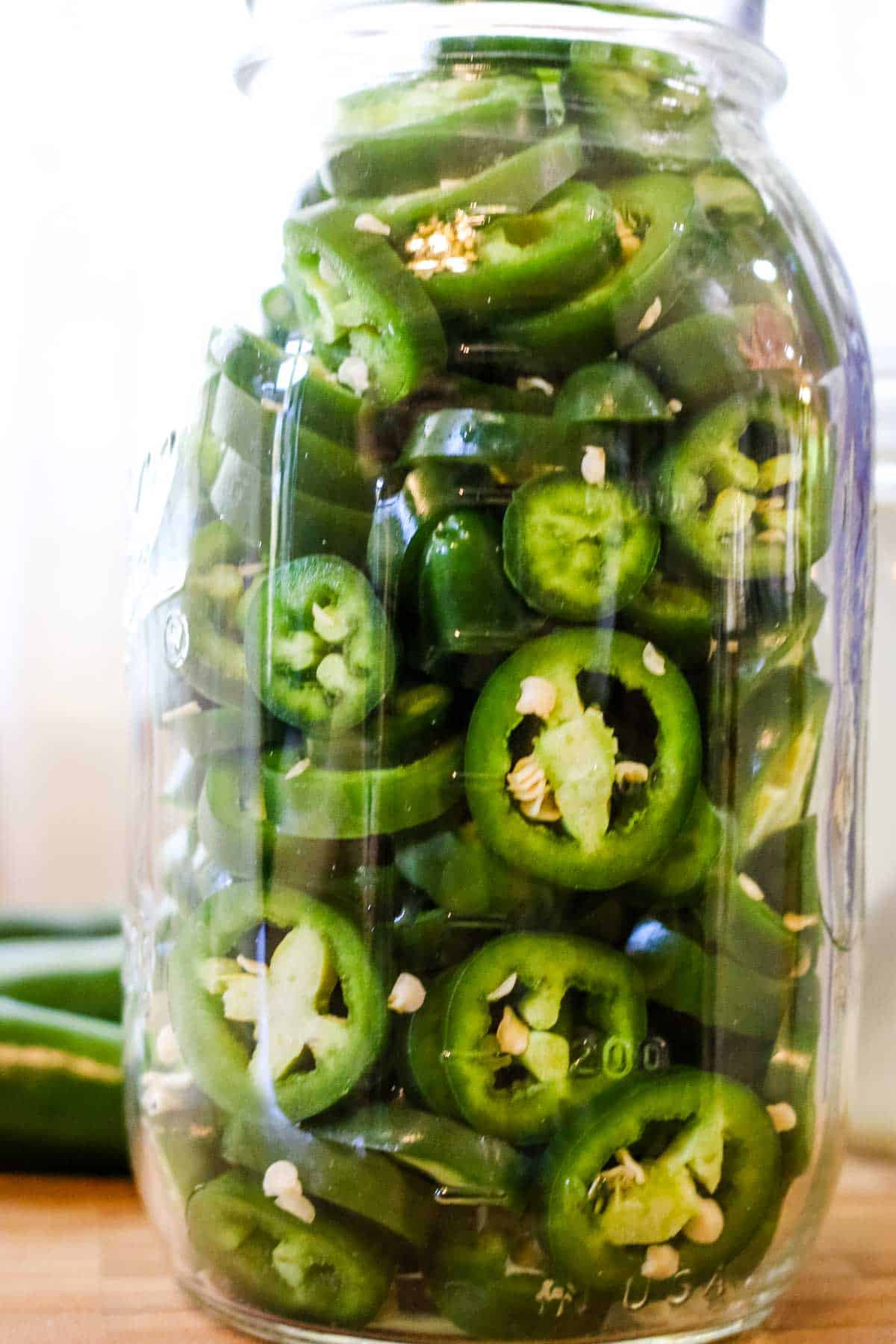 Step 1. Prep
Wash and dry the peppers. Cut them into small slices ¼" thick, discarding the stem.
Transfer the peppers into a clean and sterilized quart-size wide-mouth jar.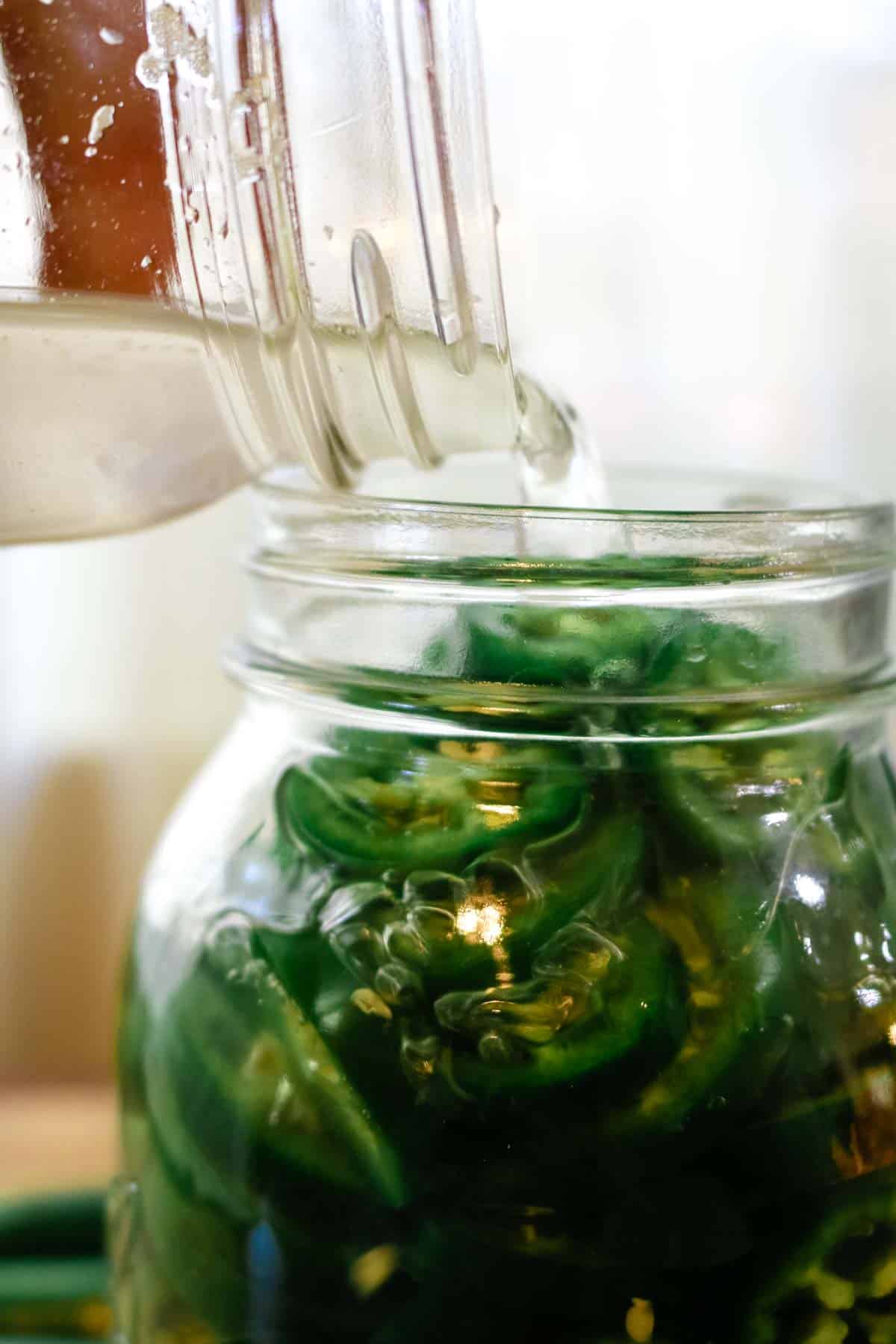 Step 2. Make brine
Dissolve salt in warm water in a deep bowl, measuring cup, or another mason jar.
Pour over the jalapeno slices. Loosely cover the jar and set it aside to ferment.
💭Pro tip: Keep the pith and seeds of the jalapeno peppers for extra heat.
Ensure all peppers are fully submerged in the brine at room temperature, away from direct sunlight. A fermentation weight or a few cabbage leaves helps keep everything submerged.
Fermentation Timeline
The fermentation timeline for cultured jalapenos can vary depending on several factors, such as the temperature, the amount of salt used, and the desired level of sourness based on personal preferences.
After 48 hours, begin daily burping the jar to release the carbon dioxide gasses. For best results, continue to do this for at least two weeks.
Generally, most ferments take 1-4 weeks, with the optimal temperature ranging between 65-75°F (18-24°C).
Do a taste test to ensure you capture that perfect tang and sourness, and at this point, transfer the fermented jalapeños to the refrigerator.
💭Pro tip: Make sure you use a quart jar with a wide mouth as the peppers will naturally rise to the top during the process of fermentation.
Helpful Tools & Links
Below are some affiliate links that may be helpful to you as you make this recipe. You can find some of these items cheaper at your local store, but having a link helps you know what you're looking for.
Fermentation Troubleshooting
Lacto-fermentation can be intimidating. There's an easy way to avoid mold on your ferments.
A good rule of thumb to remember: always use high salt concentration for lacto-fermentation to avoid the growth of harmful bacteria.
You can learn more about the importance of using weight measurements in your fermented foods in the post on making raw sauerkraut. Using a salt concentration of 2.5% for successful ferments will keep bad growth away.
The bad yeasts cannot tolerate salt. If a white film (called kahm yeast) is developed on the surface, skim it off the top, and your peppers are still safe to consume. Kahm yeast is typically opaque and wrinkled.
But if the growth you see looks fuzzy, pink, blue, or green - throw away the food and start over. Never eat anything with mold growing on it.
Here are some quick tips to remember:
Start with clean supplies. Sterilize the jar by pouring boiling water in it, then pouring out the water.
Use clean and dried jalapenos.
Avoid contamination and use clean utensils and hands whenever you handle the peppers.
Use an adequate amount of salt to avoid bacterial overgrowth.
Serving Suggestions
These lacto-fermented jalapeños are great on just about any food. Enjoy these fiery peppers with carnitas, classic taco meat, or sheet pan breakfast.
But don't stop there! You can use the jalapeno brine to make salad dressings instead of vinegar. Or use these fermented jalapenos instead of fresh in recipes like pico de Gallo and chunky guac. The leftover brine also a great acidic medium to marinate meats like pork tenderloin.
Fermented Jalapeno pairing suggestions
Storage Instructions
To store: Fermented jalapenos can be stored in any fermentation vessel in the refrigerator for up to 12 months, but it's best to eat within six months for the best flavor and maximum probiotic benefits.
Storage containers: A traditional quart-size mason jar with a wide mouth is the best for this recipe. You may also use a Weck jar 743 (753 milliliters) as it already comes with a glass lid that you can loosen just by not using the seal and clasps.
After the peppers are fully fermented, switching out the lid with a plastic wide mouth or wooden one is best so the salt doesn't erode the metal lid.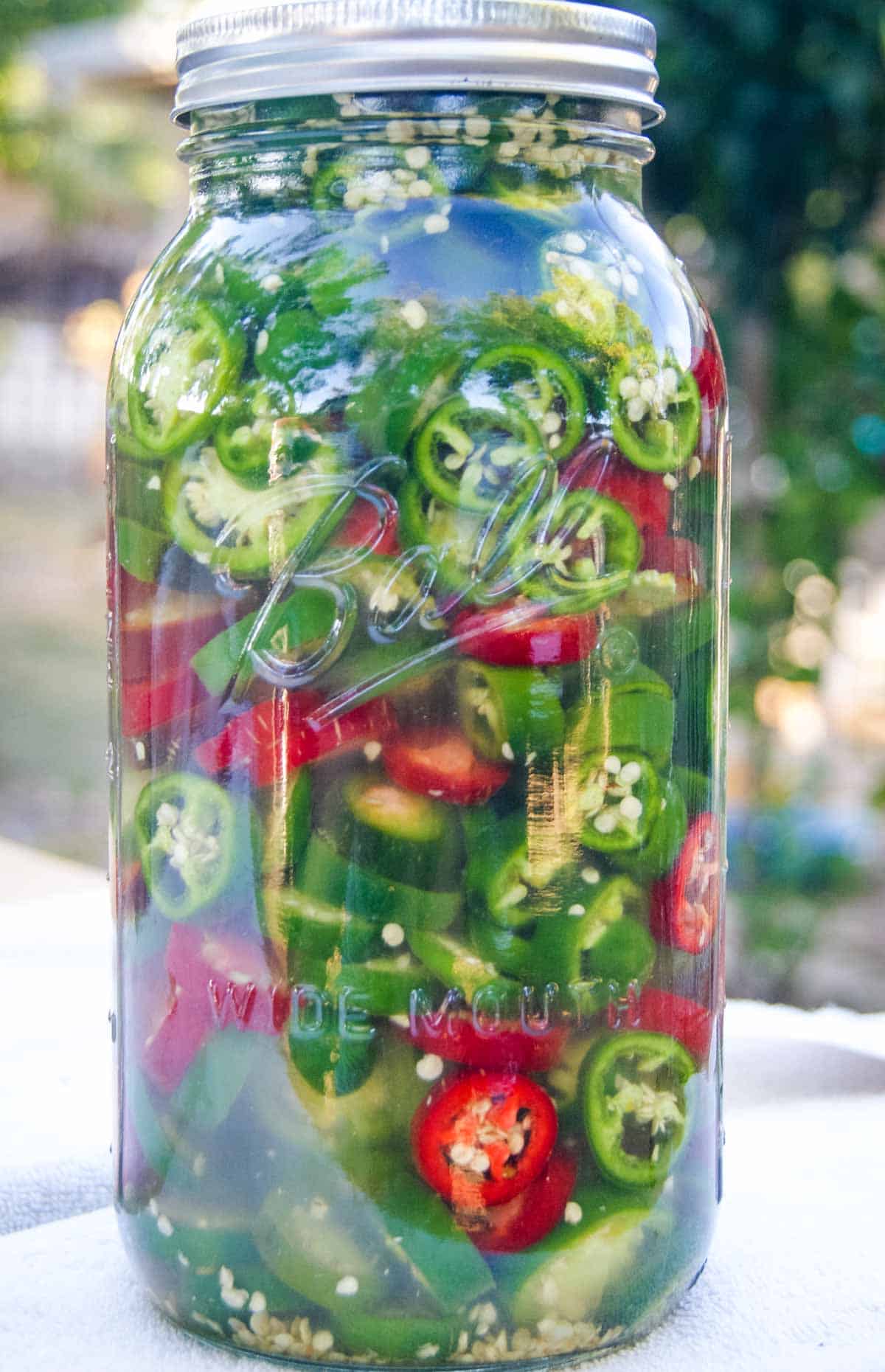 FAQs
How long will fermented jalapeños last?
If fermented properly, these jalapeños can last up to 12 months in cold storage like the refrigerator. I recommend consuming these jalapeños within six months for best flavor and maximum probiotic benefits.
What is the difference between pickled and fermented jalapeños?
Pickled jalapeños usually use pasteurization, which inevitably destroys the live microbes naturally found on vegetables. Pickled jalapeños also often use white vinegar. On the other hand, lacto-fermentation is considered wild fermentation, which uses the natural microorganisms found on the jalapeños to assist in fermentation or culturing.
What is the best salt to use to ferment jalapeños?
The best salt for all fermentation is unrefined, real sea salt. Salt is the star of this easy recipe because, without it, we couldn't naturally ferment the jalapeños. I love Redmond's fine sea salt and what I recommend for all ferments.
What are the best peppers to ferment?
This recipe is specific to jalepeños, but you can use the same framework to ferment most any other pepper: serrano, chili, banana peppers. I would strongly suggest using peppers that are not bagged, as those are usually triple-washed and lack the natural microbes found on vegetables. If using bagged peppers, add a tablespoon or two of a kraut source like sauerkraut or a previous ferment to kick start the fermentation process.
Looking for more fermenting recipes? Here are some ideas:
Did you make this? Please leave a ⭐ recipe rating in the recipe card below and leave a review in the comments. Thank you!💚
Printable Recipe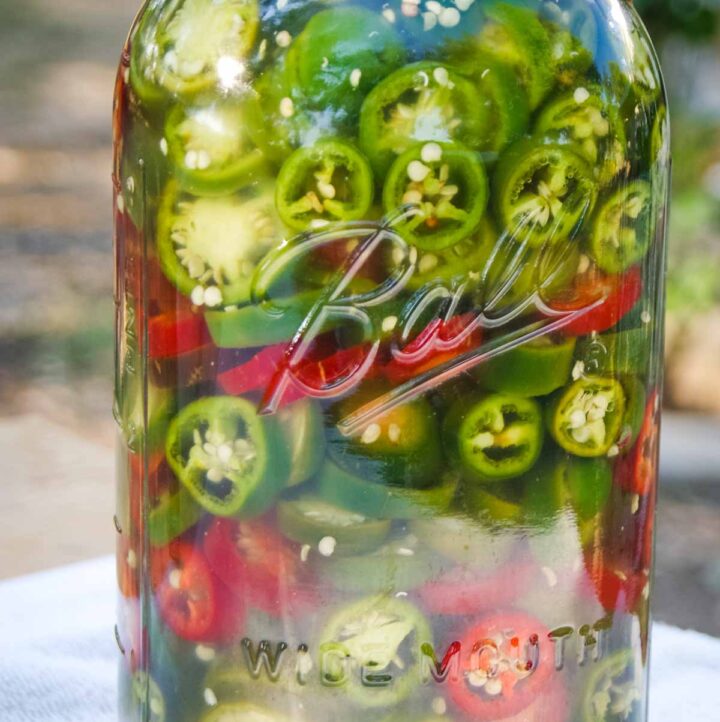 Lacto Fermented Jalapeños
Made with only 2 ingredients but packed with so much fiery flavor and healthy enzymes, these lacto-fermented jalapeños make a great condiment to accompany any dish.
Ingredients
2

cups

jalapeño peppers, sliced

approximately 1.5 pounds

3

tablespoons

sea salt

3

cups

warm water
Instructions
In a bowl or measuring cup, dissolve salt in warm water. Pour the salty brine over the sliced jalapeños, making sure they are fully submerged.

Close the jar and set aside at room temperature but away from direct sunlight. After 48 hours, begin daily burping of the jar to release carbon dioxide gasses. Do this for the next 2 weeks making sure all the peppers are fully submerged.

Transfer to refrigerator once the jalapenos have achieved the perfect tang to your preference. This may take anywhere between 2-5 weeks.
Notes
Recipe makes 1 quart (48 servings). One serving is approximately 1 tablespoon.
Fermented jalapenos will last up to 12 months in the refrigerator but it's best to consume within 6 months for best flavor and maximum probiotic benefits.
If white film on surface of the brine forms, that is wild yeast called kahm and is totally harmless. Simply skim it off the top and proceed with the fermentation process.
Using a fermentation glass weight or few cabbage leaves is helpful to keep all the sliced jalapenos submerged.
After fermenting, it's best to switch out the lid with a plastic or wooden one so the salt doesn't erode the metal lid.
Nutrition
Calories:
1
kcal
|
Carbohydrates:
0.2
g
|
Protein:
0.03
g
|
Fat:
0.01
g
|
Saturated Fat:
0.004
g
|
Polyunsaturated Fat:
0.004
g
|
Monounsaturated Fat:
0.001
g
|
Sodium:
437
mg
|
Potassium:
9
mg
|
Fiber:
0.1
g
|
Sugar:
0.2
g
|
Vitamin A:
40
IU
|
Vitamin C:
4
mg
|
Calcium:
1
mg
|
Iron:
0.01
mg
Nutrition Information
The information shown is an estimate provided for your convenience by an online calculator. It should not be considered as a substitute for a professional nutritionist's advice. See our complete Nutritional Information Disclaimer.
©Prepare and Nourish • Content and photographs are copyright protected. Sharing of this recipe is encouraged and appreciated but please do NOT screenshot or copy/paste complete recipes to websites or social media.