Chunky Guacamole is full of delicious flavors and textures. It's naturally gluten free and is a great dip for Paleo, GAPS or Whole30. Or enjoy with super easy homemade baked tortilla chips.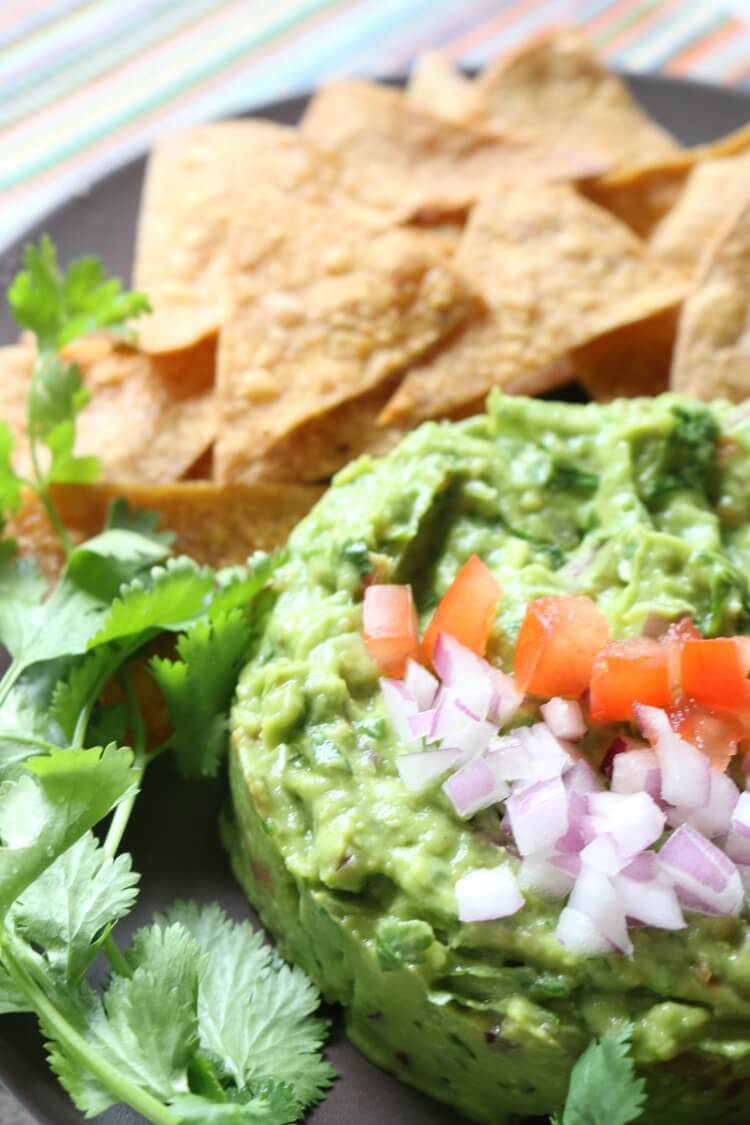 The life of an avocado can go rather quickly once it becomes slightly soft to the touch. I'm convinced guacamole was created to save those fruits from being dumped in the trash. And it's a good thing. Because I've yet to meet a person who doesn't like guacamole or avocados or guacamole on top of avocado. 😉
Guacamole can literally go on top of anything, from breakfast eggs to homemade tortilla chips. By the way, making your own is sooo incredibly easy but more on that later.
I used to make guacamole by mashing avocado, adding a pinch of salt and cumin and about a tablespoon of mayo (mayo? seriously? must I add mayo to e-ve-ry-thing?). With all due respect to everything quick and easy, this was no guacamole recipe. It was simply mashed avocado with salt and cumin. And mayo.
This guacamole happens to be rich in flavor and textures. This is now the only way I make guacamole and the best part? It does not have mayonnaise! Instead, it calls for zesty onions, tomatoes, jalapenos, garlic, lime, cilantro and of course spices.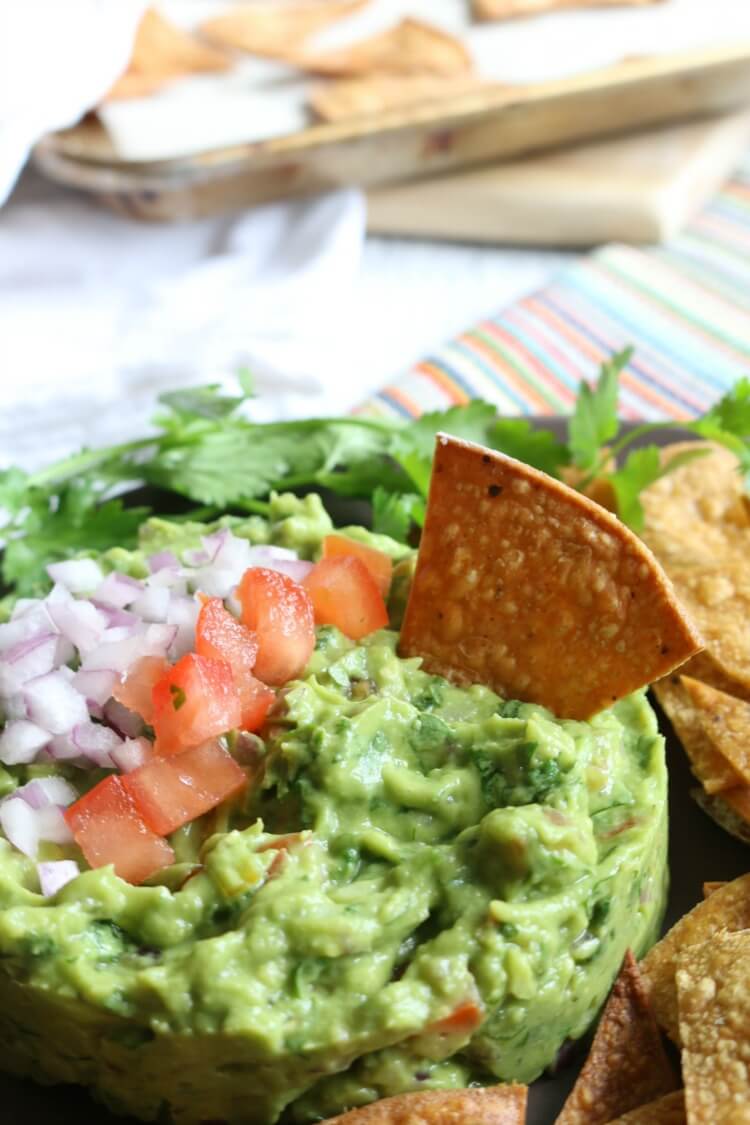 If you're on Paleo or another healing diet, simply ditch the chips and grab a spoon because this is the most flavorful guacamole you will ever taste. The spoon is so worth it. Or celery sticks will do. 😉
If you're still wanting the chips, the super-easy recipe for homemade tortilla chips is below.
Chunky Guacamole
What is it about guacamole that entices us for one more bite? It's hard to tell – between the 9 ingredients and the creamy/chunky texture – this guac will be a sure hit at your next festivities.  It's naturally gluten free and paleo, GAPS diet, and whole30 compliant. Basically, it's a healthy dip that can be enjoyed by all.
Chunky Guacamole
This dip is flavorful and delicious. Paleo, GAPS, Whole30 compliant.
Print
Ingredients
2

avocados

peeled, pitted, & mashed

2

tablespoon

fresh lime juice

1/2

cup

red onion

diced

1

Roma tomato

seeded and diced

1

jalapeno

finely chopped

2

large garlic cloves

minced

1/4

cup

cilantro

chopped

1 1/2

teaspoon

real salt

1/2

teaspoon

ground cumin
Instructions
Slice avocados in half lengthwise. Discard the seed. Scoop out the flesh with a spoon and mash with a fork in a medium bowl.

Add lime juice immediately to prevent browning while you're prepping other ingredients.

Add chopped onions, tomato, jalapeno, garlic, and cilantro and seasonings. Stir gently to combine all ingredients.

Serve with your favorite chips or veggie sticks.
Homemade Baked Tortilla Chips
I find it much easier to whip something up in my kitchen than having to make a trip to the store. That was my beginning to making homemade tortilla chips. It all started because we were out of chips but happened to have tortillas. As a result, homemade tortilla chips were baked. Because the fridge is closer than the store, it just seemed like the natural thing to do.
This is seriously one of those stupid easy recipes that can't even be called a recipe. I like to use sprouted tortillas for better digestibility and minimal phytic acid. Ezekiel brand is my favorite but I've been able to score organic corn tortillas at Costco and they work great too. Although I haven't tried, I'm sure wheat tortillas would work just fine as well.
Homemade Baked Tortilla Chips
This crazy easy recipe is great to have under your sleeve when you are out of tortilla chips but happen to have some tortillas in the fridge.
Print
Ingredients
8

8" gluten free tortillas
Instructions
Pre-heat oven to 350°F. Stack all tortillas together and with a large chef's knife, cut tortillas into wedges.

Spread the tortilla wedges out on a baking sheet in a single layer. Spray with coconut oil, if using and sprinkle with a little real salt.

Bake tortilla chips for about 7 minutes, watching carefully. I always have the oven light on so I make sure to glance that direction every few minutes.

Use tongs to turn the wedges over and bake for another 6 minutes or until they are golden in color.

Remove from oven and allow to cool. Enjoy with guacamole.