A nutrient-dense appetizer, this Easy Beef Liver Pate recipe starts with browning onions in butter and blending to luscious consistency with cream, coconut aminos, and seasonings.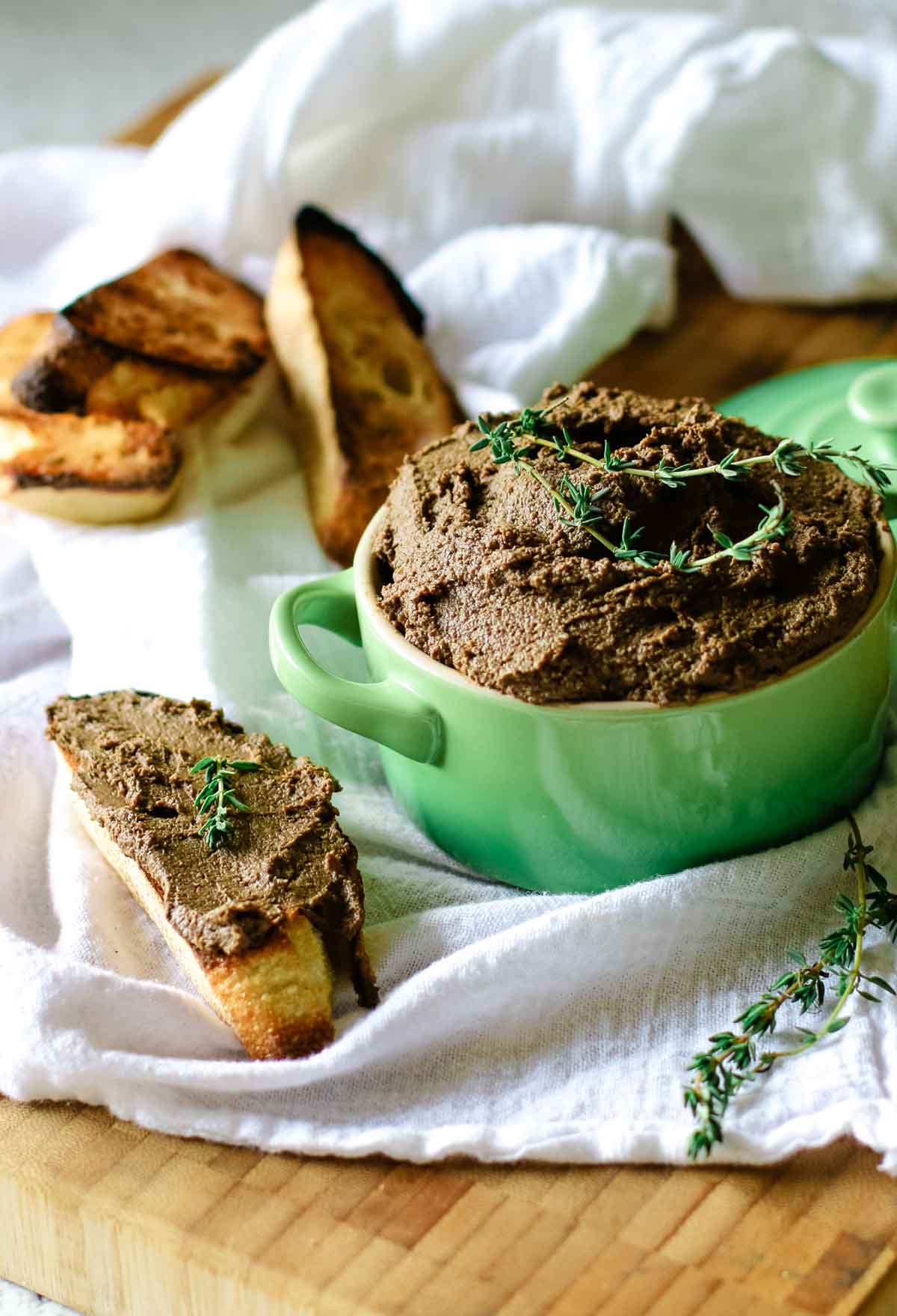 Liver pâté is a meat spread made with poultry or beef livers, healthy fat and various seasonings. It's usually served as an appetizer with crackers or crusty bread.
In many cultures, liver pâté is considered a delicacy filled with great flavor and nutrition. Often, it was a favorite food to serve on special occasions. Foie gras is a French specialty made of duck or goose livers but liver from other animals can also be used to create this nutrient-dense appetizer.
This Easy Beef Liver Pâté recipe is full of amazing flavor and is whipped together in under 30 minutes.
Jump to:
❤Why you'll love this recipe
Taste & texture: deeply flavorful with hints of natural sweetness boasting a creamy rich texture
Nutrient dense: the benefits of liver are many - it is one the most nutrient-dense foods you can have (more on that below)
Level of difficulty: easy-moderate but quickly made in a skillet and processed to smooth texture in a food processor
💭Good to Know: Pâté, pronounced pa-tei, is nothing more than a spread of pureed deeply seasoned meat like beef or chicken liver. It's a great way to enjoy the benefits of this nutrient-dense food.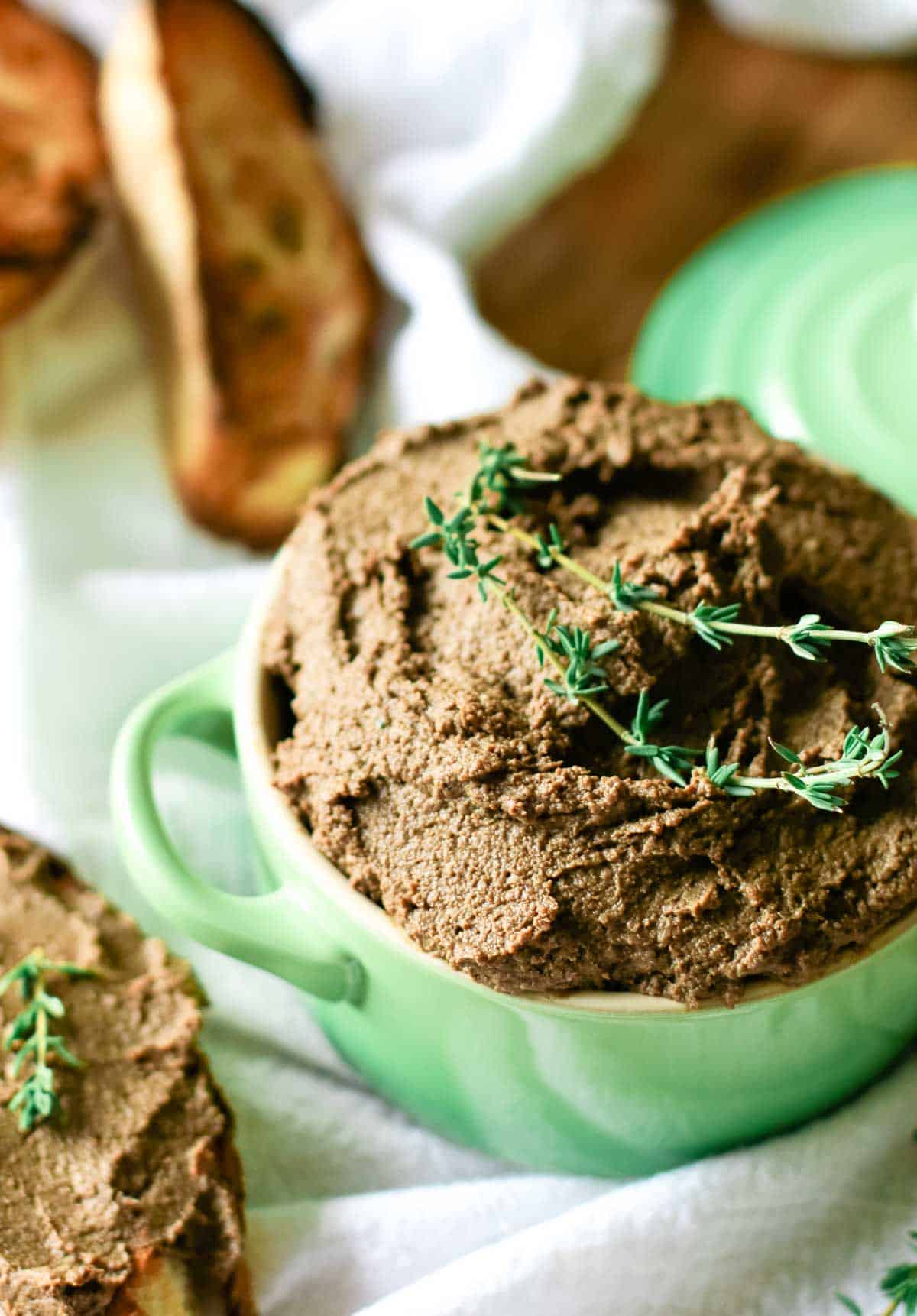 Beef Liver Benefits
Not many foods are worthy of the title superfood. Liver is one of them, however.
Once a traditional and coveted food source, it has since moved to the sidelines making way for lean muscle cuts.
But almost all traditional cultures have prized organ meats like brains, heart, and livers. Organ meats are rich in fat-soluble vitamins A and D, as well as essential fatty acids, and a whole spectrum of trace minerals. It truly is a potent superfood.
Liver in particular provides an abundance of vitamin B12, copper, zinc, iron and antioxidants to help remove toxic substances from the body.
In addition to it's excellent nutrient profile, beef liver is rich in high-quality protein as it provides all the essential amino acids (source). Lastly, it is considerably lower in fat compared to protein content than other cuts of meat. (source)
So this once treasured food source can make it's way back to your kitchen table and serve as the nutritional powerhouse that it is.
🍲Ingredients for Beef Liver Pate
beef liver: be sure to use grass-fed, grass-finished beef liver for maximum nutrition; your local farmer's are your best sources for organ meats
butter: this gives form, flavor, and great texture to the liver pâté
onion: browned in butter this adds amazing flavor
coconut aminos: served as a liquid to thin out and adds wonderful acidity and flavor
heavy cream: like the coconut aminos, the cream helps to thin out the pate and adds flavor and rich texture
seasonings: a simple blend of garlic powder, paprika, white pepper, and sea salt is all that is needed
Some recipes call for soaking the liver in milk or lemon juice to extract impurities and remove that liver taste but I find that that's not necessary because of all the flavors present in the pate.
See recipe card for exact quantities.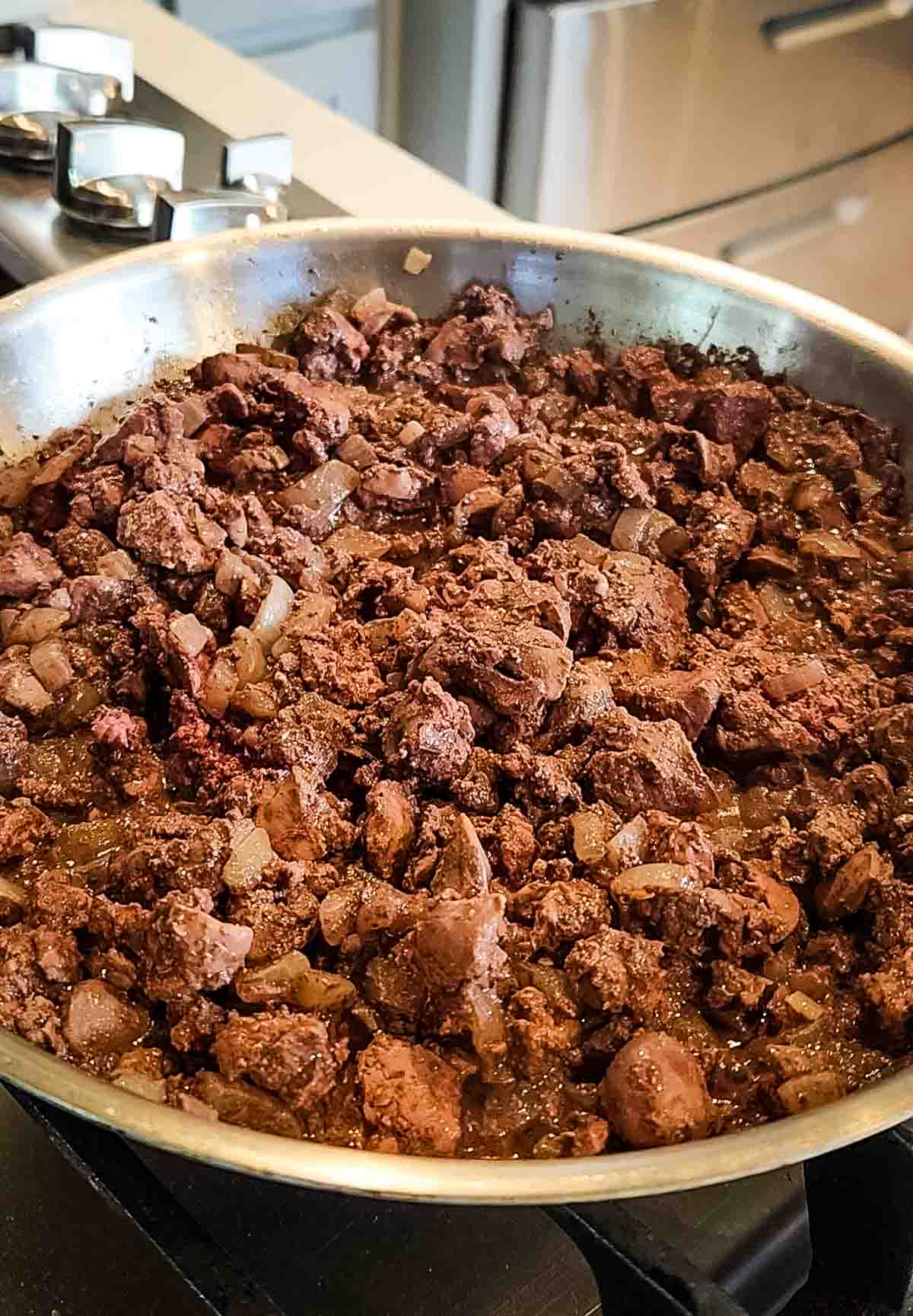 📖Substitutions and Variations
Spicy - add a pinch of cayenne to the pate and top with chili pepper flakes as garnish
Herbs - fresh thyme, oregano, rosemary, or dried parsley are all great herbs to add to the pate but start low (as some can be very potent) and adjust as desired
Chunky - don't blend to smooth consistency and give a chunky texture for a varied pate
Add depth - use red wine instead of coconut aminos and swap butter with extra virgin olive oil for more depth of flavor (it will also hide more of that gamey flavor)
Dairy-free - swap ghee for butter and coconut cream for heavy cream for a completely Whole30 and paleo pate. You can also add mayonnaise to add flavor and richness. Or for extra flavor use bacon fat or duck fat.
Low carb - the liver pate as per recipe card is already low carb and keto - just enjoy with vegetables like cucumber slices or low carb crackers
💭Helpful Tips
Remove membrane. Some livers already have this removed but if not, it's that white stringy film that is easily removed by gently pulling it. Removing this will ensure the best, smoothest liver pate.
Start with hot pan. Stainless steel is porous so you want to make sure the frying pan is hot and butter completely melted before adding the onions.
Don't overcook the liver. Doing so will dry the liver and yield a rubbery texture. Take off heat as soon as you no longer see pink in the meat.
Thin the pate with additional tablespoon of cream or half and half. You can also add bone broth or wine to thin it more if necessary.
Use a food processor. Some things you can get away using a immersion blender (stick blender), this is not one of them. Use a high speed blender or food processor to achieve that creamy texture.
Freeze for later. This beef liver pate freezes wonderfully. Just transfer into freezer trays with ½ cup portions like these then transfer to large freezer bags.
💭Looking to add more liver to your diet? Consider adding a few tablespoons of grated liver to each ground meat dish. It will be unnoticeable in taste but high in nutrition.
👩🏽‍🍳Step-by-Step Instructions
The complete printable recipe is below in the recipe card for your convenience.
This Beef Liver Pate calls for these simple ingredients: beef liver, yellow onion, butter, heavy cream, coconut aminos, garlic powder, paprika, white pepper, and sea salt.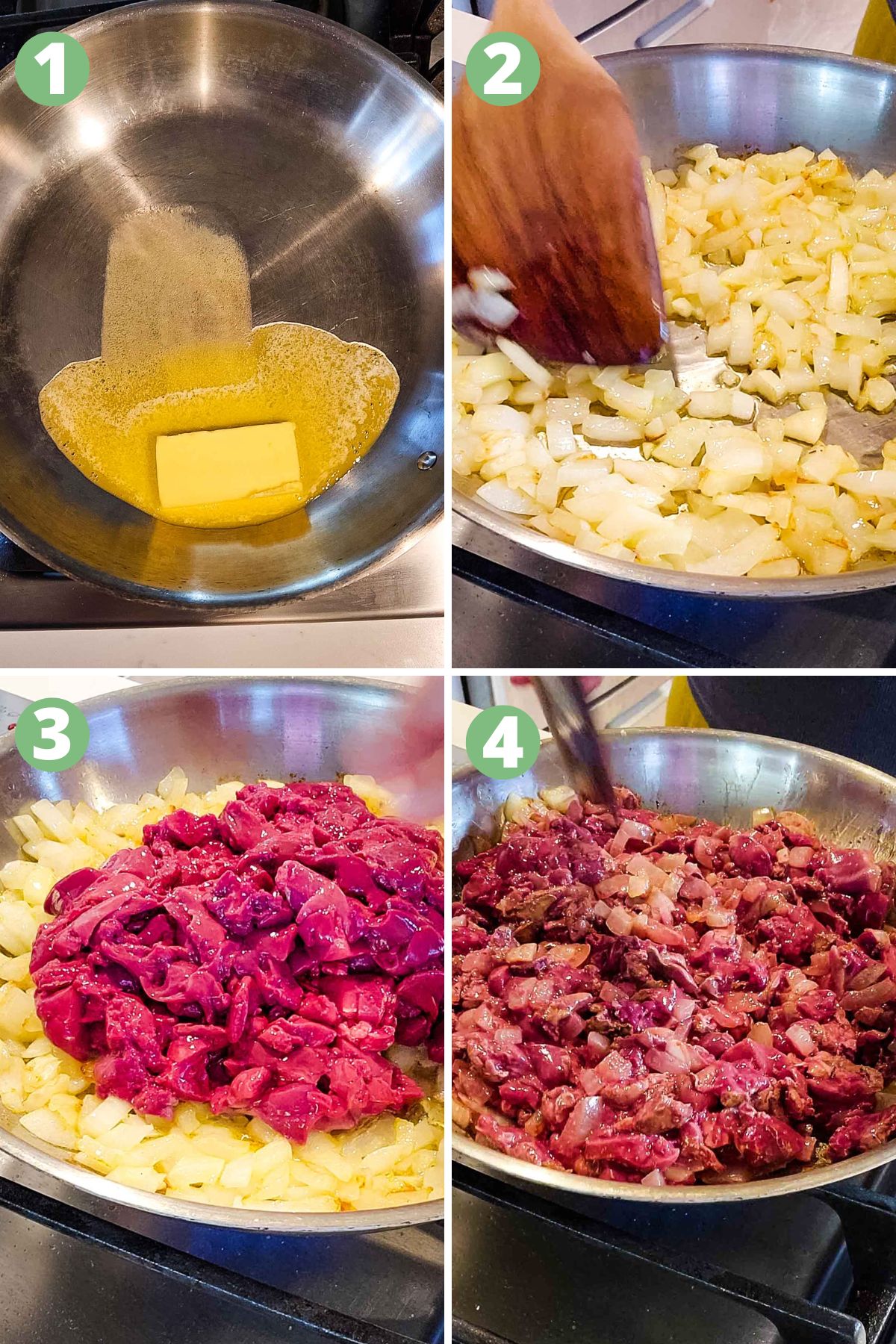 Step 1. Butter
In a large stainless steel pan, melt butter over medium heat.
Step 2. Onions
Add diced yellow onions and saute until translucent with a few brown spots. While onions are cooking, prepare the liver.
Pat dry with paper towels, removing all excess blood. Chop up liver into ½" size pieces.
Step 3. Liver
Clear the center of the pan, moving the onions to the edges. Add the chopped liver to the center and gently flip the the liver pieces as they turn from red to brown.
Step 4. Combine
Continue to flip the meat every few seconds so it doesn't brown. You don't want any maillard reaction (browning) but instead gently cook the liver just until there is no more pink.
Incorporate the onions into the liver.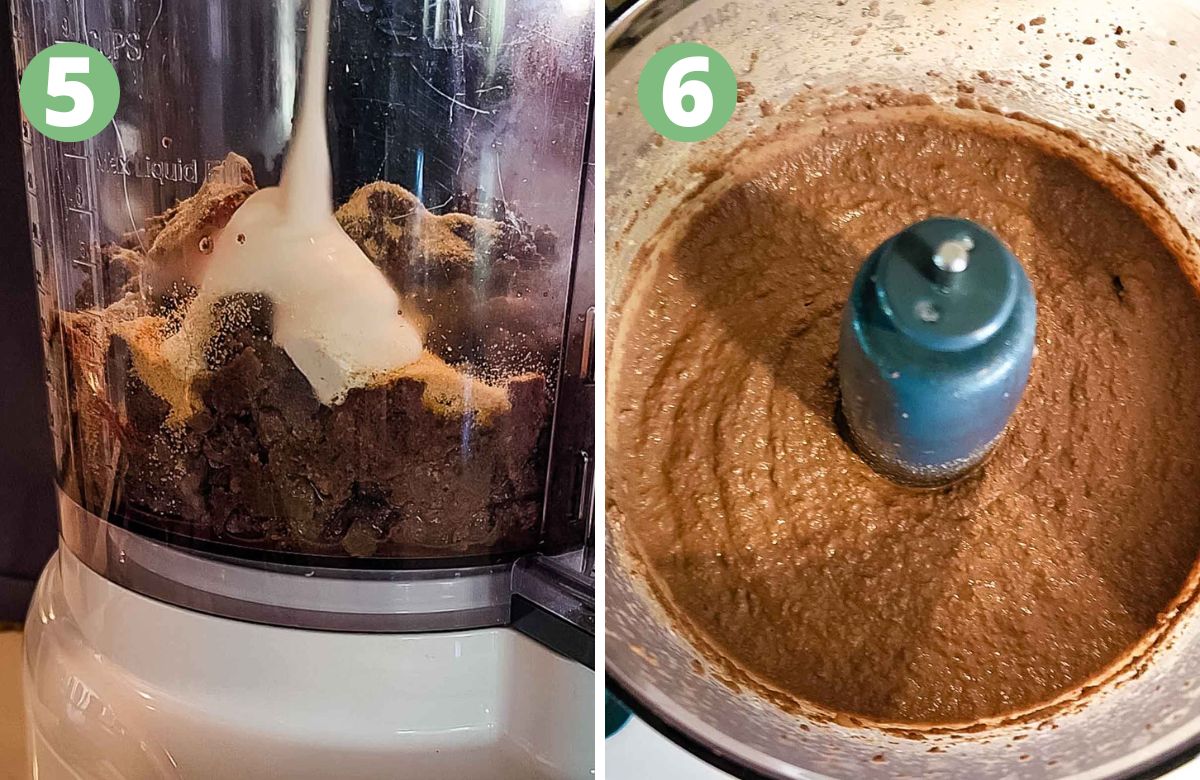 Step 5. Rest of ingredients
When liver is fully cooked, remove from heat and allow to rest for 5 minutes to slightly cool.
Transfer liver and onions to your food processor or blender. Add remaining ingredients: heavy cream, coconut aminos, garlic powder, paprika, white pepper, and sea salt.
Step 6: Blend & Chill
Blend on medium-high speed until smooth.
Transfer to an airtight container and refrigerate until fully chilled. Or transfer to freezing trays with small size portions and freeze.
💭Did you know? Liver is one of the most nutrient-dense foods one can consume. Packed with essential nutrients, it's high in protein, low in calories, and rich in vitamins.
🥗Serving Suggestions
Liver pate has traditionally been served as a delicious appetizer. This recipe makes a large batch. Half or double as needed.
It's great with toasted sourdough baguette or seed crackers. Likewise, liver pate can be enjoyed with veggies like carrot and celery sticks. For a more fancy fare, scoop a tablespoon or two into an endive leaf and garnish with fresh curly parsley.
🔪Helpful Tools & Links
Below are some affiliate links that may be helpful to you as you make this recipe. You can find some of these items cheaper at your local store but it helps to have a link so you know what you're looking for.
❄Storage and Freezing Instructions
To store: store liver pate in a closed container in the refrigerator for up to 2 weeks. The surface may become discolored with time. That is normal and a natural process of oxidization. You may seal with plastic wrap to remove any oxygen or just give a quick stir and enjoy.
Storage containers: pretty Weck jars with airtight lids, another option is ramekins with lids that can go straight from refrigerator to table, but any storage container with a lid will work great.
To freeze: I love freezing pate in small portioned size freezing trays with lids like Souper Cubes (this is a fantastic set that comes with 4 different size portions), then pop them out and transfer to freezer bags. To thaw: transfer a portion to the refrigerator over night and it should be ready to enjoy by morning.
💬FAQs
Does liver need to be soaked?
Some recipes call for soaking the liver in milk or lemon to remove some of that gamey taste. I find this Easy Beef Liver Pate recipe has so much flavor that soaking is not necessary and may in fact leave an unappetizing after taste.
How long does beef liver pate last?
In the refrigerator, beef liver pate can last up to 2 weeks if stored properly in an airtight container. In the freezer, liver pate is good for up to 3 months.
Looking for more healthy appetizers? Here are some ideas:
Did you make this? Please leave a ⭐ recipe rating in the recipe card below and leave a review in the comments. Thank you!💚
Printable Recipe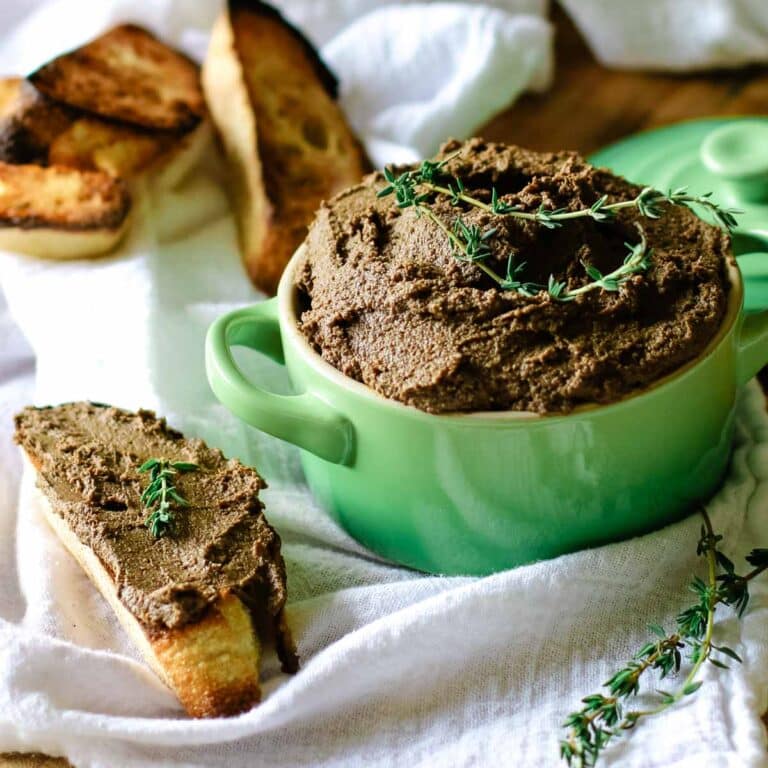 Easy Beef Liver Pâté
A nutrient-dense appetizer, this Easy Beef Liver Pate recipe starts with browning onions in butter and blending to luscious consistency with cream, coconut aminos, and seasonings.
Ingredients
4

tablespoons

pastured butter or ghee

3

cups

yellow onion, chopped

about 1 large onion

1 ½

pounds

beef liver, membrane removed and cut to ½" pieces

3

tablespoons

heavy cream or coconut cream

2

tablespoons

coconut aminos

2

teaspoon

garlic powder

1 ½

teaspoon

sea salt

1

teaspoon

paprika

1

teaspoon

white pepper
Instructions
In a large stainless steel skillet, melt butter on medium heat.

Add chopped onion and saute until translucent, approximately 5-6 minutes. Move the onions to the edges of the pan and add chopped liver to the center. Cook the liver, flipping it and slowly incorporating it into the onions. Cook until no more pink remains.

Take the onions and liver off heat and cool for 5 minutes. Transfer it to a food processor. Add heavy cream, coconut aminos, garlic powder, sea salt, paprika, and white pepper and blend on medium-high speed until smooth.

Add more salt if necessary and pulse a few more times to blend well. Transfer to an airtight container and store in the refrigerator for up to 2 weeks.
Notes
Most livers have membrane removed but if not, it's a white film that should easily be pulled off.
Start with a hot pan and don't overcook the liver to avoid dry and rubbery texture.
Use a food processor for smooth consistency. Stick blender will not work.
Flavor variations: use red wine instead of coconut aminos; olive oil instead of butter for a richer depth of flavor; add fresh herbs like thyme and rosemary; add a tablespoon of mayonnaise.
Store in the refrigerator in an airtight container for up to 2 weeks or freezer for up to 3 months.
Recipe makes 3 cups or 16 servings. Serving size is 2 ounces.
Nutrition
Serving:
2
ounces
|
Calories:
108
kcal
|
Carbohydrates:
5
g
|
Protein:
9
g
|
Fat:
5
g
|
Saturated Fat:
3
g
|
Polyunsaturated Fat:
0.4
g
|
Monounsaturated Fat:
1
g
|
Trans Fat:
0.2
g
|
Cholesterol:
128
mg
|
Sodium:
315
mg
|
Potassium:
188
mg
|
Fiber:
1
g
|
Sugar:
1
g
|
Vitamin A:
7377
IU
|
Vitamin C:
3
mg
|
Calcium:
13
mg
|
Iron:
2
mg
Nutrition Information
The information shown is an estimate provided for your convenience by an online calculator. It should not be considered as a substitute for a professional nutritionist's advice. See our complete Nutritional Information Disclaimer.
©Prepare and Nourish • Content and photographs are copyright protected. Sharing of this recipe is encouraged and appreciated but please do NOT screenshot or copy/paste complete recipes to websites or social media.
This post was originally published October 2018 but has since been updated to include helpful information.