Check out How to Roast Jalapeno Peppers for that unique flavor and extra heat to your favorite meal or as the perfect addition to any salsa.
If you've been here for any length of time, you know that we love heat. You can enhance the flavor of most any savory dish by turning up the heat with a little bit of good quality hot sauce or fermented salsa.
This easy recipe was inspired by my love for jalapeno peppers. If lacto-fermented jalapeno peppers (which are so incredibly good with a hefty kick!) aren't your thing, try these.
I can't promise that these are milder. They're not. But they don't have that cultured tang that some people don't appreciate. I know - how can this possibly be?
Add a roasted jalapeño pepper to just about anything for that smoky flavor. But keep reading for more specific suggestions to enjoy them all winter long before the next crop of peppers pop up.
Jump to:
❤Why you'll love this recipe
Preserve your jalapenos - if you came across a bumper of jalapeno peppers (on sale or from your garden) and would like to preserve them for the cooler months, this is a great way to do that. When stored properly, roasted jalapeno peppers last a surprisingly long time.
Super easy - the oven does most of the work - besides peeling the peppers, there's really no other hands-on time required.
Great with anything - these peppers are great with anything. With your morning eggs, or diced up to add to salsa or guacamole, or even with fish tacos - there is no shortage of roasted jalapeno pepper uses.
Versatile with any peppers - my favorite will be jalapenos but this can totally be done with Serrano or poblano peppers (though removing the membrane from smaller peppers may be more time consuming).
🍲Ingredients
To give you an idea of how simple it is to roast jalapeno peppers, take a look at the ingredient list. It's short with just one item on the list.
spicy peppers: we're partial to jalapeno peppers but as mentioned above Serrano may work (possibly with a bit of annoyance about removing the skin)
See recipe card for exact quantities and the simple steps.
💭Helpful Tips
Flavor of the pepper: The extra flavor will depend on the kind of pepper you use. For milder flavor, use poblano pepper. If you particularly love spicy food, go with Serrano. Jalapenos are a happy medium and are a great option for roasting.
Perfect way to roast: Air Fryer Toaster Ovens are great for small jobs like roasting peppers. I use a ¼ baking sheet that fits perfectly.
Food safety: To easily remove the membrane, use an airtight container instead of a plastic baggie as the steam may pull toxins from the plastic.
Great addition: elevate any dish with a small garnish of roasted jalapeno peppers
👩🏽‍🍳Step-by-Step Instructions
The complete printable recipe is below in the recipe card for your convenience along with nutrition facts.
This easy method calls for this basic ingredient that you will need: jalapeno peppers.
You will also need a jar or a container with a tight lid to gently steam the peppers once they are roasted.
Step 1. Spread the jalapeno peppers on a roasting sheet or baking pan in a single layer. Roast for 12 minutes. The skin should start to blister and pull away from the flesh.
💭Good to know. Cook time will vary vastly depending on your oven or air fryer. Look for signs of blistered and charred skin. That will make it easy to remove the skin.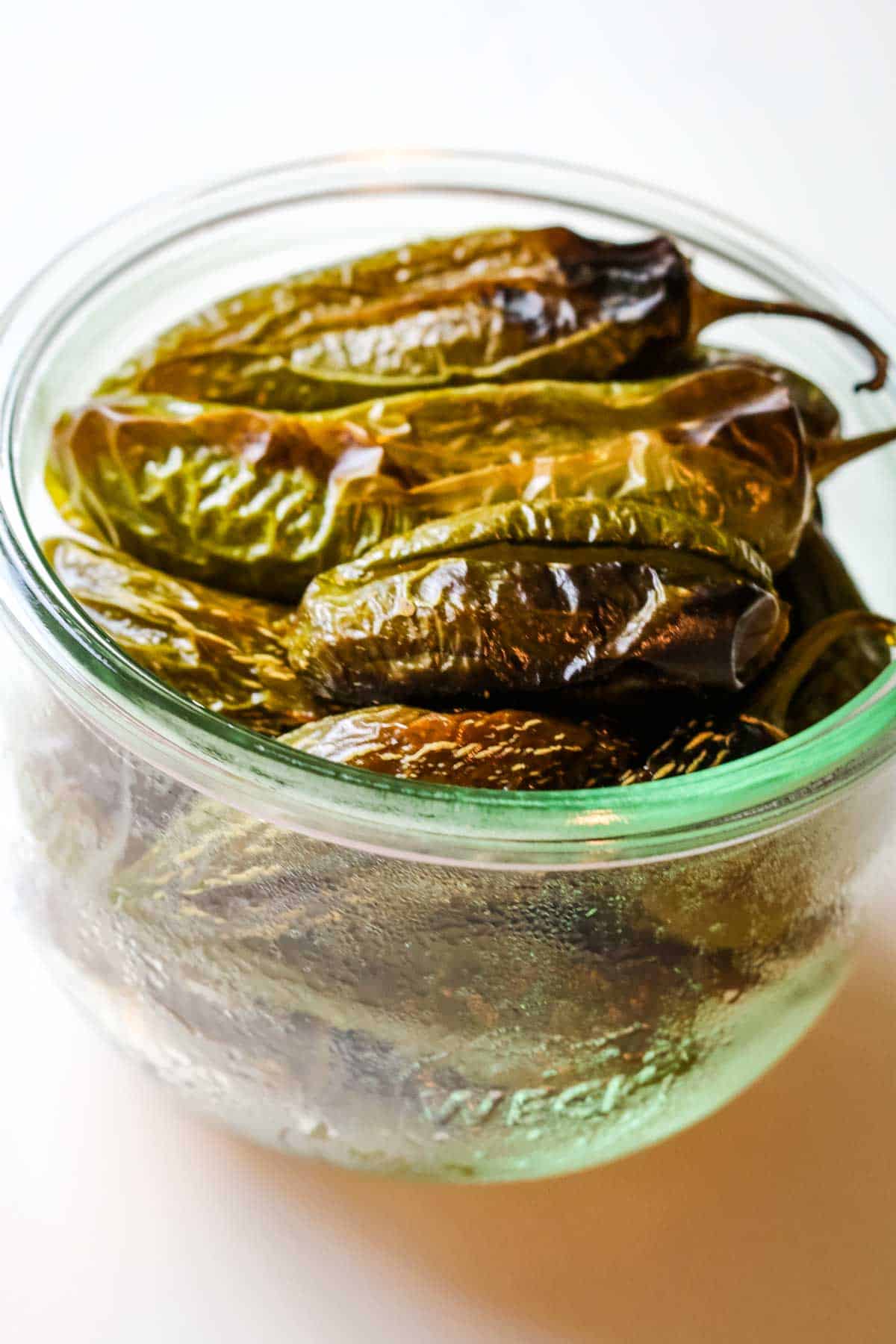 Step 3. Transfer the peppers to a jar or container with a tight-fitting lid. Close and allow to "steam" for 10 minutes. This will create a barrier to help the membrane release easier.
💭Helpful Tip: It's easier to remove the membrane while peppers are still warm so don't wait too long after roasting and steaming the peppers to do this step. For stubborn parts, use a good paring knife.
🔪Helpful Tools & Links
Below are some affiliate links that may be helpful to you as you roast jalapeno peppers. You can find some of these items cheaper at your local store but it helps to have a link so you know what you're looking for.
🥗Serving Suggestions
Is there a dish where peppers would not be a good idea? I think not. The best way to start the day is with a kick so consider enjoying them with your breakfast. This Pulled Pork Breakfast Skillet is a great idea as is this Sausage and Vegetable Frittata.
If a wild breakfast isn't for you, consider topping Cajun Fish Tacos or Sheet Pan Nachos with a bit of roasted pepper.
Lastly, you can just add them to any recipe to replace raw jalapenos. Dice these roasted peppers to add to recipes that call for fresh jalapenos. Dig in with homemade tortilla chips. Check these out:
❄Long Storage Instructions
Roasting jalapeno peppers is an easy way to extend the life of these peppers. But there is an extra step that must be done.
As is, roasted peppers will last in the refrigerator for up to 2 weeks. For longer storage, cover the peppers with olive oil and store in the refrigerator. When properly refrigerated, peppers in olive oil will last up to 3 months.
Depending on your oil, it may solidify in the fridge and that is normal. Gently bring it to room temperature by setting it out on the counter for 15 minutes and use peppers as desired.
For even longer storage, you may freeze the peppers, with or without the olive oil in a freezer-safe container for up to 12 months.
💬FAQs
Can I make roasted jalapeño peppers in an air fryer?
Yes, roasting jalapeno peppers in an air fryer is like roasting any other vegetable. I used a toaster-oven air fryer but a basket-type air fryer should work too. Keep in mind roasting time may be shorter.
How long do roasted jalapeno peppers last?
When stored properly in the refrigerator, roasted jalapenos will last up to 2 weeks. For longer storage, you may preserve it by adding olive oil and store it for up to 3 months. For even longer storage, freeze them for up to 12 months for future use.
Can I use this method to roast other peppers?
This roasting method can be used to roast other hot peppers like Serrano or poblano peppers. It even works with mild peppers like banana or sweet bell peppers. Note that removing the membrane may be a little tedious with smaller peppers like Serrano.
Looking for more jalapeno recipes? Here are some ideas:
Did you make this? Please leave a ⭐ recipe rating in the recipe card below and leave a review in the comments. Thank you!💚
Printable Recipe
Roasted Jalapenos
Check out How to Roast Jalapeno Peppers for that unique flavor and extra heat to your favorite meal or as the perfect addition to any salsa.
Ingredients
16

ounces

fresh jalapeno peppers
Notes
After roasting and peeling the jalapenos, store them whole or cut them into strips or diced up.
Roasted jalapenos are great as a garnish on your favorite meal, as well as in salsas.
The roasting time will depend on the size of the jalapenos. The time indicated above is for small jalapenos. Increase time for larger peppers.
Recipe makes approximately 1 ½ cups of roasted jalapenos. Serving size is ½ pepper.
Store jalapenos in the refrigerator in a jar for up to 2 weeks. For longer storage, pour olive oil over the peppers and store in the refrigerator for up to 3 months. For even longer storage, freeze them with or without the olive oil for up to 12 months.
Nutrition
Calories:
5
kcal
|
Carbohydrates:
1
g
|
Protein:
0.2
g
|
Fat:
0.1
g
|
Saturated Fat:
0.02
g
|
Polyunsaturated Fat:
0.02
g
|
Monounsaturated Fat:
0.01
g
|
Sodium:
1
mg
|
Potassium:
47
mg
|
Fiber:
1
g
|
Sugar:
1
g
|
Vitamin A:
204
IU
|
Vitamin C:
22
mg
|
Calcium:
2
mg
|
Iron:
0.05
mg
Nutrition Information
The information shown is an estimate provided for your convenience by an online calculator. It should not be considered as a substitute for a professional nutritionist's advice. See our complete Nutritional Information Disclaimer.
©Prepare and Nourish • Content and photographs are copyright protected. Sharing of this recipe is encouraged and appreciated but please do NOT screenshot or copy/paste complete recipes to websites or social media.