Find out how to make homemade tortilla chips with only 3 ingredients and 15 minutes.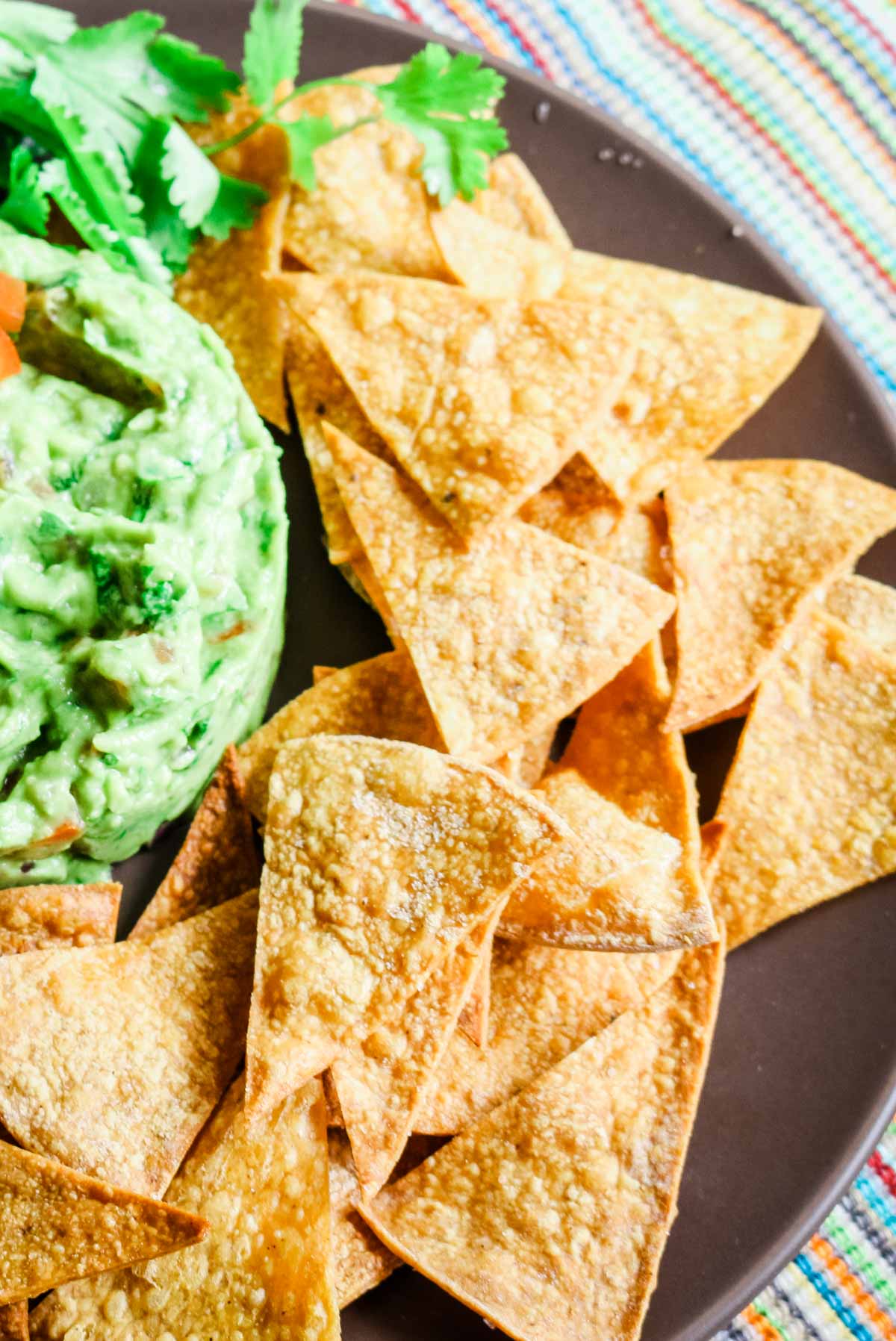 This simple recipe was born out of sheer necessity in not leaving the house when pressed for tortilla chips. I had a stack of sprouted corn tortillas that I knew would make superb tortilla chips.
And thus, these crispy, healthy, baked tortilla chips were created.
Tortilla Chips Origin
The tortilla chip trend started in 1940 by a tortilla factory owner to salvage discarded tortillas. Rebecca Webb Carranza cut the unused tortillas into triangles, fried them, and sold them for $0.10 per bag at the El Zarape Tortilla Factory.
She went on receive the Golden Tortilla award in 1994 for her contribution to the Mexican food industry. It's clear that our Taco Tuesdays, Cinco de Mayo, and Superbowl parties would never be the same without this popular party staple.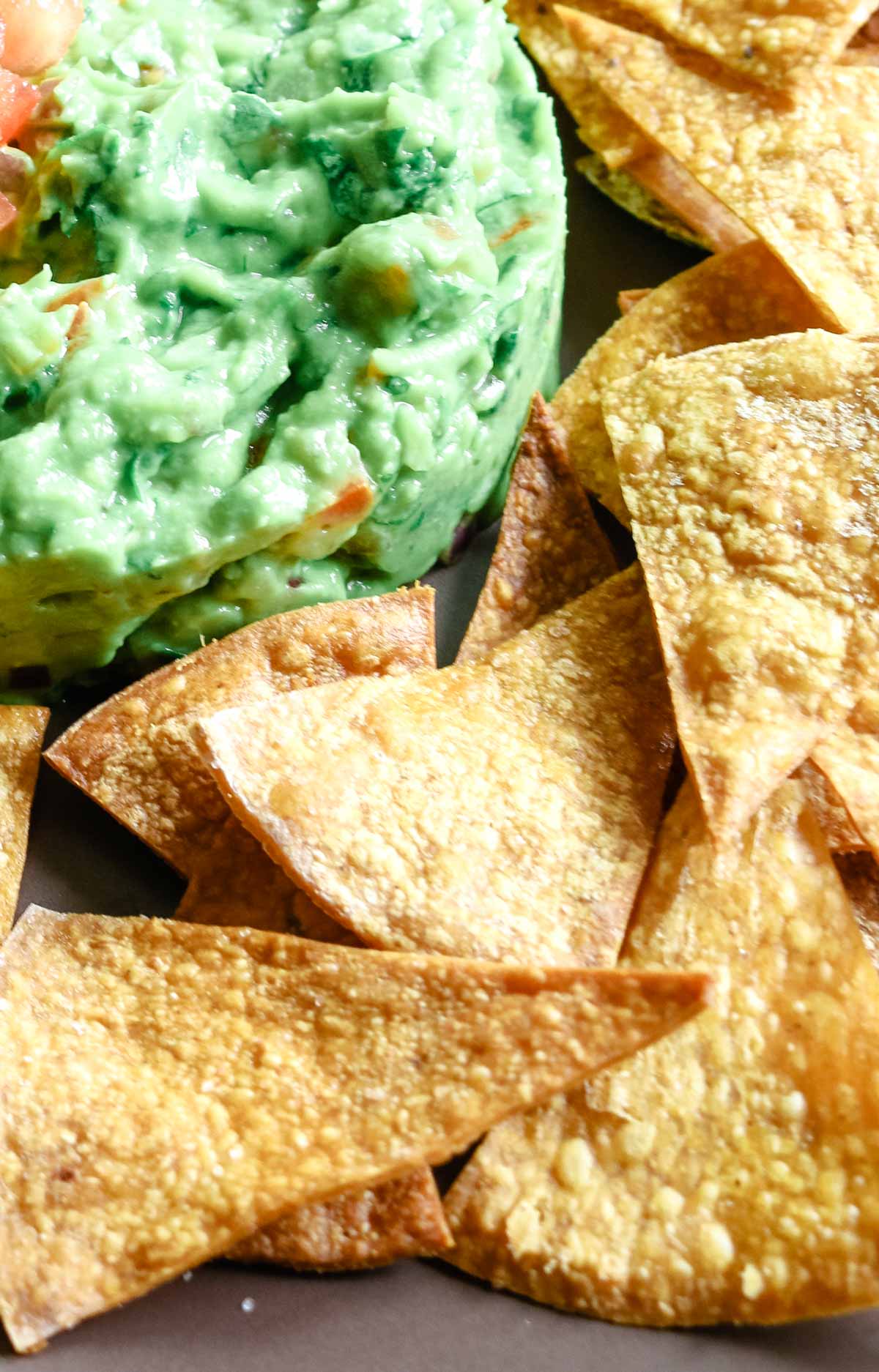 Why you should make Homemade Tortilla Chips
Sure, it's easier, more convenient and is often cheaper to buy than make chips out of tortillas. But if you've ever had freshly made tortilla chips, you know how deliciously addicting they are.
They are distinctly different and amazingly enjoyable than their bagged counterparts. There is a unique satisfying crunch than can only come from homemade tortilla chips.
But when you think of freshly made tortilla chips from your local taqueria, you're probably referring to chips fried in a vegetable oil that is most likely rancid.
These have a healthy take on them without sacrificing that crunch. These are undeniably healthier in several ways.
These homemade tortilla chips are oven baked
There's no problem frying foods when using proper heat-stable fat. In fact, traditionally, tortilla chips were often fried in lard or tallow. But as with all foods that have become highly commercialized and industrialized, healthy fats were soon replaced with rancid vegetable oils like canola oil and corn oil.
Making tortilla chips in the oven requires very little fat. In fact, the best way to make sure all tortilla triangles are coated with fat is to use an oil spray. My favorite is Chosen Foods Avocado Oil Spray as it is 100% avocado oil with no propellents, emulsifiers, or additives.
For a fun twist, you can also use a duck fat cooking oil spray but check the ingredients that it only has duck fat. When using a spray, you avoid chips sitting in a pool of oil and ensure that all tortilla triangles are covered in fat.
These homemade tortilla chips can be made with best tortillas
Essentially any tortillas will work for homemade tortilla chips. Flour, corn, even cassava or almond flour should work.
My favorite tortillas are sprouted corn tortillas. Not only are they naturally gluten free, they are sprouted. Soaking or sprouting grains is essential at better nutrient bio-availability and digestion. You can learn more about this concept from this Weston A. Price article on grains. And if you're curious to know more about my food philosophy, you can read about that here.
Food for Life makes delicious sprouted corn tortillas but in a pinch, La Tortilla Factory makes good corn tortillas as well. Because corn is one of the biggest GMO crops, I would strongly suggest finding organic and non-GMO tortillas.
Helpful Tip: You can make homemade tortilla chips from most any tortilla: corn, sprouted grain, whole wheat, even grain free tortillas should work.
Homemade Tortilla Chips
These tortilla chips are sturdy enough to scoop up even the thickest and heartiest guacamole or buffalo chicken dip or pico de gallo or any other number of things. And the chips will not break.
They are even great to be used in Sheet Pan Nachos. Use these homemade tortilla chips like you would store bought bagged variety.
Variations for Homemade Tortilla Chips
This is where it gets super fun. There's an endless amount of ways to make excellent flavors for homemade tortilla chips. If you're looking for something to dunk into your favorite dip, perhaps something simple like salt and oil will do but if you wanted to dress them up, consider these ideas:
Lime & Cumin: in addition to the oil, add a bit of lime juice, zest, cumin and coriander and sprinkle evenly on the chips.
Ranch Seasoning: this reminds me of Doritos Ranch chips but without all the garbage. Sprinkle with lemon juice and dried ranch seasoning on the tortilla chips.
Hot & Spicy: add a hot sauce like Tabasco and garlic powder
In order to get consistent flavor, it's best to combine the liquid seasoning like lime or lemon juice, or hot sauce with the oil and use a brush to apply that to the tortilla chip triangles. That way it's evenly seasoned.
Helpful Tip: If you're using a liquid seasoning like lime or hot sauce, it's best to combine that with oil and brush it on the tortilla wedges.
How to Make Homemade Tortilla Chips - FAQs
Are tortilla chips healthy?
The topic of healthy is highly subjective but as with all recipes here at Prepare and Nourish, we put emphasis on the source of the food. If you are using real, wholesome ingredients and healthy choice of fat, yes, these tortilla chips can be healthy.
How do you make crispy tortilla chips?
The key is spraying every tortilla triangle with oil so they don't dry out during baking. Also, it helps to season the chips immediately after pulling them out of the oven. Stale chips can be revived in a preheated 400 degree Fahrenheit oven for 5 to 10 minutes.
Why are tortilla chips addictive?
It's no surprise that our bodies often become addicted to salt and fat. Research has shown that eating salt triggers the release of dopamine, which controls the brain's pleasure center. Thankfully, when making homemade tortilla chips, we have full control over the quality of salt and fat used to make tortilla chips.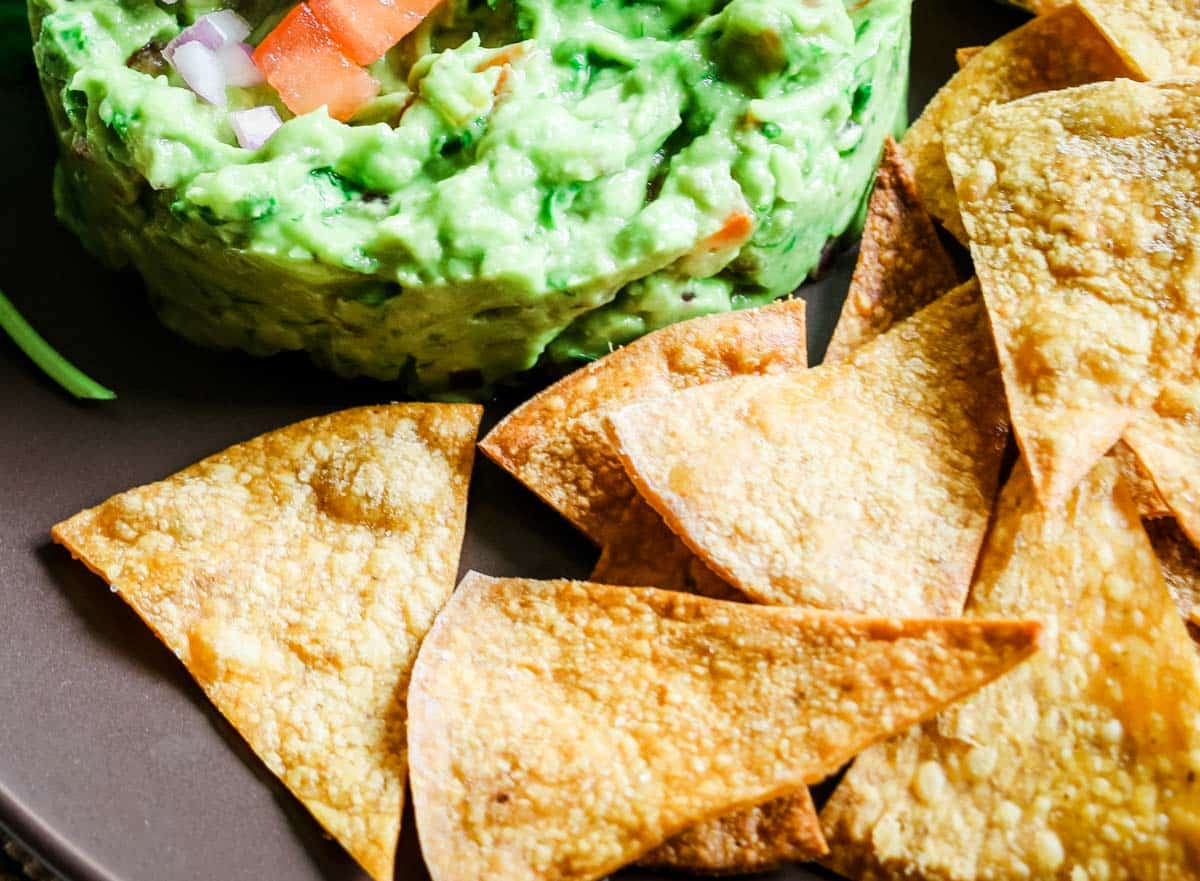 How to Make Chips from Tortillas
The complete printable recipe is below in the recipe card for your convenience.
This super easy 3 ingredient recipe can be made in under 15 minutes. All you need is your choice of healthy tortillas, good oil spray, and coarse sea salt.
Step 1. Stack all tortillas and cut into wedges.
Step 2. Spread evenly on baking sheet and season with oil and salt.
Step 3: Bake to perfection and enjoy!
Helpful Tools for Homemade Tortilla Chips
Ways to love Tortilla Chips
There are so many ways to show love to these tortilla chips. Check these recipes out:
Did you make this? Please leave a ⭐ rating in the recipe card below and leave a review in the comments. Thank you!💚
Homemade Baked Tortilla Chips
Find out how to make chips from tortillas with only 3 ingredients and 15 minutes.
Ingredients
8

8" gluten free tortillas

avocado oil spray

coarse sea salt
Notes
Use healthy heat-stable fat like avocado oil for healthy tortilla chips.
Using cooking oil spray will give good coverage without excess fat.
Try these variations for Homemade Tortilla Chips:
lime & cumin: add lime zest and juice to oil, cumin and coriander
ranch seasoning: add lemon juice and ranch seasoning
hot & spicy: add hot sauce and garlic powder
Note: for consistent flavor, if you're using a liquid seasoning like lime juice or hot sauce, it's best to combine that with the oil and brush it on the tortilla wedges .
Use your favorite tortillas to make oven baked homemade tortilla chips:
sprouted corn for gluten free tortilla chips
sprouted grain for better digestibility
organic flour tortillas
grain-free tortillas also should work great
To revive stale tortilla chips, pop them in a preheated 400 degree Fahrenheit oven for 5-10 minutes.
Nutrition
Calories:
57
kcal
|
Carbohydrates:
12
g
|
Protein:
1
g
|
Fat:
1
g
|
Saturated Fat:
1
g
|
Polyunsaturated Fat:
1
g
|
Monounsaturated Fat:
1
g
|
Sodium:
12
mg
|
Potassium:
48
mg
|
Fiber:
2
g
|
Sugar:
1
g
|
Vitamin A:
1
IU
|
Calcium:
21
mg
|
Iron:
1
mg
Nutrition Information
The information shown is an estimate provided for your convenience by an online calculator. It should not be considered as a substitute for a professional nutritionist's advice. See our complete Nutritional Information Disclaimer.
©Prepare and Nourish • Content and photographs are copyright protected. Sharing of this recipe is encouraged and appreciated but please do NOT screenshot or copy/paste complete recipes to websites or social media.
This post was originally published June 2019 but has since been updated to include helpful information.