These Sheet Pan Nachos are always a big hit - it's an easy 30-minute meal with all your favorite nacho toppings and is great at feeding a crowd.
You will love this fun take on nachos. It's so convenient having everything on one pan. It makes cleanup a dream.
And the end product is equally splendid. You've got tortilla chips loaded with flavorful taco meat, melted cheese, and all the best nacho toppings to make an easy family dinner or an easy appetizer for game day.
Sheet Pan Nachos
One the best things about this recipe is that you can totally make these to suit your personal preference.
We love the traditional ground taco meat on these nachos but you can use carnitas instead or even leftover roast chicken meat lightly seasoned with your own taco seasoning and a sprinkle of lime juice.
And you have the liberty to dress up this easy dinner to make loaded nachos. You can even customize a portion of the sheet pan nachos with milder flavors; this is especially helpful for kids.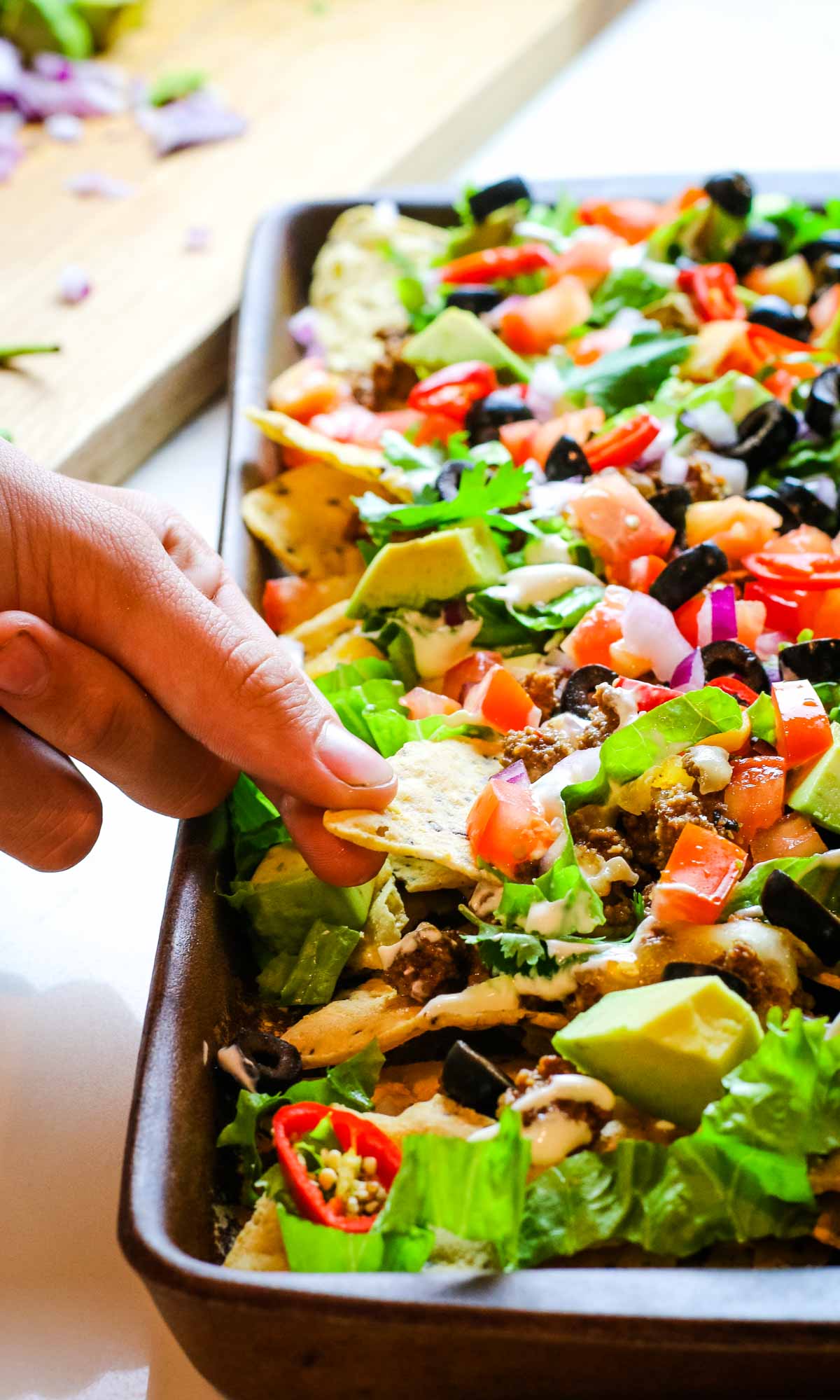 How to Make Healthy Sheet Pan Nachos
Nachos aren't usually considered a super food but if you've been around here for any length of time, you'd know that we put great emphasis on the quality of the food we eat.
That means that if ingredients are sourced well, nachos can indeed be a healthy meal option.
Consider making simple swaps that are listed below to maximize nutrition in this classic party food. These Sheet Pan Nachos can also be converted to be compliant with paleo, Whole30, or low-carb if that best suits your dietary needs.
Best Nacho Recipe
I realize the word best is highly subjective but I do think these nachos stand out from all the rest. I love a good challenge to transform a recipe to one that is maximum in nutrition. It is my joy and mission to serve food that is wholesome, prepared properly, and as nutrient-dense as I can get it.
So in that sense, yes, this is the best nacho recipe because every component of the ingredient list is purposefully selected for maximum nutrition. In other words, these are Sheet Pan Nachos on steroids.
What Tortilla Chips are Best for Sheet Pan Nachos
Say no to soggy nachos.
Great nachos start with the best tortilla chips. You want those that will withstand all the hearty toppings so make sure the tortilla chips you are using is plenty thick and sturdy.
One of the easiest way you can amp up the nutrition is by using chips made with ancient grains like millet, amaranth, and quinoa. Ancient grains are generally less refined and less processed than modern grains and thus they tend to be higher in fiber, vitamins, and minerals.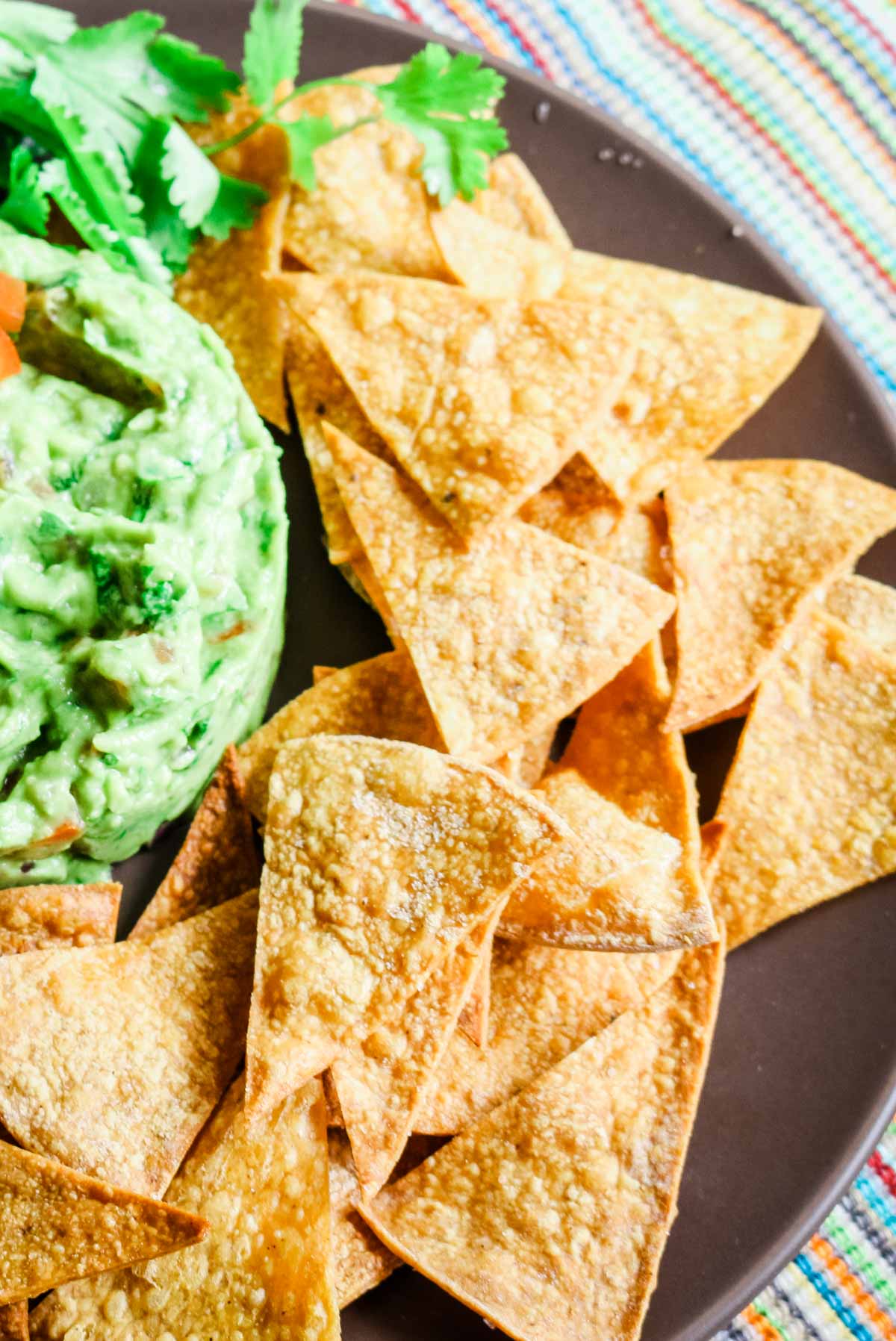 Alternatively, you can make your own oven-baked tortilla chips using sprouted tortillas by following this easy tutorial. It requires only 3 simple ingredients and a few minutes in the oven.
And of course, regular corn tortillas work as well provided that they are strong enough to hold all the fixings.
It's also worth noting that if you're paleo, low carb, or Whole30, your options are going to be different.
To make these nachos paleo and Whole30, use grain-free chips such as Siete (they use cassava flour) or plantain chips. You have less options for low carb and keto but there are tortilla chips that claim to be low carb. As always, be sure to read the labels to avoid fillers and additives.
Helpful Tip: To increase nutrition in sheet pan nachos, use tortilla chips made with ancient grains.
What Meat is Great for Nachos
Typically, taco-seasoned ground meat is used for nachos. And in doing so, this quickly becomes an easy recipe for nachos because ground meat is readily available in stores and cooks quickly.
But let's talk about that perfectly seasoned ground meat. This Best Taco Meat recipe has it all: no fuss-taco seasoning, amazing flavor and texture, and the ease and convenience of it coming together in 20 minutes. To shave even more time, you can make the taco meat ahead of time and keep it in the refrigerator for up to 4 days.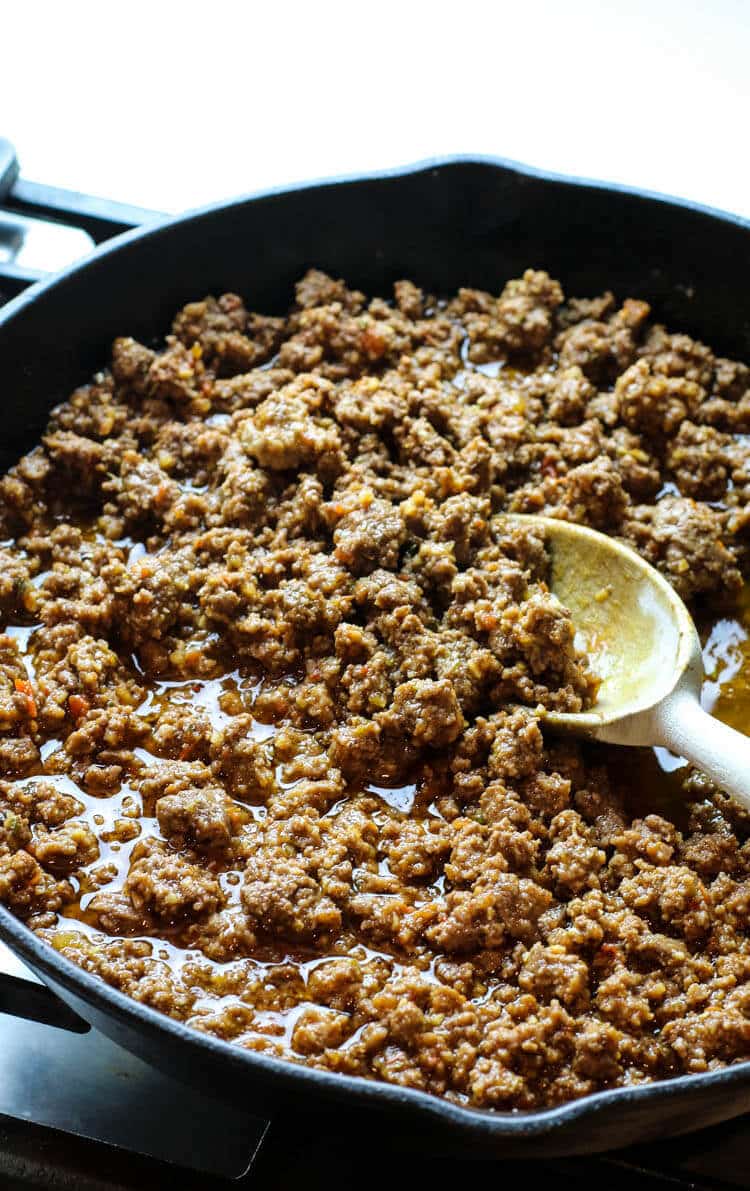 If you're using ground meat like ground turkey or beef, an easy way to increase the nutrition is adding a small amount of organ meat to your ground meat. Organ meats like beef liver and beef heart are incredible sources of bio-available vitamins and minerals and including them in your daily diet is paramount to supporting health.
Force of Nature makes this step easy by creating "ancestral blend" of grinds that already includes beef heart and liver from regeneratively pastured beef.
If you're not interested in ground taco meat, there are other options. You can use these Instant Pot Crispy Carnitas instead or use leftover roast chicken meat. Just toss the chicken with taco seasoning and sprinkle lime juice and combine well.
Perhaps even crisp it over stovetop or in the oven, using the same technique from Crispy Carnitas. Feel free to experiment and make these nachos that are just perfect for you!
Helpful Tip: Maximize the nutrition in taco meat by using ancestral blend of ground meat that includes beef liver and beef heart from regeneratively pastured beef. 
Sheet Pan Nachos with Black Beans
Did I mention these nachos are totally customizable?
I don't usually add beans to our Sheet Pan Nachos unless I'm wanting to get more mileage out of my meal. But adding this humble legume will totally stretch these nachos.
However, there is an ideal way of preparing beans that will help your gut digest it better. And that is by using the process of soaking.
Soaking legumes reduces phytic acid, which primarily blocks mineral absorption in the intestinal tract. This makes digestibility easier. Additionally, grains and legumes contain enzyme inhibitors in the hulls of all seeds that hinder proper nutrient absorption.
Soaking neutralizes both the phytic acid and enzyme inhibitors, thereby increasing the amount of nutrients present. You can find more information on this process from this Weston A. Price Foundation article on proper preparation of grains and legumes. If you are serious about stepping up the legume-game, check out this easy DIY on how to make soaking lids for mason jars.
And of course, you can always go with a can of beans for a truly easy peasy taco night the whole family will love. Another option is to swap black beans with re-fried beans and add them to the ground taco meat to warm it up.
What is the Best Cheese to Put on Nachos
If you answered the nacho queso you may be correct. And as much as I love this nacho cheese sauce myself, it just doesn't exactly mesh with the healthiness of these spruced up nachos.
So for now, unless we're using homemade nacho cheese, we'll chuck the cocktail of soybean oil, maltodextrin, and diglycerides.
Instead, use your favorite grated hard cheese like Mexican cheese blend or Monterrey Jack cheese. Another great option is cheddar cheese and pepper Jack but my personal favorite is raw medium cheddar for it's beneficial enzymes. And because we're only baking the nachos for 5 minutes, the cheese should still retain it's health benefits.
What Toppings are Good on Nachos
In addition to the ordinary cheese and meat, spruce these nachos with fun toppings that add flavor and texture. The best toppings are your favorite toppings. Below are merely suggestions and what we love and add to our nachos.
One of the great things about these nachos is that you can make half the pan with all the ingredients and the other half for the pickier folks.
Lettuce: this isn't common in nachos as much as it is in tacos, but we love a little green on our sheet pan nachos.
Veggies: other veggies like red onion, green onion, bell peppers, radishes, tomatoes
Creaminess: to increase smooth texture in a pan of rugged tortilla chips, add sour cream and guacamole or diced avocado.
Salsas: pico de gallo is always a great choice. Or better yet, this fermented tomato salsa is a healthier version of pico. You may also add salsa verde or this blender salsa but keep in mind anything that is very runny will cause the chips to become soggy quicker. It may be best to serve these on the side. Fresh tomatoes is always a great choice on nachos.
Cheese: add additional cheese on top of all the toppings. Cotija cheese adds nice contrast in flavor and appeal.
Extras: black olives and fresh cilantro are always a must for us. As are fermented jalapenos for an additional cultured enzyme boost. Drizzle with lime juice if desired.
Frequently Asked Questions for Sheet Pan Nachos
How to make chips not soggy?
The best way to avoid soggy chips in nachos is to spread a thin layer of shredded hard cheese before adding meat. This will create a barrier between the chip and wet ingredient (in this case the taco meat). Also, be sure to use tortilla chips that are sturdy enough to hold all the toppings.
How long to bake sheet pan nachos?
These nachos take very little time in the oven. Since most of the ingredients go on cold, a quick 5 minutes to allow the cheese to melt and tortilla chips to warm up is all that's needed.
How can I reheat nachos?
You don't. Unlike most foods, nachos cannot be reheated without loosing their integrity in flavor and texture. It is not an ideal food for leftovers. For this reason, it's always best to make fresh just before serving and considering how easy this sheet pan nacho recipe is, that shouldn't be a problem.
What is the best way to serve sheet pan nachos?
Sheet pan nachos are best enjoyed immediately after putting them together. Using a large spatula, scoop the bottom of a portion and using your hand or utensil, hold the top part and pull away from the pan. Transfer to plate and add more toppings as desired.
Make-Ahead Tips for Sheet Pan Nachos
These nachos are so great to have in your back pocket for busy Saturday mornings of doing yard chores or especially great after running around kids' sports practice. Even though this meal isn't ideal for leftovers, you can cut your time in the kitchen by knocking these things out:
make taco meat up to 4 days prior to assembling nachos
make tortilla chips up to 6 days if necessary
shred cheese if necessary
make salsa and pico de gallo few days ahead of nachos
dice everything and store in airtight container in the refrigerator: onions, tomatoes, lettuce, (except skip the avocado - that is best fresh to avoid oxidation)
How to Put Nachos Together
The complete printable recipe is below in the recipe card for your convenience.
This easy sheet pan meal comes together in 30 minutes. Layers of crunchy tortilla chips, juicy taco meat, delicate cheese, followed by all the favorite nacho toppings like lettuce, sour cream, onions, tomatoes, avocados, olives, cilantro and jalapenos.
Step 1. Spread tortilla chips evenly in single layer on baking sheet. Sprinkle cheese lightly. Spoon prepared taco meat evenly over the chips and cheese. Sprinkle remaining cheese all over the pan. Bake for 5 minutes.
Step 2. Meanwhile, prepare the rest of the ingredients: lettuce, onions, tomatoes, avocados, olives, cilantro, jalapenos as well as sour cream and guacamole if using.
Step 3: Remove pan from oven and add remaining ingredients evenly on the sheet pan. Enjoy immediately.
Helpful Tools for Sheet Pan Nachos
These aren't necessary but very helpful to have on hand.
Ways to add more love to Sheet Pan Nachos
Check out these ways to add more flavor and nutrition to these nachos:
Did you make this? Please leave a ⭐ recipe rating in the recipe card below and leave a review in the comments. Thank you!💚
Printable Recipe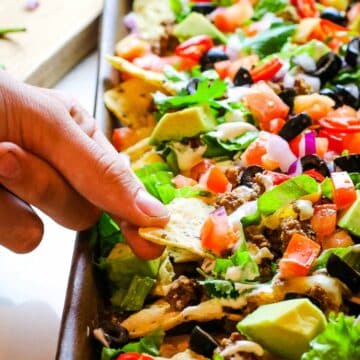 Sheet Pan Nachos
These Sheet Pan Nachos are always a big hit - it's an easy 30-minute meal with all your favorite nacho toppings and is great at feeding a crowd.
Ingredients
Ground Beef Taco Meat
1

pound

ground beef

1

cup

tomato sauce or canned diced tomatoes

2

tablespoons

taco seasoning

1

teaspoon

sea salt
Sheet Pan Nachos
10

ounces

tortilla chips

see notes for dietary options

3

cups

Mexican blend grated cheese

½

cup

sour cream

1 ½

cup

lettuce

thinly cut

½

cup

red onion

diced

1

cup

tomatoes

diced

½

cup

black olives

sliced

1

cup

avocado

diced

other fixings such as cilantro, jalapeno, green onions if desired
Instructions
To Make Ground Beef Taco Meat
Sheet Pan Nachos
Preheat oven to 425 degrees Fahrenheit. Spread tortilla chips evenly across a large baking sheet. Add 1 cup of grated cheese evenly across the chips. Spoon taco meat evenly over the tortilla chips and add remaining cheese over the meat. Bake for 5 minutes or until the cheese has melted.

Remove from oven. Drizzle sour cream, add favorite toppings such as lettuce, diced tomatoes, onions, cilantro, olives, avocado and jalapenos.
Notes
Making Taco Meat: if using canned diced tomatoes, break up the tomato chunks with a flat spatula as it cooks.
Make-Ahead Tips: prep as much as can be made ahead of time: taco meat up to 4 days prior to assembling nachos; shred cheese; cut all veggies like lettuce, tomatoes, onions and avocado and keep in airtight container in the refrigerator
Making Paleo/Whole30/Low Carb Nachos:
Paleo & Whole30: Use grain-free chips such as Siete or plantain chips from Trader Joe's. To avoid dairy, simply omit all cheese and sub coconut yogurt for sour cream.  Use guacamole (instead of avocado) and salsa (instead of tomatoes) so the nachos are not too dry.
Low Carb & Keto: You can various recipes online using homemade tortilla chips. If using storebought low carb tortilla chips be careful to read the labels as they often they contain fillers and additives. All the toppings listed are naturally low carb. 
Nutrition
Calories:
764
kcal
|
Carbohydrates:
42
g
|
Protein:
32
g
|
Fat:
53
g
|
Saturated Fat:
21
g
|
Polyunsaturated Fat:
7
g
|
Monounsaturated Fat:
18
g
|
Trans Fat:
1
g
|
Cholesterol:
121
mg
|
Sodium:
1410
mg
|
Potassium:
709
mg
|
Fiber:
6
g
|
Sugar:
5
g
|
Vitamin A:
1320
IU
|
Vitamin C:
11
mg
|
Calcium:
506
mg
|
Iron:
3
mg
Nutrition Information
The information shown is an estimate provided for your convenience by an online calculator. It should not be considered as a substitute for a professional nutritionist's advice. See our complete Nutritional Information Disclaimer.
©Prepare and Nourish • Content and photographs are copyright protected. Sharing of this recipe is encouraged and appreciated but please do NOT screenshot or copy/paste complete recipes to websites or social media.
This post was originally published September 2019 but has since been updated to include helpful information.