This easy, delicious, perfectly seasoned ground beef is truly the Best Taco Meat Recipe. An easy no-fuss taco seasoning and tomato sauce create the juiciest, most flavorful taco meat in 20 minutes.
Taco Tuesdays are our favorites. Except they don't always happen on Tuesdays.
Something about tacos that keeps me coming back to it - especially when I fail to plan dinner. I don't know if it's the ease and convenience and the flavor and the fact that every single member of our family LOVES it - but it's become such a default in our home.
That's why this recipe is on regular rotation around here. It's also why, I usually double the batch and go for two pounds instead of one. The leftovers, if there are any, make an easy taco salad for lunch the following day.
It's also why I am a strong advocate of making your own taco seasonings. It's so wickedly easy and you are totally avoiding all the unnecessary starches and additives typically found in storebought mixes. That way, this recipe can stay truly clean and compliant with Paleo, Whole30 and Low Carb folks.
So, if you love tacos as much as we do, this recipe is for you! If you're just here for the recipe, scroll down for the printable version but I would suggest reading this post in it's entirety because I have tips and tricks to make this your BEST Taco Meat Recipe!
What is the best meat for taco meat?
The best meat for the yummiest, juiciest taco meat is your standard fare ground beef. An 80-85% lean will do.
If you've followed this blog for any length of time, you know that we don't shy away from fat. But only when using sustainably-raised, organic meats. The fat on those animals are actually beneficial and necessary for optimal health.
If your budget allows only conventionally grown animals, then opt for the leanest cut and grind you can find. Because toxins are stored in the fatty tissues, it's imperative to either purchase lean meats for conventional or splurge on full fat for sustainably-grown animals.
The brain needs saturated fats from animals to function properly. This podcast from Weston A. Price Foundation titled "Why We Need Animal Fat" does a very thorough job of explaining the science behind it.
I purchase 80% of all our meats from ButcherBox. They recently had a monthly special that was a crazy good deal. I was able to get 10 pounds of organic, grass-fed ground meat for $49. That comes out to $4.90 per pound - which is very similar to Costco's price for organic ground meat but the quality is exceptionally better with ButcherBox.
If you're ready to give them a try, claim your offer for FREE bacon, $20 OFF your order and always FREE shipping!
Be sure to subscribe to my newsletter for crazy good deals at ButcherBox like these. Many of them are flash sales and some are monthly specials, but you'll be the first to know when something wild happens that makes my wallet happy.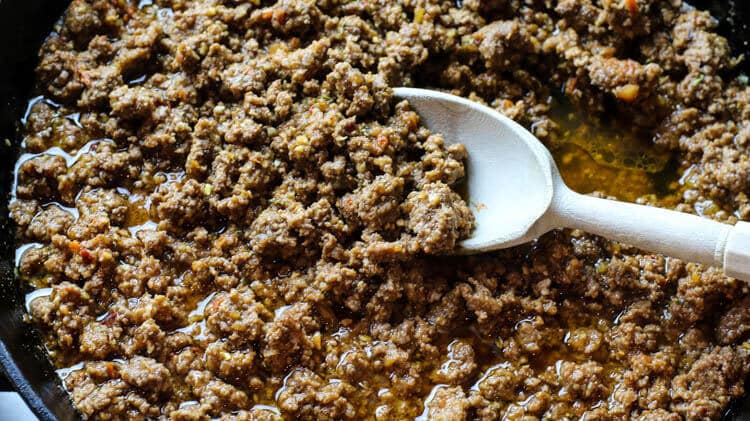 Do you need to drain the grease from ground meat?
One of the greatest benefits of using grass-fed, quality meats is that it is not necessary to drain the grease when cooking ground meat.
The reason for this is twofold:
There's not a ton of fat to begin with. I've noticed since switching to grass-fed beef, that because the cattle graze more than their counterparts, that often results in overall leaner meat.
Secondly, whatever fat is left remaining after cooking, enhances the flavor of the dish. And because it's good quality meat, we don't have to worry about draining the grease.
If however, you use conventionally grown meat, then I would certainly advise draining the grease to avoid consuming that unnecessary fat.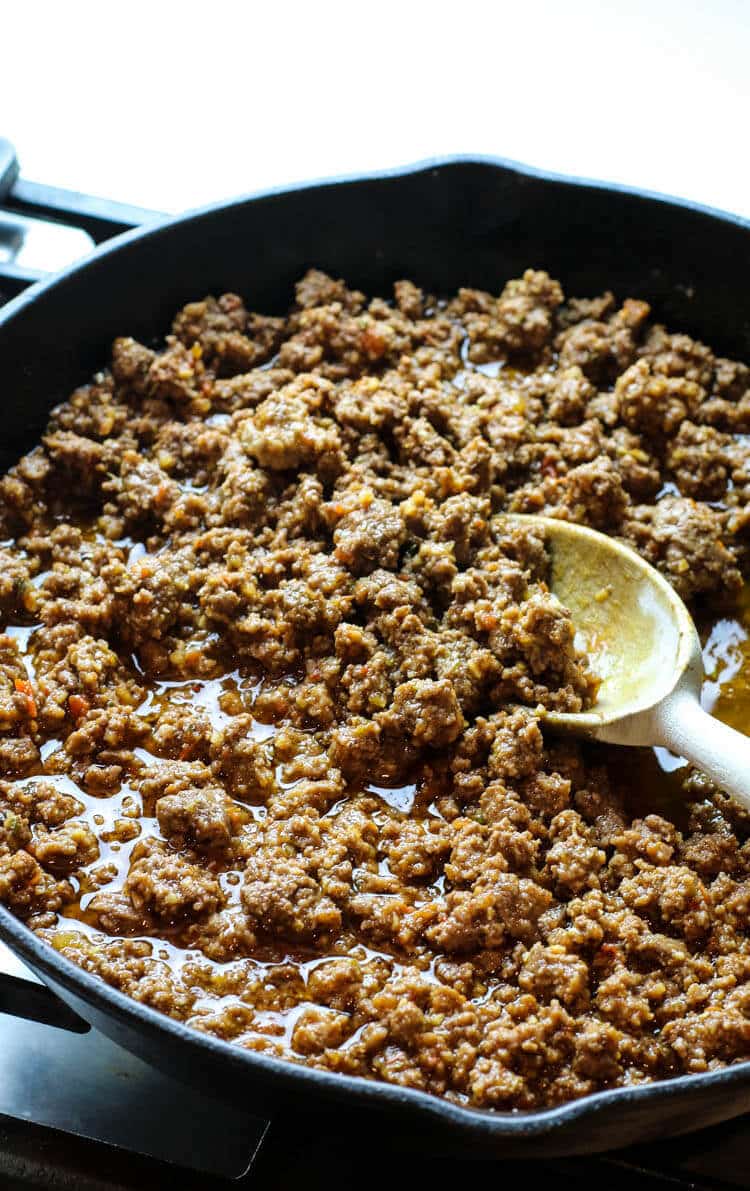 How to Season Ground Beef Taco Meat
This taco meat recipe has only 4 ingredients: ground meat, tomato sauce, taco seasoning, and sea salt. And yet, it produces the most delicious, authentic, juiciest, flavorful taco meat ready to be used in soft or hard shells.
The taco seasoning is fairly simple to make. I prefer making this seasoning in large batches and storing them in jars. If you do taco nights routinely like we do, that may be the most sensible approach.
If not, feel free to follow the recipe for the taco seasoning to be used in just one recipe.
What's in the Taco Seasoning?
There are 6 simple ingredients that are in this taco seasoning and most likely they already grace your pantry.
chili powder
minced garlic
ground cumin
minced onion
oregano
red pepper flakes
Combine all the spices in a small bowl or just add them directly to the ground beef a few minutes before it's fully cooked.
Please note, the best texture comes from minced garlic and minced onion. This is important. When rehydrated from the tomato sauce and ground beef, these small flakes of alliums create amazing flavor and texture. I would not suggest subbing them with powdered garlic and onions.
If you are interested in making a large batch (½ cup) of this Easy Taco Seasoning, I have exact measurements for that in THIS post.
The tomato sauce is a great addition to this taco meat. It helps the spices adhere to the meat, further adds flavor, and creates that beautiful hue of red that we all associate with taco meat.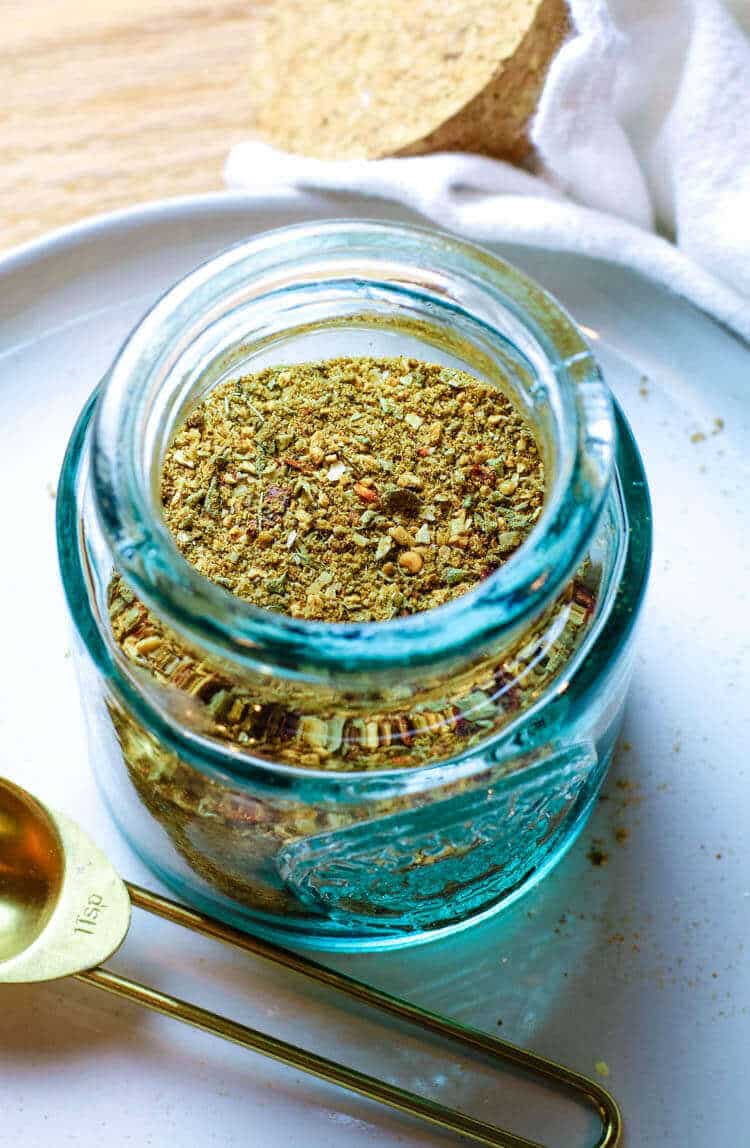 How much taco seasoning to use per pound of meat?
To season the ground beef well, I would use 2 tablespoons comfortably per one pound of meat. If that seems too much to you, start with 1-½ tablespoons and work your way up.
I don't include salt in my taco seasoning on purpose so I have more control over the salt content of the finished product. Because tomato sauce also has salt, you want to be careful with how much additional salt you add to the ground beef. Always start low and work your way up.
How to Make the Best Taco Meat
Start with heating a cast-iron skillet over medium-high heat. Add ground beef to the skillet, breaking up the meat and stirring as you go. You'll notice the meat will start releasing liquid/fat almost immediately. That is normal.
Keep breaking up the meat and stirring until it 's almost completely cooked through.
If you're not comfortable with the fat content remaining in your skillet, feel free to drain or cook a little longer to allow for it to evaporate. You will not sacrifice the juiciness of the end product by cooking it longer since we're adding more liquid anyways (tomato sauce).
Add taco seasoning, sea salt, and tomato sauce and cook down for approximately 4 minutes until slightly thickened. Do a taste check for flavor and adjust as necessary. Take off heat and enjoy as you normally would tacos!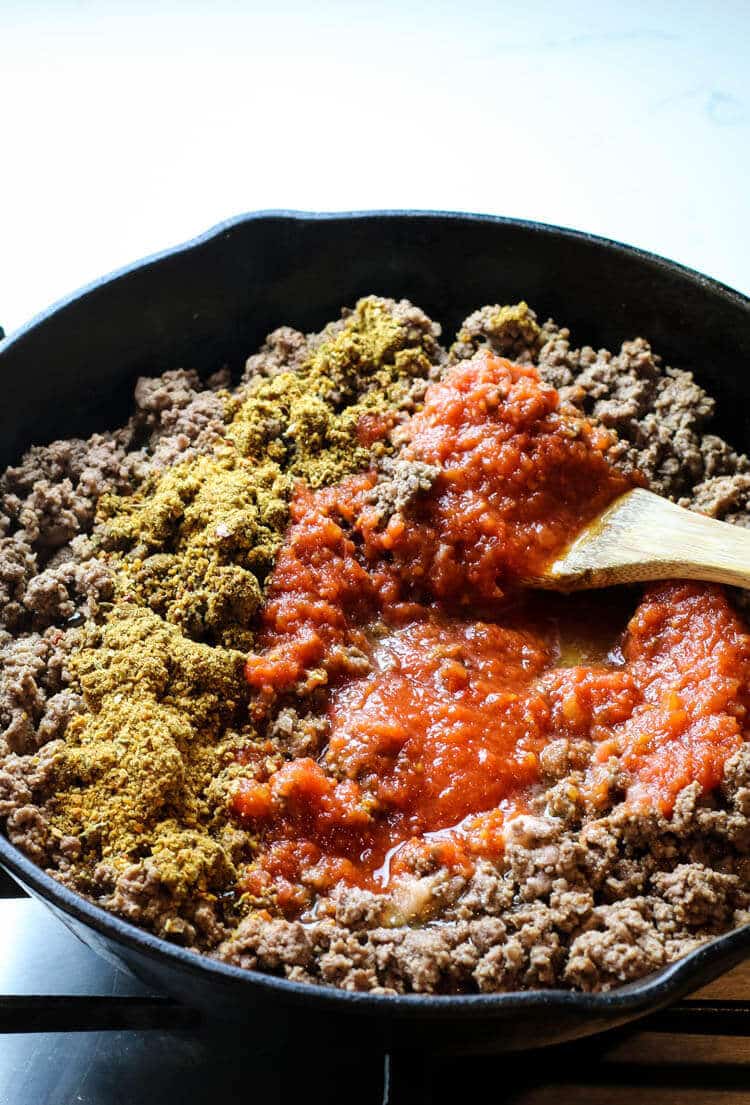 The best taco meat is ready to be devoured in your favorite taco dishes.
Best Taco Meat Recipe (Paleo, Whole30, Low Carb)
This easy, delicious, perfectly seasoned ground beef is truly the Best Taco Meat Recipe out there. An easy no-fuss taco seasoning and tomato sauce to create the juiciest, most flavorful taco meat in 20 minutes.
Ingredients
1

pound

ground beef

1

cup

tomato sauce

2

tablespoons

taco seasoning

1

teaspoon

sea salt
Instructions
Taco Seasoning (if needed)
If you don't already have taco seasoning prepared, combine chili powder, minced garlic, ground cumin, minced onion, oregano and red pepper flakes together in a small bowl.
Taco Meat
Heat a large cast-iron skillet over medium-high heat.

Add ground beef and crumble it breaking it up and cooking until completely browned, approximately 6-8 minutes. Drain grease if necessary (see note).

Add taco seasoning, salt and tomato paste over the meat. Stir to combine.

Bring to a gentle simmer and cook until slightly thickened and moisture absorbs into the meat, approximately 3-4 minutes.

Enjoy as you would any taco meat.
Notes
Note on draining grease: I don't drain grease because I'm not worried about consuming fats when eating sustainably-raised meats. Feel free to drain if you are more comfortable. 
| Nutrition Information Disclaimer |
Nutrition
Calories:
313
kcal
|
Carbohydrates:
5
g
|
Protein:
21
g
|
Fat:
23
g
|
Saturated Fat:
9
g
|
Cholesterol:
81
mg
|
Sodium:
1001
mg
|
Potassium:
546
mg
|
Fiber:
2
g
|
Sugar:
3
g
|
Vitamin A:
636
IU
|
Vitamin C:
4
mg
|
Calcium:
40
mg
|
Iron:
3
mg
Nutrition Information
The information shown is an estimate provided for your convenience by an online calculator. It should not be considered as a substitute for a professional nutritionist's advice. See our complete Nutritional Information Disclaimer.
©Prepare and Nourish • Content and photographs are copyright protected. Sharing of this recipe is encouraged and appreciated but please do NOT screenshot or copy/paste complete recipes to websites or social media.
If you liked the recipe above, please consider rating the recipe and leaving a comment below. Also, be sure to follow me on Facebook, Instagram, and Pinterest.
Other Ground Meat Recipes You'd Like:
Oven-Baked Swedish Meatballs (Paleo, Whole30)
Crustless Skillet Pizza (Low Carb, GAPS, Primal)
Healthy Classic Stuffed Cabbage Leaves (Paleo-ish, includes white rice)
>>> Pin This<<<