This easy ground beef Taco Meat Recipe is truly one of the best. An easy no-fuss taco seasoning and tomato sauce create the juiciest, most flavorful taco meat in 20 minutes.
This easy taco meat recipe is on regular rotation around here. It calls for very few common ingredients and is a simple recipe to double for leftovers for a quick taco salad the following day.
Taco Meat from frozen to table in 1 hour!
This Taco Meat recipe is a great recipe to have in your back pocket when you forget to plan dinner. The flavor is on point and it doesn't hurt that the entire family loves it.
This is truly the best of the best taco meat recipe for it's ease, convenience, and authentic flavor and texture. It's served regularly here because it goes from freezer to kitchen table in under an hour. Ground meats thaw notoriously quickly compared to solid meats and thus makes this an easy no-plan dinner.
To thaw a block of frozen ground beef: simply place sealed package in a large bowl of room temperature water for 30 minutes. You may need to replace water mid-way as it turns cooler.
Best Taco Meat Recipe
The best taco meat recipe starts with quality taco seasoning.
When possible, I always opt with homemade seasonings because it assures that it doesn't have any funny ingredients or unnecessary starches or additives typically found in store-bought mixes.
Also, if you haven't made your own seasoning blends before I can promise you - you won't go back to store bought. The aroma of freshly blended seasoning is amazing. The flavor is unbeatable and after making a few of your own, you'll quickly learn that it doesn't have to take a lot of time to throw a few dried herbs and spices together.
By blending your own seasonings, you can be sure that it is compliant with paleo, Whole30, and low carb diets.
What is the best meat for taco meat?
This part of the recipe has a large spectrum of quality and price point. You can go anywhere from the cheapest conventionally grown ground beef all the way to ancestral blend of regeneratively grown grass-fed beef. Do what works best for your family.
If you're going for a quick yet healthy option for taco meat, a good quality grass-fed ground beef is your best option here. The best meat for the juiciest taco meat is your standard fare ground beef. An 80-85% lean will do, but 70-80% is even better.
If you've followed this blog for any length of time, you know that we don't shy away from fat. But we do emphasize using sustainably-raised, organic meats. The fat on those animals are actually beneficial and necessary for optimal health.
The brain needs saturated fats from animals to function properly. This podcast from Weston A. Price Foundation titled "Why We Need Animal Fat" does a very thorough job of explaining the science behind it.
If your budget allows only conventionally grown animals, then opt for the leanest cut and grind you can find. Because toxins are stored in the fatty tissues, it's imperative to either purchase lean meats for conventional or splurge on full fat for sustainably-grown animals.
On the other side of the spectrum, you can increase the nutrient profile of this taco meat by using ancestral blend grinds, which includes grass-fed beef and organ meats like liver and heart.
Organ meats like beef liver, kidneys, and heart are a great source of bio-available vitamins and minerals that can't be readily found in plant foods. Including them regularly is essential to supporting health. And adding small amounts of organ meats to grinds is an easy way to boost nutrition. Force of Nature makes this part easy with their pre-packaged ancestral blends that already includes organ meats.
Helpful Tip: Maximize the nutrition in taco meat by using ancestral blend of ground meat that includes beef liver and beef heart from regeneratively pastured beef. 
Do you need to drain the fat from ground meat?
One of the greatest benefits of using grass-fed, quality meat is that it is not necessary to drain the grease when cooking ground meat.
There are two reasons for this:
There's not a ton of fat to begin with, even with a lower lean grind. In grass-fed or pastured beef, the cattle graze more than conventional cattle and that often results in overall leaner meat.
Whatever fat is left remaining after cooking only enhances the flavor of the finished dish. And because it's good quality meat, we don't have to worry about draining the grease.
If however, you use conventionally grown meat, then I would certainly advise draining the grease to avoid consuming that unnecessary fat.
Helpful Tip: Fat in grass-fed beef is flavor. It is not necessary to drain it. 
How do you keep ground beef moist for tacos?
If you ever had dry, flavorless taco meat you know why this section is necessary. There are a few things you can do to make sure you achieve the best homemade taco meat.
Use fattier meat. My default choice of meat is at most 80% lean ground beef. As fat melts, it adds flavor and moisture to the meat. You can use ground turkey but just know flavor will be altered and texture will be a tad on the dry side.
Add tomato sauce. This gives authentic flavor and adds moisture.
Season after browning meat. Salt pulls out moisture and creates steam. You want to season after thoroughly browning the meat first.
Cook at moderate temperature. High heat tends to dry out the meat, so turn down the heat and gently brown the ground meat.
How to Season Ground Beef Taco Meat
This taco meat recipe has very minimal ingredients and yet produces the most delicious, authentic, juiciest, flavorful taco meat ready to be used in soft or hard shells.
The taco seasoning is fairly simple to make. I prefer making this seasoning in large batches and storing them in jars. If you do taco nights routinely like we do, that may be the most sensible approach.
If not, feel free to follow the recipe for the taco seasoning to be used in just one recipe. But I assure you, homemade seasonings are supremely better than store bought ones.
Taco Meat Seasoning Recipe
There are 6 simple ingredients that are in this taco seasoning and most likely they already grace your pantry. One of the benefits of using homemade seasonings is that you truly have paleo-compliant wholesome dish.
chili powder
minced garlic
ground cumin
minced onion
oregano
red pepper flakes
Combine all the spices in a small bowl or just add them directly to the ground beef during cooking.
The best texture comes from minced garlic and minced onion. This is important. When re-hydrated from the tomato sauce and ground beef, these small flakes of alliums create amazing flavor and texture. I would not suggest subbing them with powdered garlic and onions.
If you are interested in making a large batch (½ cup) of this Easy Taco Seasoning, I have exact measurements for that in THIS post.
The tomato sauce is a great addition to this taco meat and adds authentic flavor. It helps the spices adhere to the meat and creates that beautiful hue of red that we all associate with taco meat. You may also use diced tomatoes and break up the tomatoes with a flat spatula. Diced tomatoes already comes with the sauce and the chunks add interesting texture.
How much taco seasoning to use per pound of meat?
To season the ground beef well, I would use 2 tablespoons comfortably per one pound of meat. If that seems too much to you, start with 1-½ tablespoons and work your way up.
I purposefully don't include salt in my taco seasoning so I have more control over the salt content of the finished product. Because tomato sauce may also have salt, you want to be careful with how much additional salt you add to the ground beef. Always start low and work your way up.
How to make perfectly browned ground beef?
A common mistake people make when browning ground beef is seasoning prematurely. If you season the meat before it's time, you risk having rubbery, dried out meat.
Follow these simple tips to achieve perfectly browned ground beef:
Allow meat to come to room temperature, or at least 30 minutes
If using stainless steel pan, add a bit of oil so meat doesn't stick. If using cast iron skillet (ideal), you can skip the oil.
Add meat to hot pan breaking it with a flat spatula.
Don't disturb meat for 4-5 minutes as it cooks and browns. Stir and give time to brown again.
Frequently Asked Questions & Tips
Which meat is best for taco meat?
The best meat is a fattier grind. Try 80% lean ground beef. For additional nutrition, add a small amount of pastured ground organ meat for bio-available nutrients.
When should I season taco meat?
To avoid dried out meat, it's important that you wait until towards the end of the cooking to add seasonings. Salt pulls moisture and creates steam and will produce rubbery, dried taco meat. Instead, wait until the ground beef has been browned to add seasonings and diced tomatoes or tomato sauce.
When should I drain taco meat?
You don't. Fat is flavor and if using grass-fed, pastured ground beef, you can be sure you're getting all the important benefits from healthy animal fats. If the taco meat is a little too runny after adding tomato products, just turn the heat down to low to allow the moisture to evaporate and fat to be reabsorbed back into the meat.
How do I reheat taco meat?
The best way to reheat taco meat without sacrificing flavor and texture is to transfer the refrigerated taco meat to a small sauce pan with lid. Add a few tablespoons of water or broth, close lid, and turn heat to low-medium. Gently bring to temperature, stirring and breaking up the taco meat regularly. Take off heat as soon as warmed through.
Make-Ahead Tips for Taco Meat
This is a fairly easy recipe on it's own but there are a few things you can do maximize your time in the kitchen.
make this easy Taco Seasoning ahead of time and store in the spice drawer until ready to use.
be sure to thaw the meat and allow to rest at room temperature for up to 30 minutes.
you can also make the entire batch of taco meat from start to finish in under 20 minutes to be ready for an easy taco or nacho night later in the week.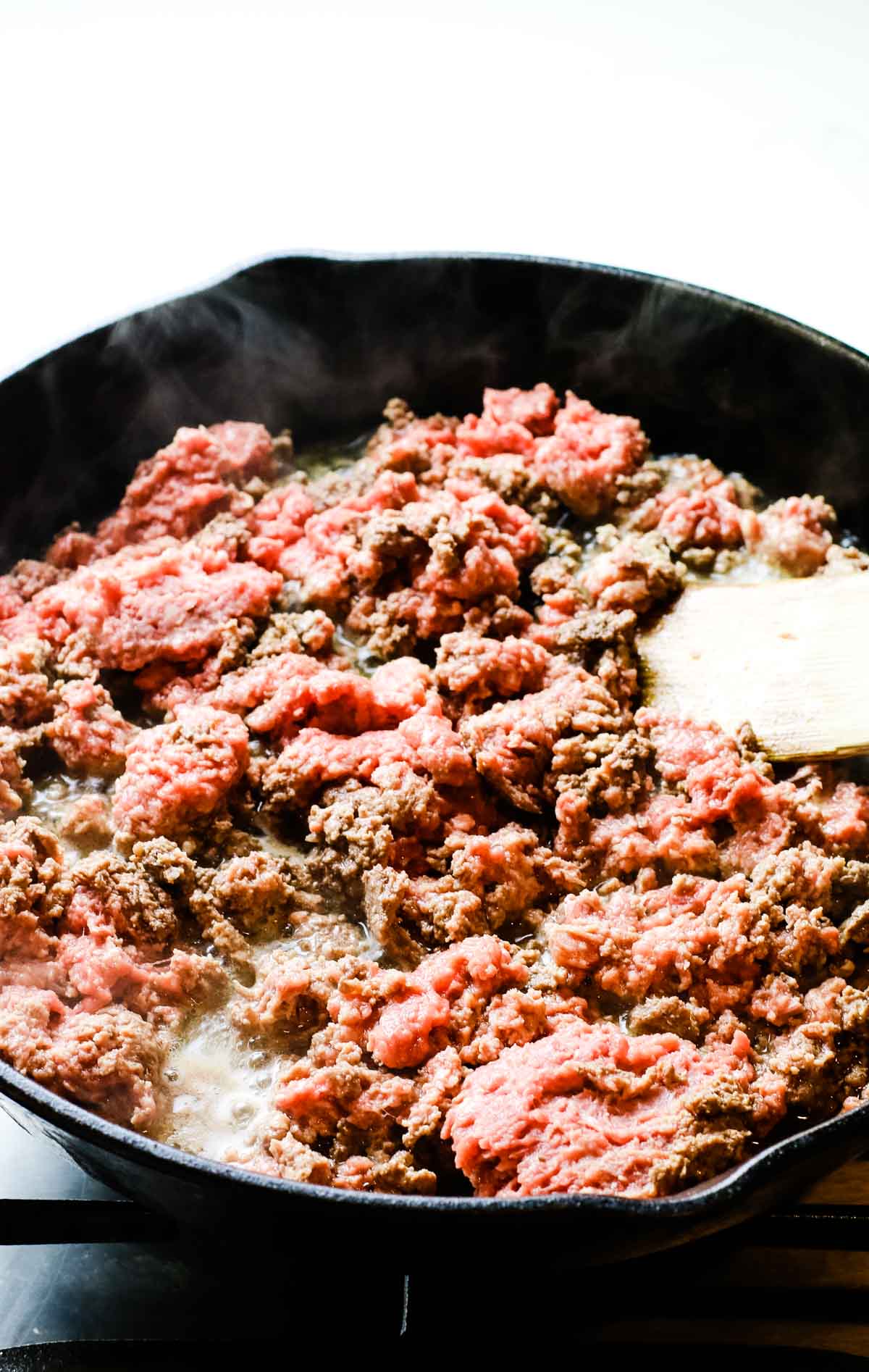 How to make the Best Taco Meat
The complete printable recipe is below in the recipe card for your convenience.
This taco meat recipe has only 4 ingredients: ground meat, tomato sauce (or canned diced tomatoes), taco seasoning, and sea salt. And yet, it produces the most delicious, authentic, juiciest, and flavorful taco meat.
Step 1. Start with heating a cast-iron skillet (or stainless steel pan) over medium heat. Add ground beef to the skillet, breaking up the meat and stirring every 4 minutes or so as you go. You'll notice the meat will start releasing liquid/fat almost immediately. That is normal.
Step 2. Break up the meat with a large paddle spatula and flipping the meat until it's almost completely cooked through and browned.
Don't be nervous about the fat content remaining in your skillet just gently cook it on moderate heat a little longer to allow for it to evaporate. You will not sacrifice the juiciness of the end product by cooking it longer since we're adding more liquid anyways (tomato sauce).
Step 3: Add taco seasoning, sea salt, and tomato sauce or canned diced tomatoes and cook down for approximately 4 minutes until slightly thickened. Do a taste check for flavor and adjust as necessary.
Take off heat and enjoy as you normally would tacos or nachos.
Helpful Tools
These aren't necessary but very helpful to have on hand.
Ways to enjoy this best Taco Meat:
Use this taco meat is the star of these Sheet Pan Nachos but it can also be enjoyed in a large taco salad along with these gems:
Did you make this? Please leave a ⭐ rating in the recipe card below and leave a review in the comments. Thank you!💚
Best Taco Meat Recipe
This easy ground beef Taco Meat Recipe is truly one of the best. An easy no-fuss taco seasoning and tomato sauce create the juiciest, most flavorful taco meat in 20 minutes.
Ingredients
1

pound

ground beef

1

cup

tomato sauce

or canned diced tomatoes

2

tablespoons

taco seasoning

1

teaspoon

sea salt
Instructions
Taco Seasoning (if needed)
Notes
Draining fat is not necessary. Fat adds tremendous flavor and will evaporate or re-absorb as the meat cooks.
Don't season prematurely as that will yield dry, rubbery taco meat. Salt will pull any moisture from the beef and will create steaming effect instead of browning.
Cook ground beef at moderate-low temperature to keep the meat from drying out.
To save time, make the taco seasoning ahead of time.
Store leftovers in an airtight container in the refrigerator for up to 6 days. To reheat, add a few tablespoons of water or broth and gently simmer in a small pot with lid on low-medium heat until warmed through. Stir often and add more water if needed.
Nutrition
Calories:
210
kcal
|
Carbohydrates:
4
g
|
Protein:
14
g
|
Fat:
15
g
|
Saturated Fat:
6
g
|
Polyunsaturated Fat:
1
g
|
Monounsaturated Fat:
7
g
|
Trans Fat:
1
g
|
Cholesterol:
54
mg
|
Sodium:
714
mg
|
Potassium:
359
mg
|
Fiber:
1
g
|
Sugar:
2
g
|
Vitamin A:
509
IU
|
Vitamin C:
3
mg
|
Calcium:
30
mg
|
Iron:
2
mg
Nutrition Information
The information shown is an estimate provided for your convenience by an online calculator. It should not be considered as a substitute for a professional nutritionist's advice. See our complete Nutritional Information Disclaimer.
©Prepare and Nourish • Content and photographs are copyright protected. Sharing of this recipe is encouraged and appreciated but please do NOT screenshot or copy/paste complete recipes to websites or social media.
This post was originally published September 2019 but has since been updated to include helpful information.