This Beef Bone Broth recipe is incredibly flavorful and nutrient-dense. It's an essential healthy food that starts with roasting various beef bones and gently simmering in the slow cooker.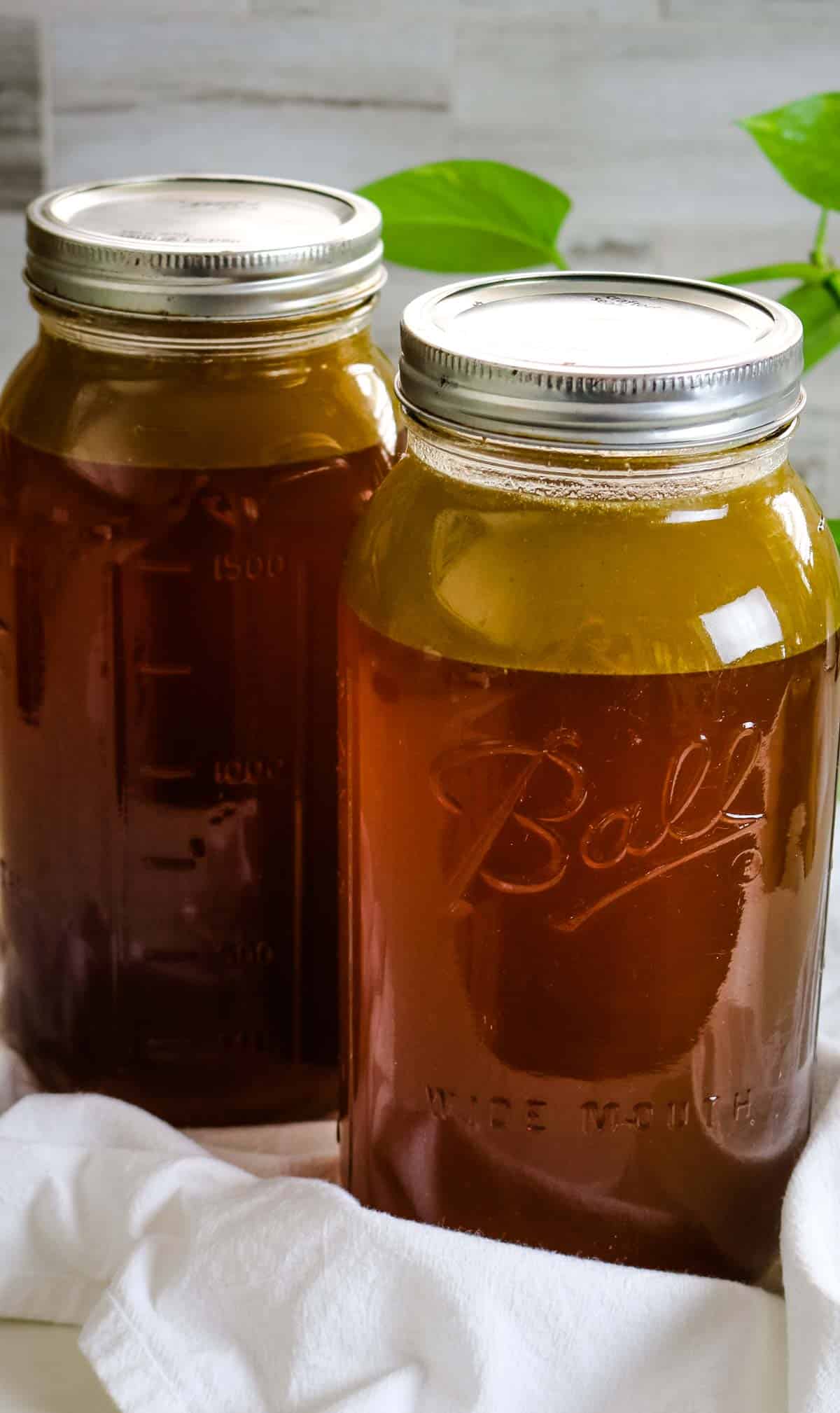 Homemade beef bone broth is one of the most important elements of a nourished kitchen. Traditionally, all ancient cultures had their form of bone broth made with varying animal bones and veggie scraps.
And yet, here in the modern western world, bone broth is so far removed from our diet and culture. Instead of properly prepared, deeply nutritious bone broths and stocks, we opt for artificial flavorings made in a lab to add flavor back to our dishes.
But there is something so comforting and rewarding about making broth at home. The convenience of a slow cooker, makes this laborious task an easy and hands-off endeavor that will nourish your family well.
Jump to:
🥣What is Beef Bone Broth
Beef bone broth is a savory cooking liquid that involves barely simmering beef bones with vegetables, water, a touch of red wine, and aromatics for an extended period of time.
Historically, the premise of bone broth was that nothing went to waste. As a result, our culture now considers animal bones used to make deeply nourishing broth as inferior.
Good beef broth is made with several types of bones: knuckle bones for their rich collagen content, marrow bones for robust flavor, and meaty rib, neck and oxtail bones for color and taste.
Beef bone broth should always start with properly roasting the bones. While this practice is not necessary in chicken bone broth, it is imperative in beef broth. This creates an immeasurable depth of flavor and definitely worth taking the time and effort.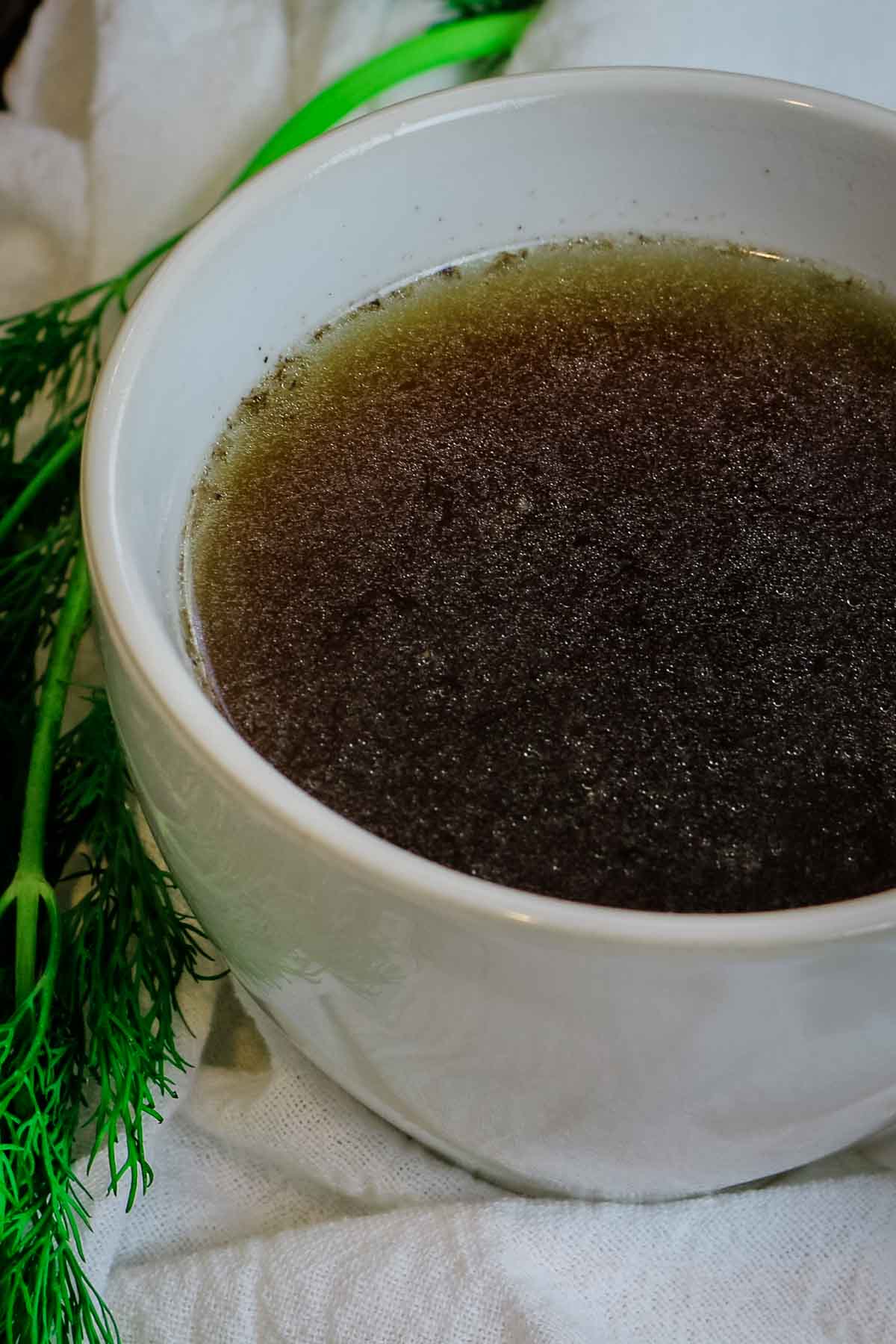 ❤Health Benefits
Bone broth has become quite a health trend in recent years. But the reality is this ancient food has been a staple in real food kitchens for centuries.
Properly prepared bone broth containing minerals of various bones, collagen from cartilage, vitamins in bone marrow, and vegetables for electrolytes is an extremely nutrient-dense food that is easy to assimilate.
The red wine in beef bone broth works as an acidic medium to help draw out the minerals from the bones, thereby maximizing the efforts to make this as nutrient-dense as possible.
There are many benefits of bone broth thanks to the high vitamin and mineral content. Regular consumption of bone broth is a wonderful way to support gut health. And optimal gut health is imperative to keeping a strong immune system.
One of the prominent health benefits is the high collagen volume. Collagen is the most abundant protein in our body that contains all 19 essential amino acids. Collagen is responsible for skin health and may help with joint pain as well as improving energy levels.
Consuming good bone broth on a regular basis has been helpful in the healing of various autoimmune diseases. Moreover, it's one of the pillars in healing diets like GAPS diet, which emphasizes a natural approach to restoring leaky gut.
Bone broth is a common staple in Whole30 and paleo diet as it's the best way to get maximum nutrition. Moreover, there's just something so delightful about a homemade soup made with the best bone broth.
Overall, making a batch of bone broth is making an investment in your health and should be part of your real food diet.
💭Pro tip: In savory dishes, use bone broth instead of water for added nutrition.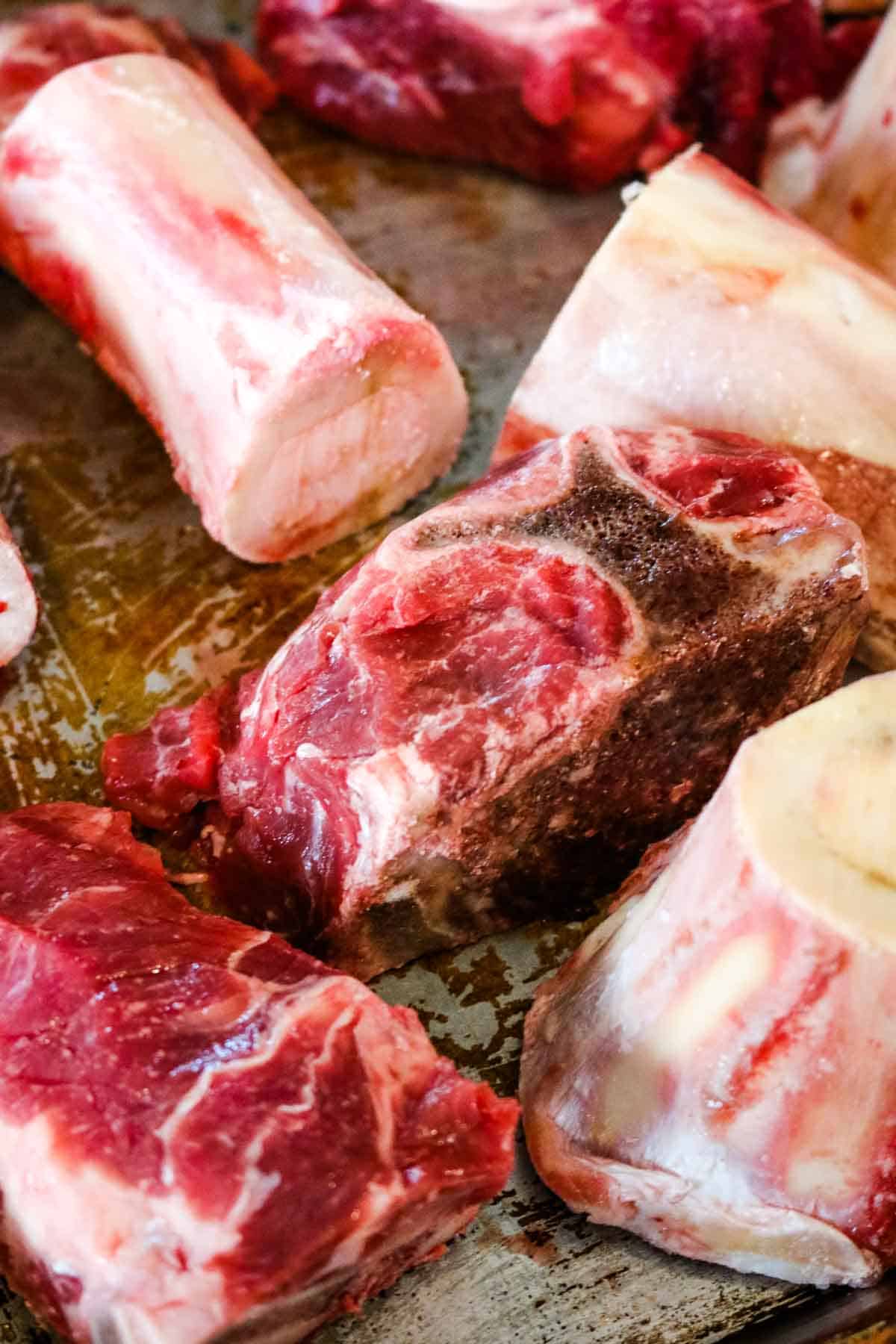 🐄Beef bone broth vs. Chicken bone broth
What is the difference between the two? And how do you know when to use which one?
First, let's talk about similarities in both. Beef broth and chicken broth are both made from respective bones with various vegetable scraps, aromatics, and usually an acidic base to draw out the minerals. They are both considered a deeply nourishing food with many uses.
Beef bone broth requires more time, in preparation and in simmering. You have to roast the bones first, then cook low and slow for up to 24 hours. You can do this on the stove top or as per recipe, in the slow cooker.
Chicken bone broth doesn't require roasting the bones and can be made in 90 minutes in a pressure cooker. Check out my full recipe to Instant Pot Chicken Bone Broth here that uses chicken feet for that extra collagen kick.
As a result of roasting the bones and the addition of red wine in lieu of apple cider vinegar, beef bone broth has a very robust, rich flavor. It is great in beef-based soups like this Hamburger Vegetable Soup and Ground Beef and Kale Soup.
Chicken bone broth is much milder in taste and is great in most soups like White Chicken Chili and this Instant Pot Chicken Stew. Additionally, because of it's moderate flavor it's a great liquid to use in cooking grains like buckwheat and rice.
You can sip both beef bone broth and chicken bone broth straight from a mug as a nutrient-dense warm beverage. As well as used in gravies and to thin out sauces.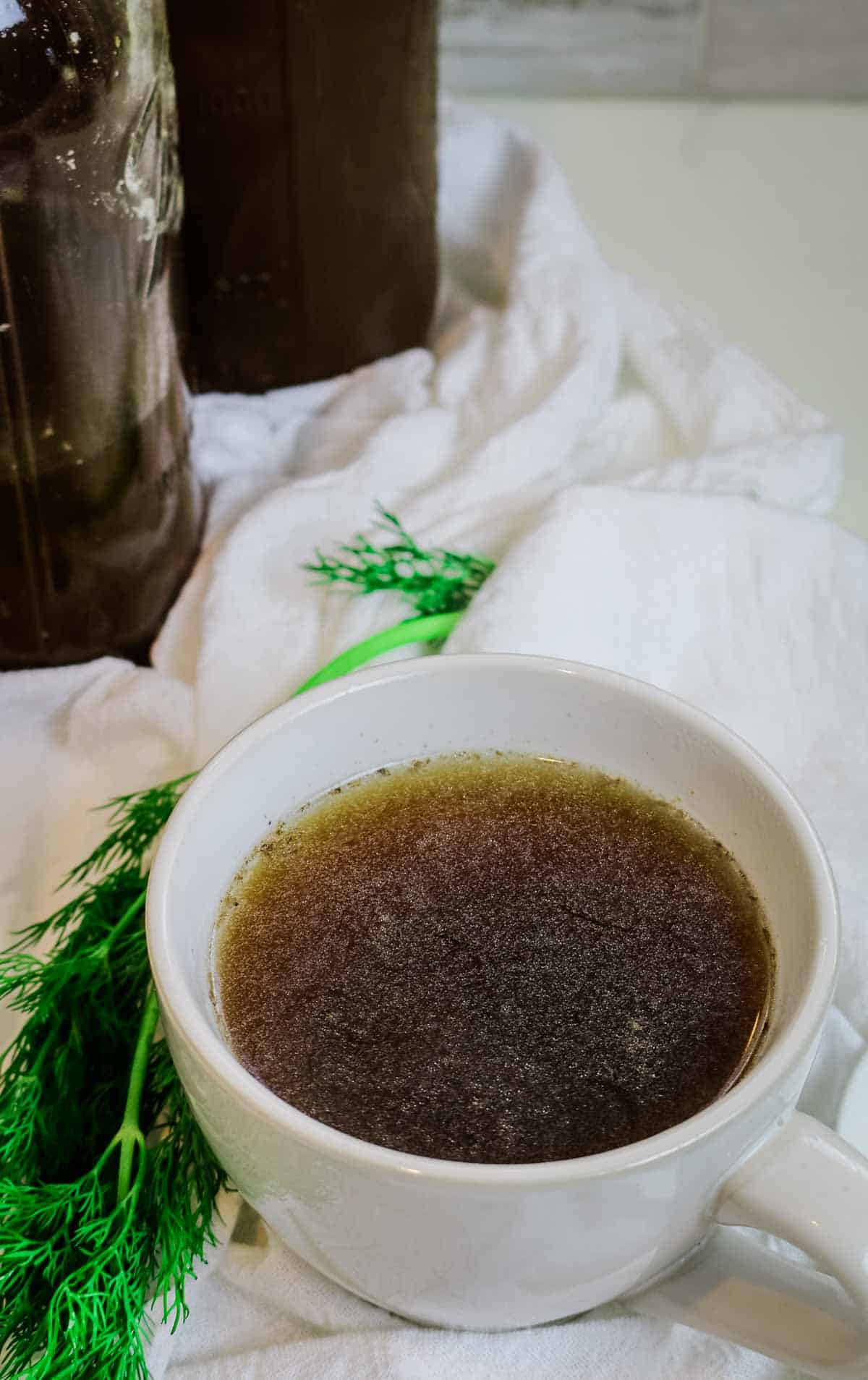 🥘Why slow cooker for bone broth?
One of the reasons is a matter of convenience. Slow cookers, much like pressure cookers, are generally set-it-and-forget-it appliance which is perfect for broth.
But there's also a fundamental reason to using a slow cooker for beef broth, specifically. And that's the importance of keeping the broth at a gentle simmer throughout the cooking process to ensure a clear broth.
Beef bones are thicker and more dense than chicken bones so more time is needed to break down all the minerals. An Instant Pot, even at low pressure, will bring the broth to higher temperature than needed.
We're looking for low temperatures for an extended cooking time.
Slow and low is the name of the game here so pull out your crock pot and let's get started.
🍖Ingredients
If you've made my Chicken Bone Broth before, this will be an easy feat as the ingredients are very similar. The difference is we'll be using beef bones and swapping out a different source for acid.
beef bones: the best bones for broth are knuckle bones (for connective tissues), beef marrow bones, meaty bones such as neck bones, oxtail and even leftover bones from ribs
vegetables: a yellow onion, few carrots, celery ribs, and parsnip are great additions for a flavorful broth
aromatics: this is what gives great flavor - I use bay leaves, lots of garlic, peppercorns, good quality sea salt (like Redmond's or Celtic sea salt) and fresh thyme but it also depends on what I have on hand at the moment.
red wine: an acid like red wine or apple cider vinegar will help draw out the minerals from the bones and add amazing flavor
See recipe card for exact quantities but remember that homemade bone broth is a very flexible recipe. That means, feel free to use whatever you have on hand. The only caution is to not use too much water in ratio to the bones.
💭Make it Nutrient-Dense: To make the most nutritious, whole foods, traditional broth, use grass-fed beef bones as they will be higher in nutrition.
👩🏽‍🍳Step-by-Step Instructions
The complete printable recipe is below in the recipe card for your convenience.
This slow cooker bone broth recipe calls for these ingredients: beef bones of various kinds, yellow onion, carrots, celery, parsnip, bay leaves, peppercorn, garlic, fresh thyme, sea salt, and red wine.
Step 1. Roast bones
Preheat oven to 400 degrees Fahrenheit. Spread beef bones on a rimmed baking sheet and roast for 45 minutes or until browned.
💭Pro tip: Making a big batch of bone broth is a good way to use up veggie scraps (onion peels, carrot ends, loose celery leaves). Just toss everything in your broth pot and set it to cook.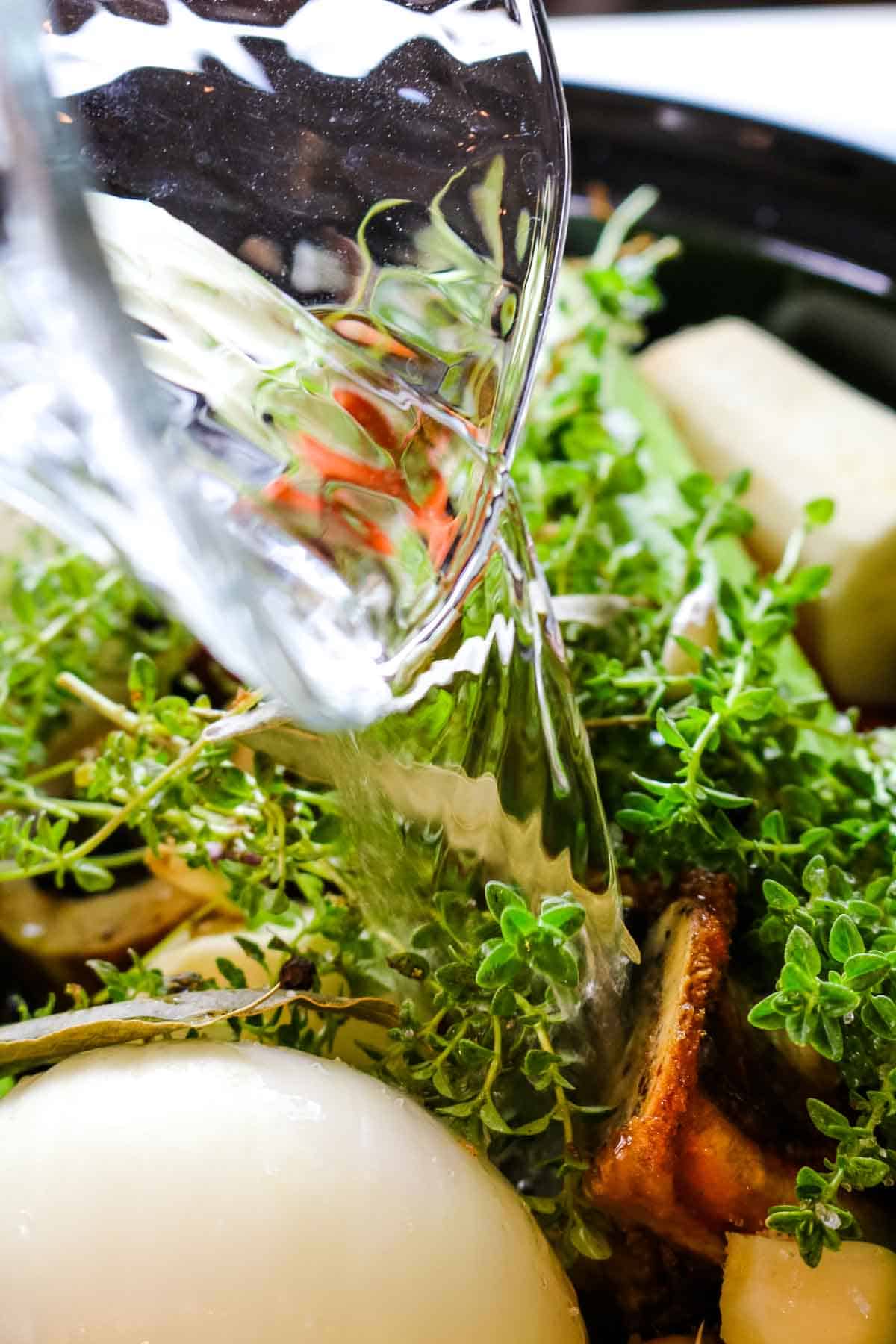 Step 3. Add liquids
Add a little bit of red wine or apple cider vinegar as an acid. Then add just enough water to cover everything and keep it all submerged.
💭Pro tip: In order for your broth to gel when chilled, it needs to have a proper ratio of bones to water. A good rule of thumb is to use 2:1 ratio (4 pounds of bones to 2 quarts of water) but use this only as a guide and adjust to what works for you.
Step 5. Lower the temp (optional)
Change the setting from low cook to warm to lower the temperature even more. This step is optional but ensures that the broth is truly at a bare simmer and will not compromise the clarity of the broth. Between the low and warm setting, simmer broth for up to 18-24 hours.
Step 7. Pour into jars
Set a sieve over a wide-mouth mason jar and pour the broth through the sieve directly into the jar. Don't forget to transfer the broth that has run from the bones and veggies in the colander to the jars.
🔪Helpful Tools & Links
Below are some affiliate links that may be helpful to you as you make this recipe. You can find some of these items cheaper at your local store but it helps to have a link so you know what you're looking for.
Tools: chef knife, cutting board, stainless steel baking sheet, slow cooker, web strainer, mesh strainer, funnel, wide-mouth half-gallon mason jars,
Ingredients: real salt, black peppercorns, bay leaves
Storage Supplies: wide-mouth mason jars
🍲Serving Suggestions
My favorite way to effortlessly incorporate bone broth into our diet is to add it as a base to any soup recipe. Some of my favorite comforting soups are this Hamburger Vegetable Soup as well as this Ground Beef and Kale Soup.
But bone broth is also great to make gravies and to thin out sauces. Additionally, sipping on a warm mug of homemade broth is a great way to consume it.
❄Storage and Freezing Instructions
To store: Bone broth can be stored in wide mouth jars in the refrigerator. If they have a fat layer on top of the broth, that acts as a protective barrier from pathogens and bacteria and can last longer up to 1 month.
Storage containers: These 2-quart mason jars are great for storage in refrigerator. But quart size or even pint size are also great for smaller uses like gravies and grain cooking.
To freeze: If using jars, always leave at least 1" of headspace for liquid to expand. For same reason, use only wide-mouth jars to avoid glass shattering. When fully cooled, transfer the wide-mouth mason jars to the freezer and store up to 6 months. Alternatively to glass jars, use souper cubes which are conveniently measured out already. When frozen solid, transfer to freezer bags.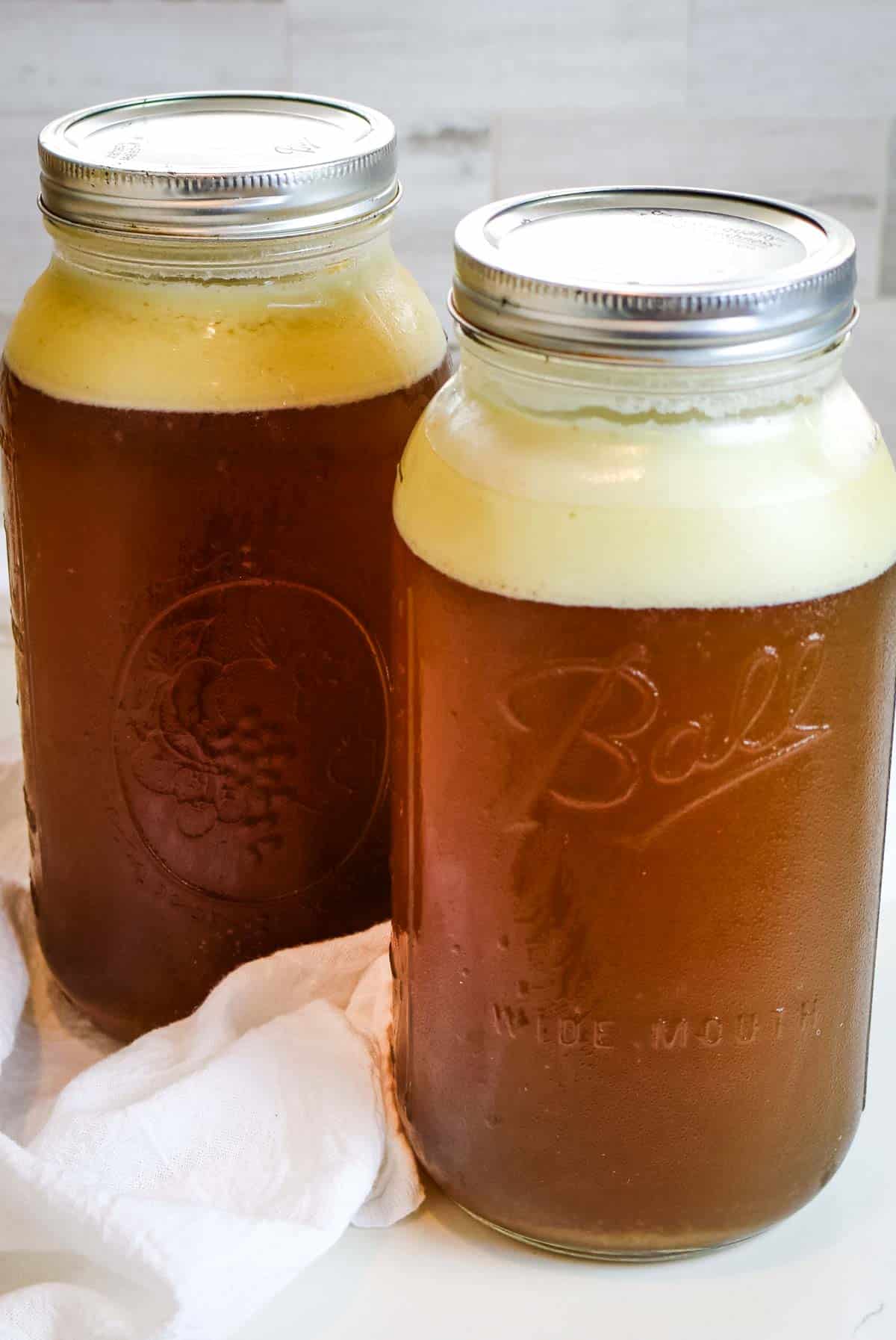 💬FAQs
What is the best slow cooker for bone broth?
I used an 8 quart slow cooker. Because the process is tedious, I would recommend using the largest slow cooker available to you. Make sure your slow cooker pot is free from scratches to avoid toxic leaching.
What are the best bones for beef bone broth?
In order to get the best flavor with maximum nutrition, use a variety of bones available to you. Knuckle bones, marrow bones, neck bones, meaty rib bones, or oxtails would work. Any bones with connective tissue will yield high-collagen broth. Your local farmer's market is the ideal place for that as you can get grass-fed bones but a local grocery store should have soup bones available at the meat counter.
Can I reuse bones after making broth?
Some people, especially in the Weston A. Price Foundation (WAPF) circle regularly reuse bones after making the first batch of bone broth. This is a matter of personal preference but I do not do this nor recommend it, especially after longer cooking time and low simmer.

The reason is most of the minerals from the bones have been pulled into the broth and if you go for another round, the broth will be weak and not gel properly. You can rub the bone fragments between your fingers to see how brittle they are. It's not worth reusing those bones and I'd much rather do a fresh batch of broth.
What do I do with the solid fat in my bone broth?
The fat that accumulates on the top of the broth is known as coagulated fat and is very healthy for you. You can check out instructions in this post on how to render it into beef tallow. It's a fantastic high-heat saturated fat that is wonderful in any high temperature cooking.
Looking for more nutrient-dense recipes? Here are some ideas:
Did you make this? Please leave a ⭐ recipe rating in the recipe card below and leave a review in the comments. Thank you!💚
Printable Recipe
Slow Cooker Beef Bone Broth
This Beef Bone Broth recipe is incredibly flavorful and nutrient-dense. It's an essential healthy food that starts with roasting various beef bones and gently simmering in the slow cooker.
Ingredients
5

pounds

beef bones

marrow bones, knuckle bones, neck bones, rib bones, oxtails

1

yellow onion

halved or quartered

3

celery ribs

3

carrots

1

parsnip

6

sprigs

fresh thyme

8

garlic cloves

1

tablespoon

peppercorns

1 ½

tablespoons

sea salt

½

cup

dry red wine

or ¼ cup apple cider vinegar

filtered water

enough water to cover all the ingredients
Notes
Recipe makes 3-4 quarts or 12-16 cups in an 8-quart slow cooker. Serving size is 2 cups.
Use any combination of beef bones available to you but the best broth is one with varied cut of bones.
Vegetables can be any veggie scraps like onion peels, carrot ends, random celery leaves, parsnips, etc.. Same is true for aromatics and herbs. Use whatever is available to you.
You can cook the broth for any length of time but for at least 12 hours for best flavor and maximum nutrition. You can also have it on warm setting for the entire cooking duration.
Nutrition
Calories:
71
kcal
|
Carbohydrates:
13
g
|
Protein:
1
g
|
Fat:
0.3
g
|
Saturated Fat:
0.1
g
|
Polyunsaturated Fat:
0.1
g
|
Monounsaturated Fat:
0.1
g
|
Sodium:
1771
mg
|
Potassium:
251
mg
|
Fiber:
3
g
|
Sugar:
4
g
|
Vitamin A:
5157
IU
|
Vitamin C:
11
mg
|
Calcium:
44
mg
|
Iron:
1
mg
Nutrition Information
The information shown is an estimate provided for your convenience by an online calculator. It should not be considered as a substitute for a professional nutritionist's advice. See our complete Nutritional Information Disclaimer.
©Prepare and Nourish • Content and photographs are copyright protected. Sharing of this recipe is encouraged and appreciated but please do NOT screenshot or copy/paste complete recipes to websites or social media.