Cozy up to this hearty Chicken Stew, made easily in the Instant Pot. This healthy version is perfectly seasoned with only 8 main ingredients and is Paleo and Whole30.
You may JUMP to RECIPE but you'd miss out on helpful tips in this post to make this healthy Instant Pot Chicken Stew.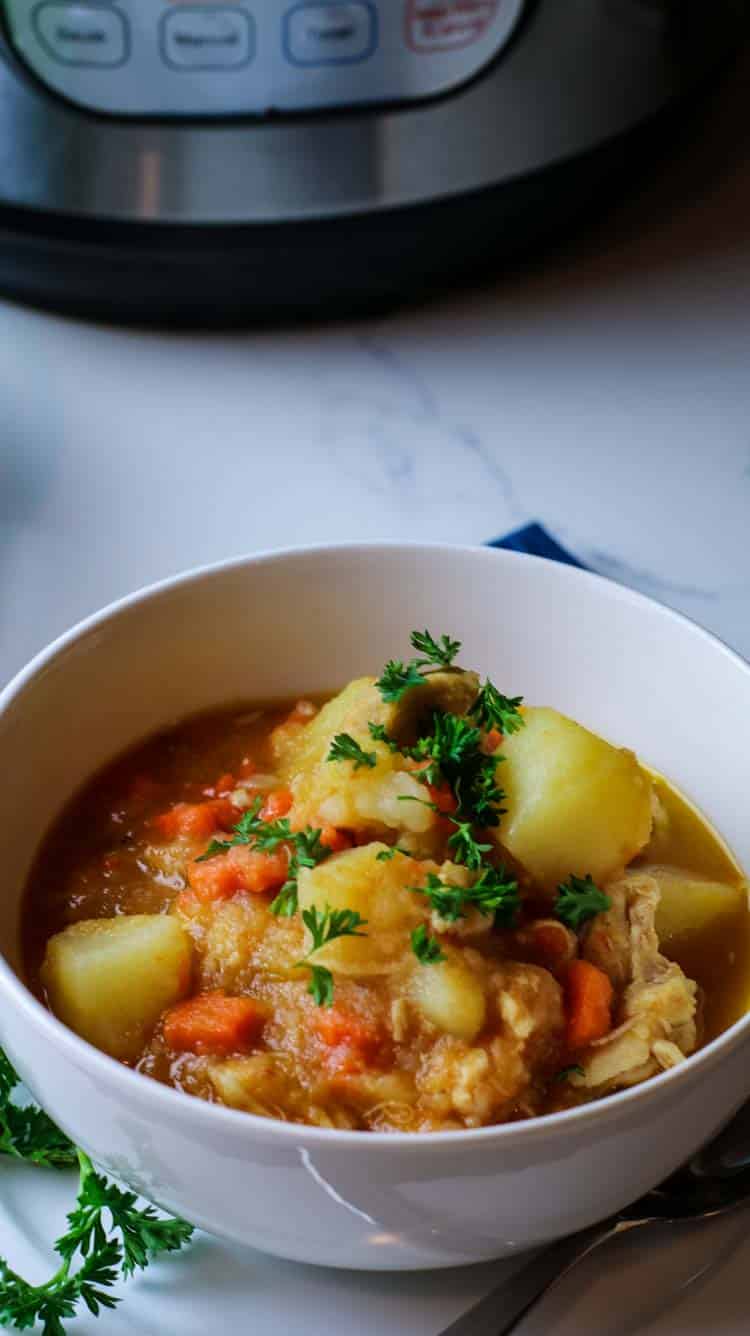 This thick and rich Chicken Stew will become a favorite at your dinner table. It's so flavorful and yet thanks to the protein and carbs (yes, carbs - but the healthy kind!) it keeps you fuller longer.
This healthy Chicken Stew is conveniently made in the Instant Pot and is on repeat during cooler months.
Instant Pot Chicken Stew
This hearty stew is made in the Instant Pot with only 10 minutes of cooking time and under 10 ingredients.
Stew is a combination of hearty ingredients that get cooked down in liquid resulting in a delicious soupy mixture. It's a perfect choice for cold nights because it's often just the meal needed to cozy up and warm up to.
This Instant Pot Chicken Stew is no exception.
It's full of hearty veggies such as potatoes, carrots, celery, and onions and has just the right amount of protein from chicken and bone broth. This Chicken Stew is rich in flavor and texture and conveniently made in your favorite electric pressure cooker.
What are the ingredients for Instant Pot Chicken Stew?
Very simple: chicken, potatoes, onions, celery, carrots among liquids such as bone broth and tomato sauce. And of course seasonings like bay leaves and salt.
Chicken Stew Recipe
This Chicken Stew is a super easy dinner that will make your entire family happy.
You start off with searing the chicken first, followed by some sweating of the veggies and eventually everything gets dumped into the pot, sealed and set to cook.
Dinner doesn't get easier than that!
I always love to add additional nutrition in the form of spinach or kale to the end result. That's why though traditionally this Chicken Stew doesn't call for spinach, I still often include it in ours and list it in the ingredient list.
How to thicken stew without using flour
The easiest and healthiest way to thicken any soup without using any flour is to simply blend a small portion of the soup. There are three ways to do that:
Ladle about a cup of the stew into a mug, taking care to avoid chicken pieces if possible. Using an immersion blender, blend the stew until smooth and thick. Transfer back to pot and stir to combine.
Alternatively, you may use this method directly in the Instant Pot. Carefully scoop out the chicken pieces from one section where you will be blending. And using an immersion blender, blend a small section (approximately one cup of stew) directly in the pot. Stir to combine.
If you don't have an immersion blender, pour approximately one cup of stew into a blender, taking care to avoid chicken pieces if possible. Blend on medium until smooth. Transfer back to pot and stir to combine.
Many stew recipes call for thickeners such as flours or starches. Even some paleo recipes will often have starches such as arrowroot and tapioca listed as ingredients.
You may use that method to thicken this Chicken Stew, if so desired, just follow the instructions below.
A bonus advantage to thickening stews using this method is the thickener will not separate if you choose to freeze the stew for later. If you freeze any leftover Chicken Stew (instructions on that below) without using any thickeners, you will still get a uniform texture rather than the floury mess separating from the rest of the stew.
How to thicken stew using flour:
Simply, add a tablespoon of arrowroot flour and stir into 2 tablespoons of water and stir vigorously breaking up the clumps. Add to the stew and heat over medium heat. When thickening soups or stews, always start low and increase if desired thickness of stew is not achieved.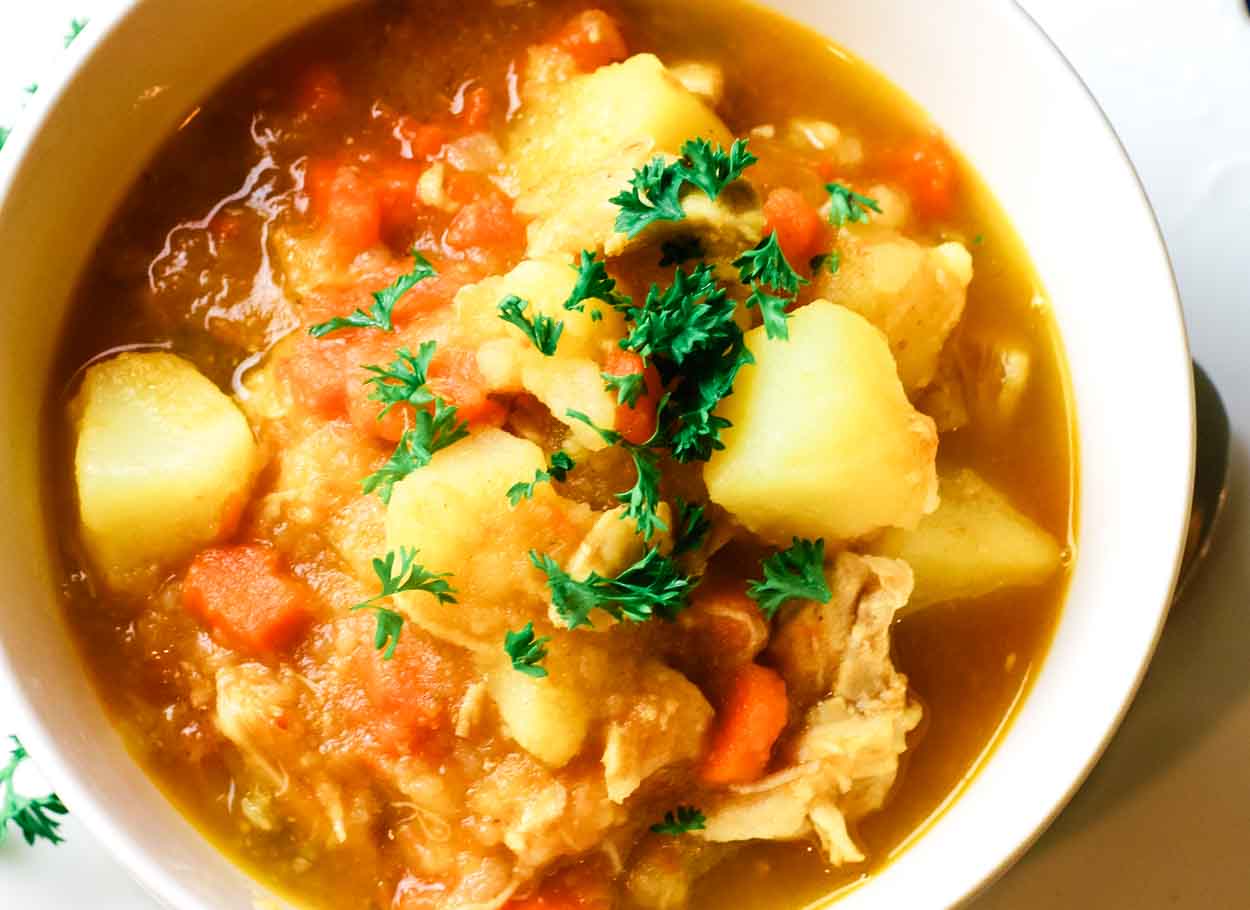 What kind of potatoes to use in stew
When making any stew, I always prefer to use russet potatoes as they are starchier than other potatoes. Red, golden, and baby potatoes are superb at holding their shape so if you prefer your stew on the thinner side, use those.
As mentioned above, the best way to thicken stews is to simply blend a small portion of the stew. Russet potatoes are a wonderful choice of potatoes for blending, which is mashed potatoes are commonly made with russets.
When potatoes simmer together with other vegetables, they partially dissolve and gives a richer texture. Cooking russet potatoes naturally thickens the stew.
Potatoes with a lower starch content will not thicken as easily. It will certainly still be delicious but just something to be aware of.
Ultimately for me personally, it comes down to what is currently available to me. I prefer practicality over formality so I tend to use whatever potatoes I have on hand.
Can you freeze leftover stew?
Yes, you can and you should!
If you have any leftover Chicken Stew and would like to reserve some for a later meal, you'd be happy to learn that this Chicken Stew can easily be frozen.
No leftovers. No wasting food. Instead, you have an easy dinner on a busy night.
To freeze this Instant Pot Chicken Stew, simply transfer a meals-worth portion (more on that below) into a container. I love using quart size jars but always leave room for expansion - I leave an extra 2 inches from the top. Alternatively, you may transfer stew to freezer bags, seal and freeze and that way you don't have to worry about the liquid expanding. These silicone freezer bags are great for that job!
Stew doesn't expand as much as broth and other liquids do, but I always err on the side of caution and give more space than needed to avoid broken jars.
More Healthy Instant Pot Dinners
If you love your Instant Pot as much as I do, you know I have many healthy recipes involving this beloved kitchen appliance.
Instant Pot Pumpkin Turkey Chili (Paleo, Keto, Whole30)
Crispy Carnitas Instant Pot (Paleo, Keto, Whole30)
Instant Pot Loaded Mashed Potatoes with Bacon and Scallions
White Chicken Chili in Instant Pot (Paleo, Keto, GAPS)
Helpful tools to make this Chicken Stew
6 quart Instant Pot Pressure Cooker - I find that the 6-quart size is plenty big for all my cooking needs, however, I do own 2 pressure cookers. If you need a larger size, this 8 quart Instant Pot is great!
Can you double the recipe if using the larger size? Certainly! It's great as an instant freezer meal for busy nights.
Instant Pot Liner - I have an extra one so I can literally swap them out without transferring the food. This is super convenient when making Chicken Stew if there are any leftovers, simply cover and transfer to the refrigerator.
Tempered Glass Lid - I have two of these and use them frequently. You could use whatever lid will fit your Instant Pot.
Immersion Blender - I use this regularly for variety of jobs. It's so convenient to blend foods without having to transfer them to a stand-up mixer.
Silicone Freezer Bags - These are great should you have any leftovers. Simply transfer portion-size amounts to these bags and lay them flat in your freezer for an easy lunch.
How to make Chicken Stew in the Instant Pot
Sear chicken pieces in avocado oil (I prefer avocado oil as it is safe for high heat). Remove from pot and add additional oil to sautee celery and onions.
You may notice that after some sauteeing, the bottom may start to burn. In order to avoid a "Burn" alert on your Instant Pot, you want to deglaze the pot and scrape off all the bits and pieces from the bottom.
To deglaze your Instant Pot, add approximately ¼ cup of broth or water directly to the pot. This will not change the consistency of the Chicken Stew as most of it will evaporate during the deglazing.
As soon as you add the liquid, carefully scrape the bottom with a wooden spoon. The burned pieces will soften and naturally release from the pot.
Continue with the rest of the recipe as follows.
Add washed, peeled and chopped potatoes, followed by carrots, bone broth and tomato sauce.
After adding all the ingredients for the Chicken Stew into the Instant Pot, carefully stir just enough to combine everything. Close the lid, set the valve to "sealing" and press the "manual" button. Set the time to 10 minutes.
After cooking cycle has completed, allow to Naturally Pressure Release (NPR) for 10 minutes, followed by Quick Pressure Release (QPR) the remaining pressure.
Thicken the stew according to instructions above (immersion blender or regular blender). Add spinach if desired and stir to combine and just enough for the greens to wilt.
Enjoy this Chicken Stew immediately. This healthy stew is great for leftovers and even can be frozen (see instructions on how to freeze above).
Printable Recipe
Instant Pot Chicken Stew (Whole30, Paleo)
Cozy up to this hearty Chicken Stew, made easily in the Instant Pot. This healthy version is perfectly seasoned and is Paleo and Whole30.
Ingredients
3

tablespoons

avocado oil

divided

1-½

pounds

chicken thighs

cut into 1" pieces

1-½

teaspoons

real salt

1

cup

yellow onion (1 large onion)

diced

1

cup

celery (2 ribs)

diced

1-½

cups

carrots (3 medium carrots)

sliced

3

garlic cloves

minced

2

pounds

russet potatoes

washed, peeled and cut into 1" pieces

1

cup

bone broth

1

cup

tomato sauce

3

cups

spinach

optional

salt & pepper

to taste
Instructions
Press "Saute" function on Instant Pot. When the inner pot is warm, add 1 tablespoon of avocado oil.

When oil starts to sizzle, add the meat and sear on both sides. Work in two batches if needed so as not to overcrowd the pot.

Remove meat from pot and set aside.

Add remaining oil to the pot. Add chopped onions and celery and saute for 4 minutes. If the bottom starts burning, deglaze with a few tablespoons of broth and scrape the burned pieces with a wooden spatula.

Press the "Cancel" button. Transfer the meat back to the pot, add potatoes, tomato sauce, and broth. Season with salt and give a quick stir. Tuck bay leaves into the stew.

Close the lid, set the valve to "Sealing", and cook on "Manual" for 10 minutes.

Once the cooking cycle is complete, allow to naturally pressure release "NPR" for 10 minutes, then quick pressure release "QPR" the remainder of the time.

Carefully open the lid and remove bay leaves.

To thicken the stew: transfer approximately a cup of stew (try to avoid chicken chunks) to a cup and blend using an immersion blender. Alternatively, you may blend directly in the pot.

If using spinach, press "Saute" and add spinach. Cook just until spinach is slightly wilted, gently stirring. Remove from heat immediately and serve.
Notes
Store leftovers in a closed container in the refrigerator for up to 1 week. Reheat in a small saucepan by adding a few tablespoons of water or broth and warming on medium-low heat.
| Nutrition Disclaimer Information |
Nutrition
Calories:
226
kcal
|
Carbohydrates:
26
g
|
Protein:
9
g
|
Fat:
10
g
|
Saturated Fat:
2
g
|
Cholesterol:
28
mg
|
Sodium:
370
mg
|
Potassium:
783
mg
|
Fiber:
3
g
|
Sugar:
4
g
|
Vitamin A:
2603
IU
|
Vitamin C:
14
mg
|
Calcium:
44
mg
|
Iron:
2
mg
Nutrition Information
The information shown is an estimate provided for your convenience by an online calculator. It should not be considered as a substitute for a professional nutritionist's advice. See our complete Nutritional Information Disclaimer.
©Prepare and Nourish • Content and photographs are copyright protected. Sharing of this recipe is encouraged and appreciated but please do NOT screenshot or copy/paste complete recipes to websites or social media.
If you liked the recipe above, please consider rating the recipe and leaving a comment below. Also, be sure to follow me on Facebook, Instagram, and Pinterest.
Other Healthy Chicken Recipes:
Instant Pot Tuscan Kale, Squash and Chicken Stew (Paleo, Low Carb, Whole30)
Keto Chicken Cabbage Casserole (Keto, GAPS, Primal)
Nourishing Gluten-Free Chicken Noodle Soup (Egg Free, Dairy Free)
>>>Pin This<<<