This easy Sausage and Peppers in Oven recipe comes together effortlessly in 30 minutes. It's rich in flavor from sausages, bell peppers, onions and the perfect blend of seasonings.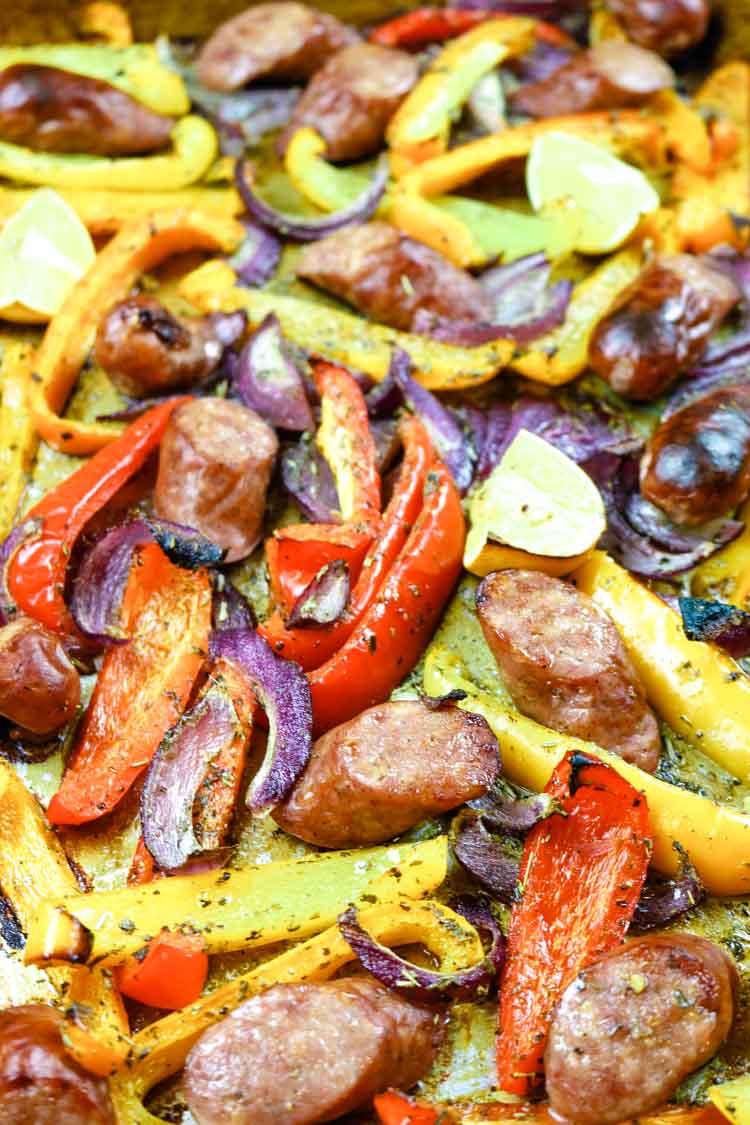 This easy sheet pan meal is light, yet filling and is compatible with most any healing diet like Whole30, Paleo, or low-carb.
I love how easy and simple this recipe is. The prep is super easy and even easier clean up. With just a cutting board, sharp knife and a large baking sheet is all that is needed as far as kitchen equipment goes - the clean up really is a cinch!
Skip the extra bowl for mixing and combine everything directly in the sheet pan.
Sausage and Peppers in Oven
This is one of my favorite stand-by meals. The ones that can be whipped up quicker than it would take to get take out. In fact, you can easily make this even if your sausages are still frozen solid in the freezer.
I usually purchase the sausages at Costco because the value is great for the quality. Depending on the brand, they may come in 2-pack or 3-pack. In either case, I like to toss whatever unopened packs I have in the freezer.
To quickly thaw sausages, just place the sealed package in a bowl of room temperature water. Replace the water every 15 minutes or when is convenient for you and within an hour, the sausages will be completely thawed and ready to be used in the recipe.
What sausages to use for sheet pan Sausage and Peppers?
The best sausages for this recipe are your favorite sausages. I appreciate the variety found at Costco and Sam's Club. They are often Bratwurst but not always. I would advise against getting ones with fruit like apple and pineapple since those flavors would compete too much with the Italian theme of the seasonings.
This is a good reminder to read those ingredient labels. Not all sausages are created equally. Some of my favorite clean labels are Applegate, Wellshire, Aidells, Coleman, and Silva among many others. Though this recipe is Whole30, paleo, GAPS, and low carb, the ingredients in that sausage may yield different results.
Be alert to steer clear from ingredients such as monosodium glutamate, sodium lactate, phosphate, and most anything else that's hard to pronounce.
For this Sausage, Peppers and Onions recipe, we are using approximately one pound of sausage or 5 large links.
How long should I cook sausages in oven?
Fully cooked sausages don't need a lot of time in the oven - that's why they are ideal for an easy recipe such as this one. We're simply reheating them and slightly charring under the broiler (this step is optional). Thirty minutes is plenty to achieve that perfect golden color on the sausages.
If using uncooked sausages, make sure to precook them first according to package instructions as it highly depends on the meat protein.
Italian Sausage and Peppers Recipe
This Sausage and Peppers recipe has a very simple ingredient list.
your favorite sausages (1 pound = 5 large links)
3 bell peppers - I love using one of each: red, orange, and yellow. I would not recommend using green bell peppers as they are lower in sweetness. Scroll down to read how to cut a bell pepper into large strips (no soggy peppers here) with as little waste as possible
red onion - if you don't have red, you may use white or yellow
healthy oil - for this recipe, I prefer extra-virgin olive oil but avocado oil can be used interchangebly
Italian seasoning - if you don't have this premixed, use equal parts of oregano, basil, and garlic powder. You can also add rosemary and thyme.
sea salt - a good dish always ends with a generous sprinkle of good quality salt. Check out this post on unrefined salt and how to choose the best mineral-rich salt.
lemon - this is tucked between the sausages and veggies, then squeezed over everything for a nice finishing touch
How to cut a bell pepper into large strips with little waste?
There are several ways to cut a bell pepper into strips. For this Sausage and Peppers recipe, I prefer to have them sized as I would for fajitas and stir frys (slightly on the larger size). You'll notice that peppers cut this way will have rounded ends where the stem and the bottom once connected.
This way, the peppers will retain some of the crunch after cooking since they are not cut into smaller strips.
Another reason why this works so well is because there is very little pepper to discard. When cutting the bell pepper into thin strips, you are often left with the top (stem) and the bottom portion of the bell pepper. This way, you are only discarding the stem and seeds (and maybe some fleshy pith).
Here's how to cut a bell pepper into large strips:
Cut bell pepper in half lengthwise.
Pull out the center stem, seeds and as much pith as you can remove with your fingers.
Place the pepper, skin side down on the board, and cut lengthwise into ½" thickness strips.
Work your way across the pepper half and then repeat for the other half.
What sides go with sheet pan sausage, peppers and onions?
We love this Sausage, Peppers and Onions paired with a large green salad drizzled with this Simple House Salad Dressing. To stay gluten and grain free, you can spoon this easy sheet pan deliciousness over spaghetti squash. Or serve with Instant Pot Loaded Mashed Potatoes or plain white rice for a total comfort meal.
This can also be enjoyed with any hearty, ancient grain such as buckwheat, millet, rice, or even your favorite buttered pasta.
And if you're looking for more easy meals - you'll love this roundup of recipes for busy moms.
How to make Sausage and Peppers in the Oven
Preheat the oven to 400 degrees Fahrenheit. If you so choose, now would be a good time to line a large baking sheet (13"x19") with parchment paper. I usually skip the parchment paper but it does save some time during clean up. Everything browns better without the parchment paper, so keep that in mind.
Prepare all your ingredients: cut the bell peppers into large strips, coarsely cut onion into ¼" thick slices, cut the sausage into 1" pieces on a bias. If you don't have premade Italian seasoning on hand, mix roughly one teaspoon of each: rosemary, oregano, and basil to get approximately one tablespoon of Italian herb seasoning.
Spread out the bell peppers, onions, and sausage directly on the baking sheet. Drizzle oil and season with salt and Italian seasoning. Toss everything to combine well. I prefer to use my hands for this step.
Tuck lemon quarters throughout the sheet.
Roast the Sausage and Peppers in the oven for 30 minutes or until peppers are tender and sausage is warmed through. No need to stir or flip. If you want a more golden color on top, broil the sheet pan meal on high for 2-3 minutes. Remove from oven.
Carefully press the lemon wedges to release lemon juice and drizzle over the sausage, peppers, and onions. Transfer to a serving platter and enjoy!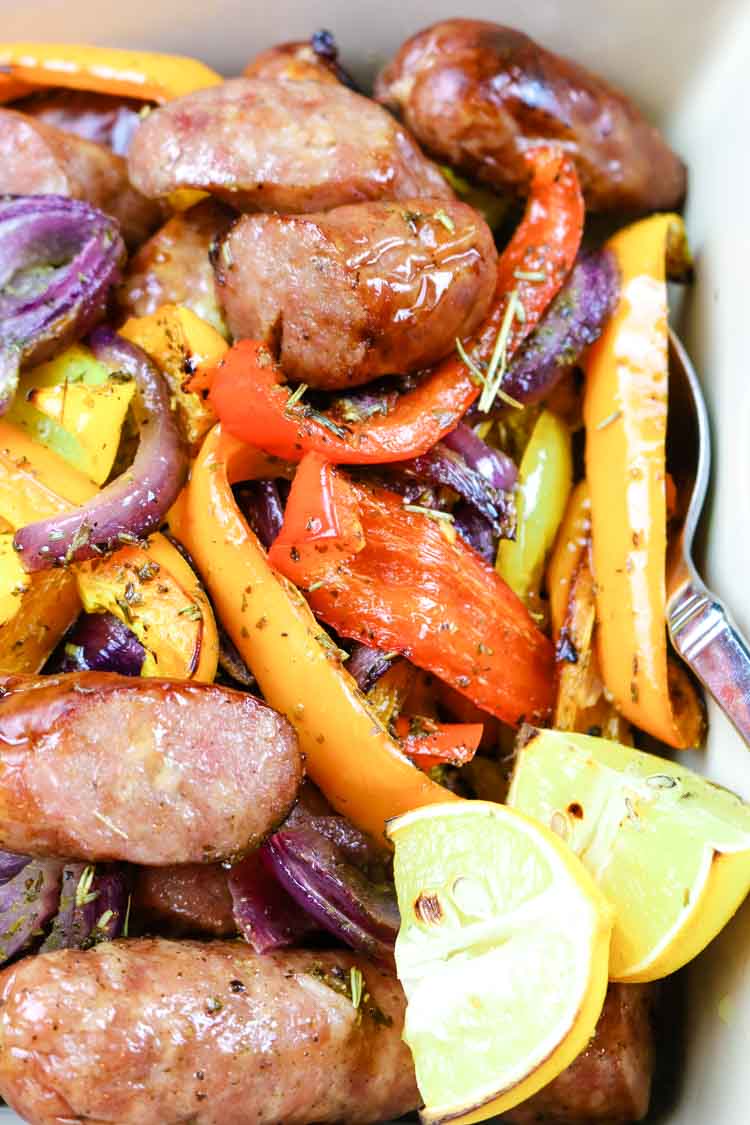 Tips for Sausage and Peppers in Oven:
At the grocery store, look for peppers that feel firm with a smooth skin. You want bell peppers that have a vivid color, especially around the stem, and with no blemishes or soft spots. Choose peppers with a heavy feel as those that seem light may have lost some of their moisture.
Red bell peppers are the sweetest and green peppers are the least sweet and slightly more bitter than yellow or orange.
Cut the bell peppers in larger strips rather than thin so they will retain their shape and crunchy texture.
Consider cutting the sausage on a bias as that will create more surface area so it cooks faster and gives more of a golden look. Not to mention it just looks fancier.
Using tongs to squeeze the roasted lemon wedges keeps your finger safe from heat.
Printable Recipe
Easy Sheet Pan Sausage and Peppers
This easy sheet pan meal comes together effortlessly in 30 minutes. Rich in flavor with sausages, bell peppers, onions and the perfect blend of seasonings.
Ingredients
1

pound

fully cooked sausage links

cut into 1" chunks cut on bias

1

orange bell pepper

cored and cut into strips

1

yellow bell pepper

cored and cut into strips

1

red bell pepper

cored and cut into strips

½

large red onion

halved then coarsley sliced into half moons

3

tablespoons

olive oil

1

tablespoon

Italian seasoning

1

teaspoon

sea salt

1

lemon

cut into quarters or ⅛ths
Instructions
Preheat the oven to 400 degrees Fahrenheit.

Toss all ingredients together and combine until well-coated. This can be done directly in a large baking sheet.

Arrange vegetables and sausage in one layer on the sheet pan.

Roast for 30 minutes or until vegetables are cooked to your preferred tenderness. Broil on high the last 4 minutes until golden (optional).

Remove from oven and carefully squeeze the lemon wedges over the vegetables and sausage. Toss gently and transfer to serving platter.

Garnish with parsley and serve immediately.
Notes
If you don't have Italian seasoning on hand, use equal parts oregano, basil, and garlic powder.
Leftovers can be stored in an airtight container in the refrigerator for up to 5 days.
To reheat: warm up in a skillet over medium heat.
Nutrition
Calories:
342
kcal
|
Carbohydrates:
9
g
|
Protein:
11
g
|
Fat:
29
g
|
Saturated Fat:
9
g
|
Cholesterol:
56
mg
|
Sodium:
1030
mg
|
Potassium:
438
mg
|
Fiber:
2
g
|
Sugar:
3
g
|
Vitamin A:
1304
IU
|
Vitamin C:
97
mg
|
Calcium:
47
mg
|
Iron:
1
mg
Nutrition Information
The information shown is an estimate provided for your convenience by an online calculator. It should not be considered as a substitute for a professional nutritionist's advice. See our complete Nutritional Information Disclaimer.
©Prepare and Nourish • Content and photographs are copyright protected. Sharing of this recipe is encouraged and appreciated but please do NOT screenshot or copy/paste complete recipes to websites or social media.
If you liked this Sausage and Peppers in the Oven recipe, please consider rating and leaving a comment below. ⇓
>>> Pin This <<<