This Spicy Sauerkraut with Ginger and Garlic is a delightfully zesty take on traditional sauerkraut but is packed with antioxidants and beneficial bacteria that is great for gut health.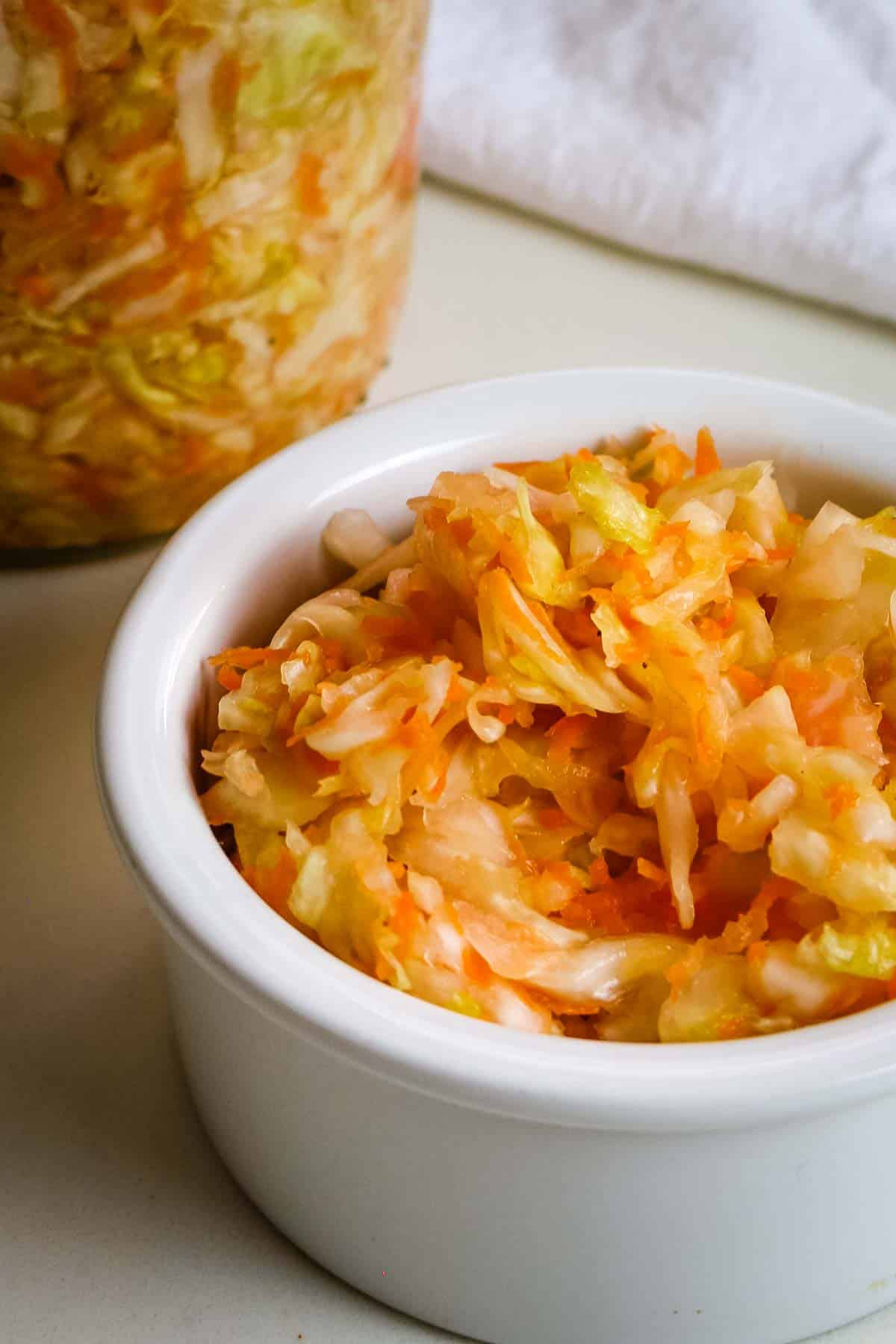 This recipe was born out of my deep love for Korean Kimchi but with the desire to have something simpler, less ingredients, and possibly quick fermentation time.
This Spicy Sauerkraut is a cross between Kimchi and plain fermented sauerkraut recipe but still uses traditional methods to draw out good bacteria. It's flavored with carrots, ginger, and garlic and makes a healthy condiment to accompany most dishes or even breakfast eggs.
It's not as involved as Kimchi and can be prepped in under 30 minutes. The hardest part is waiting for it to ferment.
If you want a very comprehensive post on fermenting cabbage - be sure to check out my homemade sauerkraut recipe. It's a basic recipe but packed with important information like the history of sauerkraut, health benefits, and the importance of using a salt calculator for consistent and reliable results.
But if you're ready to dive in to make this delicious, tangy, and zesty Spicy Sauerkraut recipe - let's get to it!
Jump to:
❤Why you'll love this spicy sauerkraut
If you're a fan of spicy food, you'll love this recipe. It has tangy flavor with just the right amount of heat.
Money saver: cabbage is an inexpensive vegetable that when fermented right comes with great benefits
Immune system booster: packed with antioxidant rich ginger and garlic, this kraut is great to help support the immune system during cold and flu season
No mushy sauerkraut: this recipe uses weight instead of volume giving you perfectly crunchy, flavorful fermented food with the most perfect texture.
💭Pro tip: To avoid mold on fermented foods, always use high salt concentration for best results. The bad yeasts cannot tolerate salt. A white film called kahm yeast may develop on the surface - that is common and totally harmless. But food with any mold growth that looks fuzzy, pink, blue, or green should be tossed immediately.
🥬Ingredients
This delicious sauerkraut has minimal ingredients for maximum flavor.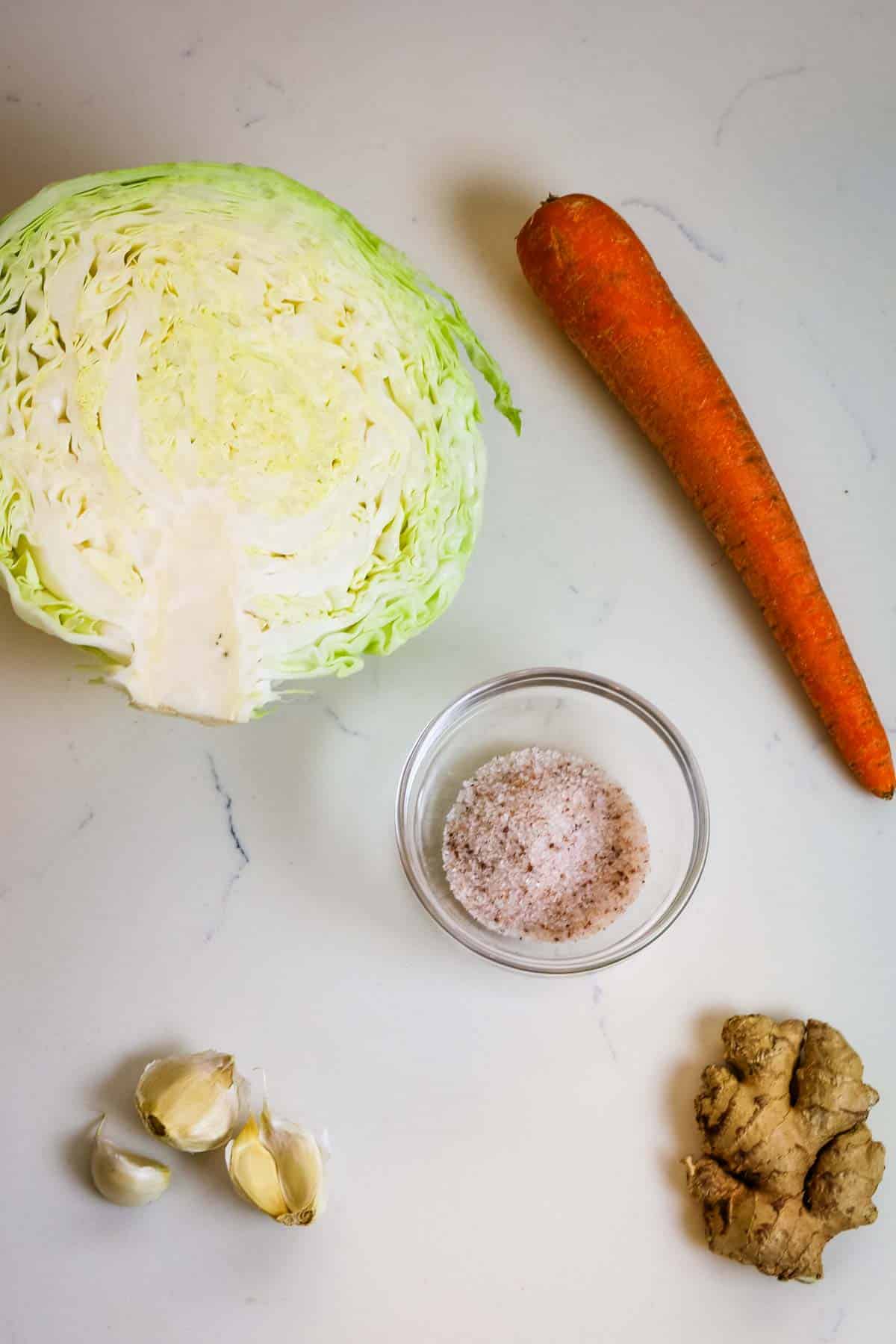 green cabbage: As with most ferments, organic is best but conventional cabbage is on the EWG's Clean 15 list so no worries if organic is not an option for you. We'll also be removing the outer leaves anyways.
carrot: This will add subtle sweetness to the kraut.
ginger: fresh ginger is best but frozen works too.
garlic: Fresh garlic cloves is ideal. Please avoid using jarred if at all possible.
unrefined sea salt: Kosher grains or fine salt is best but avoid coarse salt as that will delay the fermentation process. Don't use processed iodized salt. Real salt will act as a natural preservative and will create that salty brine. Our favorite is Redmond's Kosher Sea Salt. Use code NOURISH for 10% off.
See recipe card for exact quantities.
📖Substitutions and Variations
Kick up the heat - add red chili flakes or hot peppers like jalapenos to bring up the spice level
Add classics - consider traditional additions like caraway seeds, bay leaves, fennel seeds, mustard seeds, red onions, or black pepper
Earthy flavor - a little grated turmeric root and celery root seeds would make a lovely turmeric sauerkraut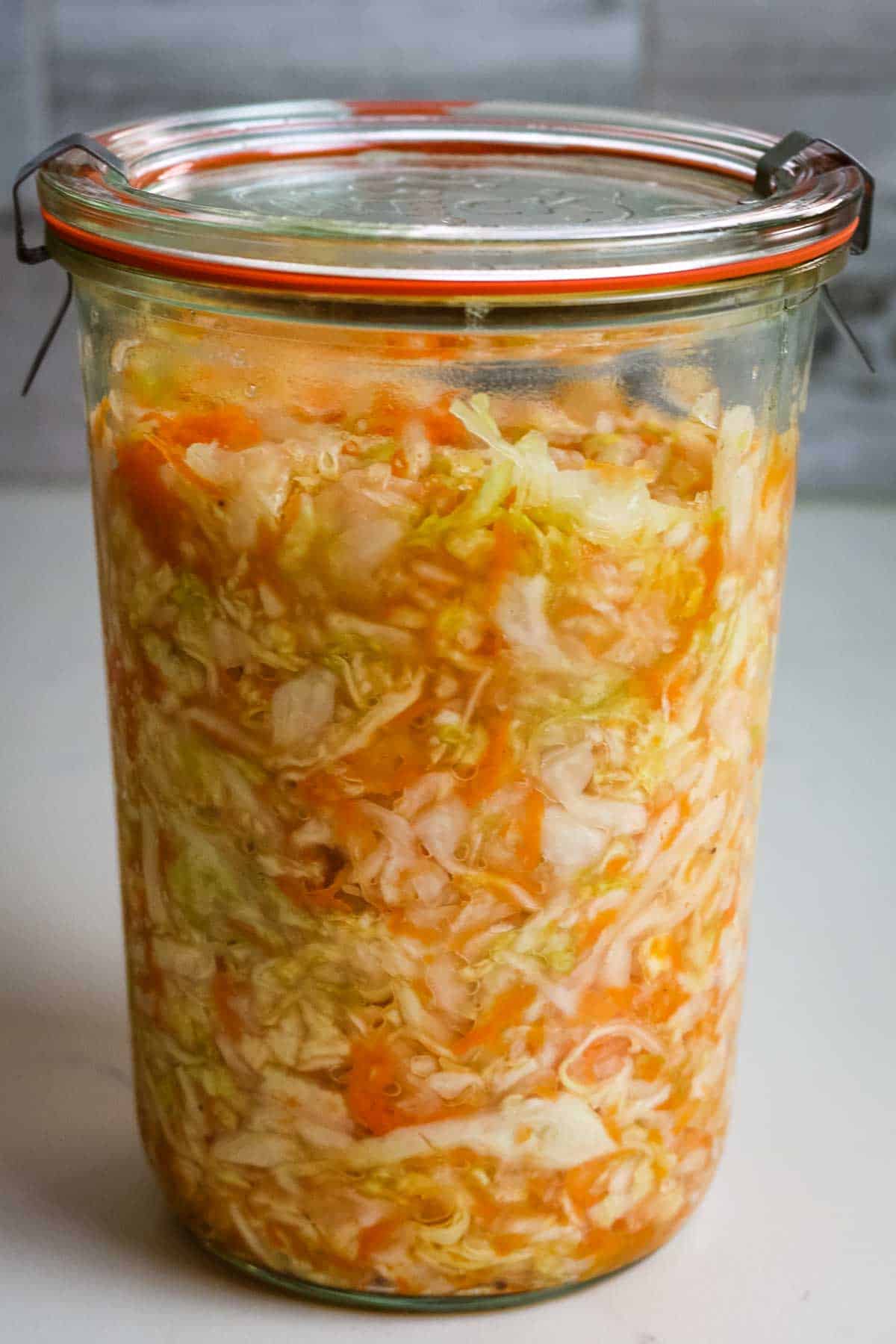 💭Helpful Tips
🧂Use a digital kitchen scale: This is important to get the proper salt concentration.
🗓Fermentation Tip: The first 10 days is when active fermentation process occurs. Keep the sauerkraut loosely covered at room temperature and out of direct sunlight. Burp your ferment daily during this bubbly stage.
⏲️Time Saving Tip: Double the recipe and use the entire head of cabbage or make plain raw sauerkraut with the other half (since you already have all the ingredients and equipment out).
🥫Keep it submerged: A glass fermentation weight will help to keep the cabbage mixture fully submerged in the brine.
🚫Food Safety: Never eat anything with mold on it. If there is any kind of mold growth that looks fuzzy, pink, blue, or green - toss the food immediately.
💭Make it Nutrient-Dense: Most lacto-fermented foods, like this spicy sauerkraut, should be part of a nourishing meal. They are rich in gut-healthy beneficial enzymes (also probiotic bacteria) making them a natural probiotic in food form.
👩🏽‍🍳Step-by-Step Instructions
The complete printable recipe is below in the recipe card for your convenience.
This sauerkraut recipe calls for these simple ingredients: green cabbage, carrot, garlic, ginger, and sea salt.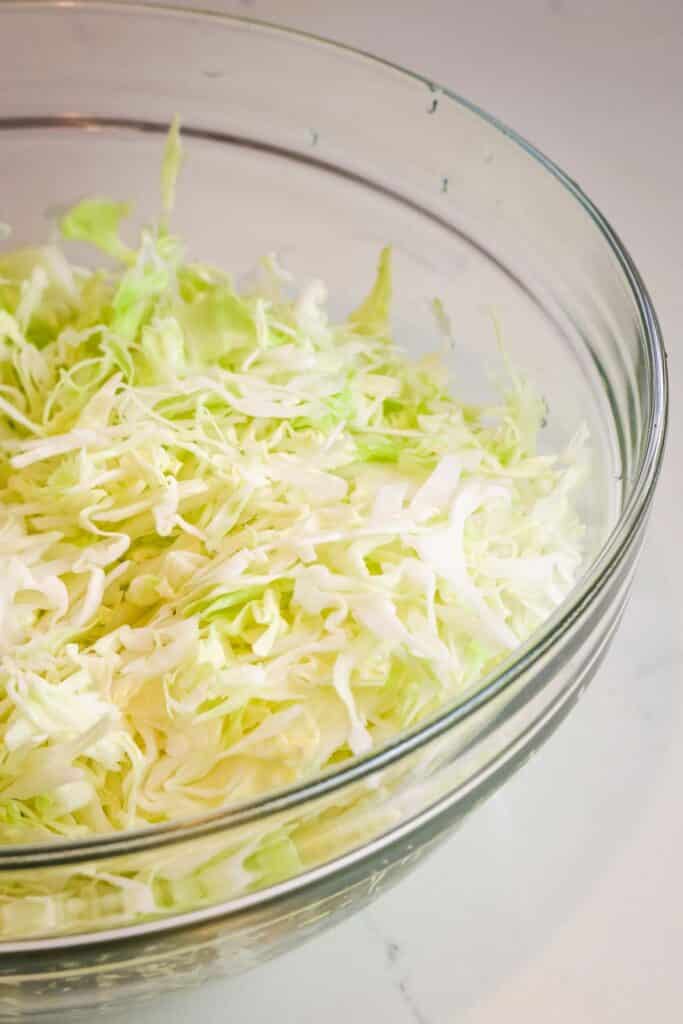 Step 1. Shred cabbage
Add 600 grams of sliced cabbage to bowl - see notes in recipe card about accurately weighing using a digital kitchen scale.
💭Pro tip: The best way to shred cabbage is to run the cabbage wedges through the food processor, shredding into ⅛" ribbons. Alternatively, you can shred on a mandoline or cut into thin strips with a sharp knife.
Step 3. Massage cabbage
Using clean hands or wooden spoon, massage the cabbage mixture and salt until it starts to release liquid.
💭Pro tip: If you want softer sauerkraut, massage cabbage firmly. For crunchier kraut, massage just enough to dissolve salt and combine everything well.
Step 5. Add fermentation weight
Place a fermentation glass weight on top of sauerkraut. You may need to push the contents down to make sure everything is submerged. Loosely cover.
🧾Fermentation Timeline
Over the next couple of days, during the active fermenting stage (bubbly phase of fermentation), open the jar to release carbon dioxide.
Vegetables have a lot of water content so as with all ferments, you'll notice the amount of brine increase with each day. The brine or salty water may also become cloudy. That is normal and is part of the lacto-fermentation process.
The color of the cabbage will turn from light green to more muted hue and the orange pigment from carrots may bleed into the cabbage strips. This is all normal and to be expected. That is all a natural process of fermentation.
An easy way to test if your kraut is fermented enough is to do a taste test and transfer to the refrigerator when you feel it's tangy enough.
Check out this timeline of this natural process of fermentation. Notice the amount of liquid that is released by day 6. Remember, we did not add any water - that is salt drawing out liquid from cabbage.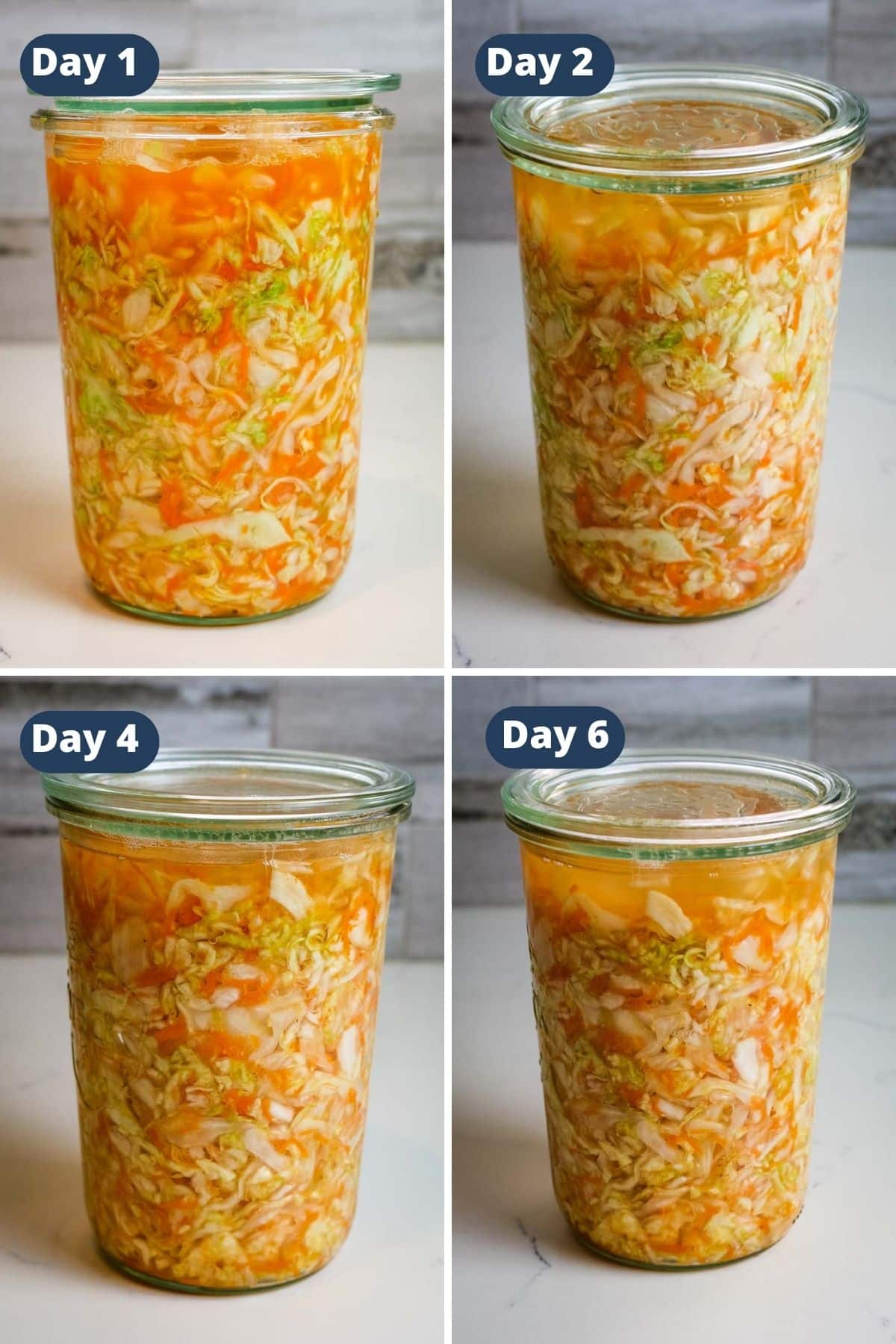 🔪Helpful Tools & Links
Below are some affiliate links that may be helpful to you as you make this recipe. Most likely you have these at home already but it helps to have a link so you know what you're looking for.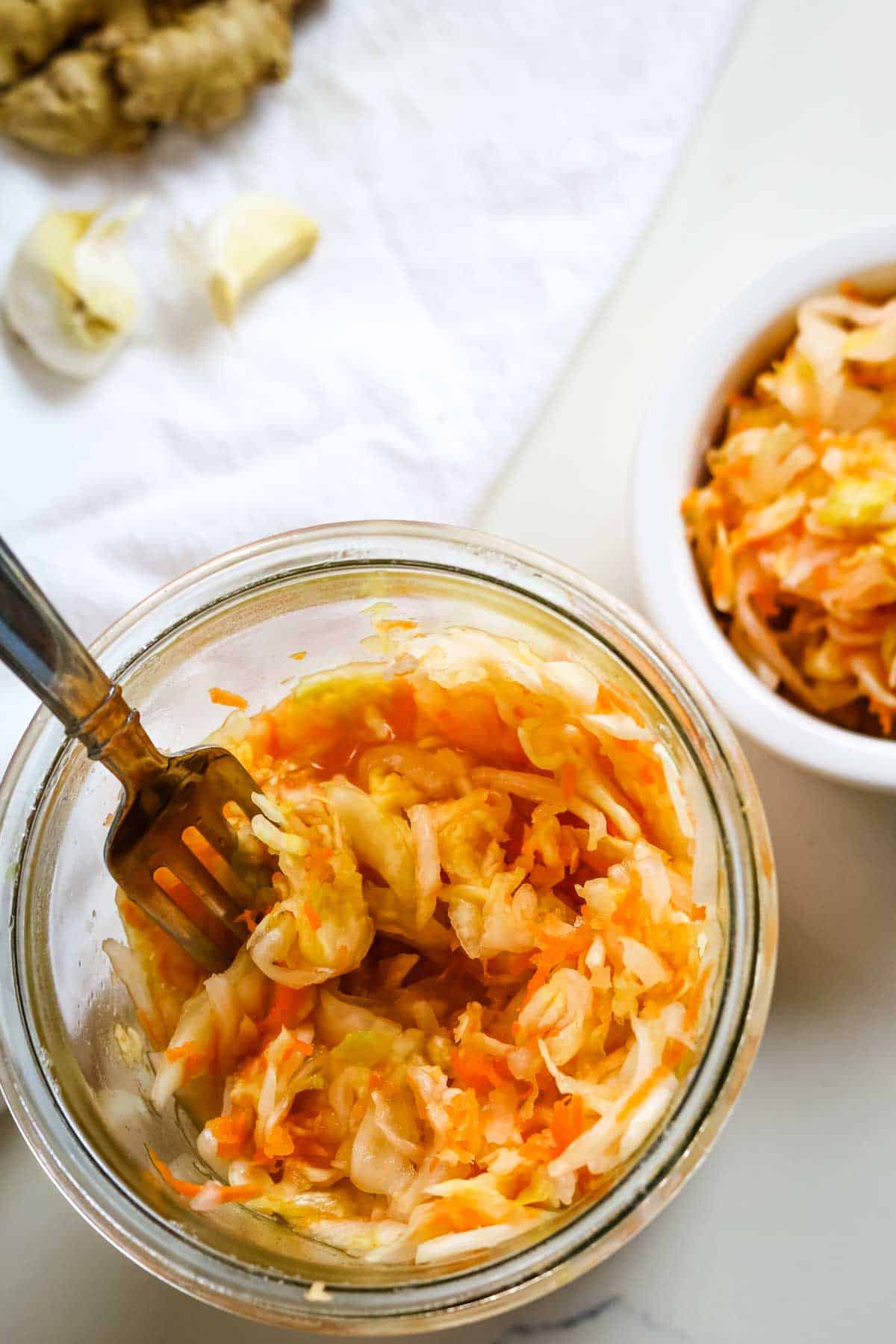 💬FAQs
What do I do with the leftover sauerkraut brine?
Don't toss the leftover liquid (brine) when all sauerkraut has been consumed. It's great as "gut shots" for their prolific beneficial bacteria. It can also be used as a starter culture for other ferments. Additionally, add a few tablespoons of this brine to salad dressing to swap out vinegar.
What is the best salt to use to ferment sauerkraut?
Ditch the iodized, highly processed salt for your fermented recipes. Good quality salt is so important to naturally ferment sauerkraut. Any unrefined sea salt will work - my favorite is Redmond's sea salt.
Looking for more healthy fermented recipes? Here are some ideas:
Did you make this? Please leave a ⭐ recipe rating in the recipe card below and leave a review in the comments. Thank you!💚
Printable Recipe
Spicy Sauerkraut with Ginger and Garlic
This Spicy Sauerkraut with Ginger and Garlic is a delightfully zesty take on sauerkraut that is packed with antioxidants and beneficial bacteria for gut health.
Ingredients
600

grams

green cabbage

shredded (approximately ½ medium cabbage head or 8 cups of shredded cabbage)

80

grams

carrots

shredded (approximately 1 medium-large carrot)

10

grams

garlic

minced (approximately 3 large garlic cloves or 2 teaspoons)

10

grams

ginger

grated (approximately 1" knob or 2 teaspoons)

17

grams

sea salt

approximately 2 ½ teaspoons
Notes
It's always best practice to sterilize your fermentation jar and weight before proceeding with recipe. To sterilize: fill the jar with boiling hot water and allow to to sit for 5 minutes before pouring the water out.
Using weight measurements instead of volume will give consistent results. Cabbage weight will vary by seasons and freshness. I provide volume measurements for reference but kitchen scale will yield reliable results.
To accurately weigh for sauerkraut: Turn on your kitchen scale and set it to weight in grams. Place your prep bowl on scale and zero/tare it out (this will subtract the weight of the bowl, giving you a 0.0 weight). Add cabbage until you reach 600 grams. Zero/tare out the scale again and add 80 grams of shredded carrots. Using the same method, weigh out 10 grams each of ginger and garlic and 17 grams of sea salt. Remove the bowl from the kitchen scale and proceed with the rest of the recipe.
Additional notes on step 5: For the first few days of fermentation, you may have to physically push the weight down to keep the cabbage mixture submerged in liquid. As sauerkraut releases more liquid over time, the fermentation weight will easily be submerged in brine and it will be unnecessary to push it down.
Recipe makes 1 quart or 16 servings. Serving size is ¼ cup.
Nutrition
Calories:
13
kcal
|
Carbohydrates:
3
g
|
Protein:
1
g
|
Fat:
0.1
g
|
Saturated Fat:
0.02
g
|
Polyunsaturated Fat:
0.01
g
|
Monounsaturated Fat:
0.01
g
|
Sodium:
422
mg
|
Potassium:
85
mg
|
Fiber:
1
g
|
Sugar:
1
g
|
Vitamin A:
872
IU
|
Vitamin C:
14
mg
|
Calcium:
18
mg
|
Iron:
0.2
mg
Nutrition Information
The information shown is an estimate provided for your convenience by an online calculator. It should not be considered as a substitute for a professional nutritionist's advice. See our complete Nutritional Information Disclaimer.
©Prepare and Nourish • Content and photographs are copyright protected. Sharing of this recipe is encouraged and appreciated but please do NOT screenshot or copy/paste complete recipes to websites or social media.