Learn how to make Fermented Green Tomatoes (pickled green tomatoes recipe) and preserve those unripe tomatoes before the season ends. With the traditional method of lacto-fermentation, this pickled green tomatoes are easy, delicious, and packed with nutritional and digestive benefits.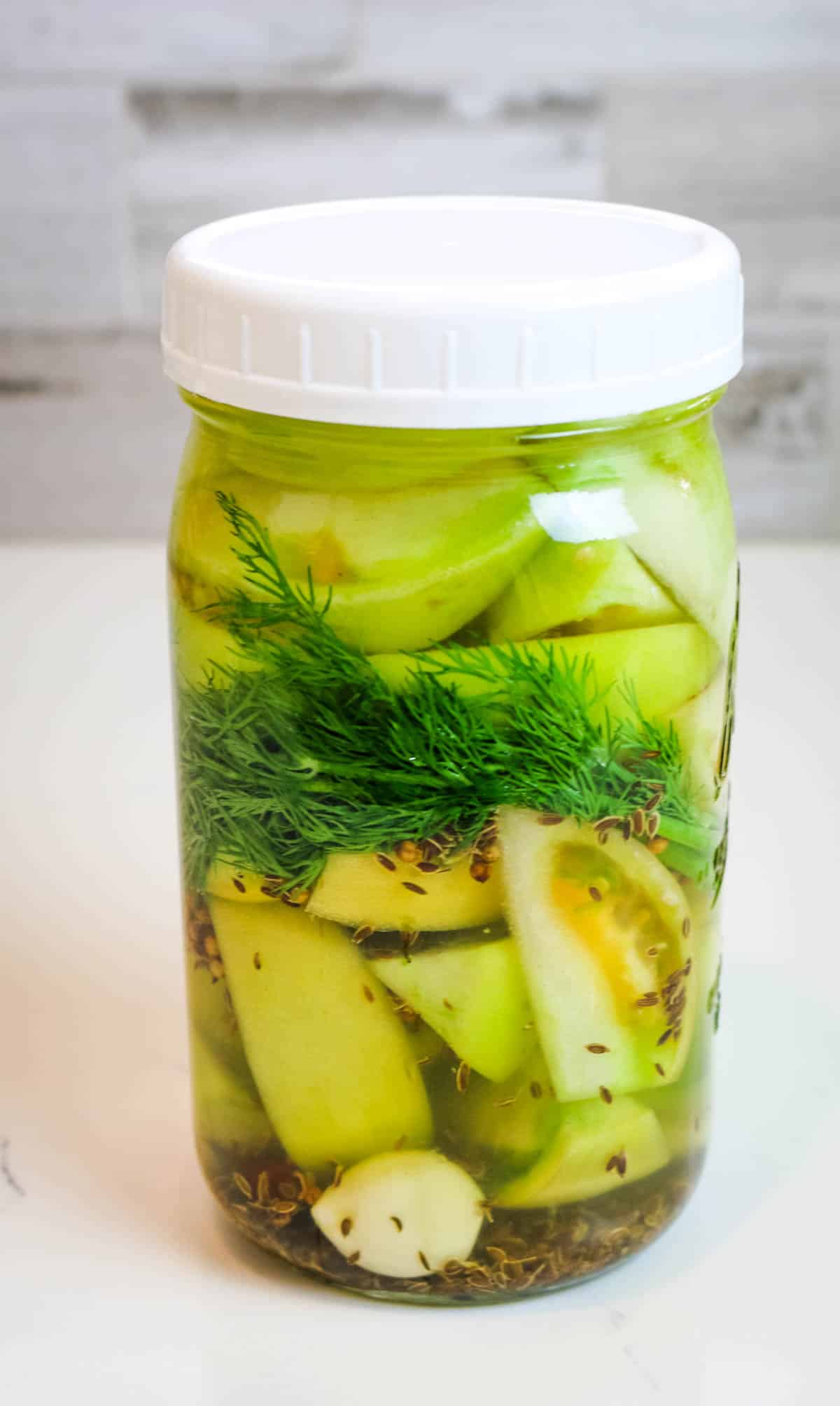 Do you have unripe tomatoes hanging on your vines and you don't know what to do with them? Sure, you can have them ripen on the counter, but I would like to encourage you to preserve green tomatoes by lacto-fermentation instead.
The great thing about this recipe is when done right, these fermented green tomatoes taste very much like green tomato pickles. Tangy, crunchy, mildly sweet, and perfectly delicious. And the best part? it's full of health benefits that only the process of lacto-fermentation can offer.
Traditional pickled green tomato recipes call for a type of vinegar and the pickling process can be a chore with the water bath canner and other equipment. But fermenting green tomatoes uses the vegetable's natural sugars to preserve, giving them a unique and tangy flavor.
Jump to:
What are Fermented Green Tomatoes?
First, let's clear up a common misunderstanding that green tomatoes are not a variety of tomatoes. And they are certainly not tomatillos.
Green tomatoes are simply regular tomatoes that have not yet had the chance to ripen. Either they have been picked off the vine purposefully mid-growing season, or the weather has forced them to be harvested.
Green tomatoes are usually in abundance during season transitions when summer slowly fades into fall. At this time, temperatures dip without giving these tomatoes a chance to ripen under the blaring sun.
But that doesn't mean these unripe tomatoes are a loss. In fact, many prefer fermented green tomatoes over red tomatoes because they resemble a pickle taste and texture, hence the title pickled green tomatoes.
For the purpose of this post, we will use them interchangeably but let me assure you, this pickled green tomatoes recipe does not have any white vinegar.
Instead, it uses lacto-fermentation, a metabolic process where glucose from food source like unripe green tomatoes is converted into cellular energy producing good bacteria like Lactobacillus.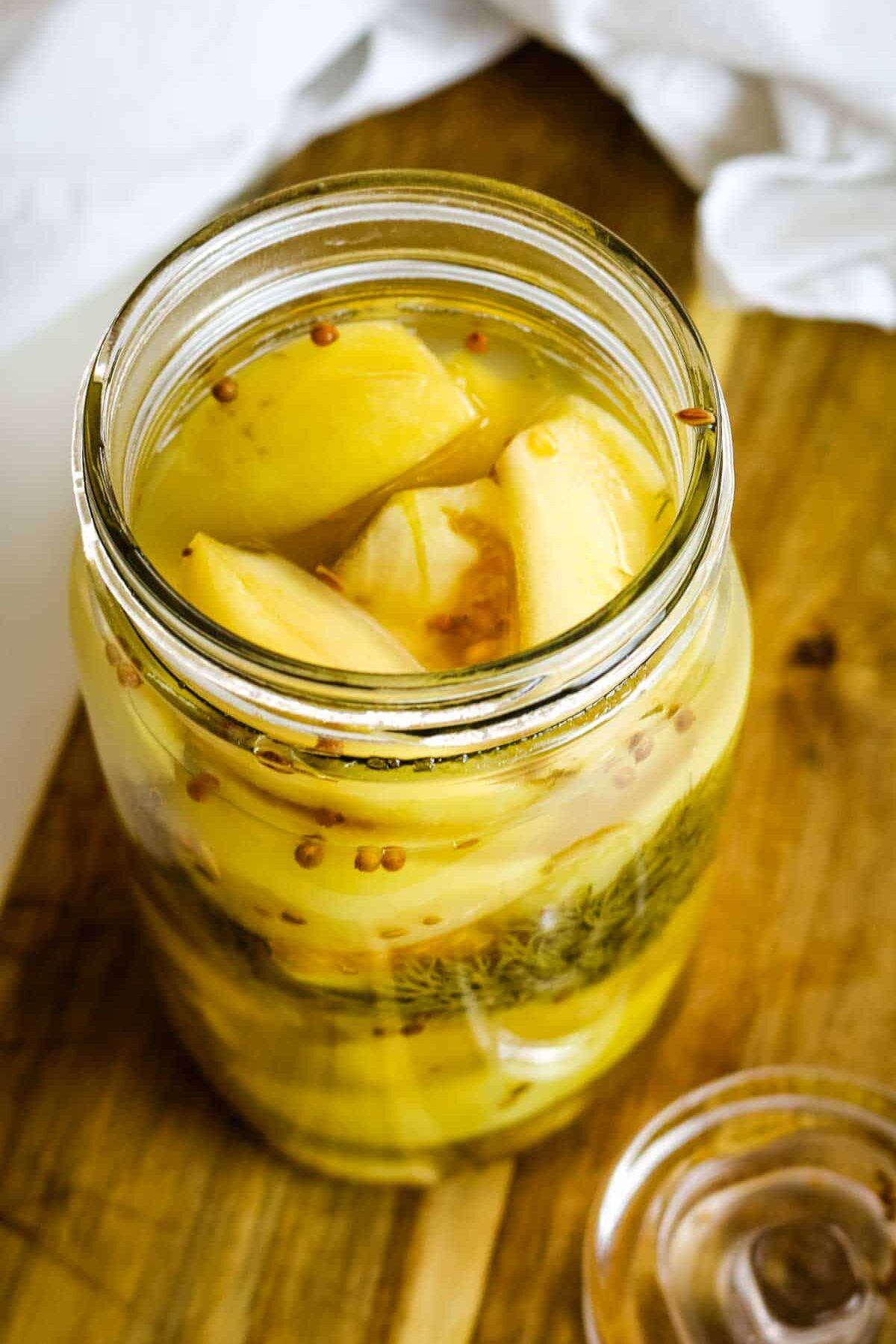 Why You'll Love These Green Tomatoes Pickles
Preserve the harvest - One of the best things about fermenting any vegetable is the ability to preserve it in its' prime to savor it at a different season. It's a lovely way to steward the seasonal bounty that we have the privilege to enjoy.
Save those unripe fruits - This fermented green tomato recipe is a simple way to salvage those unripe tomatoes off the vine before the first frost hits.
Gut-healthy condiment - As with most lacto-fermented foods, it's best enjoyed as a condiment or garnish to balance a healthy meal. That's because fermented tomatoes are rich in gut-healthy probiotics and beneficial enzymes, in contrast to traditional vinegar-based pickles. It's essentially a natural probiotic in food form.
Easy recipe - This method is super easy and ferments rather quickly. It has the flavor of traditional pickled green tomatoes but comes with many health benefits and a simpler process.
💭Fun Fact: While the origins of pickled green tomatoes are not definitive, they are commonly associated with Southern American cuisine, as it pairs well with the region's traditional foods, such as hearty stews and fried foods.
Ingredients for Fermented Green Tomatoes
Learn how to make fermented green tomatoes with 6 simple ingredients. This pickled green tomatoes recipe has only 30 minutes of active time but you will need to give it a few days to ferment and transform into tangy goodness.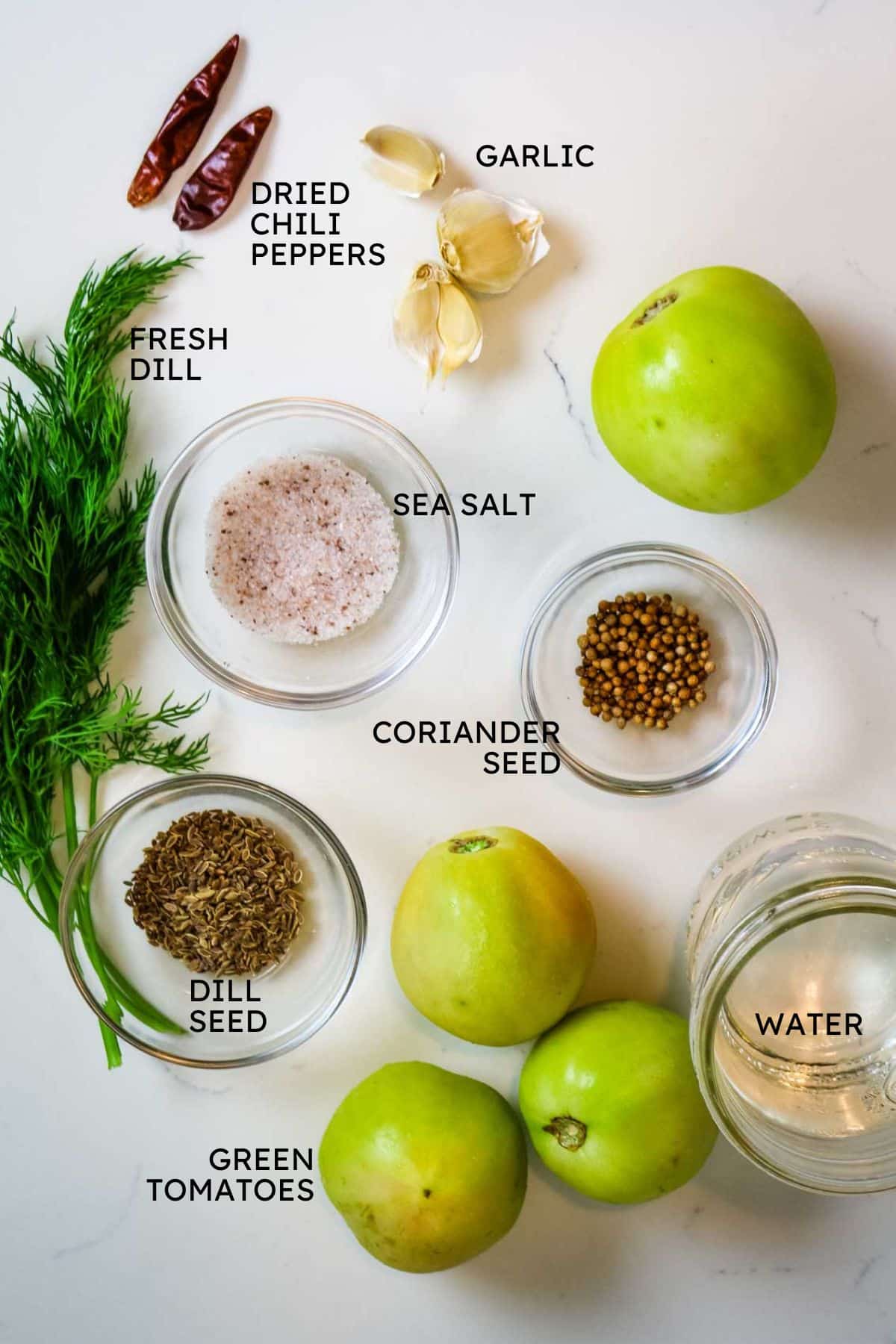 Green tomatoes: Any unripe tomatoes will work, but the recipe instructions are specifically for medium-large tomatoes. You can use green cherry tomatoes for this recipe.
Fresh garlic: Adds wonderful flavor to any ferment, and this one is no different. Once fermented, these are also mild enough to eat on their own.
Chili pepper: I love using whole dried red chili peppers, but red pepper flakes work great too.
Dill seed and coriander seed: These are staples when it comes to pickling or fermenting vegetables, and they add incredible flavor.
Fresh dill: This fresh herb is optional but so good in this recipe.
Sea salt: It's important you use the best salt as that is the key to these truly lacto-fermented green tomatoes.
See the recipe card for exact quantities.
Substitutions and Variations
Fermenting green tomatoes yields a very pickle-like finished product. It uses all the flavors from lacto-fermented refrigerator pickles but in the form of a tomato, much like fermented cherry tomatoes. In other words, you can call these green tomato pickles.
It's the perfect recipe for those random remaining tomatoes on your plants at the end of the growing season. And the good news is that this quick pickle recipe is very forgiving. Remember to keep the salt ratio consistent to encourage prolific good bacteria growth.
Consider adding these flavorings when fermenting green tomatoes:
bay leaf or two
other seeds like celery seed or mustard seed
pickling spice (convenient!)
red onions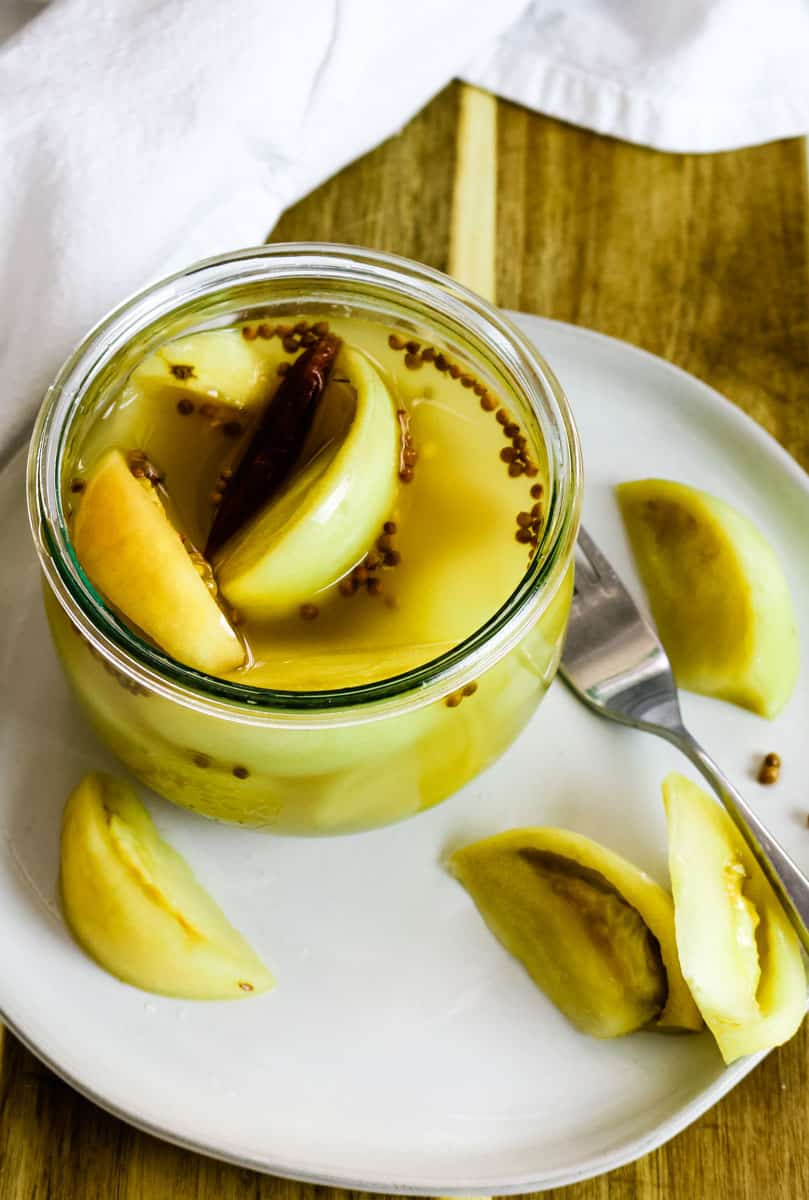 Make it Nutrient Dense
Staying true to the heart of what Prepare and Nourish is all about, there are ways to ensure you get the maximum nutrition in this recipe. Even though fermenting tomatoes is an incredibly simple process, you can take purposeful steps to turn this into a nutrient-dense meal.
Use local produce. Garden tomatoes are ideal but this time of the year, you can find green tomatoes at farmer's markets and in some grocery stores.
Serve with any meal. Adding a small serving of lacto-fermented foods at every meal is an easy way to increase probiotic diversity to your gut.
How to Make Fermented Pickled Green Tomatoes
The complete printable recipe is below in the recipe card for your convenience. Follow these simple step-by-step instructions for the best results.
The recipe for fermented green tomatoes is very straightforward, with no need for special canning equipment or vinegar. The hardest part is waiting for the green tomato pickles to ferment over a span of 6-8 days.
Step 1. Prepare brine
In a pint-size mason jar, dissolve salt with warm water. Set aside to cool while preparing the rest of the ingredients.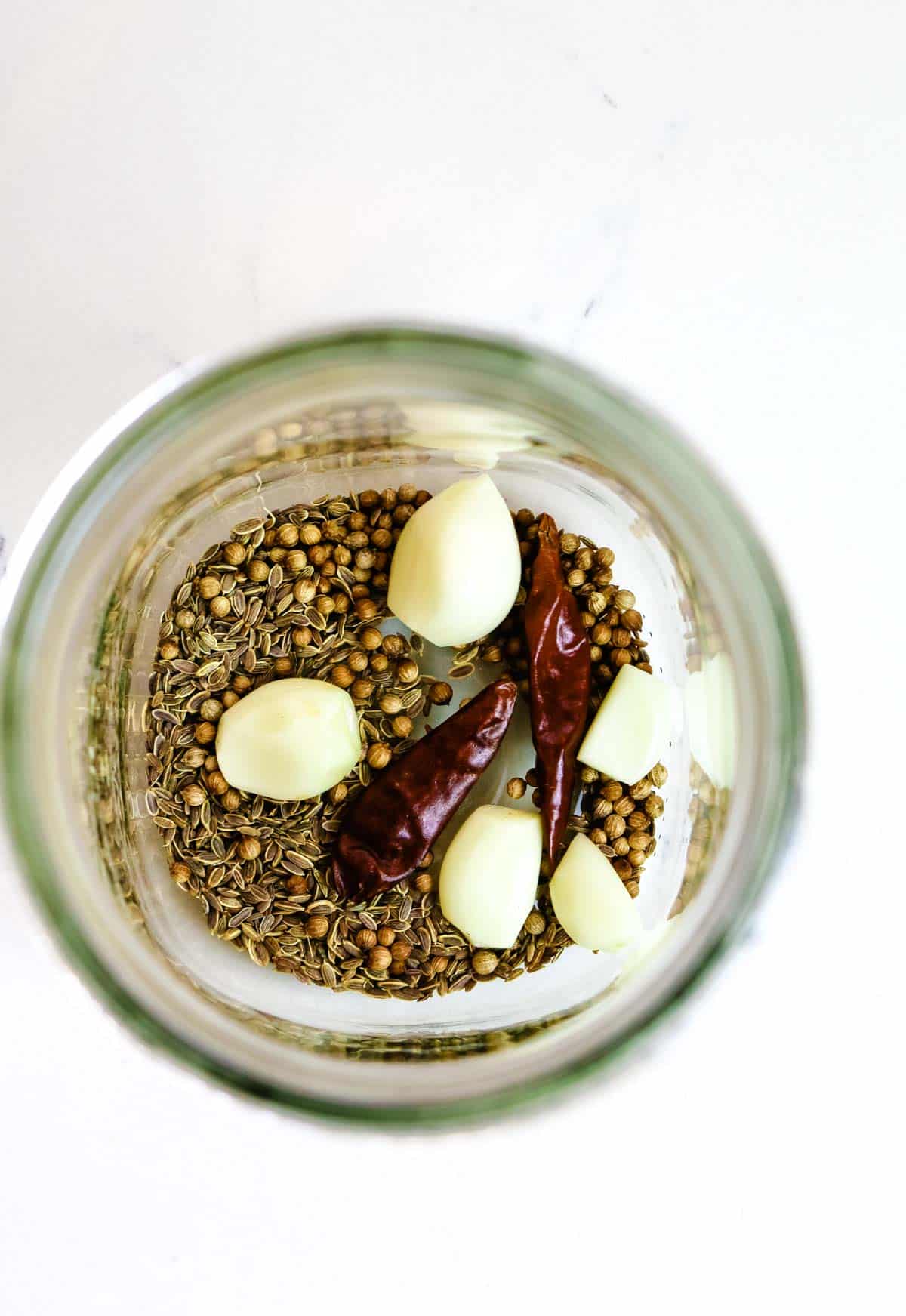 Step 2. Add aromatics
To a quart-size jar, add coriander seeds, dill seeds, garlic cloves, and red chili peppers. You can crush the garlic cloves to infuse more flavor.
💭Pro tip: Use a wide-mouth mason jar when fermenting tomatoes for easier handling and filling.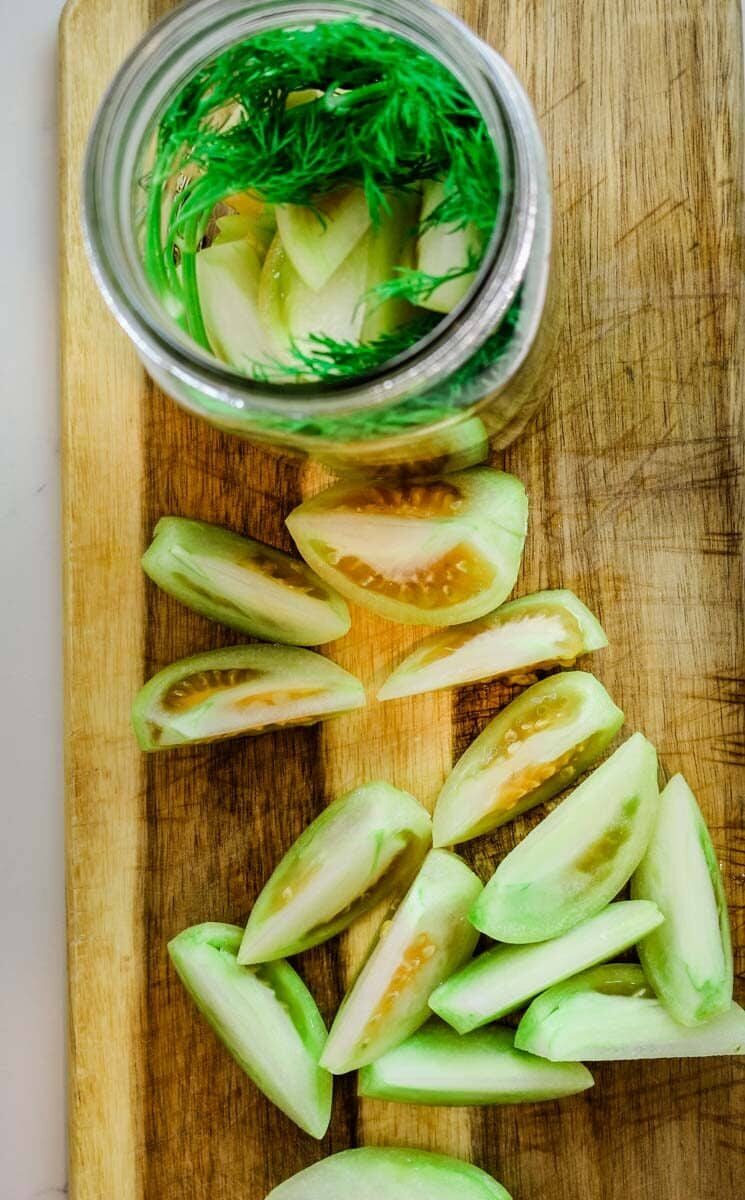 Step 3. Cut tomatoes
Slice tomatoes in half and remove the stem end. Continue to cut them into quarters, then into smaller wedges.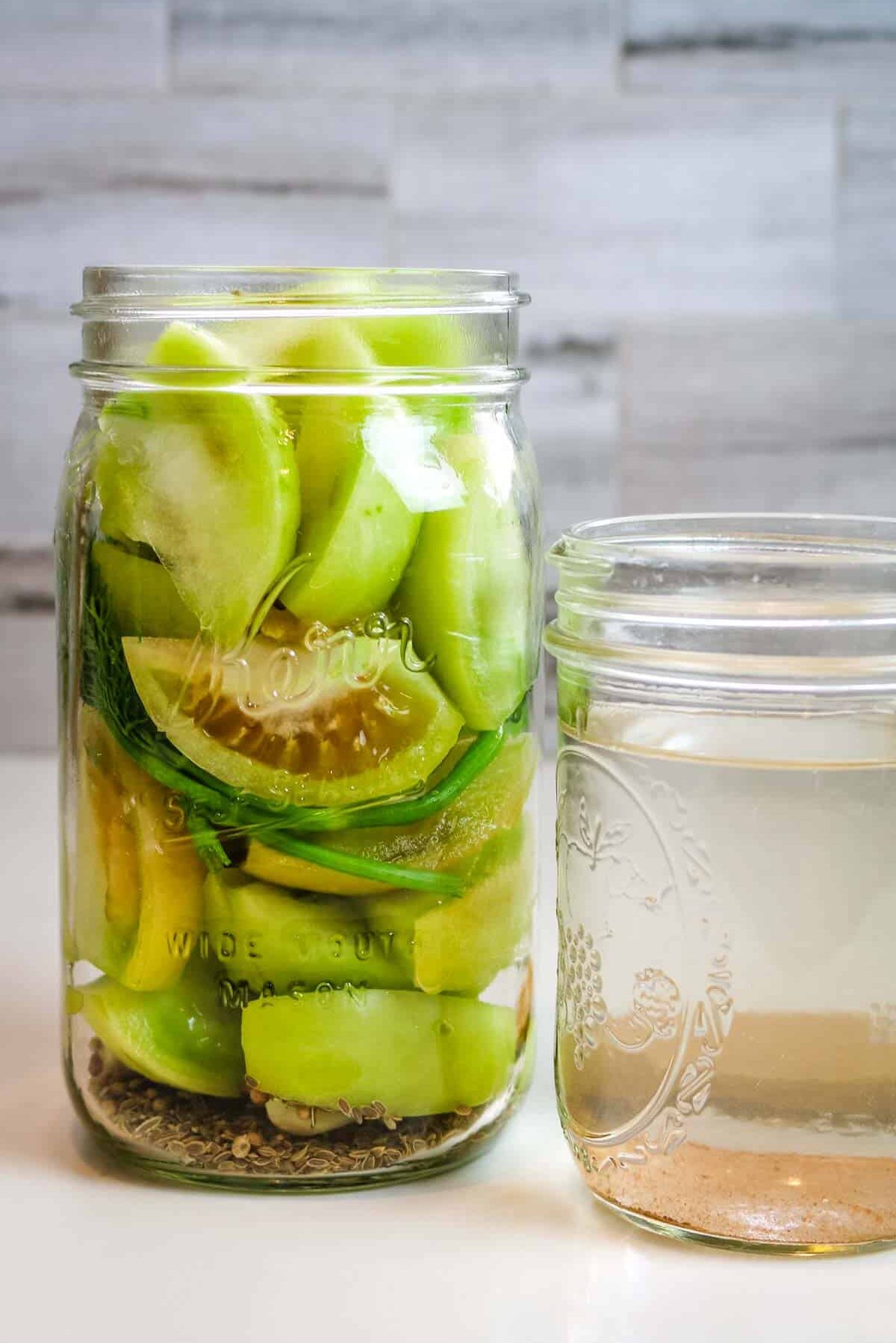 Step 4. Fill jar
Transfer the green tomato slices into the jar with seasonings and pack them tight. Slip in the sprigs of fresh dill and try to leave about an inch headspace.
💭Pro tip: For best results, cut larger tomatoes into wedges approximately ½" - 1" at its widest part. This will ensure that green tomatoes pickles ferment evenly and quickly.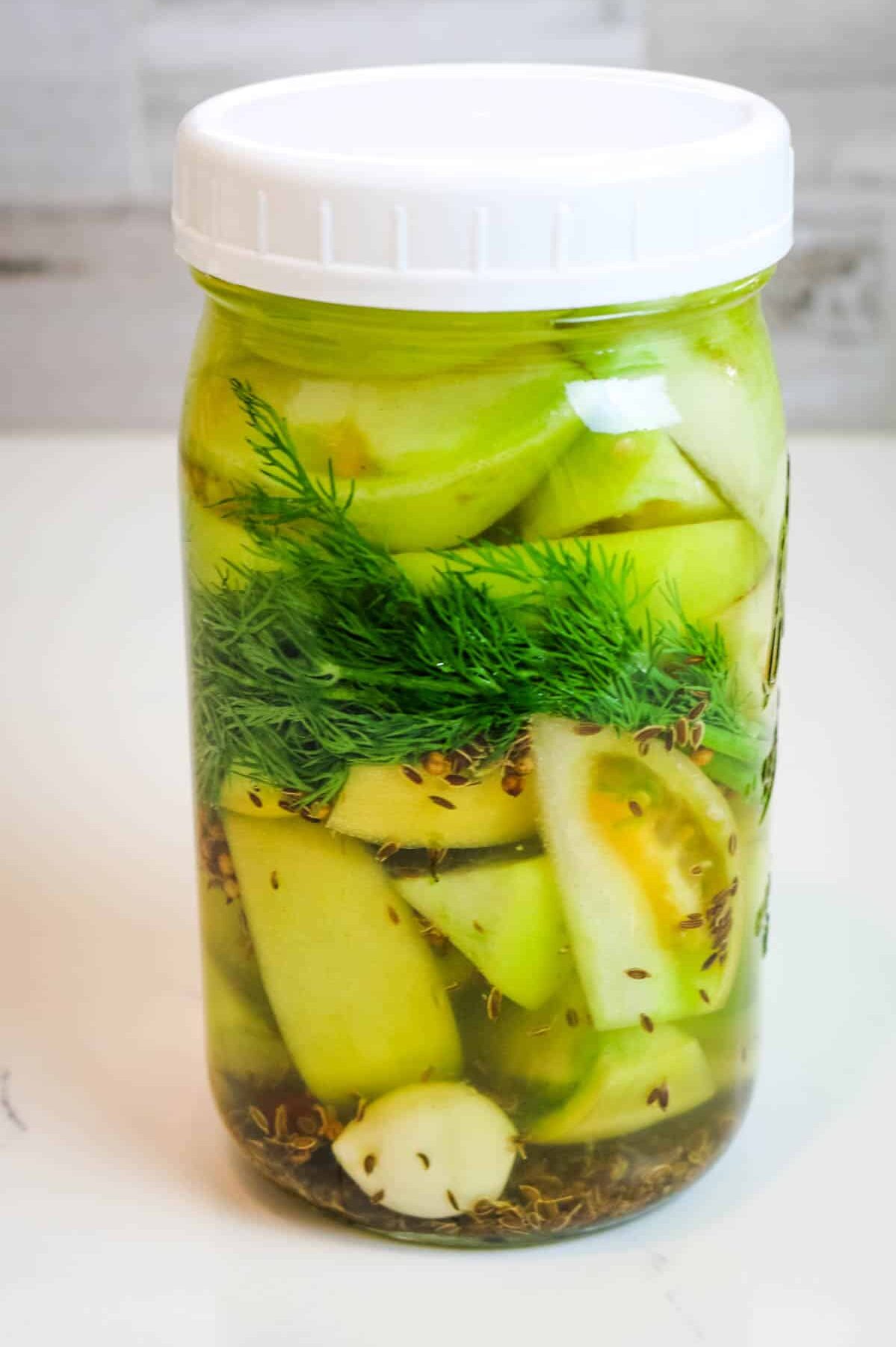 Step 5. Pour brine
Pour the brine mixture over the tomatoes, top it with the glass fermentation weight, and loosely cover.
Step 6. Flip the jar
This step is optional. Flip the mason jar on its head for 1 hour to allow the seasonings to seep down. Return to upright position and set aside at room temperature away from direct sunlight.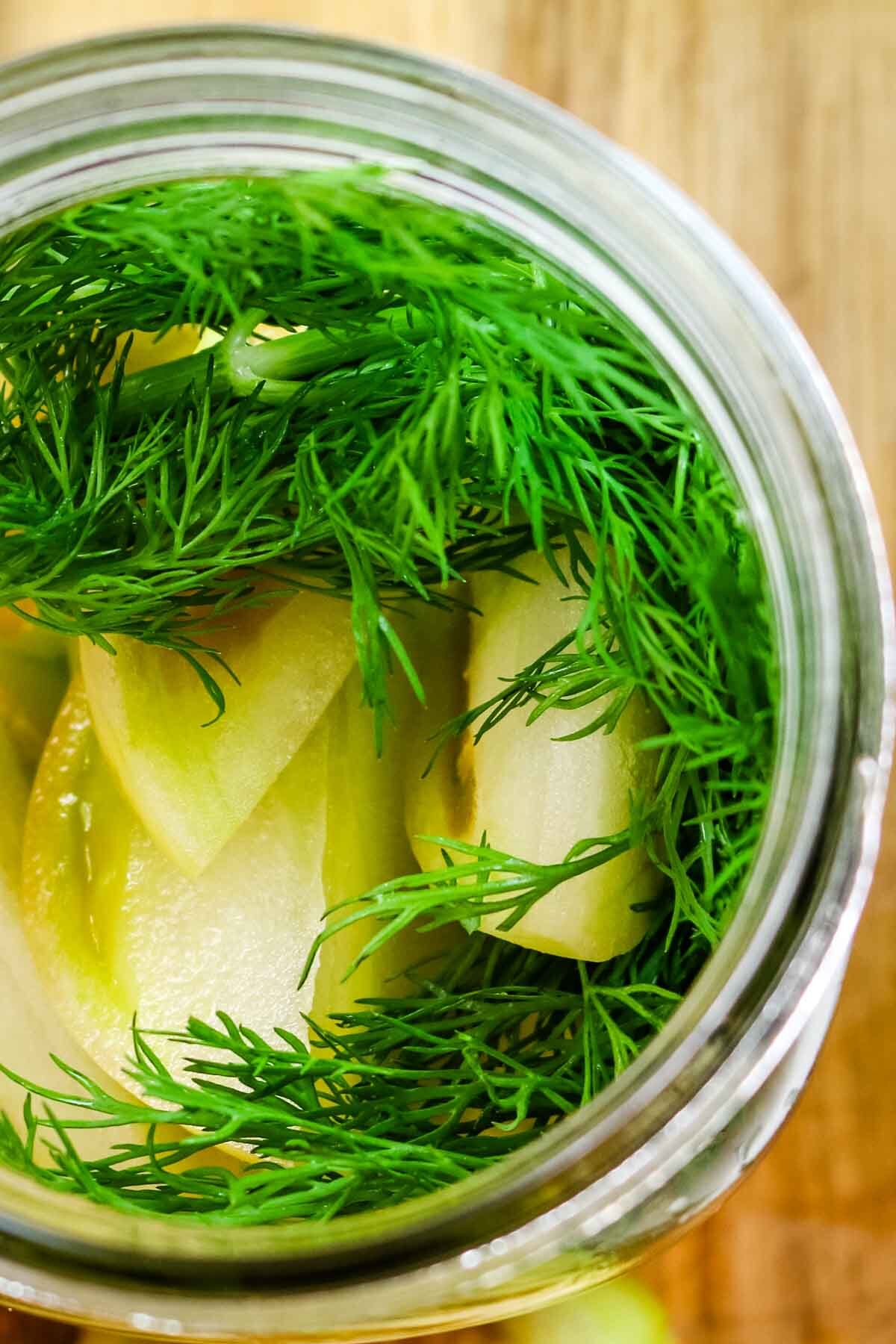 Helpful Tips for Fermented Green Tomatoes
Time saving tip - When making the pickling brine, use warm water as it will help to dissolve salt quicker. Avoid adding hot brine to tomatoes.
Best lid - Use a wide-mouth mason jar lid to avoid rust from metal rings reacting to the salt content.
Fermentation weight - If there is no room for the fermentation weight in the jar, try again the next day when the tomatoes soften and you can push them down with the weight to keep them submerged.
Reuse brine - Use the leftover brine after fermenting tomatoes in salad dressings or use as a starter culture for future ferments. It's also great to repurpose and ferment other veggies once all tomatoes have been consumed.
Food safety - Wash tomatoes well first and make sure they are dry so you don't introduce any bad bacteria. Never eat anything with mold. Kahm yeast, crinkly white film, is a common and harmless growth but anything that looks fuzzy, pink, blue, or green needs to be tossed.
💭Meal Prep Suggestion: These green tomato pickles are a great way to save money and preserve the unripe red tomatoes at the end of summer for winter months to come.
Pickled Green Tomatoes Fermentation Timeline
Every day over the course of the first 8 days, open the jar to release carbon dioxide. You may also want to set the jar over a dish to collect any brine that spills over. Keep it loosely covered at room temperature.
You'll notice the brine will become noticeably cloudy, and the dill and green tomatoes will fade from bright green to more muted colors. That is a normal occurrence during the fermentation process.
Tomatoes that have been cut will ferment faster than if you were to use whole tomatoes. Start taste-testing at around the one week mark and see if they have that tang to your liking. Once they have sufficiently fermented, transfer them to the refrigerator.
The tomatoes should still be crunchy and firm yet with a very tangy pickle-like taste. The amount of days of fermentation will vary depending on the temperature of your house.
Tools & Links to Make Pickled Green Tomatoes
Below are some affiliate links that may be helpful to you as you make this recipe. You can find some of these items cheaper at your local store, but having a link helps you know what you're looking for.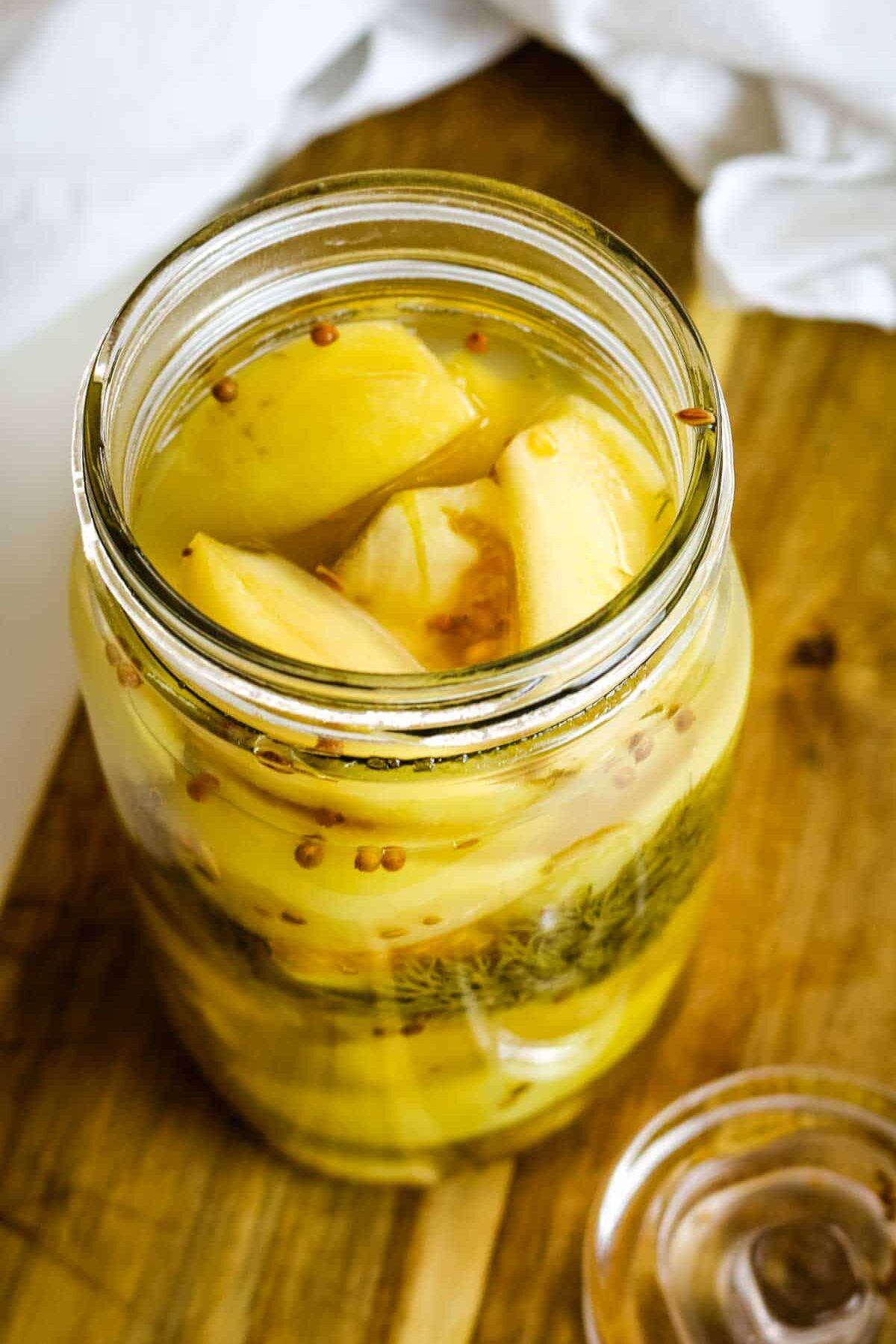 Serving Suggestions
This is the best part! That is to actually enjoy these salty tomatoes in all their fermented glory. We love adding a few green tomato slices to our meal as it makes the perfect condiment.
Here are some fun ways to serve up these tomato pickles:
Green Tomatoes Pickles pairing suggestions
Storage Instructions
How long do pickled green tomatoes last in the refrigerator?
These lacto-fermented tomatoes can last up to one year in the fridge but they are best within 6 months.
To store: Keep pickled green tomatoes in a large mason jar with a plastic or glass lid so the metal doesn't erode from reaction to salt.
Storage containers: These wide-mouth mason jars are my favorite but Weck preserving jars also work.
To freeze: I don't recommend freezing these pickles as the texture after thawing will be affected.
FAQs
What's the best way to preserve green tomatoes?
If you have tons of green tomatoes at the end of the season that need to be used up, preserve them by naturally fermenting green tomatoes for longer storage. Fermented green tomatoes are rich in health benefits and can last up to a year in the fridge.
Why are my pickled green tomatoes mushy?
It's important that you use firm, freshly picked green tomatoes off the vine. If they have already endured the frost, they will be mushy. It's also important that you use the right amount of salt to keep the tomatoes crunchy and firm. Lastly, although they are good for up to one year, fermented green tomatoes are best within 6 months.
Can I add other vegetables to fermented green tomatoes?
Absolutely! Try banana peppers, cauliflower florets, or celery ribs to the mason jar. Make sure the total weight of your veggies is the same as if you were to use green tomatoes only and keep them all similar in size to ensure even fermenting.
How do I know that my fermented tomatoes have pickled?
The best way is to do a taste test to make sure they are crunchy, tangy, and briny to your liking. A good rule of thumb in lacto-fermentation is for the brine to turn cloudy. In addition, bubbles should disappear when active fermentation has been completed. Now is a good time to transfer the ferment to cold storage.
Looking for more fermenting recipes? Here are some ideas:
Did you make this? Please leave a ⭐ recipe rating in the recipe card below and leave a review in the comments. Thank you!💚
Printable Recipe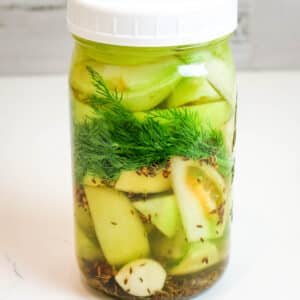 Fermented Green Tomatoes
Learn how to make Fermented Green Tomatoes and preserve those unripe tomatoes before the season ends. With the traditional method of lacto-fermentation, this pickled green tomatoes recipe is easy, delicious, and packed with nutrition.
Notes
Storage: Store fermented tomato pickles in a mason jar with a plastic or glass lid to avoid metal erosion due to salt. Keep in fridge for up to 1 year, but they are best if consumed within 6 months.
Helpful tips:
If there is no room for the fermentation weight in the jar, try again the following day. This will allow the tomatoes to soften a bit and you can then squeeze in the weight to keep everything submerged.
Cut green tomatoes ferment quicker than other vegetables. Do a taste test at 7 days but it's normal for the tomatoes to be fermenting for up to 21 days, depending on the temperature of the house.
A good rule of thumb in lacto-fermentation is for the brine to turn cloudy. In addition, bubbles should disappear when active fermentation has been completed. Now is a good time to transfer the ferment to cold storage.
Nutrition
Calories:
12
kcal
|
Carbohydrates:
3
g
|
Protein:
1
g
|
Fat:
0.2
g
|
Saturated Fat:
0.02
g
|
Polyunsaturated Fat:
0.04
g
|
Monounsaturated Fat:
0.1
g
|
Sodium:
588
mg
|
Potassium:
92
mg
|
Fiber:
1
g
|
Sugar:
2
g
|
Vitamin A:
284
IU
|
Vitamin C:
10
mg
|
Calcium:
15
mg
|
Iron:
0.3
mg
Nutrition Information
The information shown is an estimate provided for your convenience by an online calculator. It should not be considered as a substitute for a professional nutritionist's advice. See our complete Nutritional Information Disclaimer.
©Prepare and Nourish • Content and photographs are copyright protected. Sharing of this recipe is encouraged and appreciated but please do NOT screenshot or copy/paste complete recipes to websites or social media.