Air Fryer Duck is an easy main dish that can elevate any meal. The air fryer makes cooking this intimidating game meat easy giving you crispy skin and juicy meat with minimal effort.
A perfectly prepared duck is a delicious and hearty protein but not appreciated nearly enough. This game meat is often overlooked because it's an expensive choice of meat, intimidating to cook, and can have a very robust flavor.
But I'm here to tell you that it doesn't have to be hard to get delicious crispy golden skin and flavorful meat from this game bird. And your air fryer can help with that!
Jump to:
Why you'll love this recipe
Meat variety: It's important to get a variety of proteins in your diet to expand taste palette and ensure a balanced nutrient intake for health benefits.
Versatile: Consider this recipe as a blank slate for whatever seasonings you desire. The process will be the same no matter what you choose to dress your duck with.
Level of difficulty: This recipe is incredibly easy with only 2 simple ingredients.
💭Make it nutrient dense: Get the most out of this exceptionally nutritious bird and use the duck carcass, bones, neck, and gizzards to make a delicious bone broth using this Instant Pot Bone Broth recipe. And the rendered duck fat can then be used to make wonderful roast potatoes. 
What does duck taste like
Being that duck is a bird, most people expect it to taste much like chicken or turkey or other poultry meat. But you'll be surprised to learn that duck tastes more like a nice roast than poultry.
Duck has a gamier flavor than chicken but not as fibrous as turkey. Because of its higher fat content and strong meaty flavor, duck is much more tender. And when cooked properly with scored duck skin, that fat is released into the bird making the meat so very tender and flavorful.
Duck meat doesn't have marbled fat throughout the muscle meat like beef. However, the visible fat layer is enough to give the duck the reputation for being high in fat.
Is duck fat healthy
Speaking of fat content, that skin is thick! Ducks are waterfowl, which means their meat is covered with a thick layer of fat that keeps them buoyant on water. The extra fat makes the bird heavier but with less meat. As a result, a 5-pound duck will yield fewer servings than a chicken weighing the same weight.
Admittedly, this is likely the reason that duck is not favored over other types of poultry in the United States. Over recent decades, we have become so fat-phobic even though duck fat is one of the most nutritious and delicious fats to cook with.
In fact, duck fat is a supremely healthy cooking fat with oleic and linoleic acid which is extremely beneficial for repairing and strengthening cells. And the profile of fatty acids is similar to those of olive oil and avocados. (source)
So, meat lovers everywhere - enjoy your duck and its skin, and then make french fries in duck fat.
Ingredients
This most delicious air fryer duck is made with 2 basic ingredients and an air fryer.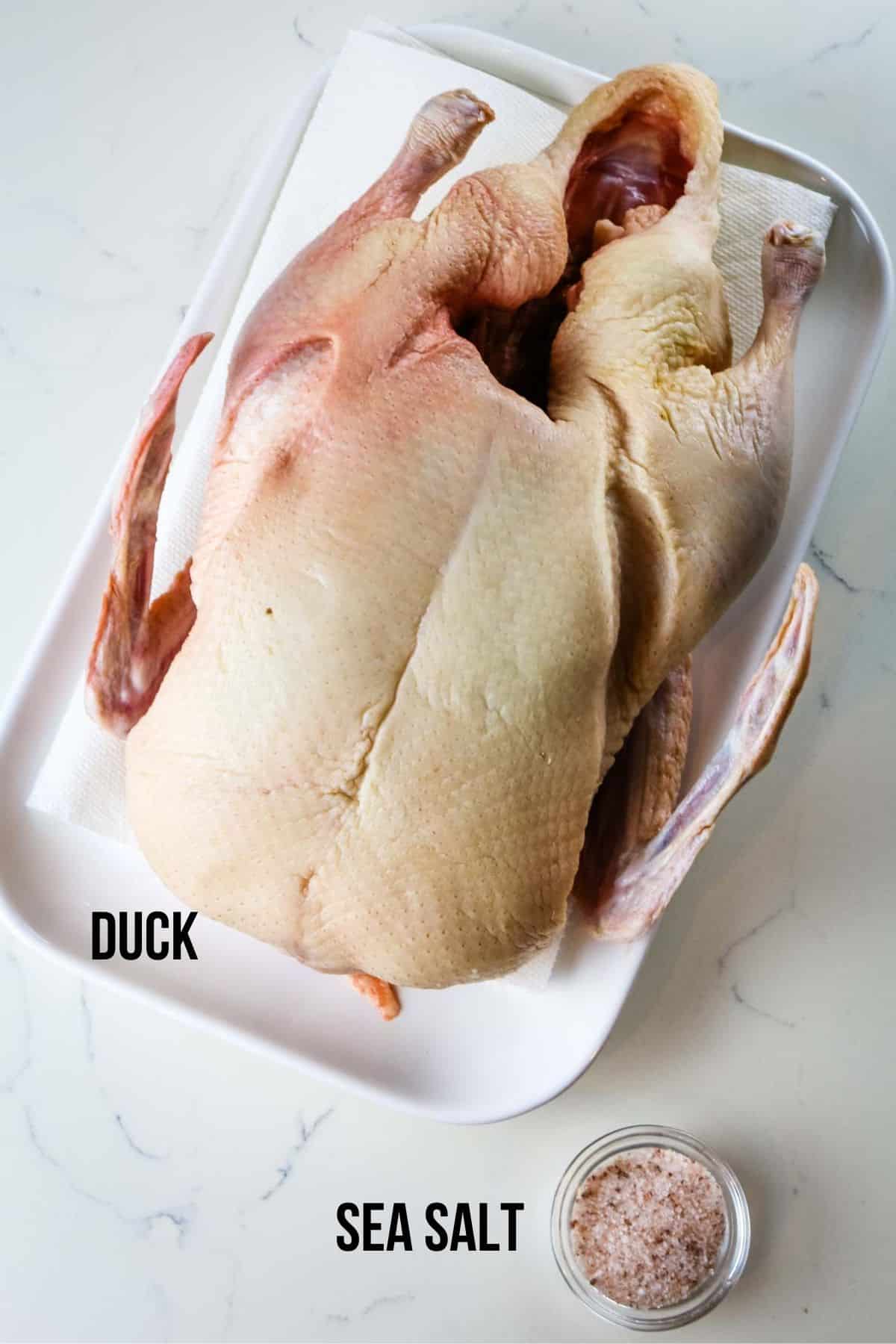 whole duck: I purchased a duck from a local farm. Go for a smaller duck since you need to make sure it will fit in your air fryer. Mine was 4.5 pounds but anything under 5 pounds will work.
sea salt: Use the best quality sea salt. My favorite is Redmond's Real Salt.
See recipe card for exact quantities.
Substitutions and Variations
This is a basic 2-ingredient recipe where we take a beautiful fresh whole duck and transform it into a deliciously crispy skin and juicy duck meat.
You can jazz this up by adding your favorite seasonings. Check out these suggestions:
Citrusy - duck pairs well with citrus flavors like orange and lemon. Make a spicy orange sauce or baste it with orange juice during cooking.
Spicy - add a little black pepper and garlic powder for a great way to add traditional roast seasonings
Sweet - a fruity sauce like plum sauce or apricot jam is a nice addition or season the duck with a little bit of brown sugar-salt rub.
Asian - you can also brush hoisin sauce over the entire duck during the last 10 minutes of cooking time for an Asian-inspired duck.
💭Pro tip: This simple recipe, seasoned with only salt, makes the rendered fat optimal for other uses. Once you use other seasonings in your fat, you may be limited to what you can use the duck fat for. 
Nutrition
As already mentioned, we're big on having a nice variety of different meats. That's because they all serve different purposes when it comes to providing nutritional value.
For example, the duck has more iron than other poultry options like turkey, chicken, or Cornish game hens. In fact, depending on the type of duck, because of its dark color and rich flavor, it more closely resembles steak.
Duck meat is prized for its strong flavor and unique taste. But it's also high in most vitamins and nutrients compared to chicken meat. It has almost three times more vitamin B1 and twice the amount of vitamin K. It's also rich in other B vitamins, vitamin A, vitamin E, and folate. Additionally, it also contains vitamin D, which is completely nonexistent in chicken. (source)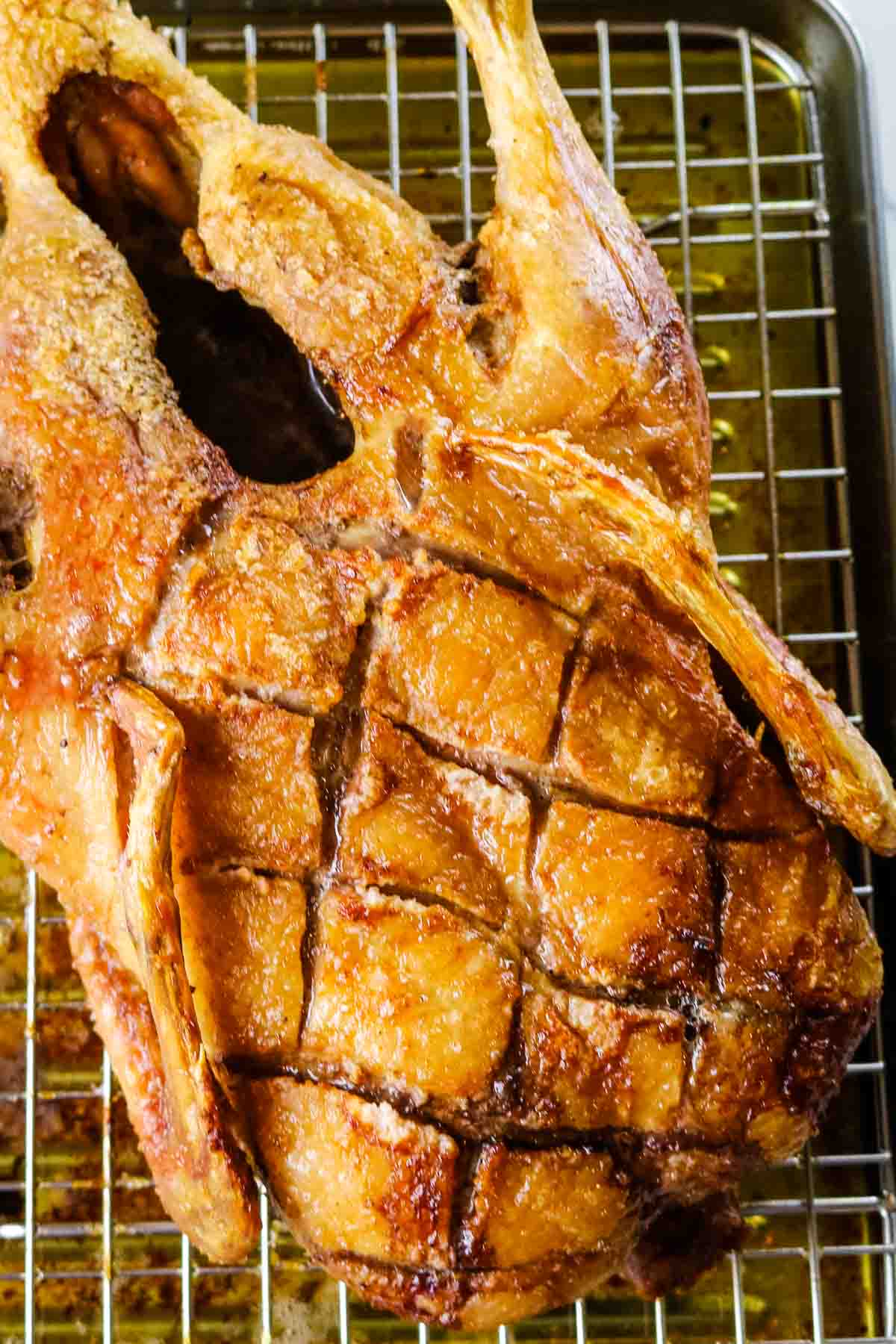 Helpful Tips
Crispy skin: make sure the duck is completely dry to get the best crispy skin and tender meat.
Healthy fat: Don't let the high fat content go to waste. To render the duck fat, just strain the fat from the roasting pan into dish using a strainer to collect all bits. Chill to solidify the fat, then store in the refrigerator for up to 6 months.
Make broth: Save the carcass! Best way to use it is to make broth with this Instant Pot recipe using wings, carcass, neck, and other bones from the duck.
Meat safety: the USDA recommends cooking all poultry to an internal temperature of 165 degrees Fahrenheit as measured with a meat thermometer. We prefer to pull it at 160 degrees Fahrenheit as it tends to rise 5 more degrees with residual heat.
Related posts that may be helpful as you make this Air Fryer Duck:
Step-by-Step Instructions
The complete printable recipe is below in the recipe card for your convenience.
This air fryer duck recipe calls for these ingredients: whole duck and sea salt. You'll also need a sharp paring knife and an air fryer convection oven.
Step 1. Score duck
Pat dry the duck with paper towels. With the breast side up, score the skin of the duck with a sharp knife in a crosshatch pattern. Flip the bird, and do the same on the other side.
💭Pro tip: In addition to making a crosshatch pattern on top and bottom of duck, it may also help to cut slits just below the duck legs to help release fat during cooking.
Step 3. Air fry
Place duck, breast side down, on a rack over a small roasting pan. Roast in the air fryer for 30 minutes. If using a basket-type air fryer, squeeze the duck diagonally to make sure it all fits.
💭Pro tip: To check for doneness, insert an instant-read meat thermometer into the thickest part of the bird and if it registers 165 degrees Fahrenheit, the duck is ready. 
Step 5. Render duck fat
Remove duck from oven and let duck rest for 15 minutes. Meanwhile, strain the fat into a small dish for other uses using a strainer to catch any bits.
Helpful Tools & Links
Below are some affiliate links that may be helpful to you as you make this recipe. You can find some of these items cheaper at your local store but it helps to have a link so you know what you're looking for.
Serving Suggestions
This whole duck recipe is great for special occasions, most notably during the holiday season. It pairs well with salads like Harvest Kale Salad and Caesar Salad.
You can use the same process for carving a duck as this spatchcock turkey.
Because of the dark meat and unique flavor, this duck recipe is also great for any time of the year. The best part is it's simple enough to be served on a busy weeknight with a simple side dish like Crispy Oven Roasted Garlic Potatoes or Roasted Red Cabbage Steaks.
Storage and Reheating Instructions
To store: If you have any leftover duck, store it in an airtight container in the refrigerator for up to 5 days.
Storage containers: These glass snap containers are perfect for leftovers as they can go from the fridge to the toaster oven for reheating.
To reheat: Place the leftover duck in an unpreheated toaster oven at 375 degrees Fahrenheit for 5 minutes.
FAQs
Where can I buy the best duck?
The best nutrient-dense duck is a wild duck. It's one that has been raised as nature intended: pastured, grass-fed, out in the open, and not confined to small spaces. It will most likely also have the strongest duck flavor with gamey taste. Check your local farms but stores like Whole Foods and Sprouts have them seasonally as well. Lastly, Asian markets are a good source for conventionally grown farmed duck.
Do you have to flip duck when cooking?
To ensure even browning and thorough cooking, it's important to flip the duck halfway during the cooking process. Using a pair of tongs, tilt the duck to drain the juices from the cavity. Flip the bird and pop it back in the air fryer oven for additional time.
What is the best air fryer for roasting duck?
The best air fryer is one with only stainless steel interior and an extra large size like this Convection Oven Air Fryer. The basket-type air fryers may work but they are considerably smaller than the convection-type air fryers and are typically coated with non-stick chemicals. The convection oven air fryer also yields the most crispy duck.
Looking for more air fryer recipes? Here are some ideas:
Did you make this? Please leave a ⭐ recipe rating in the recipe card below and leave a review in the comments. Thank you!💚
Printable Recipe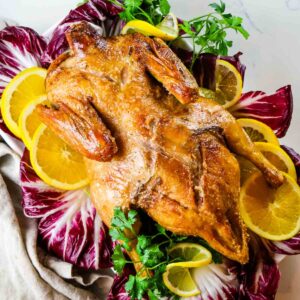 Air Fryer Duck
Air Fryer Duck is an easy main dish that can elevate any meal. The air fryer makes cooking this intimidating game meat easy, giving you crispy skin and juicy meat with minimal effort.
Ingredients
1

whole duck

approximately 4-5 pounds

2

tablespoons

sea salt
Nutrition
Calories:
514
kcal
|
Protein:
15
g
|
Fat:
50
g
|
Saturated Fat:
17
g
|
Polyunsaturated Fat:
6
g
|
Monounsaturated Fat:
24
g
|
Cholesterol:
97
mg
|
Sodium:
2406
mg
|
Potassium:
267
mg
|
Vitamin A:
214
IU
|
Vitamin C:
4
mg
|
Calcium:
15
mg
|
Iron:
3
mg
Nutrition Information
The information shown is an estimate provided for your convenience by an online calculator. It should not be considered as a substitute for a professional nutritionist's advice. See our complete Nutritional Information Disclaimer.
©Prepare and Nourish • Content and photographs are copyright protected. Sharing of this recipe is encouraged and appreciated but please do NOT screenshot or copy/paste complete recipes to websites or social media.