Wondering what to do with the leftover turkey and the carcass? Check out these 4 simple ideas that you can do today with your turkey leftovers.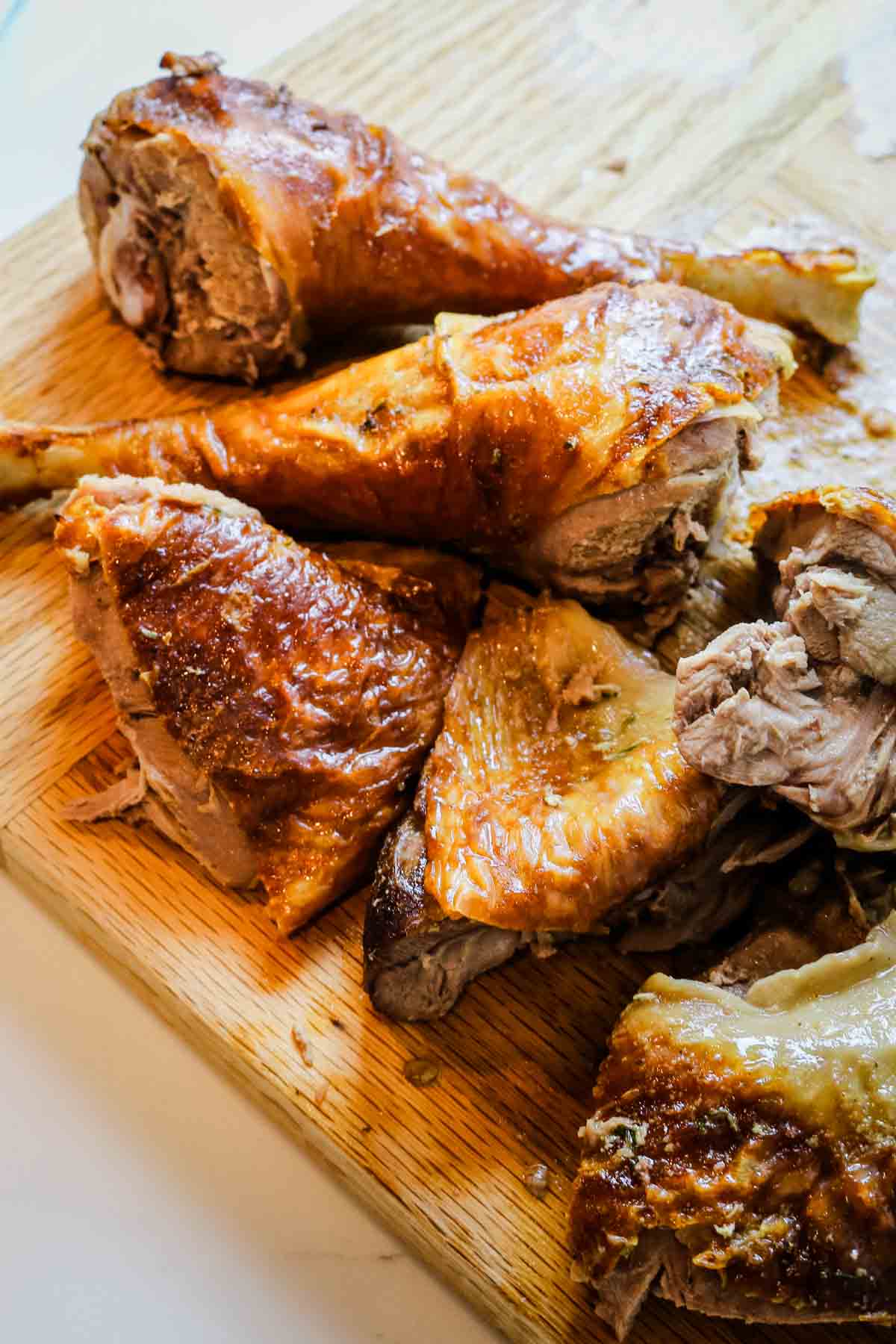 This time of the year is very common for our refrigerators to be bursting at the seams with leftover food.
With several back to back major holidays where food is an integral part, leftovers are bound to happen.
And if you like me detest food waste, it's all the more important that you have a game plan to give those leftovers a second chance.
One common area of leftover food is turkey due to its sheer size. It is often three times larger than a typical chicken. Saving your leftover turkey from the trash is even more important if you are sourcing a pastured turkey as those come with a hefty price tag.
Check out these 4 simple ideas you can do today to save your turkey leftovers from the dump.
Jump to:
Why you'll love this post
In an effort to avoid food waste, you need to have a plan for what to do with leftover turkey.
Easy and effortless: This post talks about 4 simple things you can do today to salvage your roast turkey and a list of wholesome recipes to include this poultry meat.
Healthy and lean protein for weeks: If stored properly, you will have access to quality lean protein for weeks.
Incorporate into recipes: Check out the recipes that can include leftover roast turkey and give this meat another chance.
💭Pro tip: Do your best to breakdown the turkey shortly after your big meal. Cooked turkey meat should not be kept at room temperature for extended period of time.
Ingredients
The only ingredient for this is leftover roast turkey. My personal preference for cooking this classic Thanksgiving protein is my Spatchcock turkey because it's easy and quick with deliciously crispy skin and juicy meat.
Helpful Tips
Consider these essential tips as they apply to all 4 simple ideas for your turkey leftovers.
Break down turkey asap: Work through the turkey as soon as possible, separating the meat, bones, and skin and other fatty tissues.
Easier while it's still warm: Much like chicken, the turkey meat will separate from the bones easier while it's still warm to touch or at least at room temperature.
Consume quickly: Even with proper storage, cooked turkey should be consumed quickly for best flavor and texture. Technically, frozen food can be kept indefinitely but will start losing taste quality past one month.
Food Safety: According to food safety experts, cooked turkey should not be kept at room temperature for long periods of time to avoid pathogenic bacteria growth.
How to properly refrigerate roast turkey
Leftover cooked turkey, including turkey breast, can be safely stored in the refrigerator (at 40 degrees Fahrenheit or below) for up to 3-4 days, according to US Department of Health. (source)
Refrigeration slows the harmful bacterial growth but doesn't stop it entirely so it's important to consume or freeze the turkey meat within 3-4 days.
To store cooked turkey in the fridge, follow these simple steps:
Step 1. Break down the turkey, separating the bones, skin and other fatty tissues, and meat. You may separate the meat further into dark meat and white meat, depending on how you will be using it.
Step 2. Transfer the meat into a sealed container and store in the refrigerator for up to 3-4 days.
If you find that you will not be able to consume the turkey before that timeframe, follow the next step.
💭Pro tip: It's easier to break down the turkey when it's still slightly warm or at room temperature. Separate the meat from the bones as soon as you are able.
How to freeze cooked turkey
What if even after giving some away and planning for turkey leftover meals in the coming days, you still have plenty of turkey to devour?
The next step would be to halt any spoilage by using a very simple freezing process.
Cooked poultry like leftover Thanksgiving turkey can be stored in the freezer for 2-6 months. It's important to note, that it will start losing flavor after about a month and will be unappealing if frozen close to 6 months.
This storage of leftovers is totally safe.
But just because it's considered safe, according to the United States Department of Agriculture, to freeze cooked turkey breast and other poultry cuts for long storage time, doesn't mean you should.
The sad truth is that the less time your turkey spends in the freezer, the tastier it will remain. Past one month, it will be tasteless and unpalatable.
To preserve cooked turkey in the freezer, follow these steps:
Step 1. If you have a vacuum seal, this is the optimal way to safely freeze meats. Seal your turkey breast and other meaty cuts into a small similar size vacuum-sealed bag.
This is the best way to keep frozen turkey for long-term storage.
Step 2. If no vacuum seal is available, store turkey meat in freezer ziplock bags, making sure to draw as much air as you can to avoid freezer burn and unappetizing ice crystals from forming.
For cooked turkey breast slices, it's a good idea to separate them with a small piece of parchment paper or another freezer paper.
Seal the freezer bag and transfer to the freezer for up to 6 months. Again, for best flavor, consume within 1 month.
💭Pro tip: When packaging your roasted turkey for freezer, consider making various sizes for ease and convenience for later use. Smaller packages like 4 or 6 ounces are great for single servings while 10 or 12-ounce packages are great for use in soups and casseroles.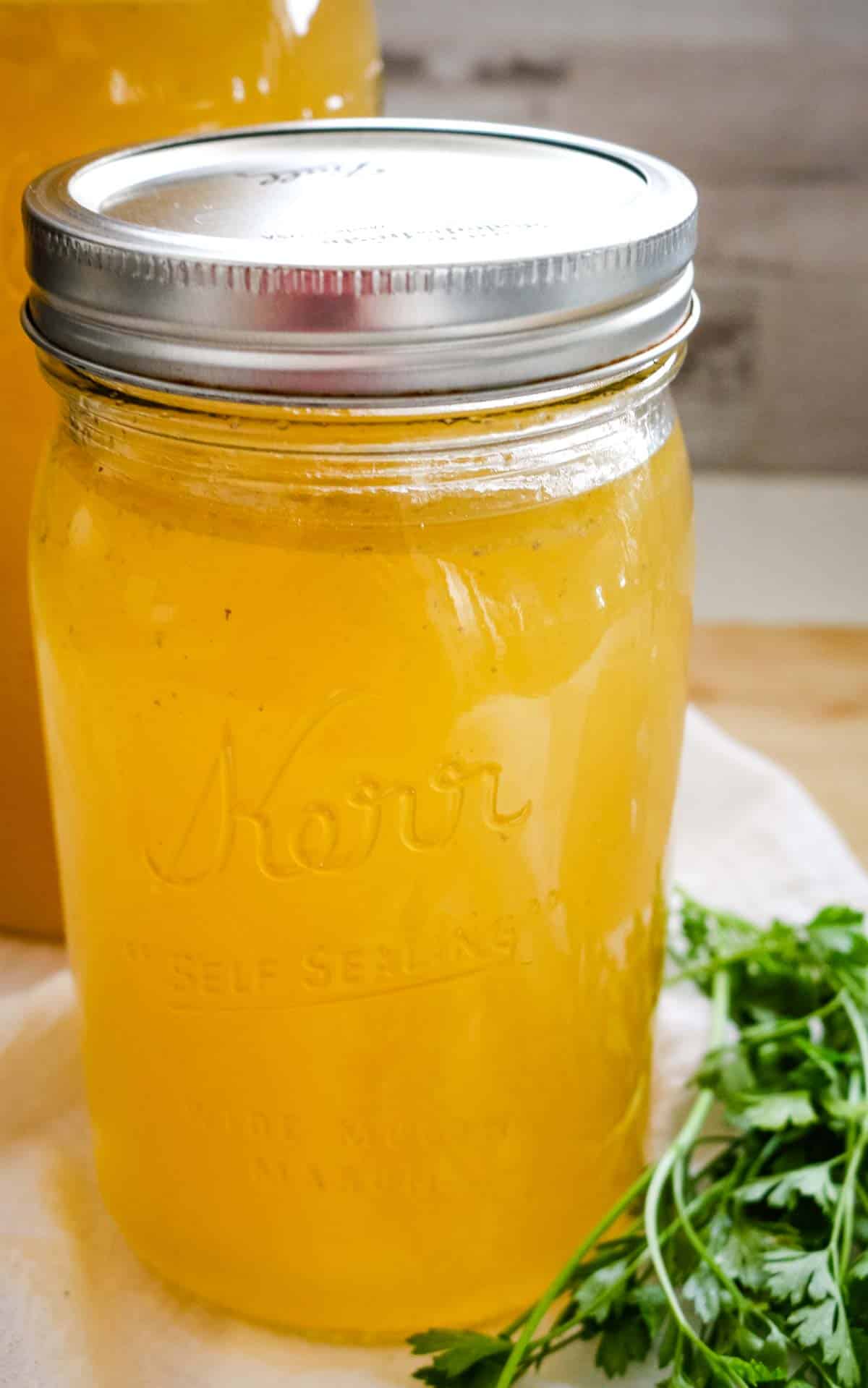 How to make turkey bone broth
Now that you have your boneless turkey meat put away, you're still left with the carcass and other bones.
Don't toss them! The good news is that you can still make much of this carcass.
The bones and skin along with any unused pan drippings in the roasting pan add amazing flavor and healthy fats to turkey bone broth. Use this Instant Pot Chicken Broth recipe to make the most delicious, nutrient-dense turkey bone broth. Instead of the chicken backs, feet, and bones, consider using:
complete turkey carcass
turkey neck (if it came with the turkey and you saved it before roasting)
turkey wings (there's hardly any meat on them anyways and would make a great addition to the broth)
any other turkey bones leftover from picking off the meat like turkey legs
turkey skin can also be included in the broth as it will give great flavor and healthy fats
any remaining turkey pieces that have no other use
Making turkey bone broth recipe is very similar to chicken broth. No roasting is necessary and you can have delicious and nourishing broth in under 2 hours.
💭Make it Nutrient-Dense: Making bone broth is one of the most healing foods you can make for yourself and your family. That's why it's important to use pastured turkey for maximum health benefits.
Recipes to use leftover turkey
Lastly, it's important to mention that the internet has no shortage of leftover turkey recipes. This is the final of the 4 simple ideas for your turkey leftovers.
There are more obvious ways to enjoy turkey leftovers like as a sandwich meat or a healthy protein source in salads.
But you can also add the cooked turkey to any recipe where cooked chicken is called for. Since it's also poultry, there is a very minor difference in taste and texture.
Check out these recipes that would be awesome with leftover roast turkey: (just sub where it says chicken for turkey)
🔪Helpful Tools & Links
Below are some affiliate links that may be helpful to you as you make as you consider the best option to store your turkey for a longer period. You can find some of these items cheaper at your local store but it helps to have a link so you know what you're looking for.
💬FAQs
How long does cooked turkey breast last in the fridge?
Roasted and cooked sliced turkey breast, much like the rest of the turkey meat, will last in the fridge for up to 3-4 days when properly stored in an airtight container. As a general rule, it's best to not keep the leftover turkey breast at room temperature for longer than necessary as that may encourage harmful bacteria growth.
How long does sliced turkey breast last in the fridge?
Luncheon sliced turkey breast that has been unsealed and opened will keep in the refrigerator for 3-5 days at most. The most important thing to remember is to check your turkey lunch meat (or any luncheon meat and cold cuts for that matter) for slimy texture and foul odor as these are signs of spoilage. Also, keep an eye out for the expiration date as this will give a good idea of shelf life of deli turkey. This is good practice for any meat to avoid foodborne illness, including the turkey parts from your Thanksgiving dinner.
How long can you freeze a turkey breast?
A turkey breast can technically be frozen indefinitely but will start to lose flavor and proper texture after one month of freezer storage. USDA does not recommend freezing poultry past 6 months. The best storage method for freezing perishable foods like turkey breast is the use of vacuum-sealed packages for long term and best quality.
Looking for recipes to use leftover turkey? Here are some ideas:
Did you make this? Please leave a ⭐ recipe rating in the recipe card below and leave a review in the comments. Thank you!💚